Experience the competitive edge and web mastery with the Top SEO Companies in the Philippines for 2023! ?✨ Jump into the exhilarating SEO landscape, where Filipino firms deliver high-impact strategies, setting the benchmark for others. Our compilation showcases:
Masterful utilization of on-page and off-page SEO ?
Remarkable expertise in keyword analysis
Stellar track record in boosting site visibility ?
Among the bustling metropolises and serene islands, these SEO firms stand out – true gems in the bustling landscape of digital marketing in the Philippines. ?️? You'll find companies driven by sheer passion for excellence, a tireless pursuit to optimize web properties, and an unwavering commitment to put their clients on the first page of Google. But the excellence doesn't stop there!
Take your online business a step further with Plerdy, a game-changing tool for CRO and UX. Witness a transformation in your digital journey as you enhance user experience, fine-tune your website's performance, and boost conversions with Plerdy. No fluff – just straightforward, top-notch SEO and CRO services right from the heart of the Philippines! Welcome aboard the SEO Odyssey of 2023. ?
Overview of the SEO Industry in the Philippines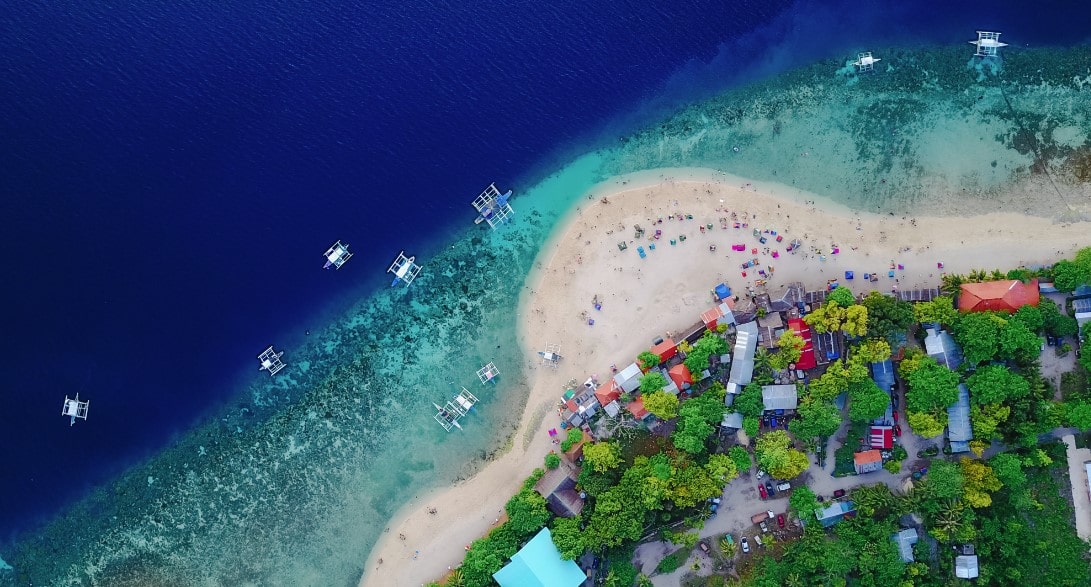 In 2023, the SEO landscape in the Philippines has grown beyond leaps and bounds. A burgeoning hub of digital innovation, the country boasts an impressive roster of SEO companies delivering top-notch services to both local and international clients. This dynamic environment is characterized by its:
Exceptional talent pool brimming with creativity and technical prowess
Rich cultural diversity lending unique perspectives to global SEO strategies
High level of English proficiency ensuring seamless communication
As the world steadily shifts to the digital space, Philippine SEO companies have risen to the challenge, offering services ranging from link building and on-page SEO to content marketing and analytics. With their finger on the pulse of the latest trends, these companies are adept at optimizing websites to rank higher in search engine results.
One shining example is a company specializing in healthcare SEO, helping medical professionals and healthcare institutions enhance their online visibility. This niche-specific expertise allows for a deeper understanding of industry requirements, leading to more targeted and effective SEO strategies.
Another notable entity is a homegrown SEO company working primarily with e-commerce businesses. They've mastered the art of leveraging SEO to boost online sales, a critical aspect in today's digital-driven shopping climate.
In essence, the SEO industry in the Philippines is flourishing, populated by versatile companies adept at tailoring SEO strategies to specific niches, ensuring each client's unique needs are met and their online potential fully realized.
List of The Top 16 SEO Companies in the Philippines
Unveiling the "Top SEO Companies in the Philippines in 2023" feels akin to opening a treasure chest of digital brilliance. As you peruse this curated list, you'll encounter SEO maestros – shining stars in the Philippine tech sky – who breathe life into bytes and pixels with their ingenious tactics. This illustrious ensemble of SEO experts from the Pearl of the Orient promises to rev up your digital engine, turning website traffic into a smooth sail rather than an uphill battle.

Meet AJ Marketing – the brightest star in the Philippine SEO sky. Starting with the brainchild of Carl Ocab, the youthful "Kidblogger", AJ Marketing evolved into a top-tier digital marketing agency that puts businesses on the world's online map. It all began with Carl's small online information portals which, in a short span, stormed to the top spots on Google for sought-after keywords in their niche.
With an impeccable 5-star rating on Google, we have successfully transformed the digital strategies of a multitude of companies across a wide range of industries. Check out the exuberant testimonials from our content clients, including:
Barbara Ingram, Creative Director, The Paramount Group.us Inc.
Richard Brojan, Entrepreneur, Manila, Philippines
Korinne Ortega, Entrepreneur, Manila, Philippines
Brian Reyes, Digital Lead, Tagaytay Highlands, Manila, Philippines
AJ Marketing's success lies in its unique five-step approach towards crafting perfect website mockups for its clients. The process is designed to ensure optimal client satisfaction while keeping a tight grip on the project timeline and cost. We always ensure that our clients have the final say – everything is transparent and no strings attached.
On top of our bespoke website design services, AJ Marketing also offers the most competitive SEO service pricing in the Philippines – 15% more affordable than the market rate and fully transparent. Our years of experience have enabled us to achieve astounding results for our clients through meticulous site and page-level optimization and sophisticated off-page optimization strategies.
Riding high on our resounding success, we're not just here for the short run – we're here to shape the future of SEO in the Philippines. Come embark on this digital journey with us, and let us shine a light on your path to online success.
As an SEO company based in the Philippines, ExaWeb Corporation sets the benchmark for providing professional digital marketing services. These services don't merely cater to enhancing your organic reach through Search Engine Optimization (SEO) but also cover the full spectrum of digital marketing necessities:
Comprehensive SEO Services
Tailored Social Media Marketing
Custom Web Design
Pay Per Click Management (PPC)
Local SEO for boosted visibility in local search engine results
Link Building & Content Development
Recognized as an SEO Expert Agency in BGC, Metro Manila, ExaWeb's team of skilled professionals provide exceptional, multi-faceted services, such as Maps Search Optimization, getting your business listed and verified on Google Maps, and creating effective Paid Search Advertising strategies.
With more than 10 years of SEO experience, ExaWeb crafts individualized campaigns aimed at enhancing your qualified search traffic and making your website more appealing to potential clients. This involves an in-depth Website Audit to identify potential improvements, followed by thorough Keyword Research to uncover the best strategic phrases for your content.
Their in-house experts offer both On-Page and Off-Page SEO services to maximize your site's visibility and credibility. Additionally, ExaWeb's commitment to transparency ensures Daily Monitoring and Monthly Reporting of your website's performance, allowing you to track progress and adapt strategies if necessary.
ExaWeb Corporation—masterfully blending experience, dedication, and innovation to drive your digital success in the Philippine market and beyond.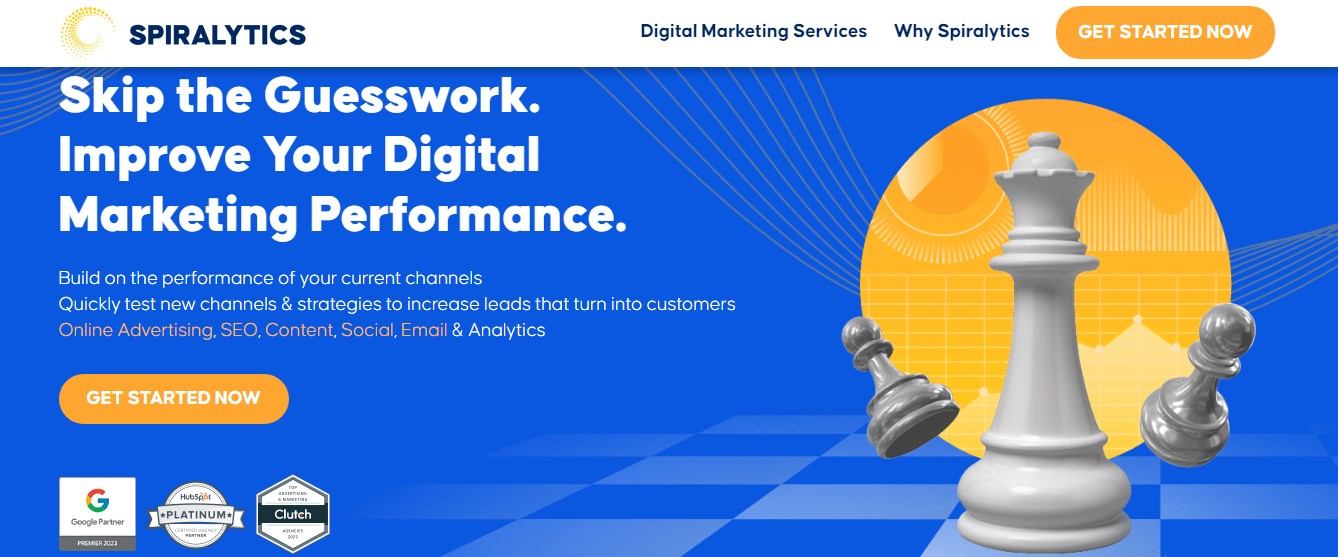 Spiralytics, Inc., a premier digital marketing company based in the Philippines, is committed to skipping guesswork and bolstering the digital performance of your brand. With our unwavering focus on SEO, our strategy is to get under the skin of your unique business, comprehend the attributes of your best customers, and thoroughly understand your competitors. We then adopt a four-pronged approach:
Gaining insights into your business, customers, competitors, and past results.
Strategizing for channels that promise superior performance.
Rolling out initial strategies, keeping an eye on key metrics, and learning from the outcomes.
Refining what works, optimizing it, and experimenting with novel ideas.
Our portfolio of digital marketing tools features an array of online advertising, content creation, social media marketing, email marketing, and analytical services. We target prospective customers by optimizing your online visibility through search ads, SEO, local SEO, and content marketing.
Our unique offerings include:
Data-driven online advertising campaigns that boost revenue.
Creating targeted, measurable, and profitable content.
Optimizing your website to enhance rankings and revenue.
Harnessing the power of marketing automation to increase lifetime value.
Deploying social media marketing to widen your reach and connect with customers.
Web designs that support and transform your brand.
Identifying opportunities that drive people to action via Conversion Rate Optimization (CRO).
In our decade-long journey, we've delighted 500+ clients, grown businesses across continents, and garnered prestigious badges from Google Premier, HubSpot Platinum, and Clutch Top Advertising and Marketing.
With Spiralytics, you're signing up for transparency, rapid launches, and a fast-paced digital marketing optimization path that yields results. Trust us to understand your business and show you exactly how we get results with our SEO strategies.
S & Y Digital Marketing, nestled in bustling Quezon City, stands out in the vibrant digital landscape of the Philippines. Its mission – to provide comprehensive, affordable online marketing campaigns that enable businesses to thrive both locally and globally.
With a broad customer base spanning across 16 countries and an impressive portfolio of 43 brands across 11 diverse industries, S & Y exemplifies digital marketing prowess. The team doesn't merely juggle separate tasks like website development, graphic design, or social media management – they blend these elements seamlessly, forming a unified, dynamic approach.
Their strategies are shaped around efficacy and novelty, focusing on tailoring the client's online persona to meet their goals while nurturing brand loyalty and discovery.
S & Y's broad array of high-ROI solutions includes:
Search Engine Optimization: Meticulously planned onsite and offsite SEO strategies push your website to the Google spotlight, maximizing traffic flow.
Social Media Marketing: Targeted campaigns across social media platforms fuel customer base expansion and brand awareness.
Pay-Per-Click (PPC) Advertising: Skillful use of Google AdWords, Facebook, LinkedIn, and Instagram to engineer PPC campaigns, thereby generating leads and boosting traffic.
Web Design & Maintenance: From conception to regular upgrades, the team designs and maintains engaging, functional websites.
Content Marketing: Cultivate communities and kindle brand loyalty through relevant, high-quality content.
Behind these thriving campaigns is a dedicated team, the company's "secret sauce," each adding unique flavors to the blend. So, if you aspire to elevate your brand's digital visibility, consider this – S & Y Digital Marketing. Your route to out-of-this-world results.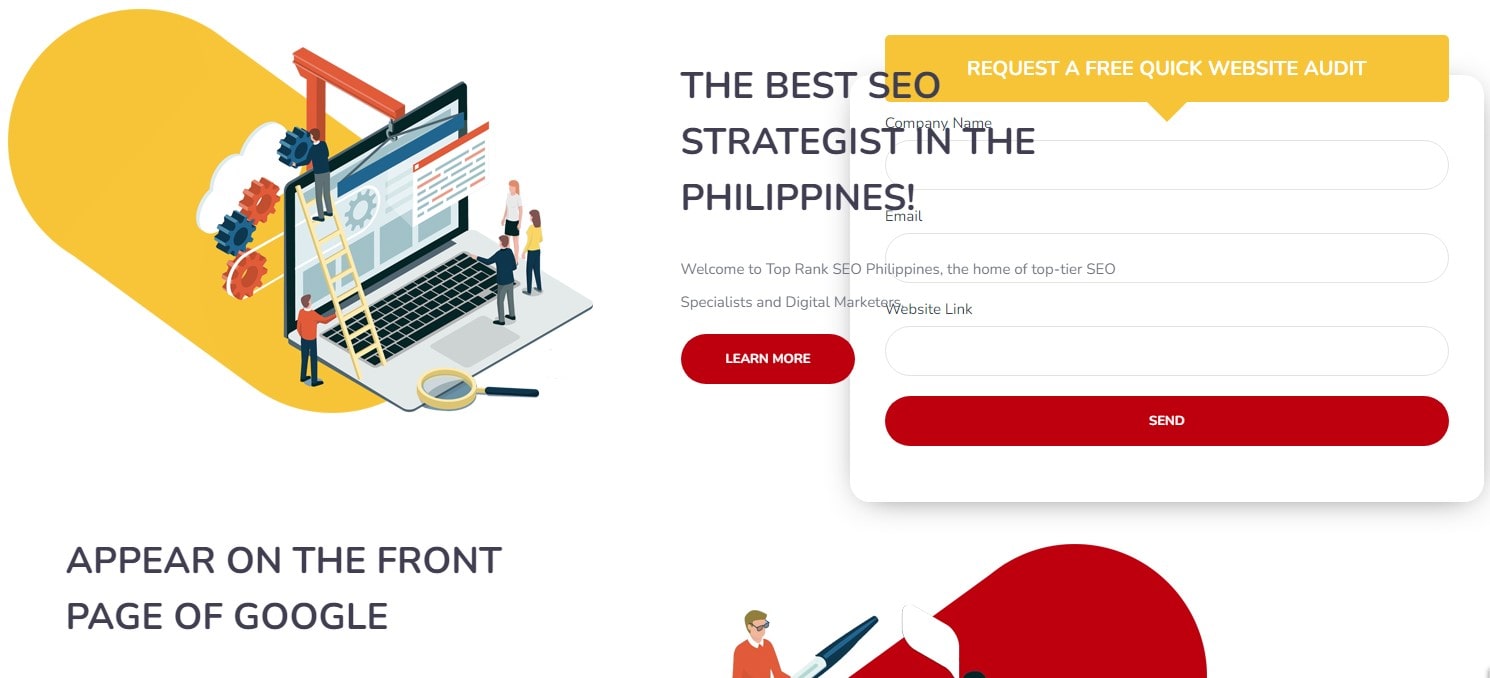 Spotlight on Top Rank SEO Philippines – the unsurpassed nexus of accomplished SEO Specialists and Digital Marketers in the archipelago. Stride into the realm of exceptional Search Engine Optimization services that catapult websites into the visibility of organic search results – even against the tide of highly competitive keywords.
Benefit from:
Connections with ready-to-buy customers
Time and financial savings
Dependence on a seasoned and adept team
Dive into the Top Rank SEO Philippines universe, a one-stop-shop for all-inclusive SEO services. Get extra perks sans additional charges.
Top Rank SEO Philippines operates on a philosophy of unique strategy crafting for each client, focused on maximizing your digital marketing impact. Take advantage of our package – a custom blend of services aligning with your individual requirements. We ensure that your website not only loads at lightning speed but also stands robust against security threats – we uphold the sanctity of your data and the reliability of your site.
Our unparalleled content production reinforces your SEO strategy, creating a notable impact. Partnering with Content Writers PH, we offer diverse, high-quality content. Seamlessly integrating this expertly crafted material, we enhance your site's appeal at any hour.
Garnering the reputation as the premium SEO service provider in the Philippines and beyond, Top Rank SEO Philippines ensures your site's prominence in the search landscape. Rely on our dedicated specialists to construct an SEO-centric, customized website for you, weaving in strategic keywords and high-quality content.
Utilize our services for comprehensive SEO solutions:
Keyword Research
Website Creation and Maintenance
Cyber Security Measures
Quality Content Production
Link Building and Optimization
Unleash your online success with Top Rank SEO Philippines today. To learn more about us, visit our About Page.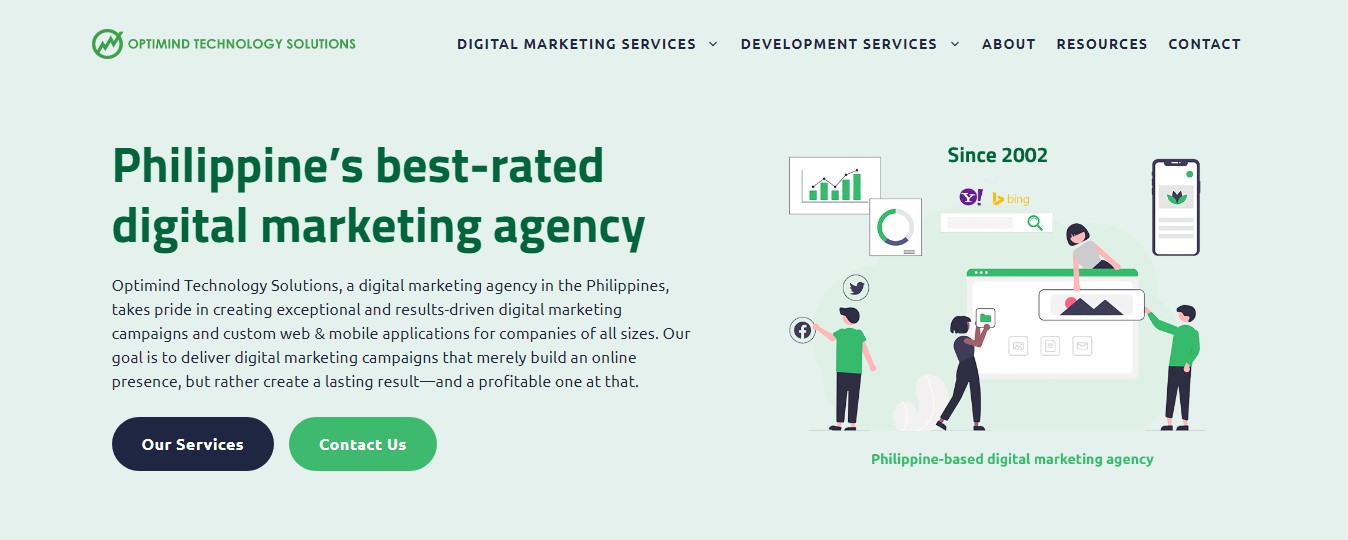 Optimind Technology Solutions, the digital marketing prodigy in the Philippines, strives to foster extraordinary, data-driven campaigns and bespoke web & mobile applications for businesses of all calibers. Not merely building an online footprint, their objective is to generate enduring and fruitful results.
Their dynamic span of nearly two decades encapsulates an impressive track record, having provided digital marketing services to over 1,000 local and international firms. Throughout these years, they've cemented strong alliances, many of which have remained since their genesis.
Here are some heavy-hitting clients they've worked with:
Ayala Land
Hizon's Catering
Jollibee
Samsung
Sta. Lucia Land Inc.
Unilab
MCIAA
PLDT
San Miguel Corporation
Optimind's robust spectrum of services provides phenomenal growth through cost-effective digital solutions and measurable Return On Digital Investment (RODI). Their process initiates with comprehending your business一including its brand, value proposition, advocacies, and more一to better align touchpoints between the company and its target audience.
Their broad range of services encompasses:
SEO: Maximizing organic traffic, increasing inquiries, leads, conversions, and sales
Google Ads Management: Promoting businesses, products, and awareness to enhance traffic
Social Media Marketing: Forging stronger, enduring relationships with prospects and customers
Community Management: Nourishing communities through strategic interactions
Web Design & Development: Customized multi-channel digital marketing strategies and website development
On the SEO front, Optimind's mastery knows no bounds. On-page and off-page SEO services ensure prime placement in search engines, securing visibility to the right customer base. Implementing a holistic, multi-layered approach, Optimind positions businesses at the top and ensures they stay there. This solid approach to SEO lays the foundation for continuous online success.
Their SEO prowess extends to startups, small businesses, Shopify stores, lawyers, attorneys, real estate investors, and much more. This broad scope of successful SEO campaigns since 2002 speaks volumes about their capabilities and dedication.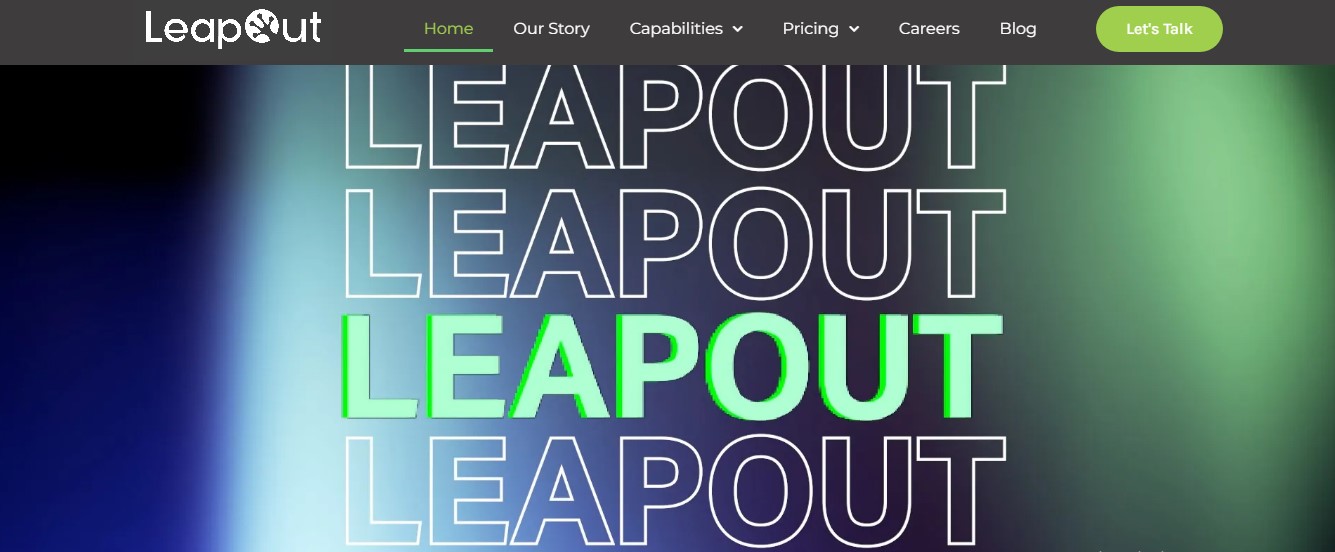 Hailing from the vibrant Philippines, LeapOut Digital Inc.  They're not just dreaming big – they're leaping out of the ordinary, helping companies sprint towards digital growth.
LeapOut combines strategic thinking, creative prowess, and technical expertise – a trifecta that has led to numerous success stories. Their formidable range of services includes:
Full-package SEO: Driving organic traffic and boosting SERP visibility.
High-performance PPC: Certified by Google, this service increases leads and drives online sales.
Programmatic Display & Video Advertising: Influencing the right audience through data-driven, omni-channel, real-time buying capability.
Customized Website & App Development: Facilitating connections with audiences across all devices.
High-Quality Content & Digital Creatives: Establishing authority, engaging customers, and delivering relevant narratives.
Being part of the global ICOM Network, LeapOut brings out-of-the-box ideas to life, working with various independent agency partners and brands. Their strong affiliations and certifications with industry giants – Google, Facebook, Shopify, and SemRush – further elevate their reliability.
LeapOut's SEO services extend beyond generic solutions, focusing on impactful, long-term results using Google-approved white hat techniques. They offer comprehensive SEO packages – Organic Basic, Organic Plus, Organic Premium – each tailored to different business sizes and needs. These packages include critical components like site audits, keyword research, content creation, technical SEO, and more, all geared to achieve your unique business goals.
Dive into the realm of unrivaled online dominance with Ninja SEO Digital Marketing Agency, nestled in the vibrant digital ecosystem of the Philippines. Our dynamic team, brimming with passion and expertise, understands the intricacies of SEO like no other, thereby equipping websites with all the right tools to climb Google rankings and convert leads into lucrative sales.
Bing Chatgpt SEO: We tailor-make SEO strategies to meet Bing's AI-powered search requirements, blending advanced keyword research, natural language processing, and technical SEO. Watch your site's visibility on Bing escalate like never before.
Google Bard SEO: Stay in step with Google's BARD update designed for natural language queries. We craft strategies leveraging BARD-powered tools to amplify your site's visibility and drive revenue.
Content SEO: Our experts devise a content strategy aligning with your business objectives and target audience. From keyword research to AI-powered content creation, we do it all.
Technical SEO: Ninja ensures your website's technical soundness for optimal Google and Bing SERP performance. We tackle website speed, mobile responsiveness, URL structure, and much more.
Local SEO: Cater to your local audience's needs with our services that include local keyword research, content optimization, and local business listing management.
Enterprises SEO Services: Address the SEO challenges of large organizations with our comprehensive, customized strategies.
Rooted in the Philippines, we've spread our mastery globally, ranking among the best SEO agencies since our inception in 2022. We're not just an SEO company – we're your partners in shaping a successful digital narrative. Our ethos of transparency, coupled with a rigorous recruitment process, ensures we enlist the best candidates. Ninja SEO Marketing – the trusted choice for superior SEO solutions.

Bringing to life digital artistry honed by international experience, Digital Marketing Manila effortlessly positions brands in the digital sphere. Their distinctive edge lies in crafting impeccable, data-driven strategies that amplify traffic, revenue, and recognition, enabling brands to captivate their audience.
Specifically, Digital Marketing Manila excels in:
Search Engine Optimization: Positioning your brand on the digital forefront.
Reputation Management: Shaping your digital narrative effectively.
Web Design & Development: Ensuring your digital identity mirrors your brand's vision.
Social Media Management: Captivating audiences across digital platforms.
Content Writing Management: Constructing narratives that resonate with your audience.
At the heart of their operations lies a deeply rooted understanding of the Filipino digital landscape. They recognize that Filipinos have a keen eye for authenticity, therefore, they present brands in a way that resonates with this discerning audience.
Digital Marketing Manila takes pride in executing meticulously planned campaigns underpinned by tried and tested strategies. As a result, even the most revolutionary product doesn't fall flat due to lack of a defined target audience. This global prowess is what sets Digital Marketing Manila apart, ensuring a comprehensive approach to digital marketing unparalleled in the Philippines.
Digital Marketing Manila – a full-service digital marketing agency – is renowned for tailoring strategies that suit your brand perfectly. Through their unfiltered identity, they strive to form authentic connections with customers. They leverage data-driven strategies to evade traditional guesswork, ensuring only the most fruitful practices are employed. By partnering with Digital Marketing Manila, you're guaranteed a clear path to digital success, driven by rich insights, anticipation of competitor moves, and strategic planning.
With their world-class services, Digital Marketing Manila continually drives phenomenal digital standards, elevating your brand's digital performance in the Philippines and beyond.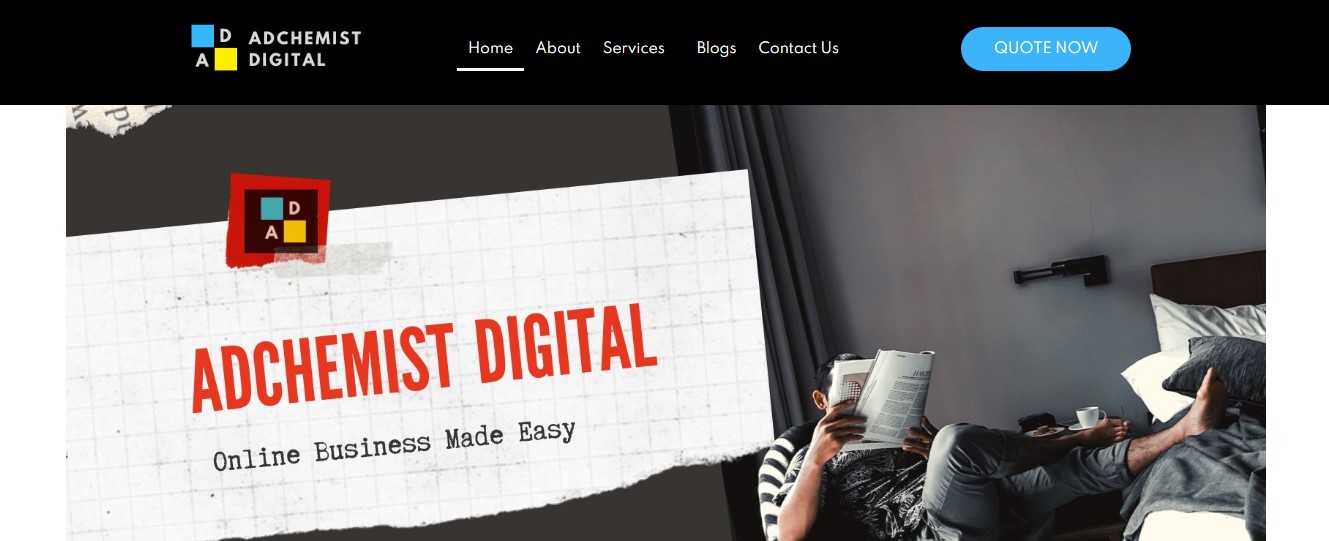 Unveiling Adchemist Digital, a powerhouse in the SEO landscape, headquartered in the Philippines. Our local SEO specialists excel in amplifying online visibility, leading businesses to the top page of Google rankings. Is your website experiencing low traffic? Fear not, as our team of experts can navigate the tide to draw in more visitors and potential leads.
Adchemist Digital is an authority in Local SEO – a process that boosts the local visibility of businesses by optimizing content, carrying out on-page enhancements, and fostering robust link-building. Our expertise transcends niches, catering to local businesses, be it coffee shops, restaurants, or even Local SEO services themselves.
Distinguishing us from the crowd is our in-depth understanding of analytics. Our SEO specialists meticulously track clicks, calls, and leads, ensuring that every marketing dollar generates optimum ROI. We provide the following exemplary services:
Website Development
Local SEO
Outreach Marketing
Social Media Management
Amazon FBA
Content Copywriting
NFT Community Management
We also have a steadfast commitment to continuous growth and adaptation. As Google's algorithm evolves, we stay abreast of these changes, tweaking our strategies to guarantee that your online storefront remains prominent.
Adchemist Digital is revered by businesses for our dedicated services and unyielding client support. Our testimonials stand as proof of our success, with satisfied clients ranging from CEOs to business owners applauding our efficiency and commitment to their growth.
Join us in our journey as we continue to shape the landscape of local SEO in the Philippines, propelling businesses to the pinnacle of success. Dive in with Adchemist Digital – we make your digital footprint matter.

Renowned for amplifying the digital footprint of businesses across the globe, SEO Hacker stands out as an eminent SEO company based in the Philippines. Its mission is to navigate the complex digital landscape, leading businesses to their ultimate online destination – the top of search engine results.
When it comes to SEO, the company's approach is organic and ethical, leveraging the power of high-quality link juice and long-tail keywords. The result is an optimized online strategy that steadily drives up traffic, amplifies visibility, and boosts business growth.
Their unique offerings include:
Ensuring website optimization, not just traffic generation. They don't simply divert streams of visitors to their clients' sites but refine the online journey to convert visitors into customers.
Harnessing artificial intelligence for image optimization. SEO Hacker recognizes the importance of powerful visuals in enhancing user engagement and SEO rankings.
Seizing the goldmine of featured snippets. These prime spots on Google lead to increased clicks and, therefore, greater traffic and business opportunities.
SEO Hacker is particularly cherished in its home country, the Philippines. Their innovative approach has supported and uplifted numerous local industries. As a fully Filipino-owned company, they are dedicated to empowering the nation's businesses to reach their full digital potential.
The company's digital wizardry extends to the ever-evolving field of SEO. They have pioneered ways to capitalize on Google's AI chatbot—Google Bard, and also deal effectively with the implications of Google's 2023 Core Update.
The SEO Hacker team's deep understanding of digital dynamics, combined with their passion and commitment to clients, has established them as an influential force in the SEO domain. Their legacy, preserved and propagated through their informative blogs, continues to inspire and guide digital marketers, SEO enthusiasts, and business owners worldwide.
The rise of SEO Hacker mirrors the growing recognition of SEO's importance in the digital transformation of businesses in the Philippines and beyond. As a torchbearer of this movement, SEO Hacker's success story is an endorsement of the burgeoning SEO industry and its undeniable role in shaping the future of business.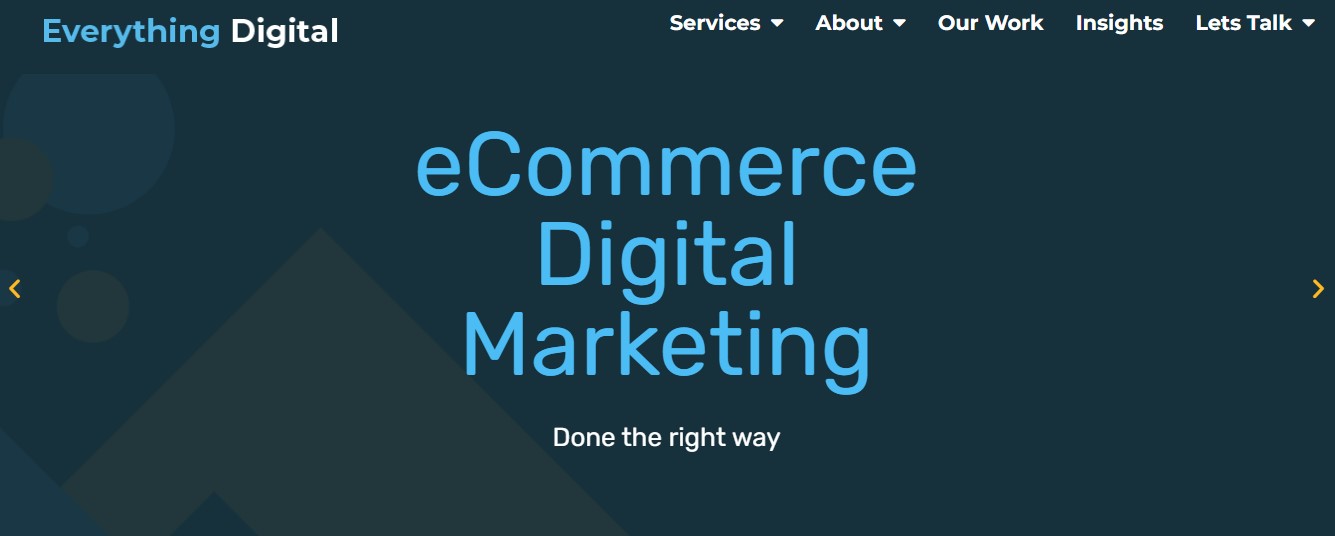 "Everything Digital" – a titan in the sphere of SEO and digital marketing, nestled in the heart of the Philippines. Over a decade, our digital diligence has bolstered brands, propelling them through the constantly shifting digital marketing landscape. Armed with expertise in multiple areas, we:
Fuel traffic growth to widen audience reach and boost sales.
Engineer lead generation strategies to reel in potential customers.
Ignite sales through compelling digital campaigns.
Our track record speaks volumes. Established in 2009, we navigated the digital shift, influencing the surge in Filipino search behaviour and the growth of e-commerce. Now, we stand as one of the Philippines' most admired digital marketing entities, partnering with respected, recognized brands.
We apply the same tenacity to SEO services. Grasping your brand and business goals, we tailor top-tier SEO solutions to fit your needs. Our strategies, sculpted from a blend of website-specific solutions and data-driven insights, elevate your business to rule the digital domain.
In a nutshell, "Everything Digital" is more than a company—it's a dynamic force driving brands and businesses forward on their digital journey.

Spanning more than a decade in the industry, SEOWall, an accomplished SEO firm based in the Philippines, has honed their craft to offer incomparable services – the key to unlocking untapped online opportunities. A long-standing history of servicing an extensive range of local and international projects underscores their prowess and reliability.
Their portfolio brims with diverse facets of digital marketing:
SEO: Ensuring your business dominates Google and other search engines.
ORM: Being your shield during challenging times, offering crisis management and maintaining brand image.
Social Media Marketing: Cultivating brand recognition through effective social media campaigns.
PPC: Excelling in Paid Search Ads, Video Advertising, Display Ads, Remarketing & Social Advertising.
Web Design: Crafting search-engine friendly, user-responsive websites.
Local SEO: Taking businesses to the top of map listings, drawing customers right to your doorstep.
SEOWall, as an SEO company in the Philippines, prioritizes results over rhetoric. From their humble beginnings as a freelance operation, they have blossomed into a full-fledged agency with business growth always at the forefront of their strategy.
The SEOWall narrative centers around empowering businesses to be visible online. Their expert services target high ROI keywords, elevating your business rank to be at the top where it truly belongs – right in front of your potential customers. Delivering a positive impact on the bottom line, they carve out your online path to revenue generation.
A commitment to deliver makes SEOWall your trusted partner. Their project showcases speak volumes of their unwavering quality and dedication to client success. SEOWall – your pathway to online visibility and growth.
Established as a premier white-label SEO agency in the Philippines, GLOM is the key player powering the digital marketing efforts of agencies and marketers alike. Staying firmly within the bounds of white-hat SEO, GLOM deploys diverse strategies to help your digital agency scale effortlessly.
GLOM boasts an impressive suite of SEO technologies at its disposal:
Google Analytics and Search Console: For comprehensive data analysis.
Surfer SEO and Ahrefs: To refine keyword strategies.
Data Studio: To create detailed, intuitive reports.
Asana: To streamline project management.
Semrush: For competitive research and insights.
Screaming Frog: To conduct in-depth SEO audits.
GLOM assumes the burden of constructing and overseeing a remote SEO team in the Philippines, enabling your focus to stay on the growth of your business.
A pillar of GLOM's offerings is link building. Recognizing backlinks as the bedrock of a strong website, GLOM excels in blogger outreach and other white-hat link-building techniques.
The GLOM methodology for white-label SEO comprises a strategic briefing, efficient onboarding setup, a midpoint check-in, and transparent, thorough reporting.
Additionally, GLOM extends its expertise to the development of landing pages and web design, starting at a competitive rate of $300. The package includes essential SEO and page speed optimization – making GLOM a comprehensive digital solution.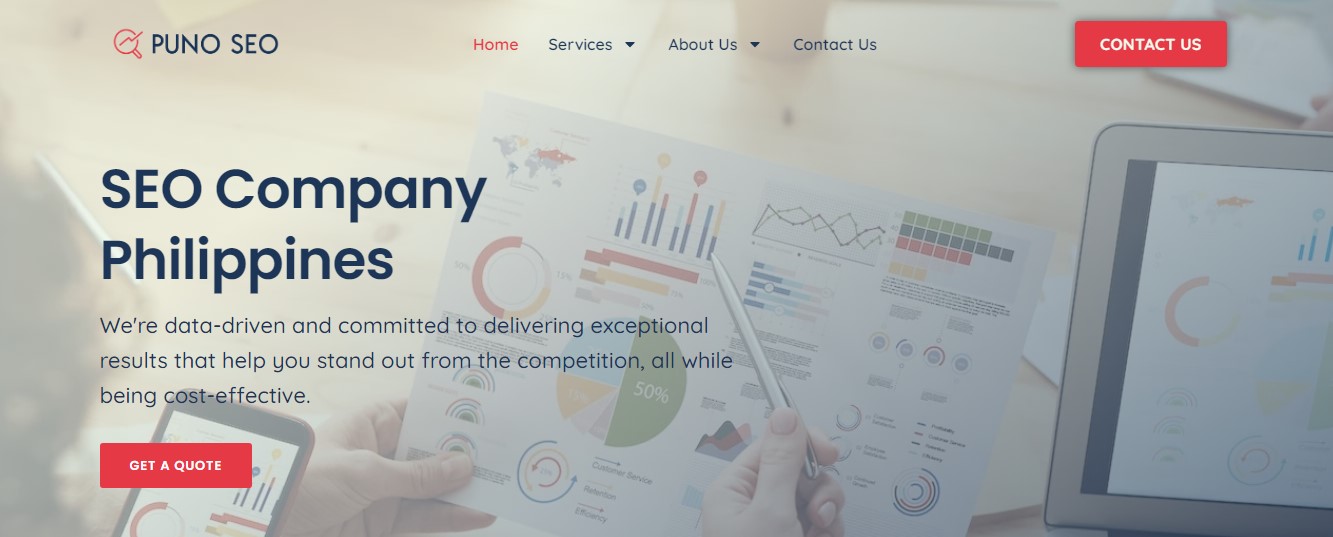 Welcome to Puno SEO, a premier SEO company nestled in the vibrant landscapes of the Philippines, known for delivering data-driven, cost-effective solutions designed to position your business firmly in the digital ecosystem. We've meticulously curated a suite of services that offer tangible results while ensuring exceptional value.
Consider what we bring to the table:
Expert Keyword Research: Our specialists delve into the minds of your target audience, unveiling the exact phrases they use to discover your kind of services or products.
Comprehensive On-Page Optimization: We tune your website's content and HTML source code for optimal search engine friendliness.
Strategic Off-Page Optimization: We cultivate a robust network of high-quality backlinks, bolstering your website's credibility.
Local SEO Mastery: We ensure your website resonates with local search queries, drawing customers from your immediate vicinity.
Technical SEO Proficiency: We optimize the under-the-hood elements of your website, such as site speed and mobile responsiveness, enriching user experience and enhancing search engine crawlability.
Creative Content Creation: We construct high-caliber, SEO-geared content that delivers value to your audience.
PPC Campaign Management: We handle paid search campaigns to drive traffic and generate leads.
Social Media Marketing Brilliance: We utilize social platforms to expand brand awareness and steer traffic to your website.
From niche industries such as 'SEO outsourcing', which helps businesses lacking in-house SEO resources to boost online visibility, to 'White Label SEO' for businesses that wish to offer SEO services to clients but lack the expertise – Puno SEO expertly navigates all. We also cater to unique needs, such as 'SEO Maintenance', 'On-Page Optimization', 'Off-Page Optimization', and 'Keyword Research'.
Puno SEO has been sculpting digital success stories in the Philippines for over a decade. We don't just deliver results – we provide unparalleled peace of mind. With our dedicated team of specialists and an ethos built around transparency and customization, you can be assured that your SEO needs will be met with the utmost professionalism and integrity. At Puno SEO, we let our work speak for itself.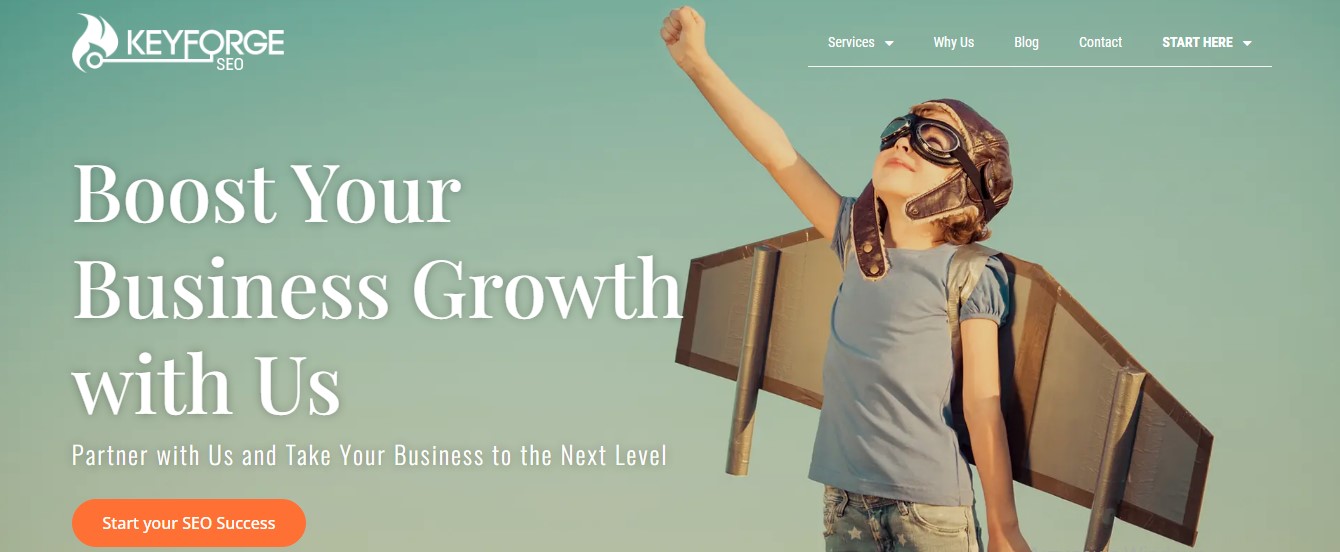 At the forefront of digital transformation, Keyforge Web Design and SEO Philippines Inc. empowers businesses to conquer the digital landscape. Their mastery in SEO propels client websites to the top of Google's organic search results, ensuring a wave of high-quality traffic – the cornerstone for robust revenue growth.
Coupled with their proficiency in web design, they craft custom websites boasting of responsive design and an attractive aesthetic. This approach combines both form and function, striking a balance that not only captivates the audience but also navigates them effortlessly through your online platform.
Keyforge's work doesn't stop at SEO and web design. Their versatile team excels in:
Crafting engaging social media campaigns across platforms such as Facebook, Instagram, LinkedIn, and more
Unleashing the potential of Google Ads to drive profitable web traffic
Sculpting brand identities with graphic design and logo creation
Known for fostering digital victories, SEO Philippines Inc. has an impressive track record. A significant 368% increase in traffic and a 416% boost in leads for their clients.
Their commitment extends beyond the provision of premier services. They are advocates of enduring growth, strategic in their approach, and wholly focused on making your digital footprint larger, more impactful. Dive into the world of SEO with Keyforge, the force that powers digital innovation in the Philippines.
Tips for Choosing the Right SEO Company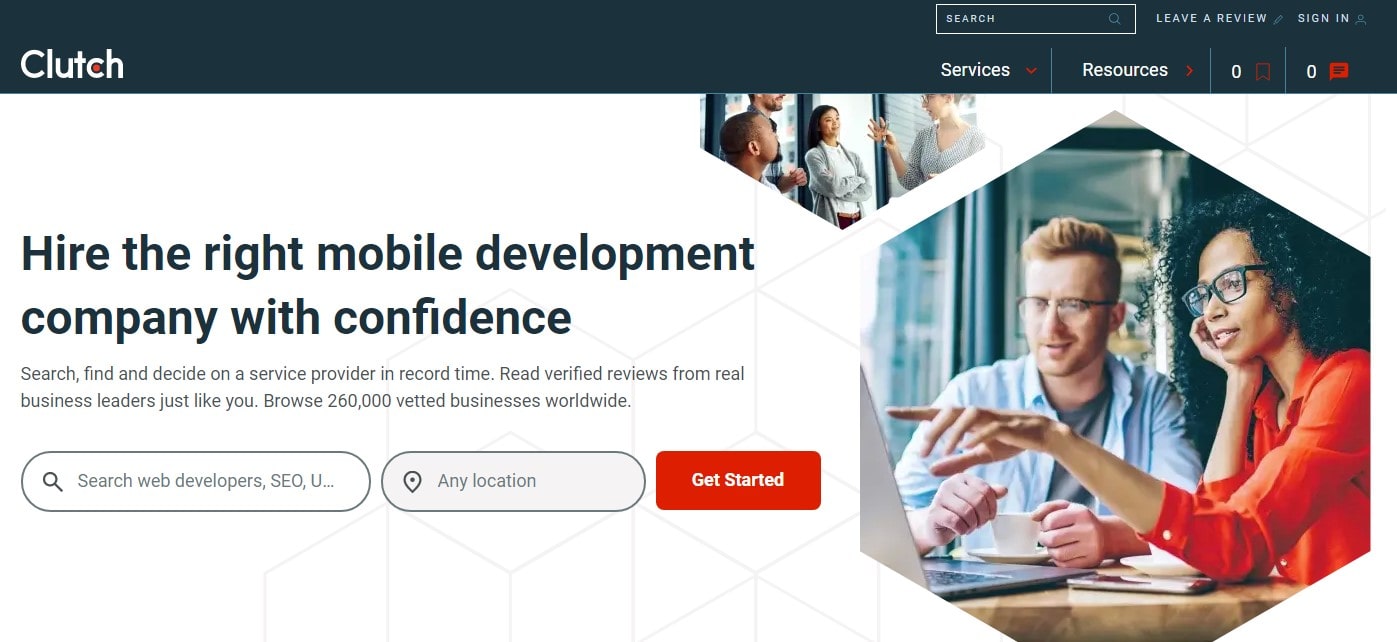 Embarking on a journey to find an SEO company in the Philippines that's a perfect fit for your business can feel like navigating a labyrinth. Here's a shortcut to help you cut through the confusion:
Experience and Expertise – First-rate SEO firms have a rich history of successful campaigns across diverse sectors. Keyforge Web Design and SEO Philippines Inc., for instance, showcases a decade-long track record of helping small businesses worldwide rank on Google.
Transparency – Great SEO agencies offer clear, upfront communication. They share detailed SEO strategies, expected outcomes and provide regular updates.
Customized Approach – SEO isn't a one-size-fits-all scenario. The best SEO agencies, like Keyforge, shun cookie-cutter solutions, tailoring strategies to align with specific business goals.
Evidence of Success – Quality SEO firms showcase verifiable client testimonials and case studies. Keyforge, for instance, boasts 4.9 stars on their Google Business Profile and a trove of LinkedIn recommendations.
Cost-Effectiveness – The ideal SEO company balances high-quality service with affordability.
Picking the right SEO company isn't simply about topping Google's rankings—it's about partnering with a company like Keyforge that brings tenacity, transparency, and tailored solutions to table, optimizing your digital footprint for sustained growth.
Conclusion
In summary, we've walked you through the spectacular terrain of 2023's SEO companies in the Philippines. These stellar providers are not just statistical standouts but vanguards of the digital realm. Each founded on innovation, dedication, and result-oriented strategies, these companies make the Philippines proud. ⚡
Meticulously, we collected data, reviewed each SEO company, and interacted with their active users. From Makati's buzzing tech parks to Cebu's emerging IT hubs, we've cast a broad net to ensure our list covers the entire archipelago. ⚡?
But our job continues beyond pointing out the top SEO players. We also want to assist in empowering your digital journey. Turn to Plerdy – the tool designed for advanced SEO and UX analysis. Whether monitoring user interactions or embedded UI details, Plerdy ensures an optimal user experience, making it your ally in scaling the heights of digital success.
Read more about Plerdy, register for a session, and see how it adds an extra punch to your SEO efforts. Propel your brand to the limelight with the magic of Plerdy. Let's ride the digital wave together! ⚡