The marketing world is fast-paced, competitive, and ever-changing. You need the right tools to streamline your efforts and achieve maximum results to stay ahead of the curve. In this comprehensive guide, we'll unveil the 14 best marketing tools that will revolutionize your campaigns in 2023, helping you:
These cutting-edge solutions are designed to tackle every aspect of your marketing endeavors, whether you're focused on social media, email, content, or analytics. Time is of the essence, so don't miss out on these game-changing tools!
But wait – there's more! We're proud to announce our partnership with Plerdy, a powerful all-in-one marketing tool that will elevate your digital presence to new heights. With Plerdy's data-driven insights and actionable recommendations, you'll stay ahead of the competition and witness unparalleled growth in your marketing campaigns.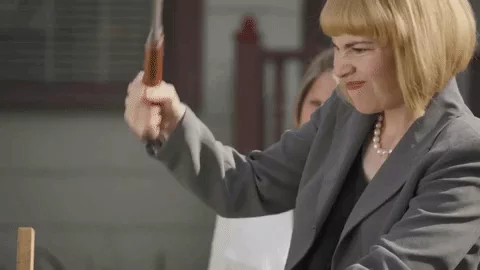 So, get ready to explore the top marketing tools and transform your strategies for ultimate success. Remember, the future of marketing is here – embrace it and thrive!

Plerdy is an excellent marketing tool for small and enterprise businesses. This comprehensive platform is designed to help marketers increase organic traffic, conversions, and leads. The Plerdy marketing tool offers a range of features, including:
With Plerdy's heatmaps, you can easily track user behavior, such as scroll depth, idle mouse time, text selection, and cursor hover. This data can offer valuable insights into how users navigate your website. The SEO Checker lets you run tests to ensure your website loads properly and improves your SEO score simultaneously. Additionally, Plerdy's pop-up forms enable you to create surveys and collect leads quickly. Using this data to target potential customers with remarketing campaigns based on their results.
Plerdy is an invaluable marketing tool for a business owner or a marketer looking to increase the number of leads on their website. It has everything you need in one place – from heatmaps and pop-ups to SEO analysis – so it's easy to track user behavior and optimize your website with the help of these marketing tools. Plus, you can use Plerdy's built-in analytics tools to measure the success of any marketing campaign. Finally, its built-in NPS polling feature makes it easy for websites to get customer feedback about their experience with the brand or product to improve their offerings further down the line. With Plerdy working hard behind the scenes, increasing lead generation is easier than ever!
Here is a YouTube video with the use case of the Plerdy marketing tool:
Title: How to Increase the Number of Leads on Your Website?
Speaker: Marta, Marketing Manager
Businesses using this marketing tool:
Softserve
Kredobank
Subaru
Huggies
Honda
#2  Project Management Tool: Asana

Project management tool Asana is a comprehensive marketing solution for teams of all sizes to organize their tasks and initiatives. It provides an intuitive interface that helps keep teams connected and on the same page while automating tedious manual processes. The main features of the Asana marketing tool include:
Task tracking
Project collaboration
Resource management
Timeline view
Team collaboration
Calendar integration
The tool also offers automated reminders and notifications to help keep your team in the loop.
Regarding marketing use cases, the Asana tool provides marketers an efficient way to coordinate marketing campaigns across multiple channels in real-time. Its timeline feature allows marketers to easily visualize each step in the production process from concept to completion. Additionally, the customizable task boards of the tool enable marketing managers to easily monitor progress on marketing campaigns individually or as part of broader initiatives across departments or regions. Finally, its integrations make it easy for digital marketers to use popular tools within the same platform, like Salesforce and YouTube Ads Manager.
Here is a YouTube video of the Asana marketing tool:
Title: How to Asana: Using Asana for Task Management
Speaker: Nikki
Businesses using this marketing tool:
Amazon
P&G
Johnson&Johnson
Spotify
Deloitte
#3 Team Communication and Collaboration Tool: Slack

Slack is one of the best team communication and collaboration tools for marketers. The Slack marketing tool helps teams stay organized, connected, and productive. Its real-time messaging platform allows users to communicate quickly and effectively with easy search and organization of messages. Slack also offers excellent integrations with various other tools, such as Google Drive, Dropbox, Asana, Zapier, Bitbucket, and more. This makes it easier for marketing teams to access their resources from one place and collaborate efficiently.
The main features of the Slack marketing tool:
Channels, allowing users to separate conversations into different topics or projects
Direct messaging for private discussions
Searchable message history
Rich media support, including images, GIFs, video clips, and audio files
Group calls with up to 15 participants
Notifications, keeping people updated about essential items in conversations.
Additionally, Slack provides an accessible user experience with screen readers, keyboard shortcuts, and high contrast mode support.
The versatility of this tool makes it appealing to marketers who need to stay on top of their work while collaborating with colleagues worldwide. With Slack's powerful search capabilities, they can quickly find all messages related to a specific topic or project without scrolling through hundreds of conversations. Moreover, its integrations enable marketers to easily synchronize tasks between different software programs without manually syncing data across multiple platforms. The result is increased productivity in less time than traditional methods require — a significant win for businesses and individual marketing teams.
Here is a YouTube video with the use case for the Slack marketing tool:
Title: What is Slack?
Speaker: Lisa Zhang
Businesses using this marketing tool:
Airbnb
Ube
Target
One Medical
News Corp

Perfect Audience/SharpSpring Ads is a powerful online advertising tool designed to help online businesses of all sizes efficiently and effectively personalize their marketing. This comprehensive marketing tool suggests a range of features that can help marketers make the most of their campaigns, including conversion and revenue tracking, powerful targeting, transparent billing, cross-device targeting, flexible retargeting windows, and detailed analytics.
This tool is easy to use, allowing businesses to quickly create custom ads that will attract customers at the right time. Conversion and revenue tracking provides insights into how effectively a marketing campaign performs, helping marketers fine-tune strategies as needed with clear visibility on ROI. Powerful targeting helps businesses focus resources on the right audiences while allowing cross-device targeting to ensure ads are seen no matter what device users use. Flexible retargeting windows allow more control over how long an ad is available, ensuring that the right people see it without wasting resources. And detailed analytics allow marketers to track performance over time and make decisions based on data-backed insights.
The SharpSpring Ads tool can be an invaluable asset for digital marketers who looking to maximize their marketing efforts. It offers powerful features that provide insights into performance and help marketers optimize their campaigns accordingly. With clear visibility on ROI and advanced targeting options, businesses can maximize efficiency while reaching the right audience with the right message at the right time – something every successful business needs to succeed in today's competitive market.
YouTube video of the Perfect Audience marketing tool:
Title: How to Optimize Your Retargeting Performance
Speaker: Kathleen, Digital Marketer
Businesses using this marketing tool:
AppSumo
Wego
Bebe
99Designs
Pebble
#5 Content Creation Tool: Salesmate

Salesmate is an all-in-one marketing tool designed to help SMM specialists create, manage, and optimize digital campaigns. The marketing platform offers a robust suite of features that enable marketers to build campaigns from the ground up, track results in real-time, nurture leads along their journey and close more deals.
Using drag-and-drop functionality, the tool lets you quickly create beautiful emails, webpages, and other content. Its built-in automation engine also helps you send timely, personalized messages to prospects and customers based on their behavior. Other features of the marketing tool include:
All these capabilities enable businesses to run efficient and effective marketing campaigns that drive better customer experiences and engagement.
In addition to content creation tools, Salesmate provides various other features, such as:
Live chat & shared inbox
Reporting & dashboard analytics
A meeting scheduler
All these tools are designed to boost your overall marketing performance while saving time and money. With Salesmate as your go-to marketing partner, you can focus on building customer relationships rather than worrying about the logistics of running campaigns.
Demonstrating how to use the SalesMate marketing tool:
Title: Salesmate CRM Walkthrough with Brian Pekarek
Speaker: Brian Pekarek
Businesses using this marketing tool:
Sony Music
Piktochart
Speakable
KissFlow
Xplora
#6 Social Media Marketing Tool: Crowdfire

Crowdfire is one of the best marketing tools for businesses that want to optimize their social media presence. It's an easy-to-use platform that analyzes your social accounts and provides insights on maximizing your reach, engagement, and followers. This marketing tool also allows you to schedule posts in advance and track performance metrics with powerful analytics tools. Its key features include:
A robust CRM system
Post scheduling
Auto-suggested articles and images to share
Content monitoring of websites/blogs/shops
Automatic posting at the best time
The Crowdfire marketing tool helps businesses build relationships with their customers by providing them with timely updates about products or services through its automated post-scheduling feature. Additionally, this tool helps maximize engagement by suggesting articles and images tailored to their target audience's interests. By analyzing key performance metrics, such as follower growth, engagement rates, website visits, etc., businesses can determine which strategies are most effective for growing their brand awareness and reach.
Overall, Crowdfire is an invaluable tool for any type of SMM looking to stay on top of its social media marketing game. It provides actionable insights into what's working (and what isn't), making it easier for businesses to optimize their marketing efforts for maximum ROI. Its intuitive interface makes it easy for even novice users to get up and running quickly, making it an essential tool for any successful digital marketing strategy!
Video with the use case of the Crowdfire marketing tool:
Title: Crowdfire Tutorial | Social Media Scheduling Tool, Review | Free Social Media Marketing Tool
Speaker: Daulat Hussain
Businesses using this marketing tool:
The Brain Driver
Games For Love
IdeaHub
WazirX

Clearscope is a powerful SEO tool designed to help maximize search engine visibility and drive traffic. This best-in-class content optimization platform comes with streamlined marketing tools that make it easy for SEO to create high-quality content optimized for better ranking in search engine results. With Clearscope, marketers can use AI-powered content reports offering real-time data from Google, monthly search volume, and intent insights to identify the right keyword opportunities. An easy-to-understand grading scale for measuring the quality of content, writer-friendly insights, example phrases, and two valuable integrations – Google Docs and WordPress.
This versatile marketing tool can quickly and accurately optimize SEO content for higher rankings. Marketers can use it to craft catchy titles and meta descriptions that attract more clicks and highly relevant page copy, increasing page rankings. Thanks to its intuitive interface and streamlined tools, marketers can spend less time fine-tuning SEO elements and more time creating engaging content that speaks directly to their target audience.
The marketing tool Clearscope helps businesses stay ahead of their competition by providing powerful insights into the latest trends in their industry. It also allows tracking backlink performance so that they know what's working well and what needs improvement. Additionally, this tool provides valuable advice on optimizing content for maximum impact so businesses can get the most out of their marketing efforts. Ultimately, Clearscope helps businesses take their digital presence from good to great by driving traffic through effective SEO strategies.
Video with the use case of the Clearscope marketing tool:
Title: Clearscope's Newest Feature—Content Monitoring + Advanced Tips & Walkthroughs
Speaker: Bernard. Customer Success manager
Businesses using this marketing tool:
Intuit
Conde Nast
Adobe
Deloitte
#8 Email Marketing Tools: SendGrid

SendGrid is a powerful email marketing tool that helps businesses and developers confidently send emails. It provides fast and friendly integration tools, reliable delivery and scale, and other tools and insights to empower users.
The main features of the SendGrid marketing software include a RESTful API built on HTTP that returns JSON, optimized integration tools to make setup easy in five minutes or less, 99.95% platform and API uptime. It also offers interactive API references, open-source libraries, and email templates to collaborate with teams and easily review stats in the UI. Additionally, the tool has several unique features:
V3 Mail Send allows you to send multiple types of content within one request.
Event Webhook lets you receive notifications about events as emails are sent.
Suppressions allow you to manage unsubscribes from one consolidated list.
A/B Testing will enable you to improve your campaigns by testing different email subject lines or body content versions.
The marketing software SendGrid helps businesses achieve their goals through its reliable delivery capabilities and powerful performance. Its optimization tools make it easy for developers to integrate quickly into any system so they can focus on delivering effective emails without worrying about technical details. Furthermore, its comprehensive insights allow marketers to understand better customer journeys to strategize more effectively. With SendGrid's features, businesses can enhance customer relationships while driving more value from their marketing campaigns.
Video with the use case of the SendGrid marketing tool:
Title: Twilio SendGrid Email API Overview Demo
Speaker: SendGrid employee
Businesses using this marketing tool:
Glassdoor
Ube
Yelp
Instacart
Airbnb
#9 Video Marketing Tool: Viewbix

Viewbix is one of the best video marketing tools available, offering companies an effective and powerful way to use video in their marketing campaigns. Viewbix is a video analytics and technology company that helps businesses understand what messages resonate with their viewers and how to leverage that data to enrich and empower their videos. Some of the main features of the marketing tool Viewbix include:
Actionable analytics
Cross-platform distribution
Integrated calls-to-action
Actionable analytics allows companies to see exactly how when & where viewers engage with their videos. This invaluable data helps improve storytelling and optimize videos accordingly. Cross-platform distribution enables businesses to leverage their interactive Viewbix players on multiple platforms, including all devices. Integrated calls-to-action allows businesses to create interactive video players using Viewbix's easy-to-use but powerful SAAS-based platform and make real-time changes using the integrated analytics suite.
Overall, Viewbix is an excellent example of a marketing tool and can greatly benefit businesses in multiple ways. By taking advantage of its powerful features, such as actionable analytics, cross-platform distribution, and integrated calls-to-action, companies can truly optimize their video marketing campaigns and use them as practical tools for promotion to reach wider audiences.
Video with the use case of the Viewbix marketing tool:
Title: How to Use Your Viewbix Studio Player on Wix
Speaker: Viewbix Support
Businesses using this marketing tool:
Dell
Avaya
Cuisinart
MasterCard
Distillery
#10 Data Reporting and Analytics Tool: RavenTools

RavenTools is a powerful marketing data reporting and analytics tool designed to help analyze websites and maximize their digital marketing campaigns. The tool tracks, monitors, and benchmarks vital performance indicators, empowering marketers with the insights they need to optimize their efforts. With its reporting engine, users can easily create granular views of SEO issues, build beautiful interactive reports in seconds, store loads of data for unlimited reports, organize and store link-building campaigns for content outreach, and integrate more than 20 data sources, including Google Analytics and Google Search Console.
For businesses or SEO specialists looking to maximize their online marketing performance, RavenTools offers an unparalleled marketing solution. It helps marketers make better decisions based on accurate information about what's working or not working in different aspects of their campaigns. This real-time data allows users to spot changes quickly and exploit opportunities. Additionally, the tool helps simplify complex tasks like keyword research or link building by creating detailed reports that show trends over time. With its intuitive user experience, even novice marketers can quickly become experts at analyzing data and optimizing their efforts for maximum impact. Finally, RavenTools' integration with leading tools, like Google Analytics and Search Console, makes tracking progress across multiple channels easy for businesses to measure performance from one dashboard.
Video with the use case of the RavenTools marketing tool:
Title: Raven Tools: Social Media Management and Reporting Tool Walkthrough
Speaker: Jeremy Rivera
Businesses using this marketing tool:
True North
Thompson Reuters
Vertical ail
Trio
Reach Local
#11 Digital Asset Management Tool: Dropbox

Dropbox is one of the best digital asset management tools for marketing professionals. It provides businesses a secure and organized way to store their documents, photos, and other resources. With its intuitive interface, the tool Dropbox helps marketers streamline their workflow and build powerful marketing campaigns accessible from any device.
The main features of the marketing tool Dropbox include:
File sharing
Collaboration tools
Cloud backup
Document storage
Real-time synchronization
Document collaboration
Moreover, businesses can access and share their resources through these features between multiple users and teams. This helps in creating more efficient marketing campaigns.
The Dropbox marketing tool integrates seamlessly with other leading business tools, making it easier for marketers to manage their assets across multiple platforms without jumping around different applications or interfaces. It has a range of integrations with various applications, such as Google Drive, Slack, and Evernote. Thus, marketers can connect with all their tools in one place and manage all their assets from one centralized platform. Furthermore, Dropbox offers marketing-specific features, such as Dropbox Sign, which helps businesses collaborate on contracts digitally.
Dropbox is an invaluable asset management tool that allows marketers to build powerful marketing campaigns quickly while keeping all their data secure and organized.
Video with the use case of the Dropbox marketing tool:
Title: Dropbox (Un)Webinar: 3 Ways to Speed Up Sales | Dropbox Business | Dropbox
Speaker: David Stafford, Global Head of the Solutions and Customer Success Team
Businesses using this marketing tool:
News Corp
National Geographic
Moleskine
Arizona State University
Sundance Institute
#12 Event Marketing Tools: Eventbrite

Eventbrite is an essential marketing tool for managing and hosting events online and offline. This platform offers various features designed to help businesses better market their events. Eventbrite boasts:
Customizable event pages
Automated multi-event ads
Analytics and insights
Automated event notifications
Even virtual events to accommodate the changing times we live in
Eventbrite's ticketing tools allow businesses to quickly set up ticketing options for their events – from basic free tickets to complex multi-ticket bundles – and provide additional services such as merchandise or donations. Additionally, businesses can leverage the Eventbrite Marketplace to reach a new audience of potential customers interested in attending their events. Ultimately, the Eventbrite marketing tool makes it easy for businesses to host successful events quickly and efficiently while providing incredibly detailed data about the success of each event.
Use case of the Eventbrite marketing tool:
Title: Eventbrite: Creating an Event
Speaker: Eventbrite Channel
Businesses using this marketing tool:
Sensorio
Sierra Nevada
Klaviyo
Smart Hustle Magazine
Nashville Fashion Week
#13 Graphic Creation Tool: Visme

The Visme graphic creation tool is a powerful all-in-one platform designed to help marketing professionals easily create and share engaging visuals, presentations, documents, and reports. With Visme, marketers can quickly translate their data into visual formats in less time than it would take to create traditional graphics.
Through Visme's collaboration features, users can work individually or as part of a team to organize project data in folders and gain control over who has access with role-based permissions. Additionally, the Visme marketing tool offers automation for publishing and displaying content that marketers can use to set times to publish online presentations or embed them into their website automatically. This feature helps businesses save time while delivering highly engaging content with the latest industry trends.
Using Visme's graphics creation tool, businesses can easily create attractive visuals that make sharing information easy and effective. These visuals are critical for successfully presenting marketing ideas on social media platforms or to other interested audiences. Moreover, marketers can also utilize the platform's library of templates and thousands of images and icons to produce eye-catching mashups that will drive customer engagement. When used correctly, this marketing tool has the potential to help businesses maximize impact while streamlining the process of creating visuals!
Use case of the Visme marketing tool:
Title: How to Create an Infographic – Part 1: What Makes a Good Infographic?
Speaker: Visme Channel
Businesses using this marketing tool:
IBM
GoldenState Warriors
Gartner
Unilever
Roche
Customer Relationship Management Tool: EngageBay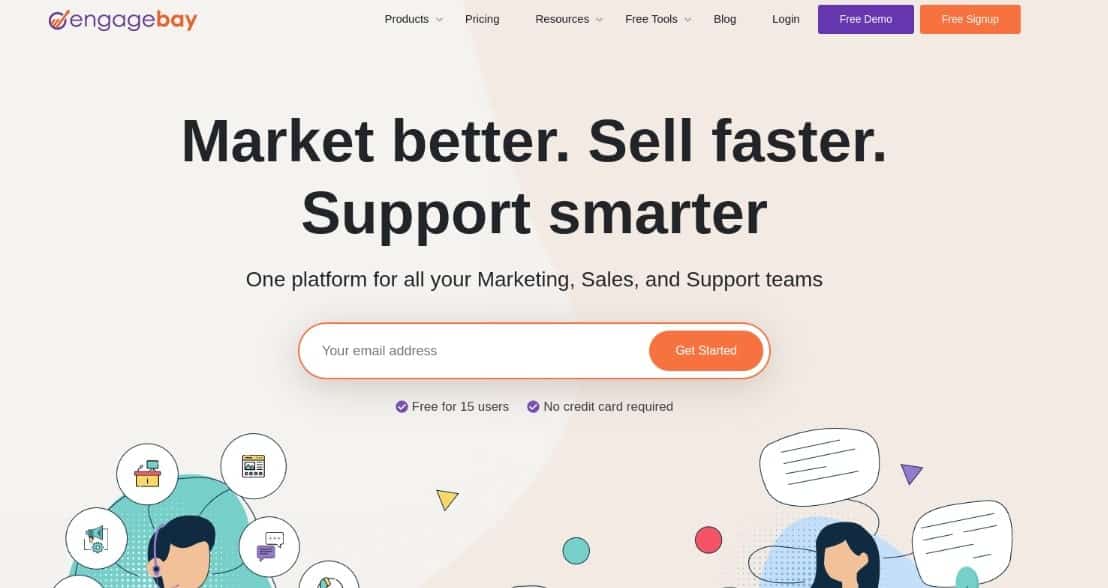 EngageBay CRM is a versatile customer relationship management tool designed for small and medium-sized businesses. It offers a variety of tools and capabilities to assist firms in managing their contacts, streamlining their operational procedures, and automating their sales and marketing activities.
With EngageBay CRM, businesses can easily track leads, deals, and customers, manage their sales pipeline, and automate their email marketing campaigns.
EngageBay CRM's user-friendly interface, which makes it simple for businesses to access and use the application, is one of its primary benefits. Additionally, the platform offers customizable templates and drag-and-drop editors that allow users to create stunning landing pages and email campaigns in minutes.
As a result, firms can start operating fast and without requiring a high level of technological competence. Here's a quick rundown of the key features:
EngageBay CRM offers advanced marketing automation features, such as lead scoring, email sequencing, and behavior-based segmentation.
These features enable businesses to better target their customers and prospects, increasing the likelihood of converting leads into sales.
The platform also includes tools for social media marketing, SMS marketing, and web analytics, allowing businesses to monitor and optimize their marketing efforts across multiple channels.
EngageBay CRM has a robust help center with various resources, including video tutorials, FAQs, and user guides.
Businesses can access live chat support and email support to get help quickly when needed.
Overall, EngageBay CRM is a powerful and versatile tool that can help businesses to manage their sales and marketing processes more efficiently. With its customizable templates, advanced marketing automation features, and comprehensive support options, EngageBay CRM is an excellent choice for businesses looking to streamline their operations and drive growth.
Video with use-case of EngageBay:
Title: The Most Affordable CRM that has everything you'll ever need
Speaker: Alex Berman – Cold Email and B2B Lead Generation Expert
Businesses using this marketing tool: 
Target Innovative Systems
Locuz
BW Design Group
Deque
Trigiene Dental
A review from G2 about EngageBay: 
What do you like best about EngageBay All-in-One Suite?

I like the layout of the platform. It is easy to use and simple to select filters for what your business finds most important to see. We tried a competitor before coming to Engagebay and it was not user-friendly, and the support/help features were not conducive to a busy business owner. The chat feature in Engagebay is outstanding. I am always able to get support immediately, I have never left the chat without my questions being answered, and the employees are on point with their knowledge and professionalism.

Review collected by and hosted on G2.com.
What do you dislike about EngageBay's All-in-One Suite?

I wish there were more space for lists without having to upgrade the plan. These keep my business organized and are a fantastic tool. Maybe think about upping the allotment of lists for each paid plan.

Sarah R, Small business owner.
🎉 Conclusions: The Ultimate Marketing Toolkit to Skyrocket Your Success 🚀
You've journeyed through the realm of the 13 best marketing tools, and now it's time to reap the rewards! With this diverse selection, you'll never face a marketing challenge alone – from social media management with Sprout to email automation via Mailchimp, you're covered. For instance, HubSpot's all-in-one SaaS hub offers a comprehensive suite of services at competitive pricing, while Canva simplifies design for all your visual content needs.
Take action today and elevate your marketing game with these top-tier tools, including Plerdy! By harnessing Plerdy's data-driven insights, you can optimize your web presence and build lasting relationships with your audience. Don't let limited trials and pricing plans hold you back – invest in your marketing success and experience extraordinary results.
These tools cover various industries and objectives, from SEMrush for keyword analysis to Hotjar's visitor insights. Whether you're just starting or an experienced pro, there's something here for everyone. So, don't wait – upgrade your marketing arsenal now and watch your brand reach new heights! 🔥💯
Ready to join the ranks of successful marketers? Try Plerdy today and unlock the full potential of your marketing efforts. Your journey to the top begins here! ✨🌟