Heatmaps are website analytics software that converts user activity data into color-based maps. While hot colors mean users are active, cold colors show that visitors almost don't interact with the website.
Heatmap software is particularly helpful for UX/UI designers, SEO specialists, marketers, and sales specialists. It usually comes with other features for tracking user behavior, like session recordings and event monitoring. With these insights, you can learn how to optimize design and content to nudge people into desired actions.
Want to install heatmap software? Discover the top solutions below.
List of the Best Heatmap Software Solutions
All these software choices include heatmaps as one of their core features. Learn what data they collect and study the use cases.
1. Heatmap software by Plerdy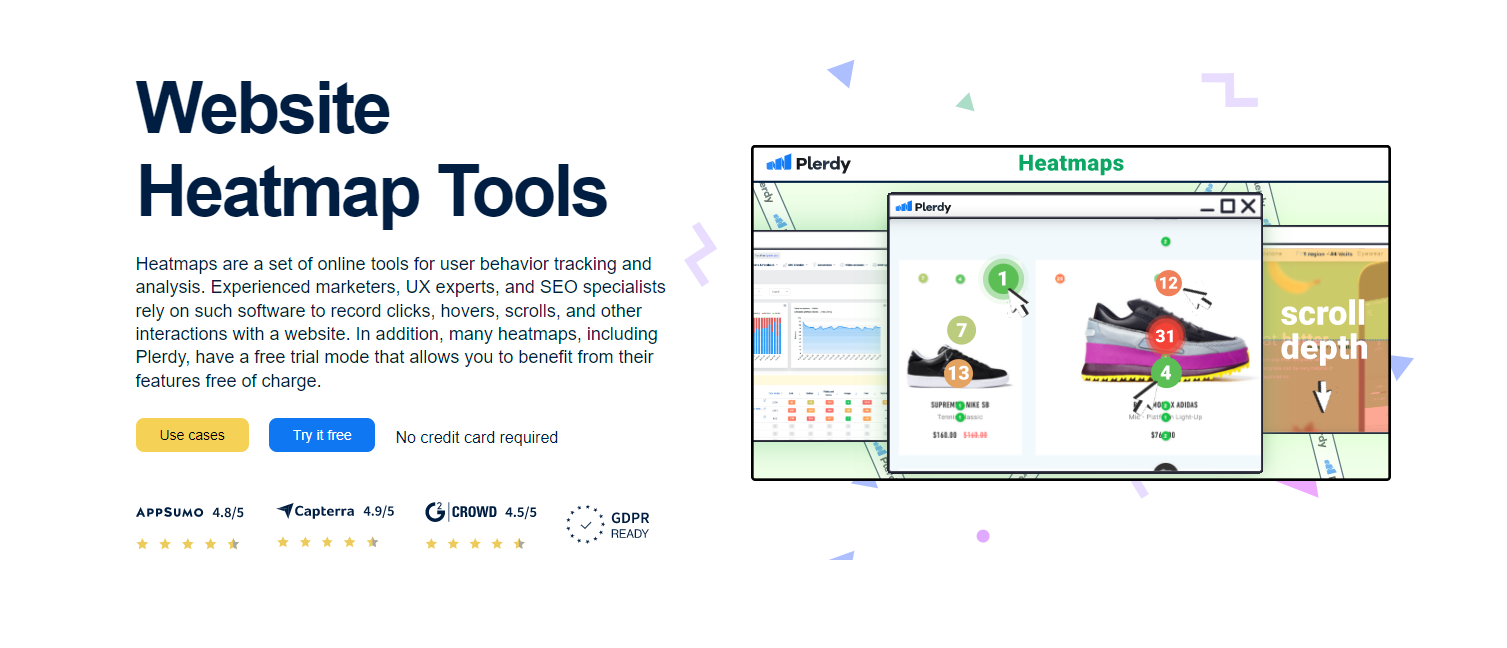 Plerdy is a game changer that brings website analysis into real-time. After installing the software on a website, it shows what people are doing there. Since clicks, scrolls, and actions are displayed on a live website, you can track the impact of changes even if you made them an hour ago.
Plerdy stands out with 99% click collection accuracy and shows only meaningful clicks in heatmaps. Most importantly, Plerdy offers detailed reporting and segmentation. Specialists can check the total number of interactions and filter them by multiple characteristics.
Since the heatmap software provider Plerdy is a Shopify partner, it's available in the Shopify app store as one of the integrations. eCommerce stores can easily connect the heatmap to analyze consumers and boost conversions. Alternatively, you can connect Plerdy as a WordPress plugin to analyze activity, know traffic sources, scroll depth, etc.
The heatmap software is my favorite because it accurately represents which content draws attention based on visitor's interactions within a browser window. It could be useful to determine which pieces deserve focus. (CEO)
Plerdy heatmap offers tons of features. I replaced HotJar with it when Hotjar changed plans and moved a bunch of features around. Plerdy is lighter, so it doesn't bog our site down. (Founder)
2. Heatmap software by Crazy Egg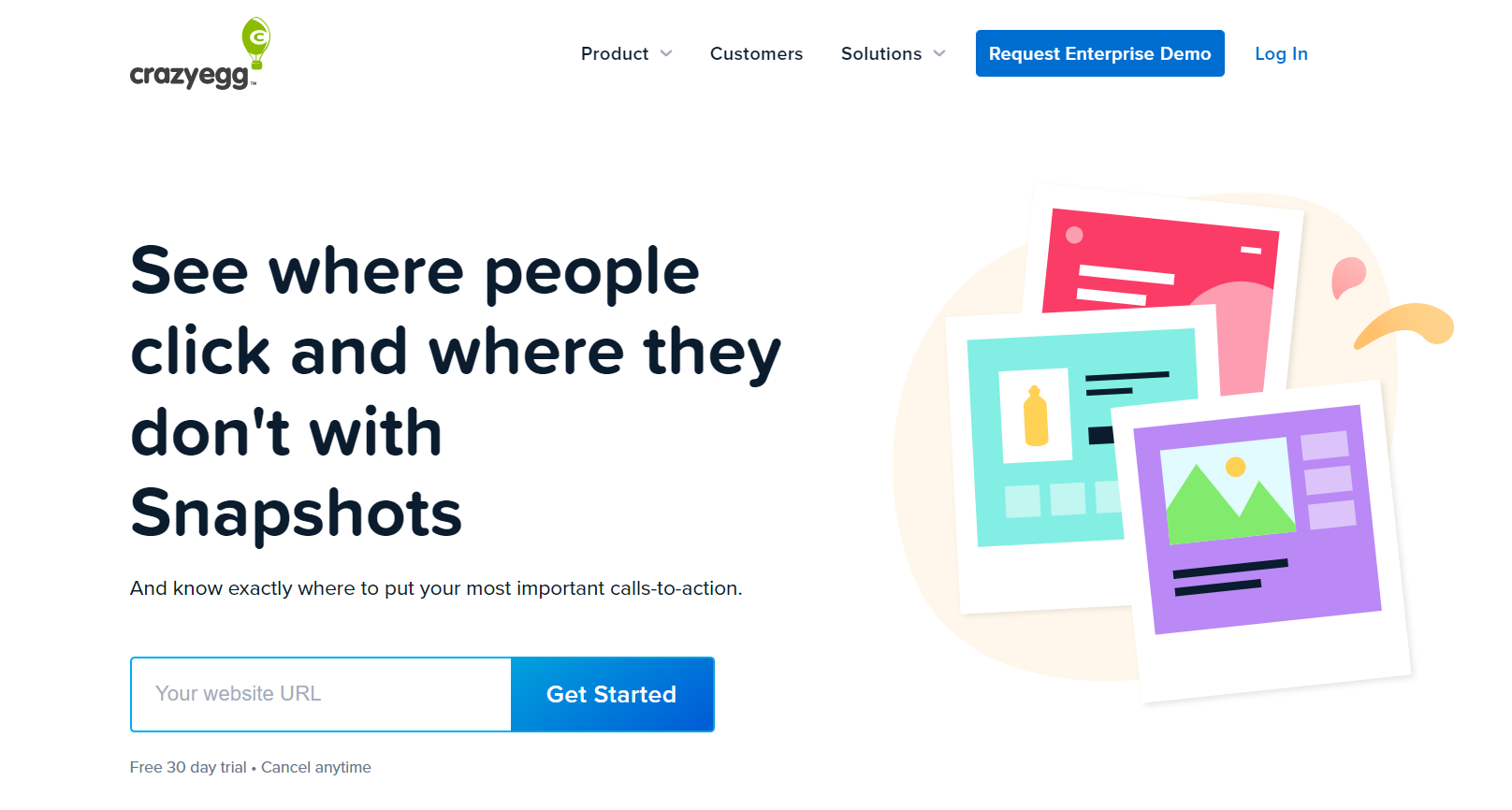 The Crazy Egg heatmap software takes page snapshots and generates five reports based on them. Each provides a unique look at visitors' engagement. You can check the highest areas of click activity, scroll-depth, Confetti color-coded dots representing individual clicks, click percentage breakdown, and a numerical heatmap report.
The broad functionality makes this heatmap software a reliable source of data. You can check the same information from different perspectives to learn the necessary details. The only drawback is this heatmap doesn't offer real-time monitoring.
Crazy Egg heatmap software offers all the necessary tools to run experiments and test results. Their support is super responsive and skilled. (Business Co-Founder)
We enjoy visualizations on snapshots as both a source of information and a "snackable insight" for PMs. (Verified User)
3. Heatmap software by VWO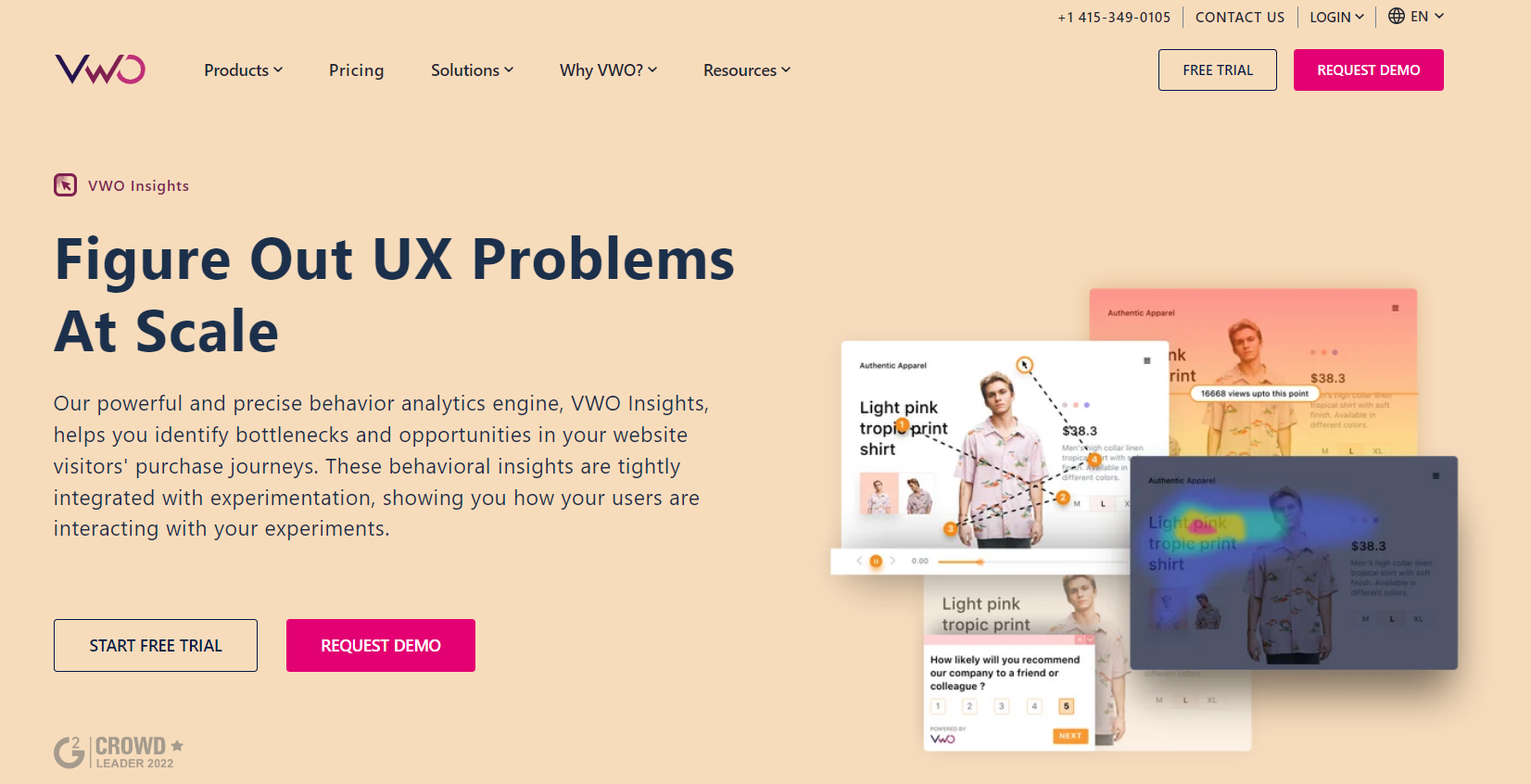 VWO heatmap software is a multi-functional platform offering solutions for eCommerce, SaaS, eLearning, and enterprises. Here, heatmap software is only one of the features. VWO's heatmaps are available in the VWO Insights, designed for monitoring visitors. These heatmaps offer visual representations of interactions. You can see how people click elements, select items, or scroll pages.
VWO supports dynamic heatmaps that capture interactions with pages behind logins, modal boxes, and dynamic URLs. The heatmap software also enables you to select several website areas to conveniently compare activity on them.
I like reviewing heatmaps and testing variations in one software. VWO is very advanced and has many features within the segment setting not available in other tools. (Marketer & Advertiser)
Surveys and heatmaps are limited compared to other tools out there. Other than that, the tests are wonderful. We have the autonomy to implement tests without engaging a developer or even a designer.
4. Heatmap software by Contentsquare

Contentsquare heatmap software has recently raised $600 million in Series F funding and provides rich heatmap functionality. It explains the 'why' of visitor behavior with zone-based heatmap software.
See an aggregated view of in-page behavior, including clicks, hesitations, and scrolls. It also reveals the revenue or conversions each page element brings to your business. You can compare two website versions to pick the most effective one. Similar to Plerdy, Contentsquare has a browser plugin for more convenience.
Contentsquare makes me feel well-equipped to share recommendations on UX optimization. (UX Specialist)
The visual heatmap software demonstrates the online performance to merchandising and buying teams. You can easily switch it to a PDF format for sharing. (Online Merchandiser)
5. Heatmap software by Smartlook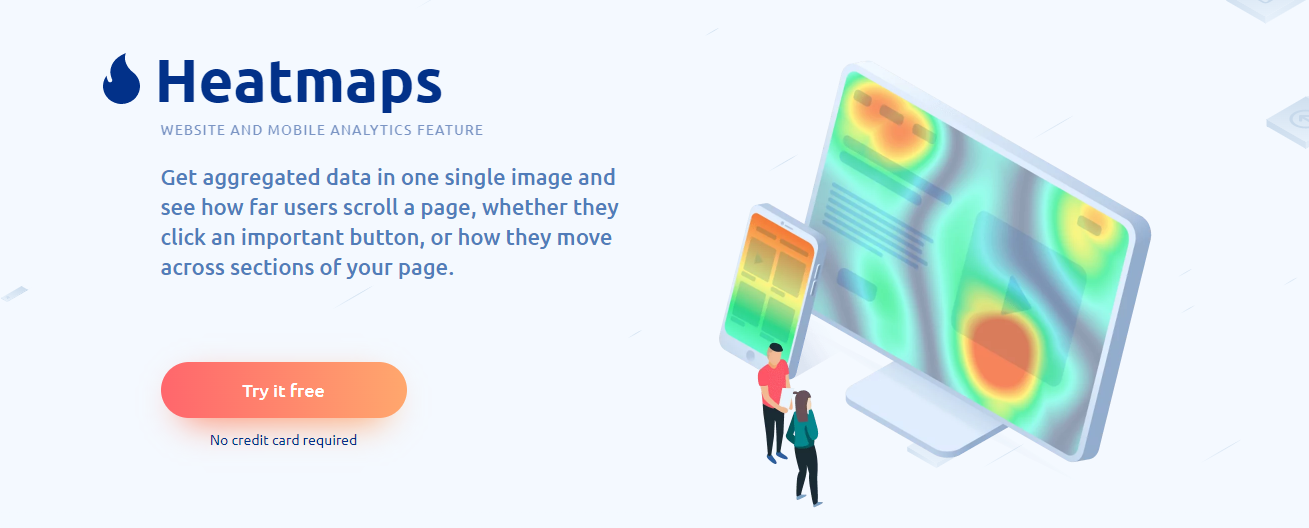 Smartlook provides three types of heatmap software: click, movement, and scroll. The best thing about this solution is that it can generate maps utilizing pre-existing data. You don't need to wait weeks to get data if you have forgotten to create a heatmap. Smartlook will use existing info to generate visualizations in minutes.
The software supports retroactive heatmaps for mobile apps. As a result, product teams can see how users interact with every detail in their applications to enhance the experience where necessary.
Smartlook is immensely practical for diagnosing bugs (especially in console features) and seeing how people respond to updates. Besides, data from heatmaps, funnels, and key event tracking lets us estimate product usage to plan the next steps. (Business Administrator)
I like its ease of use and configuration. You can quickly compile data about the users visiting your website. Smartlook provides useful statistics and analytical reports to study traffic and the origin of the audience. (Search Supervisor)
6. Heatmap software by Mouseflow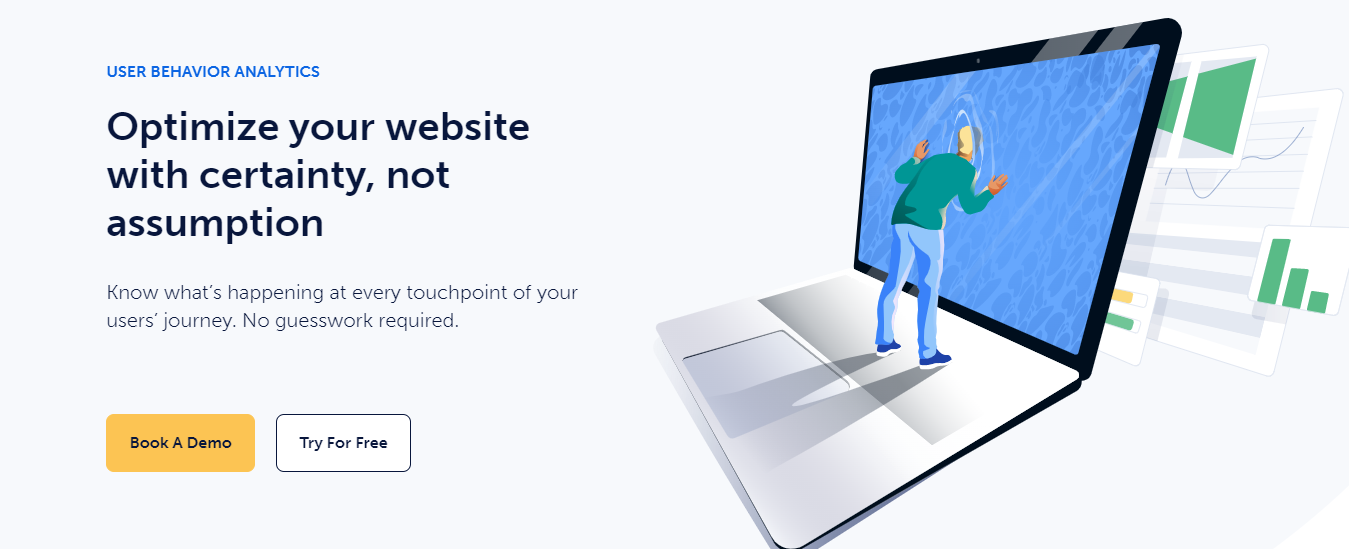 Mouseflow records 100% of traffic by default from the start. It stores data on every page, allowing companies to analyze user behavior retroactively for 3 to 12 months.
After subscribing, you get six heatmaps in one: click, scroll, movement, attention, geo, and live. As a result, you can obtain many valuable metrics like the fraction score. In addition, the heatmaps enable you to detect things irritating users to eliminate problematic elements and increase user satisfaction.
On a basic level, I like heatmap software, funnels, feedback tools, and general analysis. It's friendly with Google Analytics, and you can build custom tags. Thanks to all data integrated, tracking campaigns are super easy. I also love their payment model and support. (Strategy Director)
It allows me to see how users move through and interact. I have managed to identify and fix problems quickly using the info received from Mouseflow. (Business Owner)
7. Heatmap software by Fullstory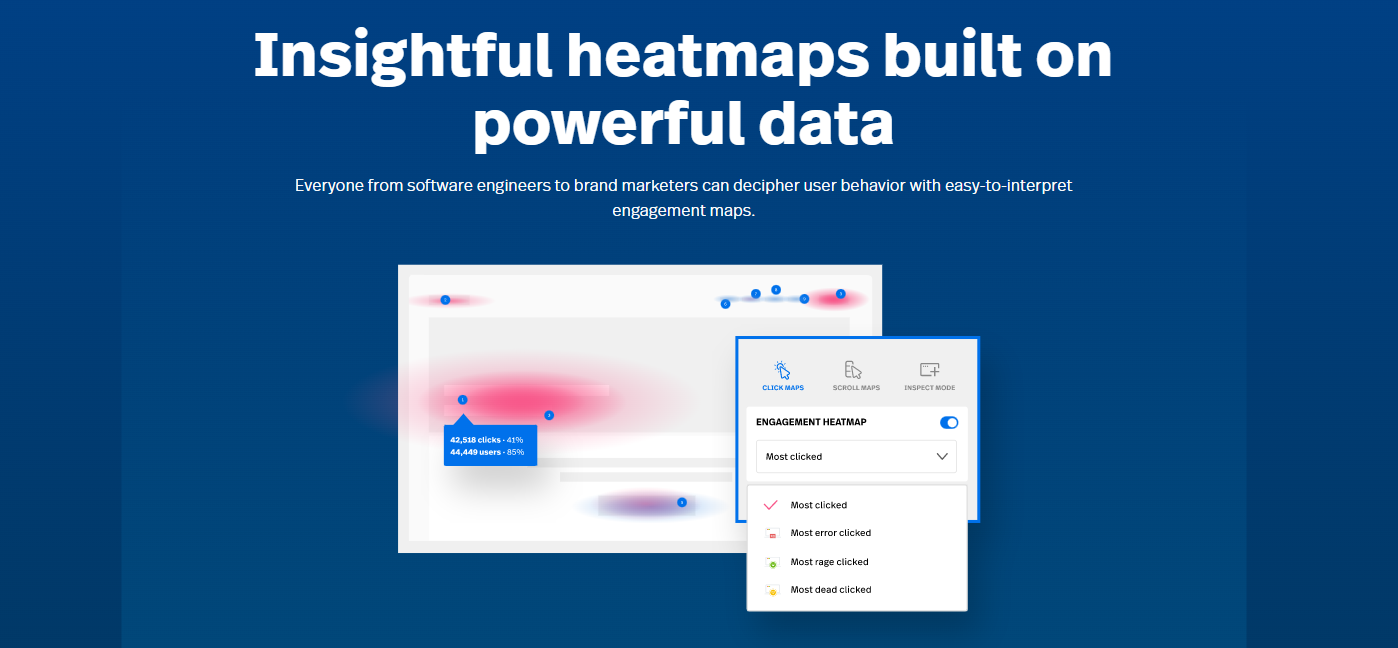 Fullstory heatmap software is a platform for website and product analysis. If you need basic behavior tracking, use session insights. This set of functions allows you to capture actions on heatmaps or video recordings. As a result, web specialists can understand what catches users' eyes, validate design and messaging, and prioritize hypothesis testing.
Fullstory has journey mapping, user segmentation, and funnels for advanced analysis. It also captures frustrations signals (dead clicks, abandoned forms, pinch to zoom, etc.).
It's invaluable for our product, business, and support teams. We wouldn't be able to understand how people interact with our apps without it. (Sr. Administrator)
We use FullStory primarily for troubleshooting customer issues. It is an invaluable tool for seeing exactly what is going on. You can share the results with engineers to let them see what the network is doing in the background. (Digital Experience Delivery Manager)
8. Heatmap software by Lucky Orange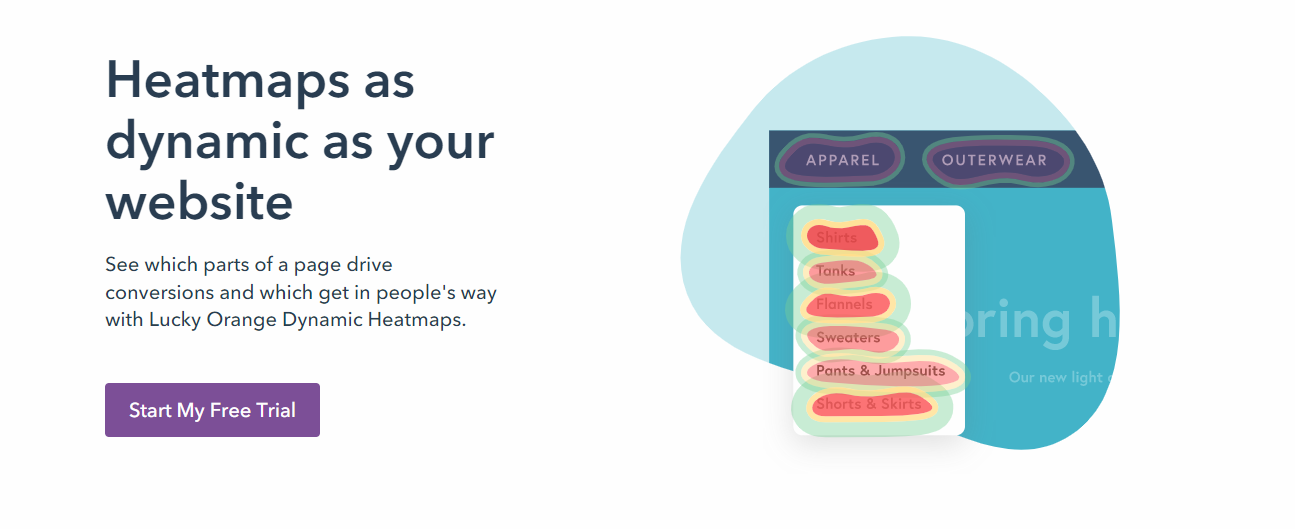 Lucky Orange is known for dynamic heatmap software with segmentation and visual customization. You can modify their look/opacity and compare behavior across sources, date ranges, or other variables. If heatmap software data is insufficient or you want a deeper insight, utilize session recordings, conversion funnels, and form analytics.
This platform can also help revamp client support and sales performance through additional powerful features.
Lucky Orange allows me to identify who's visiting my store at a specific moment and over the past several days. I see how they arrived and where clicked to conclude what content and layout work or don't. It's a digital alternative to watching someone enter a brick-and-mortar retail store. (Investor)
LuckyOrange is very intuitive! It really lets us understand users' behavior and speak to them by adding a chat feature. (Product Manager)
9. Heatmap software by Attention Insight

Attention Insight leverages artificial intelligence to instantly produce maps highlighting the most eye-catching design areas. Detect whether people notice specific elements and get an exact percentage of attention for each object. The platform also offers focus maps. They show which parts of the page users see or skip within the first 3-5 seconds. If someone doesn't notice content immediately, they will leave shortly.
Predictive maps generated by AI (backed by MIT research) enable user-centric, data-driven decisions about design. (Director)
I truly love this software. Why? The heatmap and focus feature generate a web page heatmap to show what readers are likely to see or ignore. (Business Founder)
10. Heatmap software by Cux

These heatmaps visualize users' frustrations with single and group pages. For example, they display where people click but cannot find a clickable element.
The most remarkable thing about Cux software is the ability to track users across all devices, including mobile, desktop, tablet, smart TVs, wearables, and embedded browsers. The cross-device support makes it pretty universal.
CUX can be used by anyone interested in researching users. Companies, professionals, and individuals. You can highlight pain points within your site and get tips on fixing them. (Team Manager)
The overall interface is clear and grants quick access to the essential parts and features. Much information is provided by heatmaps and session recordings, bringing first meaningful insights and conclusions. (Manager)
11. Heatmap software by Zoho PageSense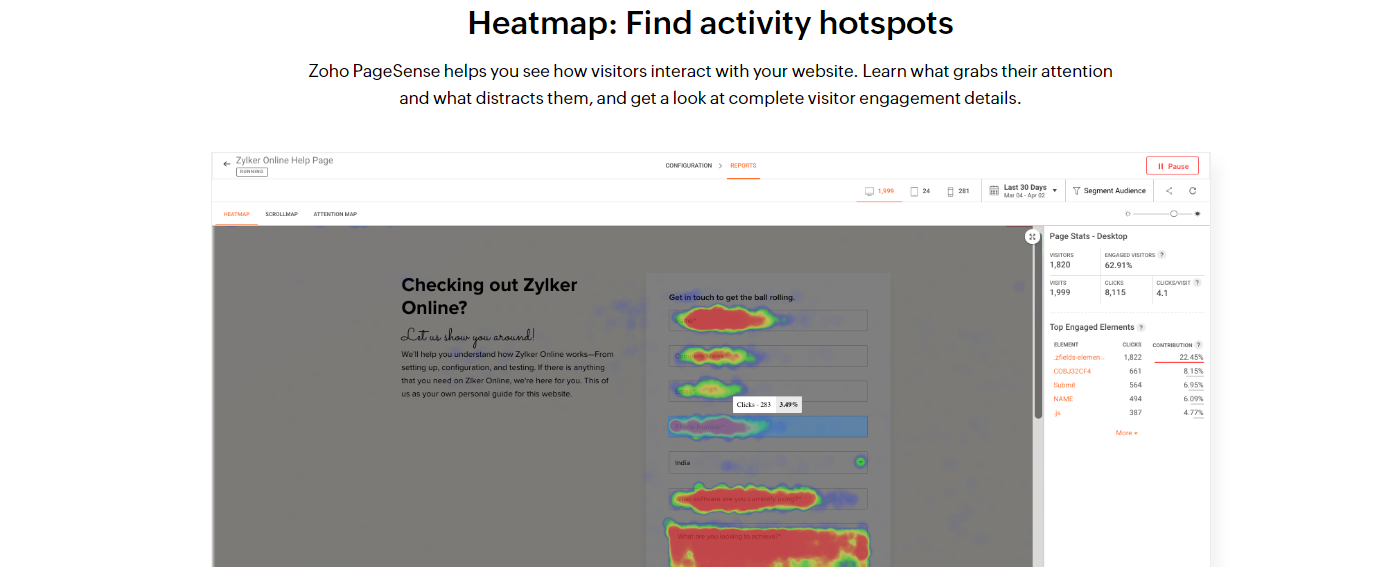 The Zoho platform includes apps for sales, marketing, email & collaboration, human resources, and more. Among all these features, they also provide standard heatmap software that detects activity hotspots, scroll depth, and attention. These maps are suitable for cross-platform tracking.
It's a unique tool perfectly used for performing various tasks. It helps us in running even small companies with a limited budget. I don't have any complaints about it and recommend it to others too. (Business Development & Marketing Professional)
Zoho PageSense allows you to run multiple website tests. I recommend this software to anyone trying to get into digital marketing or to regular business owners who run analysis themselves. (Digital Marketing Specialist)
12. Heatmap software by Browsee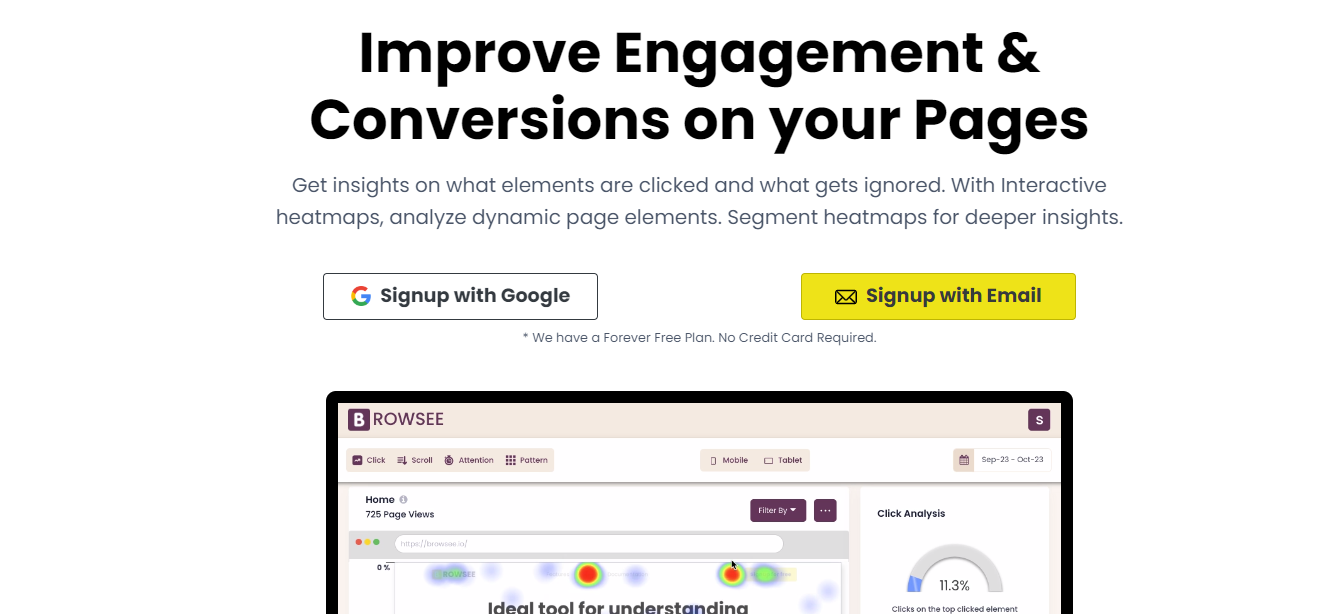 Unlike many of the all-in-one products above, Browsee focuses on heatmaps. Segment them by traffic sources or geolocation, run A/B experiments for page engagement, or choose between the Continuously Changing Page or the Heavy Traffic Page heatmap types to capture user behavior in the most convenient and readable format.
Besides Heat and Scroll, Browsee provides attention maps to add another perspective. Now we know that although users are scrolling more, their attention isn't on the first and second viewport. (Sr. Product Manager)
A feature to segment heatmaps and session recordings using variables is nice. Plus, you get comprehensive reports and assistance with onboarding. (Marketer & Advertiser)
Conclusion about Heatmap Software
To pick a heatmap software, you must decide what data is the most valuable for your team. For example, you may want to monitor specific actions or get comprehensive statistics. Once you formulate expectations, shortlist several options and test them to make the final choice.