In today's competitive online landscape, leveraging the right digital marketing tools is essential for brands to stand out and achieve their goals. This thorough list of the top 42 digital marketing tools will help you choose from the best solutions so you may be successful in your pursuits. These tools are designed to tackle many tasks, such as analyzing user behavior, improving website usability, optimizing design, and enhancing SEO performance.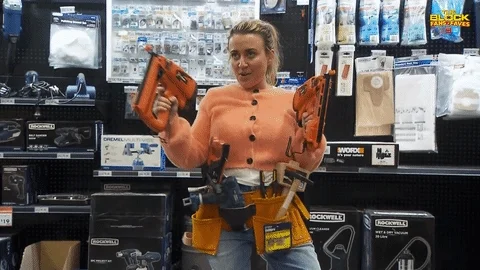 Famous brands often incorporate Plerdy-based user behavior analytics into their strategy. However, it's crucial to note that websites often receive non-targeted traffic, making continuous improvements to usability and design necessary – from website creation to ongoing SEO efforts. Additionally, it's vital to frequently analyze micro and macro conversions, usability, and user behavior to achieve the ultimate goal: super sales.
So, dive into this article, explore the best 42 digital marketing tools, and discover the right combination to elevate your brand's online presence and drive stellar results.
Selecting the Ideal Digital Marketing Tools for Your Website
To choose the most effective digital marketing tools for your website, follow these steps:
Identify your objectives: Determine whether you aim to boost sales, foster relationships, or attract new clientele.
Budget considerations: Remember that premier digital marketing tools may cost anywhere from $50 to $2,000 monthly. Strive to strike the perfect balance between cost and efficiency.
Key Factors to Bear in Mind
Ease of use: Opt for user-friendly tools, such as simply integrating the Plerdy Shopify app into your online store. Choosing intuitive tools will save you time and money as you become adept at using them.
Nuances: Remember that each tool has unique features and capabilities, making it crucial to consider these when deciding.
By following these guidelines and paying attention to the details, you can select the ideal digital marketing tools for your website's success.
Maximizing Digital Marketing Tool Efficiency
Implement these strategies to leverage your digital marketing tools fully:
Consistency and Planning
Develop and adhere to your test sprint schedule using suitable management methodologies like Agile or Kanban.
Focus on reaching your target audience and monitoring the macro conversion rate.
Prioritizing Quality
Create high-quality, green 💚 content that resonates with your audience rather than posting incessantly.
Utilizing Analytics
Track the conversion rate (CR) to pinpoint successful campaigns and make necessary adjustments.
Unleashing Creativity
Exploit top digital marketing tools to craft unique campaigns and content that captivate customers and convert them into buyers.
By following these tips, you can make the most of your digital marketing tools and bolster your online presence, increasing conversions and customer engagement.
List of the Best 23 Digital Marketing Tools
This list will look at many great digital marketing tools that cover many tasks and save time for the business owner, marketing department, and others. So, let's get started.

Introducing Plerdy, your go-to digital marketing tool for a seamless e-commerce experience! This all-in-one platform empowers you to track, analyze, and convert visitors into buyers by optimizing website funnels and boosting conversion growth. Kiss cart abandonment and high bounce rates goodbye while increasing customer retention and lifetime value.
What sets Plerdy apart? It boasts 99% data accuracy, captures clicks on dynamic elements, supports SPA sites, and offers real-time website tracking. Utilize interactive heatmaps, scroll depth, and visitor session recordings to pinpoint areas for improvement. Plus, its integration with Google Optimize allows you to launch A/B tests easily.
Maximize your e-commerce marketing potential with Plerdy's SEO-checker, analyzing critical SEO metrics daily and providing valuable insights on-site health. And if you're looking for comprehensive UX analysis, Plerdy's got you covered. With eCommerce tracking, you'll uncover the connection between user behavior and sales, allowing you to fine-tune your website to perfection.
The bottom line? Plerdy is the complete digital marketing tool your e-commerce business needs to soar to new heights. Say hello to increased revenue, lower churn rates, and a more satisfied customer base.

Google Analytics is a leader in its marketing analytics niche. It is a free digital marketing tool showing in-depth website analytics with added tracking code. With it, you will find out where users came from, how many are on a web page, and the bounce rate. It determines the country and route of a web page during a visit. To analyze the effectiveness of your marketing strategy, specify the time frame – day, week, or month.
The marketing tool comes with dozens of filters, generates 100 types of reports and offers many additional options, allowing you to set up marketing analytics for a project of any complexity.
Statistics are presented in the form of graphs and diagrams.

It is a contextual advertising solution suitable for a company of any size. It allows you to drive marketing and potential customers to your website by displaying the ads on Google partner pages. The tool is designed to promote a website or product. Marketing opportunities: composing the text of the announcement, keyword selection, setting the daily budget threshold and the duration of the advertising campaign. It interacts with Google Analytics to analyze the effectiveness of the marketing strategy.

After registration, your company gets a free personal profile on Google marketing tools. Information is displayed in Search and Maps. Users will see your information when they type your brand name into Google or search for your company or service with the help of keywords. You can specify a marketing description, location, opening hours, and contacts. Reviews and route options will also be visible to a potential client, and a company representative will see statistics of requests and clicks on links.
Free access to business information increases the level of user confidence. Integration with Google Components is an additional form of enterprise advertising.

It is a powerful platform for advertisers and agencies that allows for planning and launching marketing campaigns on digital media.
It is equipped with an optimization tool that tests a website and contains two sections: for small businesses and large enterprises. You can use a built-in visual editor and make changes without redoing the code. The digital platform offers the ability to receive a report. It helps a lot in organizing an advertising and marketing campaign.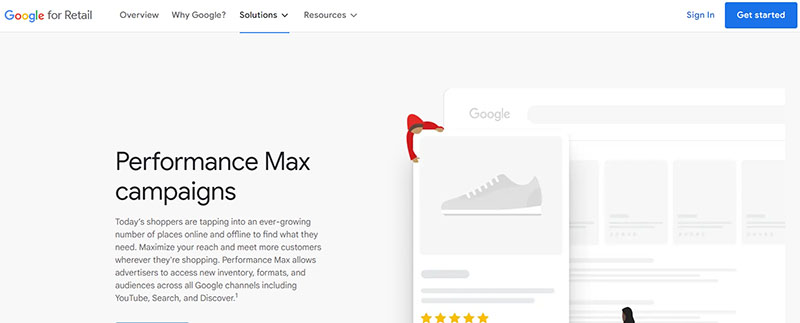 Google Section Tool For Retail resembles a top price aggregator that selects products from different websites at the request of a potential buyer. The digital marketing tool easily finds a potential buyer and increases online store traffic and platform conversion. It automatically optimizes ad targeting mechanisms. The tool is suitable for small projects and broadcasts ads on Google services for free. You need to pay only for clicks on the specified links. It is simple and economical.

It is a Google Ads add-on for keyword searches. The tool selects and analyzes the marketing keys – you get the frequency for given keywords and other vital indicators, such as predicted frequency, cost per click, etc. Additionally, you can specify the target location, language, and date range and add minus words to cut off the non-target audience. The analysis results are added to the marketing strategy and determine the estimated rates for budget preparation.
Google software offers intuitive algorithms for promoting a company. The website's conversion increases and the reach of the audience grows.

It is a real-time analytical marketing tool that tracks users' behavior and shows a complete picture of their actions or reactions to the created event. You will get clear-cut reports in the format of dashboards and charts assessing your ad campaign efficiency. Possibilities:
segmentation of events and users (participation of users in events is also reflected);
determination of the user retention rate;
cohort analysis;
notification distribution.
The marketing tool has two tariffs: Free and Contact Amplitude. The free version supports up to 10 million events per month. The corporate rate is $2000 per month, with an annual subscription.
The marketing software is incompatible with Android and iOS and supports the Web, Windows, and Mac. But the tool is flexible and evolving rapidly.

This marketing software studies users' journeys and creates detailed reports on funnels, retention, and customer flow. The tool collects and analyzes website statistics. It segments the audience based on events, characteristics, and user profiles. There are customizable filters by territory, activity on the website, and gender. Key marketing features of the tool:
the behavior of an individual user;
covers websites and applications;
sending out emails and notifications based on analysis;
viewing events or user actions in real time.
The free plan allows you to track up to 100,000 users. The minimum price is $17 per month.
The disadvantage is a complex interface; you cannot configure the report parameters. On the other hand, the tool's plus is its reliability.

The marketing software analyzes real-time e-commerce metrics – visits, conversions, and revenue.
You can integrate the Adobe marketing tool into your system and perform various types of analysis (streaming). It has four interfaces that are responsible for multiple functions. Features of the tool:
detailed customization of statistics parameters;
a careful classification of data;
rationalization and analysis of vast volumes of disparate data.
There are three plans – Select, Prime, and Ultimate. Check the price of each with a company representative.
The marketing tool disadvantages include the setup's complexity and the high price. Real-time reports may be slow to load.

This corporate enterprise marketing tool is excellent for extensively analyzing a company's audience. It combines six Google products for research, audience, and statistics collection.
The software can handle over 1 billion requests per month. Features of the tool:
works with online and offline data
uploading raw data to the cloud;
combining data from different counters;
clear and beautiful interface.
Price starts at $150,000 per year. There is a trial plan.

This business intelligence software represents a big data analytics platform that helps you explore marketing, analyze and share real-time data. It is a cloud-based solution that collects data from various sources. The tool comes equipped with a built-in code editor and is highly customizable. Differences between the platform and similar ones:
the data model is described in a different language – Look ML;
interaction with any SQL database;
the ability to work together remotely.
It quickly responds to commands. The price is calculated individually, considering the project's marketing scale and connections. You can order a demo version from the developers.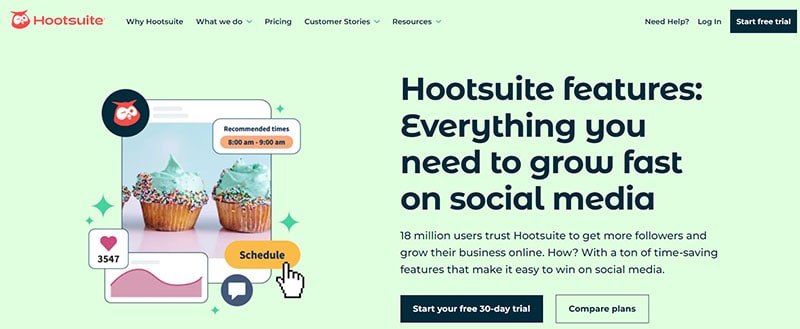 This multitasking extension enables full-fledged management of SMM promotion of several profiles in different networks. The marketing tool allows you to track all your social media activity through one dashboard. When entering credentials, it supports Facebook, Twitter, Instagram, LinkedIn, Pinterest, YouTube, and WordPress. Digital tool functions:
allows you to schedule content;
manages the added social networks;
in the paid version, conducts content analytics.
It has been around for over ten years, so the interface is old-school. The Shared Content Library simplifies maintaining the same page across platforms.
The marketing tool has a basic free plan with limited capabilities. It has four price tiers, starting at $49.
This SaaS media analytics solution is ideal for media marketing monitoring purposes. The marketing tool allows you to sift through news, social media posts and other messages relating to a particular brand, competitors and industry. Additional features:
built-in library of widgets for creating information panels;
export and saving of visual presentation of data;
creation of discussions and instant replies to comments through the platform.
The cost is calculated individually.

The Enterprise plan is best for multi-user work. You can access several brand kits (Brand Kit) and unlimited storage. This software is a "secret weapon" for marketing graphics and other visual content. It helps design presentations, posters, banners, stories, and visual posts. Marketing features of the platform:
a library of templates divided into categories;
adding, removing, and replacing graphic elements;
saving and exporting in PPT, PDF, GIF, JPG, and MP4 formats;
creation of graphs and infographics;
photo editor;
marketing teamwork;
automatic update when implemented in the platform structure.
The free plan gives you access to 8000 templates. Pro versions will cost $12.99 – $36 per month.

Semrush helps you optimize on-site and off-site SEO. It is complex marketing software for keyword research, SEO audit and competition analysis tool. Besides, you get extra features like the keyword tool, backlink checker, PPC data, content, SMM, and SERM. Key functions of the tool:
performs domain analysis, including review, SERP, backlink checking, and traffic;
examines the advertising strategy down to the budget;
tracks the marketing performance of Shopping ads;
compares domains, converts the result into graphs;
organizes keywords.
The digital platform offers multiple marketing tools, but learning them takes time. Consumers also consider the cost of use as a disadvantage – the paid plan starts at $119.95.

This SEO and digital marketing tool can analyze any website, mainly regarding traffic and backlinks. It collects four categories of data – content index, keyword index, search traffic index and backlink index.
Other marketing features help you:
create backlinks;
monitor competitor positions;
identify vulnerabilities of your website;
look for top ideas for content;
draw up charts and reports;
track brand mentions on the Internet.
The multitasking of the marketing platform requires a detailed study of the functions. Of the minuses, users note some inconsistencies in the interface. The paid plan starts at $99 per month.

Serpstat is a multifunctional marketing and SEO platform comprising five modules: rank monitoring, backlink analysis, website SEO audit, semantics analysis and competitor analytics. The solution consists of 20 tools. The main marketing features are
analysis of keywords, contextual advertising, and ads;
Audit of the entire website;
research of the marketing strategy of competitors;
team management;
parsing top and frequency.
The developers have provided a guide for using the marketing platform. The downside is that you need to customize the interface. Free registration gives you access to basic functions. After that, the price starts at $69 for 30 days. After that, recurring customers receive a 20% discount.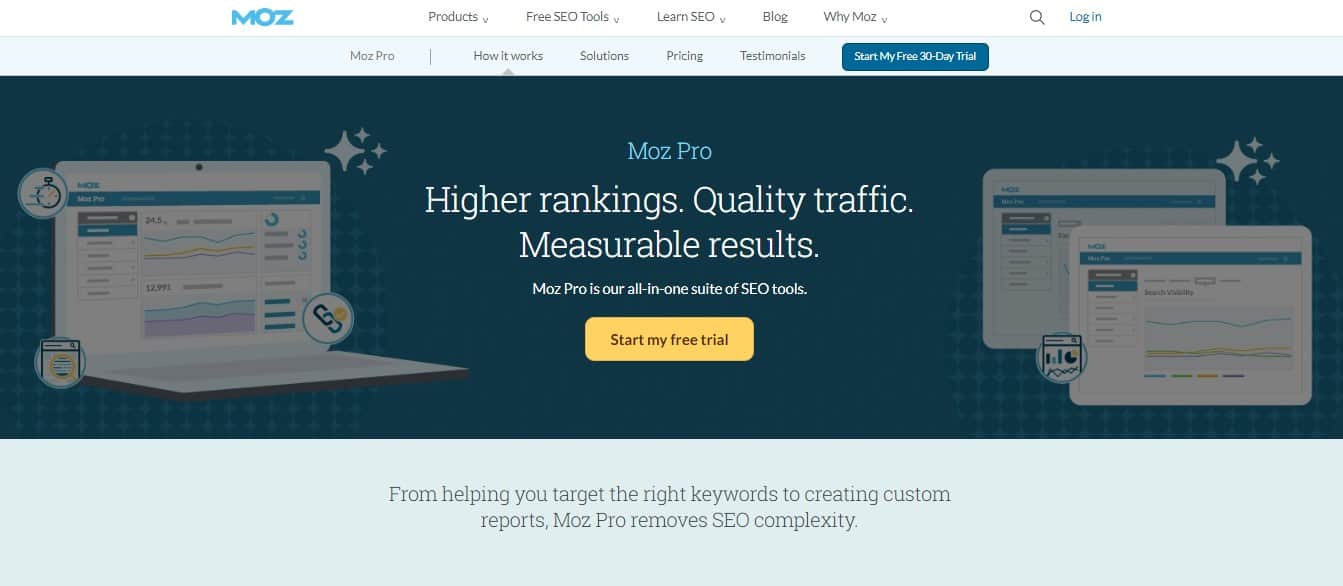 This set of SEO tools performs various optimization steps, from keyword targeting to reporting. Its most valuable marketing features allow you to increase your traffic, visibility and rankings.
The marketing software comes with a free Chrome browser extension. It selects keywords and makes a technical audit. Features:
parses the semantic core of the website bit by bit;
gives recommendations for optimizing a web resource;
detects spam websites and broken links.
The tutorials only cover part of the full scale of the marketing platform. Subscription prices start at $99 per month. A trial period of 30 days is available.
This marketing tool is the undisputed leader in subscriber list management, email delivery efficiency and user support. It offers various contact import options and a lot of ready-to-use email templates. The marketing tool has been around for a long time and inspires trust among users. Its range of functions is not limited to automated mailings. Marketing features:
creates publications for social networks;
integrates the company into Facebook;
invites subscribers to events;
Sends trackable coupons to help build a customer base.
The brand icon in each letter causes inconvenience, and for Outlook users, the display of templates will be distorted. The price depends on the number of subscribers you have. Developers offered a 30-day trial period and reported the possibility of discounts and bonuses.

It is a powerful campaign tool for all types of businesses. The built-in editor allows you to create multiple email marketing campaigns as an automated flow.
Create a mailing list, automate tasks, and instantly personalize emails. Additional features:
aesthetic letter templates;
marketing segmentation of recipients.
The cost of usage depends on the number of contacts in the list. Growing the audience will cost between $10 to $205.

It is an automated marketing solution for small and medium-sized businesses. It allows marketers to configure their needs and generate more leads. Act-On's intelligent tools help attract more visitors to the website and turn them into customers. Features and functions:
automation of product routes;
integration with CRM systems;
interactive dynamic marketing reports.
There are two plans. Professional costs $900 per month, Enterprise costs $2000.

This marketing software will find the best automation solutions for all types of companies to push your leads to conversions. The platform simplifies communication with a client, conducts analysis, and builds efficient marketing strategies. With its help, you can:
avoid lead leakage;
analyze and visualize user behavior;
choose a communication channel with a client.
The product is designed with a simple, user-friendly interface.
There are three pricing plans, starting at $20.
A Brief Overview of the other 19 Digital Marketing Tools
In today's dynamic digital landscape, having the right marketing tools is essential for businesses to excel. Discover 19 additional top-notch digital marketing tools that can elevate your website to new levels of success.
| | | |
| --- | --- | --- |
| Tool | Advantages | Unique Features |
| HubSpot | All-in-one inbound marketing solution | Comprehensive CRM, automation, analytics |
| Trello | Project management & collaboration | Visual boards, cards, lists |
| MailChimp | Email marketing & automation | Templates, A/B testing, audience management |
| Buzzsumo | Content discovery & analysis | Trending topics, influencer search |
| Slack | Marketing team communication & collaboration | Channels, file sharing, integrations |
| HotJar | User behavior analytics | Heatmaps, session recordings, surveys |
| Google Optimize | A/B testing & website optimization | Visual editor, reporting, targeting |
| LinkedIn Sales Navigator | Lead generation & sales prospecting | Advanced search, lead recommendations |
| Screaming Frog | SEO audit & technical analysis | Site crawl, duplicate content detection |
| ActiveCampaign | Email marketing, CRM, automation | Segmentation, predictive sending, reports |
| Lemlist | Personalized email marketing outreach | Custom images, dynamic landing pages |
| Unbounce | Landing page creation & optimization | Drag-and-drop builder, A/B testing |
| VWO | Conversion optimization & A/B testing | Heatmaps, funnels, session analysis |
| Yoast SEO | WordPress SEO optimization | Readability analysis, XML sitemaps |
| Loomly | Social media management | Post-marketing ideas, scheduling, analytics |
| Typeform | Interactive forms & surveys | Customizable templates, logic jumps |
| Zoom | Video conferencing & webinars | Screen sharing, breakout rooms, recording |
| Dropbox | File storage & sharing | Version history, sync, team collaboration |
| Buffer | Social media scheduling & analytics | Multi-platform posting, analytics |
These digital marketing tools provide diverse features, covering analytics, SEO enhancement, project management, and communication. By integrating these solutions into your marketing strategy, you'll be able to increase productivity, gain valuable insights, and bolster your website overall. So, seize the opportunity to investigate these tools and harness their complete capabilities to ensure your business thrives.
Bottom Line
The digital marketing landscape is vast and ever-evolving. With countless tools, finding the ones that best fit your needs is crucial. From menu planning with Sprout's suite to mastering the art of image optimization, these 42 top tools can elevate your marketing game.
One standout tool you don't want to miss is Plerdy. As a comprehensive marketing solution, it caters to various industries and handles everything from SEO optimization to website analytics. Plerdy's user-friendly interface makes managing your digital marketing efforts a breeze. From tracking user behaviors to driving e-commerce conversions, Plerdy is your one-stop shop for staying ahead of the curve in the digital marketing world.
Ready to give Plerdy a shot? Sign up today, and watch your marketing campaigns soar to new heights. Experience how this powerful marketing tool can boost your digital marketing results and help you stay ahead of the competition. Embrace the future of marketing with Plerdy – you won't be disappointed. Sign up for Plerdy now!