Digital marketing rests on two major factors – digital trends and knowledge of the target audience. Both require constant research and optimization. The digital marketer will have access to specialized marketing tools that solve the company's problems with a minimum investment of time and effort. But there are thousands of them, so it can be a challenge to find a suitable solution on the first try. When choosing the right digital marketing software, marketers ask questions:
How to use digital softwares more effectively to form a marketing strategy?
Which marketing tools meet the needs of small and medium-sized businesses, and which ones are tailored for corporations?
What digital marketing softwares will help in brand promotion?
Will the chosen tool be able to put your site at the top of search results?
What are tools for SMM are better for organizing the maintenance of social networks?
Digital marketing softwares combine products for analytics, SEO, social media, or email. When choosing digital assistants, follow this algorithm:
Determine what features are needed. You can skip half of the all-in-one online tools;
Decide if the digital marketing tool is convenient for your company;
Find out the specifics of operation and support – availability, security, availability of updates;
Calculate whether the cost of the product pays off.
Based on the specifics of business marketing and the budget, will the chosen tools solve questions.
7 Digital Marketing Softwares for Conversion from Plerdy
All steps to increase conversion must be based on accurate data and consider the real problems users face.
Plerdy offers a range of targeted online marketing tools to help marketers streamline their workflows.
Heatmap is essential for marketers of online stores and other e-commerce projects who want a complete picture of user behavior on their websites. Defines "hot segments," scrolling depth, sequence of clicks, tracks the location of the cursor, the selection of text on the pages, the presence of the mouse. Website Heatmap Tools helps you:
understand the reasons for low conversion;
detect errors in design (broken links, unsuccessful posted ix elements on a page);
arrange hyperlinks correctly;
quickly find errors.
After pre-configuration, the data is transferred automatically to Google Analytics, where you get the opportunity for advanced analysis.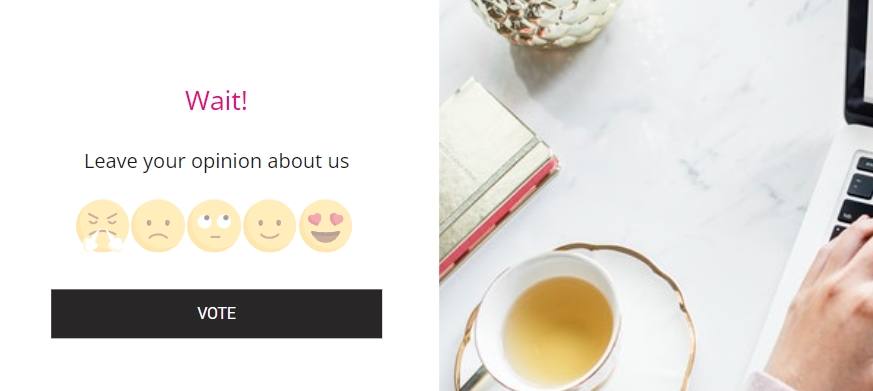 Comprehensive pop-up customization. Helps to establish lead generation and creates a contact base, get feedback, inform about promotions and discounts.
The tool contains:
ready-made templates (for ordering in 1 click, for collecting email addresses and phone numbers, for informing about "hot offers");
adding a banner;
fixed shortcut button;
several functionalities for receiving feedback.
As a result of using the marketing tool, the level of site usability increases.

An online SEO metrics assessment tool that monitors the status of a site in real-time and overtime. Expansion options:
keyword research and comparison with Google Search Console;
grouping of pages by type of errors;
selective analysis.
Implementation of a set of optimization measures based on SEO Checker data improves rankings and increases website traffic.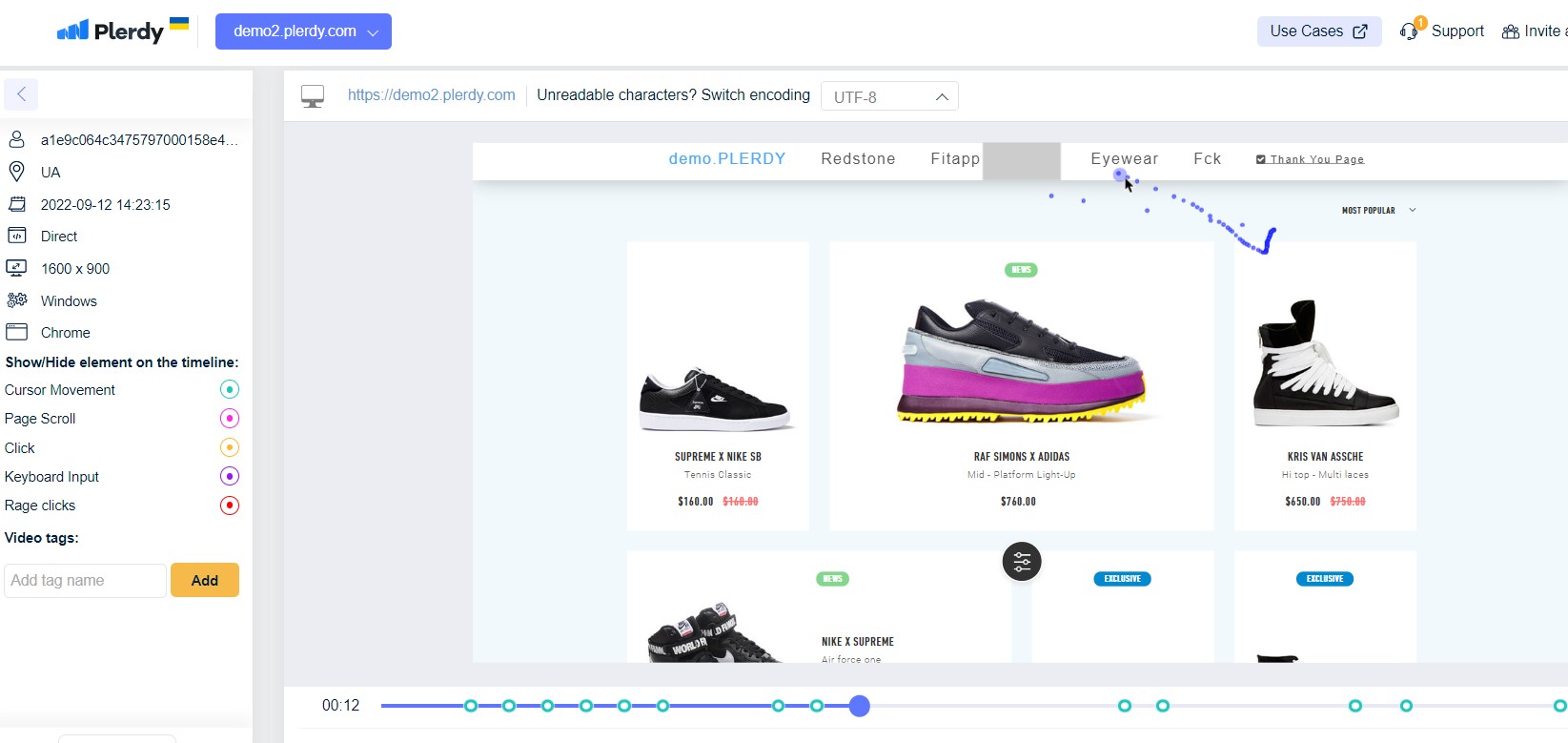 User session recording tool allows web marketers to see how mobile and desktop visitors behave on a web page. Checks video replays of mouse movements and touches performed while watching. With it, you see the advantages and disadvantages of the interface.
Select specific web pages for analysis, or explore the entire site. You can view a recording of an activity session, skipping the pauses that occur between visits. Session Replay Software is a powerful digital visual analytics tool.

This marketing tool provides detailed information about user behavior on the site. It helps:
Customize analytics parameters, taking into account specific goals (just added a form or button).
Track macro and micro conversions.
Prioritize goals.
The data is sent to Google Analytics and thoroughly investigated. The advantage is the recording of important events, which, if necessary, are instantly provided in the form of statistical data.

The extension monitors the performance of site elements from a financial point of view. By identifying profitable and unprofitable marketing components, you will restructure your strategy. Plerdy E-commerce Sales Performance:
Counts the number of transactions.
Determines the number of buyers and purchases.
Shows the elements of the online store that have brought profit and influenced the ordering process.
The tool "sees" which blocks on the site work best. Thanks to the data obtained, you will be able to optimize your web page.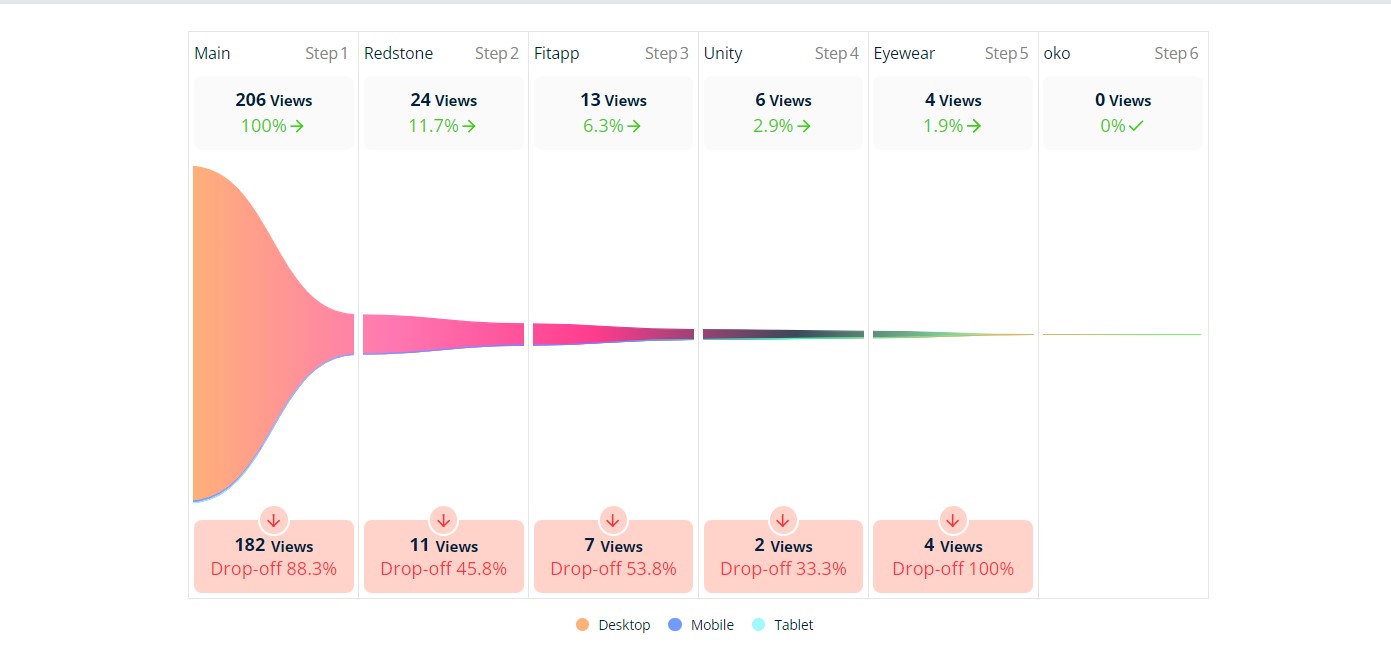 This marketing software analyzes the sales funnel. Its main features allow you to:
It is useful for owners of informational and selling websites, internet marketers, and e-commerce professionals.
All the listed Plerdy marketing softwares and extensions are available online. Important: Free trial modes are offered for those who find it difficult to choose one immediately.
6 Google Tools for Digital Marketing
Digital marketing focuses on Google's search algorithms. Naturally, the company offers its tools for doing business and analytics:

Google Analytics is a leader in its niche. It is a free digital marketing tool showing in-depth website analytics with added tracking code. With it, you will find out where users came from, how many are on a web page, and the bounce rate. It determines the country and route of a web page during a visit. To analyze the effectiveness of your marketing strategy, specify the time frame – day, week, or month.
Statistics are presented in the form of graphs and diagrams.

The tool is designed to promote a website or product. Opportunities: composing the text of the announcement; keyword selection; setting the daily budget threshold and the duration of the advertising campaign. Interacts with Google Analytics to analyze the effectiveness of the strategy.

This software creates a free company profile on Google services. Information is displayed in Search and Maps. You can specify a description, location, opening hours, and contacts. Reviews and route options will also be available to a potential client, and a company representative will see statistics of requests and clicks on links.
Free access to business information increases the level of user confidence. Integration with Google Components is an additional form of enterprise advertising.


An optimization tool that tests a website contains two sections: for small businesses and large enterprises. A visual editor is provided – make changes without redoing the code. The digital platform offers the ability to receive a report. It helps a lot in organizing an advertising campaign.

Google Section Tool For Retail. Automatically optimizes ad targeting mechanisms. Suitable for small projects and broadcasts ads on Google services for free. You need to pay only for clicks on the specified links. Simple and economical.


Google Ads add-on for keyword searches. The software selects and analyzes the keys. The analysis results are added to the marketing strategy and determine the estimated rates for budget preparation.
Google softwares offer intuitive algorithms for promoting a company. The conversion of the site increases, and the reach of the audience grows.
TOP 5 Digital Marketing Analytics Tools
Digital data analysis tools prevent critical mistakes in product promotion strategies. Based on the information from these analyzers, you will optimize your website more efficiently and faster.

Shows a complete picture of the user's actions or reactions to the created event. Possibilities:
segmentation of events and users (participation of users in events is also reflected);
determination of the user retention rate;
cohort analysis;
notification distribution.
The tool has two tariffs: Free and Contact Amplitude. The free version supports up to 10 million events per month. The corporate rate is $2000 per month, with an annual subscription.
Of the minuses – not compatible with Android and iOS. Only Web, Windows, and Mac. But the tool is flexible and evolving rapidly.


Digital product for collecting and analyzing site statistics. Segments the audience based on events, their characteristics, and user profiles. There are customizable filters by territory, activity on the site, gender. Key features of the software:
the behavior of an individual user;
covers sites and applications;
sending out emails and notifications based on analysis;
viewing events or user actions in real-time.
The free plan allows you to track up to 100,000 users. The minimum costs are $17 per month.
The disadvantage is a complex interface; you cannot configure the report parameters. Plus – the reliability.

Integrated into the Adobe software system. Performs various types of analysis (streaming). It has four interfaces that are responsible for various functions. Features of the software:
detailed customization of statistics parameters;
a careful classification of data;
rationalization and analysis of huge volumes of disparate data.
There are 3 plans – Select, Prime, and Ultimate. Check the price of each with a company representative.
The disadvantages of the tool marketers include the complexity of the setup and the high price. Real-time reports may be slow to load.

Aimed at the needs of corporations and is capable of handling over 1 billion requests per month. Features of the tool:
works with online and offline data
uploading raw data to the cloud;
combining data from different counters;
clear and beautiful interface.
Price starts at $150,000 per year. There is a trial plan.

A cloud-based software that collects data from various sources. Equipped with a built-in code editor and highly customizable. Differences between the platform and similar ones:
the data model is described in a separate language – Look ML;
interaction with any SQL database;
the ability to work together remotely.
It quickly responds to commands. The price is calculated individually – taking into account the scale of the project and connections. You can order a demo version from the developers.
TOP 3 Digital Marketing Softwares for Social Media
SMM is relevant for businesses of any size. It is dynamic and multi-vector. Maintaining groups and channels, regularly filling web pages with content means instant responsiveness. Use digital softwares to carry out marketing planning, analytics, monitoring, content creation.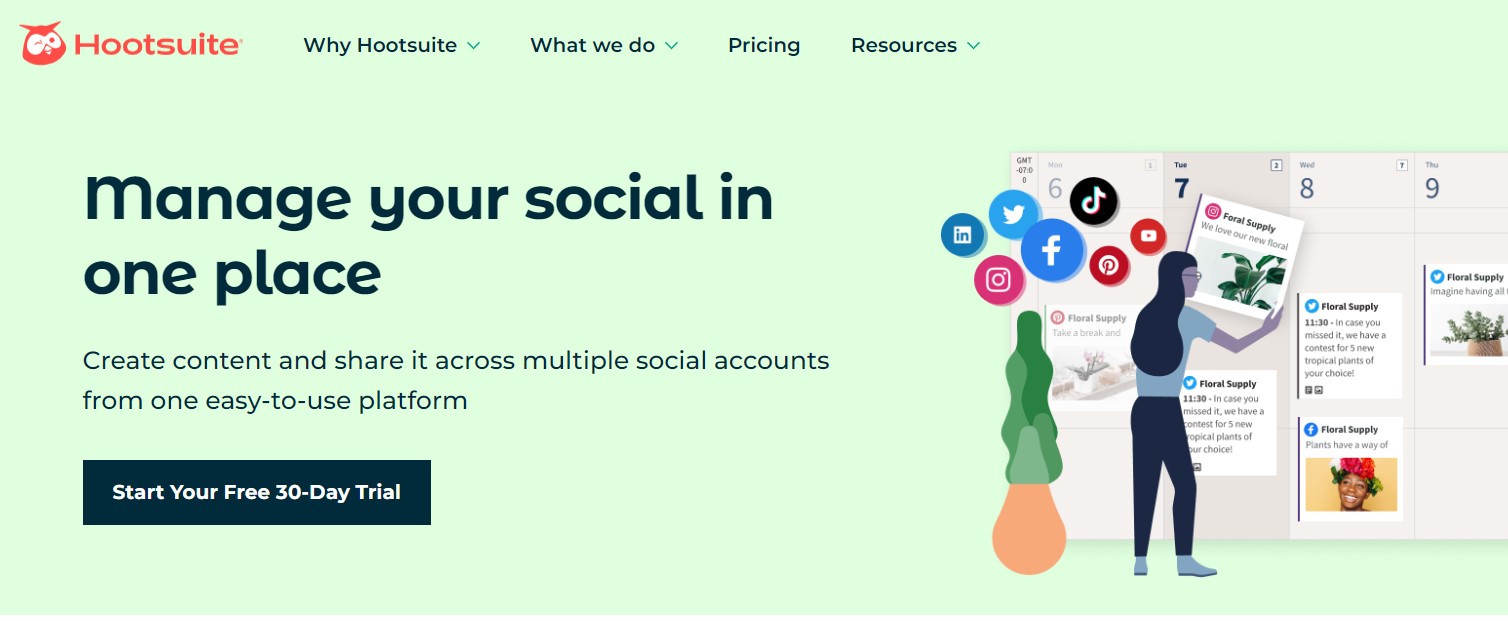 Multitasking extension. Supports Facebook, Twitter, Instagram, LinkedIn, Pinterest, YouTube, and WordPress when entering credentials. Digital tool functions:
allows you to schedule content;
manages the added social networks;
in the paid version conducts content analytics.
It has been around for over 10 years, so the interface is a bit old-school. The Shared Content Library makes it easy to maintain the same page across platforms.
The tool has a basic free plan with limited capabilities. It has 4 price tiers, starting at $49.
Tracks your mentions on social media and news sites. Additional features:
built-in library of widgets for creating information panels;
export and saving of visual presentation of data;
creation of discussions and instant replies to comments through the platform.
The cost is calculated individually.

A "secret weapon" for creating graphics and other visual content. Helps to design presentations, posters, banners, stories, visual posts. Features of the platform:
a library of templates divided into categories;
adding, removing, replacing graphic elements;
saving and exporting in PPT, PDF, GIF, JPG, MP4 formats;
creation of graphs, infographics;
photo editor;
teamwork;
automatic update when implemented in the platform structure.
The free tariff plan gives you access to 8000 templates. Pro versions will cost $12.99 – $36 per month.
TOP 4 Digital Marketing Softwares for SEO
Digital assistants optimize the work of SEO specialists. We provide a list of all-in-one tools.

Works in many directions: SEO, advertising, marketing research, content, SMM, SERM. Key functions of the tool:
Performs domain analysis, including review, SERP, backlink checking, and traffic;
examines the advertising strategy down to the budget;
Tracks the performance of Shopping ads;
compares domains, converts the result into graphs;
organizes keywords.
The digital platform is filled with marketing tools, but learning them takes time. Consumers also consider the cost of use as a disadvantage – the paid plan starts at $119.95.

A comprehensive set of online SEO tools with free tutorials. Helps:
create backlinks;
monitors competitor positions;
identify vulnerabilities of your site;
look for ideas for content;
draw up charts and reports;
track brand mentions on the Internet.
The multitasking of the platform requires a detailed study of the functions. Of the minuses, users note some inconsistency of the interface. The paid plan starts at $99 per month.

A comprehensive solution consisting of 20 tools. Platform tools:
analysis of keywords, contextual advertising, and ads;
Audit of the entire site;
research of the marketing strategy of competitors;
team management;
parsing top and frequency.
The developers have provided a guide for using the platform. The downside is that you cannot customize the interface. Free registration gives you access to basic functions. The price starts at $69 for 30 days. Recurring customers receive a 20% discount.

Analytics with a free Chrome browser extension. It selects keywords, makes a technical audit. Features:
parses the semantic core of the site bit by bit;
gives recommendations for optimizing a web resource;
detects spam sites and broken links.
The tutorials do not cover the full scale of the platform. Subscription prices start at $99 per month. A trial period of 30 days is available.
TOP 3 Email Digital Marketing Softwares
Email marketing remains a valuable marketing method: users spend time reading emails. Bulk mailings don't get as much attention. Dot action tools optimize the digital marketer's work with correspondence. Their task is to automate mailings, manage reactions. SaaS for email marketing includes email templates and reporting.
The tool has been around for a long time and inspires trust among users. Its range of functions is not limited to automated mailings. Features:
creates publications for social networks;
integrates the company into Facebook;
invites subscribers to events;
Sends trackable coupons to help build a customer base.
The brand icon in each letter causes inconvenience, and for Outlook users, the display of templates will be distorted. The price depends on the number of subscribers you have. Developers offered a 30-day trial period and reported the possibility of discounts and bonuses.


A tool for creating a mailing list, automating tasks, and personalizing emails. Additional suggestions:
aesthetic letter templates;
segmentation of recipients.
The usage price depends on the number of people on the contact list. Increasing the audience will cost $10 – $205.
TOP 4 B2B Digital Marketing Softwares
Interactions between legal entities are aimed at solving business issues. Client companies are guided in the field of digital marketing and expect mutually beneficial cooperation. Therefore, B2B marketing softwares are specific and do a big job.

Designed to optimize the customer journey and product promotion. Features and functions:
automation of product routes;
integration with CRM systems;
interactive dynamic reports.
There are two tariff plans. Professional costs $900 per month, Enterprise costs $2000.

The platform simplifies communication with a client, analysis, and building marketing strategies. With its help, you can:
avoid lead leakage;
analyze and visualize user behavior;
choose a channel of communication with a client.
The product is designed with a simple, user-friendly interface. There are 3 pricing plans, starting at $20.
Conclusion
Both complex platforms with impressive products or simple software with a specific focus are equally useful. Corporations and large companies prefer scale and power. Small businesses, freelancers are focused on an individual approach and do not require an entire work organization. Therefore, identify the needs of your company and find a product that meets your personal needs.