Are you looking for a way to get quality insights on user analysis? Tired of the same boring solutions? Look no further – Plerdy is here to save the day! Plerdy provides an innovative solution that allows users to gain valuable insights through user analysis. With Plerdy, you will be able to identify trends and patterns and develop digital strategies tailored specifically for your business and website. So get ready to take your ? user analysis game to the next level!
What is User Analysis?
User analysis is a tool that allows you to better understand the expectations and needs of your customers and make correct product design decisions. This process accesses the user of the product based on a variety of aspects – age, skills, geographical position, product knowledge and so on. The collected information is the key to the activation of a particular audience.
Importance of user analysis in 2023
Most websites keep using traditional approaches to website analysis. Standard analytical and SEO tools will provide you with the details of the customer flow on your website. However, these will not explain customer actions and interactions with the product. Thus, you need deep knowledge of user experience to create the best site and product design. Appropriate methods of user analysis will provide you with unique metrics for site design optimization.
Methods of User Analysis
There are immense amounts of tools for user needs analysis. These tools provide a user engagement analysis and website optimization. The general purpose of such user interface analysis is to shorten the visitor's path from the first click to the product purchase as much as possible. It, in turn, leads to a high conversion of your landing pages and websites. Do you know how to calculate the conversion rate? You need to divide the number of visitors to your site who performed the offered action by the total number of visitors. Now, multiply the obtained result by 100%. Below, we offer the most effective tools for website user behavior analysis and design improvement.
Heatmaps are one of the most significant elements of Plerdy, the platform for user journey analysis. This tool captures every click and every movement of the user's mouse on your website. These user behavior analysis results are displayed on a separate map. The visitor's activity is marked with color spots. It looks similar to the maps that help inspect buildings' thermal insulation. This design gave the name to the visual report of the user experience analysis. Such user and task analysis for interface design will allow you to identify the most in-demand elements on the page and those areas that force the visitor to leave the site. So, even if your website design looks visually appealing, user experience analysis with Plerdy heatmaps reveals hidden problems and helps fix them.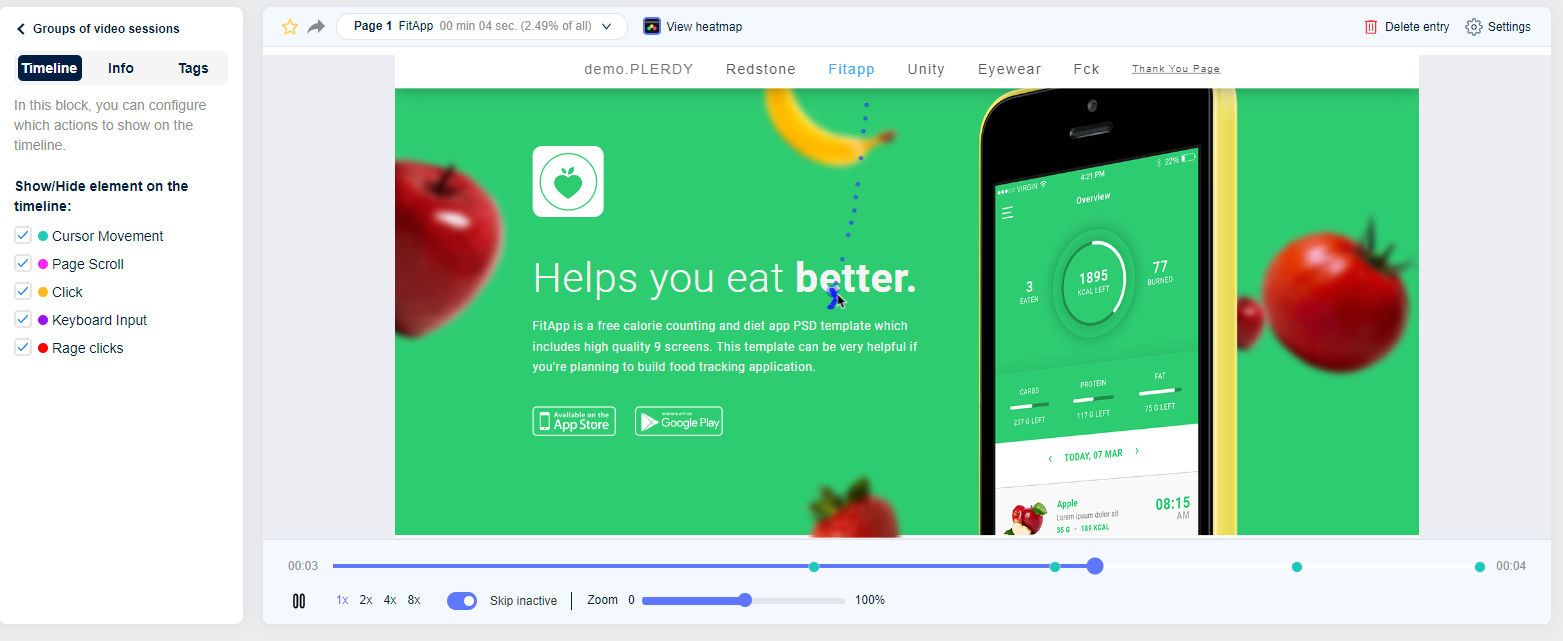 By observing the speed at which a visitor moves around your website, which products he lingers on, and which places he scrolls without reading, you get invaluable data on the state of the UX design and user analysis example. Put these examples together and examine them with a dedicated tool to receive a comprehensive user and task analysis for interface design. And the correct usage of the obtained data guarantees a sharp increase in the conversion of your website or landing page literally within one or two days.
User Analysis by User Personas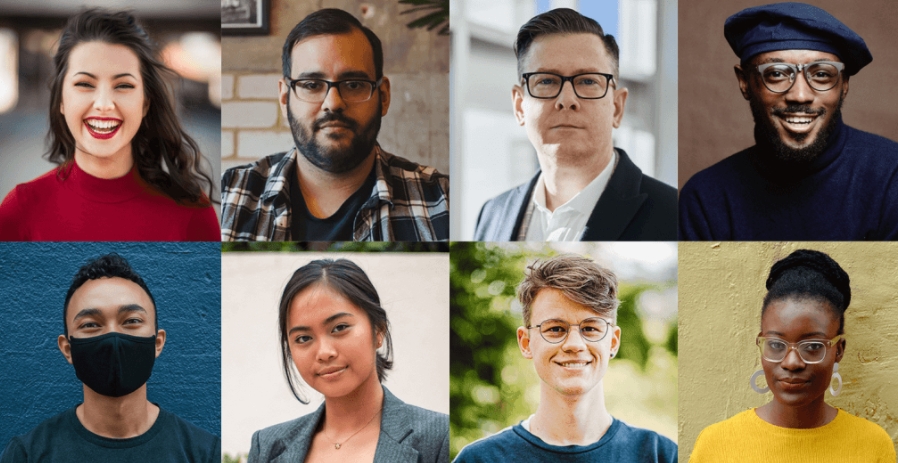 It is a fantastic tool for deep and accurate user analysis of your website design. Thanks to this approach, you can compose the complete portrait of your site visitor. Then, as a result of a comprehensive user experience analysis, you get accurate data about your target audience. If, while using this user experience analysis tool, you discover that your calls are not reaching your chosen target audience, you can fine-tune your targeting. The essence of this web user behavior analysis method is to conduct short surveys on your page and summarize the results. This approach will help you increase Net Promoter Score (NPS) to 75% or more, for all its apparent simplicity. Net Promoter Score shows the level of user loyalty to your product offers. In brief, this user experience analysis method shows the degree of probability a visitor to your site will recommend your web resource, product, or service to his friends. The scale from 0 to 10 allows you to see the exact level of satisfaction.
User Analysis by Market Research
It is customary to consider marketing research an element of a broad market investigation, rather than an integral part of user needs analysis. Nevertheless, professionally conducted market research allows you to clearly define the needs and desires of your audience and satisfy them with relevant products and offers. Most importantly, this method enables you to avoid the mistakes of your main competitors, bypassing the website design pitfalls they stumble upon. This method of user analysis, unlike the previous one, involves direct close communication with your current or potential audience. The main elements of marketing research are as follows.
Interview. In the current conditions, personal communication may be replaced by a remote connection. However, your interlocutor must be visible in the frame, at least up to the waist. Remember that his words are essential for a full-fledged user behavior analysis, but his non-verbal reactions also matter.
Focus groups. It is difficult to overestimate the effectiveness of the results obtained during the website user behavior analysis conducted in a focus group. The correct selection of participants is the prerogative of professionals — psychologists and sociologists.
Study of products and services. It refers not only to your products, but also to the products of your closest competitors. Pay particular attention to the level of NPS demonstrated by your current or potential users in the process of user experience analysis.
Researching your brand awareness. The user experience analysis report obtained during this research stage will show ​​how much the user associates your brand with your product or service.
Of course, serious marketing research is far from being limited to the listed methods of user analysis. However, if your budget is tight, they should be chosen first.
User Analysis by Usability Testing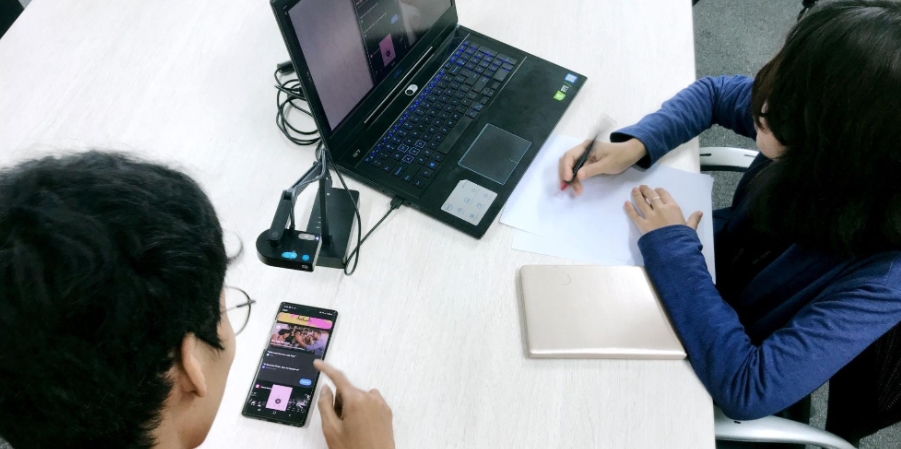 The complete list of user and task analyses for interface design elements includes 210 items. Do not be alarmed: you can automate almost all of them with the help of the algorithms and products of the Plerdy platform. At the same time, if you neglect even part of this list in the process of user engagement analysis, you may get distorted results in general. It can lead to a negative outcome and even a decrease in the conversion rate. However, Plerdy tools provide a 100% guarantee of success. This impressive list allows you to conduct user and task analysis for interface design in 15 sections, each including from 5 to 32 parameters. User analysis of the website design covers the following categories:
General recommendations. Since there are no trifles in a successful website design with high conversions, this section checks every design element : the presence of a unique favicon, certificates, brand history, and your contacts in the right place on the page.
Product. This section checks for comprehensive information about the product you offer.
Product segmentation. At this stage of the user needs analysis, you check how smoothly the product selection filters interact according to chosen characteristics.
Registration. This section helps find out whether it is possible to shorten the fields in the registration form, how easy it is to fix an error when filling out the form, if the autocomplete works, etc.
Purchase. The checklist goes through vital points necessary for a comfortable purchase – currency conversion, an intuitive way to add an item to the cart, instant shipping cost calculation, payment confirmation, and so on.
Feedback. This section of Plerdy's user behavior analysis focuses on landing page elements such as FAQ, 24/7 live chat, quick response to user questions, and other similar points.
Structure. You should check here the visual design of headings, links to products, as well as the absence of horizontal scrolling, ease of access to the main menu from any spot on the page, etc.
Design. This section is entirely devoted to the user and task analysis for interface design. You have to check all the graphic elements — from the attractive and original design of the 404 page to the absence of annoyingly bright animation and the optimal size of buttons and banners.
Call-to-action. A call to action is a springboard that takes the customer straight to check out. Hence all questions in this section are devoted to clear, unambiguous CTA on your website.
Content. In this part of the user interface analysis and design, you will ensure that the text is clear and persuasive, written in an easy-to-read font and solve other visual and textual issues.
Technical. By checking the boxes in this section of the Plerdy checklist, you have to ensure that the page works equally well on any device and is displayed adequately in any browser. You will also need to figure out how quickly the page loads, if the transitions work smoothly, if unnecessary scrollbars disappear, etc.
Cart. You need to check whether the customer gets a confirmaiton when the product is added to the cart. Furthermore, the customer must get comprehensive information about his order, and nothing should distract him from making the purchase.
Website search box. Check how easy it is for a user to find the product he needs on your site. You should provide an advanced search option and efficient help if your customer struggles to spot what he was looking for.
Backlinks. Check again how user-friendly your backlinks are, whether they return the user to the exact product or page he visited earlier, and so on.
User Analysis Based on Customer Reviews
Personal communication with your website users allows you to analyze end-user security behaviors and not miss any critical nuance. The Plerdy platform has a unique tool to simplify and objectify this process — pop-up software forms. In a comprehensive user engagement analysis, the individual elements of this multi-level tool allow you to perform different tasks and obtain segmented results. You can calculate the net promoter score (NPS) and determine what forms of interaction are acceptable for the user and which ones seem inconvenient or even unacceptable to him. It is also possible to measure how much effort a customer puts into getting his task done on your site by obtaining the CES (Customer Effort Score) parameter and optimize the resource if it is too high. And, of course, you can determine CSAT (Customer Satisfaction Score), identifying the level of customer satisfaction at each stage of his interaction with your product. Here's a shortlist of the tasks that Plerdy Pop-Up Forms can accomplish:
Talk to cart abandoners
Offer product discounts to potential customers
Launch quick website surveys
Create forms for events, webinars, or conferences
Record interactions with forms for Google Ads remarketing
As a result of the specific and targeted use of these capabilities, you will receive the following benefits:
Up to 30% CTR growth
Increased product sales
Reduced bounce rate
Over 20 display rules
Performance analytics
API integration with popular services
Custom banner
User Analysis Examples Besides having theoretical knowledge of user analysis, it will be helpful to see how specialists analyze site design from the point of view of your product users. The Plerdy specialists have examined three different sites –
pro-street.dk. It is an online magazine about cars and the automobile industry. The website has informative and advertising purposes.
flaska.es.The resource is devoted to the Spanish producer of glass products – Flaska. It also functions as an online store for its production.
alseresport.com. The website belongs to a Spanish sports retailer. It is an online store that offers all types of inventory for different physical activities.
With special user analysis instruments, the experts define how many users come to the site and how many keep scrolling to all pages and see all products. Watch these videos to learn how Plerdy methods of user analysis work. You will see clear examples of how little changes in design can bring significant improvements – allow your customers to easier reach your products and spend more time on your website.
User Analysis Experts
Experts keep working on strategies to improve user experiences. Below, you will find a lot of specialists that regularly suggest tips for you to get the most out of user analysis.
| | | |
| --- | --- | --- |
| Full name | Job Titie | Twitter |
| Craig Tomlin | Conversion optimization expert, marketer and user experience researcher | @ctomlin |
| Ben Menoza | User Interface Engineer & User Experience Professional | @bmenoza |
| Nick Gould | Chief Operating Officer at Cooper, President at IxDA | @nickgould |
| Robert Fabricant | Vice President at Frog Design, Principal at Design Impact Group Dalberg | @fabtweet |
| Nick Finck | Product Design Manager at Facebook | @nickf |
| Kristina Halvorson | Founder at BrainTraffic and ConfabEvents, Author, Content Strategy for the Web | @halvorson |
| Bruce Tog Tognazzini | Principal at Nielsen Norman Group | @asktog |
| Amber DeRosa | Senior Usability Engineer | @AJDeRosa |
| Jay Zipursky | UX Designer and Product Manager | @jzip |
| Eva Kaniasty | Founder and Principal Consultant at Red Pill UX | @kaniasty |
| Kimberly Krause Berg | Consultant UX/UCD/IA/Accessibility/Mobile Experience | @kim_cre8pc |
| Christopher LaRoche | User Experience (UX) Consultant at Massachusetts Institute of Technology (MIT) | @silvaire |
| Lane Halley | Co-founder at Brooklyn Copper Cookware | @thinknow |
| Whitney Quesenbery | UX consulting at WQusability | @whitneyq |
| Phil Terry | CEO at Collaborative Gain; Co-Author Customers Included | @philterry |
5 Examples of User Analysis
The table contains a link to the Twitter account of each expert. It will be helpful to follow their feeds not to miss anything new in this field.
When it comes to creating a successful product or service, understanding your users is key. That's where user analysis comes in – by tracking and analyzing user behavior, you can gain valuable insights that guide development and inform feature decisions. But where do you start? Here are 5 examples of user analysis practices that can help you get quality insights and improve your product.
Amplitude: This powerful tool allows you to track user behavior and engagement, giving you a detailed view of how users interact with your product. With Amplitude, you can analyze user drop-off points and identify areas for improvement in your onboarding process.
Funnel tracking: By tracking user behavior at different stages of your product's funnel, you can identify where users are dropping off and make changes to improve conversion rates.
A/B testing: Experimenting with different design, copy, and feature variations can help you identify what works best for your users.
Onboarding surveys: Asking users for feedback during the onboarding process can help you understand their needs and preferences, and guide development accordingly.
User interviews: Speaking directly with users can provide valuable insights and help inform feature development.
These are just a few examples of the many user analysis practices that can help guide your product development and improve user engagement. Some of the large companies who uses these practices are Google, Amazon, Facebook, Netflix, Spotify.
Conclusions
The user analysis is a complex process that simultaneously requires high-tech tools, specialists in computer design and Big Data and experts with sociological research experience. In some areas of Quality Assurance, you can model the behavior of potential users of the tested product with the help of computer programs. However, the significance of the human factor is extremely high when it comes to UX design. Fortunately, multifunctional platforms such as Plerdy allow you to unify various approaches to user behavior analysis. They preserve the scientific accuracy of the results and automate the processing and organizing of subjective data. This combined approach is the key to successful website optimization and a guaranteed conversion rate increase of landing pages.