Providing an excellent usability experience in digital products is essential in the fast-paced tech age with high competition. But how can you ensure users feel comfortable on your website? And what can you do to make it user-friendly? That is where usability testing tools come into play.
Online usability testing tools give designers a clear picture of user expectations, needs, and behavior. Consequently, usability testing tools for websites and apps help implement necessary adjustments to your product before bringing it to market.
Usability Testing Tools by Plerdy
Plerdy is one of the usability testing platforms that unite multiple tools for website analysis. You don't have to integrate many separate usability testing solutions – it has everything to test a website in one interface.
The Plerdy online usability testing tool is extremely helpful for figuring out users' preferences and expectations. Moreover, the Plerdy platform boasts an intuitive interface and comprehensive statistics of user actions that guide you on how to improve conversions.
The Plerdy remote usability testing tool gives its users an insight into SEO efficiency. Furthermore, businesses can take advantage of Plerdy's video sessions feature to find out how customers interact with their digital product and which usability aspects need tweaking.
The Plerdy platform comprises several usability test tools that can help you enhance user experience through testing:
Website Heatmap Tool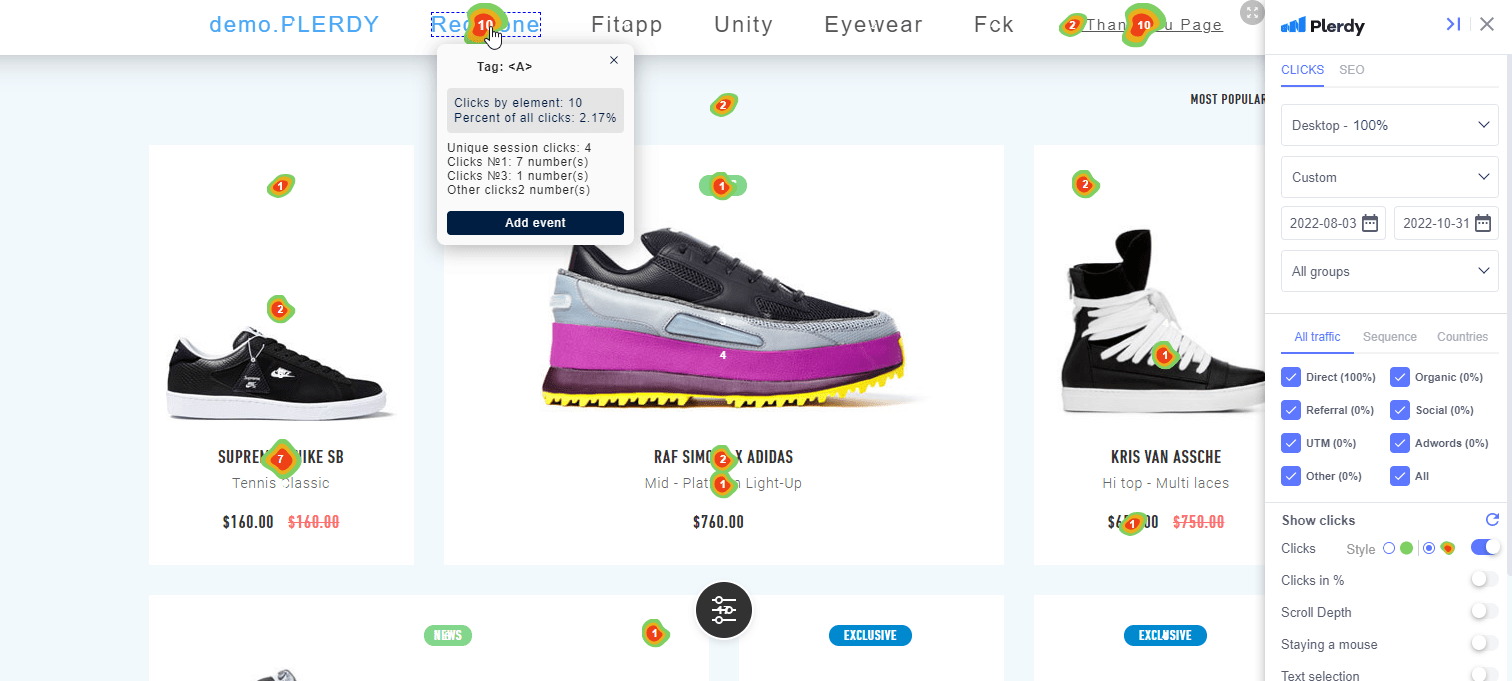 Tracking user interactions is possible with paid or free usability testing tools that support website heatmaps. For instance, Plerdy's Heatmap gives you a clear picture of user clicks and scrolls. The heatmap displays real-time statistics and gathers data automatically. The received information lets you detect flaws in your website design and reduce the bounce rate, thus improving conversion.
The Plerdy Heatmap feature was successfully applied for testing and increasing conversions on the KredoBank website. KredoBank is among the biggest and most reliable banks in Ukraine. Plerdy experts used the usability testing tool for KredoBank website optimization. Read the complete website testing case study here.
Session Replay Software

The session replay tool allows you to analyze website users' behavior based on video recordings of their activity. You can choose all or separate pages for testing usability. It also allows you to segment videos by event type, record mobile and desktop versions separately, and launch A/B tests. This information is sufficient to make assumptions about the user-friendliness of your web page.
Conversion Funnel Analysis

Website funnel testing tools give you a clear picture of the sales process on your website by recording the most critical conversion funnel steps customers make. You can determine at which stage the most leads bounce, check unique pageviews for each stage, or segment funnels by traffic type and channel.
Pay attention to general user flows tracked by usability testing tools mapping to analyze the conversion funnel and identify points of increase. You should also check the sequence of user actions.
Event and Goal Tracking

The Plerdy website usability testing tools can track user interactions with selected page elements. You specify such objects as forms, videos, images, scroll bars, or buttons. The data is automatically transferred to Google Analytics for your convenience.
The Event and Goal Tracking tool allows testing the website to identify which elements trigger a high bounce rate and distract users from crucial website elements. With these findings, you can develop a conversion funnel that will increase your profit in the long term.
E-commerce Sales Performance Testing

Analyze usability and improve conversions on your website using usability testing tools. Such testing software is suitable for analyzing the sales performance of a website. Online business owners can track their stores to determine the effectiveness of page elements. Tools for usability testing can provide you with:
a total number of transactions;
total revenue;
a number of unique users having made a purchase;
conversion percentage;
the average cost of a single order.
You can also learn what elements don't affect sales to change/remove them or segment users for a more granular sales performance analysis.
Pop-Up Forms

Smart pop-up software helps turn occasional visitors into subscribers. This feature supports:
an opportunity to create pop-ups in a browser;
NPS, CSAT, and CES surveys
user segmentation by device type;
displaying forms on selected web pages;
adding over 20 display rules
With pop-ups, you can grow conversion by up to 30%, boost sales, and, most importantly, ask users what they think about your services.
Reviews on Plerdy UX Testing Platform
If you aren't sure how to use Plerdy for website testing, read how others do it. Here are some of the G2 reviews:
For me as a designer, being able to see customer behavior videos and heat maps is very valuable for testing my designs against the user experience. It's also a great way of testing website display on certain browsers and resolutions." (Martin C.)
Plerdy is a more affordable usability testing and CRO tool than expensive market leaders. You can track visitors' behavior and learn what they do after arriving. This website testing tool is super easy to install." (Derek P.)
Recording of sessions and the heat map tables are the features I particularly like. They generate essential information for in-depth testing of what is working on your site and what is not."(Alfredo G.)
With the Plerdy website testing tool, you can see how people interact with your site, where they spend the most time on it, and what interests them. Heat maps are my favorite feature as it actually represents which content draws attention from visitors based on their interactions in a browser window." (Russel K.)
It also has a great conversion funnel feature highlighting where users are dropping off. This is valuable for testing usability and where you need to make changes." (Walter A.)
What Are Usability Testing Tools?
Usability testing tools measure website user-friendliness. They assess a digital product relying on real user activity. After completing tests, engineers and designers receive detailed feedback and all the necessary statistics on their product's strengths and weaknesses.
Usability testing solutions can be remote, unmoderated, and moderated. Most of the usability testing tools are packed with similar features. However, some differences can determine whether a particular platform meets your needs.
7 Best Usability Testing Tools
There are tons of tools to conduct usability testing. Thus, every business can find something to meet its needs. Here is the list of usability testing tools with different features.
The UsabilityHub testing tool is one of the major players in the UX usability testing tools market. Matt Milosavljevic founded it in 2008 to make usability testing available to online users.
UsabilityHub offers preference tests where visitors have to choose the best design options based on a specific request. In addition, this remote usability testing tool supports surveys.
Now UsabilityHub's services are used by Philips, Unilever, Walmart, Staples, The Economist Group, Amazon, Google, BBC, and The Telegraph.
Five-second tests are one of the features of the UsabilityHub testing tool. They assess the visitors' first impression of your website design they get within five seconds of viewing it. Subsequently, the participants answer a couple of simple questions. For instance, they may specify what page elements they remember vividly or the website's purpose.
Many may say five seconds is not enough to reach significant conclusions. However, this method has proven effective due to the users' tendency to open multiple websites simultaneously. The thing is, any web page usually gets very little attention in real life.

Launched in 2009 by Paul Veugen, Usabilla has come a long way. At present, its testing solution is among the best usability testing tools. Usabilla is trusted by such brands as Toyota, BMW, Hewlett-Packard, Samsung, DHL Hilton, Tommy Hilfiger, and KLM.
The distinguishing features of the Usabilla UX testing tools include an opportunity to add a user feedback button to make it easily reachable. Moreover, the platform provides highly customizable mobile app usability testing tools. Whether you work with Android or iOS, the integration is smooth.

Jonatan Littke and Nevin Bengtsson are the founders of Lookback, the usability testing tool provider. This remote usability testing tool bridges the gap between product developers and end-users, providing a better understanding of customers' behavior and expectations.
Apart from remote usability testing tools, Lookback offers moderated in-person testing sessions. They are based on face-to-face interaction between a user and an interviewer.
The Lookback usability feedback testing tool serves businesses of all sizes, including Spotify, Facebook, Netflix, eBay, Nike, ThoughtWorks, Squarespace, MailChimp, Atlassian, and SoundCloud.

The TestRail usability testing tool was developed in Gurock Software GmbH by Dennis Gurock in 2004. Now the company has offices in Frankfurt, Austin, Dublin, and Houston.
The TestRail usability testing tool is a perfect choice for any company, including those sticking to agile or traditional working approaches. Flexible project organization allows multiple project teams to work simultaneously and monitor their progress.
Now, over 100,000 customers use the TestRail online usability testing tool, including Microsoft, Intel, Apple, Sony, Amazon, Autodesk, Cisco, PayPal, Adobe, Argos, CardinalPeak, and NASA.

UXCam company was founded by Kishan Gupta and Richard Groves in 2013. UXCam's philosophy is to empower businesses to deliver the best user experience possible. Furthermore, UXCam experts do research on mobile app user experience.
The UXCam website testing tool is considered a leader among mobile app usability testing tools. With User session recording, one of its top features, you do not need any additional tools to complete the recordings. Besides, you can detect sessions with user frustration signals using smart UXCam filters identifying rage taps, UI freezes, and crashes.
Brands using the UXCam usability testing tool include Ford, Rappi, OLX, Delivery Hero, Yodel, and Cookpad.

Koncept, an online usability testing tool for websites and mobile applications, was developed in SpiceFactory by Milos Zikic in 2014. The company's mission is to help businesses build digital products meeting the needs of their customers.
Koncept solutions stand out from the competition thanks to an intuitive interface for creating product prototypes. What is more, Koncept allows its users to choose their device type (iOS, Android, Web) before developing the prototype.
Conclusion
Meeting user expectations is an integral part of any business's success. So you must adjust your digital product to consumers. Various UX usability testing tools let you avoid guesswork and make data-driven decisions based on analytical data. Choose the website usability testing tool from the list above that suits your business needs the most.