The initial letters of "expertise, authoritativeness, and trustworthiness" formed E-A-T. These are the three factors Google uses to measure the degree of trust in a brand or website.
This search engine always wants to provide users with the best possible experience, so it only promotes websites that comply with its rules. Therefore, to be among the leaders, you need to optimize SEO and execute the above concept.
In short, E-A-T means that an expert must create the content in the public domain, and Google reserves the privilege to ask for confirmation of the author's qualifications. But these are far from all ranking criteria.
E-A-T As A Ranking Factor for Google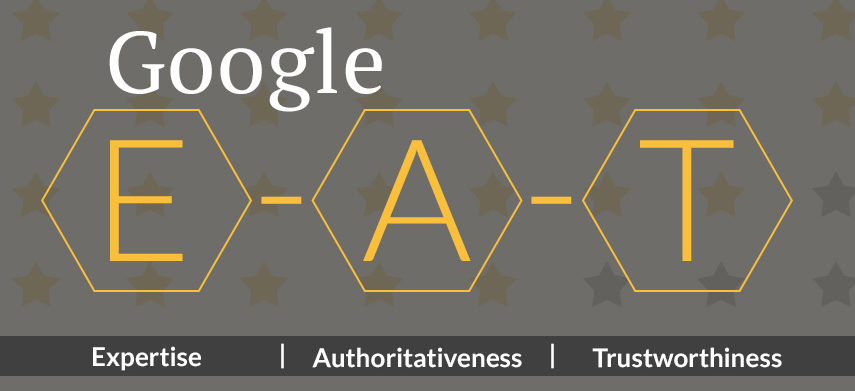 In 2019, Google specialists said, "content accuracy is a ranking factor," but a month ago, Danny Sullivan declared, "Google cannot determine the exactness of content." So do search engines evaluate the expertise and usefulness?
All three words that became the basis of the E-A-T reflect the company's right to be considered a leader in its field. Google operates these metrics to estimate the website, an individual page. And experts use them for SEO.
SERPs measure a website's credibility based on the links they learn from other resources. A search engine calculates the trustworthiness of a brand or site with the help of the same characteristics as a real person. So, E-A-T is a ranking factor, but with some caveats. It is less specific than other factors, but it has been signed. Search engine algorithms examine these qualities in the texts and give out their "verdict" regarding the compliance of the content with the characteristics.
E-A-T arose as a way to deal with unverified and low-grade information. Many websites do not bother with the quality of their filling, buying articles from dubious copywriters on the stock exchange. And no one checks the author's expertise. This results in:
errors;
incorrect interpretation of the data;
direct deception of the user who will handle this information.
But in some cases, a misunderstanding can lead to terrible consequences. Therefore, E-A-T is necessary for all requests, but especially for some.
When optimizing your website, you should know that the Google algorithm has been deployed worldwide and is available in almost 150 languages. Each of them uses the mechanics of the main one, but they have additional requirements for their user base.
Importance of E-A-T for SEO
Bringing a site to the top of SERP is a difficult job. It requires SEO and considering dozens of ranking factors. But perfectly designed loading speed, high-quality links, and optimal behavioral aspects will not give the desired result if you do not consider E-A-T.
SEO experts began to mention E-A-T factors after Google published a new program. As a result of it, some websites lost their positions. This mainly affected sites on medical and financial topics. Now, to be in the top ten, you should carefully monitor the expertise of the published material. Otherwise, the search engine may consider the site to be of low rate and remove it from the first page of the search.
E-A-T indicators apply to all sites with different topics but do not have the same meaning for all. For example, ordinary people can be the origin of information for some URL, while for others, only experts. But still, if you aspire to be on the first page, you can't do without competent content. Particularly for YMYL sites – "Your Money or Your Life." The Google guidelines mention this category, so let's look closer at it.
What is YMYL, and how its Impact E-A-T in SEO?

YMYL publishes something that affects people's financial well-being, health, life, happiness, and security. This abbreviation refers to sites that may affect the users' life, health, and well-being. For example, these include websites from the following thematics:
News: information about international events, business, politics, science, and technology.
Finance: counseling and reports related to investments, taxes, retirement planning, loans, banking, or insurance. This class holds sites that provide the ability to make online purchases and transfer money.
Civics, government, and law: statistics and other important information about voting, institutions, social services, and legal issues.
Shopping: information related to analyzing the quality of goods and services and online stores.
Groups of people united by race or birth, religion, disability, age, nationality, orientation, gender, and other characteristics.
Health and safety: sites about medicine, drugs, hospitals, emergency care.
Other topics related to the health, well-being, and life of people.
If your site contains services or information on the above topics, then the page falls under YMYL. Google specialists will check the reputation of the company and each author on its site. And if it is impossible to make sure that the content is not dangerous or can be useful, the site will never appear on the first page of the search engine.
What is a High-Quality Content for E-A-T
As algorithms have evolved, SERPs have imposed advanced requirements on YMYL sites while evaluating their content. Imagine watching the news in the morning and discovering only the Fake News aggregator first. That is why web programmers and analysts decided to bring only qualified sites to the top.
Google's policies do not have clear measures for E-A-T factors, but there are examples of low and high-quality pages. Good websites have the following features:
high level of competence, authority, and reliability;
lots of quality informative content;
sufficient information about the website and who is responsible for it;
if you can make payments or receive money on the page, then you should post relevant information about the terms of client service;
positive reputation of the brand and content creator.
The highest quality ratings in the news niche are those pages that reveal valuable information based on research by journalists. Lower but still high quality will have URL that duplicate the news. High-quality pages on informational websites have in-depth coverage of topics, unbiased presentation of facts, and expert opinions on the subject of discussion.
What is a Low-Quality Content for E-A-T
Content quality and link promotion are major ranking factors for search engines. Upgrading content quality from "medium" to "high" and then to "highest" can have a big impact on your site's rankings.
At the same time, you can still find low-quality pages that are in demand, although they have the following elements:
a small level of expertise, authority, and trustworthiness;
insufficient quantity and low quality of the main content;
shocking and absurd headlines;
ads that distract from the main content;
little information about the site or the author of the materials;
the negative reputation of an e-platform or a content writer based on research.
Low-quality link often lack the required level of E-A-T. Here are some examples:
The content author does not have the required knowledge on the topic. For example, someone who is incompetent may be the author of a post on taking vitamins.
The site is not an authoritative source for the topic of the page. For instance, a dog grooming shop may have financial information.
The main content is not trustworthy, or the checkout URL has an unreliable connection.
If you doubt your site's optimized and good, you can conduct a qualitative analysis by various online services.
How to Improve E-A-T in SEO for Google

If you are going to avoid being penalized by Google, you should try to enhance and implement E-A-T factors. There are numerous ways, but you better start with the simplest, standard, and low-cost, gradually bringing the website to the highest quality level:
Add basic information. Google perceives companies that do not post reference info on their websites as untrustworthy. Ensure that your site has pages with contacts, a detailed description of the organization, and the services provided. Furthermore, we recommend creating a section with customer support.
Post expert content, and don't forget about keywords. It is essential to observe whether you disclosed the topic, the relevance of the material, and the authenticity of the published research. The layout should also be attractive and intuitive. And minimize spelling and grammatical mistakes.
Work on a positive reputation for determining the level of authority. If there are bad reviews, the assessor will mark the URL as low quality. Therefore, strive to accept positive marks, including in the corresponding landing. Motivate users to message and give feedback.
Demonstrate your merits and achievements: awards, commendations, certificates, licenses, etc. Publish the accomplishments of content authors. The strongest reputational sign is the company's recognition of third-party web platforms.
Increase links and mentions. This is the most popular and familiar tool for SEO specialists. However, according to Google expert Maria Haynes, the system understands which URLs to consider, so we recommend focusing on quality backlinks.
Develop a responsive (mobile) version since half of all traffic comes from netbooks, tablets, and smartphones.
Regularly track the number of leads. They will help understand whether the theme corresponds to the user's intent.
Conclusion
Search engine algorithms give preference to friendly sites. For example, if the blog, forum, or another type of site is user-oriented, it will be easier to progress in SERPs. Of course, this is not a complete list of methods to optimize your site and bring it to the top of the Google search engine. But with each subsequent update, the idea of E-A-T will become more widespread. Therefore, we recommend improving your websites by following the recommendations above.