Buckle up, 🚀  Shopify store owners! It's time to supercharge your sales strategy with our definitive guide on the "15 Best Upsell Apps for Shopify in 2023"! This exclusive list has been meticulously crafted to help unlock your online store's full potential, boost revenue, and enhance customer satisfaction.
As an e-commerce entrepreneur, your ultimate goals are maximizing profit and fostering customer loyalty. You can achieve just that with this handpicked selection of top-notch upsell apps! From seamless integration to smart recommendations, these apps are designed to elevate your Shopify game like never before.
And guess what? Your store's success doesn't stop with these apps! Introducing Plerdy – a powerful tool that analyzes UX and user behavior, enabling you to optimize your website and increase both micro and macro conversions. 💎 With Plerdy in your arsenal, you'll be ready to tackle the online business world head-on and claim your spot at the top.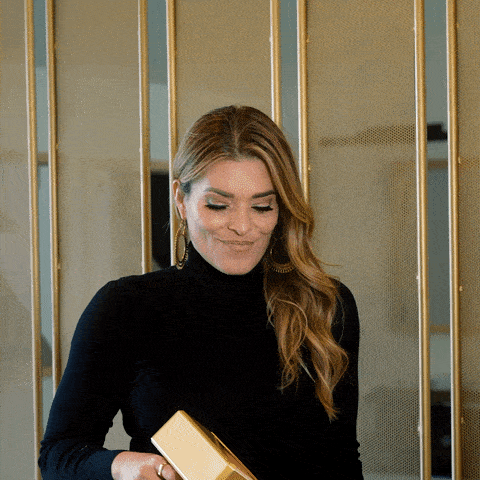 So, without further ado, let's dive into the world of these amazing upsell apps and kickstart your journey to Shopify superstardom!
What is an Upsell App? Discover Types for Shopify Success!
An Upsell App is your secret weapon to boost revenue on your Shopify store. It works like a charm, nudging customers to spend a little extra dough by showcasing enticing offers. So let's dive into the types of upsell apps that can skyrocket your sales:
Product Bundles: Group related items and offer discounts when customers buy them together. For example, sell a hoodie, joggers, and shoes as a complete outfit for a better price.
One-Click Upsells: Show a popup or a slide-in offer after customers add a product to their cart. Encourage them to upgrade to a premium version or add a complementary product.
Cross-Sells: Display a "Customers also bought" section to suggest items that complement the customer's current selection. This could be, for example, a phone case and screen protector for a smartphone.
Maximize profits with these upsell types, and watch your Shopify store thrive. Remember, fortune favors the bold – so dare to upsell and reap the rewards!
How Do You Upsell on Shopify? 10 Tips for Sky-High Profits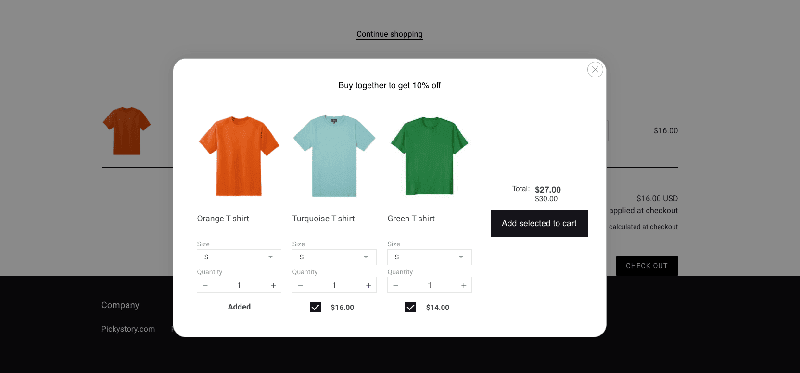 Ready to make bank with your Shopify store? Upselling is your ticket to ride! Here are ten tips for nailing the upsell game on Shopify:
Leverage App Power: Use a top-notch upsell app to automate offers, track conversions, and optimize your strategy.
Bundle it Up: Create alluring product bundles – think skincare sets or camera kits – and offer them at discounted rates.
Time-Limited Offers: Add urgency to your upsells by including countdown timers for exclusive deals.
Free Shipping Threshold: Encourage customers to buy more by offering free shipping when they reach a specific spending goal.
Social Proof: Display customer reviews, ratings, or testimonials for upsell items – nothing sells like a glowing recommendation!
Play with Pricing: Experiment with different discount levels to find the sweet spot that maximizes both sales and profit margins.
Personalize Upsells: Use customer data to tailor upsell recommendations based on their preferences and browsing history.
Flash Sales: Capitalize on FOMO by offering limited-time upsell deals that customers can't resist.
Email Marketing: Target customers who abandoned their carts with irresistible upsell offers via email.
A/B Test: Continually test and tweak your upsell strategies to find what works best for your audience.
Remember, the art of upselling is all about providing value. So, pick the tips that resonate with your brand, and watch your Shopify sales soar to new heights. Happy upselling!
Upselling vs. Cross-selling: A Quick Guide to Boosting Sales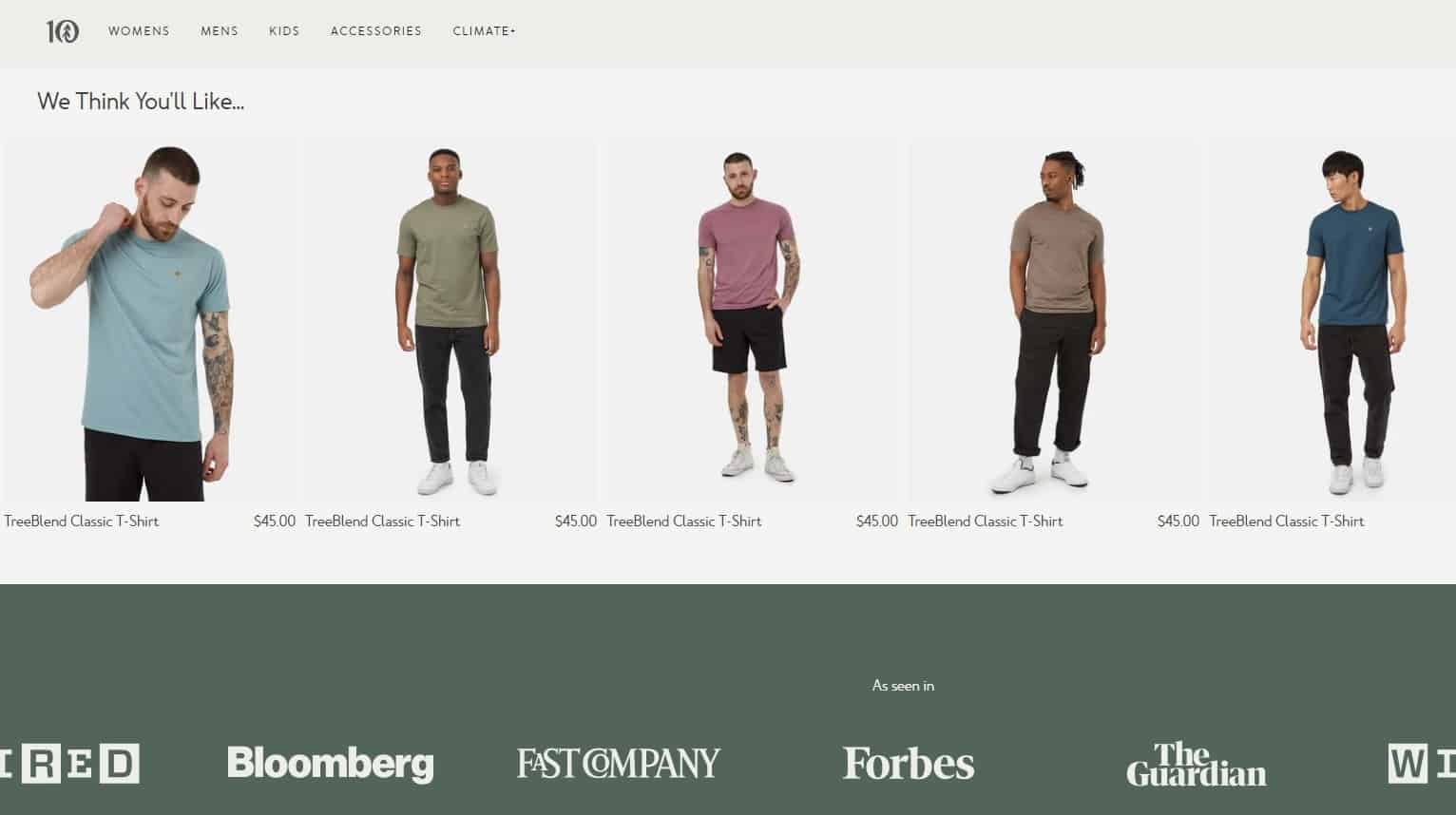 Cracking the code on upselling and cross-selling is like striking gold for your Shopify store. So here's a breakdown of these two revenue-boosting strategies:
Upselling: Encourage customers to purchase a higher-priced or premium version of a product they're already considering.

Example: Offer a feature-packed smartphone instead of the basic model.

Cross-selling: Suggest complementary products that enhance the customer's experience with their main purchase.

Example: Recommend a stylish phone case alongside a new smartphone.
Key Differences:
Focus: Upselling targets product upgrades, while cross-selling promotes complementary items.
Pricing: Upsells often come with a higher price tag, whereas cross-sells can vary in cost.
Timing: Upsells are most effective during decision-making, while cross-sells shine during checkout or post-purchase.
The key to success is knowing when to upsell or cross-sell. Analyze your customers' behavior, and tailor your offers to their needs. By mastering both techniques, you'll watch your sales skyrocket, and customers will experience enhanced shopping.
List of The Best 15 Upsell Apps for Shopify
Dive into our carefully curated lineup of the "15 Best Upsell Apps for Shopify in 2023" and discover the powerhouses that can transform your online store. With this selection, you'll uncover innovative solutions tailored to skyrocket your revenue and elevate the customer experience. So get ready to revolutionize your e-commerce strategy and outshine the competition with these cutting-edge apps!
Plerdy: The Ultimate Upsell App for Shopify Store Owners

Unleash the full potential of your e-commerce business and upsell with Plerdy. This top-rated app offers a comprehensive suite of features to help Shopify store owners analyze, optimize, and grow their sales. Heatmaps, session replays, and eCommerce tracking are just the tip of the iceberg regarding Plerdy's capabilities.
By delving deep into user behavior with heatmap analytics, you can pinpoint where customers click, scroll, and engage with your website. Combine this with session recordings, and you'll be able to see precisely how each visitor navigates your store. This treasure trove of data allows you to fine-tune your website design, buttons, banners, and marketing campaigns for maximum impact.
When it comes to upselling, Plerdy shines with its integrated popup forms. Survey customers, collect emails, and increase sales with targeted offers and exit intent popups. Plus, the Shopify upsell app offers daily SEO analysis of your titles, descriptions, and keywords, along with integration with Google Search Console, helping you stay on top of your search engine optimization game.
Available in multiple languages and featuring seamless integration with popular tools like GetResponse, Mailchimp, and Google Analytics, Plerdy Shopify upsell app is the Swiss Army knife of e-commerce analytics apps. With a 14-day free trial and flexible pricing plans, there's no reason not to give Plerdy a try and transform your Shopify store into a sales powerhouse.

As a Shopify shop owner, your goal should be to maximize your profits from every consumer. The best app to help you is ReConvert. It makes it simple to incorporate various types, including added after purchase, at a discounted price, and with a single click, into your shopping cart and thank you pages. With this post-purchase conversion-focused funnel, you can increase your AOV and make more money from each sale.
The ReConvert thank-you page has many useful features, including the ability to collect birthdays, upsell customers to a subscription, track orders, reorder, and provide bundle-style cross-sells. As a result, reConvert can help you break all-time sales records while boosting profits despite rising acquisition expenses.
ReConvert's ability to install upsell funnels at the point of sale and after the transaction greatly encourages customers to part with additional cash. One-click upsells reduce cart abandonment and increase AOV right after the purchase is made. In addition, a drag-and-drop editor simply plans and implements your upsell strategy at the checkout.
Upsells in bundles, cross-sell and upsells after a single click can all be triggered with deep segmentation. The price levels and 30-day free trial offered by ReConvert are flexible enough to meet the needs of organizations of varying sizes. As a result, ReConvert is the greatest Shopify upsell app available.

Frequently Bought Together is an upsell app for Shopify stores, built-in 2017 to bring an Amazon-like feature to Shopify. This upsell app allows businesses to bundle products and unlock the power of upselling by offering personalized recommendations and discounts. Frequently Bought Together increases the order value and revenue by enabling customers to buy related products with a single click. Its AI algorithm has been continuously enhanced and polished over the years, resulting in higher conversion rates. Businesses can fine-tune the recommendations for each product to create their product bundles and add four different types of bundle discounts for increased conversion rates. The Shopify upsell app deals smoothly with any number of products, orders, or traffic and offers out-of-the-box styles for any theme. A 30-day free trial is available with a flat monthly rate of $9.99, including swift, efficient, and knowledgeable support. With 2,193 reviews and an overall rating of 4.9, Frequently Bought Together is a great tool for businesses looking to increase their revenue through upselling.

Any business's top priority is to increase average order value and revenue. The top upsell software for Shopify to help you with this is Innonic Upsell Suggestions. Customers may locate relevant products they might be interested in more easily, thanks to this AI-supported app's customized upsell and cross-sell recommendations.
On your homepage, product pages, and basket pages, Innonic Upsell Suggestions offers infinite upsell widgets. You can use the editor's simple interface to change the settings using advanced design options. An automated solution, this software enables tailored recommendations for each user.
You may generate and display automated product upsells and cross-sells to customers in different areas of your Shopify store using Innonic Upsell Suggestions. You can do this without restrictions or dangers and easily improve your store's sales and average order value.
Several positive user reviews on the app's page attest to its effectiveness. Out of 349 reviews, 267 gave the upsell app five stars, giving it an overall rating of 4.5. Customers laud its ease of use, usefulness, and efficiency. Innonic's customer service is incredibly attentive and supportive if you need assistance. With the help of this app, you can boost the sales and growth of your Shopify business and outperform your rivals.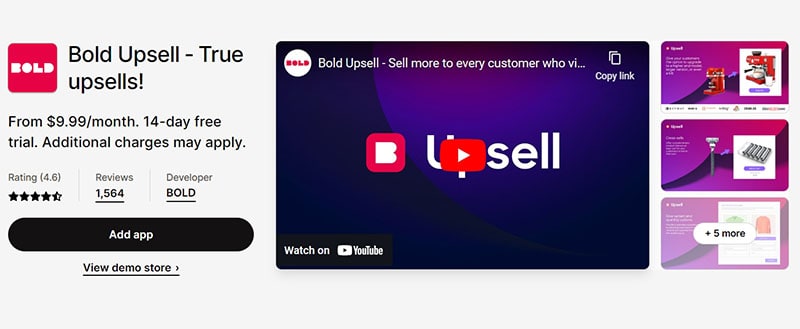 This Shopify upsells app lets you easily make each order bigger and better by adding upsell offers on the product, cart or thank you pages. With cross-sells and upsells, you can sell more to every customer and set up offers within minutes. You can even schedule offers in advance for key selling seasons. Encourage customers to spend more to reach free shipping minimums and use upsell funnels to offer multiple upsells. To optimize your offers, Bold Upsell only shows out-of-stock products in your upsells. You can also customize the offer styling and track performance with reporting. Trusted by high-growth brands since 2012 to increase AOV, this upsell app allows you to upsell customers from a single product to a product bundle or kit. Boost average order value with a post-purchase offer on the thank you page, and upsell in multiple locations via a pop-up, in-cart or post-purchase. Show additional offers after the first one was accepted or declined with funnels, and track performance with offer analytics. With pricing options ranging from $9.99/month to $59.99/month, Bold Upsell is a great investment for your business. Sign up for the 14-day free trial today and start boosting your sales!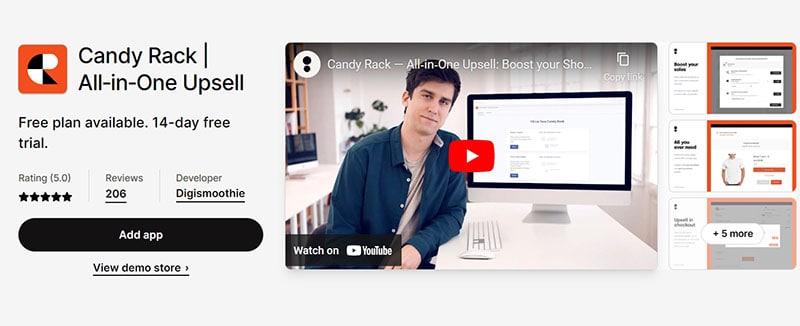 With the help of pre-purchase and post-purchase checkout upsells, businesses can increase their sales by up to 30% using Candy Rack, an all-in-one upsell and cross-sell software for Shopify. Smart auto-upsells are provided by Candy Rack's AI-powered function, which uses the Shopify algorithm to choose the most suitable products for upselling. A seamless user experience is made possible by the app's mobile-first design, which is designed for mobile devices. Also, users can alter the look and content to match their business. A free plan for new Shopify businesses that includes all features and allows for up to 20 total orders per month is one of Candy Rack's four pricing tiers, all of which come with a 14-day free trial for all new clients. The upsell app is extremely quick and does not impact how quickly pages load or how customers are served. Candy Rack has over 38,000 installs, a 5.0 rating, and is widely regarded as having effective outcomes by Shopify users. To maximize their upsell strategy, the software provides customers with pre-made templates or allows them to design unique versions. The software is simple to set up and has intuitive features throughout. The support team is accessible around-the-clock through the in-app chat feature.

The greatest upsell software for Shopify is Honeycomb Upsell Funnels. It allows merchants of all stripes—from beginners to seasoned pros—to increase their average order value and, thus, their sales and earnings (AOV). You can use this app for advertising upsells and cross-sells on the product page, in the shopping cart, when a customer makes a purchase, and on the thank-you page. Using an AI recommendation engine, Honeycomb Upsell Funnels automatically generates income by pairing your best upsell offers with the most suitable products. The upsell offers' visual design can be altered in-app without requiring any additional theme code. There's also a comprehensive statistics dashboard and support for A/B testing with this upsell app. Honeycomb Upsell Funnels is available at a wide range of prices, from the free 7-day trial to free silver, gold, and platinum plans at $0 to $149.99/month. Honeycomb is an observability solution that lets you discover the patterns and outliers of how users experience your code in complicated and unpredictable contexts, making it more than just an upsell app. Honeycomb allows you to confidently put your application into production by swiftly sorting through billions of events, setting off alarms based on Service Level Objectives (SLOs), and more.

LimeSpot's Shopify upsells app and cutting-edge AI technology allow businesses to make individualized product recommendations to each customer in real-time, resulting in a 2-5x boost in conversions and an increase in average order value. LimeSpot is easy to set up on Shopify and provides unique suggestions for selling products. LimeSpot's simple plug-and-play setup, automatic customization, and rapid Shopify customizations (including upsell and cross-sell from the first click) will help you go to market faster.
LimeSpot Shopify upsell app additionally provides for ongoing performance enhancement by accumulating data from each interaction and then automatically enhancing and curating depending on criteria like cross-sell, upsell, commonly bought together, and more. The integrated visual editor in LimeSpot is so powerful that you can change the look and feel of every Shopify recommendation box without coding knowledge.
LimeSpot, the industry leader in eCommerce personalization technology, has been shown to increase sales by an average of 28% and return on investment by 18% when applied to Shopify store products. LimeSpot's upsell, cross-sell, and individualized product recommendation features can increase your conversion rate by 3x-5x, allowing you to serve your customers better and boost your store's overall performance.
Moreover, LimeSpot provides A/B/n testing and optimization, so you may gain insight by running several A/B/n tests simultaneously and analyzing the results in real time. You can scientifically improve its operation with data about individual shoppers' paths through your online store. In addition, LimeSpot allows you to monitor the return on investment for each Shopify product recommendation, upsell, or cross-sell placement across all pages.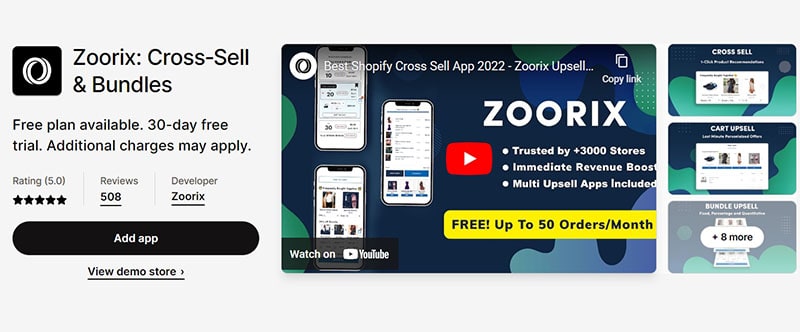 If you're using Shopify, you may boost your company with the help of the comprehensive upsell app Zoorix. These features include upsell and cross-sell offers, a cart drawer, and AI-recommended bundles of products that customers often buy together. Zoorix delivers various bundles, including AI-based, fixed, percentage, and quantitative discounts, mix & match offers based on collections (complete with a dedicated bundle promo page), volume discounts, quantity discounts, quantity breaks, and variant level selections. With Shopify upsell app, you can rapidly construct a bundle promotion page or incorporate cross-sell offers into a theme's cart drawer thanks to the app's native cart drawer and cross-sell connection with theme cart drawers. Zoorix Shopify upsell app provides a free 30-day trial and a permanently free plan with all features unlocked, with the paid Basic, Growth, and Premium plans costing $7.99, $14.99, and $29.99 per month. Zoorix is compatible with any design scheme and works equally well on mobile and desktop. It helps clients locate the right products at the right time by supplying both automatic and manual product suggestion guidelines. Now is the time to try Zoorix and see an immediate uptick of 20% in sales.

With the help of the robust Shopify app Last Upsell, businesses can quickly and easily increase their revenue by as much as 20%. With this app, stores may add upsells and cross-sells to the order confirmation page with a single click. This allows firms to capitalize on the final opportunity to upsell their products to satisfied buyers. The "Thank You" message on the order confirmation page can be supplemented with upsell and cross-sell offers generated with a single click using Last Upsell. Businesses can rest easy knowing their clients will have a pleasant purchasing experience thanks to the upsell app's attention to detail in creating a streamlined mobile interface. In addition, Last Upsell includes intelligent auto-upsells that use AI to select the best upsell product for each shopper. You may get a free 14-day trial of the upsell app by downloading it from the Shopify App Store. Plans range from $19.99/month for the most basic package to $99.99/month for Shopify Plus to accommodate businesses of all sizes and budgets. Customers who have used Last Upsell and been happy with the results give it five stars.

Vitals is an all-in-one conversion marketing app that offers a range of features, including product reviews, upsells, bundles, visitor replays, pop-ups, and more, helping businesses turn visitors into happy customers. With over 40 conversion-boosting apps integrated into one platform, Vitals does not slow down your store. Businesses can import and collect product reviews, increase margins with upsells and bundles, and grow email lists with pop-ups. In addition to these features, Vitals offers Instagram shoppable feeds, urgency & scarcity notifications, email & push marketing, live chat, currency converter, and much more to transform the website into an engaging and sales-driving store. Vitals also includes unlimited bundles, volume discounts, BOGO, gift, goals, and other features like Wishlist, Sticky Add To Cart, Trust Badges, Currency Converter, etc. Vitals offers a 30-day free trial with the basic plan priced at $29.99/month and a 30-day money-back guarantee, with 24/7 support via email and chat. Vitals Shopify's upsell app has received 4,000+ reviews and is the number 1 paid Shopify app. Join 20,000+ top converting stores and experience a single, fully integrated upsell app with all Vitals features.

PickyStory Shopify upsell app lets you bundle and upsell with AI-driven personalized offers at the right time in your customer's journey. Use PickyStory to create a revenue-boosting bundle and upsell offers displayed at key points in your customer's journey. With PickyStory, you can create personalized offers to convert more visitors into buyers. Create product combinations or use PickyStory's AI-driven algorithm to sell automated product offers.
PickyStory's Shopify upsells app complete conversion platform offers BOGO and gifts, quantity breaks, bundle builders, tiered discounts, frequently bought together, popups, slide cart deals, and more. Sell bundles as single products, offer bundle builders, and shop the look to increase AOV per customer. You can offer one-click upsell bundles, BOGO kits, and mix & match with PickyStory.
With PickyStory, you can use volume discounts to grow sales and customize offers with no coding and waiting. And if you need help, you can get 24/7 live chat support. PickyStory is available in three tiers, starting with a free option that includes all features and unlimited bundles, combos, BOGO, kits, lookbook, builders, and gifts. PickyStory's standard tier 1 costs $49.50 per month and creates $500 to $1,000 in revenue, while the standard tier 2 costs $89.50 per month and generates $1,000 to $2,000 in revenue.

As a Shopify Expert, Discounted Upsells is Shopify's most effective upsell software. Businesses, experts, and specialists can benefit from this app's many features, attracting new customers and boosting revenue. The Discounted Upsells plugin makes it simple to set up specials like BOGO, freebies, cart upsells and cross-sells, BOGO deals, BOGO offers, and BOGO deals with discounts. This tool simplifies upsell and cross-sell offers by providing a pop-up and an embedded display mode. The Analytics tab allows you to measure conversions by the upsell app to assess the return on investment, making it simpler to evaluate the efficacy of your offerings.
Upsell and cross-sell offers from Discounted Upsells can be displayed on the Cart Page, the Product Details Page, the Collection Page, the Homepage, or any other page in the business. Making Buy One Get One (BOGO) offers is a breeze, and it can significantly increase both the average order value and the conversion rate.
There are a variety of payment tiers available for this upsell app, beginning with a free 30-day trial that includes access to all features and live chat support. Store orders between 21 and 100/per month are included in the $9.99/month STARTUP plan, while store orders between 101 and 300 are included in the $29.99/month PREMIUM plan. Between $500 and $1,000 in monthly store orders, you can sign up for the PLUS plan for $49.99 monthly (all prices are in USD).
There are 124 reviews for Discounted Upsells, and they average out to 4.5 stars. Consumers have lauded the upsell app's efficiency in boosting sales and the quality of its customer service team. A few users have reported experiencing bugs, but the support staff has been responsive in finding and fixing them. So, to boost your store's revenue, try Discounted Upsells immediately.

Wiser is a Shopify upsell AI-driven personalized product recommendations app that provides an immersive shopping journey across your mobile and email store with personalized recommendations. The upsell app analyzes browsing patterns, preferences, order data, interests, and more to provide a personalized shopping experience across web, mobile and email to drive up to 35% higher conversions. Wiser comes with multiple product recommendation widgets that help set up upsell and cross-sell experiences across your store and on emails. Its AI-based features include Frequently Bought Together, Thankyou Page Recommendation, Cart Page Recommendations, Trending Products, New Arrivals, and Recently Viewed Products. Wiser tracks user behavior and recommends products based on their browsing pattern. Wiser Pops is another exciting feature of Wiser that allows you to show product recommendations in nice popups that you can trigger based on various conditions. Wiser Shopify's upsell app has collected over 480+ reviews and is trusted by brands across fashion and apparel, clothing, health and wellness, and many more. Wiser is the go-to tool for providing strong product recommendations for Shopify stores, increasing customer engagement, monthly sales, and average order value.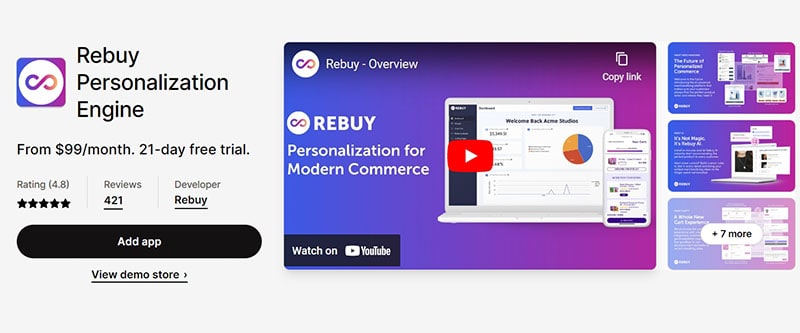 Rebuy is Shopify upsell app end-to-end personalization platform that unlocks the power of personalization through AI/ML technology combined with modern software, industry-leading integrations, and fully-customizable merchandising rules. Rebuy enables brands to provide data-driven shopping experiences throughout the customer journey, from the homepage to checkout, post-purchase, and beyond. The upsell app provides upsells, cross-sells, and merchandising, and its Smart Cart is the only fully integrated, customizable, and AI-powered cart. Rebuy also offers data-fueled product recommendations in checkout and accelerated checkout, which builds engagement with post-purchase, re-order landing pages, and smart links. Rebuy Shopify's upsell app integrates with industry-leading technology providers, ensuring seamless and intelligent shopping experiences. The app has three pricing options – starter, scale, and pro – that generate up to $4,000, $10,000, and $20,000 in additional revenue, respectively. Rebuy Shopify upsells over 5,000 brands using the app to boost AOV, conversions, and LTV. It offers fully customizable email templates, popups, and post-purchase features. Rebuy has 412 reviews on the Shopify app store with an overall rating of 4.8.
Bottom Line
Our fantastic "15 Best Upsell Apps for Shopify in 2023" lineup is a goldmine for savvy store owners looking to skyrocket their sales. These apps provide remarkable opportunities to leverage upselling and cross-selling techniques, boosting your revenue like never before!
Each app in this list has unique benefits and is tailored to suit diverse business needs. From cutting-edge AI-driven recommendations to nifty pop-up builders, you'll find the perfect fit for your Shopify store. Though certain apps may have a few downsides or limitations, the positives far outweigh them.
So, don't waste another min – dive into the world of upselling with these excellent apps! And while you're at it, supercharge your online store's performance by utilizing Plerdy. Gain valuable insights and improve your website's UX with their top-notch management tools.
Ready to unlock your Shopify store's full potential? Give these upsell apps a try, and watch your sales soar! And remember, always stay updated with the latest e-commerce trends and strategies. Now, go ahead and make the most of these incredible resources – your success is just a few clicks away! And, if you want to explore Plerdy in-depth, check out their website for more info and tutorials. Click here to start your journey with Plerdy today!