Test your e-commerce website using the Top 11 Shopify Heatmap Apps! ⚡ These powerful tools visualize user behavior, giving insight into what's working and not. So whether your goal is to increase conversions, optimize website design, or improve user experience, these apps can help. From click maps to scroll maps, such apps give you the data you need to make informed decisions and take your online store to the next level. ? Discover Top 11 Shopify Heatmap Apps to get the one for you!
What are the benefits of using a heatmap on the Shopify store?
Utilize heatmaps to reveal your Shopify store's secrets! For e-commerce websites, a heatmap app is a game-changer since it offers priceless user behavior and website performance data.
Using a heatmap, you can see where website users click, scroll, and spend the most time. You can use this information to pinpoint problems with your website, such as high bounce or low conversion rates. Additionally, you can keep tabs on consumer activity, including popular goods and web pages as well as any customer journey trouble spots.
Choose a heatmap for your Shopify store that is simple to use and offers timely, actionable insights. A heatmap app is what you need to make data-driven decisions and boost your e-commerce game.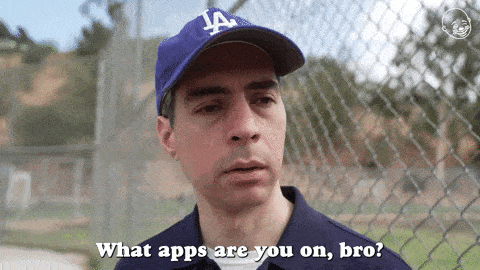 Consider a product page with a poor conversion rate as an example. A heatmap shows that customers spend a lot of time reading the product description but not adding it to their shopping cart. This information implies that the product description must be more persuasive or clear. With this knowledge, you may adjust the product description to increase conversions.
A heatmap is an effective tool for user monitoring. That's why a heatmap is an essential app, regardless of your experience with online sales. What are you still holding out for? Start using heatmaps to uncover your Shopify store's secrets!
List of Top 11 Shopify Heatmap Apps
Track clicks and scrolls with 11 Best Shopify Heatmap Apps! This expertly curated list will help you analyze your e-commerce website, providing a wealth of valuable insights into customer behavior and website performance. So, pick one of these Best Shopify Heatmap Apps to make data-driven website optimization decisions.

Plerdy is a comprehensive Shopify app that provides businesses with powerful tools for analyzing customer behavior on their e-commerce websites. With Plerdy, you can use heatmaps to track all clicks, cursor moves, and scroll depths, view what a specific visitor does on your store with session recordings, and survey customers using pop-up forms. The app also runs daily SEO analysis, including titles, descriptions, keywords, and Google Search Console. Plerdy integrates with GetResponse, SendFox, SendinBlue, Google Search Console, Mailchimp, and Google Analytics. The app has a free trial (14 days) and three pricing options: $29/month, $59/month, and $99/month.
Users have given Plerdy high ratings and positive reviews, with many praising the app's ease of use and quick support. Microfleur in the United States, Magic Brain Food in Canada, and iSmart Home Gadgets Limited in Hong Kong SAR all reported positive experiences with the app and its support team. Plerdy is available in English, Polish, Spanish, German, Italian, French, Portuguese (Brazil), Japanese, and Ukrainian. Get started today with Plerdy and optimize the performance of your e-commerce website!

Lucky Orange Heatmaps & Replay is a Shopify app businesses use to understand how visitors interact with their websites. With its heatmaps and visitor recordings, businesses can see where people click and scroll on their websites. The app also offers live chat and live view, allowing businesses to see where people are struggling and take steps to prevent abandonment. Lucky Orange also includes surveys, form analytics, conversion funnels, and other features that help businesses improve website visitor engagement, enhance user experience, and grow sales. The app has a 4.6 rating based on 780 reviews and is popular with e-commerce companies worldwide. It offers a 7-day trial and several pricing options, starting at $9 per month. The company behind the app, Lucky Orange LLC, has 8 years of experience building apps for Shopify.

If you're looking for a Shopify app with in-depth customer behavior analytics, consider Retter – Heatmaps & Replay. This app boasts a high rating of 4.9 and 39 glowing reviews from users in the US, Brazil, and beyond. Retter records visitor activity and provides dynamic heatmaps showing which parts of your pages are the most interactive. With the ability to replay how visitors interact with your products, collections, pages, and carts, you'll get a deep understanding of customer behavior and identify landing page problems that may be impacting sales.
The app offers a free plan with unlimited recordings and heatmaps, live view, session insights, custom events, top-notch support, and 30 days of storage. The basic plan starts at $4.99/month. The advanced plan is $9.99/month and the pro plan is $19.99/month. All plans come with similar features and monthly charges (every 30 days) in USD.
Developed by Upify, Retter is a must-have for any e-commerce store looking to improve their user experience and boost conversions. Upify offers top-notch support, with a support team available to answer any questions. So why wait? Give Retter a try and see how it can help your store succeed!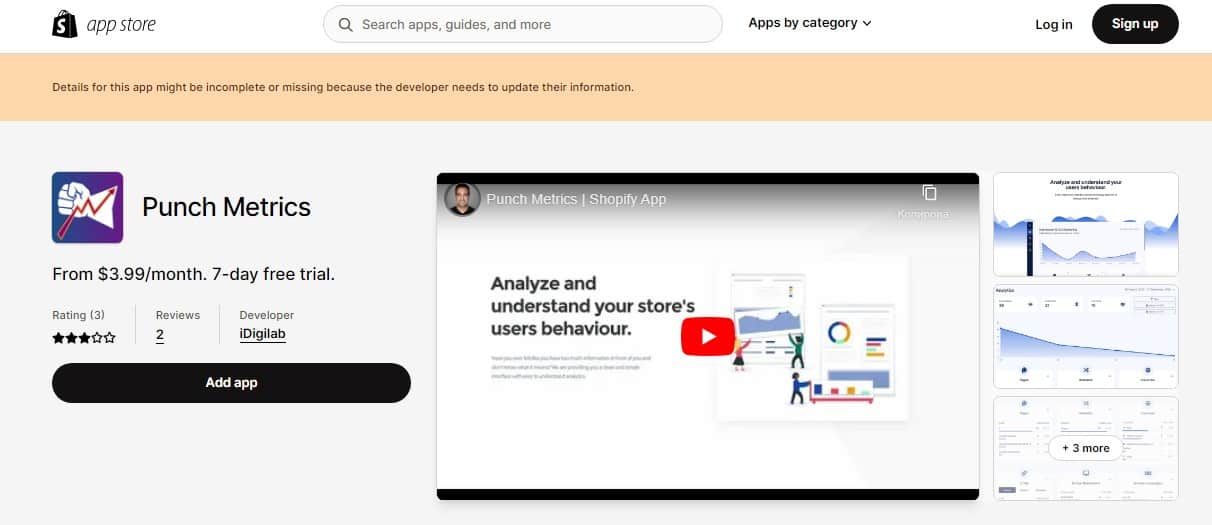 Punch Metrics is a Shopify app providing valuable insights into your customers' behavior through heatmap analytics and session replay. The app is built for businesses who want to optimize their online store and enhance customer engagement. With Punch Metrics, you can easily track your visitors and replay sessions, all in one simple and powerful app.
Features:
7-day free trial
3 pricing options (Starter pack at $3.99/month, Pro pack at $11.99/month, Business pack at $29.99/month, and Enterprise pack at $54.99/month)
No tracking code needed to install
Heatmaps to analyze user behavior
Easy to use, with everything in one place
Good looking analytics

Reactflow Recordings & Heatmap is a Shopify app you can use to optimize your store's conversion rate and analyze visitor behavior. With this app, you can record and playback visitor activities, generate heatmap reports based on clicks, mouse moves, and scrolls, and conduct surveys and polls to gather visitor feedback. Reactflow has a 14-day free use and a free plan with limited features, as well as PRO and BUSINESS plans starting from $19.99/month for 5k daily pageviews to $159.99/month for 50k+ daily pageviews.
Here's a quick rundown of the pricing options:
Free Plan: 1k daily pageviews processing, 100 snapshots per recording session, 3 heatmaps & 3 funnels, 3 feedback widgets, introductory bug tracking.
PRO PLAN: $19.99/month, 5k daily pageviews processing, 2k snapshots per recording session, and unlimited other features.
BUSINESS PLAN 20K: $69.99/month, 20k daily pageviews.
BUSINESS PLAN 50K+: $159.99/month, 50k+ daily pageviews.
Reactflow has received an overall rating of 3.8. Users find it "very helpful to fix a few issues" but complain about some missing sessions during the recording and analysis of the records.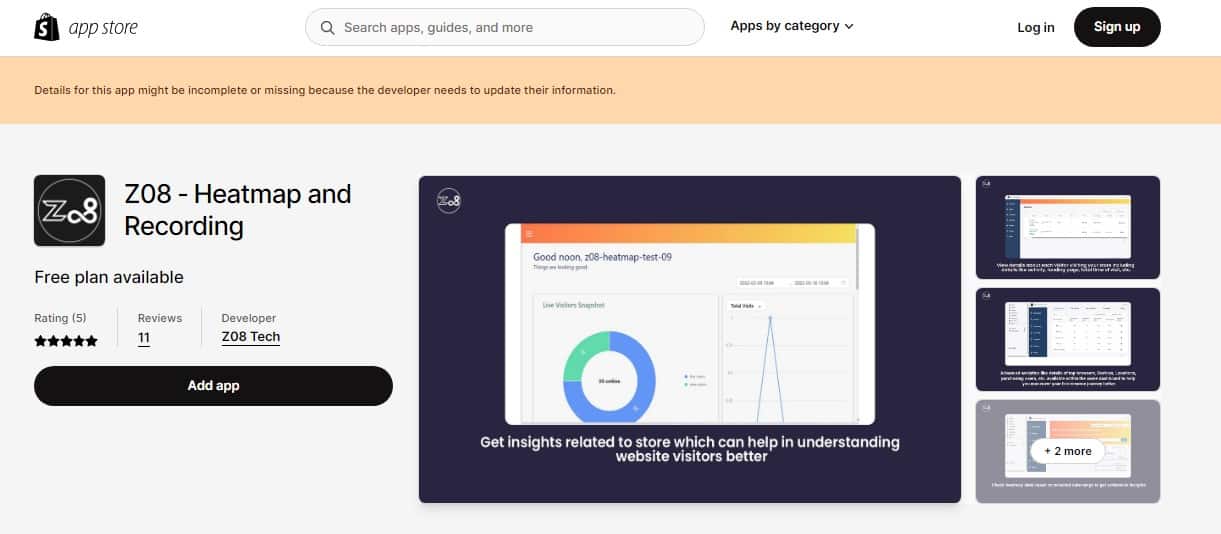 Z08 Heatmap and Recording Shopify app offers free and paid plans to help businesses understand their customers and analyze sales. The app offers features like quick installation, real-time user recordings, detailed analytics, browser and device performance, and more. The free plan offers 2000 monthly page views with 30 days data retention, while paid plans offer more page views and longer data retention (starting from $11/month). With an overall rating of 5 stars, users have praised the app for its helpful insights and performance. One reviewer called it the "best app on the Shopify app store" while another said it's a "must-have application for any business". Z08 Tech, the app developer, has been building apps for the Shopify App Store for 1 year and offers support through email.

FigPii Replays & Heatmaps is a powerful Shopify app that provides valuable insights into your website's performance. This app is available for $24.99 monthly with a 14-day trial. FigPii is a customer analytics app that analyzes vast amounts of data to determine where visitors struggle on your site. With FigPii, you can track visitor behavior, create heatmaps, conduct A/B testing, run polls, and more. FigPii is easy to use and offers a 30-day money-back guarantee.
Users can start with a 5,000 visitor per month starter package and upgrade as needed. FigPii offers unlimited A/B tests, heatmaps, recordings, and polls in all packages. FigPii's overall rating is 4.7 out of 5, with 50 positive reviews.
So, if you want to turn your site's data into conversions, FigPii is the app for you! Get started today.

The Shopify app HeatMap by Webyze provides heat map insights for your store. The application monitors all clicks and provides heat maps to display precisely where customers click on your website. This vital information will help you discover your consumers' concerns and maximize the potential of your store. The application can filter data by device type, including desktop, tablet, and mobile. HeatMap is a useful tool for e-commerce business owners seeking to enhance the consumer experience, as it offers infinite page views and tracks all pages.
Pricing:
Standard Plan: $17 per month, 7-Day Free Trial
1.1 stars out of 5 reviews
1 of 5 reviews states that the app is user-friendly.
Although HeatMap by Webyze is an innovative tool for store owners, its low rating and bad reviews indicate that it may not be the greatest option on the market.

Hitsteps Analytics is a Shopify app with detailed real-time visitor analytics, heatmap and live chat features. With a 4.6-star rating and 21 reviews, the app has received positive feedback for its easy-to-use interface, real-time tracking, and comprehensive visitor information. The app is in English and compatible with WordPress, Joomla, and ImpressPages. Hitsteps offers a 10-day free trial and several pricing plans ranging from free for a monthly pageview limit of 2k to a PRO plan at $21/month for a monthly limit of 500k page views. The live dashboard provides a control panel for real-time website statistics, including visitor location, traffic sources, and search keywords. Page analysis tracks clicks on-page elements, while the company profile provides information about a visitor's origin and company information. The heatmap feature helps identify the most popular and ignored click sections of pages.

Get a clear picture of your website's performance with SquidVision's Heatmap. With a 4.9 rating, this Shopify app is the solution you need to validate your content marketing and increase conversions. For just $19/month, you can take advantage of the 14-day free trial and start tracking all clicks, conversions, and revenue. With unlimited revenue heatmaps and conversion tracking, you'll know which buttons, links, and images impact your sales.
SquidVision's pricing plans cater to stores with different levels of revenue, ranging from $19/month for stores with less than $1 million in revenue to $199/month for stores with $15 million to $50 million in revenue. Each plan allows users to create unlimited revenue heatmaps and all future updates.
Join the ranks of satisfied customers like Our Taiao (New Zealand), iPlusX (Spain), and KAARI JEWELRY (United States) and start seeing results with SquidVision's Heatmap. All charges are billed in USD. Recurring and usage-based charges happen every 30 days.

Crazy Egg Shopify app provides heatmap analytics to understand your website visitors' behavior and improve their user experience. It offers features such as Snapshot Reports, Session Recordings, Surveys, and A/B testing. It integrates with platforms like WordPress, Segment, Wix, and Google Analytics. The app price starts from $29/month. The first 14 days are free. Crazy Egg has received a 3.3 rating based on 11 reviews, with customers praising its heatmap and scrollmap reports, recordings, and helpful support team. However, some customers have reported limited recordings in the free trial and unauthorized charges. Crazy Egg offers five reports that display clicks and can help with placing calls-to-action in the right place. Try it with a free 30-day trial, cancel anytime.
Conclusion
A heatmap app can greatly improve your Shopify store's order management, sell flow, and conversion rates. By understanding how customers interact with your site, you can make informed decisions that drive sales and enhance the overall user experience. As a store manager, you should know the importance of qualitative data and how it can impact the bottom line. With so many heatmap apps available, choosing the right one for your brand's unique needs is important. A trial period or demo is usually available to test the app before subscribing. For example, Crazy Egg and Lucky Orange are popular choices for CRO (conversion rate optimization). With an average e-commerce store having a 2-3% conversion rate, it's worth taking advantage of these tools to increase sales and maximize your ROI.