Branding is a critical aspect of any business, big or small. It's the face of your company and the first thing people will see when they encounter your product or service. This is why finding the cool brand development agency is imperative to help bring your vision to life. The Top 20 Brand Development Agencies offer a suite of services designed to elevate your brand and make it stand out from the crowd. From crafting a unique brand identity to executing impactful marketing campaigns, these agencies are dedicated to helping businesses achieve their branding goals and build long-lasting relationships with their audiences ??. So whether you're launching a new product, or company or looking to rebrand, these agencies have the expertise and experience to help you succeed.
What Is a Brand Development Agency: Insights and Examples
A brand development agency is an organization that specializes in the creation, improvement, and promotion of a company's brand. The primary objective of these agencies is to help businesses establish a strong and recognizable brand identity, increase their visibility in the market, and ultimately drive financial performance.
Expert Opinions About Branding
According to branding expert Simon Sinek, "People don't buy what you do, they buy why you do it." This statement highlights the importance of a company's brand story and how it connects with its target audience. A brand development agency can help businesses craft and compellingly communicate their brand story, so it resonates with customers.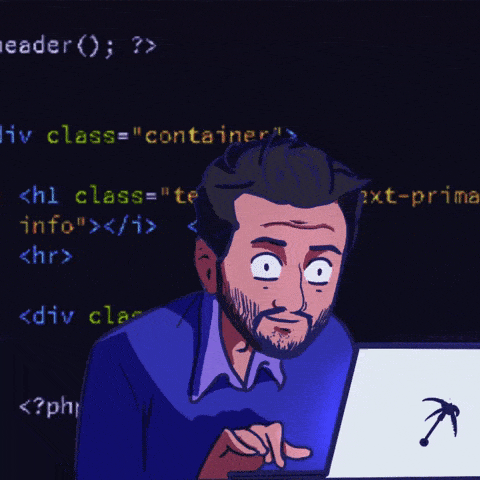 Another expert, Marty Neumeier, author of "The Brand Gap," emphasizes the significance of a company's visual identity. He says, "A brand is not just a logo, it's a promise. A visual identity is the physical embodiment of that promise." A brand development agency can work with a business to create a visual identity that accurately represents the brand's promise and is consistent across all marketing materials.
Real-World Branding Examples
A strong brand identity is essential for a business to stand out and make a lasting impression on customers. In addition, a well-defined brand can help businesses to communicate their message and values effectively and build a strong reputation. The following agency case studies showcase various companies' best branding efforts. These brands have stood out in their industries by making a bold image or sending a unique message.
Dooly – Known for its innovative approach to enterprise software, the Dooly team aimed to build a rebellion with its brand. Dooly has established itself as a bold player in the industry, focusing on standing for something and being different.
Vecteezy – As the company evolved, its branding efforts kept pace, better reflecting who they are and what they do. The new look has received positive feedback and represents the exciting changes at the company.
ShipBob – The rebranding effort paid off for ShipBob, with instant positive customer feedback and a 27% increase in conversion rates. The brand's website successfully communicates its message and values.
InvoiceNxt – The brand's dual-meaning logo represents its focus on fulfilling early payment requests, improving SME's cash flow, and implementing ESG-concepts across the supply chain.
Vertobase – To make the brand stand out from the competition, Vertobase's signature identity was designed to perfectly represent its ideals of being quick, intelligent, and modern.
Avasam – Avasam's branding showcases its commitment to innovation and a forward-thinking approach.
Single Grain – The Single Grain brand is a testament to the company's focus on growth and innovation. Its website reflects its brand identity and effectively communicates its message.
LaunchDarkly – UI design brought its brand to life, positioning it as a leader in the future of modern development. The stylized visuals and expert visual hierarchy effectively communicate the brand's message.
These case studies show how important it is for a business to spend money on branding. A well-defined brand identity can help companies communicate their values.
The work of brand development agencies extends beyond the creation of trendy designs and eye-catching logos. Consider utilizing logo creator tools to get additional creative ideas for designing a bright logo. A brand development agency plays a crucial role in creating and promoting a company's brand. Working with experts and real-world examples shows that these agencies can assist businesses in developing a strong brand identity, increasing visibility, and driving financial performance.
List of Best 20 Brand Development Agencies
This list includes the top agencies featured on Clutch and is not a ranking. You can learn what services they offer, what customers they serve, and reviews.

WANT Branding is a nationally recognized, B2B corporate brand development agency that has been creating high-performance brands for ambitious companies for the past 24 years. With over 2,000 brands created and 31 on the BestGlobalBrands list, WANT has a proven track record of success in 45 countries worldwide.
Their brand agency fundamentals, which include Brand Strategy, Brand Naming, Brand Identity, and Brand Research, have helped us to earn over 120 glowing reviews from satisfied clients in industries such as technology, healthcare, financial services, hospitality, energy, entertainment, and private equity.
At WANT agency, they have committed ourselves to a simple cause: creating powerful, distinctive, and memorable brands that outflank the competition, delight customers, and achieve extraordinary business results. Suppose you're looking for an experienced team of global branding experts capable of creating high-performance brands at a breakneck pace. In that case, the team at WANT wants to hear from you.
Brand Strategy: The Foundation for Building a World-Class Brand
According to a 2021 Gartner survey, thirty-three percent of CMOs rank brand strategy as one of their top marketing priorities, and for a good reason. A solid brand strategy provides the essential foundation for building a world-class brand that stands out from the crowd and delivers outstanding results.
At WANT, brand strategy work is anchored by three core deliverables: Brand Definition, Brand Messaging, and Brand Architecture. Unique Brand Definition process, which includes a Brand Building Blocks, Brand Positioning, and Brand Manifesto, helps to create a clear and common understanding of the brand's "why" that drives competitive advantage. The Brand Messaging deliverable creates powerful messaging copy that clarifies the brand's benefits for each core audience type. At the same time, the Brand Architecture helps to organize your portfolio of products and offerings to serve your customers best.
Are you seeking a partner to assist you in making a long-term impact on your brand? Look no further than Catchword, the world's leading naming and branding agency that has been defining culture for over 25 years. Their skilled staff is committed to assisting you in defining and communicating your brand in a way that resonates with your target audience.
Their all-inclusive branding method addresses all facets of your brand strategy, including company naming, product and service naming, brand positioning, messaging and copywriting, and visual identity. As a result, their names have become part of society, appearing on cars, billboards, grocery aisles, and even the NYSE opening bell.
Brand development agency are honored to have received numerous awards and accolades for their work, including being named the #1 Naming Agency and #1 Branding Agency in the world by Clutch and multiple accolades for excellence in naming strategy and corporate identity from the Transform Awards and MUSE Creative Awards.
Catchword believes in having a genuine and good impact on the world around us. Their dedication to constant learning and progress demonstrates their devotion to providing the best possible results for their clients. When you work with Catchword, you can be confident that you're in good hands because of their extensive knowledge and resources.

Tungsten is a premier brand development and naming agency that creates clear, concise, and compelling brand identities that outshine the competition. Celebrating 20 years in the industry, Tungsten has a proven track record of delivering exceptional results to clients from various industries and businesses of all sizes.
Services That Shine
Tungsten's agency services include brand name creation, visual identity, brand strategy, and rebranding. The company employs an intelligent naming process that ensures the best fit for your company and its specific brand criteria. Tungsten also offers a comprehensive rebranding process that helps clients successfully relaunch their brand while addressing specific challenges and needs based on their company history and industry sector.
A Focus on Brand Strategy
Tungsten agency understands the importance of clear direction and focused messaging regarding brand strategy. The team helps clients create a solid foundation for their brand by defining their message, position, and architecture. Tungsten covers all aspects of brand assets from logo development to brand collateral. It provides comprehensive brand style guides to ensure a seamless implementation of the client's vision.
Client Success Stories
Clients of Tungsten have seen significant success in their brand development journeys. Jennifer Kuemerle, Director of Operations, said, "Tungsten brought an incredible focus to team and created a future for the brand that they could never have accomplished on our own." As a globally recognized company naming agency and a top 5 company naming expert, Tungsten has a reputation for delivering crystal clear brand identities that shine.
Discover Your Story with Tungsten
Tungsten is ready to help you bring clarity to your brand story and create a brilliant brand identity that speaks for itself. So get in touch with the Tungsten team today, and let's get to know each other.

Jacob Tyler is a top-notch brand development agency that offers comprehensive and integrated branding solutions to help businesses grow and succeed. With a team of seasoned creative professionals, the company provides cutting-edge marketing strategies and creative experiences that amplify brand reach, foster customer loyalty, and drive business growth.
Case Studies that Speak for Themselves
At Jacob Tyler agency, the company lets its work do the talking. From refining the user experience for the CarnoSyn brand to rebuilding the national brand of USA Service Dog Registration, the firm has a track record of providing its customers with remarkable results. From brand, interactive, and print design to digital marketing, the team has a wide range of expertise to help businesses achieve their goals.
21 Years of Industry Success
Jacob Tyler has been in the branding business for 21 years, so he has a lot of experience in a field that is always changing and challenging. The agency has become a major player in the market thanks to its long list of award-winning projects and its leather-bound client list. Whether it's a brand and traditional design project for McCain, Inc. or interactive design for the Swedish Program, Jacob Tyler consistently delivers top-notch work.
Stay Ahead of the Game with Jacob Tyler
From its blog, which covers topics like how to market medical devices to increase revenue and leverage email design for B2C brands, to its portfolio of case studies, Jacob Tyler is always at the forefront of branding innovation. The company is dedicated to helping its clients stay ahead of the competition and achieve their goals. Why not contact Jacob Tyler agency to determine how they might assist your brand in reaching new heights?
Looking for a creative and reliable branding solution to help your business stand out in the market? Look no further than NameStormers, a top-tier brand development agency with over 30 years of experience shaping success through naming.
Unique Services
Their professional team offers a wide range of naming services, such as company naming, naming products and services, naming brands, trademark and domain screening, screening for linguistics, and naming research. So whether you're a start-up, Fortune 500 company, or nonprofit, we have the experience and expertise to help you create a memorable and impactful name that perfectly embodies your brand identity and business aspirations.
Case Studies and Reviews
Brand development agency case studies show that they have a proven track record of getting great results for their brand clients. Some big names they have created include PowerShot for Canon, CarMax for Circuit City, Cherubs for NatureSweet, and Angry Orchard for Boston Beer Company. With over 1,000 companies helping and an 80% repeat client rate, they are confident they can help you create a name that will provide you with the opportunities you deserve.
Discover the NameStormers Advantage
At NameStormers, they are focused, fast, and reliable, working on your timeline to ensure you get the best possible results. Whether you're looking for time-saving naming tips, inspiration for professional naming, or a complete branding solution, they are here to help.
River + Wolf agency is a renowned brand development agency specializing in creating impactful products, company, and service names. With a headquarters in New York City and a global reach, the agency has made a name for itself as one of the world's top branding and naming agencies.
From solopreneurs to Fortune 500s, River + Wolf offers affordable and customized branding solutions to clients in various industries, such as food, fashion, technology, finance, education, and healthcare, to name a few.
Award-Winning Brand Development
Brand development agency exceptional services have earned them numerous accolades and recognitions, including being named the #1 global naming agency and the top branding firm in New York City by the Manifest and Clutch, respectively. The Better Business Bureau has also awarded the agency with an A+ ranking.
Portfolio Highlights and Industry Insights
River + Wolf's agency portfolio shows how good they are at making unique brand identities that people will remember. The agency showcases its diversity and creativity with case studies ranging from higher education and medical robotics to vegan snacks and sparkling water.
Stay updated with the latest industry insights by reading their featured articles on authoritative platforms such as WSJ, New York Magazine, Authority Magazine, and The Silicon Review.
Discover the power of a well-crafted brand identity with River + Wolf. Download their naming guide today and take the first step in elevating your brand.

Social Driver is a brand development agency that helps companies increase their online presence and interact with their target audience. Their expertise in digital and social media marketing, combined with their dedication to project management and customer service, makes them a trusted partner for businesses across the country.
Case Studies
They have a track record of delivering successful campaigns and results for their clients, with a few examples including repositioning the brand Dash In, leveraging influencer clout for Events DC, and growing strong families through elevating a trusted brand for ZERO TO THREE. Their team of designers, strategists, and developers bring a diverse range of skills and backgrounds to the table, helping to serve their clients' unique needs better.
Honors and Recognitions
Their agency commitment to excellence and their dedication to diversity and inclusion have earned them numerous awards and honors, including Supplier of the Year from the National Gay & Lesbian Chamber of Commerce, the Chairman's Award from People to People International, and being named one of the Best Digital Marketing Brand Agencies in Washington, DC by Expertise.com.
Capabilities
Social Driver agency offers a wide range of services to meet the needs of their clients, including marketing and communications, branding and messaging, websites and interactive, and content and video production. Their values of putting people first, asking questions, and going above and beyond, drive their team to create innovative solutions and deliver results.
Join to Team
They're always on the lookout for talented individuals to join their team. If you're interested in a digital marketing and brand development career, check out their careers page to see their current openings.

A brand development agency called Visceral collaborates with those devoted to doing good in the world. For example, philanthropists, nonprofit organizations, teachers, conservationists, leaders in the field of health, and social entrepreneurs. Visceral assists in bringing their vision to life and making a difference in the world, focusing on producing powerful, meaningful work.
Case Studies of Achievement
Brand development agency Visceral has collaborated with some institutions, including the James Irvine Foundation, Schmidt Ocean Institute, and Parker Institute for Cancer Immunotherapy. Each project is distinct and customized to the demands and objectives of the customer. For the Parker Institute, Visceral created a visually attractive website (abot brand) and grant proposal to assist them in realizing their "Hacking Cancer Together" aim. Through a user-friendly graphical interface, Visceral collaborated with Schmidt Ocean Institute to spread cutting-edge oceanographic research around the globe.
Reviews and Comments
Agency clients and business leaders alike have praised Visceral's work. Their clients value the distinctive approach and attentive care offered to each brand project. Additionally, industry professionals have praised Visceral for its high professionalism and innovation. As a result, visceral routinely produces excellent outcomes, whether building a website, a grant submission, or other marketing materials.
Final Reflections
Visceral is committed to using their work to change the world. Their clients can have faith that their brand and message are in excellent hands because they place a strong emphasis on social good. Whether you're a social entrepreneur, NGO, or philanthropist, Visceral has the knowledge and expertise to support you in realizing your goals.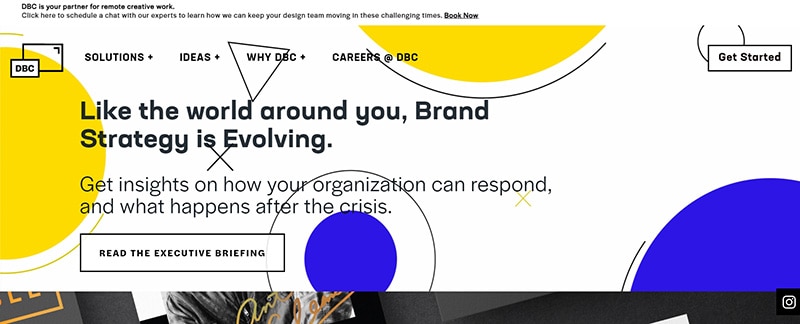 DBC is a brand development agency that helps businesses and organizations achieve their communication goals through a unique blend of design and data. With a team of experts in both fields, DBC has helped numerous companies improve their brand image and reach their target audience effectively.
Case Studies
From introducing Songwriter Wrapped for Spotify to launching Rooms for StockTwits. Their work has rescued organizations from the mundane, like College Board from PowerPoint purgatory, and given them a modern, brand-centric platform.
Reviews
Clients have praised DBC for their fast turnaround, innovative graphic and presentation design approach. The brand agency has received recognition from the likes of Clutch and Expertise.com and a 5-star rating from the BBB. One client, Leah Whitfield of The Aviation Planning Group, noted that "responsiveness and quality of work" were the most important factors when working with a third-party vendor. DBC exceeded expectations in both areas.
Get in Touch
Brand development agency DBC is always ready to start a conversation and help businesses and organizations reach their full potential. They offer free first insight and work with clients worldwide, delivering work that feels in-house despite their remote team.

Brand development agency Greenflag Media is a full-service agency that provides a wide range of services to businesses of all sizes, non-profits, and brands that aim to change the world. From web solutions and branding to digital marketing and support, Greenflag Media is the partner businesses can count on to help them succeed.
Case Studies that Speak for Themselves
Greenflag Media has worked with numerous organizations and private brands to help them reach their goals. Greenflag has a proven track record of getting things done, from redesigning sites to building digital brands. A few of their recent successful projects include a site redesign for UrbEd Advocates, a digital refresh for the United States HIV Caucus, a website redesign for East Pines Pharmacy, brand and website development for Professional Signings and Fitnik.
Services that Drive Success
Brand development agency Greenflag Media provides a variety of services geared toward the success of businesses. Their branding services include logo design, messaging, identity, packaging, and web design. Their digital marketing services include media buying, social media, content development, technical SEO, and link building. Their services are intended to assist businesses in achieving their objectives and dominating the internet world.
Get in Touch
If you're ready to take your brand and business to the next level, get in touch with Greenflag Media today. They will review your branding and online presence and provide you with a comprehensive plan to improve your online success. Whether you need help with your website, digital marketing strategy, or branding, Greenflag is your partner to help you succeed. So schedule a call today and see the difference Greenflag Media can make for your brand and business.

Do you want to avoid dealing with agencies that overpromise and underdeliver? Look no further than Complex Creative, the No Bullsh*t Agency. Their team is dedicated to delivering amazing client results without intimidation or contract-milking tactics.
They agency offer a genuinely full-service creative experience with branding, graphic design, website design and development, and digital marketing services, including SEO, social media, and copywriting. They aim to take the stress out of their clients' lives by providing an all-in-one solution so they don't have to manage multiple agencies simultaneously.
Complex Creative, as a brand agency, is also on a journey towards B Corp certification and is committed to sustainability. They have even rebuilt their website from scratch to be more environmentally friendly.
Their mission is to raise the standard of creative agencies and be trustworthy partners for their clients. As a female-owned and black-owned business, they are proud to be a leader in the minority-owned creative agency space and support other businesses with similar values.
So why choose Complex Creative? Their award-winning team is experienced, quality-driven, certified, friendly, and results-driven. They are also transparent, efficient, knowledgeable, sustainable, authentic, and just cool.
Are you looking for a creative agency to help take your business to the next level? Look no further than Neuelane, a Miami-based agency specializing in branding, social media, advertising campaigns, and content creation. With a team of great experts in research, strategy, graphic design, photography, and video production, Neuelane is dedicated to building brands that connect with consumers and stand out in a crowded marketplace.
Case Studies
Neuelane's portfolio speaks for itself. From launching a new fitness motivational app (Feeling Yourself Paid Workout) to promoting a California-based nail polish brand's summer collection (Welcome to the Party Loud Lacquer). Additionally, Neuelane has helped local Miami businesses, such as Pincho Factory and The Tax Team, expand their reach and transform their brand identities.
Services
Brand development agency Neuelane offers a range of services to help businesses build and strengthen their brands, including logo and identity design, brand positioning, website design, social media management, and advertising campaigns. The agency starts each project with thorough research and strategy to ensure that the final product aligns with the client's goals and resonates with their target audience.
Reviews
Don't just take our word for it. Check out Neuelane's website to see what their clients have to say about the quality of their work and the results they've achieved. From start to finish, Neuelane is dedicated to providing the most possible experience and delivering top-notch results for their clients. So why wait? Get in touch with Neuelane today!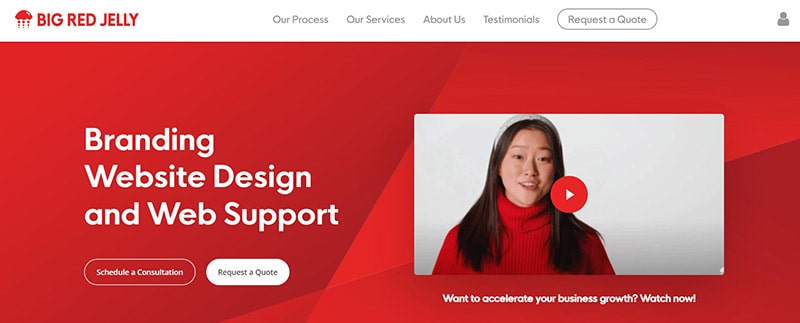 Big Red Jelly, a leading brand development agency HQ in Provo, Utah, specializes in website design and web support. Big Red Jelly is known for giving small businesses and entrepreneurs world-class solutions because it has a team of experts in development, design, and customer service. Their services are meant to help websites figure out what they want to say, build a strong website, and grow their brand by giving them ongoing support and a plan.
Case Studies
Brand development agency Big Red Jelly has proven a great success, with numerous case studies showcasing their website building and branding expertise. From R&R Barbeque to Summit Pizza, their clients have seen significant improvements in their online presence and business growth. With a commitment to customization, Big Red Jelly always starts with a blank canvas to ensure each project is 100% unique to the client's needs.
Reviews
Big Red Jelly agency has received great client reviews on Clutch, a leading B2B platform, for their web design and development services. They are also a Wix web design agency, a top 100 partner, Pressable WordPress hosting provider, GoDaddy pro partner, and a website domain registrar. In addition, Big Red Jelly is a Thumbtack professional, a Securi partner for website maintenance and protection, and a Bark Professional for hiring local and quality service. With a BBB Accreditation and recognition as a Top B2B Utah Website Building Company by Clutch, it's no wonder why thousands of businesses choose Big Red Jelly for their brand development needs.
Define Your Message, Build Brand, Grow Business
With Big Red Jelly, businesses can expect a smooth and collaborative process, applied creativity, and customized solutions to help them succeed. Their team of experts will work with businesses to analyze and measure their brand's message and online health, then develop a brand story and strategy to connect with their audience. The website design process focuses on connecting to the best digital tools and automation to save time and increase efficiency. And with ongoing support and strategy, businesses can continue to grow their brand and reach their goals.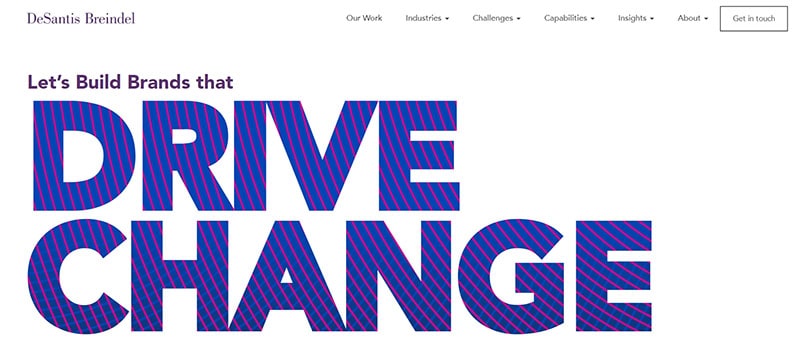 DeSantis Breindel is the premier B2B Brand Development Agency based in NYC, offering several services to empower businesses undergoing rapid transformation. From research and brand strategy to design and brand experiences, the company works with clients from diverse industries, including technology, healthcare, financial services, and professional services, to engage customers, influence prospects, rally employees, and inspire investors. The goal is to build brands that can bring about meaningful change.
Capabilities that Drive Success
DeSantis Breindel agency has a wealth of experience in helping businesses build brands that drive success. The company has a track record of creating new industry segments, unifying multiple companies into a single, powerful brand, repositioning established brands to leverage transformative acquisitions, and propelling engineering firms to greater heights with authentic, ambitious branding. These are just a few examples of the company's capabilities, and its portfolio speaks to the results it has achieved for its clients.
Case Studies and Free Ebooks
The brand development agency offers free ebooks that delve into the secrets of B2B branding success. The "Secret to M&A Success? It's in the Brand" ebook is based on decades of award-winning B2B brand work, and the "Standing Out: The Case for Law Firm Branding" ebook shows how to build a fine brand that sets your agency apart. In addition to these resources, the company has a wealth of case studies highlighting its ability to deliver client results.
B2B Branding for the Digital Age
In the digital age, B2B branding agency has become increasingly sophisticated, focusing more on personalized tactics and a deeper understanding of the complex buying process. DeSantis Breindel is well-equipped to help businesses navigate this changing landscape, offering B2B branding services designed to work across a range of channels and resonate with customers emotionally and cognitively. The company's expertise in B2B branding, combined with its proven approach to brand strategy.

Tenet Partners is a full-service brand development agency helping companies build powerful brands for over four decades. Focusing on fusing innovation and branding, they offer a range of services that span from corporate branding to consumer branding, data science, digital, and product and service innovation. Their work is driven by a clear vision of the future and is rooted in inspired insights and advanced analytics.
A Holistic Approach to Branding
Tenet Partners' approach to branding is holistic, encompassing market research, brand strategy, design, launch, and management. Whether it's a corporate or consumer brand, they ensure that the brand captures a compelling idea that stands out from the competition. Their expertise in AI and machine learning enables their clients to anticipate customer needs and make data-driven decisions that optimize the return on their brand investments.
Driving Growth Through Innovation
Innovation is at the heart of Tenet Partners' work. From digital products to consumer goods, they have driven breakthrough innovations for some of the world's best-known brands. Their expertise in ethnography and market research provides a deep understanding of customer needs, which they use to develop high-growth concepts and transformational products and services.
Proven Results
Gartner and other industry experts have recognized Tenet Partners' work as top-notch. Their corporate branding services have been rated as the best in the industry for eight consecutive years. They have been featured in the latest Gartner guide to finding the perfecr brand development partner. With a portfolio that includes clients such as Gore, ASC Engineered Solutions, CME, Mastercard, and many others, Tenet Partners has the expertise to help companies build powerful brands that drive growth and delight customers.
Plus972 is a top brand development agency that has been around since 2009. It is based in New York City and Tel Aviv and has offices all over North America, Europe, and Asia. With a team of international experts, they have a unique blend of entrepreneurial spirit and creative solutions to help businesses achieve long-lasting results. Their philosophy involves collaboration, integration, and custom solutions to meet each client's unique needs.
A Creative Agency That Listens to You
They listen to their client's needs and offer a comprehensive suite of services, including branding, marketing, and web design. Their branding services include brand analysis and positioning, visual identity development, logo design, branded collateral, packaging design, and art direction. In marketing, they offer market research and fit analysis, product launch and go-to-market strategies, social media strategy, search engine optimization, email marketing, copywriting, and retargeting campaigns. Finally, their web services include web audits, UX/UI design, WordPress and Shopify development, conversion optimization and A/B testing, advanced analytics tracking, and Google Ad management.
Specializing in Key Industries
Brand development agency Plus972 has extensive experience in key industries, including real estate, finance, e-commerce, technology, design, hospitality, corporate, and social. They know how to help you reach your goals, whether you're launching new goods, tools or trying to improve your B2B activities. Their case studies showcase their clients' success and commitment to delivering sustainable results over time.
Project Models Tailored to Your Needs
Brand agency offer flexible project models to suit the specific needs of their clients, whether you're looking for help with a single project or ongoing support. Their individual project model is perfect for clients with a defined scope of work. In contrast, their ongoing project model provides ongoing support and strategy to achieve your long-term goals.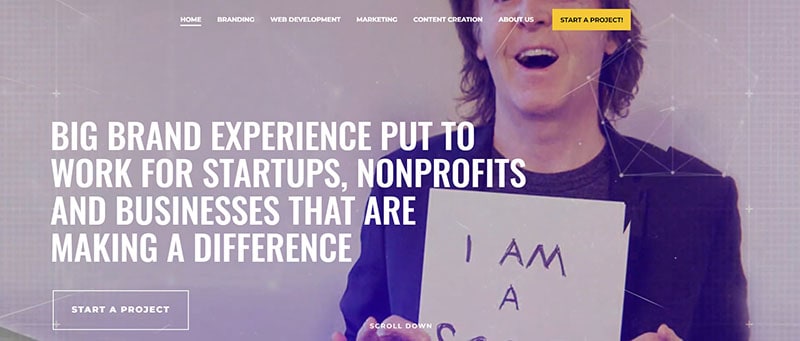 The Bureau of Small Projects is a well-known brand development firm that specializes in assisting companies to stand out, improve their appearance, and boost sales. The Bureau of Small Projects uses a team of specialists with Fortune 500 and large brand experience to aid startups, organizations, and companies that are changing the world. They do this using their branding, web development, and marketing expertise. The Bureau of Small Projects team comprises the brightest minds on the planet, including Bill Nye (The Science Guy), Stanford University, Blackrock Neurotech, Switzerland, and rocket scientists and brain surgeons.
The Bureau of Small Projects is known for building brands for websites that turn visitors into customers. They do this by combining cutting-edge code with cutting-edge technology. The agency can observe the inner workings and strategies of many different firms thanks to this distinctive approach, enabling them to determine what works and what doesn't and apply this knowledge to their customers' businesses. They is a top agency for branding, marketing, design, and development.
The 7-step method used by the Bureau of Small Projects starts with a landscape analysis, then moves on to research and discovery, strategy development, creative direction, design and development, launch, and continuous optimization. In addition, the agency takes an evolutionary approach to branding, concentrating on drawing clients by identifying what suits their surroundings. The 'Wheel of Fortune' marketing method and the bureau of small projects' evolutionary branding approach has been highlighted in the media. Sheep Inc., the Planetary Society, the Swiss Food Composition Database, Happy Monkey Skincare, Sensei Biotherapeutics, and numerous more companies are just a few of the clients they have worked with.

Matchstic is a branding development agency that helps growing brands become "Radically Relevant." With nearly 20 years of experience, they have aided startups and global organizations in defining and express their unique identity. They offer a wide range of services, such as brand audits and research, naming, brand architecture, brand strategy and positioning, visual identity design, brand voice and messaging, and more.
Expert Team of Creatives
Team of brand agency strategists, designers, writers, illustrators, photographers, artists, and branding experts, who work together to help clients navigate the brand side of change and guide them toward an ideal future. Matchstic's team consists of highly talented individuals, including Craig Johnson, Founder & President, Blake Howard, Founder & Creative Director, and Lauren Hood, Senior Project Manager, among others.
Unique Approach
Matchstic agency takes a unique approach to branding, offering clients a curious and offbeat perspective. They believe that intelligent strategy builds enduring brands and go deep to unearth a brand's true purpose, position, and personality through in-depth research and collaborative sessions. Their approach has proven successful, as evidenced by the long list of satisfied clients they have worked with over the years.
Results Driven Services
Matchstic's services are results-driven and are committed to helping their clients achieve their goals. Their team of branding experts works closely with clients to ensure they receive the best possible outcomes, and they are dedicated to providing top-notch services at all times. If you're interested in learning more about how Matchstic can help your brand become "Radically Relevant," don't hesitate to contact them today.

Branding is the foundation of a successful business. It's the promise of what a company stands for and the emotional connection it has with its customers. C42D is a top-notch brand development agency, HQ in New York, focusing on making brands and websites for early-stage companies that interest people. Their team of experts has 14 years of experience working with visionary companies. It is dedicated to helping businesses make a difference in the world.
Mission
At C42D, a brand development agency are on a mission to build brands people love. Their process combines craft and science, developed over years of working with top brands. First, they conduct a discovery and brand audit to understand your business issues, then co-design an effective brand strategy tailored to your needs. Their expertise includes strategy, company naming, visual and verbal identity, and web design and development.
Reviews
C42D has received 45 verified reviews from real clients on Clutch.co, with an average rating of 4.8 out of 5 stars. Their clients have praised them for their high level of organization and ability to take their brands to the next level. They are proud to have worked with clients in a variety of industries, including healthcare, venture and finance, and game-changing startups, such as Kindbody and Foundation Capital.
C42D operates as a 100% remote brand development agency, with a core NYC team serving as the strategic and creative hub and managing outside partners as needed. Their team comprises David Card, founder and CEO, Christa Gonzales, project manager, Alison Abate, art director, Justin Cangiano, senior designer, and TJ Knight, senior digital designer.
At C42D, agency believe in empowering. Their team makes decisions and fosters a culture of curiosity. Their values are at the core of who they are and drive them to create meaningful, impactful brands for their clients.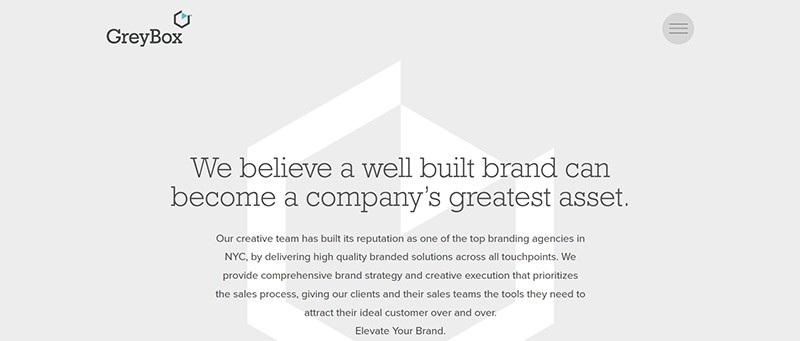 GreyBox Creative is a boutique branding agency based in New York City that specializes in delivering comprehensive branding solutions for businesses that want to take their brand to the next level. With a creative team that has been together for three decades and a reputation for delivering high-quality, effective branding solutions, GreyBox Creative is the go-to agency for companies looking to elevate their brand.
Comprehensive Brand Strategy and Creative Execution
The GreyBox Creative brand development agency team provides a range of services, including brand strategy, logo design, corporate identity, marketing collateral, website design, and online services such as website development, website security, content edits and maintenance, and online marketing. The agency also offers brand strategy sessions with brand strategist Fabian Geyrhalter, who will help you define your brand DNA and build the foundation for your brand through the proven Resonaid® method.
Case Studies and Testimonials
Brand agency GreyBox Creative has worked with a range of clients across different industries, delivering branded solutions that have been praised by their clients for their creativity, effectiveness, and results. Some of their featured projects include the rebranding of VNS Health, the Adela identity's creation, and the Teleful identity's development.
6 Ways GreyBox Can Help Your Business
GreyBox Creative can help your business in various ways, including creating a strong brand identity, increasing website traffic, improving website security, and boosting your online reputation. Their team of experts can help you make a website that looks good and works well. This will make sure that your brand is well-represented online.
The Importance of a Unique Brand Design in Business
Having a unique brand design is essential for businesses of all sizes. It sets you apart from competitors and helps you establish a strong, recognizable brand identity. GreyBox Creative can assist you in creating a memorable and effective brand design. This ensures that your target audience sees and recalls your brand.
A Boutique Branding Agency with a Proven Track Record
Their unique approach to branding, combining creative talent with business solutions, sets them apart from other branding agencies and has earned them a reputation as one of the top branding agencies in NYC. So whether you're a small business or a global organization, GreyBox Creative has the talent and experience necessary to help you achieve your branding goals.
Conclusion about Brand Development Agency
The Top 20 Brand Development Agencies have been determined based on their expertise in promoting brand advocacy, enhancing customer engagement, and providing exceptional storytelling through creative motion and activation. The following agencies stand out among their peers for their ability to implement the latest in technology and intelligence to drive brand growth and customer acquisition.
London-based agency
Mobile-first consultancy
Instagram-focused agency
Ecommerce expert
Motion specialist
YouTube advertising agency
The benchmark for brand activation
Storytelling consultant
The intelligent acquisition system provider
It's important to keep in mind that the list is not exhaustive and should be viewed as one of many choices for a brand development agency. The best agency for you will depend on your specific needs and the existing elements of your brand. Before making a decision, it's always a good idea to ask for related details and to compare multiple agencies to ensure you get the right fit. This is not a disclaimer but rather a minimum benchmark to keep in mind when looking for a brand development agency to promote your brand and engage your customers.