The extremely high popularity of online resources requires an involved approach to digital promotion. Branding is an essential part of the marketing strategy, which aims to immerse customers into its structure and show its powerful sides.
The help of experienced professionals is required to outline the essential properties of the online business and represent them correctly. Branding agencies is the best way to do this. What factors do they consider during the promotion, and which are the best?
Goals And Objectives Of The Best Branding Agencies
Branding agencies have great potential to promote business through various services. The variability of their functions helps to choose the most necessary or hire complex development to build the business's structure from scratch. It helps to stay at a highly competitive level and reach goals faster than competitors.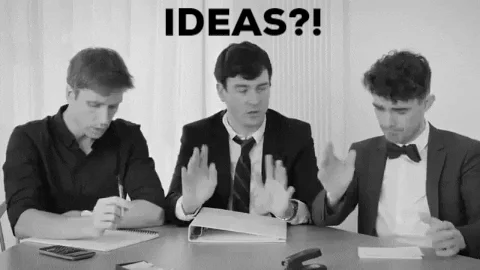 The main goals of the top branding agencies are divided into several groups depending on the element of your business's strategy you need to improve. They are the following:
Determination of the target audience. The modern customers' inquiries and the specificity of their desires are analyzed and represented in detailed statistics.
Visual elements' development. The logos, web design, and description of goods and services represent external qualities that build up a general opinion about your brand.
Development of the branding strategy. It includes outlining powerful and weak characteristics of the business, analyzing them, and providing the strategy.
Changing the stereotyped business's concept. The main aim is to create a strong connection between customers' understanding and the basic idea of the brand.
Building up a new organizational structure. The company's basis is improved after implementing the measures of the branding agencies.
Best branding agencies help determine the inconspicuous facts, which help each business show its peculiarities. A high level of promotion is the basis of marketing success.
Why are Branding Agencies Important?
Every organization requires the services of a brand agency, and it is essential to recognize the signs and seek their assistance. Brand agencies work to review, redefine, refresh, and reconnect your brand with stakeholders. They use research, strategy, messaging, design, and planning to build a brand that helps your business grow.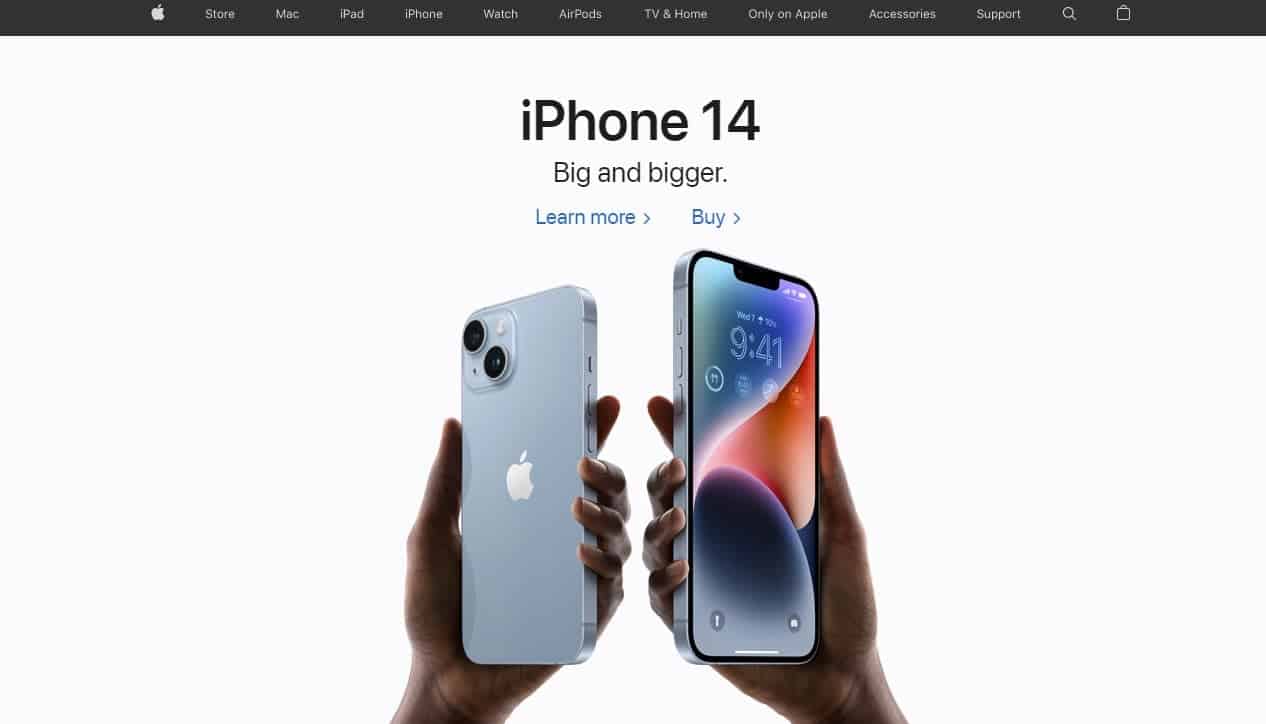 Here are ten reasons why it is crucial to consider hiring a brand agency:
If your strategic plan has run its course
If your marketing strategy isn't delivering results
If you're feeling out of touch with your customers
If your brand name isn't clear
If your identity is languishing beyond your control
If your business doesn't stand for anything
If no one can describe what you do in a clear and consistent way
If your internal culture isn't inspiring your workforce
If your competition is outperforming you
If you want to build a brand that will get you the desired results
Hiring a brand agency can help you address these issues and build a successful brand.
How to Choose a Branding Agency?
Choosing a branding agency is challenging. There's nothing worse than going through the process and realizing you have chosen the wrong partner. Each creative branding agency is different.
Here are the key points to consider when choosing a branding agency:
Consider the agency's diverse portfolio. Ensure their creative team understands your target audience, has a well-established process from beginning to end and is data-driven.
Look for advertising services, creative solutions, and digital marketing teams.
Ensure the agency has an articulated process, brand image, and ability to do market research and provide a fresh perspective.
Vet the agency's expertise in the industry and ensure they have the right expertise to help your new or existing brand reach new heights.
Ensure the agency can act as your strategist, creative, and design team and manage and measure your overall branding strategy.
Remember that branding services vary greatly, and you must vet them.
Enlist the help of agencies to gain a competitive advantage, differentiate your products and services, build a robust portfolio of customers, and increase brand awareness.
Ask questions to ensure you choose a branding agency that makes sense for you and your brand. Consider their industry reputation, brand identity and strategy expertise, past clients and industry expertise, vetting process, and why rebranding can spur new life, process, and services.
Branding requires time, money, and some risk as a financial investment. But it's also one of the smartest investments you can make for your business. Knowing how to choose the right branding agency with important attributes and the big picture in mind is essential.
Difference Between a Branding Agency and Marketing Agency
When a business needs to launch a product, design a logo or write an engaging blog post, they often turn to a specialized agency for help when they don't have dedicated expertise in-house. Agencies (like ours) have dedicated teams of experts who excel in their chosen area, whether brand strategy, design, content creation or account management. Branding and marketing agencies provide unique services, and understanding the difference between them is essential for choosing the right agency. Here are five surprising differences between branding and marketing agencies that you should be aware of:
Objectives: Brand agencies focus on creating and improving your brand by developing brand identity, positioning, and brand strategy. They help businesses embed their purpose, values, and positioning into their brand. On the other hand, marketing agencies help clients achieve their business goals through marketing strategies and digital services.
Services: A branding agency provides brand audit, in-depth research, and creative services, including website development, videography, photography, style guidelines, and social media content. In contrast, marketing agencies offer SEM services, social media marketing, SEO, and paid search strategies.
Relationship: Marketing is designed to be more at the moment, while branding is an unfolding story. Marketing agencies focus on short-term strategies to increase sales and revenue. In contrast, branding agencies prioritize building long-lasting relationships and strong reputations.
ROI: Branding is a long-term investment that builds a reputation and helps attract loyal customers. On the other, marketing focuses on generating immediate investment returns.
Creativity: Branding is about creating a unique identity for your business, while marketing is about promoting that identity. Branding agencies provide creative solutions that help businesses establish a unique identity and differentiate themselves from competitors. In contrast, marketing agencies focus on promoting that identity and attracting customers.
A branding agency provides services that help create, develop, maintain and improve your brand identity, while a marketing agency services that help promote and sell your products and services. By understanding these differences, you can choose the right agency that meets your business needs and helps you achieve your goals.
List of the Best 25 Branding Agencies
The rating of the best branding agencies is based on their high efficiency, confirmed after years of partnership with famous trusted agencies. Their services include different ways of brand promotion, and they have great experience building perfect marketing strategies.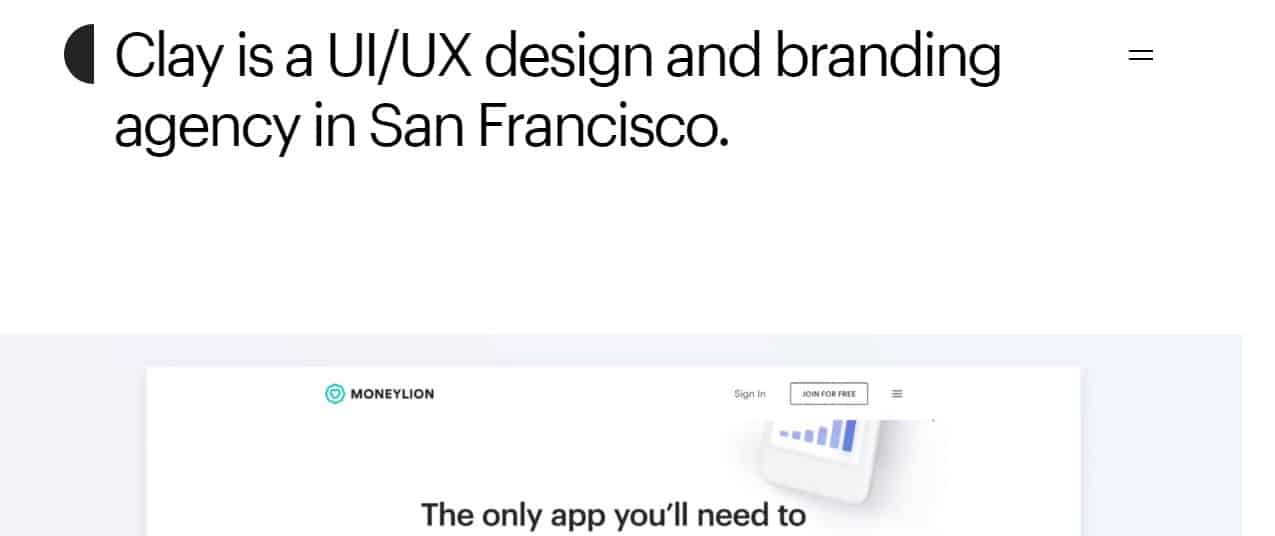 San Francisco's top branding and UI/UX design agency is called Clay. Clay has produced top-notch digital goods, branding, and site design for over 12 years. They collaborate closely with their customers to deliver revolutionary user experiences across all platforms and touchpoints of the brand as a full-service agency. Clay has the resources to tackle any size project with a staff of more than 60 designers and developers. They have expertise in enterprise UX, branding, user experience, and digital strategy. They have worked with many clients, from early-stage startups to Fortune 100 firms like Facebook, Google, and Amazon. Clay stands apart from other leading UX and online design agencies because of their meticulous attention to detail and user-centered approach throughout the whole project lifecycle. User research, product strategy, user interface design (UI), user experience design (UX), usability testing, prototyping, web design, and development are all parts of their approach. Clay is a web design and branding agency that thinks a great website should effectively convert visitors to consumers while offering a delightful web experience authentic to the brand. They are not just another web design agency.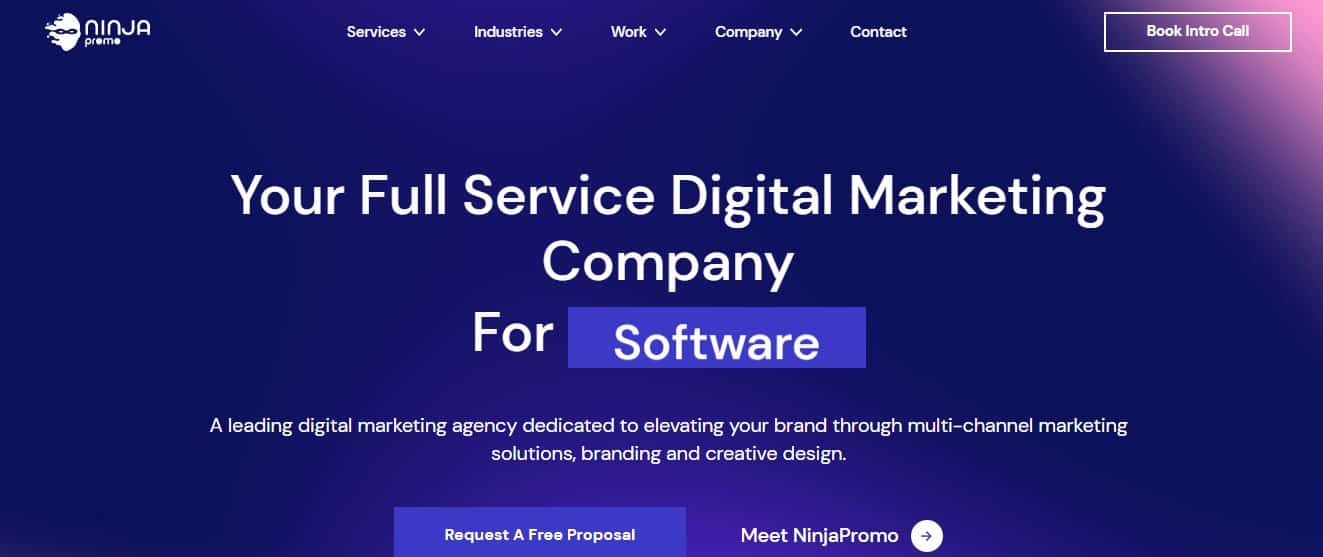 NinjaPromo is a digital marketing agency that offers a wide range of services to help businesses grow their brand and achieve their goals. The company's logo is a striking red ninja mask that embodies the agency's agility, strength, and expertise values. With years of experience, NinjaPromo has worked with several notable clients and delivered impressive results in various industries. Their services include social media, paid social, paid media, SEO, influencer marketing, PR & outreach, video production, explainer video production, branded video production, SaaS explainer videos, video marketing, branding, and more.
NinjaPromo's industries expertise includes B2B, Fintech, Crypto, NFT, Web3, Metaverse, DeFi, ICO, IDO, IEO, STO, SaaS, eCommerce, Startup, Small Business, Gaming, Esports, Mobile, iGaming, and Casino/Gambling.
Their services are aimed at helping businesses stand out from the crowd and achieve their goals. They offer a variety of case studies on their website to showcase their successes. NinjaPromo believes in delivering quality work and meaningfully impacting its clients' businesses. Their services are designed to help businesses achieve real results. They offer an unlimited graphic design subscription to help businesses improve their branding. Their web development services aim to optimize the customer experience with feature-rich and intuitive website designs that drive conversions. If you're looking for a full-service digital marketing agency that can help your business grow, NinjaPromo is an excellent choice.

Looking for a UX/UI design agency that delivers the most exceptional and successful digital experiences, look no further than Neuron. This San Francisco-based branding agency has been helping businesses thrive in the digital world for years. Neuron specializes in designing world-class business and enterprise tools that increase productivity, sales, and intelligence. They tackle your most pressing UX/UI design challenges, whether you are adding a new feature, a new product, or redesigning an existing product. Neuron is a special ops design team that will help set you up for success.
Their human-centered design approach lets them empathize with your customers, identify their pain points, and create solutions that enhance their experience with your brand or product. They call it a Product Blueprint. It gives its clients a clear idea of the user experience (UX) and interaction model, ensuring the development process goes smoothly.
Neuron has an impressive portfolio of work that includes game-changing companies such as end-to-end job advertising and applicant tracking platforms, purpose-built CRM for driving medical device sales and market insights, visual workflow builder for managing SaaS procurement processes at scale, and product-led growth design for the top women's reproductive health app.
Their unique blend of creativity and strategy sets Neuron apart from other branding agencies. Their hands-on senior team of creatives, strategists, technologists, and problem-solvers are ready to help you take on your most demanding design problems. And with partner involvement, you can be assured that every angle is considered. Neuron is the agency you need to help you level up your digital game.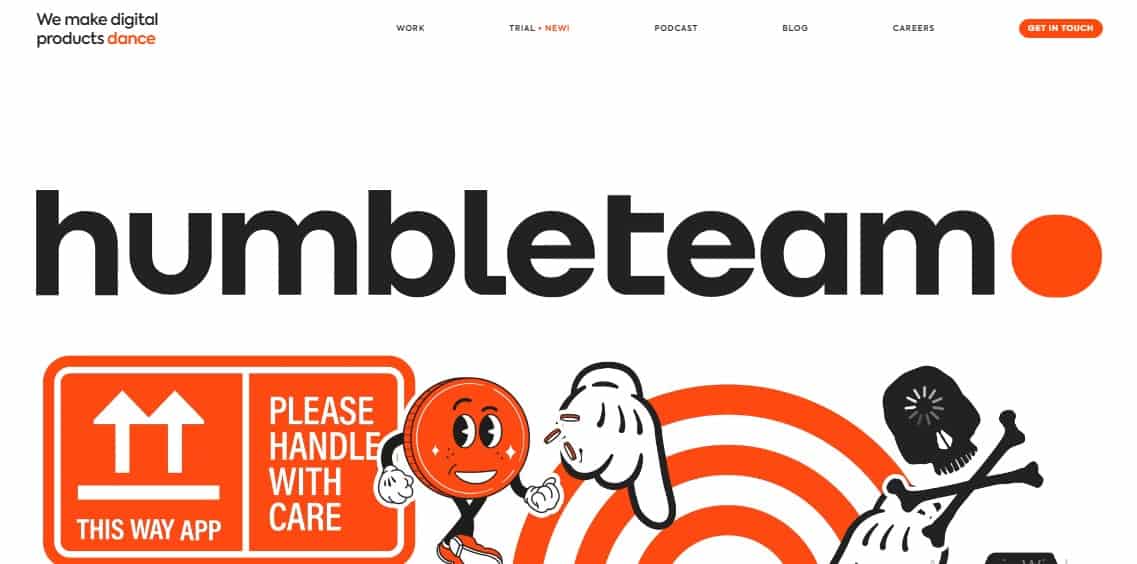 Humbleteam is a branding agency that creates digital products for startups, ranging from early-stage startups to enterprise companies. They design products that move the needle, focusing on UX/UI and branding, using design as a strategic tool. They work with fintech, medtech, Saas, and entertainment companies and have worked on over 100 projects with clients in 20 industries. With an app for IOS and Android with over 10 million downloads, they have helped create products with over 100k five-star reviews. Humbleteam is lean, with a team of 40 product designers working in a flat organization to provide a minimum of organizational overhead. They offer a strategic design that helps startups think like unicorns and enterprises like nimble startups. They work with their clients, not just for them, helping to bring products to life by becoming a part of their client's teams. The agency has worked with various partners, mentoring over 130 startups and helping them raise over $1bn. With a global presence, they can be reached by email or through their offices in Europe, North America, and the Middle East.

Looking for a branding agency to help you create a brand that supercharges your business? Look no further than Motto®! As a strategic branding agency, Motto® specializes in brand creation and transformation for forward-thinking companies. With a focus on helping businesses grow more revenue, inspire customer loyalty, and fuel innovation, Motto®'s services are tailored to meet each client's unique needs.
At Motto®, you'll find various resources to help you build a meaningful brand to scale faster and deliver on your brand promise. From case studies to their proprietary Motto® Method, their website is a treasure trove of information for companies seeking to differentiate themselves and stand out. And with an impressive list of clients, including Google and Andela, Motto® has a proven track record of success.
If you're looking for thought leadership in branding and design, Motto® is the agency for you. Their founders, Sunny Bonnell and Ashleigh Hansberger are bestselling authors, keynote speakers, and global thought leaders. And with a daring vision that others can buy into, rally around, and help build, they will inspire you to unleash big ideas and build a Culture of Possibility®.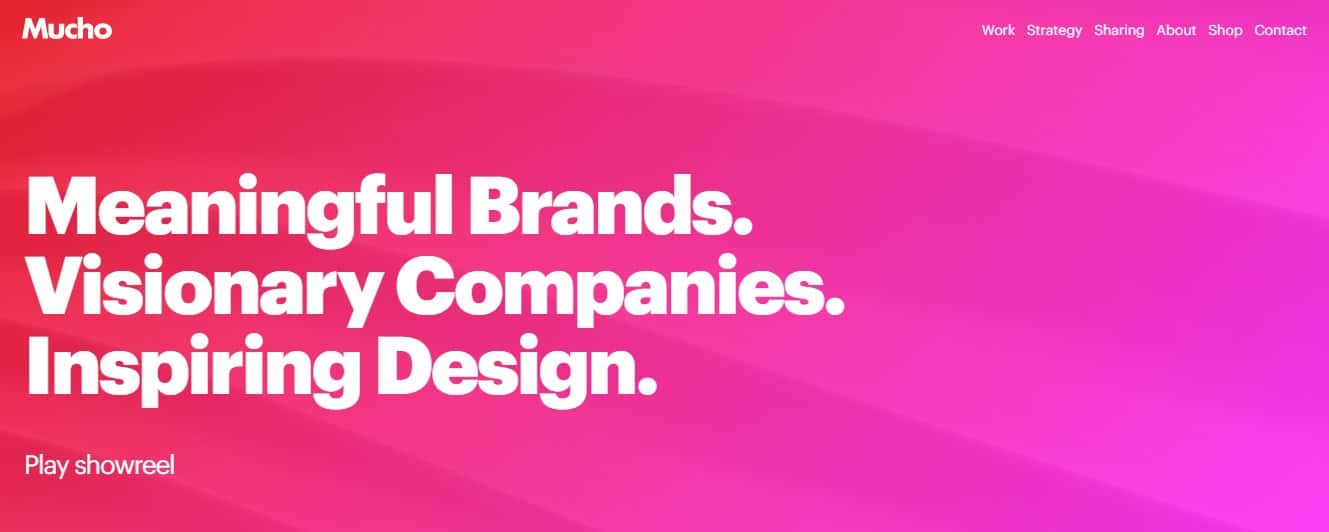 Mucho is a global branding agency specializing in creative strategies and brand identity development. They work with clients to integrate insight, analysis and imagination into their branding strategies. They achieve collective intelligence by joining clients' knowledge with Mucho's expertise. They design emotive images that move people and impact the bottom line, creating a stand-out mark. With global reach, Mucho can bridge cultures by being local everywhere. The agency has been in operation for several years, and they have successfully helped various clients achieve their branding goals. Some clients include Visa, Fútbol Club Barcelona, Cabka, and the Art Gallery of NSW. Their services include brand strategy, identity development, management, activation, migration, etc. They have offices in Barcelona, Melbourne, Paris, and San Francisco. You can contact them for new business, general inquiries, or partnerships. The agency has a team of experts in strategy, management, and design, and they are determined to excel in every project.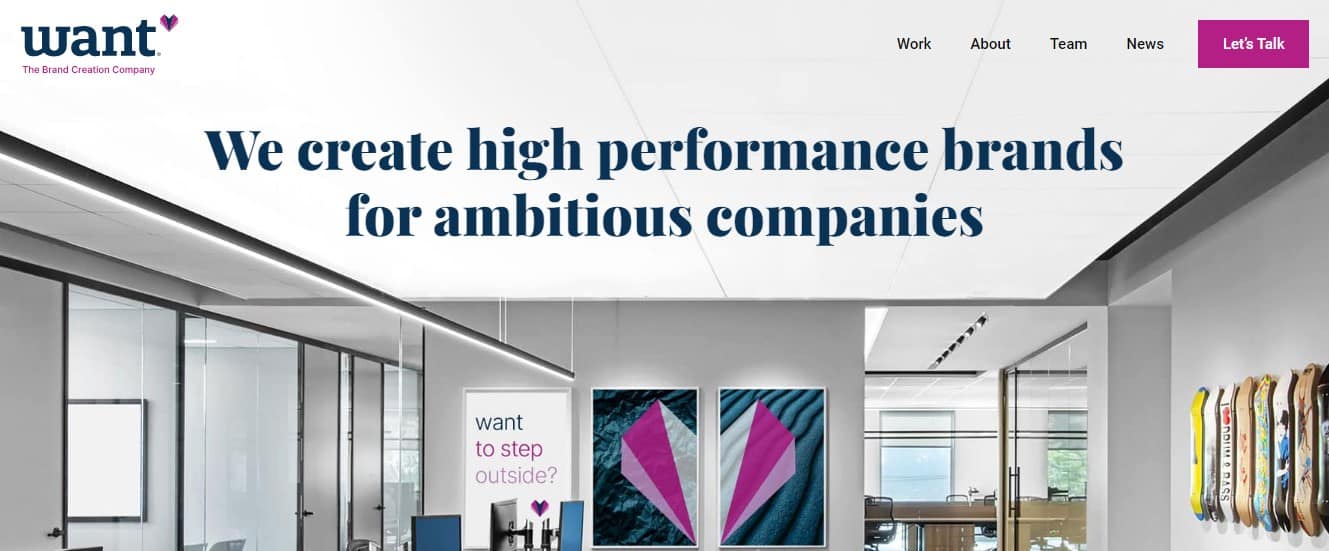 It is a famous American agency founded in 2000 by Jonathan Bell, and now it is considered one of the best branding agencies in the US. WANT Branding services to include the following ways of brand's strategy development:
Strategy: evaluation, messaging, positioning, and architecture of the brand.
Naming: choosing the company's name, products, checks, and guidelines.
Identity: creating the web design, logo and product description, etc.
Research: performance of every agency function.
WANT Branding works with renowned agencies like Google, Apple, Uber, and Samsung. For example, in 2008, Google and T-Mobile asked WANT Branding for a new name for the smartphone and got a resultative but straightforward solution: G1. As a result, more than 1 million smartphone copies were sold during the next five months after its announcement.
The style and reactivity of the agency stay on the highest level. They put deep expertise to the brand's improvement

Samantha Saturn, Chief Marketing Officer at SESAC.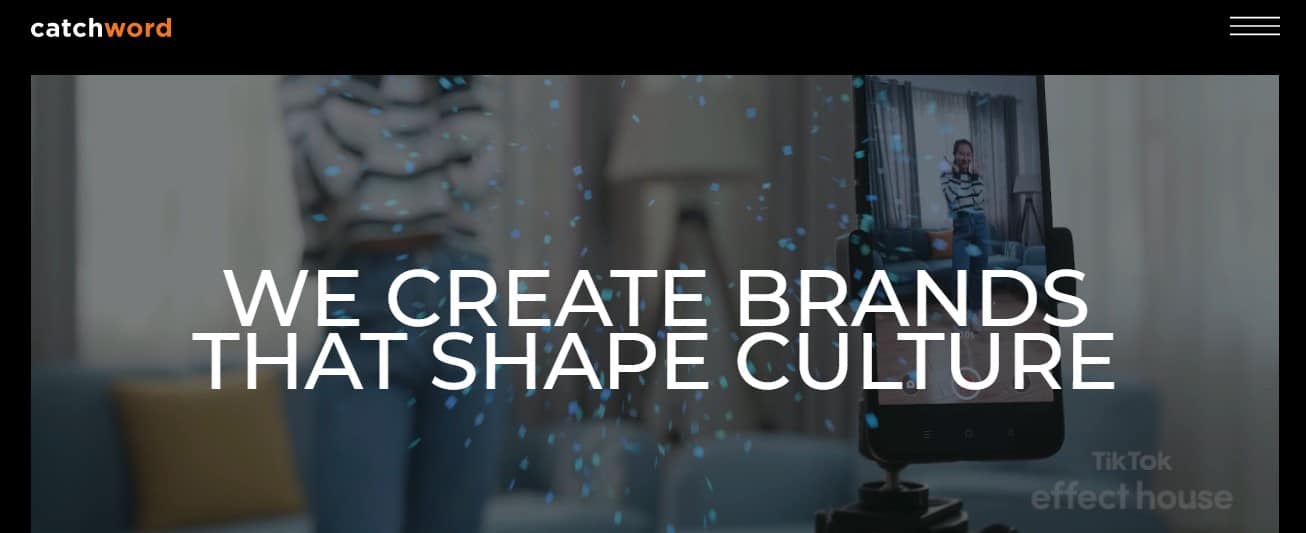 The branding agency was created by Laurel Sutton, Burt Alper, and Maria Cypher. Since its appearance in 1998, it has acquired a lot of influential partners, such as Amazon, Converse, McDonald's, Intel, etc. The services of the agency include:
Naming (Linguistics and research)
Trademark prescreening;
Brand Copywriting;
UX/UX and digital strategy;
Retainer and AoR.
Catchword services were hired to create a design and a brand name for Adela, a healthcare company. The new name, which symbolized patient comfort and hope, helped reach reliability among the clients and increased the agency's popularity.
The company's expertise and integrity are the main characteristics, which I value in the

Bill Sweetman, President of Name Ninja.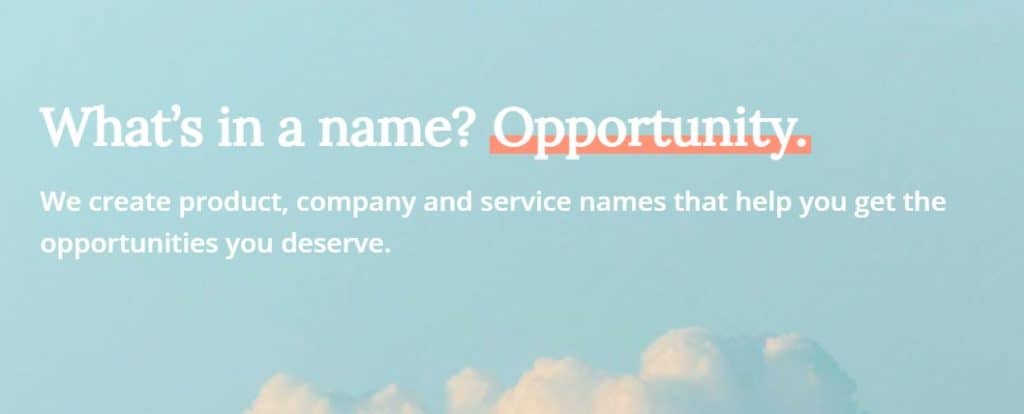 The agency is based in Austin and is the most popular Texas branding agency. Mike Carr founded it in 1985 to help the brands receive the following characteristics:
Product, agency and service naming.
Trademark and domain screening.
Logo creation.
The partners of NameStormers are Nvidia, Canon, Hilton, and others. The branding agency created a new name for Canon's camera – "Webshot," making it the best-selling camera.
NameStormers has a symbiotic workflow and impressive presentations

Em-J Staples, Communications Lead at Full Cycle Bioplastics.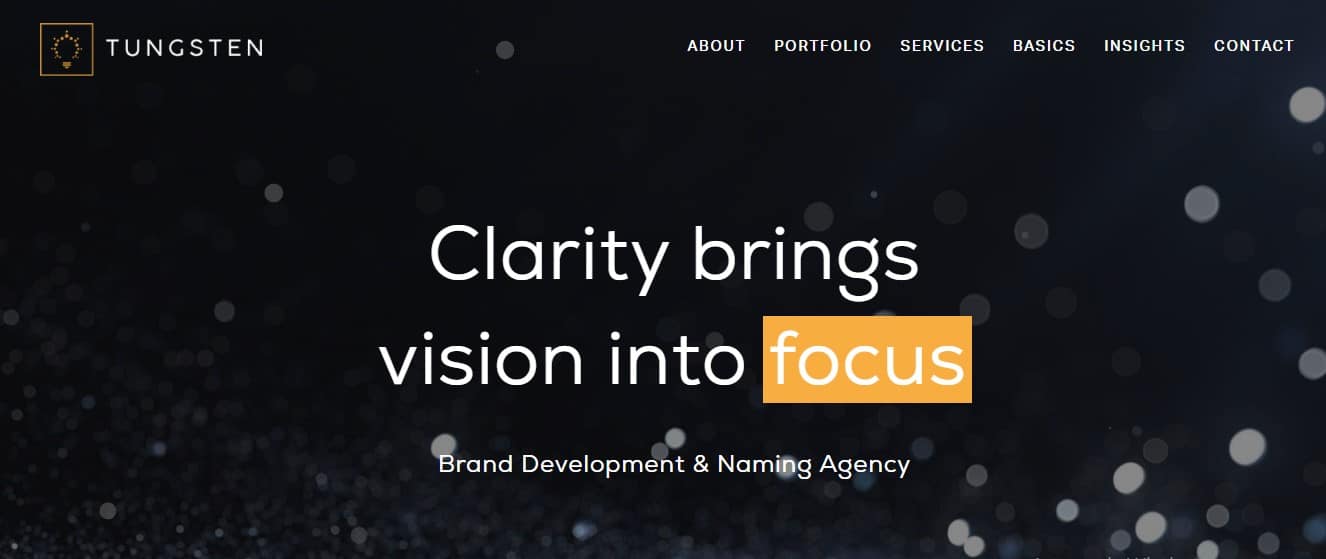 The branding agency was founded in North Carolina by Philipp Davis. It provides efficient services, which help modern agencies to reach the high marketing level:
Renaming and rebranding.
Messaging and positioning.
Design and visual services.
Naming architecture.
Arbor Mills, Inugo, TitanHouse, and others have used the efficient services of the agency and got perfect results. Then, DXiology asked Tungsten to choose the simple brand's name. After renaming Keydabra, a lot of issues were solved.
The work quality is excellent, which makes working with them efficiently and easy

Jim Creegan, President of Medicine Manufacturing Company.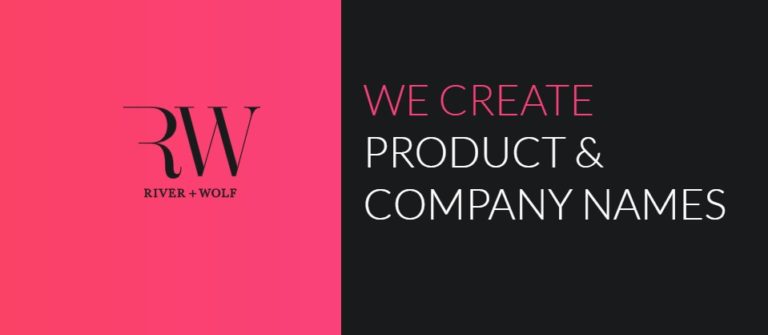 It was created by Margaret Wolfson and is one of the top branding agencies in NYC. The company's unique services help worldwide brands such as Calvin Klein, Dove, The Home Depot, and others acquire essential properties. The benefits are the following:
Application and product naming;
Initiation and service naming.
Calvin Klein tried to find the best name for their new men's perfume. River + Wolf suggested CK Everyone, which resulted in the popularity of the product.
They always provide qualitative names for our products, which we require

Diana Van Dusen, Marketing specialist at FLEx Lightning.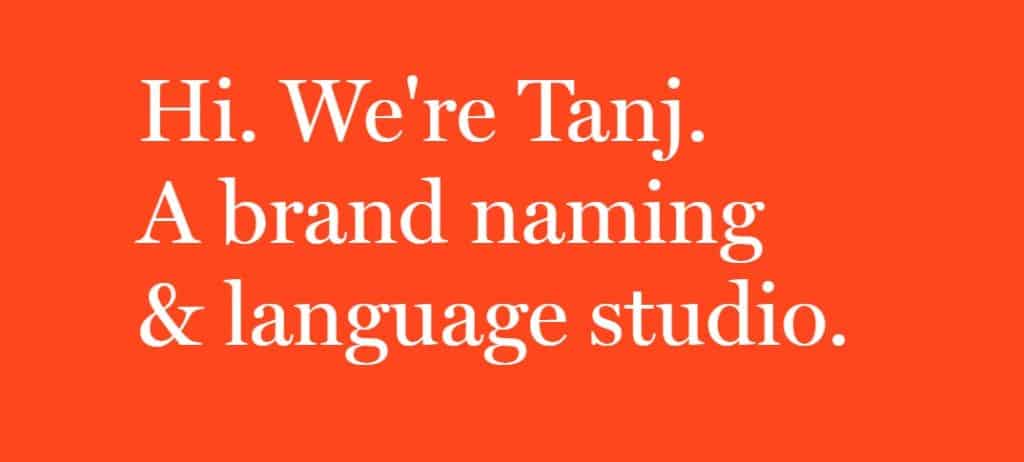 The branding agency was founded in 2009 by Scott Milano and provides services for popular worldwide agencies, such as Juke, Prosperity Now, Olomi, and others. Their main functions based on the principle "learn – explore – define – refine" are the following:
Brand language and name;
Data analysis and research.
Status asked for a new name for their Bluetooth headphones. The suggested "Between" resulted in the high popularity of the product.
Tanj is a super responsive and organized company

Dan Schleifer, Co-founder and CEO of Cosaic.

The company was founded in 2001 by Matthew Stradiotto and is considered one of the best branding agencies in Toronto. The team of agency consists of strategists, designers, writers, illustrators, etc., who make the following functions:
Strategy and positioning;
Voice and messaging;
Creative consulting;
Web and digital design.
Beam, Kilby, Catalyst, and other agencies choose the services to improve their brand's strategy. For example, Matchstick expressed and represented new lenses for the Karoo glasses. As a result, it helped the branding agency to reach a high realization of the product.
They have a high skill level and experience, which differs them from the other branding agencies

Richard Simms, Co-founder and CEO of Tyrannosaurus Tech.

It was created in 2019 by Angie Schrader and is a famous branding agency. It provides various services for worldwide agencies, such as Walter's, Mashbot, and OneStone. The functions are the following:
Identity design and packaging guidelines.
Responsive development and copywriting.
Product design and promotional tools.
Warehouse and fulfillment.
Creating the product's identity for Grip increased the agency's popularity. In addition, it helped to improve the design and develop excellent descriptions for it.
We were pleased with the work and attitude of our team

John Pierson, Founder of Pierson Coffee.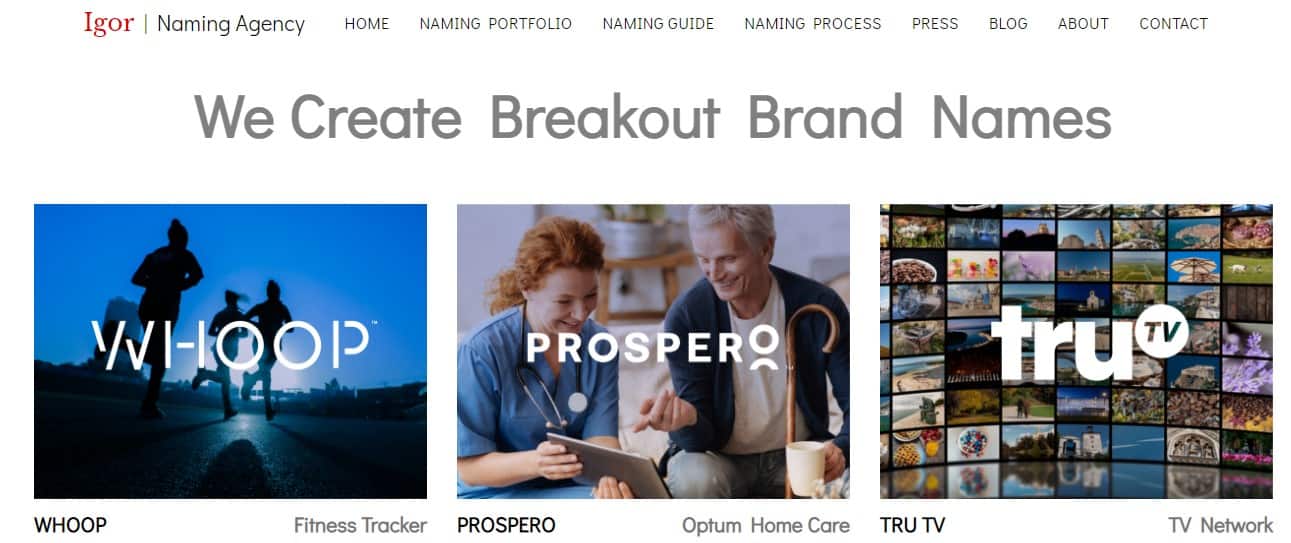 The branding agency was created in 2002 by Igor Braginsky and Arie Kuijt. It provides the following branding services:
Positioning;
Name development;
Trademark.
Proof, EA sports, GoGo, and other brands are the partners of the branding agency. In addition, the agency created an online auction app for Joyride, which helped customers worldwide use it.
The strengths of our company were quickly understood, and we were guided through the whole project

Mark Kenigsberg, CMO at Antidote Health.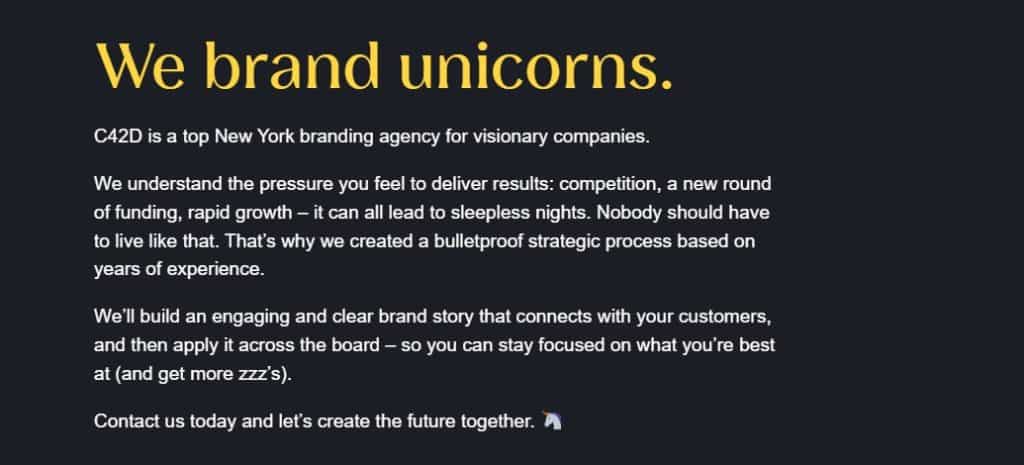 It is the top branding agency in NYC, created in 2010 by David Card. Google, Reebok, and Shazam are highly trusted partners of the company. The branding services are the following:
Discovery and brand audit.
Identity and digital design.
Customer engagement and retention.
Increasing sales.
The agency has been creating names for Shazam tools, which helped businesses to reach popularity.
They provided exceptionally well and delighted work

Bjorgvin Gudmundsson, Sales Director at Inecta.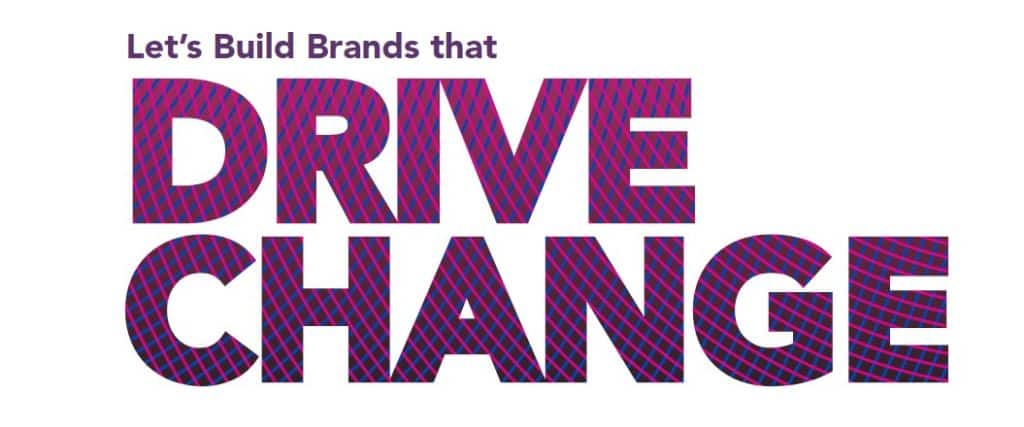 Debbie Michielsen in New York City created the branding agency. The several services of the agency are the following:
Customer experience;
Acquisition branding;
Employee engagement;
Market expansion;
Brand launch;
Sales empowerment.
Verifone, Vertex, Innoveo, and other highly trusted agencies are the partners of DeSantis Breindel. Creating a new digital solution for Couranto helped improve teamwork inside the organization.
The team always develops strong insights and recommendations

Cord Himelstein, VP of Digital Marketing at HALO.

It is an independent top branding agency created in 2005 by Brandy Maciejewski. Their services include:
Websites & interactive;
Graphic design and marketing;
Brand strategy and identity.
Quantum Si, Lytx, Hermosillo and other agencies are the company's partners. In addition, creating a design for Sunline helped expand its client base.
The best team I've ever worked with

Cibelle Burger, Director of Marketing at CSU Shiley Institute.

Deksia was founded by Aaron VanderGalien in 2003. The branding agency provides the following essential services:
Digital advertising;
Photo and video;
Websites;
Deksia provides Uber, Uptime, Hurricane power, Procare, and others. The creation of a logo for Tidy Uppers helped to popularize the brand.
They work to make me feel that I'm a part of the Deksia family

Kevin Larsen, President of Allure Tine & Stone.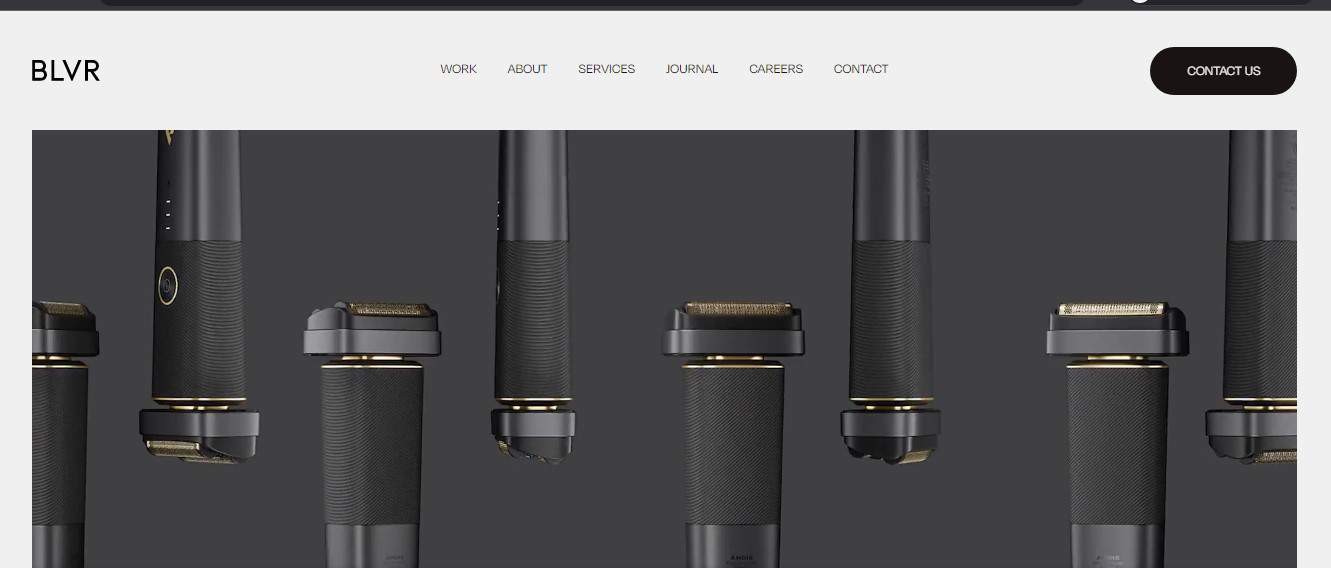 Scott Hancock established the premier branding agency in 2003. It collaborates with well-known organizations including Tony Robbins, World Vision, TravelWiFi, and others. It offers the following services to international agencies:
Customer segmentation and persona development;
Brand belief framework;
Visual and verbal identity;
Employer and employee experience.
They rebranded craft beer for Finest Made to become part of the niche market segment.
They are efficient and high-quality providers

Hannah Allen, Program Manager at CPI & Global communities.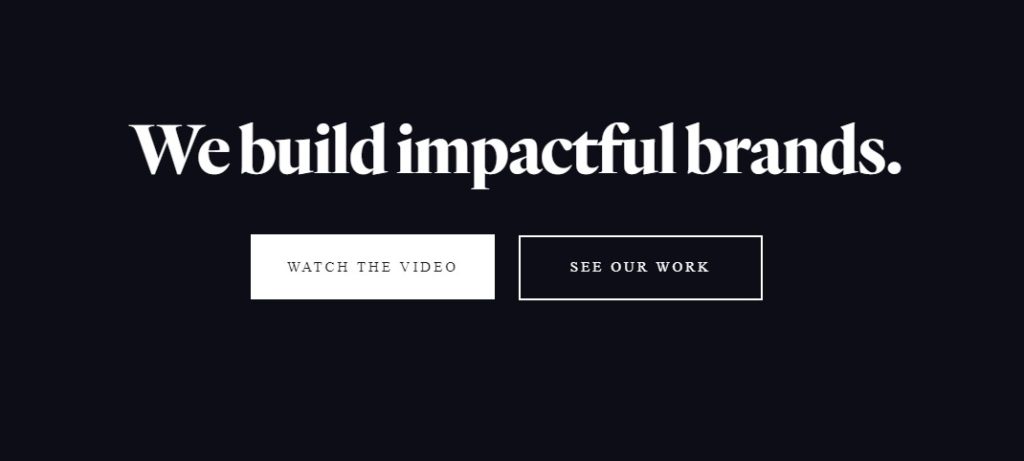 Stephen Gilbert founded the branding agency to provide highly efficient services for businesses:
Digital marketing;
Content development;
Web development and design.
The agency is a partner of Apple, Bosch, HP, and others. Creating the logo for Dirigo led to the high popularity of the agency.
Acnhour helped to choose the correct strategy for our business

Courtney Austin, Marketing Officer at Franklin Savings Bank.

The top branding agency was founded in 2011 by Jay Jurisich. It has famous partners, TCF Bank, Intel, Universum, etc. The main agency services are the following:
Competitive names cape;
Trademark prescreening;
Product and service naming;
Linguistic connotation.
Zinzin created a company's name for Zense, which helped to become recognized among other blockchain platforms.
They don't overcomplicate situations and ask correct questions to reach the result

Fiona Naughton, Founder of Naughtonomy.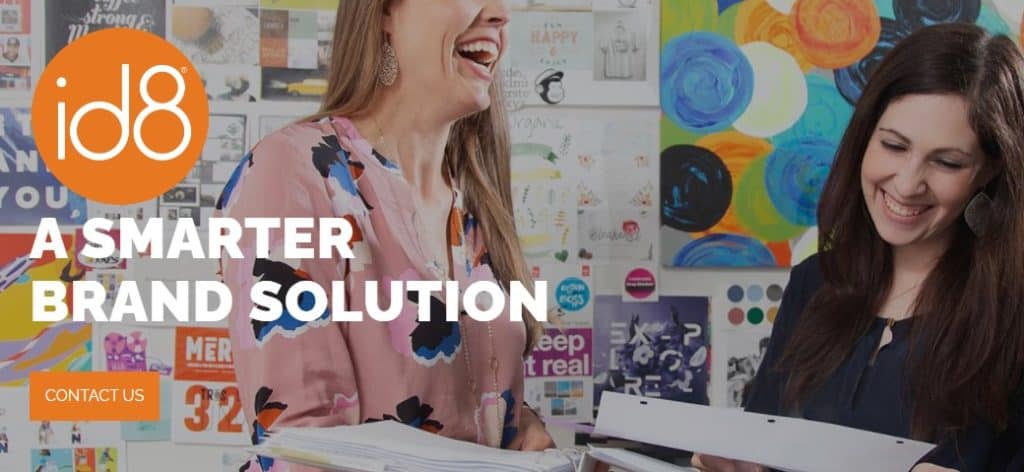 Kriston Seller founded the branding agency to help popular agencies acquire competitive qualities through the following services:
Brand signage and branded materials;
Corporate branding:
Digital alignment and asset portal.
Guinness, Select Cobb, Bennett, and others hired Id8 services to become more potent in the market. Creating a unified messaging for Canton helped involve more than 1 million $ in investments.
They are competent and highly qualified

Carl Lietz, Partner at Law Firm.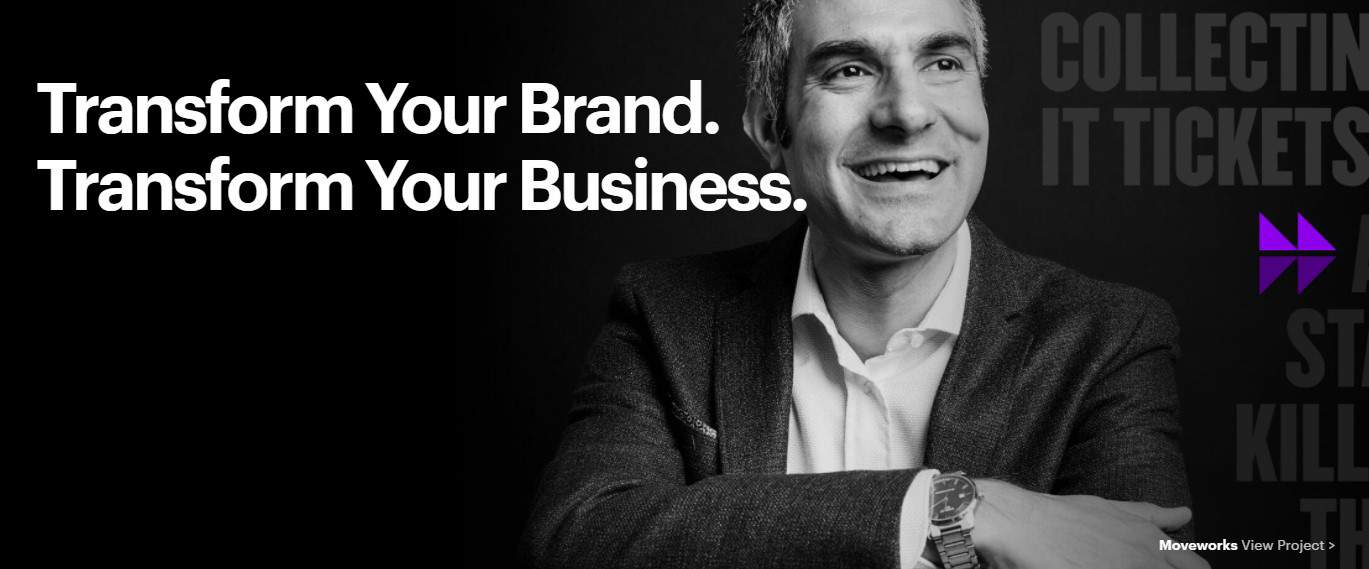 Tracy Lloyd created the branding agency in 2009, and it now offers very effective services:
Launch of the startups;
Development of global strategies;
Creation of design;
Copywriting.
The company's partners are Samsung Music, Pandora, Ryder, and others. Repositioning an intelligent platform for Snow Software brought high marketing results.
They always go the extra mile for the result

Genoa Martell, Former Global Head at Wish.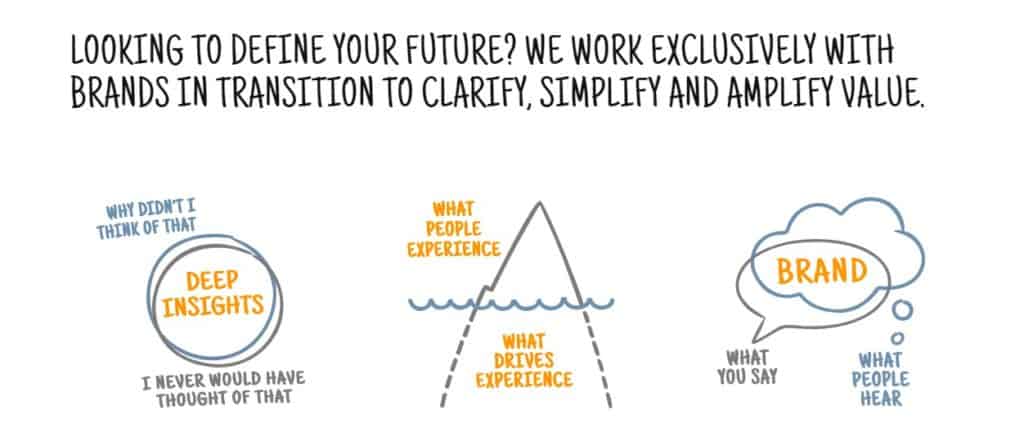 It was founded by Laura Savard and made the following services to reach high result:
Brand strategy;
Brand identity;
Hasbro, Acura, and Converse are highly trusted partners of the agency. In addition, the design for Maidpro made the agency one of the most popular in its niche.
They have impressive brand development skills

Maurice Kelly, Co-founder of Windpact.
To Sum Up
Well, folks, we've reached the end of this amazing article on the Best 25 Branding Agencies in 2023! I hope you found it as interesting and informative as I did. We've covered a lot of ground today, talking about brilliant consultancies from cities worldwide, from London to Australia and even Switzerland!
One thing that struck me about all these agencies is how each has a unique branding approach. Whether specializing in food, banking, or large-scale campaigns, each agency brings something special.
As we progress into 2023 and beyond, I expect to see even more amazing work from these entrepreneurial individuals and agencies. And who knows what opportunities may come up for personal and professional growth? But one thing's for sure: if you're looking for a complete branding solution, you might never need to look beyond this list.
So, whether you're a client looking to update your brand or a creative looking for inspiration, I hope this article has given you some good ideas to work with. And as they say, today's biggest brands were once just an idea in someone's head. So don't be afraid to take your brand to the next level; maybe one day, you'll find yourself on a list like this!