A business letter is a written appeal to a potential or real business partner or official authorities. Its purpose is to induce the addressee to take action (purchase products, fulfill conditions, give explanations).
It is important to write business letters correctly. The likelihood and speed of the addressee taking the expected action depend on how competently everything is drafted. The style and content of the correspondence define the success of cooperation with partners and official instances.
A business letter is not confused with informal correspondence between colleagues and partners. The difference between them lies in the positions of the parties:
A business letter is an address on behalf of an organization or specialist. Its style and form imply its continued use in the status of a document. When there is a disagreement or development of a partnership, it will confirm the information (date, terms, etc.).
Informal conversations, even in electronic form, are not the same as business letters. Therefore, many experts recommend (and in some organizations, the managers directly require) to record all the agreements reached in business correspondence, even if disagreements are not expected.
The ability to communicate is so important that exist special courses on this topic on the Internet.
3 Business Letter Format
There are three main formats used in business letters: block, modified block, and semi-block. Many word processors have samples that will make it easy to format your letter correctly. Please take advantage of them to focus on the content rather than the formatting. Whichever format you choose, make sure there is one space between words and a space between each paragraph and section.
Block Format
Here all text is left-aligned. Skip one line between each section. Either style is acceptable for use in business letter writing, but since the rules for block formatting are very clear, this is the easiest option to choose.
Modified Block Format
Most of the content remains left-aligned, just like in block format. Unlike block format, modified typically have the place and date of writing, the end part, and the sender's signature centered toward the right side of the page. The modified format is used in everyday correspondence as often as the block format. It retains its popularity due to the traditional layout of the parts of the letter, along with the comparative ease of execution. The text has no indents and is organized in the form of blocks, separated from each other by empty lines.
Semi-Block Format
It is similar to the modified block format, except that each paragraph is indented. The semi-block differs from the modified in that the first line of each new paragraph is indented, which is usually five spaces. Semi-block is the most formal of the listed formats and bears the stamp of traditionality and solemnity.
Business Letter Format Templates
Below, you can find what seven different business letters should contain. We will show you what is necessary for them.
Letter of recommendation template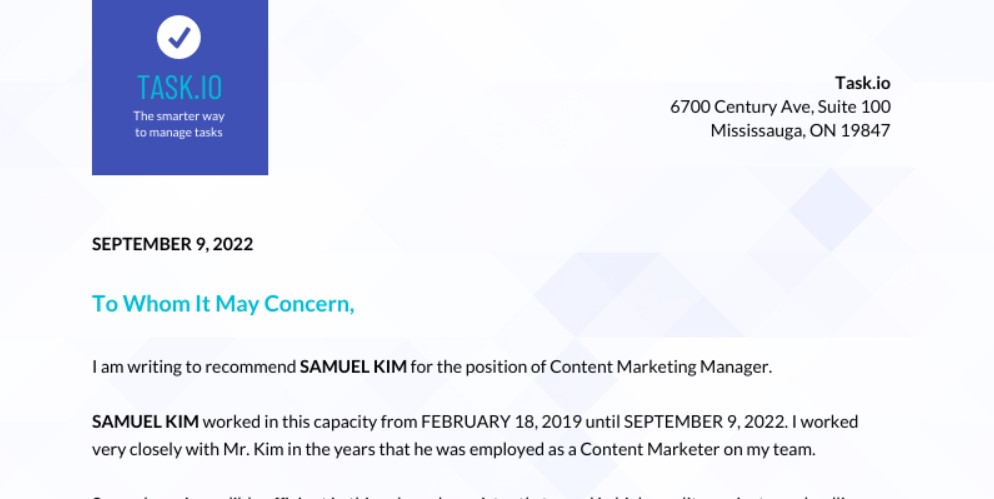 It is considered an official document, so it must be drafted following certain standards. It is used by many companies, for example, Microsoft, IKEA, IdeaSoft, Artline, Sapien Wallet, StuDocu, Amazon, Facebook, Saudi Aramco, and Grammarly. Obligatory parts of it are:
The meaningful part
Signature
Date
The seal of the sending organization is an optional attribute.
Official letters template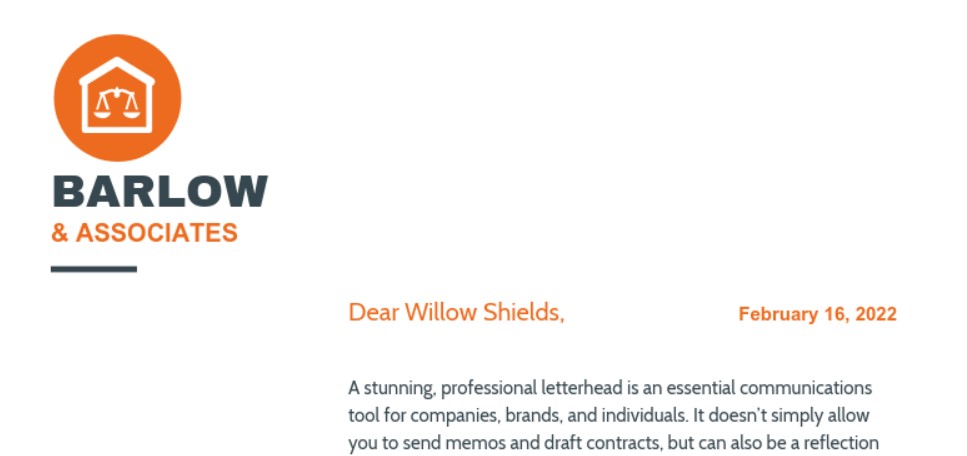 There are no standards, so you can write it in free form or according to the sample developed at the enterprise. It should be structured according to the norms of office work, and the text should comply with the English language rules. Remember that a lot of information must be contained without fail:
The name of the sending organization
The address of the sender organization
The contact phone number
The address of the organization
Job title and name of its representative
The essence of the message
The sender's signature
Any additional papers, photos, and videos may be attached to it. Such letters are used by almost all companies, for example, Awesomic, Preply, IBM, Adobe, and ASUS.
Bank Business Letter Template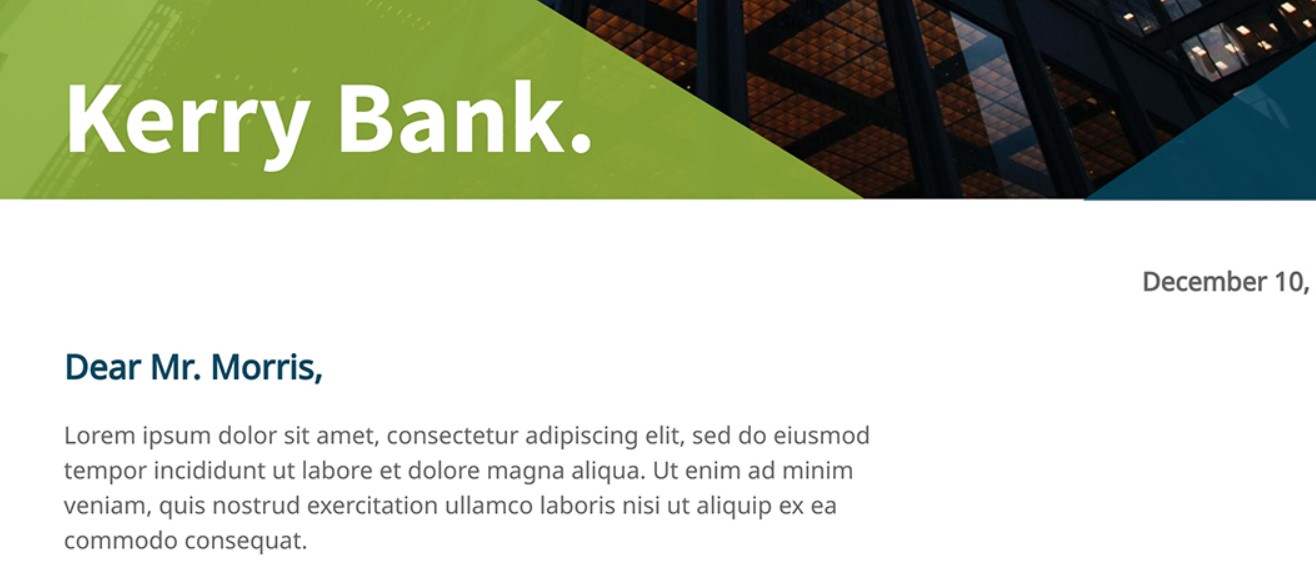 Such a letter should be written officially. It must contain:
Date
Information about the bank
The meaningful part
Contact details
The seal of the sending organization is an optional attribute. ICBC, HSBC, Citigroup, BoC, CCB, JPMorgan Chase, MUFG, BNP Paribas, BoA, and many other banks have their own templates.
University Business Letter Template

Such a letter does not have any special writing requirements. But it should contain:
Email of the university
Website of the university
Contacts of the sender (with job title)
They can be drafted in free form. Universities of London, Kiyv, Berlin, Chicago, Paris, Michigan, Warsaw, Madrid, Chicago, Istambul, and many other universities have their templates.
Creative Business Letter Template

A creative business letter says for itself. It can include any information you want. You can add illustrations, videos, links, jokes, etc. There are no requirements for this type of business letter. Many companies use creative letters in their work, for example, Apple, Toyota Motor, Intel, Sanofi, Walmart, Sony, Volkswagen, Comcast, Fannie Mae, Oracle, and Pfizer.
Illustrator Business Letter Template

Illustrator letters should be created with a creative approach. You can use bright colors and shapes to show off your creativity in your communication. It should contain:
The name of the document and the title
The meaningful part
Signature
Date
Any additional documents may be attached to it.
Holiday Business Letter Template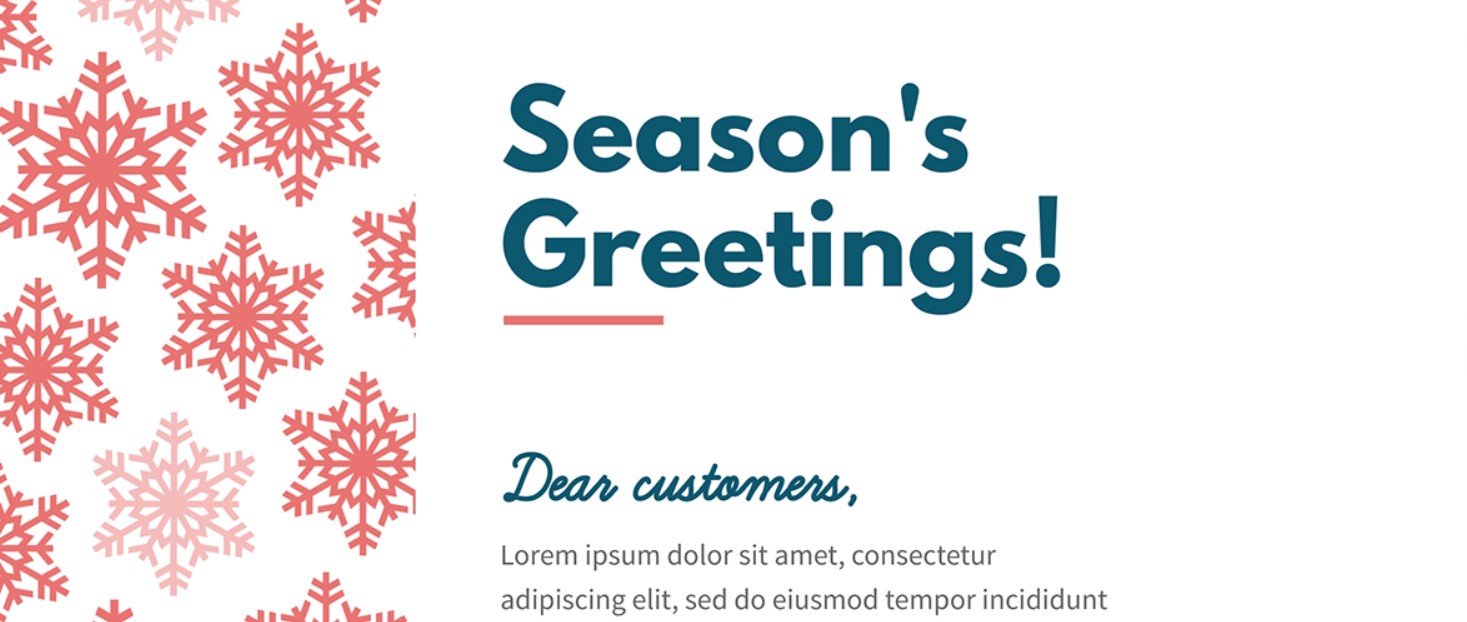 Such a letter does not have any special writing requirements. It should contain:
Congratulation
The meaningful part
Sender
Contact information
write it in proper English and get an excellent holiday letter.
Conclusion
Business letters can be addressed to organizations and various authorities by both individuals and employees of companies. Business ethics rules require a response to business letters within three working days. Commercial offers, invitations, and notices do not imply mandatory feedback. Government agencies may have other deadlines for responding to incoming correspondence.