The e-commerce industry continues to grow, and with it, the challenges businesses face. One of the biggest obstacles is abandoned carts, leading to lost sales and revenue. This is where 11 Cart Abandonment Software comes to the rescue. 🛒💻
The main goal of this software is to reduce the number of abandoned carts and increase sales revenue for e-commerce businesses. It analyzes user experience (UX) data using tools like Plerdy, tracking customer behavior and providing digital marketers with valuable insights into customer behavior. For example, using this software, creating and displaying a pop-up form with an engaging message when a customer tries to abandon their cart. As a result, e-commerce businesses can achieve their main goal of success by getting a high conversion rate (CR) and performing better than their competitors.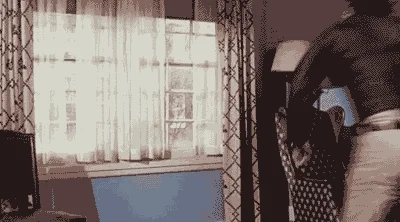 Why do visitors abandon their shopping carts?
Cart abandonment is a major issue for many e-commerce businesses (any CMS), and it can lead to lost sales. There are several reasons why customers abandon their carts, including:
Unexpected costs at checkout, such as high shipping fees or taxes, can be a deal-breaker for many customers.
A long and complicated checkout process that requires too much information causes customers to lose patience and give up.
Security concerns about personal and financial information safety can lead to mistrust and cart abandonment.
Poor website design and usability include slow loading times, broken links, and confusing navigation.
Lack of trust in the brand or website leads customers to abandon their carts and shop elsewhere.
To combat cart abandonment, many e-commerce businesses turn to cart abandonment software. This software can help track customer behavior, send personalized emails to customers who have abandoned their carts, optimize the checkout process, provide customers multiple payment options, and build trust through social proof. Because of this, businesses can lower the number of carts that are left empty and increase their overall conversion rate.
List of The Best 11 Cart Abandonment Software
Suppose you're serious about reducing cart abandonment rates and increasing sales revenue. In that case, you must review the list of "11 Cart Abandonment Software in 2023." This long list includes the newest and most advanced software businesses can use to stop customers from leaving their carts. With features like personalized emails, cross-selling options, and detailed analytics, these software tools are necessary for any e-commerce expert looking to improve their online business. So don't waste more time – look at this list today and find the right software!

If you're looking for a way to increase your website's conversion and decrease cart abandonment, look no further than Plerdy's Pop-Up software. With this tool, website owners and marketers can create powerful website pop-up forms that convert website visitors into subscribers, potential customers, and loyal users. Plerdy's Pop-Up software is effective with the right message, landing page, and call-to-action. You can collect website visitor feedback, conduct surveys, and improve conversions and sales. Plus, there's no need to hire developers and designers.
Using Plerdy's Pop-Up software effectively involves various use cases, including inviting target audiences to webinars or conferences to increase lead generation, onboarding new users with clear explanations of product features, conducting surveys to improve visitor user experience, and offering promotions to engage visitors who abandoned their carts. Also, Plerdy's Pop-Up software can help you divide your audience into groups, offer lead magnets, and send gamified Pop-Ups to specific user groups.
This software is trusted by some of the world's largest enterprises and has received positive reviews from many satisfied clients. So, why try it out for yourself? You can sign up for a free trial with no credit card required and see how Plerdy's pop-up software can improve user satisfaction, create effective conversion funnels, and increase sales.
OptinMonster is a perfect cart abandonment software that converts abandoning visitors into customers. It helps to reduce cart abandonment, which averages 67.91% and increases your sales revenue. OptinMonster is the world's most powerful conversion optimization and lead generation software, with several features that make it stand out. The software has E-commerce campaign designs, 65+ pre-made templates, custom display rules, advanced page-level targeting, dynamic text replacement, and more. OptinMonster's A/B testing feature eliminates guesswork by allowing you to try different headlines, content, layouts, and styles to see what converts best. OptinMonster's powerful targeting and segmentation engine shows personalized messages based on user behavior to maximize engagement, conversions, and sales.
Creating a Cart Abandonment campaign with OptinMonster is easy. First, note that Cart Abandonment is available with a Pro Subscription or higher. The software uses exit-intent technology to track the user's mouse position. It triggers a campaign as the mouse approaches the top of the browser window, indicating the user intends to navigate away from your site. To configure Cart Abandonment, navigate to the Display Rules view in the campaign builder, add a rule for Exit-Intent, choose Exit Detected, add the URL Path Contains condition for your checkout page, and click Save. OptinMonster's prices range from Basic at $9/month to Growth at $49/month, and it helps businesses capture visitors' attention before they abandon their carts.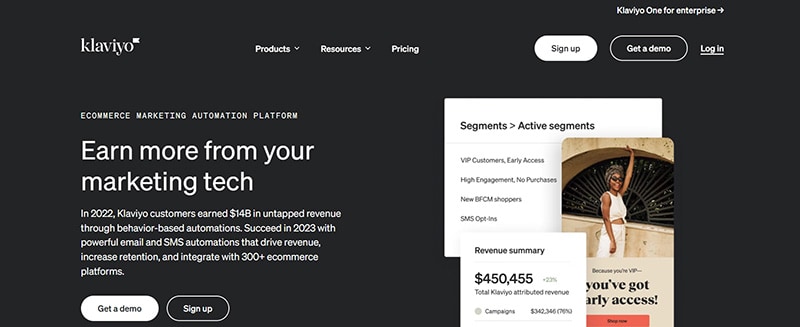 Klaviyo is an email and SMS marketing automation platform built for e-commerce that offers a range of tools to help website owners and businesses increase their ROI while saving time. The platform allows you to create hyper-targeted, behavior-triggered email and SMS automation that help you speak to the right people, grow your list, and drive more repeat sales at higher cart values. Some top global brands, such as ColourPop, Living Proof, Dermalogica, Girlfriend Collective, Milk Bar, and Nomad, trust Klaviyo.
One of the most significant features of Klaviyo is its abandoned cart software. If you already have abandoned cart emails enabled through your Shopify or BigCommerce store, Klaviyo offers you more customization and targeting options than your store's default abandoned cart flow. With Klaviyo, you can fully customize the content of the email and SMS, add multiple messages, and branch the flow based on things like the item's value in the cart and much more. Klaviyo also offers pre-built abandoned cart flows within the flows library, including a pre-built abandoned cart flow that triggers when someone enters their information at checkout and moves to the next step of the process. To prevent duplicating messages to customers, you should turn off any default platform abandoned cart messages.
Klaviyo's abandoned cart flow sends messages based on a customer's activity in your store, so it's essential to make sure you first integrate your e-commerce platform with Klaviyo. Once integrated, you can create an abandoned cart flow from the flows library or create one from scratch. To give customers adequate time to complete their purchase before determining that they've abandoned their cart and sending them a reminder, it's recommended to include a time delay. Klaviyo has various tools, and features that help businesses and website owners automate their marketing, increase their return on investment (ROI), and make full profiles of their customers.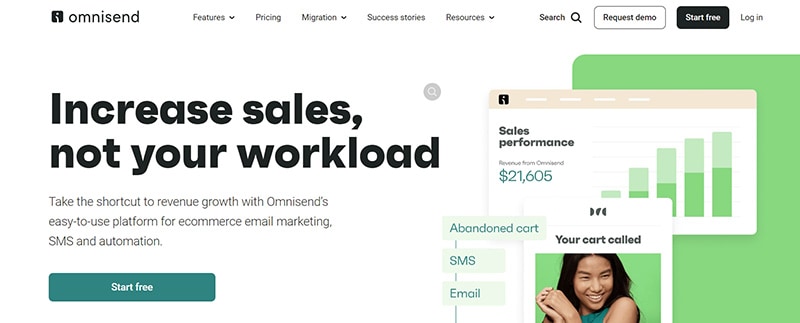 Omnisend is a robust cart abandonment software offering various features to help businesses convert website visitors into buyers. The software offers built-in signup forms, which allow users to collect contacts from their website visitors seamlessly. The forms come in various types, including popups, landing pages, and teasers, to ensure you can choose the best option. With Omnisend's exit-intent popups, users can capture abandoning visitors and reduce checkout abandonment. The software also offers SMS list building that enables users to capture phone numbers and email addresses, thus allowing you to run marketing activities for a specific person. Users can track the performance of their forms and make adjustments based on signup rates.
Omnisend offers three different pricing tiers to accommodate businesses of different sizes. The free tier is ideal for starting businesses. It provides unlimited segmentation, sales, and performance reports, pre-built automation and workflows, popups and signup forms, and 24/7 email and live chat support. The standard and pro tiers offer more features, including SMS sends and customer success managers. Upgrade your Omnisend plan as you grow and send SMS worldwide. Enjoy all the features on any plan without requiring a credit card.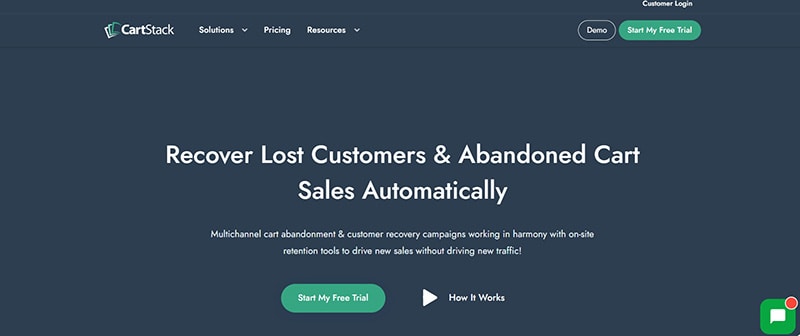 CartStack is a comprehensive cart abandonment software that offers multichannel cart abandonment and customer recovery campaigns in harmony with on-site retention tools to drive new sales without driving new traffic. It has recovered millions of dollars for brands like yours by sending the right message to shoppers at the right time. CartStack offers a wide range of recovery campaigns like email reminders, push notifications, SMS reminders, and on-site retention tools to reduce cart abandonment and convert more customers. Moreover, it helps you engage and convert new shoppers with on-site retention tools like early email capture, exit intent offers, abandoned tab notifications, delayed popup offers, and conversion nudges. With CartStack, you can recover 15% or more of your abandoned carts with automated, segmented email campaigns. It also offers personalization features that maximize your recovered revenue. CartStack's recovery campaigns plug & play ready. All you have to do is set your timer, pick a template, and launch. CartStack is compatible with every major e-commerce platform and integrates in minutes with our Zapier connection, webhooks, and API. Find out how much revenue you can recover with CartStack's ROI calculator.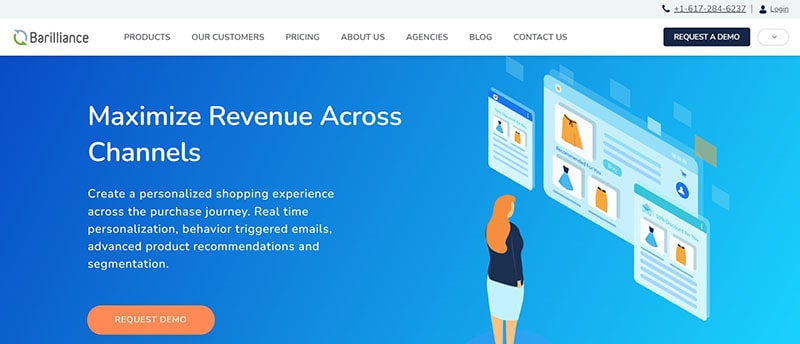 Barilliance, the most advanced cart abandonment software, can reduce shopping cart abandonment by up to 30%. This software allows businesses to engage customers throughout their purchase journey, even after they have left the website. Here are some of the features that make Barilliance stand out from the crowd:
Multiple Trigger Types: Barilliance goes beyond cart abandonment emails by allowing businesses to trigger behavioral emails to retain customer relationships, such as browse abandonment emails based on products viewed, notifications when out-of-stock items are replenished, and more.
Product Recommendations: Businesses can improve click-through and conversion rates by integrating personalized product recommendations in every email.
Email Address Capturing: Most visitors leave the website without entering their email address, but Barilliance allows businesses to capture email addresses from "Save Your Cart" to "Visit Summary" email triggers.
Barilliance is loved by users worldwide, with positive reviews from IT Managers, Marketing Directors, and Vice Presidents of Sales. The software also offers responsive templates for triggered emails, win-back campaigns, advanced features, rich segmentation, and integration with your existing email provider.
To help businesses recover sales, Barilliance has created a free guide on the step-by-step process to reduce cart abandonment. This guide will equip businesses with the knowledge, strategies, tactics, and tools to lower cart abandonment and recover sales. The guide covers cart abandonment best practices, retargeting, software and tools, tracking cart abandonment, and more.
With Barilliance, businesses can send relevant, personalized messages to customers to get them to return to their shopping carts and make a purchase.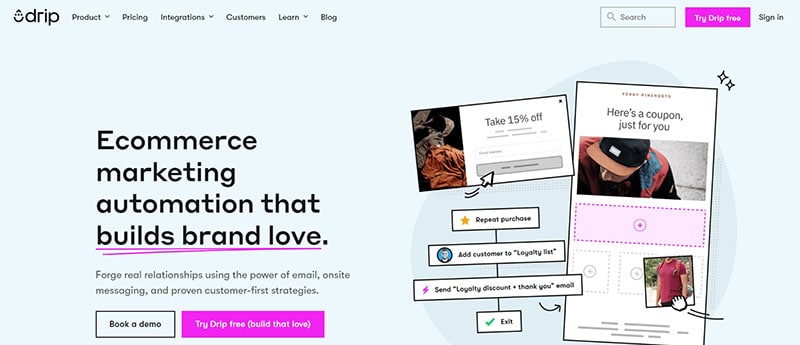 Have you ever spent hours building a website, only to have your customers abandon their shopping carts and leave your site without purchasing anything? Drip's cart abandonment software can help you save those sales! With Drip, you can create an abandoned cart series that reminds customers what they left behind, complete with brand colors and imagery, a link to their abandoned cart, and copy that conveys a sense of urgency.
Sending the first email within an hour of cart abandonment is crucial, so make sure to make the mistake of waiting too long. And don't just send one email – ensure your series includes at least two to three emails. With Drip's abandoned product blocks, your customers' abandoned carts automatically appear in their inboxes within an hour of being left behind.
Abandoned carts happen for many reasons, and every year customers abandon a staggering number of their shopping carts without making a purchase. But by recovering those carts, you can recover the associated revenue and strengthen customer loyalty. Unfortunately, roughly 75% of all shopping carts are abandoned, meaning only 1 in every four shoppers who add something to their cart will complete a transaction. At Drip, we know that abandoned carts are a big chance for businesses to make money, so we made software to help them take advantage of it.

Rejoiner is a powerful software that helps businesses turn cart abandoners into paying customers. With Rejoiner, you can build multi-channel retargeting journeys and increase cart recovery rates. Rejoiner's user-friendly platform allows you to automate multi-stage campaigns, segment your audience, and personalize every touch. Rejoiner's cart abandonment email journey builder helps you to send your first abandoned cart email within minutes of the cart being abandoned. This platform enables you to dynamically inject cart contents, inject complementary recommendations, and create urgency with time-sensitive offers. Rejoiner also provides dynamic, unique discount codes that can be used to restore cart items across devices.
One of the best things about Rejoiner is that it provides comprehensive data and analytics to help you optimize your email campaigns. Rejoiner allows you to identify high-intent cart abandoners, capture partial checkout submissions, and segment browses, cart and checkout abandoners. With Rejoiner, you can sync abandoners to Facebook & Google Ads audiences and push abandoners to Facebook, Google Ads, and direct mail. Rejoiner provides all the tools and supports you need to make email your most profitable marketing channel. Convert 15%+ of abandoned carts into customers and use our cart abandonment email journey.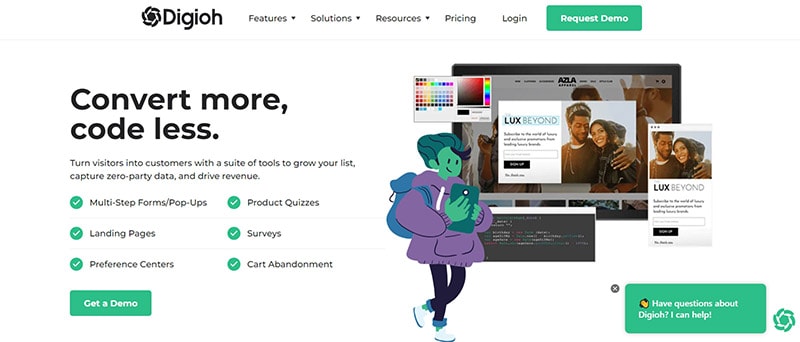 Digioh is an all-in-one cart abandonment software that helps online stores prevent browse, cart, and checkout abandonment. With Digioh, businesses can trigger personalized cart abandonment emails and recover revenue on desktop and mobile. Digioh captures pre-checkout abandonment events, unlike other cart abandonment solutions, to help businesses drive even more sales. Digioh's full eCommerce suite provides dynamic coupon codes, out-of-stock notifications, and more.
Digioh does not require any dev work, and its team will set up the necessary integrations and email templates for businesses. The tool captures data from the checkout process and retrieves emails using exit-intent pop-ups, and other forms, event listeners, cookies/local storage, or email merge tag parameters. Digioh's flexible integrations work with any email service provider (ESP) to trigger personalized cart recovery emails.
The tool is GDPR-compliant and maintains GDPR compliance with location detection. Digioh also captures emails with targeted pop-ups, and businesses can optimize these pop-ups with flexible A/B and multivariate testing. With Digioh, businesses can recover more abandoned carts, recover more revenue, and convert more customers with abandoned cart and browse features.

Privy is a nice cart abandonment software that helps digital marketers reduce cart abandonment and save more carts than ever before. The software combines cart-saving pop-ups that keep people on your site and cart recovery emails that bring interested shoppers back to complete their purchases. With Privy, businesses can run cart-saving pop-ups with exit intent, reduce abandon rates with targeted messages, and send automated emails to known shoppers who added an item to their cart but did not purchase. The software is easy to use. Businesses can customize their offers and discounts, run multiple campaigns and A/B tests to improve conversion and create urgency with custom on-site timers. Privy is the fastest way to grow sales with email & SMS, and the e-commerce marketing platform built for stores needs to grow sales now. The software is designed to help online store grow their email and SMS lists faster, turn casual browsers into loyal subscribers, and incentivize new visitors to buy from their Shopify store. It's an excellent tool business can use to boost sales and reduce cart abandonment.

CartBounty is a powerful tool designed to save and recover abandoned carts for WooCommerce, enabling businesses to focus on more important things. It offers a single-site license for $92 with a 14-day money-back guarantee. With live shopping cart monitoring, CartBounty saves and displays all shopping cart activity from when a product is added to the cart. Additionally, it can analyze the most popular cart items, view ghost carts, and export abandoned carts. CartBounty automates abandoned cart recovery and saves businesses time, allowing them to send abandoned cart reminders using WordPress, ActiveCampaign, GetResponse, MailChimp, or BulkGate. The tool also offers personalized messages with dynamic content and coupon codes and tracks message open and click-through rates. Businesses can recover incomplete orders and restore custom product fields and WooCommerce Product Bundles.
Moreover, CartBounty can exclude carts by-products, product categories, countries, and languages and pause or resume individual abandoned cart recovery. It also supports multiple languages, and it is fully compliant with GDPR. Businesses can use customization features, actions, and filters for additional configuration and development.
Bottom Line
Cart abandonment is a common challenge faced by retailers and e-commerce companies alike. The good news is that many software solutions are available to combat this problem, including the 11 cart abandonment software tools we've discussed. With its detailed analytics, cross-selling options, and personalized emails, this software is great for merchants and individuals selling online. And most importantly, with the help of Plerdy, businesses can easily gather native data on their shoppers' behaviors to improve their systems and optimize their selling strategies. Take advantage of the benefits of this powerful system—read more and explore how you can try Plerdy for free today!