According to the Content Marketing Strategy, content marketing creates valuable content and distributes it to attract the target audience and drive them to action.
However, producing high-quality and unique content for a website can often be daunting.
Such questions are the most frequent queries in Google.
One common mistake people make is focusing attention only on keyword research, strategy and optimization.
A company might fall into a trap as well.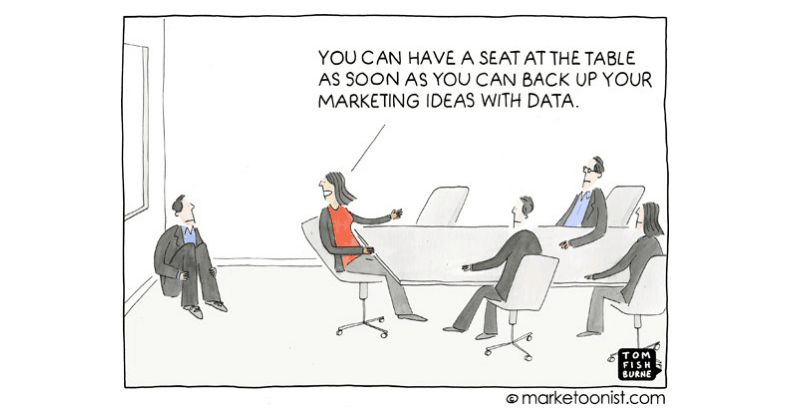 What should you do to get the most out of content marketing strategy? Here are two main things to consider:
According to Forbes, companies that turn to data-driven marketing are 6 times more likely to see increases in profits and 5 times more likely to improve customer retention.
That's the competitive edge offered by analytics; it keeps you on the right track to creating high-quality content.
Leveraging analytics allows you to perform periodic assessments of content's effectiveness. With proper analytics systems in place, you know exactly what works and what doesn't.
Moreover, analytics can provide you with detailed information at all levels of content development.
This helps maximize the success.
Most importantly, analytics allows getting a picture of what the target audience is looking for.
Asking Good Questions: the Core of Content Marketing Strategy
Relying on intuition alone to get marketing strategies right is not a good idea.
It helps you measure marketing initiatives and keeps track of campaigns, so monitor effectiveness and fine-tune them while they are active.
There are quite a several tools that provide you with real-time data. Google Analytics is among the most well-known.
Without tracking software, you will be flying blind, and chances are you will essentially be banging your head against a wall repeatedly.
So what are the benefits of using software packages?
Strategy offers in-depth analysis of customers. Some of the information glean includes the following:
Your strategy – craft unique pieces of useful content tailored to the target audience.
Analytics gives you insight into what works on a website and what doesn't.
Is Google Analytics Enough for Content?
It can bring you lots of insights. For example, it can show you which channel acquisitions are actually working and which ones are not.
Get reports on the audience and check the visitors' behavior.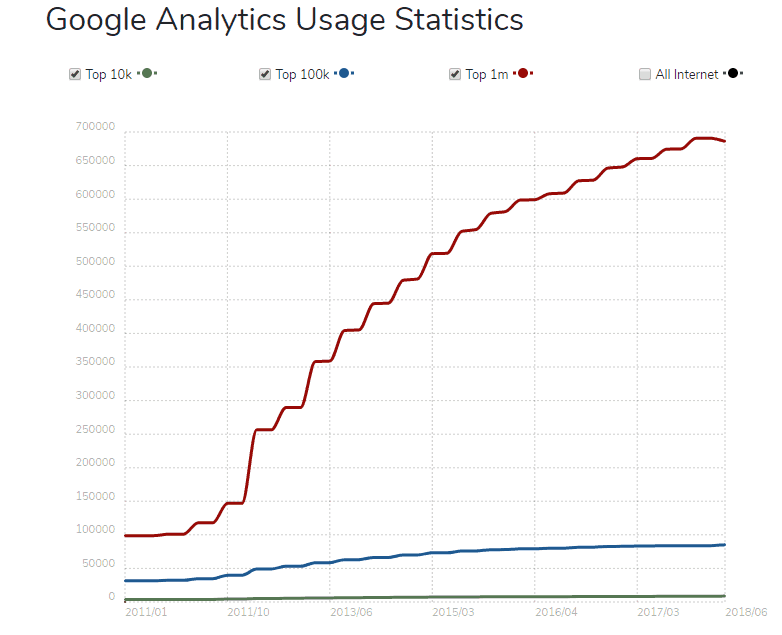 It's no wonder Google Analytics is perhaps the most popular tracking software today. But, unfortunately, Google Analytics doesn't give you information on brand perception and conversion attribution. In addition, it cannot provide on-site data like the overall effects on domain authority and SEO.
That's why, for brands and agencies that are looking to get ahead of the competition, it's highly recommended to use a combination of tools, such as KissMetrics, Plerdy, CrazyEgg, etc.
Tracking Conversions Based on Content Strategy
You will probably enjoy high conversion rates if a professionally designed website with the right features and content.
For instance, suppose you have a specific blog post that drives traffic to the site. Let's say the blog post gets no less than 30,000 views per month.
Technically speaking, you've reached marketing goals. So pat yourself on the back. You might be tempted to go home, treat yourself to your favorite meal, and relax… But there is more to it than these numbers.
You want to be sure that content can turn visitors into buyers who book an appointment, make a purchase, or contact you directly to learn more about offerings.
Thus, you need to know if users are converted into customers after visiting the website via blog post.
You need to first create some custom Segments in Google Analytics.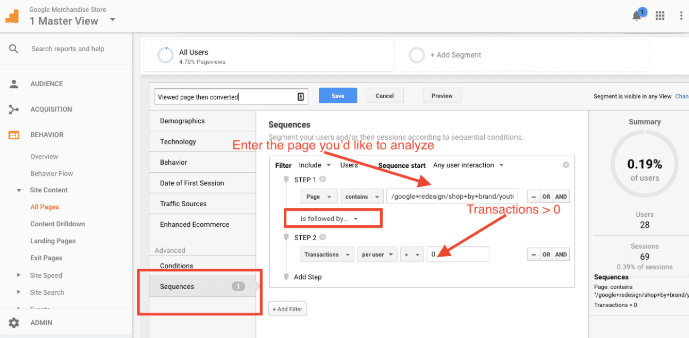 By following steps, get a glimpse into the behavior of a specific segment of visitors – those who come to the website via the selected content – and how it has impacted its overall goals.
If the conversion rate does not measure up to the quantity of traffic, something is wrong.
This means users are bouncing off-website despite the original content and attractive layout.
Investigate further and make the necessary adjustments in line with working strategies.
Analyzing Content Engagement
Unfortunately, the traditional page engagement metrics, such as Bounce Rate and Average Time on URL, do not provide in-depth feedback on how engaging content is and how many visitors read the content in its entirety before leaving the site.
Justin Cutroni, a reputed Google Analytics blogger, created an excellent post on advanced content tracking to address this issue perfectly.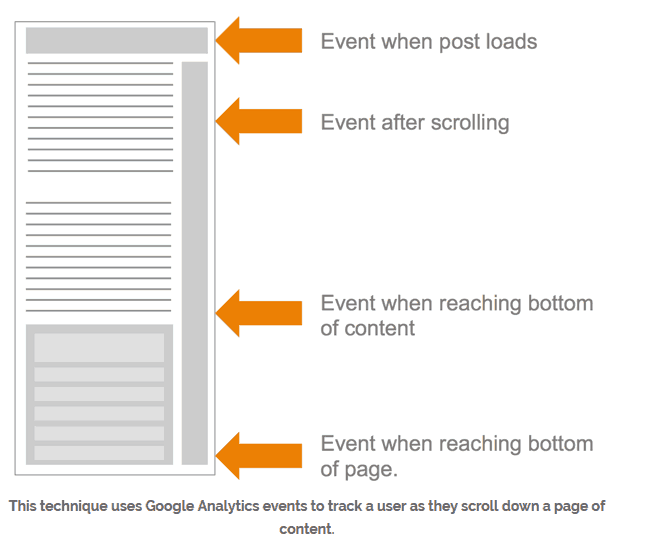 First, you need to create a free WordPress plugin to allow for easy implementation. This approach is directed at three aspects of engagement.
Readers Strategy
Some online users start reading content immediately. These people fall into the "Readers" category.
Visitors who scroll down to a certain degree are classified as readers.
Though this method is not 100% accurate, as some visitors could scroll down for no reason, it works well enough to give you a good general idea.
Finishers Strategy
While some readers will read the content word for word to the end, others will leave mid-way through.
Finishers are those who scroll down to the end of the content.
Again, this method has some uncertainty because visitors may scroll down to look for something at the bottom of the page and jump to the content's conclusion.
Amount of Time Finishers Spend Reading the Content
As mentioned, some Finishers will likely scroll to the bottom of the page without reading the content. Others will take the time to read the entire article.
Higher average values indicate that more Finishers are actually engaging with content, whereas lower average values mean that a significant proportion of Finishers hastily scrolled through.
Analyzing Search Traffic Trends over Time
Google Analytics comes with amazing features. The tool lets content marketers look at search traffic over time.
This approach brings with it loads of benefits. Not only does it help you improve SEO content strategies, but it allows you to analyze rankings.
There are different ways to find traffic search trends. However, here is one of the most common methods.
Log into Google Analytics account and click on "Behavior."
Move the cursor to "Site Content" and click on "All pages."
Depending on preferences, set up a filter that lets you focus on the most relevant pages.


Next, set a secondary dimension for Default Channel Grouping.
Click on the filter bar at the top right-hand corner and click on "Advanced."
Create an "organic search only" parameter as the secondary dimension of Default Channel Grouping.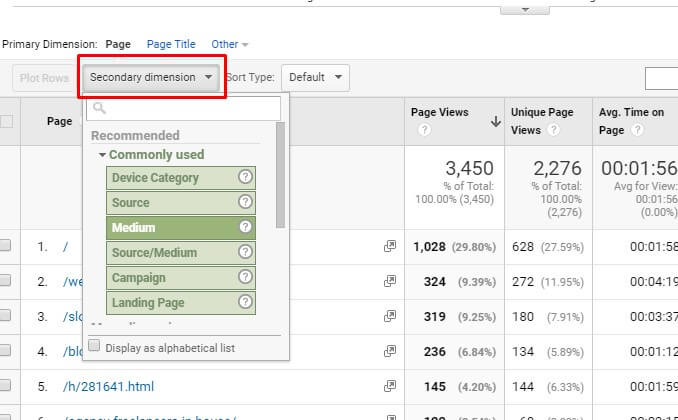 Pick a suitable time frame. By so doing, you won't have to factor in seasonal biases.
Compare the search traffic trends. Bear in mind that results will be displayed based on chosen time frame.
Diving Deeper into Content Engagement
Regardless of the type of content (e.g., evergreen, text, visual), setting goals guarantees you a greater return on content marketing strategy.
Trying to reach as many readers as possible with content may not yield the results you ultimately want.
This not keeps readers engaged but also strengthens relationships with them. Moreover, it keeps coming back for more interesting content.
In-depth content turns visitors from one-time readers to regulars.
It's impossible to create great content without knowing exactly what readers want.
This can increase the number of subscriptions to email newsletters for updates on posts.
So start crafting really valuable content. Then, you'll be able to give visitors something worth reading.
This is not optional; it's something you have to do to keep up with the competition in today's competitive business marketing world.
Finding a solution to a deeply rooted problem facing the target audience will go a long way in keeping customers engaged.
Ultimately, it builds trust and establishes a good relationship with the target audience.
Scroll Heat Map
When it comes to optimizing conversion rates, you should have reliable data at your fingertips.
If you are dead serious about it, no guesswork is allowed here.
That's where Scroll Heatmaps can be a go-to tool.
This reporting utility is designed to deliver real-time behavior analytics about visitors' activity. It can give you ideas and impressions backed by data for:
This can help you make informed changes that will significantly enhance your online presence.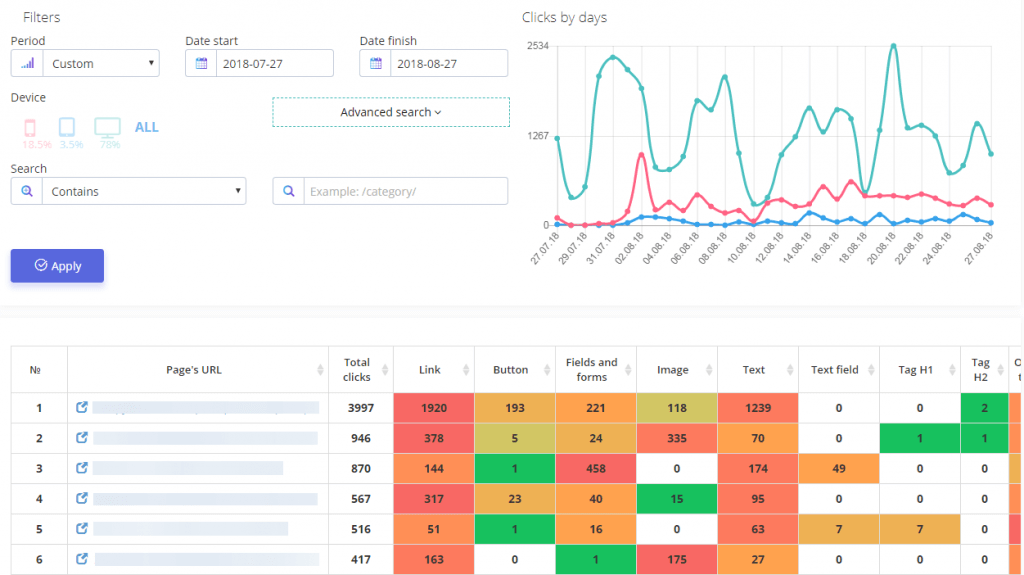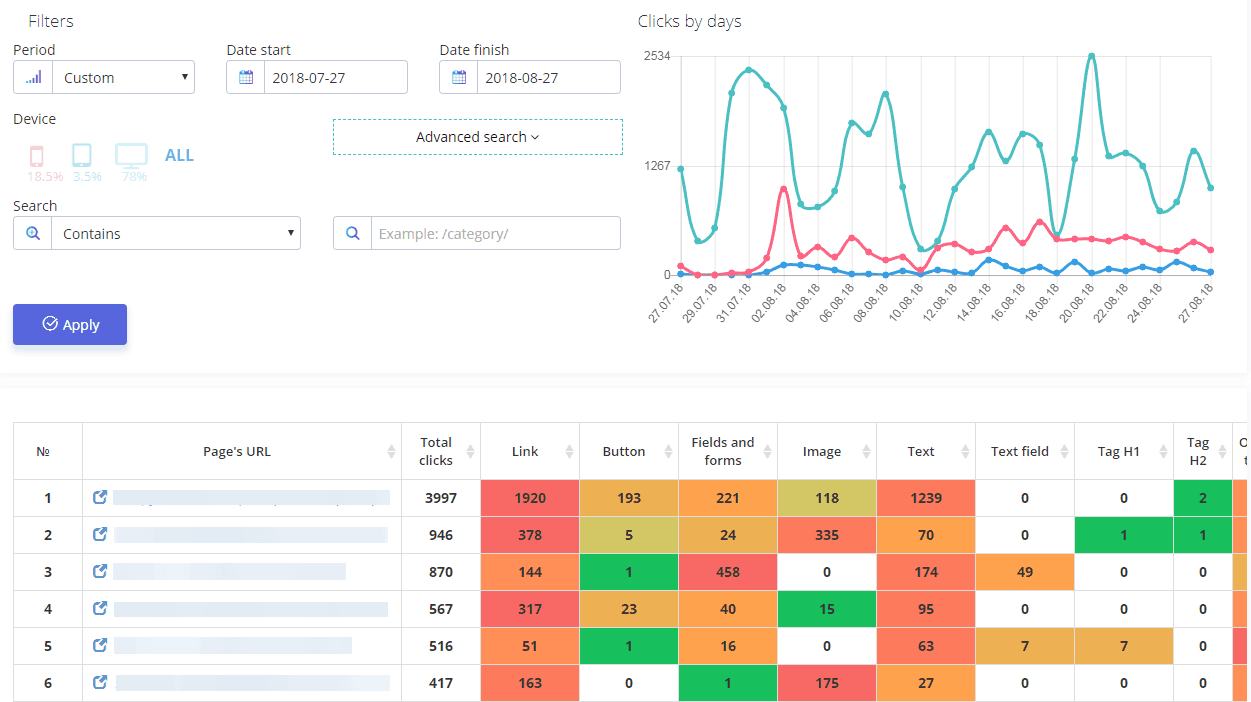 Position vital elements such as "order now," "add to cart," "subscribe" buttons in the right spots.
By keeping track of the activity on the website, deciding where to position content and calls to action becomes easy.
Alter the position of the content and lift it higher to enhance web page functionality.
Click Heatmaps
Before track visitors' activities on websites, you may want to learn more about them.
How much time do they spend scrolling down on a page? Do they find the content interesting and engaging? What is the least visited content?
Heatmaps help you answer all these and many more questions.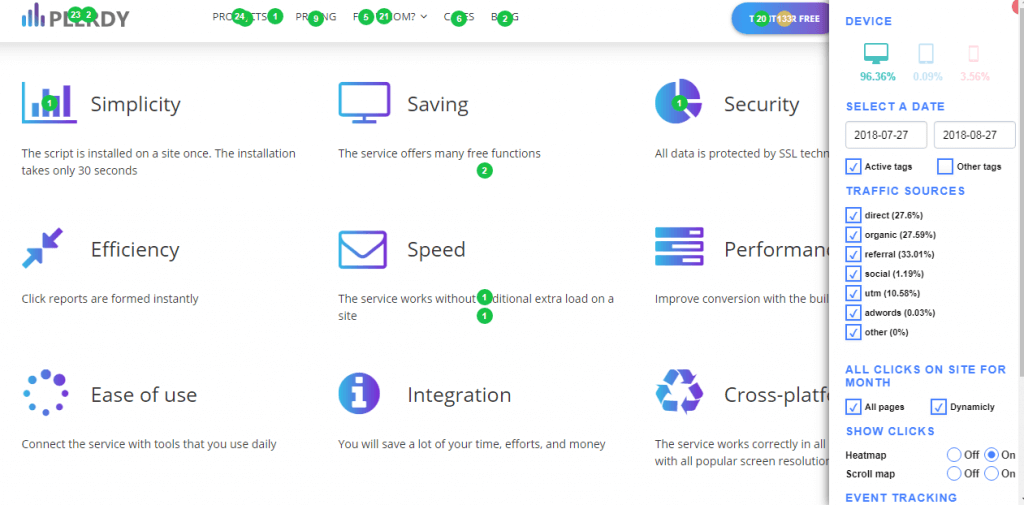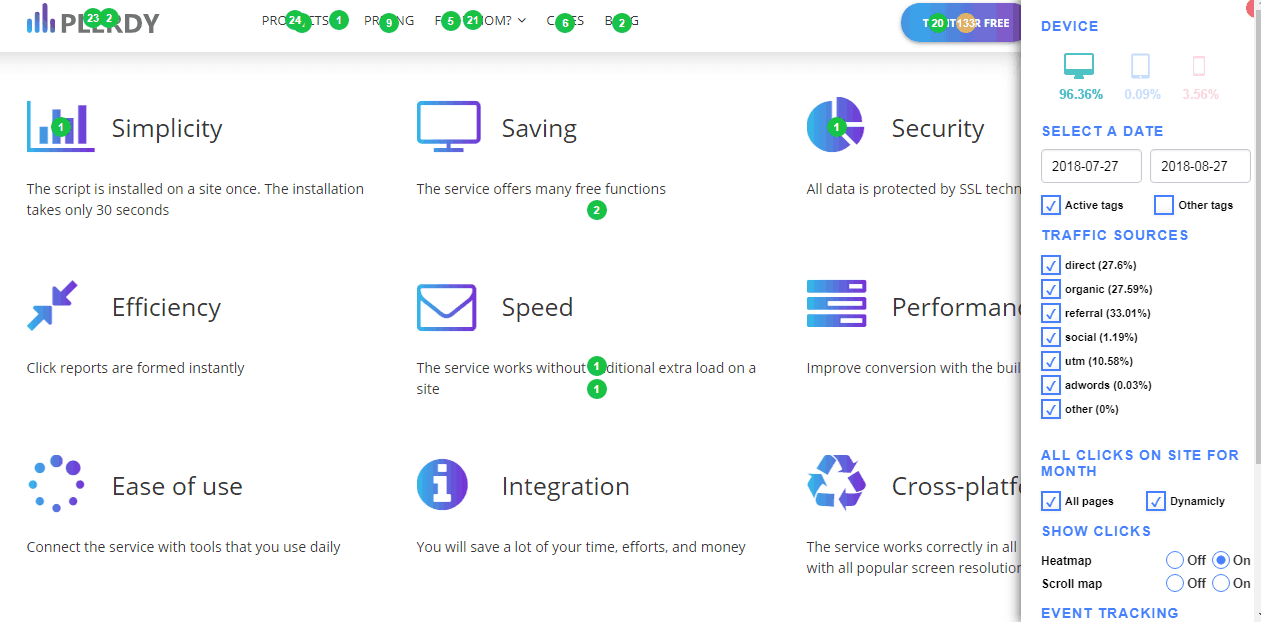 While Google Analytics is the most preferred software tracking tool for getting real-time data like traffic trends, how visitors found out about the website, and bounce rate, click heatmaps can help you understand where visitors are clicking.
Make changes to features such as navigation and call-to-action buttons. Instead, position them in places where visitors can see them easily, making them even more clickable.
On-Site Polls
Show a specific website URL to a group of experts and ask them if there's something you're not doing right – everyone will definitely have something to say.
But the big question is, how accurate are the answers? It doesn't matter whether you have a group of world-renowned experts; some opinions and responses are actually baseless.
Conclusion
You might often get so overwhelmed with different issues that you forget to find the root cause of the problem.
Thankfully, there are many tools and software solutions for tracking and analyzing digital analytics data, including Plerdy.
If you smartly use them, they can help you enhance the user experience by providing consistently engaging content.
Give visitors the content strategy they want, and they'll keep coming back for more.