In 2023, the digital marketing landscape is changing rapidly, making agency selection crucial for ROI-driven success. To help you sift through the clutter, we've put together a definitive list of the best digital marketing agencies in the USA—firms that excel in niches ranging from e-commerce and healthcare to fintech and SaaS.
🔥 Key Features of Top Agencies:
Cutting-edge AI analytics for data-driven strategies
Multichannel expertise covering PPC, social media, and influencer partnerships
Tailored content creation that nails brand storytelling
Agency capabilities are important, but fit is too. Choose an agency that understands technology and shares your brand's values. Embrace agencies that bolster your KPIs while also weaving a compelling narrative around your product or service.
📣 CTA: To supercharge your digital marketing further, consider integrating Plerdy, a potent tool for SEO & UX optimization. With actionable insights and dynamic heatmaps, Plerdy optimizes your conversion pathways, rendering your agency's campaign even more effective. 🚀
Seize the opportunity to team up with a top-tier USA-based digital marketing agency and set the stage for unprecedented growth.
Why Choose a Top-Tier Digital Marketing Agency in USA?
Partnering with a leading USA digital marketing agency can boost your brand's success in today's competitive business environment. Why settle for mediocrity when you can amplify your reach, accelerate revenue growth, and solidify customer loyalty?
Key Advantages of Opting for a Premier Agency:
Holistic Approach: These agencies don't just offer isolated services; they provide a 360-degree digital marketing strategy that encompasses SEO, content marketing, social media, and PPC campaigns.
Innovation: High-caliber agencies breathe creativity, continually infusing campaigns with fresh ideas to outmaneuver competitors.
Industry Specialization: Whether you're in healthcare, e-commerce, or SaaS, top-tier agencies boast niche expertise to make your brand resonate with your specific audience.
If you sell organic food, picture having an agency that specialises in marketing and has food and beverage experience. They'd know precisely how to position your brand in a saturated market—gaining traction with crisp visuals and compelling narratives that appeal to health-conscious consumers.
The depth of resources available within premier agencies ensures seamless execution of campaigns across multiple channels—be it crafting compelling social media posts or engineering email marketing strategies that captivate and convert. Their analytics capabilities are second-to-none, translating raw data into actionable insights to refine future campaigns. Moreover, their reputation often precedes them, providing an unspoken assurance of consistent excellence and commitment to your brand's growth.
Opt for excellence; your business deserves nothing less. Working with a top digital marketing agency can lead to incredible company results.
Factors Considered in Ranking Digital Marketing Agencies in the USA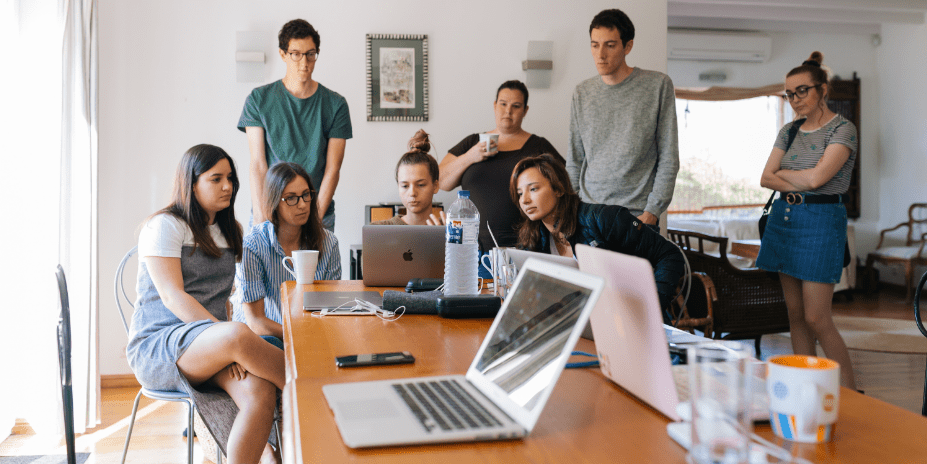 Oyova is recognized as a vital collaborator in the complex field of digital marketing in the United States. This recognition is based on their extensive collection of case studies, which showcase their exceptional performance in comparison to industry standards. It's not just about flashy campaigns or buzzwords. Agencies need to bring tangibles to the table—quantifiable metrics that attest to their efficacy.
Critical Components for Ranking Agencies:
Client Retention Rate: A high retention rate signifies customer satisfaction, which indirectly stands as a testament to an agency's competency.
ROI Metrics: Delivering a strong return on investment is non-negotiable. Here, client acquisition cost, lifetime value, and average order value dominate.
Innovation Quotient: From eye-catching design to interactive user experiences, the agency must push the envelope and pioneer digital marketing solutions.
Let's delve into a niche example—say, the fitness industry. An elite agency would not only excel in creating engaging social media campaigns but also excel in highly specialized areas like influencer partnerships, producing workout apps, and orchestrating virtual fitness challenges. Their dexterity in digital marketing solutions would be evident across all aspects, from subscriber growth to product sales and engagement metrics.
These agencies pull off multi-channel campaigns, juggling everything from PPC to content marketing without dropping the ball. Expertise in emerging technologies, such as AI-driven data analytics, is another feather in their cap. Transparency in operations, particularly in data reporting and financial invoicing, is a must. A top-notch agency aligns its success metrics with your business objectives, ensuring a symbiotic relationship geared for mutual growth. With this stringent evaluation protocol, we sift through the multitude to bring you agencies that genuinely deserve top billing.
Tips for Selecting the Right Agency for Your Business in USA
Embarking on a digital marketing journey in the USA's competitive marketplace requires a reliable partner. Not just spectacular designs, but true, lasting connections. When on the hunt for the ideal marketing agency, a few pointers can set your business on the path to success.
Bespoke Solutions: Consider an e-commerce startup needing a unique interface, different from a healthcare provider aiming to digitize patient records. Agencies must offer tailored strategies.
Portfolio Excellence: Dive into their past work. Did they elevate a local cafe to a digital marketing sensation with savvy marketing campaigns?
Transparent Communication: The best agencies break down intricate digital marketing lingo, making strategies clear as day.
Cultural Compatibility: It's vital to sync up. If an agency nailed a campaign for a hip-hop clothing line, they might be apt for a streetwear brand but mismatched for corporate law firms.
Budget Consideration: It's essential to strike a balance between quality and affordability. Perhaps an agency brought top-tier service to a boutique without breaking the bank.
Navigating the sea of agencies can be overwhelming, but armed with these insights, the voyage becomes smoother. Remember, it's a collaborative venture. With the right agency, your business doesn't just navigate the digital marketing waves – it rides them to unmatched success. By following these guidelines, you set the foundation for an enduring, prosperous partnership in the digital age.
List of Best 16 Digital Marketing Agencies in the United States
Scanning our curated roundup of the "16 Best Digital Marketing Agencies in the USA in 2023" is akin to shopping at a luxury mall; each agency is a boutique that specializes in a unique facet of digital marketing. Whether you're in the market for AI-driven analytics or bespoke storytelling, this list is your roadmap to agencies in the USA that hit the bullseye. So, go ahead, leaf through the list and cherry-pick an agency that can elevate your brand to the zenith of digital relevance.

SmartSites stands as an emblem of digital marketing excellence, with a footprint that spans coast-to-coast in the USA. As a powerhouse agency, they command a portfolio that's as diverse as it is impactful. They've effortlessly navigated the currents of digital marketing transformations to deliver unparalleled service—amplifying brands and sculpting their online narratives.
What Makes USA Digital Marketing Agency SmartSites a Leader in the Industry:
Multi-disciplinary Expertise: Whether it's PPC, SEO, or web development, their offerings cover the full gamut of digital marketing services.
Tailored Strategies: Forget one-size-fits-all. Every campaign is fine-tuned to resonate with the brand's unique ethos and target audience.
Client-centric Approach: This isn't just lip service. SmartSites engages closely with clients, ensuring transparent communication and real-time adjustments to campaigns.
Consider their work in the automotive niche, for instance. While other agencies might focus solely on generalized SEO tactics, SmartSites digs deeper. They refine local SEO strategies, develop content that speaks to auto enthusiasts, and even craft ad campaigns geared for specific car models. It's this nuanced approach that has helped their automotive clients rise above the digital noise and truly connect with consumers.
With a stellar track record in performance analytics, SmartSites leaves no room for ambiguity when it comes to results. Every metric is scrutinized, every strategy pivoted if necessary, to ensure that the ROI isn't just sustainable but consistently on an upward trajectory. Entrusting your brand's digital marketing identity to SmartSites is akin to playing a winning hand in a high-stakes poker match—the odds are overwhelmingly in your favor.

Jives Media is a digital marketing agency that demonstrates a high level of competence and proficiency in the field, operating throughout the United States. Unlike run-of-the-mill agencies, they dive headlong into brand intricacies, unfurling strategies that echo both innovation and finesse. With roots that intertwine with Silicon Valley's dynamic ecosystem, they have ascended as thought leaders in the marketing industry.
Noteworthy Aspects of the USA Digital Marketing Agency Jives Media:
Customized Engagement Models: Every campaign they construct is a bespoke masterpiece, veering away from cookie-cutter solutions.
Full-Scope Digital Services: Their bandwidth encompasses PPC, social media, and organic search, offering a unified strategy for brand magnification.
Versatile Expertise: Hospitality, tech, education—you name the sector, and their portfolio likely boasts of trailblazing campaigns in that arena.
Take the education sector, for example. While competitors often regurgitate generic content, Jives Media amplifies the ethos of educational institutions. They might develop an interactive e-learning platform that retains student engagement or invigorate an alumni network through targeted social media ads.
In a landscape filled with transient trends, Jives Media showcases an uncanny ability to remain timeless yet timely. They stand at the confluence of data-driven precision and creative audacity, presenting an all-encompassing digital marketing palette. If you're keen to move beyond the pedestrian and enter a phase of unparalleled growth, Jives Media stands as your ultimate ally.

Ignite Visibility has carved a stellar reputation in the USA's marketing sector, setting them apart as a digital marketing agency of remarkable caliber. With a fine-tuned blend of creativity and data-centric methodologies, they have mastered the art of crafting campaigns that defy norms and set industry benchmarks. Their diverse and strategic portfolio showcases their prowess across a myriad of digital marketing channels.
Distinctive Qualities of the USA Digital Marketing Agency Ignite Visibility:
Holistic Strategy Framework: Their approach isn't segmented; they integrate all elements—SEO, PPC, social media—into a unified campaign architecture.
Client Engagement Excellence: From initial brainstorming sessions to campaign execution, their team maintains a pulse on client needs and goals.
Exceptional Metrics-Driven Results: They translate abstract objectives into measurable outcomes, clearing the fog around ROI calculations.
In sectors like travel and tourism, where stakes are high and competition is fierce, Ignite Visibility brings in innovative tactics. They may employ interactive travel quizzes to draw in potential tourists or amplify user-generated content to foster a community of loyal brand advocates.
Ignite Visibility doesn't just adapt to the digital marketing landscape—they mold it. They sift through the cacophony of online noise to elevate your brand voice, turning your marketing goals from abstract dreams into tangible reality. If ever there was an agency geared to propel your brand into the stratosphere of the digital universe, Ignite Visibility has undoubtedly earned that title.

KlientBoost represents a pinnacle of excellence within the realm of digital marketing and service firms in the United States. Celebrated for its cutting-edge solutions, KlientBoost doesn't just color inside the lines—they redraw the lines entirely. With a data-driven approach and audacious creativity, this agency crafts campaigns that resonate, connect, and convert.
Standout Qualities of the USA Digital Marketing Agency KlientBoost:
Hyper-Personalized Campaigns: Off-the-shelf solutions get ditched in favor of bespoke strategies tailored to unique business needs.
Omnichannel Prowess: From pay-per-click (PPC) advertising to content marketing, digital marketers strategically coordinate a variety of techniques to achieve desired outcomes.
Relentless Optimization: Through a rigorous A/B testing framework, they continually refine and polish campaign performance.
Take healthcare marketing as an example. KlientBoost understands that trust is currency. They excel in developing content that not only ranks but also establishes authority. They deploy compelling testimonials and case studies that not just lure but sustain visitor engagement—transforming casual browsers into lifelong customers.
KlientBoost plays a key role as a guiding force in the constantly shifting digital marketing scene. With a blend of strategic foresight and creative ingenuity, they go beyond the norms to offer experiences that captivate and convert. No task is too daunting, no goal unattainable. If there's a boundary, KlientBoost finds a way to push past it—redefining the possibilities of what a digital marketing agency can achieve.

Disruptive Advertising is a US digital marketing and services business.. Its name alone mirrors its approach—defying conventional methods to bring trailblazing solutions to the marketing arena. Rooted in data, they build marketing ecosystems that don't just touch points but reshape consumer journeys entirely.
Key Attributes of the USA Digital Marketing Agency Disruptive Advertising:
Data-First Strategy: Ditching vanity metrics for actionable insights that inspire intelligent decisions.
Custom-Crafted Campaigns: No two businesses are the same, so they tailor each strategy with surgical precision.
Continuous Improvement: Through agile frameworks, they iterate and evolve tactics, constantly finetuning your ROI.
Consider the automotive sector. Disruptive Advertising knows that cars aren't mere modes of transport; they're dreams on wheels. The agency synchronizes campaigns with emotive narratives that evoke not just needs but desires. They masterfully tap into influencer partnerships, creating organic engagement beyond the traditional funnel.
Disruptive Advertising pushes boundaries in digital marketing, consistently setting benchmarks that others aspire to reach. They balance surgical analytics with audacious creativity to craft campaigns that are not just memorable but measurably successful. Their scope of work doesn't merely aim to add numbers but to create legends, all while redrawing the landscape of what's feasible in the realm of marketing agencies.

WebFX isn't just another digital marketing agency in the USA; it's a transformative service hub that redefines the boundaries of what's possible. They operate on a philosophy of audacity and precision, a blend that results in campaigns you can't ignore.
Unique Selling Propositions of the USA Digital Marketing Agency WebFX:
Bespoke Strategies: Customization is king; WebFX crafts targeted campaigns for industries as varied as healthcare and e-commerce.
Holistic Digital Marketing Services: From PPC to content marketing, they run the gamut, ensuring every touchpoint engages.
ROI-Driven Approach: Success isn't nebulous. Metrics are tracked meticulously to ensure a sustainable growth trajectory.
For instance, in the travel sector—an industry often swamped with generic visuals and clichéd taglines—WebFX breaks through the noise. They deploy geo-specific PPC campaigns and riveting social stories to ignite wanderlust, going beyond mere booking numbers to shape travel experiences that are shared and celebrated.
Moreover, their aptitude for decoding consumer behavior distinguishes them in the retail space. WebFX syncs up brand storytelling with real-time inventory levels, ensuring they're singing the song consumers want to hear, just as they're ready to make a purchase decision.
WebFX melds data analytics with creative prowess to spawn campaigns that seize attention and don't let go. They take pride in being practitioners of digital marketing alchemy—transmuting raw data into marketing gold. WebFX aims to be a must-have growth partner, setting an industry benchmark few can match.

Intero Digital stands tall as a beacon of excellence in the bustling landscape of USA-based digital marketing agencies. They've honed their craft, pushing boundaries and setting bars high in the digital marketing domain. With a flair for intuitive strategies and a knack for precision, Intero Digital carves out distinct spaces for brands, letting them shine brightly in the vast digital marketing marketing expanse.
Highlights of the USA Digital Marketing Agency Intero Digital's Expertise:
Tailored Campaigns: Be it real estate or fashion, Intero Digital rolls out campaigns that resonate, echo, and reverberate.
Integrated Digital Marketing Services: From dynamic web designs to compelling social media stories, they've got all bases covered.
Data-Driven Insights: Marketing isn't about guesswork. Intero dives deep into analytics, emerging with strategies that hit the mark.
Consider the food industry, where trends shift like desert sands. Intero Digital, with their culinary campaigns, doesn't just stir the pot—they bring flavors alive, telling tales of traditions and tastes that consumers yearn for.
For tech startups, a sector that thrives on innovation, Intero Digital crafts narratives that not only highlight features but also the dreams and aspirations powering these innovations.
In essence, Intero Digital doesn't merely offer digital marketing services. They embark on journeys with brands, guiding them through the intricate dance of digital marketing, ensuring every step is synchronized, every beat is felt, and every story leaves an indelible mark.

Online Marketing Gurus stands as an epitome of mastery in the hyper-competitive sphere of digital marketing in the USA. With an arsenal of customized strategies, this agency redefines the meaning of impactful digital marketing service, breaking through the noise to make your brand heard, felt, and revered.
Core Competencies of USA Digital Marketing Agency Online Marketing Gurus:
Holistic Digital marketing Audits: They dissect your digital architecture, identifying areas that beg for innovation.
Custom Strategy Crafting: Whether in healthcare or automotive sectors, their solutions amplify your brand voice.
ROI-Driven Methodology: With a laser focus on returns, they measure every action against its business impact.
Take the niche of eco-friendly products, a sector demanding nuanced storytelling. Online Marketing Gurus not only captures consumer attention but also educates, building a compelling narrative around sustainability.
In the intricate realm of financial technology (fintech), where credibility holds significant value, the agency develops strategic campaigns that not only draw attention but also establish validation and assurance. Each word, each visual serves as a stepping stone to build consumer trust.
In the congested retail sector, Online Marketing Gurus meticulously shapes buyer journeys that start with curiosity and end with a cart full of products.
So, when it comes to digital marketing, Online Marketing Gurus doesn't just dabble; they dominate. They don't merely execute strategies; they engineer digital marketing experiences that resonate with your brand ethos while driving concrete business outcomes.

Brand Vision isn't just another name in the digital marketing landscape of the USA. They stand out, and rightly so. Elevating brands into digital marketing dynasties, this agency meticulously crafts narratives that resonate, campaigns that captivate, and strategies that strike gold.
With the USA digital marketing agency Brand Vision, it's never about a one-size-fits-all approach. Instead, they dig deep, understand nuances, and deliver bespoke solutions. Let's break it down:
Tailored Tactics: Whether it's luxury real estate or craft breweries, their strategies echo the essence of each sector.
Digital Marketing Mastery: They harness the power of data, turning pixels and bytes into tangible business growth.
Unwavering Support: A partner that sticks around, continuously optimizing and tweaking for perfection.
Consider the burgeoning fitness tech industry. Brand Vision doesn't just set up ads; they weave stories of transformation, motivation, and progress. For artisanal chocolatiers, they bring out the craftsmanship, the symphony of flavors, and the love behind every bite, translating it into engaging digital marketing tales.
Brand Vision thrives where others falter, navigating the intricate digital maze with precision, passion, and prowess. They're more than an agency; they're a catalyst, setting brands on a trajectory of exponential growth and unwavering visibility. Choose Brand Vision and take the leap from the mundane to the magnificent.

Verbsz Marketing isn't your run-of-the-mill digital marketing agency. Based in the USA, this powerhouse steps up the marketing game by turning complex digital marketing landscapes into straightforward, profitable terrains for brands. Their prowess extends from small start-ups to industry giants, rendering a full spectrum of top-tier services that accelerate growth.
Let's drill down into the specifics of the USA Digital Marketing Agency Verbsz Marketing:
Data-Driven Decisions: Utilizing analytics to refine strategies ensures that you're not throwing cash into a digital marketing abyss.
Customer-Centric Campaigns: For example, in the luxury automotive sector, Verbsz tailors narratives that go beyond horsepower and torque to touch upon heritage and innovation.
Omnichannel Excellence: Verbsz seamlessly integrates messaging across digital marketing platforms, ensuring you capture audience attention, whether it's a millennial on TikTok or a CEO on LinkedIn.
Their signature is crafting compelling narratives that resonate, regardless of niche. In the competitive world of athleisure wear, Verbsz Marketing digs into consumer psychology, creating ads that highlight not just comfort and style, but a lifestyle aspiration.
With Verbsz Marketing, every pixel serves a purpose, every strategy carries weight, and every campaign is a meticulous work of digital marketing art. By opting for Verbsz, you're not just getting an agency; you're gaining a strategic partner committed to skyrocketing your brand's digital footprint.

Straight North stands as a luminary in the sphere of digital marketing, rooted in the USA and extending its influence to shape the future of businesses globally. With services that span across the digital marketing spectrum, this agency distinguishes itself through relentless focus and tactical precision.
Key Highlights of the USA Digital Marketing Agency Straight North:
Lead Generation Mastery: Leveraging analytics and user behavior to drive sales and nurture relationships, particularly effective in the SaaS industry.
SEO and PPC Symbiosis: Orchestrating synchronized strategies that magnify reach and conversion, illustrated in how they revitalized a stagnant home improvement brand.
Custom Web Development: Tailoring UX/UI to align perfectly with brand stories, as demonstrated in their revamp of a boutique hotel's online interface.
Straight North pivots effortlessly from B2B to B2C, wearing different hats but maintaining a consistent performance. When it comes to healthcare, for instance, they execute campaigns that not only increase appointments but also build long-term patient trust. In the crowded field of online retail, Straight North crafts strategies that convert one-time purchasers into brand loyalists.
Aligning with Straight North means you're embracing an ethos of relentless optimization. Every campaign iterates on its predecessor, each click funnels towards conversion, and every strategy pivots with agility. In a nutshell, Straight North operates not just as your digital marketing arm but as a growth-centric partner, steering your brand to unparalleled digital marketing prosperity.

When it comes to unparalleled digital marketing prowess, Oyova pushes the envelope, revolutionizing the way brands connect with audiences. With roots in the USA, this full-service agency goes beyond mere marketing—fusing technology, creativity, and strategy to deliver extraordinary results.
Noteworthy Successes of the USA Digital Marketing Agency Oyova:
Automotive Ingenuity: Oyova takes a traditional car dealership and revamps its digital footprint, converting tire-kickers into enthusiastic buyers.
E-commerce Triumph: Offering tailored strategies that take an average online shop and transform it into a digital cash cow.
Non-Profit Resurgence: Reshaping charitable organizations' digital marketing profiles to raise not just funds but also community awareness and engagement.
Oyova knows how to cut through the noise in various industries, be it healthcare, real estate, or hospitality. Their campaigns are handcrafted masterpieces that funnel targeted traffic into actionable leads, achieving quantifiable growth metrics. The agency's approaches are agile, allowing brands to adapt to fluctuating market dynamics without breaking stride. When partnering with Oyova, you don't just get service—you acquire a digital marketing strategy arsenal designed to expand your influence and multiply revenue streams. Oyova's library of case studies shows higher performance compared to industry benchmarks, making it an essential growth partner in US digital marketing.
Welcome to the dynamic universe of Storm Brain, a powerhouse digital marketing agency based in the USA. Here, innovation isn't just a buzzword—it's the cornerstone of every strategy deployed to ramp up your brand's digital marketing prowess.
Exceptional Strategies In Action:
Smart Tech Integration: With Storm Brain, retailers are going digital with personalized shopping experiences, making a tangible impact on conversion rates.
Hospitality Evolution: Think top-tier hotels leveraging interactive guest portals for seamless service—another Storm Brain masterpiece.
B2B Connection: Imagine enterprise software companies enhancing user acquisition through targeted LinkedIn campaigns, co-piloted by Storm Brain.
This isn't your run-of-the-mill marketing operation. Storm Brain takes a granular approach to understanding your brand's unique challenges and goals. From robust analytics to creative campaigns, each facet of their service aims to elevate your brand identity and ROI. They leverage agile methodologies to navigate the ever-evolving digital marketing landscape, ensuring you're always in sync with market trends without stumbling.
At USA Digital Marketing Agency Storm Brain, you're not just a client, you're a valued collaborator. When you team up with them, you tap into a comprehensive suite of services that span everything from SEO and PPC to social media management. If you're serious about leveling up your brand's digital marketing impact and breaking market ceilings in the competitive USA sector, Storm Brain embodies the strategic partner you need. No hype, just actionable results that speak volumes.

Coalition Technologies, with its roots in the USA, stands as a digital marketing colossus among marketing agencies. Where others dip their toes, Coalition dives deep, embracing the intricate tapestry of today's online universe. Every pixel, every byte, every bit of data becomes part of a symphony, orchestrated to strike a chord with target audiences.
Impressive USA Digital Marketing Agency Campaign Illustrations:
E-Commerce Overhaul: Visualize boutique stores transitioning into digital marketing giants, pulling in buyers from every corner, thanks to Coalition's adept strategies.
Health & Wellness: Picture wellness brands breaking the mold, leveraging personalized digital touchpoints to resonate with health-conscious consumers.
Tech Innovators: Envision software startups, once lost in the digital shuffle, now cutting through the noise and making a mark, backed by Coalition's expertise.
Their grasp over digital marketing nuances allows them to roll out strategies that breathe life into brands, setting them up for unparalleled success. With Coalition Technologies, companies don't just go digital; they thrive, engage, and dominate their niches. The vibrant tapestry of services offered — spanning from influencer collaborations to conversion rate optimization — is tailored to ensure measurable growth.
In the bustling digital marketplace of the USA, Coalition Technologies rises as the beacon of transformative marketing solutions. Crafting digital marketing tales of success, this agency is where innovation meets impact.

Thrive Internet Marketing Agency, anchored in the USA, stands out as a digital powerhouse shaping the contours of modern marketing. Where some agencies merely sketch plans, Thrive crafts masterpieces, weaving together diverse digital threads into a cohesive strategy. Their touch turns brands into digital marketing landmarks, pulling in engaged audiences with magnetic force.
Notable Campaign Triumphs:
Food & Beverage: Imagine local cafes turning into online sensations, drawing foodies from every nook and cranny, all thanks to Thrive's bespoke blueprints.
Fashion & Apparel: Visualize indie fashion brands, once overshadowed, now setting trends and dictating style statements under Thrive's guidance.
Adventure & Travel: Think of travel agencies breaking the digital ceiling, taking adventurers on virtual journeys before the real escapade begins.
With an arsenal of innovative tools and a team bursting with expertise, Thrive doesn't just play the digital marketing game — they redefine it. They architect online landscapes where brands don't merely exist but flourish and resonate. When you hear tales of brands making waves in the digital marketing oceans of the USA, chances are Thrive Internet Marketing Agency is the wind behind their sails, propelling them to undisputed success.

In the USA's saturated digital marketing landscape, Absolute Web emerges as a luminary, not just another marketing agency. Fueled by creative audacity and technical prowess, this maven takes brands beyond the status quo. Where others offer cookie-cutter solutions, Absolute Web custom-builds digital marketing experiences that defy the ordinary and captivate the market.
Success Stories to Write Home About the USA Digital Marketing Agency Absolute Web:
Healthcare: Think beyond stethoscopes and syringes. Absolute Web turned a humble medical supplier into an educational hub, amassing a community eager for knowledge.
Tech Startups: Envision a bootstrapped tech idea evolving into an industry authority, breaking down complex topics into easily digestible digital marketing formats.
Non-Profit: A philanthropic organization not only met its fundraising goals but broke records, all credited to a multi-platform campaign steered by Absolute Web.
By piecing together innovative design, impactful content, and data-driven strategies, they create comprehensive campaigns that pull in engagement and ring the cash register. They carve out digital sanctuaries where brands don't just communicate but form unbreakable bonds with their audience. It's no hyperbole to say that in the universe of marketing agencies, Absolute Web serves as the guiding star, leading brands down the road to unmitigated triumph. With Absolute Web, you don't just get by — you turn heads, spark conversations, and ignite revolutions. Their blend of marketing, digital finesse, and top-tier service makes them an irresistible force in the agency landscape.
Conclusion about Best Digital Marketing Agencies in the United States
Wrapping up our in-depth dive into the "16 Top Digital Marketing Agencies in the USA 2023," it's evident that the digital marketing terrain is bursting with talent. From the east coast to the west, agencies are harnessing the power of innovation and creativity to deliver results that exceed expectations. Whether it's SEM strategies optimized for Google's ever-evolving algorithms or compelling video-content campaigns tailored for YouTube viewers – the agencies in our list have shown they've got the chops. 👩‍💻🔥
These high-flyers aren't just about flashy campaigns; they're keenly attuned to the nuances of the user's journey, from the first site visit to the ultimate conversion. And, speaking of optimization, don't forget to integrate Plerdy – a standout tool for a comprehensive SEO & UX analysis, ensuring your website's visitors have a seamless and engaging experience. Ready to elevate your brand's digital footprint? Dive in, and let these agencies lead the charge. 🚀📊