The era of eCommerce is on the rise today as never before, but it is still far from its peak. All business analysts, without exception, predict further rapid growth in profits from online sales. In 2020, eCommerce revenues exceeded $4.2 trillion worldwide, and the number of eCommerce shoppers surpassed two billion.
The exponential growth of eCommerce transactions is due, among other things, to the ubiquity of mobile devices. Today, you don't need to sit at the desktop to purchase any amount.
The concentration of such previously unthinkable numbers of buyers, in fact, in one place — on the Internet — is simultaneously a challenge and the path to endless opportunities. Those, who can collect the necessary eCommerce analytics in time and use its tools correctly, have all chances to become an integrated part of the brave new market.
The days when it was enough for you to look at the visit counter in an online store and compare it with the number of goods sold are long gone. Today, every visitor who looks at your site, even for a few seconds, leaves a digital footprint. Enhanced eCommerce Google Analytics tools and other interpretations allow you to analyze your successes and failures and even predict the future with the highest degree of probability.
Stores that do not engage deep analytics tools and diverse eCommerce analysis have not only no future but even no present. Did you know, for example, that 40% of shoppers come to stores from Google search pages? Then, it will be helpful for you to know that only a negligible number of users continue to search for the information they need on the second page, and only 0.78% of those who still reached the second get to the third. Why is your store not visible at the top of Google? Turning to elevated Plerdy e-commerce analytics tools allows you to get itemized information about all transactions. After examining the data obtained, you will receive rich material for working out hypotheses about the conversion rate factors.
The same we may say for hundreds of other metrics that affect your online trading achievement. Moreover, these metrics are individual for each store, and only professional eCommerce analytics tools can write out a recipe for guaranteed success for your business.
Top 10 eCommerce Analytics Software
There are hundreds of agencies that proffer different tools for eCommerce analytics. Of course, you need to carefully explore various offers to choose the suitable one. But it's still worth starting your search with the best ones.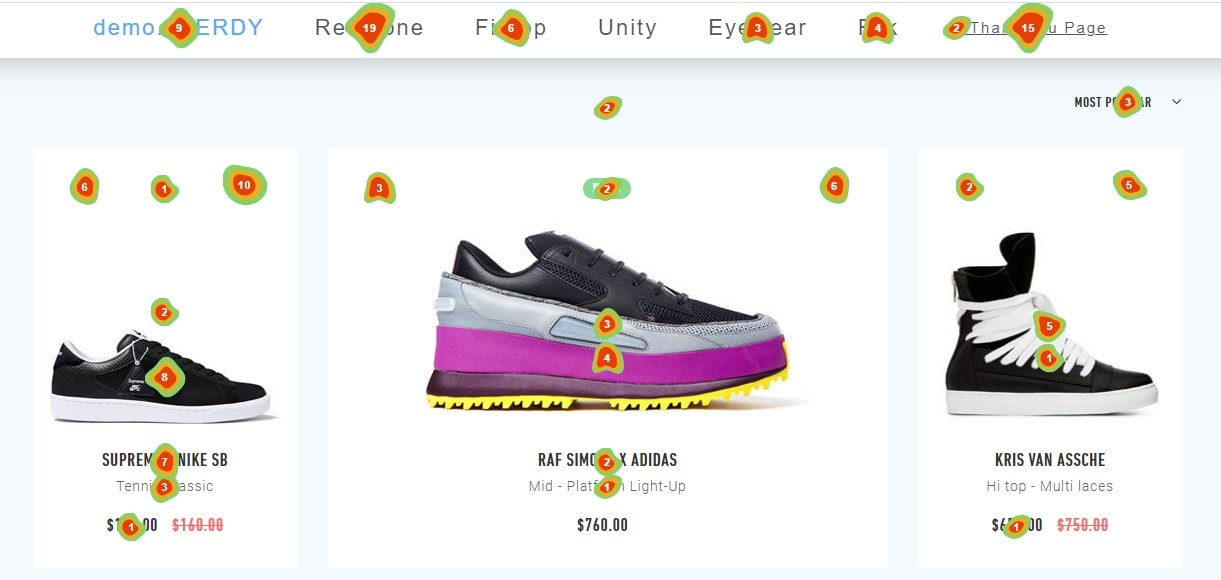 Plerdy is one of the more exciting platforms with valuable tools, offering a deep end-to-end approach to eCommerce analytics and having an awe-inspiring set of eCommerce analytics software.
Plerdy is a dynamic startup founded by Andrew Chorny. The company's core comprises certified experts who work with Google Analytics Enhanced eCommerce. Most Plerdy employees have been trained in Google AdWords and Analytics.
One of the most stable banks in Ukraine — KredoBank — cooperates with Plerdy. Honda, Ukrposhta, Subaru, Kyivstar, and SoftServe are customers of Plerdy too.
Users appreciate Plerdy's arsenal of eCommerce analytics tools and the bottom line for optimizing their websites with these solutions.
"I just installed a script from Plerdy on my website and immediately saw positive results," writes Marianna, a representative of Fiorelli Fragolino. "It's a straightforward tool with a lot of power," says an expert from Newoldstamp.com, Olga. "Plerdy is a tool that any self-respecting eCommerce specialist must always have at hand," says Eugene, a marketing specialist at "Echo."
The Plerdy platform offers users a unique multi level sales performance analysis tool — Plerdy eCommerce Analytics.
With this tool, a user can define many essential metrics for high website conversion: key performance indicators, the forcefulness of individual elements and blocks on the page, etc. In addition, eCommerce analytics tools allow a user to precisely determine which website elements contribute to their profit and which do not.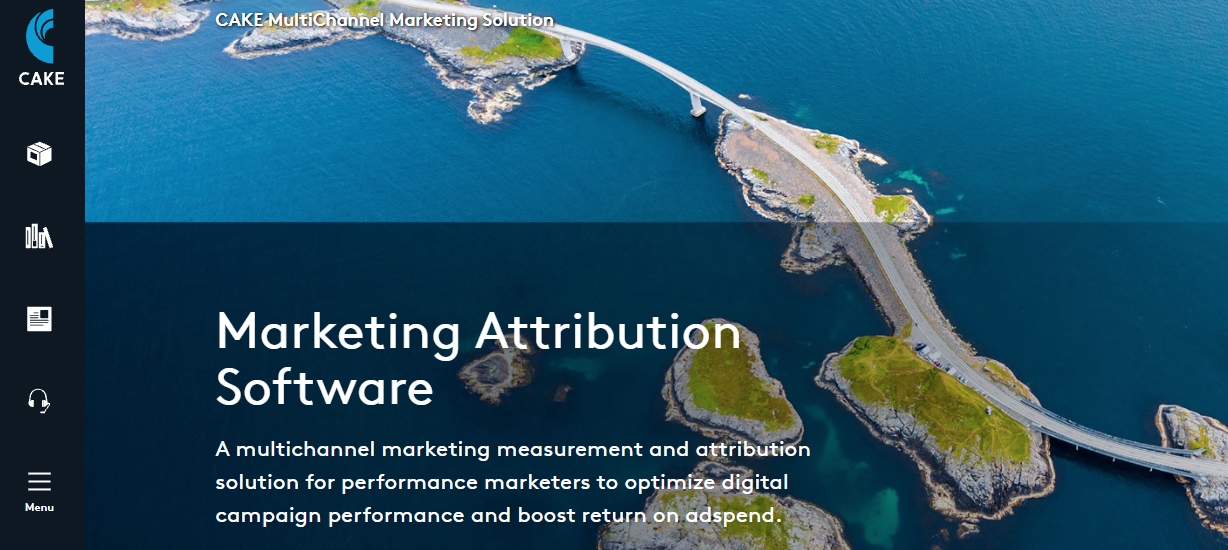 The company's CEO Santi Pierini is a specialist with many years of experience in eCommerce analytics.
Such companies use CAKE's services as American Home Shield, LendingTree, LifeLock, KnownSupply, Roblox, and many others.
As an eCommerce analytics tool, CAKE offers the so-called Omnichannel approach. eCommerce analytics software from this company analyzes a website's performance on various pages, summarizes data, and offers eCommerce analytics consulting based on these results.
In the reviews, CAKE users are unanimous in the excellent work of the support team. Also, they hint at definite inconveniences in eCommerce analytics reports and a somewhat outdated interface.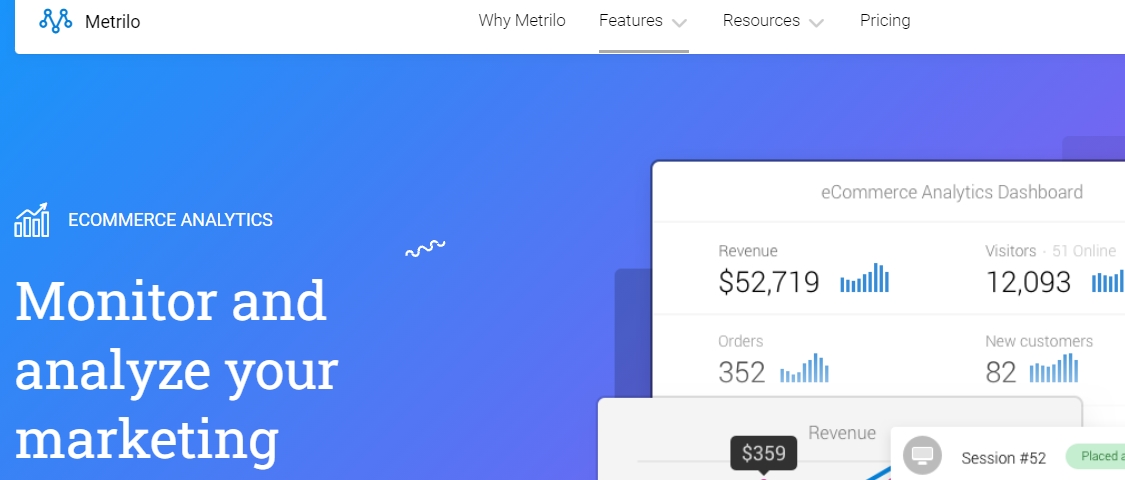 Metrilo is led by Davide Cervellin, Head of Analytics, Insights, and Data, and Moiz Ali. They are both top experts in eCommerce analytics.
The company has experience in flourishing cooperation with Procter & Gamble, Chocolab, Crisky Dog, ViralPasion, and Smoovall.
One of Metrilo's unique eCommerce analytics tools is a proactive algorithm that analyzes Internet trends relevant to your business and brings to your attention those trends that can manipulate conversions.
According to user reviews of the analytics tools for eCommerce in real-time regarding customers and the state of sales, Metrilo works flawlessly and creeps to raise website conversion dramatically. However, they are not satisfied with the outdated templates for personalized email campaigns and the lack of some functions accessible in analogous services. In particular, they mean the eCommerce segmentation of customer reviews for concrete products.

Kissmetrics' CEO is Ryan Salomon, the virtual marketing specialist.
Kissmetrics' eCommerce data analytics consumers are Microsoft, SendGrid, Carvana, Unbounce, LucidChart, etc.
Among the unique eCommerce analytic tools from Kissmetrics is the BIg ​​Data processing solution. It combines eCommerce performance analytics tools for a specific site and global predictive analytics of eCommerce.
Users rate Kissmetrics eCommerce analytics highly regarding the sales funnel and lost customer procurement. However, their complaints related to the complex interface and the problematic interpretation of the reports.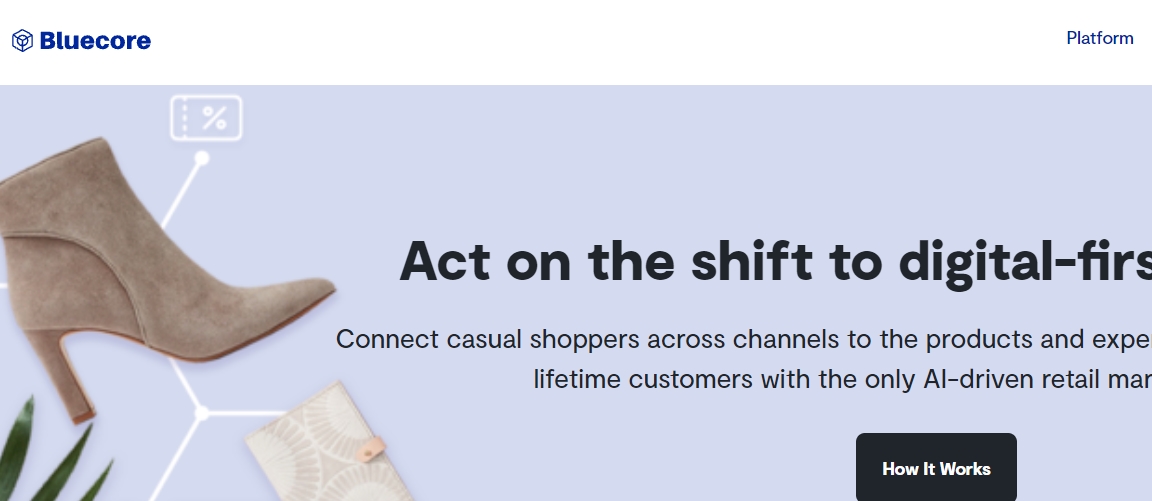 Fayez Mohamood founded the company in 2014.
Bluecore eCommerce analytics services are used by CDW, Pendleton, Lane Bryant, CVS Pharmacy, and NewEgg.
A distinctive feature of Bluecore is the active use of artificial intelligence in eCommerce analytics tools.
Users are grateful that Bluecore provides its users with excellent support from the company's live staff and the AI involved in eCommerce analytics. However, the lack of some tools, for example, split testing and the flaws of the UX interface, causes complaints.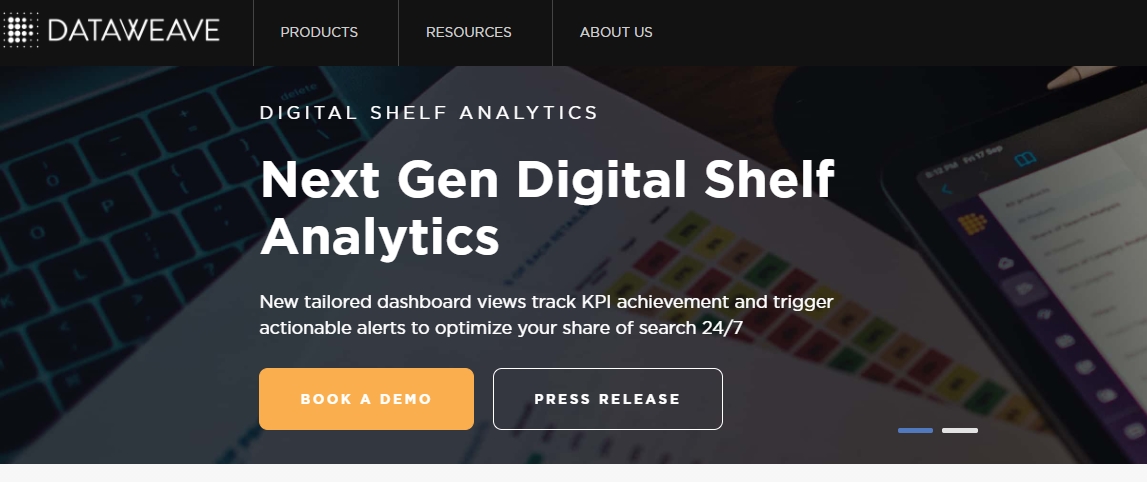 The company is headed by Karthik Bettadapura, Vikranth Ramanolla, and Krishnan Thyagarajan.
Among Dataweave's clients are Bain & Company, Datarade, Kenshoo, Wavemaker, and Mediacom.
In its eCommerce analytics approaches, Dataweave compares the critical positions of your website — brand, pricing, product presentation, etc., with similar data from competitors. Based on these eCommerce analytics reports, AI-powered Dataweave tools provide website optimization recommendations.
Users are thrilled with Dataweave's support and eCommerce reporting convenience. In their opinion, the bottleneck of this platform is periodic back-end crashes.
OWOX BI is a Ukrainian company headed by Vlad Flaks.
Clients of this eCommerce analytics platform are Tele2, Raiffeisen Bank, Citylink, Eldorado, and Profi.ru.
The platform positions itself as a set of eCommerce analytics tools for the advanced collection and processing of large amounts of data. The ultimate goal of this eCommerce analytics is to reduce the cost per customer and increase sales.
Users highly appreciate the informativeness of the eCommerce reports and the close integration with Google Analytics and Big Query.
Only the wishes for a more affordable tariff plan are noteworthy.

The head of the company is Suhail Doshi.
Mixpanel's clients include Uber, SweetGreen, Rakuten Viber, Zip Recruiter, Twitter, and other well-known brands.
For detailed eCommerce analytics, Mixpanel uses a segmented study of the sales funnel, user behavior, and the effectiveness of various site elements.
Many users appreciate the user-friendly interface of Mixpanel. It allows you to get used to its basic functions in 10-15 minutes.
They would welcome Mixpanel to alert the customer when certain events occur. For example, if the conversion drops by 10%.

edrone is an international company headquartered in Krakow, Poland. The CEO is Michal Blak.
edrone's partners are Niezwiązani, Enterso, Promotraffic, x-kom, and AL.TO.
edrone has a suite of AI-powered eCommerce analytics tools. The platform integrates with most of the well-known marketplaces.
Users note the simplicity of the interface and the overall pleasure of working with the program. Of the shortcomings, sometimes minor software bugs are mentioned.
ChannelApe is a USA company operating under the supervision of Mike Averto.
ChannelApe's customers are Rothy's, Steve Madden, Tuft & Needle, Stasher, Rad Power Bikes, etc.
eCommerce analytics from ChannelApe is based on complex logistics solutions focused on finding the least costly way to deliver goods to the customer.
Users highly appreciate the integrated eCommerce process management engine.
Single negative reviews refer to occasional failures in the service.
7 Best Ecommerce Google Analytics Reports

Enhanced eCommerce Analytics is authentic in many ways. Nobody doubts: Google knows everything about each of us. The stories of how Google trades our data are not told only by the lazy. However, many of Google's unique tools are free, and eCommerce Analytics Reports fall into this category.
Of course, Google Analytics for eCommerce is not easy to read. Most of the eCommerce analytics platforms discussed in the previous section emphasize that their reports are much more transparent than Google Analytics for eCommerce. And at the same time, these programs stress an undoubted advantage that their tools are integrated with Google Analytics.
All in all, it's time to look directly at eCommerce Analytics.
Each eCommerce Analytics dashboard (many among Google Analytics tools) provides a detailed visualized view of the various processes taking place on the site. In particular, the Google Analytics dashboard allows you to both find elements with the highest engagement and detect blind spots.
Let's briefly list the primary report forms available in enhanced eCommerce Google Analytics.
Product performance — report on conversion rates, average prices and deals, etc.
Shopping analysis — researching the shopping cart, the time spent viewing each product, etc.
Product List Performance — this allows you to understand which products provide the best conversion.
Thus, enhanced eCommerce Analytics gives us insight into several critical aspects:
What products influence conversion?
What is the average order value, and what does it depend on?
What are the dynamics of the popularity of our products?
Please be aware, Google Analytics does not provide progressive analytics tools by default. It is necessary to activate them on the Analytics eCommerce dashboard.
For a complete understanding of the enhanced eCommerce Analytics arsenal, you should look at the Solution Gallery, which contains a variety of report templates in different directions.
Pay attention to the following:
Customer acquisition report.
Segmented transaction report.
Income from referral traffic.
Paid and organic search reach.
User flow.
Stream of goals
Channel-segmented traffic analysis.
Of course, every eCommerce Analytics tool provides tons of unique information to help you optimize a website. However, only the use of a few eCommerce analytics solutions provides a true breakthrough effect.
Ecommerce Analytics Practices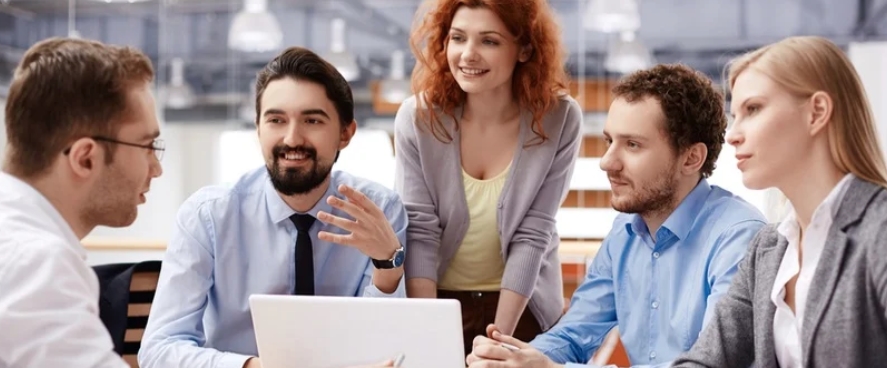 Here are just two figures. Eight out of ten site visitors leave the site if they find navigation inconvenient. 40% of them will never return to this site. Even if it offers the product they want, they will prefer to buy it elsewhere through the eCommerce system.
In short, you rarely get a second chance to create an excellent first impression in your area of eCommerce.
To get the answers you need, you need to formulate questions correctly. Try to figure out the following with enhanced eCommerce Analytics:
What promotion channels did you use to get the most significant influx of customers?
Which promotional campaigns have brought the buyer to one level or another of the sales funnel?
Due to which campaigns did the buyer get right to the checkout?
At what stage do visitors drop out of the sales funnel?
What are the reasons that a visitor does not make a purchase?
Which devices generate the most customer traffic?
How easy is it for my visitors to find the product they were looking for through the search engine on the landing page?
Keep in mind, up to 60% of all online purchases happen due to search engines. And analytics tools will help you to optimize it.
Check weekly that your website is compliant with Google's search algorithms. These structures are constantly being improved. Don't forget that WordPress, which your site is probably written in, regularly releases new plugins to better reflect in searches. Always be aware of these updates to improve an eCommerce business.
Your site's internal search engine must also meet all the requirements we discussed concerning optimizing the store's code.
Deep eCommerce analytics will also help you figure this out using the tools we talked about.
Take into account possible errors and typos in the name of your product that a potential buyer may make, especially if they are a foreigner. These incorrect variants should also lead them precisely to your virtual counter.
The number of metrics you can track with enhanced eCommerce Analytics is surely limitless. To not drown in this sea, determine the optimal tools that will allow you to take practical steps right away. Tackle the strategy when you are confident about the current conversion rate of a website using various analytics tools.
In addition to defining a set of metrics, tell yourself what you are supposed to do next with this eCommerce data. Take a look at this shortlist.
Website conversion rate. Let's say it is five percent. Find out where the remaining 95% is lost between a Google search and a checkout point and how to direct them into a direct tunnel from the search page to transferring money to your account.
Average order value. Imagine, there are cases when the conversion rises, but the income stagnates or even falls. If the average customer spends less in your store than before, it's worth discovering why.
Day and time of purchasing. See when your store has an influx of customers and only hears an echo in empty halls. What influences the curve? A lack of targeted advertising? Or perhaps you need to pay more attention to seasonal changes in demand?
Visitors' loyalty. How often do customers who have once bought something return to your eCommerce website? Is their average purchase increasing?
You can continue this list as much as you like. However, this is most likely enough to comprehend how you may get fuel for tactical decisions and strategic plans by interpreting enhanced eCommerce Analytics data.
The main thing is to remember: optimizing your website is a daily process. An online store can never be so good that it has nothing to improve.
Before we say goodbye
We started this blog by saying that there are a bunch of eCommerce analytics platforms on the Internet. They might differ in interface complexity, specialization, and depth of analysis. It is up to you to decide which of these tools will be your favorite. Or maybe you'll select some useful analytics tools and conjoin several approaches. The major point is to start working on it right today.