Conversion rate is a metric that shows what percentage of customer interactions resulted in conversions. To calculate it, you need to divide total conversions by total interactions and multiply by 100%.
Top inquiries about improve eCommerce conversion rate:
How to improve eCommerce conversion rate?
Which two actions are most likely to improve a landing page conversion rate?
How to improve landing page conversion rate?
Why do data analytics improve conversion rate?
How long does it take to improve conversion rate?
How do i improve digital funnel conversion rate?
The type of conversions and interactions depend on what conversion rate you want to measure. If, for example, you calculate an eCommerce conversion rate, you need to divide total store transactions by total visits. Hence, when customers make 200 visits to your eCommerce website and five purchases, the conversion rate is 2.5%.
eCommerce conversion rate = Total transactions/Total visits * 100%
Would you like to know what conversion rate is normal for your industry? Find the overview and tips to improve conversion rates below.
Average eCommerce Website Conversion Rate
Average indicators are helpful to compare your conversion rates with competitors and understand whether you are on the right track. eCommerce conversions greatly vary by industry, country, device, and payment type.
eCommerce Conversion Rate by Industry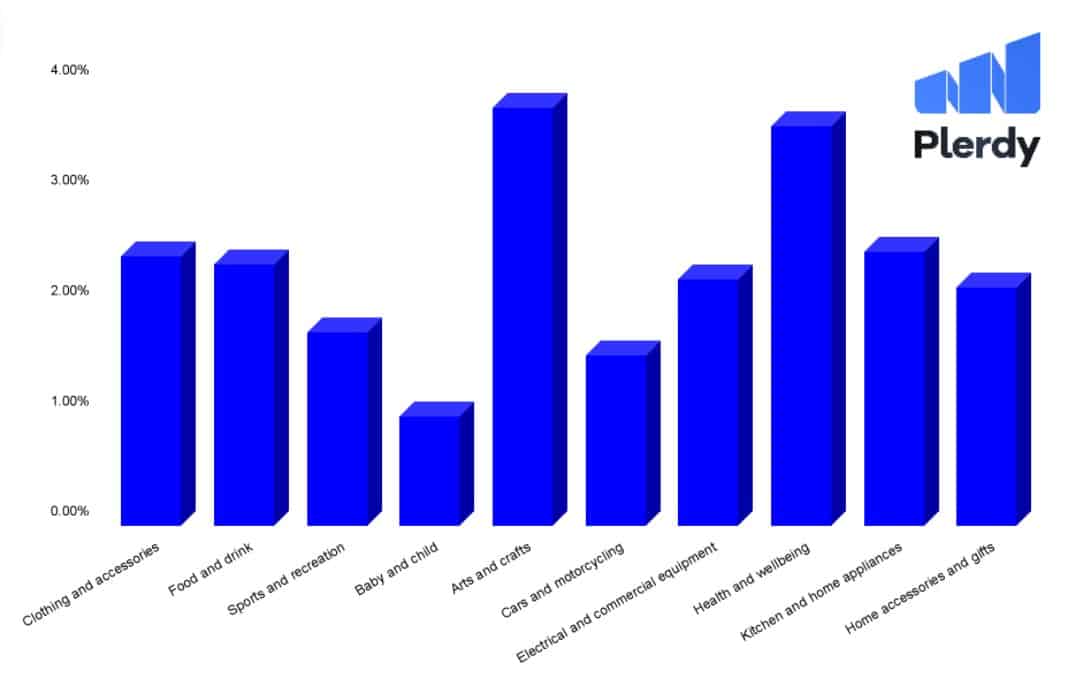 Some products consumers are more likely to purchase than others. According to recent data, it affects the average rates by industry in the following ways:
Clothing and accessories: 2.44%
Food and drink: 2.37%
Sports and recreation: 1.75%
Baby and child: 0.99%
Arts and crafts: 3.79%
Cars and motorcycling: 1.55%
Electrical and commercial equipment: 2.23%
Health and wellbeing: 3.62%
Kitchen and home appliances: 2.48%
Home accessories and gifts: 2.16%
Hence, if you work in any of these fields, now you can see how your competitors perform. A low conversion rate in one niche may be enough in another.
eCommerce Conversion Rate by Country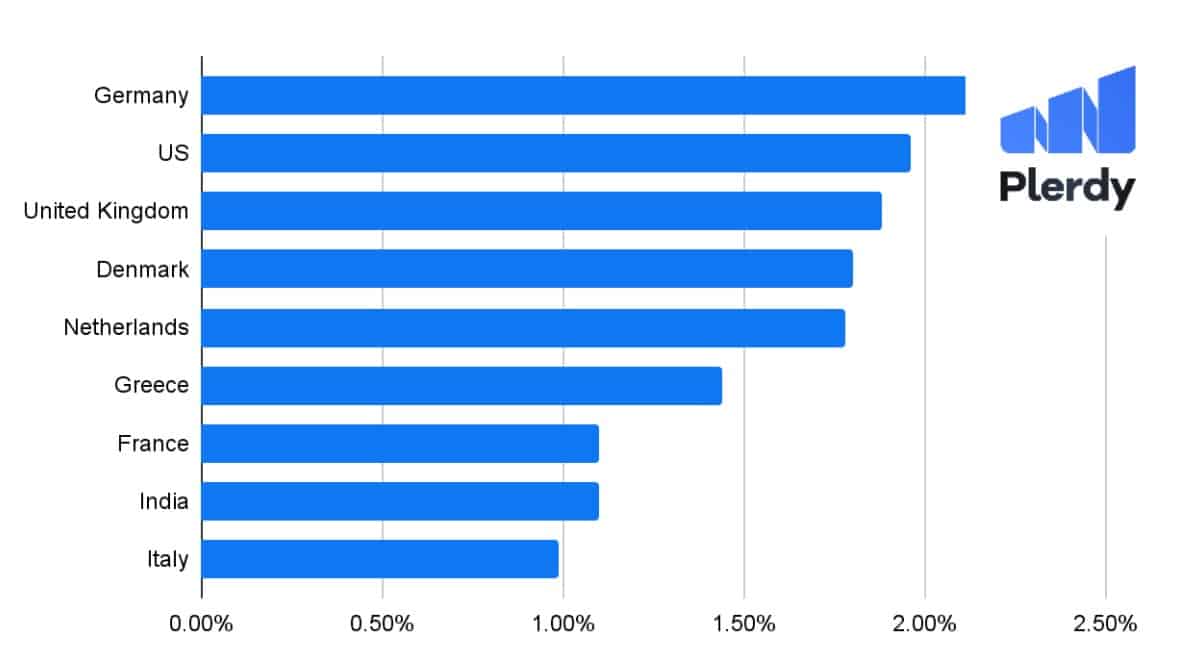 The place where you offer products is another factor that may impact e-commerce conversion rates. For example, Germany has a higher conversion rate than the US, whereas, in Italy and India, people buy less than in most other countries.
Here are eCommerce rates for some countries to guide you:
Germany: 2.22%
US: 1.96%
United Kingdom: 1.88%
Denmark: 1.8%
Netherlands: 1.78%
Greece: 1.44%
France: 1.1%
India: 1.1%
Italy: 0.99%
eCommerce Conversion Rate by Device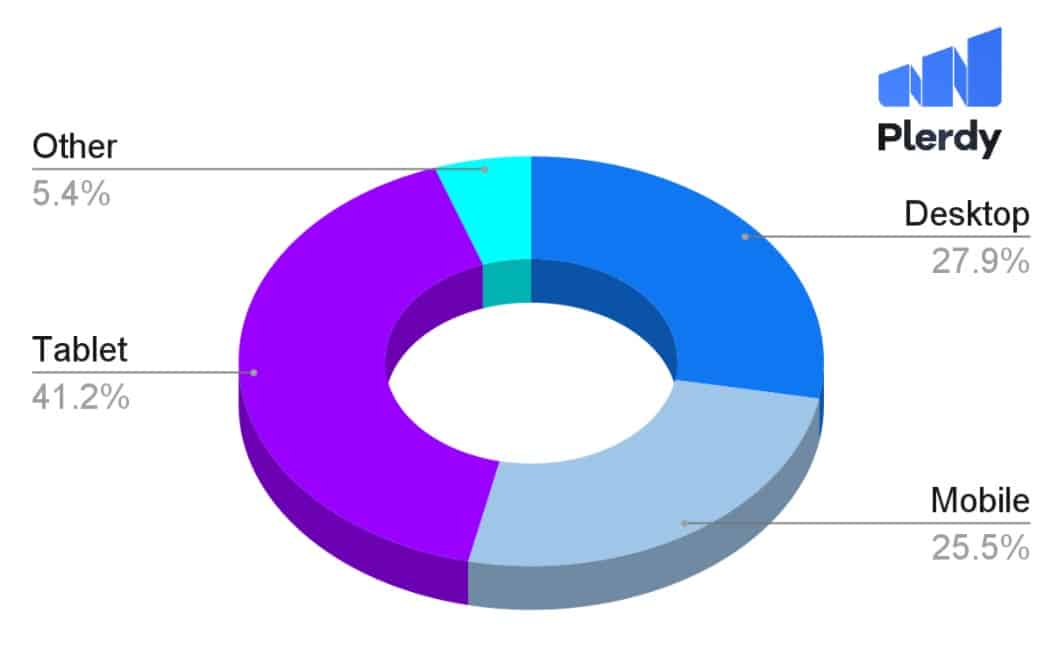 Even though mobile devices are growing, many people still place orders and convert traditionally. The percentage of conversions of mobile devices remains lower than on desktops or tablets. Here is the global data for 2020:
Desktop: 1.98%
Mobile phone: 1.81%
Tablet: 2.92%
Other:0.38%
In the US, the conversion rates on different devices are similar to global indicators, whereas, in Great Britain, they are slightly higher. Besides, the operating system also affects conversions. Windows users convert more often (4.94%) than Android (1.79%) or iOS (1.88%).
eCommerce Conversion Rate by Payment
Consumers usually choose between their banks and online payment systems like PayPal when it comes to payment. According to PayPal, the checkout conversion of PayPal transactions is 70% higher than its alternatives.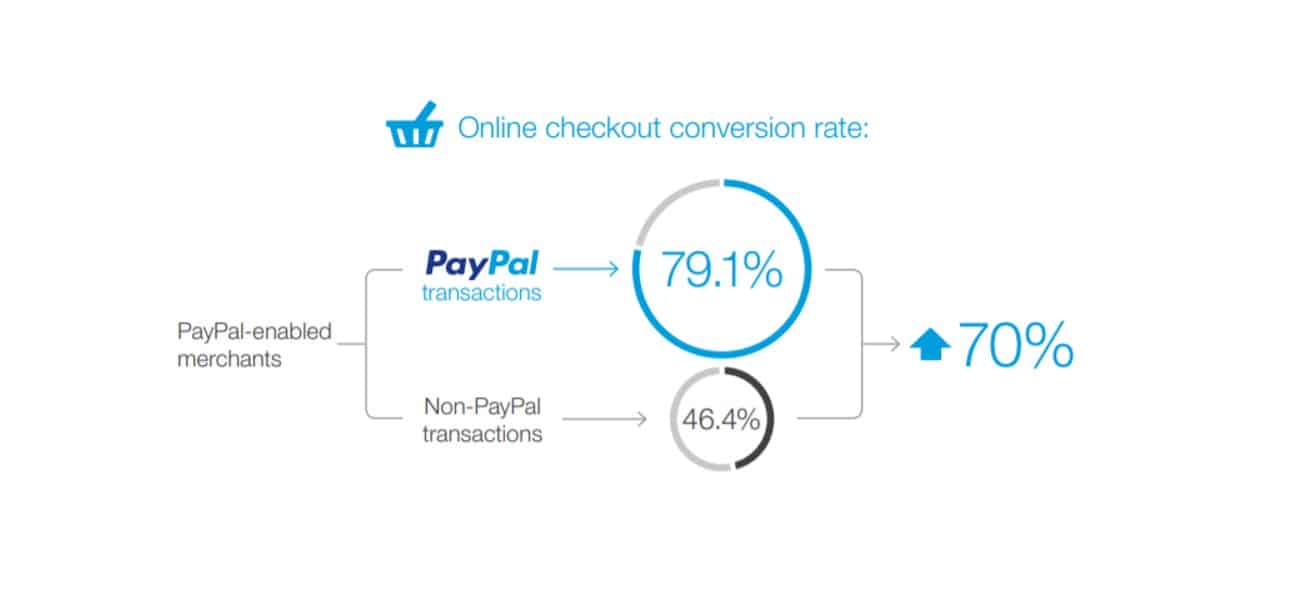 Hence, the convenience of the payment method offered by an eCommerce business partially determines how many people convert.
Good eCommerce Conversion Rate
As you can see from the statistics in the previous section, the average eCommerce rate fluctuates between 1 and 3%. It means that about 30 people from 1000 visitors place an order.
So how to figure out what conversion rate is high for your business? We recommend competing against yourself rather than competing against other companies in the niche. You can never be sure what stands behind their key performance indicators and how to do better than them. Every business has a unique development path and obstacles to overcome.
Therefore, if you want to reach the best rates for your brand, start by measuring what you have. Calculate conversion rates for various devices, locations, payment systems, traffic sources, etc., for the last three months. Then, take steps to encourage more customers to convert. In three months, you will need to calculate the conversion rates once more to see if the changes yield any results. If conversion rates don't change or decrease, you must analyze the possible reasons and troubleshoot. An increase in conversion rates means your efforts are effective, and you should continue to work in the same direction. Working on yourself is the only reliable way to reach the best eCommerce conversion rates for your business.
9 Ways to Improve eCommerce Conversion Rate
In this section, we have collected tips on detecting conversion issues and fixing them. Use these methods to grow your eCommerce profit.
#1. Improve Conversion Rate by Analyze Heatmap
Connect heatmaps to your eCommerce website to see how people interact with its elements and where they get stuck. By detecting bottlenecks, you can remove them and improve the user experience. Better UX facilitates conversions. Watch a practical guide on how to analyze user experience with heatmaps.
#2. Improve Conversion Rate by Analyze Video Sessions
Video sessions are recordings of the most critical moments of the user's navigation path. Instead of data on clicks or scrolls, you see how people behave naturally. It allows you to spot the problems you wouldn't notice otherwise. Hence, video sessions are an essential addition to heatmaps and other tools collecting data on customer interactions.
#3. Improve Conversion Rate by Reduce the Number of Steps
Never make customers do things that are not mandatory. Save their personal information, contacts, and payment details to prefill data when buyers reach the checkout automatically. Ideally, you should enable one-click order. Thanks to this, people are less likely to bounce on their way to conversion.
#4. Improve Conversion Rate by Apply Persuasive Design
Use persuasive design principles to enhance customer experience and boost sales. According to the framing, reciprocity, scarcity, social proof, authority, and other principles, you need to:
Compare two alternative options in an appealing way to make a choice clear
Indicate that the product(s) is in a limited supply to create the feeling of scarcity
Ad social proof and testimonials
Make critical eCommerce website elements the most noticeable
#5. Improve Conversion Rate by Optimize eCommerce Website Speed
Two seconds is an optimum speed for an eCommerce website. If users need to wait for over three seconds, they may leave. Remember that there are many faster alternatives on the market, so you should keep the pace.
#6. Make it Easy to Contact You
Make contact details a separate section on your eCommerce website, or place them at the bottom of the page. They should include all your support channels (email, phone, messengers) and physical address. It increases the brand's authority and allows customers to get in touch with you should they need anything.
#7. Improve Conversion Rate by Set Up A/B Tests
Run A/B testing to see how eCommerce website design changes affect customer behavior and conversions. Tests are the easiest way to evaluate the impact of your conversion optimization efforts.
#8. Improve Conversion Rate by Personalize the eCommerce Website
Offer customers personalized experiences based on their previous activities or characteristics. For example, an eCommerce website may show targeted offers to buyers based on their past purchases or browsing behavior.
#9. Improve Conversion Rate by Segment and Analyze Traffic
Segment your leads into new, returning visitors, returning customers, loyal, and other relevant categories. Such general segmentation already allows sending more personalized messages to enhance conversions. Besides, it will be easier to run a granular conversion rate analysis when you have groups.
Conclusion
Conversion rates are the core metrics for all eCommerce businesses. Hence, you will need to regularly monitor them across different user groups and find ways to optimize conversions.