What should you pay attention to so that you understand how well your business is going on?🧐 Absolutely, your conversion rate❗
A conversion rate in eCommerce is a metric that shows what percentage of customer interactions resulted in conversions. To make the calculation of it, you need to divide total conversions by total interactions and multiply the result by 100%.
Top inquiries about improving eCommerce conversion rate:
How to increase the eCommerce conversion rate?
Which two actions are most likely to increase the landing page conversion rate?
How to increase the landing page conversion rate?
Why does data analytics increase eCommerce conversion rates?
How long does it take to increase the conversion rate?
How do I increase the digital funnel conversion rate?
The type of conversion rates and interactions depend on what conversion rate you want to measure. If, for example, the calculation is about an eCommerce conversion rate, you need to divide total store transactions by total visits. Hence, when customers make 200 visits to your eCommerce website and five purchases, the conversion rate is 2.5%.
eCommerce conversion rate = Total transactions/Total visits * 100%
Would you like to know what conversion rate in eCommerce is normal for your industry?🤔 Find the overview and tips for improving conversion rates below 👇
Average eCommerce Website Conversion Rate
Average indicators in eCommerce are helpful to compare your conversion rates with competitors and understand whether you are on the right track. eCommerce conversion rates greatly vary by industry, country, device, and payment type.
eCommerce Conversion Rate by Industry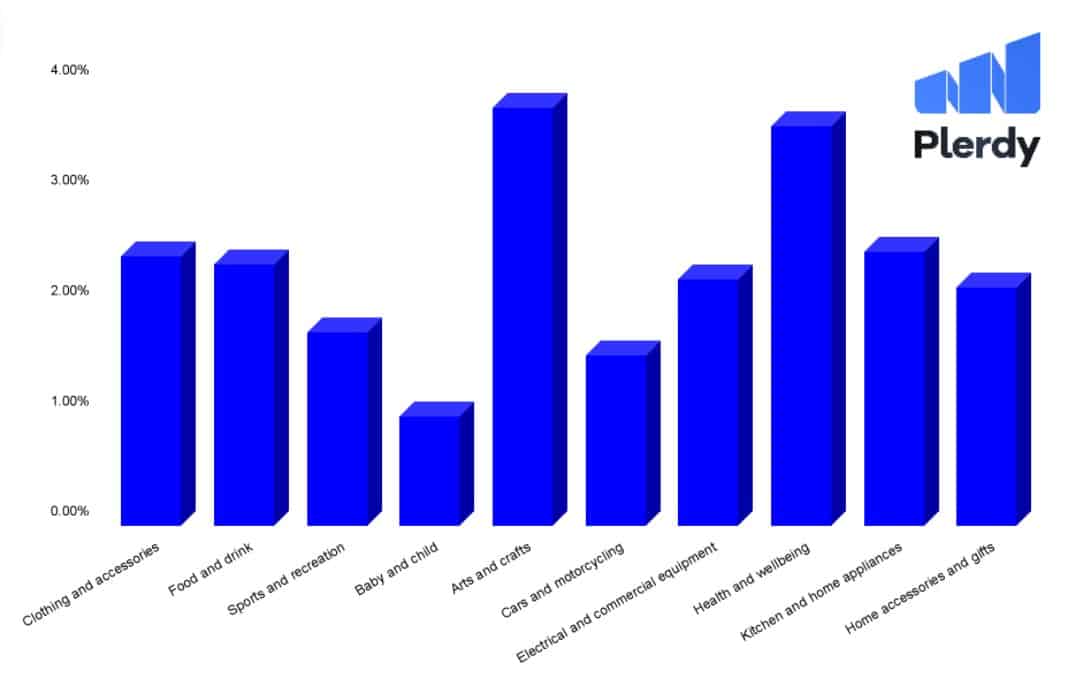 Some products consumers are more likely to purchase than others. According to recent data, it affects the average eCommerce conversion rates by industry in the following ways:
Clothing and accessories: 2.44%
Food and drink: 2.37%
Sports and recreation: 1.75%
Baby and child: 0.99%
Arts and crafts: 3.79%
Cars and motorcycling: 1.55%
Electrical and commercial equipment: 2.23%
Health and well-being: 3.62%
Kitchen and home appliances: 2.48%
Home accessories and gifts: 2.16%
Hence, if you work in any of these eCommerce fields, you can now see how your competitors perform. A low eCommerce conversion rate in one niche may be enough in another.
eCommerce Conversion Rate by Country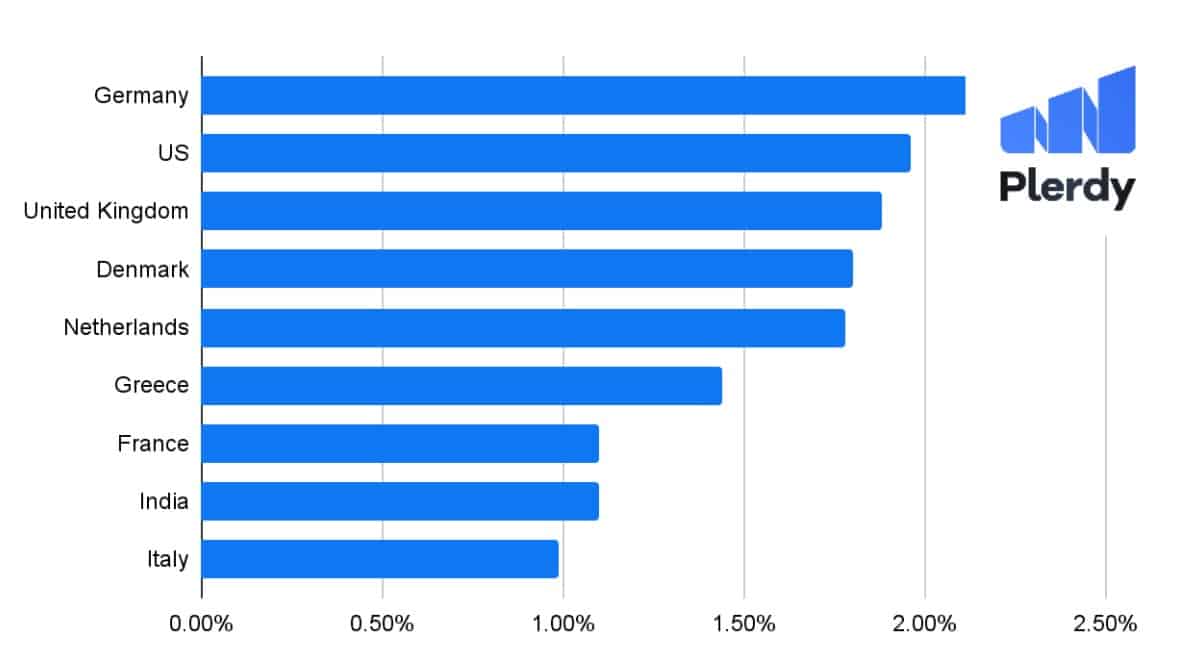 The place where you offer products is another factor that may impact eCommerce conversion rates. For example, Germany has a higher conversion rate than the US, whereas, in Italy and India, people buy less than in most other countries.
Here are eCommerce rates for some countries to guide you:
Germany: 2.22%
US: 1.96%
United Kingdom: 1.88%
Denmark: 1.8%
Netherlands: 1.78%
Greece: 1.44%
France: 1.1%
India: 1.1%
Italy: 0.99%
Specialists should consider this data when defining in what region they are going to work. And that choice will influence further work on conversion improvement.
eCommerce Conversion Rate by Device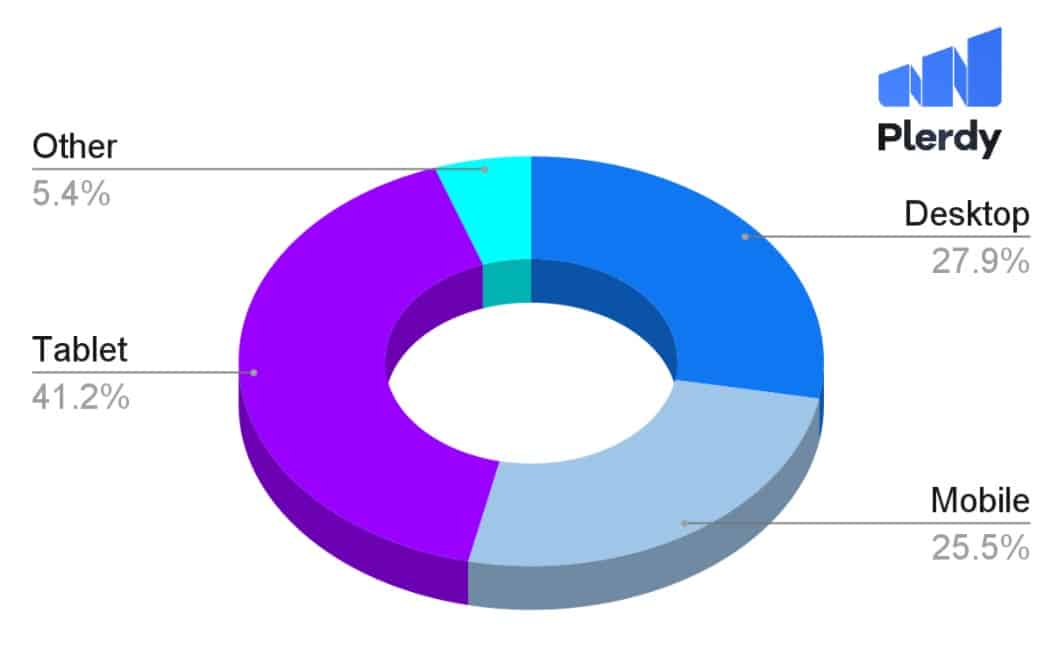 Even though mobile devices are growing, many people still place orders and convert traditionally. The percentage of conversion rates on mobile devices remains lower than on desktops or tablets. Here is the global data for 2020:
Desktop: 1.98%
Mobile phone: 1.81%
Tablet: 2.92%
Other: 0.38%
In the US, the eCommerce conversion rates on different devices are similar to global indicators, whereas, in Great Britain, they are slightly higher. Besides, the operating system also affects eCommerce conversion rates. Windows users convert more often (4.94%) than Android (1.79%) or iOS (1.88%).
eCommerce Conversion Rate by Payment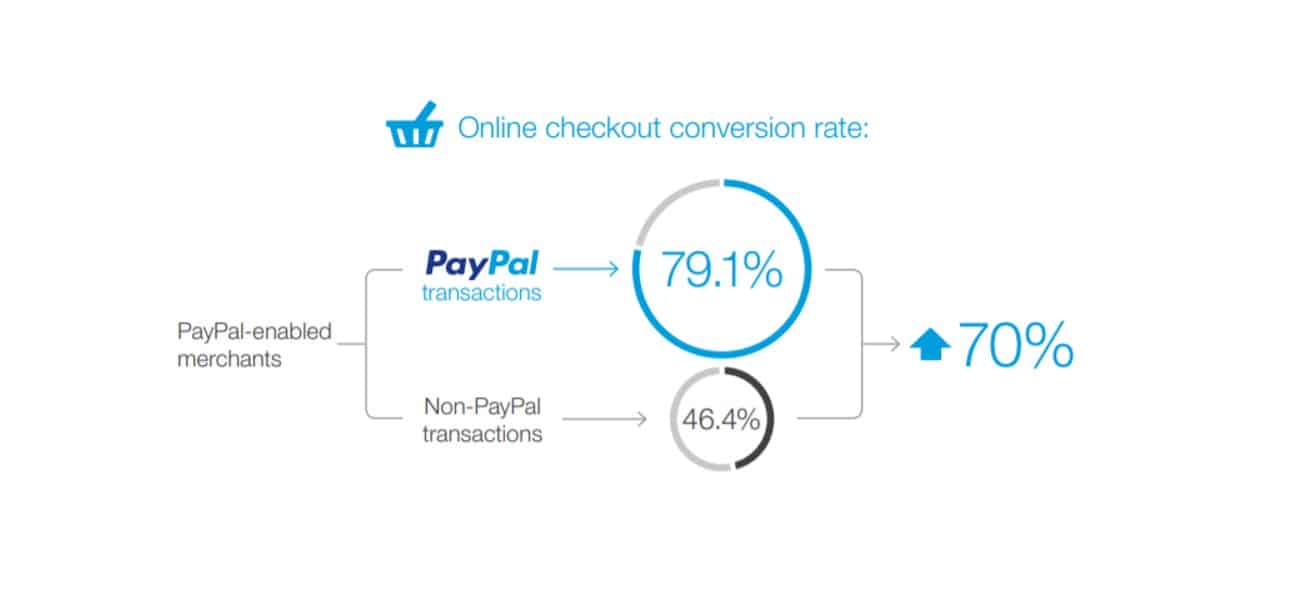 Consumers usually choose between their banks and online payment systems like PayPal when it comes to payment. According to PayPal, the checkout conversion rate of PayPal transactions is 70% higher than its alternatives.
Hence, the convenience of the payment method offered by an eCommerce business partially determines how many people convert.
Good eCommerce Conversion Rate
As you can see from the statistics in the previous section, the average eCommerce conversion rate calculation fluctuates between 1% and 3%. It means that about 30 people from 1000 visitors place an order.
So how to figure out what eCommerce conversion rate is considered high for your business? I recommend competing against yourself rather than competing against other companies in the niche. You can never be sure what stands behind their key performance indicators and how to do better than them. Every eCommerce business has a unique development path and obstacles to overcome.
Therefore, if you want to reach the best eCommerce conversion rates for your brand, start with the calculation of what you have. Calculate eCommerce conversion rates for various devices, locations, payment systems, traffic sources, etc., for the last three months. Then, take steps to encourage more customers to convert. In three months, you will need to make the calculation of the conversion rates once more to see if the changes yield any results. If conversion rates don't increase or decrease, you must analyze the possible reasons and troubleshoot the issues. An increase in conversion rates means your efforts are effective, and you should continue to work in the same direction. Working on yourself is the only reliable way to increase eCommerce conversion rates for your business.
Why is a Conversion Rate So Important for eCommerce?
Today, more than ever, people are choosing to shop online, and the share of eCommerce sales in total retail is growing worldwide. In China and the UK, the world's two largest eCommerce markets, these figures are currently 15.9% and 14.5%, respectively.
Additional benefits of website conversion rate optimization include:
Become familiar with users. CRO experiments in increasing the eCommerce conversion rate assist in identifying the precise factors that spur website users to take particular targeted activities and those that, on the contrary, deter them.
Minimize expenses. With eCommerce conversion rate optimization, you can accomplish your business objectives more quickly and boost ROI.
Enhance the user experience. By considering user convenience, you increase the appeal of your website to both users and search engines.
Therefore, it is becoming increasingly important for businesses to implement effective CRO strategies and track their online performance to increase the eCommerce conversion rate and stay at the top.
9 Ways to Improve the eCommerce Conversion Rate
In this section, I have collected tips on detecting eCommerce conversion rate issues and fixing them. Use these methods to increase your eCommerce profit.
#1. Improve the Conversion Rate by Analyzing Heatmaps
A heatmap is a visualization of statistics on the most clicked elements on the website. It shows the buttons, icons, or banners that visitors interact with most often, as well as "dead zones", clicks on links, and ad units. The heatmap is used for design, UX testing, and for increasing conversion rates. The heatmap shows whether the design of the product is comfortable and meets expectations.
#2. Improve the Conversion Rate by Analyzing Video Sessions
Simply said, user session analysis is a powerful tool that is often used when building a user activation strategy for a product. It allows you to look at the product through the prism of a specific user's experience and see exactly how they moved from the moment they started using it to realizing the value and forming a habit. These entries can be of paramount importance when you are looking for usability issues on your website. Now you better understand where and why clicks occur, where users get stuck on the web page, and what you can do to improve their experience.
#3. Improve the Conversion Rate by Reducing the Number of Steps
Websites are guided by two opposite approaches in terms of the content itself and UX texts. The first focuses on conciseness – you need to make any process (filling out a form, subscribing, creating an account, etc.) as short and simple as possible. The longer the conversion chain, the more difficult it is for a person to go through it completely. So remove unnecessary steps. Provide a potential customer with the opportunity to buy a product in 1 click – this will save you from the steps "Add product to cart", "Go to cart", "Click on the Buy button", "Proceed to payment", etc. Users appreciate such care.
#4. Improve the Conversion Rate by Applying a Persuasive Design
For a marketer, an eCommerce conversion rate means persuading a visitor to do one single thing. Now almost all digital and offline products use design principles based on persuasive design. They are built on a similar model that hooks users. The model includes three sequential steps for habit formation: trigger, action, and reward. This principle is used everywhere when we watch TV shows, movies, and sports events on our devices so that we do not stop watching, reading, and scrolling.
No external links or navigation to interrupt the flow. No distractions or rabbit holes for potential buyers to slip into. Only one clear path to accomplish one goal of the campaign. Therefore, potential buyers can take what they came for and leave.
#5. Improve the Conversion Rate by Optimizing your eCommerce Website Speed
Insufficient conversions in eCommerce can simply result from a delayed loading time. Even if the offer and the page's content are as alluring as they possibly can be, the issues with loading and interactivity will prohibit users from interacting with the website and taking any action. To fix the issues with layout stability, interaction, and speed of the first render, increase the frequency of verifying your pages' core web indicators (Core Web Vitals).
#6. Make it Easy to Contact You
It is obligatory to have a "Contacts" page on the eCommerce platform, where you need to indicate:
a phone number (preferably not one, but if there are different departments, indicate the phone numbers for the departments),
an email,
an address,
your work schedule,
a mark on the maps,
an explanation of how to get there or where the entrance is if necessary.
Add a request form with an offer to call the client back if it's not during business hours. Duplicate the phone number and hours of operation (for visitors to know when you can be reached) in the footer and header of the website to increase eCommerce conversion rates.
#7. Improve the Conversion Rate by Setting Up A/B Tests
The most common method of testing hypotheses to increase rates in eCommerce is split testing, in which one-half of the visitors see an updated version of the page while the other half see the original. A/B/n testing, which involves concurrently testing more than two versions, is also an option, although it will take longer to obtain useful findings. Numerous tools exist for testing hypotheses, including free options like Google Optimize. They can employ either a frequentist or a Bayesian approach; both produce forecasts and calculations based on a sample size large enough to allow for analysis (i.e., adequate traffic). But the second method incorporates new data as soon as it becomes available.
#8. Improve the Conversion Rate by Personalizing your eCommerce Website
Analyze the behavior of a particular user on your eCommerce website and make the calculation of their previous requests and clicks. Offer something they are really interested in. For example, add a personalized block with new products or product recommendations for each specific user. You can do this in special services to increase the rates.
#9. Improve the Conversion Rate by Segmenting and Analyzing Traffic
Check the data in Google Analytics for the individual pages you intend to optimize, including traffic volume, visitor demographics, data on visits from various devices, etc. With Google Analytics conversion statistics, you can see how many conversions each page receives, where users are coming from, who is performing the intended action, etc.
Working on increasing conversions is a more correct and inexpensive option than investing in attracting new customers. You can not work with business efficiency at all, but then, even if you start getting more customers, you'll also get an increased number of dissatisfied and lost customers. Ultimately, you still have to start working on efficiency. This is exactly why you need to use our 9 ways to improve the conversion rate.
Conclusion
Conversion rates are the core metrics for all eCommerce businesses. Hence, you need to regularly monitor them across different user groups and find ways to increase conversions on your website 📈