Welcome to your go-to guide for the finest ecommerce SEO services of 2023! ⚡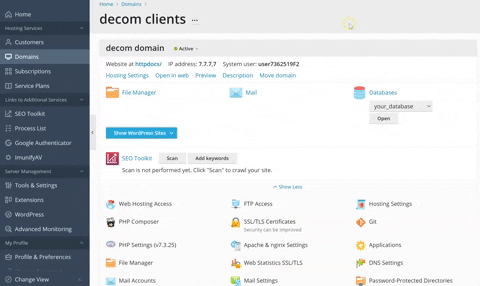 Ecommerce and SEO go hand in hand. If you're sailing the digital commerce seas – from the shores of high fashion to the depths of gourmet food delivery – SEO is your compass, guiding you to online visibility, organic traffic, and booming sales.
Striking gold in the ecommerce landscape isn't about chance – it's about strategy, implemented through premium SEO services:
Comprehensive keyword research and optimization ?
Streamlined site structure for effortless navigation ?️
High-quality backlink building for boosted authority ?
Mobile optimization for the ever-growing smartphone user base ?
Local SEO for businesses rooted in specific locales ?
Additionally, supercharge your ecommerce journey with Plerdy, an impressive tool engineered for SEO & UX optimization. With Plerdy in your digital toolkit, expect a smooth sailing journey to the top of search engine rankings!
Dive right in to discover the crème de la crème of ecommerce SEO services. Let's set the sails and navigate your business through the vast ocean of ecommerce success! ?⛵
Understanding Ecommerce SEO in 2023
In 2023, understanding SEO is paramount for eCommerce gurus striving to skyrocket sales and bolster their brand's digital footprint. The SEO landscape is evolving at breakneck speed, but hold your horses — keeping up isn't rocket science.
Let's kick off with on-page optimization: Google's Page Experience Update is now in full swing, meaning an eCommerce site needs to be snappy and user-friendly. Consider your site a customer magnet — but with a twist! Nowadays, it's not just about killer content; you need to fine-tune mobile responsiveness, core web vitals, and hyper-secure HTTPS.
Dig into your niche for inspiration:
Home decor: Exquisite imagery paired with compelling product stories ensures interior fans flock to your store.
Fitness gear: Harness video content showcasing pro-athletes drenched in sweat using your equipment. Inspire, don't just sell.
Beauty products: Tap into influencer marketing, and let an Instagram sensation rave about your products.
On the service front, chatbots and customer service automation are paving the way for seamless shopping experiences.
Don't get bogged down with SEO; keep tabs on the market pulse and embrace marketing tools that speak to your audience. Pepper your strategy with innovation and authenticity, and your eCommerce brand will thrive in 2023 and beyond.
Essential Elements of Ecommerce SEO
For your online store to outshine competitors in the digital sphere, it requires strategic implementation of several core SEO elements.
Robust Site Architecture: Your online store must have an intuitive, easily navigable site structure. This ensures search engine bots can crawl your site efficiently, enhancing visibility.
Keyword Optimized Product Descriptions: Craft compelling, keyword-rich product descriptions. This can guide more organic traffic to your site and convince potential buyers to click 'Add to Cart'.
Optimized Meta Tags: Title tags, meta descriptions, and alt tags should be optimized with relevant keywords. They provide context about your webpage to search engines and users.
High-Quality Backlinks: These are the internet's vote of confidence in your site. Obtaining them from reputable sources can significantly boost your site's authority in the eyes of search engines.
Mobile Optimization: Ensure your site is mobile-friendly. The majority of online shoppers use mobile devices, so catering to this segment can amplify your visibility and conversions.
Your Route to Ecommerce SEO Success
Successful ecommerce SEO is no walk in the park – it demands strategy, time, and ongoing effort. But the rewards – increased visibility, organic traffic, and sales – make it worth the investment. Tailoring your approach to your specific industry can significantly enhance the effectiveness of your ecommerce SEO strategy. The 'Fashion Forward' example proves that a strong ecommerce SEO strategy is essential to online success. By implementing these best practices, your online store can flourish in the ever-evolving digital marketplace.
The Upper Echelon of Ecommerce SEO Services
Standing out in the vast digital marketplace is like finding a needle in a haystack. This is where high-quality ecommerce SEO services come into play. They weave together intricate strategies to elevate your online store's visibility, drive organic traffic, and amplify sales. Here's a snapshot of top-notch ecommerce SEO services:
Keyword Research and Optimization: Comprehensive research to identify industry-specific keywords and infuse them into your site content.
Site Structure Optimization: Enhancing your site's architecture to ensure a seamless user experience and efficient crawling by Google bots.
Backlink Building: Accumulating high-quality backlinks from reputable sources to boost your site's credibility.
Mobile Optimization: Tailoring your site to be mobile-friendly, catering to most online shoppers who use mobile devices.
Local SEO: Optimizing your site for local searches is essential for businesses with physical stores and their online presence.
Prime Example of Ecommerce SEO Services: Food Delivery Niche
Consider 'GrubSpeed', a rising star in the food delivery niche. To outpace the competition, they enlisted the help of a reputable SEO service provider. The SEO experts dove deep into keyword research, picking out high-traffic phrases like "fast food delivery" and "best sushi nearby". These keywords were strategically sprinkled throughout the site – in product descriptions, blog posts, and meta tags.
The experts also revved up the site's structure, streamlining the navigation and ensuring the pages loaded quickly. They worked diligently to accumulate high-quality backlinks from culinary bloggers and food review sites, bolstering the site's authority.
Recognizing the growing trend of mobile users, they transformed 'GrubSpeed' into a mobile-friendly platform. Lastly, they optimized the site for local searches, ensuring that if someone searched for "food delivery in Los Angeles", 'GrubSpeed' would be among the top results.
Examples of Ecommerce SEO Packages
Ecommerce SEO packages blend various services tailored to different business needs and budgets. Here are examples of what such packages might include:
Starter Package 1000 USD: Ideal for small businesses and startups, it includes basic keyword research, meta tag optimization, and mobile optimization.
Growth Package 3000 USD: Designed for medium-sized businesses seeking to expand their digital footprint. It includes all Starter package services, backlink building, and local SEO.
Accelerate Package, start at 5000 USD: Crafted for established businesses ready to dominate the digital landscape. This package offers comprehensive services, including advanced keyword research and extensive backlink building.
Each package caters to a different stage of business growth, ensuring every online store, regardless of size or industry, can reap the benefits of ecommerce SEO.
Whether you're a small-scale online boutique or a large ecommerce platform, navigating the labyrinth of SEO is integral to your digital success. Your online store can stand tall in the bustling digital marketplace by leveraging top-tier ecommerce SEO services, like site structure optimization and backlink building. The example of 'GrubSpeed' demonstrates the power of a robust SEO strategy, an instrumental factor in the burgeoning success of any ecommerce venture. Offering various ecommerce SEO packages, SEO service providers ensure that businesses at different growth stages can harness the power of SEO, fostering their digital growth and expansion.
Top Ecommerce SEO Services in 2023
Hold on tight as we take a trip through the best of the best in ecommerce SEO services that will illuminate the digital sky in 2023. As we pull back the curtain, you'll discover standout services, each offering a unique blend of expertise and innovation to drive your online venture into the fast lane. It's a whirlwind tour of digital mastery designed to turn your ecommerce dreams into a dazzling reality.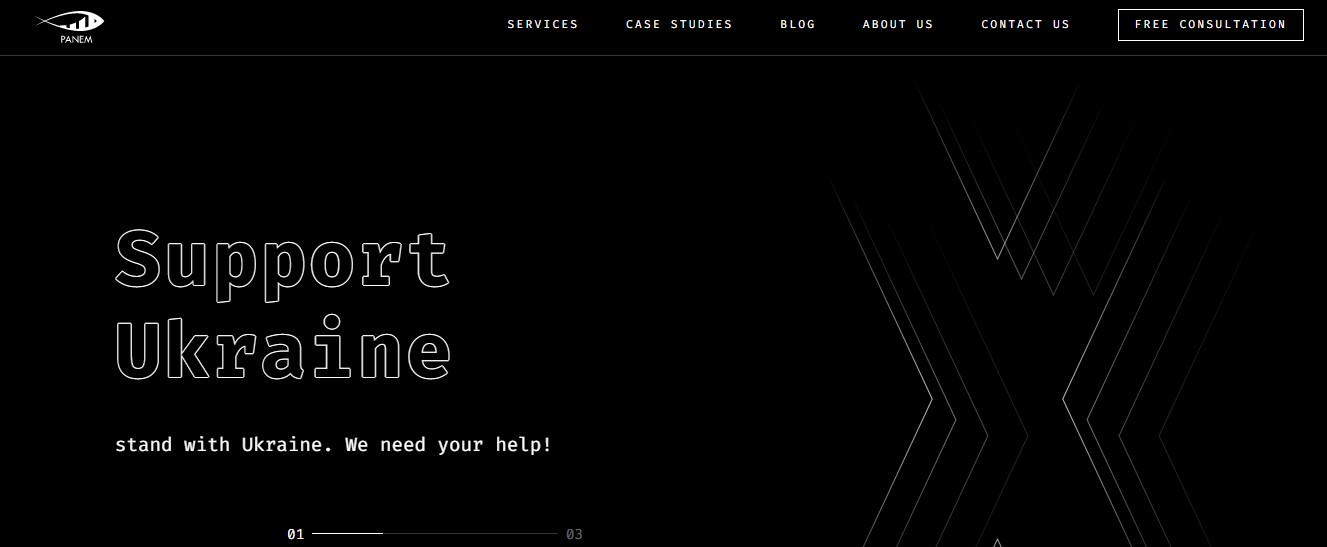 Panem Agency bursts onto the eCommerce stage, brandishing SEO and marketing expertise like a maestro wielding a conductor's baton. With finesse, they orchestrate symphonies of success for online businesses hungry for digital supremacy.
One case study of Panem Agency's wizardry showcases a mind-boggling transformation of an artisanal coffee brand. Through a potent brew of SEO strategies, Panem Agency propelled the brand into the limelight, where it basked in the adoration of coffee lovers.
Let's unravel this extraordinary tapestry SEO:
Organic Backlinks: Panem Agency brewed a rich blend of backlinks from authoritative coffee blogs, injecting the brand into conversations among caffeine connoisseurs.
Ecommerce Content Optimization: The aroma of freshly ground coffee was virtually palpable through their captivating content, ensnaring readers' senses.
Local SEO Integration: Panem Agency made sure the brand dominated locally, becoming the talk of the town among coffee lovers.
Moreover, Panem Agency's customer-centric approach seamlessly knitted together the brand's narrative with eCommerce strategies that resonated personally. Their marketing prowess infused the brand with an aura of authenticity that was simply intoxicating.
Panem Agency doesn't just elevate your brand – they transport your eCommerce venture into an odyssey of unbridled triumph. It's like riding a cresting wave of success with the grace of a seasoned surfer. Engage with Panem SEO Agency, and unleash an epic saga for your brand.

Netrocket zips to the forefront as an ace in the eCommerce landscape, wielding SEO and marketing expertise to turbocharge online businesses. With a potent concoction of services, Netrocket lays the red carpet for your eCommerce venture to bask in the spotlight.
Case in point: Netrocket's SEO case study divulges how they morphed an apparel brand into an online sensation. By unleashing a battalion of SEO strategies, Netrocket propelled this brand's visibility, engagement, and – wait for it – revenue!
Check out the SEO strategies that took center stage:
Backlink Building: Crafting a network of authoritative links, Netrocket showcased the apparel store as the go-to destination for fashion connoisseurs.
On-Page Optimization: Laser-focused on creating content that's music to the ears of both customers and search engines, Netrocket hit the bullseye.
Technical SEO: To ensure no speed bumps on the road to success, Netrocket fine-tuned the site's performance to a tee.
Netrocket's service didn't just stop at SEO – marketing prowess turned this campaign into a juggernaut. Utilizing social media, influencer partnerships, and email marketing, they cultivated a genuine customer base yearning for the next big trend.
In a nutshell, Netrocket's expertise sets your eCommerce ship sailing smoothly, navigating the rough seas of competition with finesse and vigor. Seize the day with Netrocket – where SEO and marketing meet supremacy.
3. Admix Global – Editorial Link Building

Admix Global emerges as a titan in Editorial Link Building, infusing eCommerce businesses with the SEO prowess they need to take the digital sphere by storm. With an astute grasp of search engine algorithms, Admix Global crafts high-quality backlinks that catapult your online store onto the coveted first page of search results.
In a case study showcasing its finesse, Admix Global reinvented a niche skincare brand's digital presence. Their secret sauce? Editorial Link Building on steroids.
Let's dive into the nitty-gritty:
Quality Content and Backlinks: Admix Global hit a home run by crafting captivating content and securing backlinks from reputable beauty blogs, turning the brand into a skincare sensation.
Social Media Amplification: They didn't just stop there; leveraging social media created a buzz with customers swarming like bees to honey.
Email Marketing Campaigns: Through personalized email campaigns, they locked in customer loyalty and fueled repeat purchases.
But Admix Global's marketing mastery didn't stop there. They deftly integrated SEO and content marketing to paint an enticing portrait of the brand, while still keeping things real.
In a nutshell, with Admix Global, you're not just throwing a fishing line into the vast ocean of eCommerce – you're wielding a magnet that irresistibly draws in your target market. This is where unbridled SEO genius and marketing wizardry forge an indomitable force in eCommerce ascendancy.

Funnel Boost Media, a titan in the eCommerce landscape, knows how to whip up a storm with their trailblazing SEO and marketing strategies. They have an uncanny ability to sculpt digital pathways that funnel traffic right into the heart of your online store.
In a riveting case study, Funnel Boost Media catapulted a fledgling fashion brand into the limelight. With threads woven from the fabric of SEO ingenuity and marketing alchemy, they tailored a digital ensemble that was both chic and captivating.
Let's unravel this SEO masterpiece:
Keyword Couture: They stitched together an elegant tapestry of high-impact keywords that made the brand pop in search results.
Social Media Swagger: By dazzling the social media runway with the brand's collection, they captured the imagination of the fashion-savvy crowd.
Email Marketing Magic: They spun threads of personalized emails into a warm quilt of customer loyalty.
Moreover, Funnel Boost Media employed agile SEO strategies that nimbly adapted to the dynamic terrain of search engines. They took advantage of local search engine optimization's low-hanging opportunities to boost the brand's visibility in the community.
In a nutshell, Funnel Boost Media doesn't just boost – it propels eCommerce businesses into a trajectory of digital splendor with panache. Partner with them, and do your business with the digital equivalent of haute couture.

Sure Oak, a powerhouse in the SEO arena, thrives on sprouting mighty oaks from tiny acorns. With their cutting-edge eCommerce SEO strategies, they harness the essence of digital acumen to foster growth in the wild jungles of online retail.
One riveting case study that showcases Sure Oak's prowess revolves around an artisanal tea brand, TeaCraft. This blossoming enterprise had the spirit but lacked the digital gusto to steep in customer loyalty.
Sure Oak brewed a sumptuous blend of tactics:
Backlink Alchemy: Crafting golden backlinks, they infused TeaCraft's online presence with credibility and robust SEO rankings.
Keyword Craftsmanship: Tailored keywords were steeped into TeaCraft's content, turning it into an irresistible brew that lured in connoisseurs.
Conversion Rate Optimization: Optimizing the eCommerce portal, they ensured every customer relished a rich shopping experience.
In addition, they stirred influencer collaborations into the pot, putting TeaCraft on every tea-lover's lips.
The numbers rolled in – web traffic bloomed, and revenues perked up, all steeped to perfection by Sure Oak's marketing elixir.
Sure Oak's prowess lies in cultivating rich digital ecosystems for eCommerce brands to thrive. They don't just grow businesses; they nurture them into towering oaks that command the landscape. With Sure Oak, you're not planting a seed; you're foresting an empire.

Infront Webworks, a master gardener in eCommerce SEO, plants the seeds of success for eCommerce brands hungry for digital dominance. Imagine a powerhouse that marries the wizardry of SEO with marketing prowess, bearing fruit in the form of skyrocketing online sales.
Picture this: Nature's Pantry, a blossoming organic food store, faces the challenge of breaking through the thicket of competition. They partner with Infront Webworks, expecting a touch of magic.
Infront Webworks rolls up its sleeves and lays out the blueprint:
SEO Sculpting: Pruning and shaping Nature's Pantry's website to be the cream of the crop in search results.
Marketing Muscle: Flexing their marketing strength, they plant ads and promotions right where hungry eyes are sure to feast.
Service Tailoring: Crafting custom solutions, they ensure the pantry doors swing wide open for eager customers.
Web traffic trickles in, turns into a stream, and there's a virtual stampede before you know it! Organic clicks – as fresh as the produce in Nature's Pantry – flood in.
Through the sheer genius of SEO and marketing, Infront Webworks turns an online nook into a bountiful harvest of clicks, conversions, and sales. They don't just grow websites; they cultivate lush digital landscapes where eCommerce dreams take root and flourish.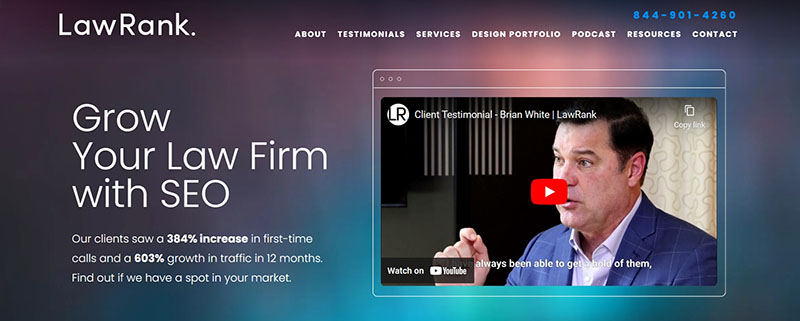 When your law firm is yearning to break free from the sea of competition, LawRank swoops in with the savvy of a digital alchemist. They are the rainmakers of SEO, funneling a deluge of clientele to your online doorstep.
Take Boston Legal Eagles, a fictitious law firm specializing in corporate law. Their online presence was as thin as a whisper before partnering with LawRank. They craved a heavyweight approach to hoist them up the search engine ranks.
LawRank brandishes its arsenal of SEO strategies:
Hyper-Targeted SEO: LawRank drills down into the bedrock of search engine algorithms, optimizing content, and supercharging backlinks.
High-Caliber Marketing: A barrage of meticulously crafted ads and social media prowess amplifies Boston Legal Eagles' presence.
Cutting-Edge Services: Web development, content creation, and local SEO – an unyielding trifecta.
Clients come flocking. LawRank ignites an inferno of web traffic for Boston Legal Eagles. The phones are ablaze, and the firm's online standing blazes trails in the legal sector.
LawRank transforms the whisper into a roar. With precision and ingenuity, they harness the swirling currents of the web, ushering in a tidal wave of success for law firms. LawRank stands tall as the harbinger of online prowess, where SEO, marketing, and first-rate service coalesce into a thunderclap of eCommerce triumph.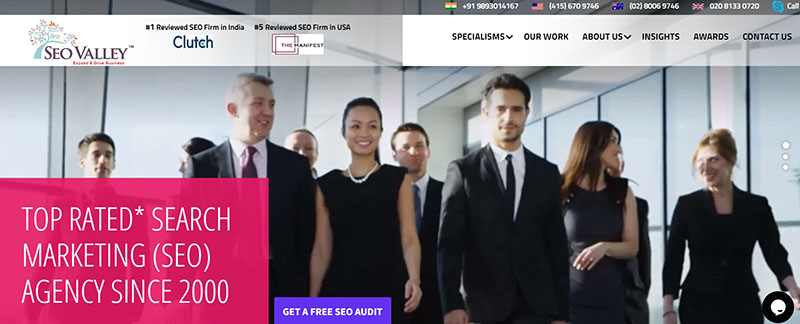 Unleash the titans of eCommerce with SEOValley Solutions Pvt. Ltd., the magicians of digital alchemy. This powerhouse breathes life into your online domain, catapulting it to the pinnacles of search engine stardom.
Imagine Stellar Styles, a fictional online boutique with a flair for cutting-edge fashion. Their digital footprint was a mere speck. SEOValley breathed fire into their campaign, sparking an online revolution.
Their sorcery includes:
SEO Extravaganza: A symphony of keyword optimization, cutting-edge analysis, and backlink wizardry.
Marketing Prowess: A blitz of Google Ads campaigns, social media conjuring, and email marketing spells.
Service Perfection: The cauldron boils with custom web design, content creation, and client support magic.
Stellar Styles metamorphosed into an online sensation overnight. Their organic traffic skyrocketed – their phones didn't stop ringing. SEOValley penned a tale of triumph with Stellar Styles, their showcase entrant in a gallery of victories.
In a realm where data is gold and visibility is king, SEOValley Solutions Pvt. Ltd. wields the Midas touch. They don't just elevate – they transcend, transforming your online presence into a legend. With SEOValley, navigate the rough seas of the digital landscape, anchoring firmly amidst the isles of eCommerce success. The gales of service, SEO, and marketing majesty are yours to command.

Dive into the ocean of digital triumph with GenieCrawl – the mermaids and mermen who beckon your eCommerce venture to glorious treasures. They wield the trident of SEO, marketing, and service, commanding the waves to bow before your brand.
Picture Organic Elixir, a fictional eCommerce store selling plant-based potions. They craved a digital splash but floundered in anonymity. GenieCrawl swept in like a tidal wave, harnessing the essence of digital currents.
GenieCrawl's treasure chest includes:
SEO Siren's Call: Their melodic keywords and on-page optimization seduced Google, entrancing it to favor Organic Elixir.
Marketing Maelstrom: PPC, social media, and content marketing swirled together, pulling customers into the vortex of Organic Elixir.
Service Seahorses: Agile and adaptable, they navigated the client through rough waters with web development and robust support.
The tide turned for Organic Elixir. Customers flocked like seagulls to a banquet, and their names echoed through the digital abyss.
GenieCrawl's case study showcases how they tuned the siren's song just right – enchanting not only search engines but the hearts of customers too. With a sprinkle of pixie dust and a dash of ocean salt, GenieCrawl's mystical touch spawns digital legends. Don't let your ship sail aimlessly – let GenieCrawl's maritime magic steer you through the sea of eCommerce opulence.

Seize the day with SeoProfy – your modern-day alchemist transforming your eCommerce venture into a gold mine. Bracing the helm with SEO, marketing, and service, SeoProfy charts the uncharted, unearthing hidden treasures in the digital ocean.
Take TeaTreasures, an imaginary eCommerce business thirsting for recognition in the bustling marketplace of tea blends. SeoProfy brewed a concoction of strategies as aromatic as the finest tea.
Behold SeoProfy's concoction:
SEO Tea Leaves: Reading the leaves, they infused TeaTreasures with delectable keywords and metadata, enticing search engines to savor every sip.
Marketing Masala Chai: An exotic blend of PPC and content marketing, spiced up with ingenuity, evoked a thirst among the audience.
Service Oolong: A smooth, full-bodied service with the velvety touch of web development and support, leaving the client satisfied.
Sipping this brew, TeaTreasures found its cup running over. They no longer whistled in the wind but became a sumptuous tea-time conversation.
SeoProfy's case study documents this transformation – from a tepid teacup to a fragrant teapot brewing success. Driven by a synergy of expertise and creativity, SeoProfy draws out the flavor in your brand. Imbibe their wisdom and let your eCommerce venture steep in a heady brew of success.

Astonishingly, SmartSites blazes trails in the digital landscape. Immerse yourself in a tale of triumph – an eCommerce business, once dwarfed by giants, guided to stardom by the alchemists at SmartSites.
Picture this: PlushParadise, an online nook for bespoke furniture, craving an audience. SmartSites whipped up a heady brew of digital prowess. Suddenly, PlushParadise found itself not just on the map – but owning it!
SmartSites distilled genius into a recipe:
SEO Elixir: Steeped in potent keywords and rich content, the elixir ensnared search engines, pouring customers into PlushParadise.
Marketing Mélange: A cacophony of PPC campaigns, social media spice, and email marketing enchantment, capturing hearts and minds.
Service Sorcery: Spellbinding web development – responsive, fluid, with unbreakable support as robust as oak.
As this potion took root, PlushParadise bloomed. It was a metamorphosis penned by sorcerers – and SmartSites documented every flicker of magic in their case study.
SmartSites – the compass guiding enterprises through the tempestuous seas of the online market. With boundless creativity, striking insight, and unparalleled mastery over the mystic arts of SEO and marketing service, they carve paths where others find only wilderness. Let SmartSites hold your hand through the labyrinth, leading you not to the exit – but to the throne of your digital kingdom.

Enter the arena with Let's Get Optimized (LGO), your gladiator in the fierce digital marketing and ecommerce coliseum. LGO wields the SEO trident, service shield, and marketing net with prowess, catapulting your business into an untamed surge of triumph.
Take this riveting chronicle, for instance: PristineWear, an ecommerce startup, vied for the lion's share of the online apparel market. LGO stepped into the ring, agile and fierce, and charted a path to victory.
Behold LGO's titanic tactics:
SEO Mastery: Tailoring a seamless cloak of keywords, backlinks, and onsite optimization, LGO ensures PristineWear is the clarion call across search engines.
Marketing Gauntlet: Social media campaigns, PPC – you name it – LGO forged alliances with every marketing behemoth to storm the digital gates.
Service Valor: Undaunted customer support, bolstered by fortified website infrastructure, molded PristineWear into an ecommerce fortress.
As PristineWear erupted into a digital tour de force, LGO etched every strategic maneuver in an illustrious case study.
With LGO in your corner, prepare to unleash an eCommerce maelstrom. These virtuosos in SEO, service, and marketing turn the tides of digital combat in your favor. Tear through barriers, scale insurmountable peaks, and seize your online empire with the formidable ally of Let's Get Optimized.

Swooping in with a vibrant array of digital feathers, Bird Marketing establishes your ecommerce brand on the vast digital horizon. Expert in navigating the high winds of SEO, excelling in the delicate art of service, and wielding a sharp beak for marketing, they expertly guide you through the online marketing ecosystem.
A case in point is their engagement with the fashion-forward StrutStyle. Embarking on a quest for digital supremacy, Bird Marketing applied a dynamic blend of strategies:
Sky-High SEO: Deploying a tailored set of keywords and optimizing both on-page and off-page aspects, Bird Marketing ensured StrutStyle fluttered to the top of Google results.
Dynamic Marketing: Orchestrating various engaging social media campaigns and pay-per-click strategies, StrutStyle soon found its wings soaring over the digital skyline.
Stellar Service: A custom-crafted website and responsive customer support transformed StrutStyle into a formidable presence in the ecommerce sphere.
StrutStyle's journey, chronicled in a comprehensive case study, illustrates the potency of Bird Marketing's strategic prowess.
With Bird Marketing as your ally, you can navigate the vast skies of ecommerce. They guide you through the convoluted landscape of SEO, service, and marketing with an expert eye – ensuring your brand doesn't just fly but soars. Conquer the digital domain with Bird Marketing, and leave your mark on the limitless blue expanse of ecommerce.

Tech-enabled digital marketing and eCommerce solutions provider company that creates custom strategies for its clients, founded in the US in 2006. A SEO team of marketers, developers, and designers offers full-service SEO strategies, combining digital channels to increase conversions, revenue, and visibility.
CEO & Founder – William Craig, internet marketer, entrepreneur.
E-commerce Case studies:
HydroWorx – 131% increase in organic contact form submissions
Furbo (pet technology) – 76% return on ad spend (ROAS) increase
PaulB Parts – 75% conversion rate increase
Clients: Cutting Edge Firewood; York Saw and Knife; Cleveland Brothers; Ocean City, New Jersey; Bar's Leaks.

The digital marketing and SEO ecommerce agency grows clients' revenue and profits by providing SEO services and technology-driven SEO strategies to raise market share.
CEO – Danny Shepherd, digital marketer, and the inventor of TitanBOT, a patented technology that improves SEO and paid media performance.
Case studies:
Collette (travel) – 2400% increase in first page rankings
Mizuno (sports equipment) – 41.01% increase in organic traffic
Clients: Arcadia Data, Tuscany Pavers, MW Attorneys, Pubmatic, Tracy Lynn Studio.
Full-service digital marketing agency, SEO eCommerce offering web design services, PPC, and SEO, founded in 2008. It provides a complete suite of Internet marketing and Web development services to B2B and B2C organizations of different sizes.
CEO – David Duerr, senior manager, entrepreneur, a venture capitalist.
Case studies:
Premiere Works (facility management) – organic site traffic is up 2,694 %
FireKing Security Group – 240% increase in lead volume
Nava Health & Vitality Centers (healthcare) – increase in conversion volume of 145.87%
Clients: RedRidge Verification Services, Glue Machinery Corporation, Acieta, Patterson Pope, Virginia Spine Institute.

Ecommerce SEO Company, Certified Google Ads Premier Partner. It offers digital strategists who outline necessary steps for businesses with long-term or monthly SEO packages. In addition, the company has a portfolio of more than 630 case studies proving a success.
CEO – Joel Gross, digital marketer, entrepreneur, and business analyst.
Case studies:
Pink Lily (fashion) – generated $2.5 million in revenue during the first year of Coalition's services
Trumpet & Horn (jewelry) – organic search revenue reached $315k a month in years time
Starfire Direct (furniture) – increased organic revenue by 75%
Clients: 1ink, Swimspot, Urban Armor Gear, District Clothing, The Art of Charm.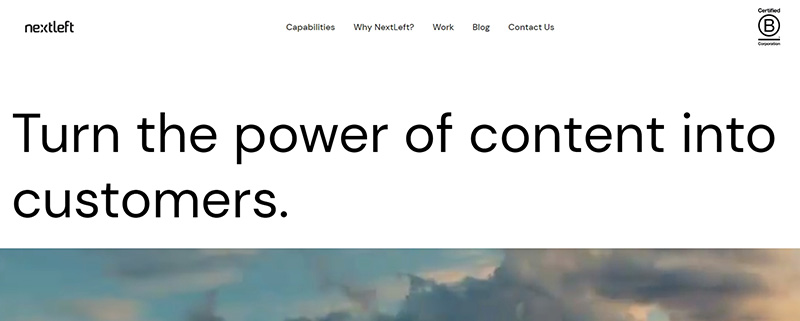 Full-service eCommerce agency that helps clients create SEO strategies that drive traffic and increase sales. The agency's services include keyword search, link building, content marketing, site migration, and technical and enterprise SEO.
CEO – John McKusick, entrepreneur, digital marketer.
Case studies:
Fiscars – estimated SEO traffic value of $45k per month
Gilmour – 100% increase in referring domains in 1 year
Clients – ShipCalm, Widen, Paper Mart, United Van Lines, Hallmark.

The digital marketing firm is providing SEO eCommerce services. It has been consistently growing over the previous five years, earning it recognition as one of the "Top 10 Google Solutions Providers" in 2017 by Silicon Valley Review.
CEO – Greg Walthour, digital marketer, and former commercial real estate broker.
Case studies:
Personal Injury Attorney – 220% increase in traffic since the start
Online eCommerce website – 100% increase in revenue
Clients – Jaguar, Beverly Center, Infinity, Complete Care, Christy Sports.

The digital eCommerce marketing agency offers a wide range of SEO, SMM, PPC, email marketing, and video animation services.
CEO – Sean Standberry, digital marketing executive, business SEO strategist, and team leader.
Case studies:
Easy Diya (manufacturer of organic puja products) – 714% increase in sales
Home Team Apparel Atlanta (clothing) – 10-time increase in ROI
Taliah Waajid (hair care products) – engaging over 260 thousand users at only $0.004 per engagement
Clients: Brick Staffing, TrueBroc, My LaLa Leggings, Weston Boucher, Ancient Keto.
The importance of choosing SEO services for ecommerce
In the bustling eCommerce arena, snagging an enviable spot in the search engine rankings can feel like navigating a minefield. Fear not — SEO services are your guiding light, crucial for boosting your online store's visibility and driving traffic. With the relentless march of algorithms and consumer trends, selecting top-tier SEO services is non-negotiable for a thriving online business.
Let's unwrap the magic of tailored SEO services:
Keyword optimization: A tech store, for instance, should incorporate buzzwords that make geeks' hearts sing.
Link building: If you run a gourmet online deli, an influential food blogger linking to your artisan cheeses can put you on the map.
Local SEO: Own a craft brewery? Make sure beer aficionados nearby can effortlessly stumble upon your brews.
This is where a sprinkling of marketing finesse comes in – wielding SEO to capture your audience's imagination and needs.
Now imagine your eCommerce store as a bustling marketplace – the sights, sounds, and smells are all part of the experience. In the digital sphere, SEO services whip up this ambience, guiding customers through the alleys of your virtual bazaar.
By tapping into bespoke SEO services, your eCommerce venture becomes more than a mere storefront – it's the hot spot everyone wants to be at.
Bottom Line
Here we are at the end of our enlightening journey through the top ecommerce SEO services of 2023 ⚡. We've delved deep into the details, explored comprehensive features, and highlighted the exceptional expertise these services offer.
Each company we've discussed not only understands the digital commerce landscape but skillfully navigates it, delivering statistical improvements and nuanced insights. They've tackled ecommerce SEO with impressive efficiency and effectiveness, from traditional techniques to innovative strategies.
Whether you're running an Etsy shop or dealing in vast Amazon listings, these services have shown they can optimize your platform to attract more visitors, elevate your visibility, and enhance your online success ⚡.
Don't forget to leverage the Plerdy tool for an extra layer of SEO & UX analysis. Their advanced analytics software will collect critical metrics, providing a thorough view of your website's performance and revealing areas ripe for improvement ⚡.
Remember, in the world of ecommerce, staying updated with the latest SEO services is a key element in maintaining a competitive edge. So, continue to seek the best services and technologies, always aiming for that higher SEO ranking.
Until next time, stay persistent, stay passionate, and above all, stay successful! ⚡