While the world of digital marketing continues to evolve, emails remain one of the most powerful tools for small businesses and larger companies looking to reach and engage their warm target audience. In 2023, a range of fantastic ? free email marketing tools is evolving and inspiring to help you create effective emails without spending much money. Whether you're a guru or just starting out, these six free email marketing tools will help take your campaigns to the next level or at least improve them.
How do Free Email Marketing Tools Help Businesses?
Most business owners and marketing professionals are somehow reluctant to include affiliate marketing in their business efforts. And with good reason, since it's one of the most challenging forms of marketing. However, its untraditional nature makes it successful, which is reason enough to include it in your marketing strategy.
That is even more true for companies that combine affiliate marketing with one of the most powerful marketing channels: emails. When marketers promote a brand, they need to have all the right tools to make the greatest impact without friction points getting in the way. That's where email marketing comes in.
Finding free email marketing software is easy if you are a small business owner or a larger corporation marketer. For affiliate marketers, it gets a bit daunting, though. That's because many of the most popular free email marketing services don't allow affiliate marketing. Their policies could get you banned or, even worse, lead to losing all the recipients you worked so hard to capture.
If it isn't clear by now, deciding which free email marketing tool to use for your affiliate efforts shouldn't come as an afterthought. To help you safeguard all your valuable data, I will guide you on the best free tools to master your affiliate email marketing, as well as the prerequisites of a free and affiliate-friendly ESP.
What Should Affiliate Marketers Look For in a Free Email Marketing Service?
Emails are a bulletproof way to create and send the right affiliate offers to the most likely interested people. Whether you opt for free email marketing software or a cheap email service, you need to invest in one that helps you grow your affiliate program without wasting time or resources. To avoid a disaster, like your account getting canceled, let's check the main characteristics a great free email marketing tool must have to serve your affiliate program well.
Affiliate marketing capability
First and foremost, your free ESP should explicitly state that it allows affiliate marketing. Many email marketing solutions are strictly against promoting affiliate products or services and could suspend your account if they detect such actions. Make sure to stay away from services that have unclear policies around affiliate marketing.
High email deliverability rates
When starting an affiliate program, you know beforehand that you will deal with lower open rates than other marketing types. This directly affects your email deliverability. And what good comes out of creating awesome emails if they don't find their way to your recipients' inboxes? So, picking a free email marketing solution with excellent deliverability is a top priority.
Ease of use
There is no need for every affiliate marketer to have technical skills. The ease of use is of utmost importance so that marketers don't waste valuable time on platforms with complex interfaces and steep learning curves. To avoid that, opt for a free email tool that lets your team members create and dispatch targeted campaigns, even if they lack the technical expertise.
Advanced features
I might be stating the obvious, but checking the features of a free email marketing service is essential before picking the right one. Your emails should be stylish and eye-catching to stand out in a full inbox. So you need modern email design options and customization features to make them fit your subscribers' preferences. Also, you must invest in an ESP with sophisticated automation and segmentation to create high-converting emails.
Affordable pricing and sufficient free plan
Let's say you find a platform with all the options described above. You are in the dark if it doesn't offer a sufficient free plan that lets you test most of its features for long enough. To choose the most appropriate service, you need to check everything and find out its advantages and disadvantages. You don't need to break the bank to grow your affiliate marketing business, either. So, find an ESP with reasonable subscription plans.
But rest assured, the best free email marketing tools presented here offer affordable pricing, a generous free trial for you to try them out, and the prerequisites to be considered affiliate-friendly.
We have detailed the key elements to look for in an ESP as an affiliate marketer. Let's move along to check the top free and cheap email marketing services that will turn affiliate marketing into a walk in the park.
List of the 6 Best Free Email Marketing Tools
Knowing the key components of the ideal email marketing solution is one thing, but is it enough to pick the best fit? Not without reviewing the best choices out there first. So, here are our top free and most affordable email marketing tools to nail your affiliate marketing.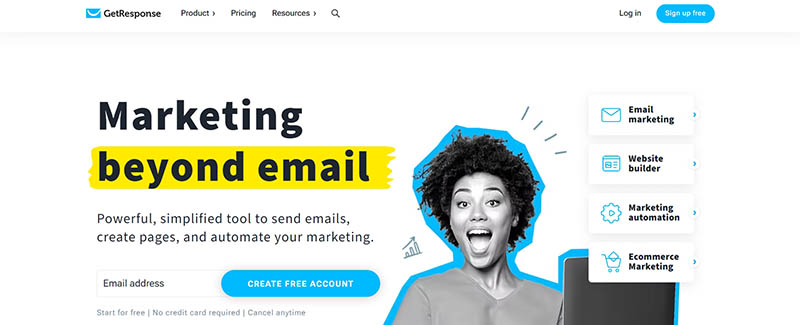 GetResponse has grown from a free email marketing platform to an all-in-one marketing tool. From an affiliate marketing side, it's one of the few free solutions with a dedicated page for affiliate marketers. Right there, you will find several resources, from how-to guides to all sorts of valuable tips. There are even integration options with affiliate tracking software to monitor how your emails turn into sales.
Apart from the basics of email marketing, GetResponse offers free multiple marketing options such as social media marketing, webinars, or push notifications. You also get to create landing pages and sign-up forms, as well as gain access to the sales funnel features.
Notable features:
GetResponse has recently launched an AI-powered website builder for you to create affiliate websites in a few steps.
Advanced options for webinar marketing, from creating the webinar registration page to sending out automated invites and nurturing attendees after the webinar.
Ability to add reviews for your affiliate products through the help of an RSS feed so that your prospects learn everything from other satisfied customers.
Detailed analytics to monitor every marketing activity. Apart from your sales funnel performance, you can check how recipients interact with your emails through social media and web clicks.
How much does it cost?
Cost-wise, GetResponse has a free plan that allows you to send unlimited emails. However, the plan is limited to 500 subscribers and one landing page per month. Paid plans start at $16/month, giving you access to basic email marketing options. To unlock all the tools that enable you to support your affiliate program, you need to pick a higher plan. There is also a 30-day free trial version that applies to every marketing plan offered.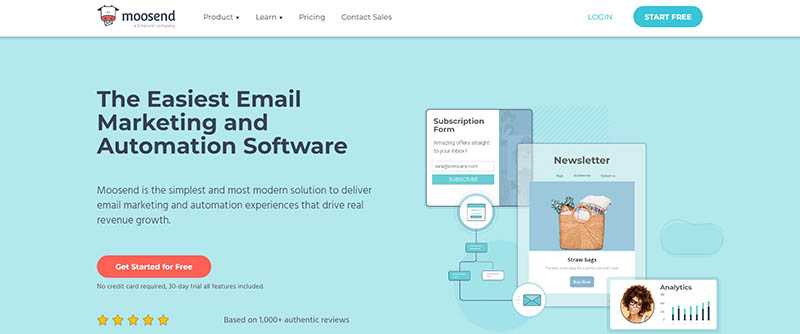 Moosend is a free email marketing automation solution that facilitates every part of your affiliate marketing journey. The platform offers all the features to build and manage a healthy email list and create attractive subscription forms and landing pages to showcase your affiliate products and services. Additionally, its segmentation and personalization options help you target the recipients most likely to engage with your emails.
On its blog, Moosend features the ultimate guide to affiliate marketing, giving you all the resources to master this form of marketing. Apart from an intuitive drag-and-drop email builder, modern-designed and fully customizable templates, and detailed analytics, Moosend is known for its sophisticated automation capabilities, allowing you to set up automated sequences with multiple conditions. Its flexible automation workflows are perfect for affiliate marketers that face different conversion pathways.
Notable features:
Ready-made automation workflows with multiple triggers and conditional steps. You can create effective email messages based on your subscribers' data and actions by adding, removing, or duplicating workflow parts.
The ability to use its pre-built and responsive templates that you can tweak to your liking. You can also create your own from scratch, adding and editing components like countdown timers or videos.
AI-powered product recommendation feature that displays certain products to users based on their browsing and buying history.
Real-time email statistics and advanced A/B testing options to monitor your email performance and understand your target audience's preferences.
Apart from its reasonable pricing, Moosend features an innovative credit plan that charges you based on your business growth.
How much does it cost?
Moosend has no free plan, but its flexible pricing model makes it a good fit for every business. Paid plans start at $7/month (paid annually), giving you access to its CRM and list management options, built-in automation recipes, detailed analytics, and more. You can take advantage of its generous 30-day trial that allows you to check most of its powerful features.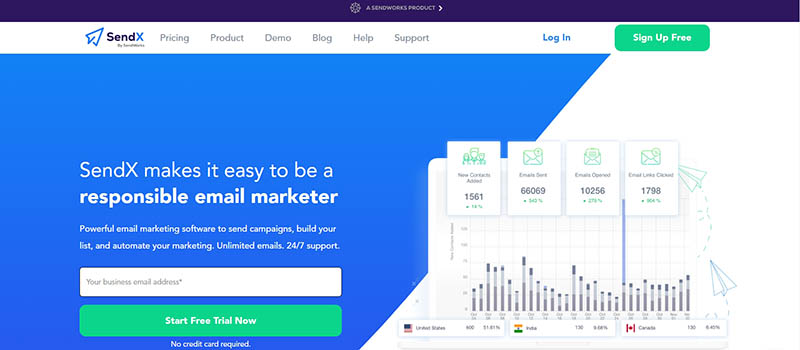 SendX is a free email marketing tool that welcomes affiliate marketers. They go as far as reassuring users that they will never ban or block any account because of affiliate marketing activities. All you have to do is follow all the fair email marketing practices.
SendX is built with ease of use and simplicity in mind, with an intuitive drag-and-drop email builder and various ready-made templates. You can use this free platform to send unlimited emails, grow your email list through a built-in form builder, and track your email campaign performance through real-time analytics.
Notable features:
SendX lets you create compelling forms to generate leads and effective landing pages to display your affiliate products and services.
Automation options, such as setting up triggers based on user behavior and a robust rule-based feature.
Access to more than 500,00 free stock photos to enhance your email campaigns.
Keep track of your email success through key email marketing metrics like opens, clicks, unsubscribes, etc., and detailed performance reports.
A great support team that helps you throughout the entire experience, including a live chat option.
How much does it cost?
SendX doesn't offer a free subscription option, but its pricing plans are some of the most affordable in the industry. Pricing starts at $7.49/month (paid annually), and every plan comes with unlimited email sending and all the features. However, you will be charged according to the number of subscribers. If you need to check its capabilities, there is a 14-day free trial that also offers unlimited emails.

EmailOctopus is an excellent free email marketing tool for affiliate marketers, but they will review your account and marketing activities. For instance, the tool checks whether your brand is real and reliable and whether your recipients consent to receive email campaigns from you.
While it isn't as value-packed as the other services listed here, it covers all the essential business needs. You can build and manage your email lists, set up simple automated sequences, and create an email marketing campaign from scratch. One of its most significant advantages is that there is no limit to the number of landing pages you can build.
Notable features:
Intuitive interface that helps even entry-level marketers use its capabilities to create email campaigns and automated email series.
You can build and embed sign-up forms on your affiliate website through an easy-to-use drag-and-drop form builder.
Free email templates that can be customized to fit your affiliate marketing needs.
Detailed analytics to keep track of your email performance and check where there is a need for improvement.
How much does it cost?
EmailOctopus is a free email marketing tool with a version that enables you to send up to 10,000 emails to 2,500 recipients. However, it gives you basic support, access for one user, and a 30-day limit on reports. If you need more, paid plans start at $8/month, and the price goes up according to the number of emails sent and subscribers added.

Benchmark Email is a free online marketing platform that offers email marketing automation solutions to businesses, regardless of their size. It's a user-friendly service with advanced features to help you grow your business. Benchmark allows affiliate marketing, but you should know that your emails will be subject to review.
With the platform's free email builder, you can drag and drop, edit or move around email elements, even if you don't have any technical skills. Its automation workflow editor is equally powerful, allowing you to create automated emails with triggers based on user behavior.
Notable features:
A helpful feature that lets you check how your emails look across different devices and email clients for Windows and Mac OS.
You can incorporate surveys and polls in your email campaigns to better understand your target audience's needs and preferences.
Benchmark allows you to customize your sign-up forms to match your website design.
More than 200  free, pre-made, responsive templates that you can customize to your liking.
How much does it cost?
Benchmark email offers a free version. With it, you can add up to 500 email recipients and 3,500 emails per month. You can't build any landing pages, though, and automation options are limited. Paid plans start at $9.99 per month and go up according to the number of emails sent.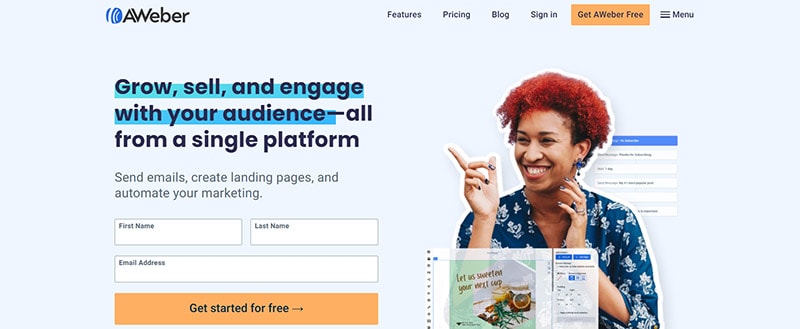 AWeber is a free email marketing software that has been in the game for quite some time. It offers over 100 integrations, including some of the most popular affiliate marketing platforms like JVZoo. However, the platform's terms aren't clear as to if they allow affiliates to promote their products or services.
AWeber boasts an easy-to-grasp email editor that serves even entry-level marketers. If your brand leverages visual marketing, AWeber gives you access to free stock photos and drag-and-drop functionality to tweak elements according to your needs. There are some eCommerce functions, but they are somewhat limited compared to other platforms listed here.
Notable features:
A variety of autoresponders and trigger-based automation options that help you minimize the effort and time spent on your email creation.
Detailed and easy-to-read reports to monitor your email campaign performance regarding opens, clicks, CTR, and more.
An extensive list of integrations with prominent tools like Facebook or Shopify to achieve all-in-one marketing.
How much does it cost?
AWeber has one of the most generous free plans in the market that lets you have up to 500 email contacts and send up to 3,000 emails a month. Its cheapest plan costs $16.15/month (billed annually) and allows unlimited email sends and access to many of the platform's features, such as its automation and reporting capabilities.
Those are my top choices of free email marketing tools to enhance your affiliate marketing efforts. One of them will become your trusted ally to create relevant and effective email marketing campaigns for your leads. All you need to do is try them out to pick the one that best fits your objectives and resonates with your target audience.
Final Words about Free Email Marketing Tools
For affiliate marketers, setting up an email marketing strategy shouldn't be taken lightly. Free and affordable email marketing tools enable you to stay on top of your affiliate marketing game. You increase your chances of driving conversions by reaching out to prospective and existing customers with targeted emails at the right time.
I have presented you with the top free email marketing tools to boost your affiliate program. Before committing to one, I advise testing the waters through the free versions of all the tools listed. After your research, pick the email marketing tool that ticks all the boxes and will help you stay ahead of your competition.