Ready to supercharge your email marketing efforts and boost your Shopify sales? 🚀 Look no further than our list of Shopify's 15 best email marketing apps! Our curated selection of Shopify apps will help you reach your target audience, build brand loyalty, and drive more conversions.
We've researched for you and handpicked the best of the best email marketing apps for the Shopify store. So our list covers whether you want to create eye-catching popups or automate your email campaigns.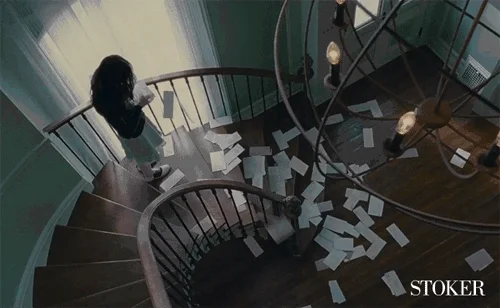 Why Do You Need Email Marketing?
Email marketing should be a key component of your marketing strategy if you own a Shopify store. Given the numerous advantages of communicating with warm customers, it would be wise to use it. Here's why:
The email informs customers about your business, updates, and special offers. This shows your customers that you are thinking of them and can lead to increased engagement.
With so many people reading emails on mobile devices, email marketing is a wonderful way to reach clients while they are on the go.
Possessing a customer's email address shows interest in your business. Email marketing helps you increase brand awareness by staying top of mind without being intrusive.
Email marketing can be used to sell products, send seasonal offers, or promote a special deal. Creating a sense of urgency can lead to more sales.
With email usage projected to reach 4.9 billion by 2017, there is only one channel with a wider reach than email.
Segmenting your customers into appropriate email marketing lists helps businesses target these groups more effectively.
Email marketing is essential for any Shopify merchant looking to grow their business. With its affordable cost, targeted messaging capabilities, and high ROI, email marketing is the perfect solution for businesses looking to increase brand awareness, drive sales, and retain customers.
Features a Nice Email Marketing App Should Have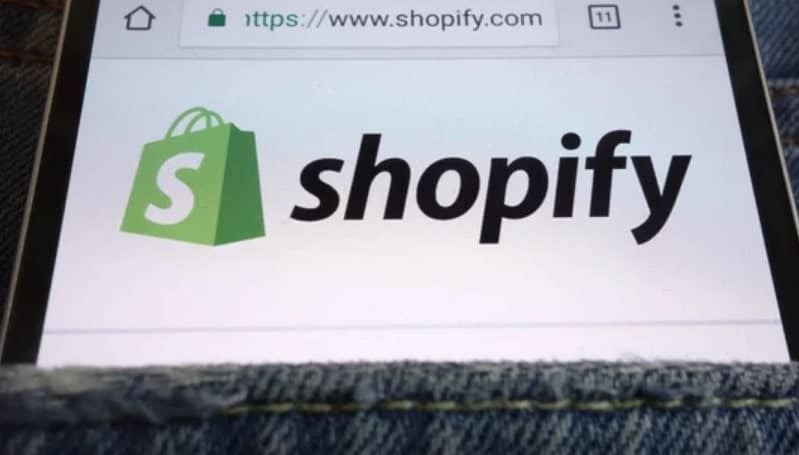 Email marketing is crucial to any Shopify store's success, and having the right email marketing app is essential. A good email marketing app should have features such as ready-made, customizable templates, automated messaging, segmentation, reporting, deliverability, and A/B testing. These features ensure your emails look professional, reach customers on time, and generate the desired response.
Easy integration and pop-up sign-up forms that integrate directly with Shopify are also critical. With contact syncing and segmentation, you can personalize your campaigns and improve your customers' experience. Automated campaigns, such as an abandoned cart, order confirmations, cross-selling, upselling promotions, and recommended product emails, can significantly boost your store's sales.
Reporting is essential to know how successful each campaign is and how much revenue was generated by each email. An intuitive email editor that lets you drag and drop text and images into your email and automatically add your Shopify products straight into your email is also vital.
Finally, the email marketing app should be affordable, ensuring a good ROI. With these features, you can find your Shopify store's perfect email marketing app, increase customer engagement, and grow your business.
List of the Best 15 Email Marketing Apps for Shopify
If you're a Shopify store CMO or email specialist, you already know the importance of email marketing in boosting your sales (ROMI). But with so many email marketing apps available, it's easy to get lost in the options. That's why we've compiled a list of Shopify's 15 top email marketing apps to help you narrow your search and make an informed decision.
Our list includes apps that can help you automate email campaigns, segment your audience, create stunning designs, and more. With the right app, you can take your email marketing to the next cool level and stand out. So please look at our list and discover today's perfect email marketing app for your Shopify store!
Searching for the top Shopify email marketing app? Don't look elsewhere—use Plerdy Shopify App! Plerdy provides conversion rate optimization (CRO & UX) tools that aid website owners, experts, professionals, and companies in gaining new customers and boost sales. You can track, examine, and turn your visitors into customers using Plerdy. The Plerdy Shopify app includes a heatmap that continuously logs all clicks on your website. This SEO checker gathers crucial SEO tags from your website and session replay that explains how visitors interact with your website. Other features include popup forms that enable quick customization of adaptable popup forms, event tracking that synchronizes all events with Google Analytics, sales performance that assigns purchase information to each item on your website page, conversion funnel that reveals where website visitors leave off and which pages they ignore, and Net Promoter Score, a great way to gather feedback. Some of the biggest firms in the world rely on Plerdy, which has helped businesses worldwide improve their sales by 1.5 times. Customers adore the software and think it's the most effective solution for streamlining users' activity on your website. It also claims to provide a more thorough analysis than most goods. The application provides quick and easy setup in just 30 seconds, cost-effectiveness for newcomers to marketing, data security using SSL technology, and performance reports for conversion rate optimization. You can use smooth operation across all main platforms and browsers and integrate with other online services. For increasing the conversion rate optimization of your website, Plerdy is a must-have solution!

If you're a Shopify business owner looking to grow your sales with popups, email, and SMS marketing, Privy is your all-in-one e-commerce platform. Fast-growing Shopify businesses use Privy to grow their email & SMS contacts, automate email marketing, send money-making text messages, and improve website conversion rates. You don't need to be an expert in designing email newsletters, launching website popups, or automating cart saver texts with Privy. The Shopify email app is built for ease of use, so you can focus on growing your business. The drag-and-drop email editor with tons of pre-built templates makes designing your email newsletters effortless. With dozens of popup display options, you can easily grow your email & SMS marketing lists. Privy's email & SMS automation work around the clock, so you don't have to, and you can rely on the expert onboarding, support, and 1:1 coaching they provide no matter where you start. Privy offers a free plan with unlimited list growth popups, access to all popup types, advanced popup targeting, and sync with Email Service Providers and Shopify coupons for up to 100 email contacts. They also offer Starter, Growth, and Conversion Only plans with advanced features, support, and pricing based on the number of email and SMS contacts. The great news is you can try Privy for 15 days for free!

One of the top Shopify email marketing programs is Mailchimp, which you can use to help your company expand. This email marketing platform offers you sophisticated marketing CRM tools that will help you sell more in addition to expert insights. For example, to keep your customers interested in your company, you may use Mailchimp to start email automation like abandoned cart, welcome, and re-engagement campaigns. Plus, you can access creative assets in Content Studio for immediate channel repurposing, use Content Optimizer to make AI-powered edits to your copy and graphics, and tap into insights generated by data analysis from millions of campaigns in your sector.
You can easily start with Mailchimp because pop-up forms and landing pages are pre-built and ready to publish in seconds. Also, this connection is compatible with Shopify's POS and online store, and the cost is determined by the number of contacts you have, with the free plan offering up to 500 contacts.
The $13-a-month Essentials plan includes email templates, multi-step journeys, custom branding, A/B testing, and round-the-clock email and chat support. Everything in the Essentials plan is also included in the $20 per month Standard subscription, adding a customer path builder, send timing optimization, and behavioral targeting. The $350/month Premium plan includes everything in the Standard plan, advanced segmentation, multivariate testing, unlimited seats, and role-based access.
You can manage and develop your customer relationships by linking your Shopify store to Mailchimp by gathering and organizing all of your contacts in one location, recommending products they already want, locating new customers with social ads, and getting in touch with customers at precisely the right time using automation and the Customer Journey Builder. As a result, you can advance your email marketing using Mailchimp and boost your company's success.

If you want to market your Shopify store via email, Sendinblue is a terrific option. This Shopify email app makes it simple to link and sync customer information. Sendinblue makes building and sending high-quality marketing campaigns simple by automating email distribution, providing editable templates, and providing extensive metrics. You may communicate with customers in various ways using SMS marketing and chat.
With Sendinblue, you can promote specific groups based on hobbies, demographics, and previous purchases. As a result, it is easier to create advertising campaigns that target the right people. The app also features robust interfaces with regularly used services and apps. This simplifies your efforts and analyzes how well they work.
You are not compelled to use Sendinblue during the free trial period. Sendinblue provides live chat and chatbot help 24 hours a day. Hence, it will be easy to obtain assistance. Sendinblue is a solution that over 500,000 businesses trust and use.
Sendinblue is an excellent solution for Shopify merchants seeking a robust marketing platform. Sendinblue is an excellent Shopify email app for businesses, experts, specialists, and website owners that want to expand their consumer base, find new customers and strengthen relationships with current customers. This is because it is simple to integrate, automate emails, and divide viewers into distinct groups. Start utilizing Sendinblue and Shopify right away to expand your business.

Are you trying to find the finest Shopify email marketing app? Then, ActiveCampaign is the only place to look! ActiveCampaign provides all the tools you need to expand your eCommerce business with marketing automation, including email marketing, lead generation, SMS marketing, abandoned cart recovery, CRM, forms, and more. With an intuitive email designer, you can make polished and unique emails based on your customer's shopping habits and interests. Even better, ActiveCampaign has built-in Shopify automation to automate revenue-generating tasks like lead generation emails, welcome email nurturing, abandoned cart win-back emails, and more.
You can use up-sell and cross-sell automation with ActiveCampaign to turn one-time purchasers into repeat customers and increase checkouts by automatically launching abandoned cart emails. Furthermore, you can SMS-promote sales to customers based on their previous purchases.
ActiveCampaign Shopify app offers a 14-day free trial, with the Plus plan costing $49 a month with a yearly billing of $588. Even more, capabilities are available in the Professional plan, such as 1:1 email automation, site messaging, attribution, predictive sending, predictive content, 1:1 Onboarding, and more. Dollars are used for billing all fees.
ActiveCampaign gives you all the tools to build amazing customer experiences, including email marketing, marketing automation, landing pages, site and event tracking, integrated CRM, sales automation, contact & lead scoring, and SMS sending. Take it from over 10,000 users who have rated ActiveCampaign as the best email marketing app: it leads the industry on G2, Capterra, TrustRadius, and TrustPilot. So don't just take our word for it.
Then why wait? See how ActiveCampaign can help you grow your Shopify shop by trying it now!

Searching for an email marketing Shopify email app that will enable you to build your subscriber base and improve user interaction? Introducing Mailmunch, a robust platform for professionals, experts, and enterprises to quickly communicate with clients through individualized email campaigns, landing sites, and forms.
The behavior-driven automation that sends time-sensitive, tailored emails is one of Mailmunch's greatest features. You can collect leads directly on your website or blog with interactive opt-in forms with hundreds of customizable themes. Mailmunch Shopify app offers a user-friendly dashboard to track subscriber count, average open rate, click-throughs, and visitor statistics.
With the help of this software, you can also broadcast emails to thousands of consumers with extensive segmentation, send automatic welcome emails, and construct no-code landing pages that can be finished in a single click. Unlimited subscribers, forms and popups, landing pages, an automated welcome email, and rudimentary analytics are all included in Mailmunch's 14-day free trial.
At only $24.99/month or $15.00 per 5000 contacts, Mailmunch Premium provides additional features like unlimited email notifications, analytics, custom domains, premium themes, and content gate.
Mailmunch is a Shopify app for email marketing that is used by businesses all over the world. It powers more than 500,000 websites and collects over 100 million leads monthly. Whether you are a business owner, startup founder, or specialist, Mailmunch is a solution that may assist you in increasing email collection, site visitor rates, and business expansion.

With various tools for businesses to automate customer communication, segmentation, and revenue tracking, Klaviyo is a Shopify email and SMS marketing app. Klaviyo is a well-liked option among Shopify firms since it offers a seamless interaction between Shopify and its email marketing platform and is an official Shopify strategic partner. Businesses can automate tailored messages like price drop alerts, pleasant cart reminders, and just-in-time recommendations using Klaviyo's tested email and SMS templates, fostering fruitful long-term connections with clients.
Businesses can integrate all previous Shopify data with Klaviyo, including user behavior on the website, tags, the catalog, discounts, and more, and use predictive analytics to create detailed audience segmentation. Businesses can send tailored campaigns to their segmented audiences using the built-in Shopify automation like Back in Stock, Explore Abandon, and Price Drop. They can also access real-time revenue statistics for each automation, campaign, segment, and channel. Moreover, companies can provide dynamic promo codes for VIPs, delays, abandoned carts, win-back, and other situations.
A free version of the Klaviyo Shopify app is available, enabling companies to email up to 250 contacts and send SMS messages for up to 150 SMS/MMS credits. For up to 500 contacts, the paid version starts at $20 monthly, and companies can upgrade as they expand. Over a thousand 5-star evaluations for Klaviyo's connection with Shopify can be found in the Shopify app store. Companies like Glossier, Osea and Loeffler Randall have utilized Klaviyo to increase sales and keep customers returning. Klaviyo is a powerful email marketing solution for Shopify companies thanks to its email and SMS templates, list-growth tools, predictive data, tailored product recommendations, and drag-and-drop editor.

Constant Contact is a fantastic email marketing Shopify app that helps companies organize their email and digital marketing efforts. The basis of email marketing is your contact list, which you can quickly expand thanks to its more than 300 connectors. While Google Ads ensure that your business appears when people search, Facebook Ads allow businesses to target clients like never before. Using a simple form integrated with WordPress makes collecting emails and soliciting feedback simple. With Canvas's direct connection to the Shopify email app, businesses can make stunning emails, social media posts, and landing pages and integrate your Vimeo library to share products and services through video. While Eventbrite enables customers to host, market, and promote events, the tool offers automatic mailings, syncs payment data, and increases conversion rates. Finally, by scheduling posts and offering thorough reporting, the Shopify email app simplifies automating Twitter updates and interacting with clients on social media. Through Constant Contact, businesses can provide everything necessary for deepening ties with their most critical audiences.

The top Shopify email marketing app is Drip, which gives businesses complete control over the customer journey. The platform is a direct-to-consumer marketing tool that enables advertisers to connect with customers at every customer journey stage. A 14-day free trial of Drip's features, which use on-brand lead capture forms to turn new visitors into subscribers, is available for users to test. Its hyper-segmented email campaigns deliver the right message to the right person at the right time. Beautiful email templates that you can customize to match your brand's guidelines are available from Drip, as are effective behavior-based email workflows that produce tangible, quantifiable results. It uses pre-built segments to send the relevant emails to the appropriate recipients when necessary. The price for the Drip Shopify app starts at $39 per month and rises with the number of users. With the help of a few logic statements and the ability to segment the mailing list down to a small, targeted group, drip can generate about $30k in monthly revenue. The Drip Shopify app provides quick, helpful, and accurate customer service. Due to its automation and user-friendly features, Drip is frequently chosen by users over Mailchimp. For a free trial of Drip or to experience the power of onsite workflows, schedule a demo.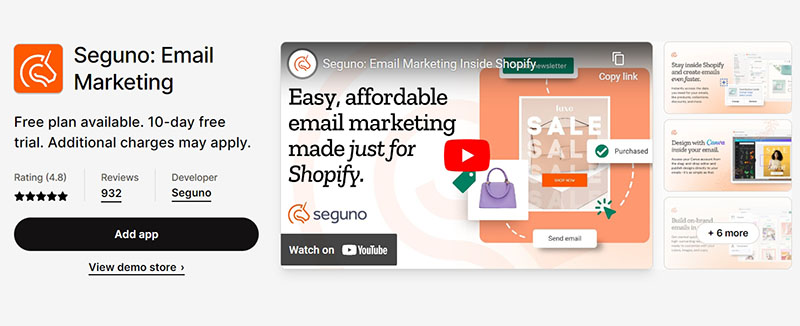 As a Shopify Email Expert, I highly recommend Seguno Email Marketing as Shopify's best email marketing app. This platform is built exclusively for Shopify, allowing you to create engaging emails, automate your sends, and track your success from one convenient place inside the platform you already know. With best practices already baked into the platform and your shop's data instantly on hand, you can spend less time worrying about making mistakes and more time on what matters—growing your business.
Seguno is the top-rated email marketing platform built exclusively for Shopify. You can stay inside Shopify and access your segments, discounts, products, blogs, and more. With Seguno, you can automate emails with a library of pre-built series designed to convert. You can design beautiful emails in minutes with Canva embedded in a full-screen editor.
Seguno Email Marketing is easy to use and offers unlimited sending, pre-built automation, 200+ templates, unique discount codes, and email and chat support. You can try Seguno for free for ten days, and it is free for up to 250 subscribers. Seguno also offers a STANDARD plan that costs $10/month for up to 1,000 subscribers, which includes multi-email automation, premium automation, premium sections, remailing non-openers, and the ability to remove Seguno branding. Seguno is the perfect app for Shopify experts, specialists, and businesses looking to get results from email marketing faster while spending less money and time.

Amplified is the Shopify email app, the finest platform for all your email and SMS marketing requirements because it works with all your preferred applications and themes. Using Amplified, you can send timely emails and messages to your customers to increase sales. With more than 80 beautifully produced email and SMS templates available, the Amplified Shopify app makes it easy to get going immediately. Email creation is made simple with the advanced email editor. Automating SMS remarketing processes, welcome emails, and cart abandonment emails is simple. Using segments, you can tailor content and make it more relevant to your audience with the Amplified Shopify app. You may start with up to 500 contacts for no cost, and paid plans start at $29/month with additional charges based on usage. With 3,644 reviews and an overall rating of 4.8, Amplified had happy users. Users laud the app's simplicity, diversity of templates, and outstanding customer service.

Avada Email Marketing is one of the best apps for Shopify. Its omnichannel approach enables merchants to follow up and convert their visitors and leads, building long-term customer relationships. This is possible through its features such as smart mail, automation, mass mail, newsletter, SMS marketing, sales popup forms, segment audience, advanced reports, campaign monitor, spin to win and push notifications. Avada Email Marketing also offers various email marketing templates such as recart templates, firepush templates, and shipment, which are very easy to personalize. Avada Email Marketing Shopify app has pricing plans that start with a 14-day free trial and continue with the basic, pro, and advanced levels. The basic plan offers 12,000 emails and 500 contacts, while the advanced plan offers unlimited emails and contacts, up to 18,000 emails sent per month, and Google & Facebook ad integration. Avada Email Marketing offers 24/7 support, full guides, and training courses, with a 30-day refund guarantee. With more than 70,000 merchants trusting them, you can be sure that Avada Email Marketing is a top-rated marketing automation platform specialized for Magento 2 and Shopify. Sign up for a free trial and enjoy three months of Shopify for $1/month.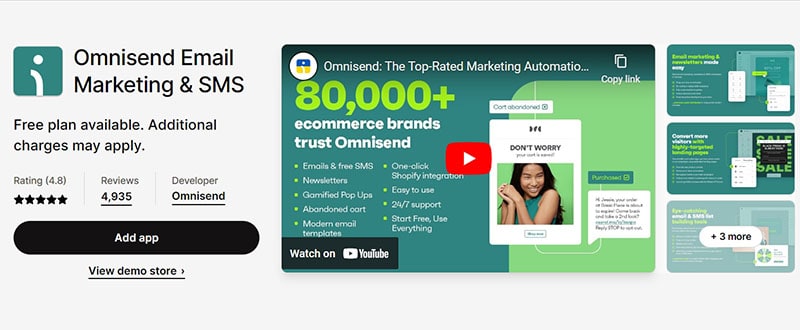 E-commerce firms frequently utilize the Omnisend Shopify app, an all-in-one email marketing and SMS platform, to increase sales, engage customers, and automate several apps. With the help of this tool, website owners and businesses can quickly develop or use pre-made email templates to engage customers using workflows like welcome and abandoned cart workflows that are pre-built and configurable. Using landing pages and pop-ups, the tool also aids in collecting sign-ups and expanding subscriber lists, which can increase revenue. Customers can automate and personalize messages based on customer data with 20+ pre-built marketing automation. The Shopify email app has various features, including spin-to-win, pop-ups, sign-up forms, and email and SMS campaigns. It is simple to use and is responsive to mobile devices. The three pricing tiers offered by Omnisend are free, standard, and pro, with usage-based and recurring fees due every 30 days. Omnisend can bill external fees in addition to the Shopify invoice. To assist users in getting the most out of the Shopify email app, Omnisend offers live chat support around the clock.

As an online business owner, you must recognize the importance of positive customer reviews in boosting your online presence. Reputon is a one-stop shop for your online reputation, and it can help consolidate, improve and display feedback from 3rd party review platforms on your Shopify store! Reputon is a Shopify review app that can help you drastically improve your online reputation with awesome reviews. With this app, you can keep customers constantly engaged in reviewing your services, find weak spots in your service or products and fix them fast! Reputon allows you to display awesome reviews from your website from Google, Facebook, Etsy, Amazon, and AliExpress as social proof. Reputon also offers an affiliate program and other apps like Shopify Spy and has a privacy policy and FAQs. With automatic emails, review links, review requests, and negative feedback avoidance, Reputon can help you get more reviews on 3rd party review platforms and websites. Pricing plans include beginner, light, standard, and advanced, with varying monthly emails and features.
In Summary
Regarding email marketing for your Shopify store, the right app can make all the difference. With the featured 15 Best Email Marketing Apps for Shopify on this list, you have a range of options that suit your needs, from total app management to limited solutions. So whether you're looking to set up different flows, manage transactional emails, or employ pop-ups and upsells, there's a tool for every case. So don't get stuck in the details—choose the app that works for you and start learning the system. And don't forget to check out Plerdy for even more optimization and conversion options!