Are you looking to optimize your website's SEO in 2023? Check 10 Best Google Chrome Extensions for SEO! ⚡ These powerful Chrome extensions can help you improve your website's rankings, analyze important SEO metrics, and stay ahead of the competition.
With online businesses increasingly relying on data, it's essential to analyze your website's SEO and competitors. That's where Plerdy comes in – their data-driven approach lets you quickly obtain valuable SEO data and outperform the competition.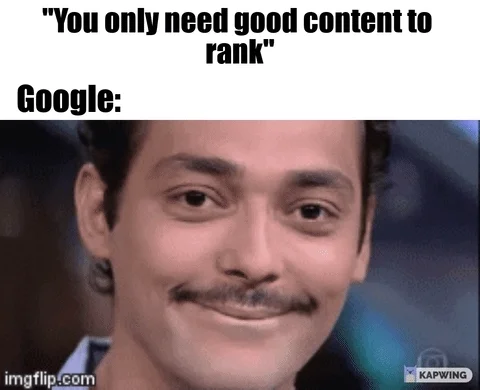 Using this and other best Google Chrome extensions for SEO, you can streamline your optimization process and achieve better results in 2023.

Free SEO Checker Chrome Extension from Plerdy is the first on the list. With this Chrome extension, you can crawl pages and monitor website quality changes, both minor and major. To install the Plerdyextension, you only need to head to the Chrome Web Store and click the Install button.
But what exactly can the Plerdy Chrome extension do for your website's SEO? It provides a multi-tool for deep text research, giving you all the necessary information to improve SEO metrics, fix SEO issues, and grow impressions. Plerdy founder and CEO Andrew Chornyy believes that knowledge is power. With the Plerdy extension, you can upgrade your site to reach the top.
One of the key functions of the Plerdy extension is a quick on-page audit that analyzes various parameters such as title, description, H1 tags, and style attributes within the body. It also checks for a meta tag noindex, nofollow, or canonical and analyzes internal and external links to help improve your website's ranking positions.
In addition, the Plerdy Chrome extension makes analyzing text semantics effortless by providing a statistical report on important metrics such as total word count, stop words percentage, overall uniqueness, average sentence length, and FRES. The Chrome extension also checks for the uniqueness of words onsite, highlights non-original examples, and duplicated sentences.
Other features of the Plerdy extension include analyzing image attributes, Open Graph parameters, and automatic information collection for large sites. Suppose you sign up for the Plerdy marketing platform. In that case, you'll gain access to even more advanced features, such as the ability to analyze all site pages at once and view errors in SEO settings for different types of devices.
Overall, the Plerdy Website SEO Checker Chrome Extension is an invaluable Chrome extension for any SEO specialist looking to optimize their website's search engine rankings. So what are you waiting for? Install the Plerdy extension today and start improving your website's SEO metrics!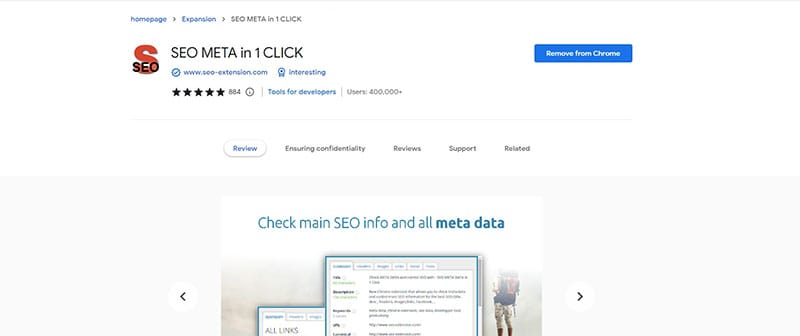 SEO META in 1 CLICK is a powerful Chrome extension providing information for SEO specialists and web developers. This Chrome extension lets you easily manage and improve your website's SEO and online visibility.
The extension clearly displays all metadata and main SEO information, allowing you to check meta-data and SEO information to achieve the best SEO. It provides a snapshot of key page elements such as titles, descriptions, URLs, and header tags. Additionally, you can quickly identify issues such as missing ALT tags or broken links for website auditing.
With its easy-to-use interface and comprehensive reporting capabilities, SEO META in 1 CLICK is an essential Chrome extension for any SEO professional or website owner. And the best part is that it saves a lot of time by automating repetitive manual tasks. The user reviews confirm its effectiveness and reliability, making it one of the best extensions for SEO.

SEO Minion is a free Chrome extension that offers a wide range of features to optimize your website and enhance online presence. This Chrome extension includes features like On-Page SEO analysis, Broken Link Checking, SERP Preview, Hreflang Checker, and more.
With the SEO Minion Chrome extension, you can easily analyze the HTML of any webpage and view useful information that will help you optimize the On-Page SEO. You can also quickly see all the links (internal & external) for any webpage and check for any broken links. Additionally, its Hreflang Checker allows you to check for hreflang tag validity and return tags.
One of the most exciting features of SEO Minion is the SERP Preview, which allows you to preview your website on real Google search results and update it in real time. You can also use the Google search location simulator to view non-personalized Google search results for one keyword on two different location/language combinations.
This all-in-one SEO browser add-on is perfect for website owners and experts who want to improve their website's search rankings. And with features based on user feedback, SEO Minion is constantly evolving to meet your needs.

Have you ever wondered how to improve your website's optimization (SEO), page speed, and security without spending much time and money? Checkbot can help you achieve that with just one click!
This powerful website-testing Chrome extension crawls hundreds of pages simultaneously and checks for over 50 common website problems based on the web best practices recommended by Google and Mozilla. For example, it checks for broken links, missing or long page titles/descriptions/headings, duplicate page content, HTML/CSS/JavaScript validation, canonical URLs, image ALT tags, robots.txt, URL naming, mobile-friendly pages, deprecated web features, 404 pages, meta tags, temporary/meta redirects, thin pages & sitemap setup, and much more.
Checkbot also checks your page speed, including minification, network compression, resource caching, render-blocking or duplicate CSS/JavaScript, excessive inlining of CSS/JavaScript, redirecting URLs, and redirect chains. Plus, it tests your web security by checking for security headers, HTTPS and mixed content, HSTS with preloading, content sniffing, iframe restrictions & password forms security.
Checkbot has received rave reviews from industry leaders, including HubSpot, Enleaf, Einstein Marketer, and Product Hunt.
The best part? The free version lets you check unlimited small websites as often as you need. And if you upgrade, you can even check localhost sites, generate PDF audit reports, export crawl results to CSV, and use advanced crawl settings to exclude pages by URL pattern, type, folder, and subdomain, among other features.
Follow Checkbot on social media for updates, and visit the FAQ page for support and answers to frequently asked questions. With Checkbot, you can improve your website's performance and help it rank higher in search results.

Over 20,000 SEO professionals trust this free Chrome extension to simplify rank tracking and position checking. With the Nightwatch Chrome extension, you can simulate unbiased search engine queries from any location on Google, in any language, without a VPN. You can accurately simulate any SERP and easily check your website or competitor's rankings.
One satisfied user says, "I love the extension – it helps me to quickly gauge a domain's neutral positioning on Google for any given keyword, without VPNs, privacy mode, and all sorts of useless clicking."
Discover what you've been missing with Nightwatch. Review thousands of keywords and their local rankings in minutes. The Nightwatch SEO Search Simulator lets you view rankings from more locations than any other tool.
Users like Niels Geominy and Eric Walker love this tool and use it daily to improve their search engine rankings. Sign up for a 14-day free trial and experience the Nightwatch yourself.

Have you heard of the Semalt SEO Extension for Chrome? This free Chrome extension is an excellent resource for website owners, specialists, experts, and businesses looking to improve their SEO ranking. With the Semalt SEO Extension, you can track your website's Google rankings, view changes over time, identify and analyze competitors, and discover your best-performing pages. Moreover, you can use this Chrome extension to check your website for SEO issues that harm traffic and conversions.
The Semalt SEO Extension collects ranking data on 53 million websites for 100 million keywords across over 1,000 location-specific Google search results, which are updated daily and fed into the Extension. This data is unrestricted, even if you don't have a Semalt account or API key.
This Extension offers a range of features, including Ranking Data, Keywords in TOP, Number of Keywords in TOP, Keyword Distribution by TOP, Rankings by Keywords, and TOP-100 Competitors by Keywords. Other features are the Best Pages tab, Competitors tab, and Webpage Analyzer tab.
Overall, the Semalt SEO Extension is an excellent Chrome extension for anyone looking to improve their website's SEO ranking. With its user-friendly configurations, it's easy to use and customize.

SEOquake is a free Chrome extension that provides a variety of SEO metrics and tools. The plugin offers an SEO Audit tool, Keyword Density report, Internal/External Link analysis, and social metrics. SEOquake enables users to review all essential SEO metrics and conduct a complete SEO analysis of an URL. For example, users can estimate the keyword difficulty instantly, set parameters for a search query, check social statistics for Facebook, get a full report for internal/external links, and determine a keyword's density. Additionally, SEOquake allows users to compare URLs/domains and run a complete SEO audit of a webpage, including a check for mobile compatibility. The plugin is easy to install and compatible with several browser extensions. SEOquake consists of several tools that users can choose depending on their specific SEO endeavors. The SEO bar and SERP overlay are two of the most effective tools offered by SEOquake. The plugin has been downloaded more than three million times and counting, making it one of the most popular SEO Chrome extensions on the market.

Meta SEO Inspector is a free, comprehensive, easy-to-use Chrome extension that enables website developers, SEO specialists, and businesses to inspect and verify web page metadata. The extension provides an accessible interface for discovering all page metadata with just one click, making it easy to identify issues and receive recommendations on fixing them.
Meta SEO Inspector is a nice Chrome extension verifying that web pages comply with Webmasters' Google Guidelines. It helps address Core Web Vitals issues by showing alerts when metadata is outside certain ranges. Meta SEO Inspector provides various features, including copying meta tag values to the clipboard, exporting or printing reports, and accessing popular tools like site testers and safety checkers.
The interface is multilingual and available in English, Français, Español, Italiano, 日本語 (Japanese), and Portuguese/Portugal. There are no account requirements, logins, or fees, and the Chrome extension is constantly updated. Meta SEO Inspector is a powerful extension that can benefit website owners, businesses, and SEO specialists, and it is completely free.

Chrome Extensions for SEO are essential tools for anyone interested in improving their website's visibility and search engine rankings. One such extension is Link Redirect Trace, an all-in-one redirects path analyzer that provides comprehensive and correct analysis of redirects and rel=canonical. With this extension, users can easily analyze on-page and off-page SEO, run competitor analysis, and use advanced SEO techniques.
Link Redirect Trace also provides in-depth link redirect data, including LRT Power and LRT Trust for each URL, data on which URL drops cookies, whether robots.txt blocks crawlers from a redirect, and technical issues like bot-specific blocking. Users can even export the full redirect trace as an image or CSV.
The extension also helps improve user experience by identifying and fixing slow redirects using redirect timings, finding excessive redirect chains (such as WordPress-generated), and detecting indexation issues on each redirect hop level. Users can also discover on-page and off-page SEO issues, check competitor and affiliate links, track hacker website redirects, detect Google penalties, and much more.
In short, if you're a website specialist or expert looking to add value to your clients, Link Redirect Trace is an essential Chrome Extension for SEO to try.

This Chrome extension provides a range of features to help you with competitor and website analysis. With just one click, you can see your Alexa Rank, traffic graphs, server location, pages indexed, and backlinks across various search engines such as Google and Bing.
Aside from these features, WebRank SEO offers a Geo IP location check and website security check with Web of Trust (WOT), McAfee SiteAdvisor, and Norton Safeweb. You can also use the "Compare Stats" button to see how your website fares against other websites and the "Diff Stats" button to track your website's progress.
With the Chrome extension WebRank SEO, you can get all the information you need to improve your SEO website. And if you're not using Chrome, don't worry – WebRank Toolbar is available for Firefox.
Bottom Line
Well, that's it for the 10 Best Google Chrome Extensions for SEO in 2023! We hope you found this list helpful and informative, whether you're starting your SEO career or are an experienced SEO agency. There are many great options, both paid and free. Each offers unique insights and features to help you build organic authority and boost your rankings (Googlebot will fall in love ❤️ with your website).
But if you look for an all-in-one solution to analyze your website, try the Plerdy SEO Chrome extension. With additional analytics, insights, and suggestions, it's the right tool for any digital explorer who wants to stay ahead of the game. Implement it today and share your success stories with us?