Let's define what CTA is and how we can improve it and increase conversion using Plerdy.
CTA (call to action) is usually a text message, an image, or else used for inducing a user to take a target action.
The main aim of CTA: is to help users make decisions and lead to the target action through the sales funnel. Therefore, the more visits go through the sales funnel, and the higher is the conversion.
Usability Testing: Website Tips and Examples

So, CTA on a website is a button, text, or image, which means its effectiveness can be analyzed through a website heatmap. However, unlike other analytical tools, Plerdy allows seeing causes of users' behavior.
How to analyze CTA by means of Plerdy?
Plerdy creates a map based on clicks on a website using a script. The minimum time required for analyzing CTAs is 1 month. The optimal time is 3 months and more.
It is widely practiced to make CTA as buttons, for example, "Buy," "Compare," etc. On the other hand, navigation elements have limited space, so sometimes wider CTAs come as a text, it can be a headline, comment, etc.
To check how effective a CTA is, it's better to start with the overall statistics of pages:


The window shows all information about clicks on the main website elements. For CTAs in a button or banner, it's necessary to take data from the right column. It's better to analyze text CTAs, selecting pages with a high click rate.
The click rate on pages with CTAs depends on:
The amount of CTAs on a page. The ideal solution is one page with one CTA. A landing page can be an exception since it consists of a few blocks and can have both an offer and an additional consultancy.
Unicity of an offer. The smarter the CTA is composed, the higher is the click rate and conversion. An example of a good CTA is: "We guarantee a 30-minutes delivery. Get a 30% discount if the courier is late". Its main goal is to leave no doubts, convince, induce to action.
Location, contrast, and color. A CTA needs to be noticeable and attract attention. And, of course, factors that influence it should be paid attention to. Buttons usually have a different color, but for text messages, size also matters.
Plerdy scroll map allows to determine the optimal location for a CTA: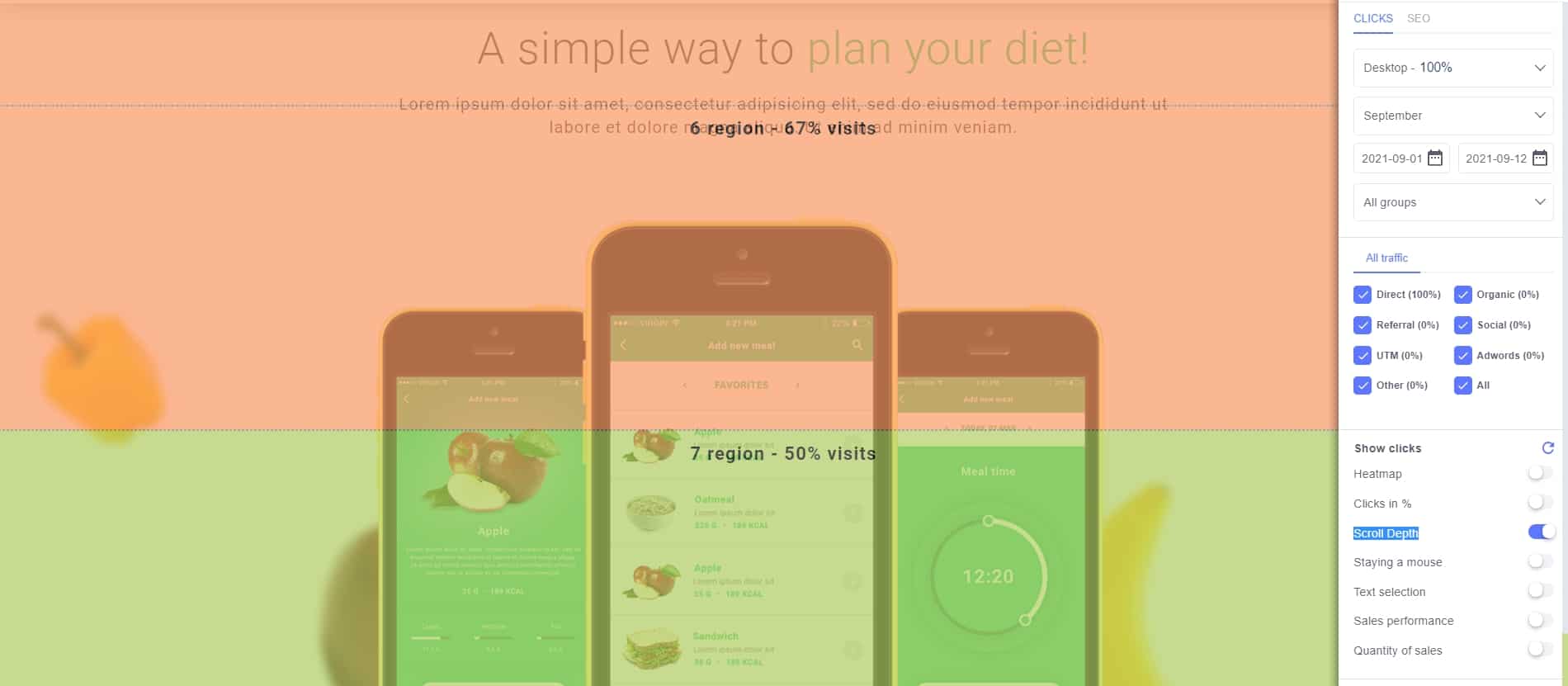 If a CTA is a locator where the click rate is low, the conversion will obviously be below.
The optimal location is the top part of a website (it can be a banner or text in the header). For example, in product cards, the location can be the part above the button.
Mind that a CTA is not a list of advantages and not a description of features. It's a text that induces action.
If there was a CTA on the page, conversion could be much higher: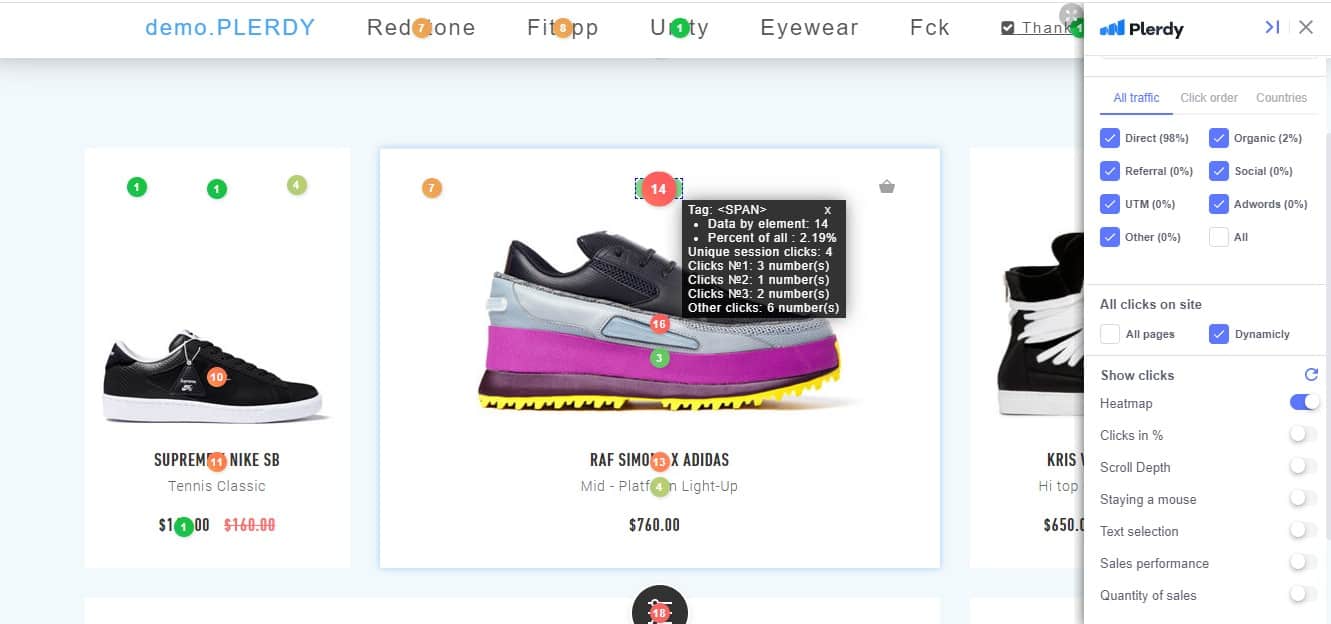 One of Plerdy's advantages is that it can track clicks on separate elements apart from the overall statistics by putting custom tags.
What to do after you find the spots with the highest click rate?
For websites having CTAs and low conversion, it is to create new CTAs compared to data the heatmap tables during a few weeks.
For websites having no CTAs, it is to locate them in the area of users' attention.
How to create a proper CTA?
To create a proper CTA, you need to follow 3 main rules:
Express thoughts empathically. In other words, to personalize. Usually it's only about CTA but other texts too. For example, it's better to write: "Add to your cart" rather than "Add to cart".
Use trigger words. The trigger words increase a click rate on ads (for example, "free", "discount", "gift", etc.). A creative approach will allow to increase a click rate and be remembered.
Explain what happens next. A click rate depends also on if user understands what happens after a certain action. For example, instead of a button "Subscribe" it's better to say "Get a weekly update".
If there are a lot of images on a website, mind that:
Users prefer pictures with human faces. It especially helps when the human's sight is focused on the object or text that a user needs to pay attention to;
Pictures with smiles are clicked more often pictures with other emotions;
Attention is spread on a page in the shape of letter "F", from left to right, from up to down.
Conclusion
CTAs are focused on users having doubts but interested in the product or service your website offers. A right CTA allows to increase conversion by means of a persuasive appeal to the target audience.
Plerdy heatmap and scroll map help to check the effectiveness of a CTA.