No, Software as a Service won't make your device any lighter ? but what it will ease is your efforts to boost your business?
There are several benefits of SaaS affiliate programs. The most obvious one is that they provide an additional revenue stream for your business. As an affiliate, you get paid for each sale you generate, which can greatly supplement your income.
By partnering with a SaaS company, you can gain access to their customer base and extend your reach to a larger audience. This can be especially beneficial if you target specific potential customers or markets. You could get a higher partner status depending on how many sales you attract. You can hold joint webinars and launch a cool channel on YouTube or TikTok.
So let's dive in and unlock explosive growth with SaaS affiliate programs!
What are SaaS Affiliate Programs, and How do They Work?
Standing for Software as a Service, SaaS is a cloud computing model where software is made available on a monthly/annual subscription to customers. This means that instead of buying a software license, you pay a subscription fee for continued access to the account.
Regarding SaaS affiliate programs, the basic idea is that you partner with a SaaS provider to promote your content, and they pay you a commission for each sale you generate. This can be a great way to monetize your blog, social page, website, or other digital property. And depending on the conditions and your interest, you can get a great passive income.
The most common type of SaaS affiliate program is the pay-per-sale model. However, there are other models, such as pay-per-lead, where you get paid for each lead you generate, and pay-per-click, where you get paid for each click on your affiliate link. These programs are rather rare, and they imply a monthly commission payment.
What to Consider in a SaaS Affiliate Program?
Other vital factors to keep in mind when deciding which SaaS affiliate program(s) to join are as follows:
Technical Considerations — Before joining a SaaS affiliate program, find out what affiliate tracking software the company uses and ensure it has all the necessary features.
Long Cookie Lifespan — Cookie lifespans can range from one day to 100 days or more. In general, avoid SaaS affiliate programs that have cookie durations of less than 30 days.
High Commission Rates — It will not be worth your time if the SaaS affiliate program's commission rate is very low.
Good Brand Recognition — While branding is frequently an effective conversion driver, a new brand with a truly original product may help generate more conversions. As a result, you must strike the proper balance between branding and innovation.
Vendor Transparency Before — joining a SaaS affiliate program, you should be able to determine how commissions are computed quickly, any rules to which you will be subject, and who to contact if you require assistance or support.
If you consider all these factors before joining a SaaS affiliate program, you will make the best choice for you. They will help you a lot for sure.
Best Practices for Successful SaaS Affiliate Programs
Once you've chosen a SaaS affiliate program, it's important to follow best practices for successful SaaS affiliate programs. Here are a few tips to keep in mind:
Promote the program on multiple platforms. Promote the SaaS affiliate program on your blog, social media accounts, and other digital marketing channels. This will help you reach a larger audience and maximize your earnings.
Use compelling content. Use content that is engaging and drives people to take action. It could be blog posts, videos, or webinars. Post a well-written article based on keyword research with Ahrefs, Semrush or Google Ads keyword research tools. Try creating podcasts on Buzzsprout, PodBean, Libsyn, or SoundCloud.
Leverage influencer marketing. Reach out to influencers in your niche and ask them to promote your SaaS affiliate program via YouTube, TikTok, and Instagram. This will help you reach a larger audience and drive more sales.
Track your performance. Track the performance of your SaaS affiliate program and make adjustments as needed. This will help you optimize your campaigns and maximize your earnings.
Offer incentives. Offer incentives such as discounts (for instance, 5-10% off from a SaaS company), free trials, and other promotions to encourage people to sign up for your SaaS affiliate program.
By following these best practices, you can ensure that your SaaS affiliate program is successful and unlocks explosive growth for your business.
List of Top 19 SaaS Affiliate Programs
Do you wish to learn about the best SaaS affiliate programs?
I've compiled everything into a single list to highlight the top SaaS affiliate programs.

The Plerdy affiliate program offers up to 30% off payment for service packages. You must register on the platform and obtain your referral link to participate. Then, people can quickly spread information about your company and receive a well-deserved reward. You don't have to devote much time to the program. The following is how new partners are registered and the first profit is received:
Referral link: You will receive a unique link after creating a personal account. Following that, payment for the service package is made per the established procedures.
Link placement: Your responsibility is to inform subscribers and readers about Plerdy's SaaS affiliate programs' features and resources. This is simple: add a referral link to your blog.
The first profit: The commission amount is determined by the number of clients, payments for service packages, and the number of successful transactions. As a result, up to 30% of your account gets credited each month.
Every program participant can withdraw cash received. You must fill out an application and enter your contact information. Funds will be accumulated even if you do not participate directly as long as attracted clients use your link and pay for services.
The top 5 clients of Plerdy are Magic mind, Tesla, Yumble, Zappos, and Walmart.   This SaaS affiliate program has a long Cookies lifespan.

This affiliate program provider, Shopify, has positioned itself as a dropshipping industry leader. This all-in-one eCommerce platform, enabling businesses to create an online store and sell their products using subscription-based software, delivers an exclusive Shopify affiliate program.
Shopify's SaaS affiliate program offers a substantial 200% commission for any new merchant referral with a 30-day cookie policy. There is no limitation on the number of referrals, so a huge fee – up to $2,400 for a single purchase – is possible. Affiliate program partners can earn an additional $2,000 bonus payment for each referral who opens a Shopify Plus account.
If you're a course designer, educator, or influencer with a following that buys stuff online, Shopify's SaaS affiliate program can be a huge moneymaker. You will also get priority support for your own Shopify store. The top 5 clients of Shopify are Leesa, L'amarue, 2 Chains, Good American, and Magnolia.

Do you have a following of creators, affiliate marketers, or Internet company owners? They're probably involved in several affiliate programs, just like you. It could be a headache to collect and analyze data from all of them using spreadsheets.
This is where Affilimate's SaaS affiliate programs come into play. Affilimate's software collects your affiliate data and assists you in running cross-cutting reports that link your commissions back to the content on your website that generated the revenue.
The product is appropriate for affiliates. Also, there is a substantial 20% recurring commission lifetime.
With monthly rates ranging from $29 to $239, you can earn between $5.80 and $47.80 for every referred customer. The Affilimate's SaaS affiliate program's cookie duration is 30 days.
Among their clients, there are Marketing LogIQ, Practical Wanderlust, and The Budget Savvy Bride.

AWeber's SaaS affiliate program is provided by an email marketing platform for small businesses focusing on support and customer education. They also specialize in customizable, design-led templates.
If your target audience is interested in digital marketing, AWeber's affiliate program may work well for you. Their referral program pays a 30% recurring commission to any customers who sign up for and use the service. That means five referrals who subscribe for 12 months can earn you $360 annually.
AWeber's SaaS affiliate program also provides additional support for affiliates, such as promotional materials and a newsletter with support and tips to help you increase your referral revenue. AWeber's SaaS affiliate program has a customer referral newsletter. This SaaS affiliate program has a long cookie duration.
The top 5 clients of Aweber are Vizio Makeup Academy, GoEdison, Patriot Chimney, Scribe Media, and Mokool Apps.

Systeme's SaaS affiliate program comprises a suite of SaaS tools to assist people in growing their online businesses, from email marketing and sales funnels to the online course and website builders.
The Systeme affiliate program features a generous freemium subscription tier that allows customers to send unlimited emails to 2,000 contacts, which benefits affiliates. That makes it relatively simple to persuade individuals to sign up — and once they've done so, Systeme's marketing can handle the rest.
The best part is that this SaaS affiliate program provides a lifetime cookie window.
When it comes to commissions, they're also quite generous. You'll earn 40% lifetime commissions on every sale you promote, so you'll keep making as long as they stay using Systeme.

The SaaS affiliate program developer is Coupler.io – the service that exports data from Shopify, QuickBooks, Trello, and dozens of other platforms to Google Sheets, Excel, and BigQuery without requiring any technical knowledge. It is trusted by Uber, twilio, Bolt, wework, and AirAsia.
Coupler.io also assists in the creation of data backups (such as Salesforce backups), the creation of live dashboards, and the utilization of reports. As a result, eCommerce specialists, entrepreneurs, marketers, accountants, and data analysts can benefit from the service.
Coupler.io's SaaS affiliate program includes a 50% commission on the first payment made by a referred user and a recurring 20% commission beginning with the second purchase. There is no limit to the number of users you can refer. This program's cookie lifespan is 30 days.

HubSpot's SaaS affiliate program is the best software package for growth marketing since it provides a complete platform for marketing, sales, CRM software, and customer service. HubSpot has focused on customer relationship management since its founding in 2006 and offers online courses and certifications geared toward marketers.
More than 95% of HubSpot affiliates are admitted into the program. HubSpot affiliates can pick a 15% regular rate for up to a year or a 100% one-time commission on income generated in the first month. The top clients of Hubspot are Talkspace, Calm, Headspace, and DocPlanner.
There are a lot of possibilities for affiliate partners with paid plans ranging from $50 to $3,000+ per month. The commission payout threshold is only $10, making it simple to begin earning right immediately.

SEMrush's SaaS affiliate program is used for managing online exposure, including various tools such as SEO, PPC, social media, and content. One in every four Fortune 500 firms uses their software.
SEMrush's SaaS affiliate program offers three payment opportunities. Every new sign-up earns affiliate partners $0.01. This increases to $10 for each referral who registers for a trial and $200 for each new subscription sale. They also have a great cookie life of 120 days.
Impact Radius manages SEMrush's SaaS affiliate program. Their SaaS affiliate program is distinguished by their last-click attribution mechanism, which ensures you are compensated for your referrals.
Major companies that use SEMrush are Apple, Amazon, Samsung, Forbes, IBM, and more.

Webflow's SaaS affiliate program developer is a hosting platform and a no-code web design tool that allows designers to construct responsive websites, landing pages, and blogs.
Their base plan costs $12 per month. In addition, for each customer referred, you will receive 50% of all monthly subscriptions for the next 12 months.
Designers who generate their templates are among the most successful Webflow affiliates. So, if someone wants to utilize this program, they must first sign up for Webflow through an affiliate link. This SaaS affiliate program has a long cookie duration.
The top 5 clients of Webflow are Invoca, Getaround, Active Network LLC, Verizon Digital Media Services, and Meta Platforms.

Tribe's SaaS affiliate program enables companies and creators to develop branded online communities. Users can either integrate it with their existing website or run it as a standalone program. Users range from support groups to specialty interests and membership organizations. It has such famous brands as ASUS, ada, ConvertKit,  what3words,  and IBM as their clients.
Tribe's SaaS affiliate program features three commission tiers, beginning at 15% and increasing to 20%, then 25%, based on the number of successful referrals. Because commissions are recurring, you'll receive monthly money as long as your friend stays a customer.
Affiliates have access to a portal that contains photos, video content, pre-written email templates, and other promotional materials. This program's cookie life expectancy is 60 days.

Canada-based FreshBooks is an accounting software startup geared towards small and medium-sized businesses with over 100 apps to make business owners' lives easier. Among their clients there are Capterra, Software Advice, Excentric Agency, Propel Clean Energy Partners, and CRH COLLECTIVE.
FreshBooks's SaaS affiliate program assists its affiliate partners in earning money from day one by paying them for every trial sign-up. This SaaS affiliate program is not the highest-paying in the industry, but there are plenty of benefits if your audience fits this niche. Earn up to $10 for every trial enrollment and $200 for every paid plan upgrade. They also have a long cookie duration of 120 days. FreshBooks has set up its affiliate program to run through ShareASale.

CovertKit's SaaS affiliate program is an email marketing service provider that assists creators in growing their audience. It was developed by creative entrepreneurs. With features for making landing pages, email sign-ups, and more, it is a one-stop email shop for innovative companies.
ConvertKit's SaaS affiliate program is built on regular compensation for referrals. They give a 30% recurring commission to every consumer who signs up for as long as their account is active. Monthly plans range from $0 to $59+ per month, and the more subscribers a user has, the higher your commission. Your commission can quickly become thousands of dollars monthly if you have a creative audience and a great email marketing approach. This program has a cookie life span of 30 days.
The top 5 clients of CovertKit are HelloSign, Periscope Data, SeamlessGov, Procurify, and Petal.

Podia's SaaS affiliate programs are basically related to online learning. The platform enables artists to sell ebooks, audiobooks, and PDFs, start recurring subscriptions, offer webinars and coaching sessions, and email their audience. The platform is used by Sketchnote Academy, Billet to Blade, MikiFoto, The Legalmiga Library, and Oh Joy! Academy.
Its base plan costs $39 per month. It doesn't include any transaction fee. As an associate, you will receive 30% monthly commissions as long as your referral stays active.

The Constant Contact affiliate program is designed specifically for small businesses wishing to build and manage new email marketing campaigns, social media platforms, and websites. The service has multiple positive reviews from its customers, including Lady Black Tie, A&J King Artisan Bakers, The Blue Bunny Books and Toys, La Provence, and Artists for Humanity.
Affiliates of Constant Contact can earn up to $105 for referrals who sign up for a paid Constant Contact account. Importantly, affiliate partners are compensated for any qualified leads they generate, regardless of whether Constant Contact is paid. That means you make $5 even if someone signs up for a free trial with no credit card necessary. You'll also get access to promotional materials and tailored support to help you get started.

Sucuri's CDN can help your website load faster. This means you're getting many SaaS services for one low fee and excellent customer service. Sucuri is trusted by Drupal, WordPress, Magento, Joomla!, and phpBB. Its affiliate program's cookie duration is 30 days.
Sucuri's SaaS affiliate program offers tiered pricing options. Thus, their affiliate commission structure follows suit. Affiliate marketers earn anywhere from $29 to $209 for each referral, depending on the plan their subscriber chooses. Sucuri is, thus, one of the greatest affiliate programs in the SaaS niche in terms of potential income.

Adobe Creative Cloud's SaaS Affiliate program is a software suite that includes apps for graphic design, photography, video editing, and more. It comprises some of Adobe's most well-known programs, such as Photoshop, Lightroom, and Illustrator.
Adobe's huge brand reputation makes it an excellent choice for creative entrepreneurs searching for a SaaS affiliate program with excellent conversion rates. Affiliate partners can earn an 85% commission on the first month of a monthly or yearly subscription if their referrals sign up for a premium plan. For annual memberships with a one-time payment, the commission is 8.33% for the first year.
Some of the companies that use Adobe Creative Cloud are University of California, JOHN HOWELL, Search Engine Optimization, The North Face, and Red Hat.

This SaaS affiliate program is presented by Elementor – the platform that allows WordPress users to design and edit websites with a drag-and-drop interface. The tool was developed primarily for designers, developers, and marketers.
You may use Elementor to customize your website with motion effects, new fonts, and background images that match your brand. You may also use a visual editor to create gorgeous landing pages. This affiliate program has a cookie duration of 30 days. The top five clients of Elementor are El Alce Web, Graffette, Arktis, Modernaweb, and Kadabra.
Elementor's SaaS affiliate programs' annual plans start at $49, and affiliates earn 50% commissions, making it one of the most profitable SaaS affiliate programs.

The affiliate program creator, AnyTrack, is a relative newcomer to the SaaS marketing sector. Still, it has features that will allow you to make affiliate rewards if you join their affiliate program and better manage your traffic. AnyTrack provided their services to PPC Designs, Successful Media, Semrush, BloggingEclipse, and Vinthentic.
AnyTrack's SaaS affiliate product is affiliate monitoring software that allows marketers to measure and track the performance of their affiliate initiatives. Because every marketer needs to track something, whether a blogger, an agency or an affiliate manager, you will always come across affiliate marketers looking for better affiliate tracking software. There is a sizable audience to recruit because AnyTrack assists marketers in tracking their SEO, PPC, and social media operations.
The commission is 15% and is paid monthly for as long as the referred person stays a customer. With monthly subscription fees ranging from $50 to $300, a few sales can generate hundreds of dollars in commissions each month. It has a cookie duration of 30 days.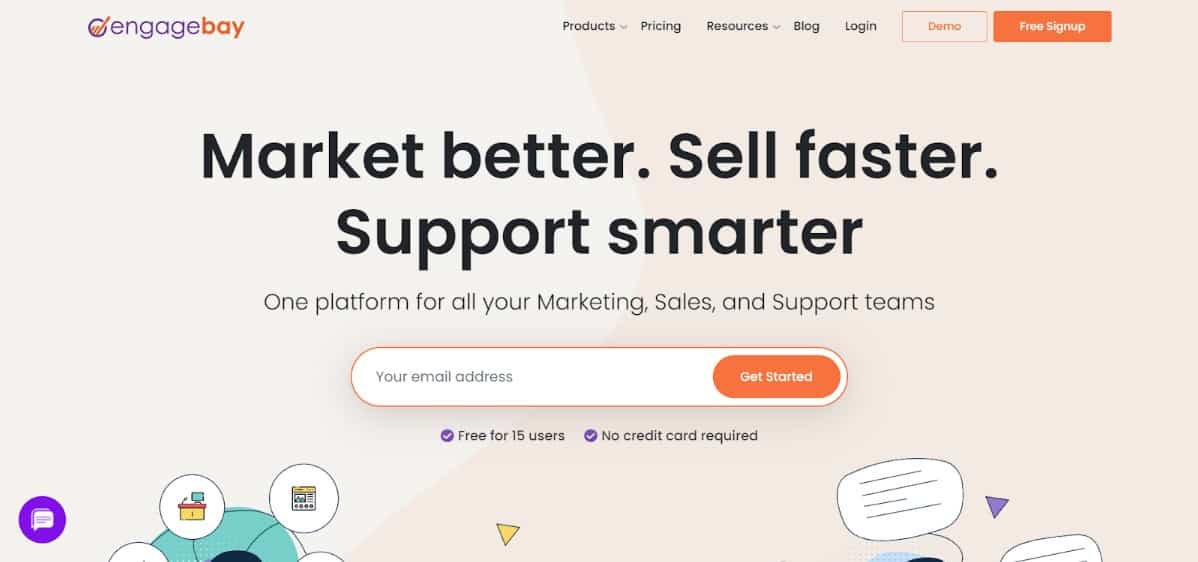 EngageBay's SaaS affiliate program is one of the best and the most affordable all-in-one business solutions for growth since it provides a complete platform for Marketing, Sales, CRM software, and Customer Service. EngageBay has focused on simple and affordable customer relationship management for small businesses and startups since its founding in 2018 and offers powerful features at a low price point.
The EngageBay affiliate program is self-managed, which means that you will need to rely on the brand's own website. You'll have access to your affiliate dashboard immediately after you create a free EngageBay account. With EngageBay, you get what you see, in the sense that you'll earn 30% out of whatever your referrals pay for their subscriptions for the whole duration of their subscriptions. That includes  recurring earnings with the same value for when your referrals renew their plans, too.
EngageBay tracking cookies last 30 days, meaning that if a visitor clicks on your affiliate link, then you will be credited with the referral as long as they sign up within 30 days. You receive the commission from EngageBay every month, for as long as the subscribers continue their paid subscription.
These were the top 19 SaaS affiliate programs. You can choose any of them according to your personal interest and requirements.
Conclusion
Despite some negative connotations, SaaS affiliate marketing is an excellent supplement to your income. However, successfully executing it takes time and effort, beginning with researching the right companies to work with. You can join as many SaaS affiliate programs as you like, but I recommend starting with three. You can always join more as your affiliate marketing initiatives grow.
This list's eighteen SaaS affiliate programs are among the best in the SaaS and marketing industries. Finally, you must determine which SaaS affiliate program is best for you. Then you sign up and promote, promote, promote!