SaaS marketing is a method of transferring software licenses and selling products using cloud-based software. This marketing model has several characteristics – the task of the SaaS company is to constantly prove to its customers that their product is worth the monthly payment. To this end, the developers are constantly improving the user experience and expanding the software toolkit.
What is SaaS?
Software as a service (SaaS) is a software delivery method, thanks to which specialists get access to updated software by subscription. However, there might be a cost for a certain number of transactions.
The main advantage of SaaS is that the client receives fully serviceable software. To do this, the provider or company provides access to the software using a browser without downloading the program itself. In addition, this guarantees the user updates and bug fixes in real-time – as the tool is in the cloud.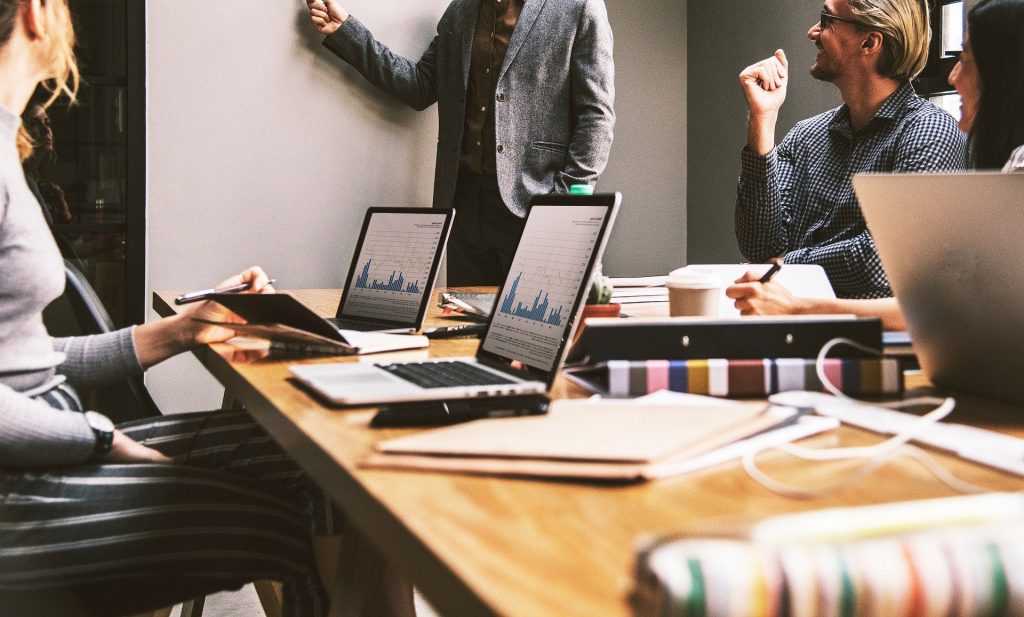 This approach to software distribution has several advantages and disadvantages. The advantages include:
Convenience – the specialist does not need to download the program. Instead, he launches the SaaS software in his browser.
Compatibility with operating systems – the ability to work through a browser completely removes the incompatibility of programs for different operating systems. Whether you are running Windows, macOS, or Linux, SaaS software can run on mobile devices.
Ability to work with a team in the same plane – some tools support sharing. Thus, you can work with a command in a program – even if the OS version does not support its physical loading. It also speeds up the work process and makes it possible to share information online.
Update and fix – since the tool is in the cloud, users do not need to wait for a new version to download or install an update. Instead, everything happens on the company's servers, with maximum comfort for the customers.
Online – ability to use the tool on any computer or laptop.
The development of wireless technologies makes this disadvantage less critical. In addition, some SaaS applications run offline, providing a basic set of tools and capabilities.
SaaS marketing. What is this?
To understand what SaaS marketing is, you need to take a look at the definition of SaaS. Software as a Service means the software as a service. With SaaS, consumers can access programs from cloud storage through a browser. Mostly on a monthly or yearly subscription basis.
SaaS Marketing is the steps companies use to promote their SaaS software. If you empower consumers to use your software, that's SaaS marketing. In other words, the adaptation of standard communications for the promotion and sale of cloud software. Of course, different product niches can follow different promotion approaches.
How not to twist here, the main goal of marketing leads that:
Create an account.
Activate the trial version.
Leave a request for a demo presentation.
Subscribe to the email distribution.
Or something else.
If the product solves the problem for a certain type of business, there is a high probability that the customer will pay.
B2B SaaS marketing
In the B2B segment, many parameters matter for SaaS marketing. For example, strategies that perform well in SaaS with a subscription may not work well in SaaS with a subscription.
Despite this, different companies in this segment have a lot in common. To create a SaaS marketing strategy, everyone needs to pay attention to:
target audience
marketing channels of the company
messaging
branding
coordination with sales
adaptation and retention
It is necessary to monitor all indicators and have a strategy for each item. Data will change as it evolves. By the middle of the plan, a company may have several target audiences and a dozen marketing channels. But first, focus on simplicity.
Content marketing for SaaS
Content marketing is one of the traffic channels used to develop a company in any niche. Its main task is to increase search traffic to blog pages.
However, achieving success through content marketing in SaaS is one of the most challenging tasks for companies and professionals. The reason for the complexity is that content marketing is not a marketing tactic. It is not a tool that can be started and turned off if desired. The problem is that it can take a long time before seeing results from content marketing, especially in the SaaS area.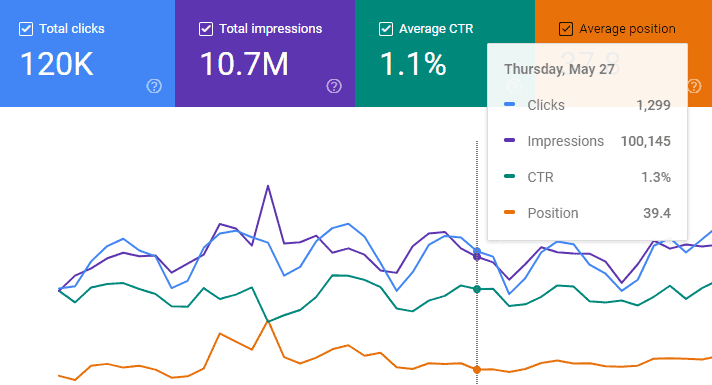 Regardless, a blog can drive leads to SaaS as well as any other niche. But for this, a specialist should think over a detailed content strategy.
Often, a content strategy is not developed, which ultimately leads to low efficiency of content marketing. This can be avoided by developing tactics that can speed up the process at the lowest financial cost. To create a marketing strategy for SaaS, a marketer will need:
Analysis of competitors, how to build content marketing, and what types of articles are written. It is possible to analyze competitors based on Ahrefs tools, those articles which gather the most traffic.
Next, you need to analyze the keywords that have impressions. This can be done in Ahrefs or Google Ads Keywords Tools.
Based on this, you need to create a task for a copywriter based on the structure of the article and keywords.
Check the article in terms of quality, errors, and SEO.
Add pictures, examples and publish an article.
Waiting for indexing from Google.
We are checking whether the impressions are growing in Google Search Console. If not, there is something wrong with the article, and you need to re-analyze your competitors.
Schedule an email newsletter.
Post an article to Reddit and Quora.
The marketer will have to solve these tasks both before and during the created marketing strategy. The answers to these questions and the measured data will be proof of the strategy's effectiveness. This is very important, especially for the SaaS segment.
If the results are satisfactory, then the strategy is effective. However, if the expected growth of indicators did not occur, it is necessary to re-analyze the situation and change the strategy.
As far as the effectiveness of content marketing in SaaS is concerned, it can bring good results, provided a clever strategy is applied.
SaaS marketing plan
For a SaaS company to grow, it needs a well-planned marketing strategy. As with any niche – there are many strategy templates in SaaS. Typically, these templates are not as effective as marketers would like.
Determine the ultimate goal
So that progress does not stop, but the company develops, goals presented in the marketing plan.
By developing the company and moving from goal to goal, specialists will conclude the effectiveness of different channels and tools. In the future, this information will be needed to create a new marketing plan, where the previously obtained results and the methods by which they were achieved will be taken into account.
Marketing and sales alignment
This process involves tracking income and the changes of the set marketing goals. To determine the plan's effectiveness, you can select a specific month and determine how much income should fall on it. To do this, you need to rely on the funnel results metrics.
Thus, having analyzed the data, the specialist will not only predict the expected income. He can also calculate how many managers the company will need to cope with the expected number of clients in a given month.
Determine the marketing budget
When it comes to the financial component when creating a marketing plan, experts have different opinions. Tomasz Tunguz noted that SaaS companies invest 80 to 120 percent of their revenue in sales and marketing, while Jason Lemkin discussed using 40 percent of their revenue as marketing expenses. Data analysis was performed to confirm this.
SaaScribe's analysis of public SaaS companies yielded results. With a two-year revenue growth rate, $1 spent on marketing and sales generated $2.20 over that period. This suggests that the investment in marketing and sales, considering the company's stable development, is a long-term positive investment.
Develop marketing tactics
After the goals and budget have been determined, the time will come for tactics. At this point, the marketer's job is to develop unique and effective tactics that outperform the competitors' tactics. To create it, as in conventional marketing, you need to analyze the available data and prioritize. The first step in creating a marketing tactic is getting to know your audience.
Content definition
The uniqueness of the strategy is necessary to increase the company's chances of breaking through the tactics and work of competing companies. Thus, the strategy of the company's marketer must be unique and effective compared to the tactics and plans of the company's competitors. In addition, a marketer will need to include several strategies in a marketing plan at once to reduce the likelihood of error. Thus, if one of the strategies fails to produce results, the company will have the opportunity to switch to another immediately.
Promotion using PPC and retargeting
To consolidate the existing results and continue the development process, one of the best decisions will be to invest in PPC and remarketing. Thanks to these tools, the marketer will accelerate the increase in the target audience and potential customers.
Top 5 SaaS marketing agencies
The segment of companies using SaaS marketing is quite large. This is why SaaS marketing agencies are in demand. As with any niche, there are leaders in SaaS marketing.
NoGood


Nogood is a growth marketing agency founded and run by proven growth hackers, creatives, and data specialists. Our team comes from successful brands and VC-backed startups. In those companies, we focused on producing clear results and marketing ROI. Now that we're Nogood, we'll do the same for you.
Agency cases: Worked with Nike, J&J, Amex, Amazon, WorkZone, Microsoft, and Steer
Office location: New York, 524 Broadway, New York, NY 10013
CEO & Founder: Mostafa M. Elbermawy – A growth-focused product lead/marketing engineer with 12 years of experience in accelerating revenue/user growth and connecting product and growth teams for VC-backed startups and Fortune 100 brands like Microsoft, American Express, P&G, Workzone, Nike, J&J, Harver, and Exelon. Industries: SaaS, B2B, DTC, retail, CPG, marketplace, banking and healthcare.
Single grain


Single Grain is a digital marketing agency focused on driving scalable and predictable revenue growth using Facebook advertising, Google Ads, YouTube advertising, SEO, video production, and content marketing.
Agency cases: Worked with Uber, Amazon, Airbnb, and Bigstock
Office Location: Los Angeles, 707 Wilshire Boulevard, #3630 Aon Center
CEO & Founder: Eric Siu – Growth Everywhere is a weekly interview series where I interview world-class entrepreneurs on business and personal growth. Past guests on the show include Marketo co-founder Jon Miller, Eloqua founder Mark Organ (sold to Oracle for >$1B), Jason Lemkin from SaaStr, Andy Johns from Wealthfront, and Ron Klein (inventor of the magnetic credit card stripe).
Cobloom


The main target audience of the Cobloom agency is SaaS companies that have faced difficulties in the development process. Thanks to the agency's team have helped many companies. The Cobloom agency has become one of the leaders in SaaS marketing.
Agency cases: Worked with Cisco, Hotjar, Medium, Autodesk, Pipedrive, Hubspot, and Questback
Office Location: London, 163 City Road, The Brew Eagle House, EC1V 1NR
CEO & Founder: Will Steward – I lead the team at Cobloom, and act as the Senior Strategist when developing our partners' growth strategies: combining the team's skills, knowledge & experience with continually evolving technology & processes.
Inturact


Specialties cover B2B SaaS Growth Marketing, SaaS Consulting & Data Analysis – everything you need to turn your product from an immovable object to an unstoppable force.
Company cases: Worked with Keen, HubSpot, Hellopeter, and Stealth Seminar
Office location: Online agency
CEO: Trevor Hatfield – Specialties cover B2B SaaS Growth Marketing, SaaS Consulting & Data Analysis – everything you need to turn your product from an immovable object to an unstoppable force.
Kalungi


Backed by decades of experience, Kalungi provides venture-backed B2B SaaS companies with access to an 'instant-on outsourced marketing team and a proven playbook that delivers results.
Agency cases: Leadcrunch, Ascend Software, Fraxion, Clario, and Clearwave
Office Location: Seattle, 300 Lenora Street #862
CEO & Founder: Stijn Hendrikse – A serial entrepreneur and marketing leader, Stijn has contributed to the success of 10+ startups as a C-level executive, including Chief Revenue Officer of Acumatica and CEO of MightyCall, a SaaS contact center solution. He founded Kalungi – the global leading Growth-as-a-Service Marketing agency focused solely on B2B SaaS companies.
These companies have reached great heights in SaaS marketing. However, none of the teams plans to stop there.
SaaS email marketing
If SaaS email marketing is carried out correctly, it can bring tangible results and contribute to its development.
According to statistics, the percentage of open emails in the field of SaaS marketing is 21.29%. Therefore, the CTR for emails in this niche does not exceed 2.45%. However, your score can be higher with the right strategy.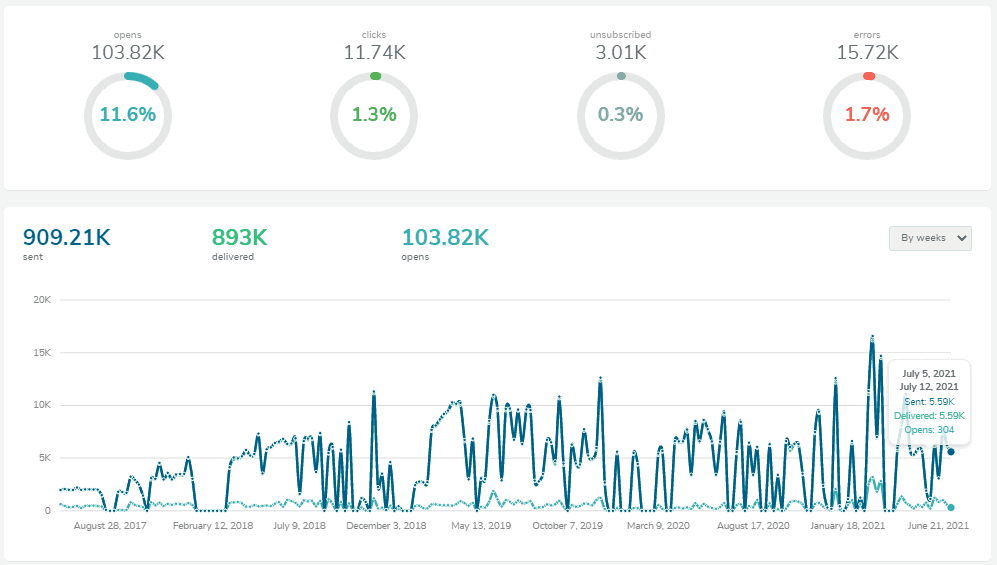 The principles for creating marketing plans are almost the same, but in the case of SaaS, there are many differences in email marketing.
Display your company's goals in emails
If the company has no goals or unclear goals, it will not be possible to track the success and effectiveness of email marketing.
Understand your customers
Not every email will be able to lure certain users. To convince a future client to open your letter, you need to give him something he will find interesting. If your company's services can help the client with his problems, this will increase the likelihood that your letter will be read.
Adapt your letters to the stage at which the user is
Customer acquisition is a step-by-step process. The task of the marketer, in this case, is to accompany the user on the way to becoming a client. For this, letters with different connotations are used, where various user pains are mentioned. This method will yield good results if the marketing strategy has been built correctly.
Email Marketing Automation
A unique approach to each client is what brings results. But if there are more than a thousand users on the mailing list, this process becomes complicated. For such situations, automated marketing is used. For example, with email marketing automation, you can trigger emails based on user behavior on your website.
Use branding at every stage of the SaaS customer.
It is expressed in the tone-voice of your newsletters and emails from your employees to your clients. To fully utilize branding, all letters must be written in the same style. It's also important to keep track of email signatures. The signature should be unchanged, and the tone-voice of the message should be associated with your company.
The main motive behind email marketing is building lasting relationships with your audience. Thus, it is important to send both informational and promotional emails.
Marketing SaaS software. Top 10 tools
To achieve their goals and results, marketers need appropriate marketing tools. There are many such tools for SaaS marketing. Below are the best apps and platforms.
These tools help marketers save time and analyze the effectiveness of marketing campaigns.
SaaS marketing metrics
Based on their data, experts draw conclusions about the effectiveness of strategies and decisions made.
Unique visitors.
Lead velocity rate (LVR).
Leads by lifecycle stage.
Lead-to-customer rate.
Monthly recurring revenue (MRR).
Annual recurring revenue (ARR).
Churn rate.
Customer lifetime value (CLV).
Customer acquisition cost (CAC).
CLV:CAC ratio.
Customer engagement and health scores.
Net Promoter Score (NPS)
Marketing sourced revenue
Top of the funnel leads
Number of active trials
If the indicators are far from the desired ones, marketers need to make the appropriate changes.
Conclusions
SaaS marketing is a popular niche that employs thousands of companies and startups. With SaaS marketing, startups grow into corporations.
SaaS marketing is gaining momentum. Its popularity is growing every year, and the competition in the market is increasing.