In the ever-evolving world of search engine optimization, having the right tools in your arsenal is critical to staying ahead of the curve. This comprehensive guide to the 18 best SEO tools of 2023 will empower you to optimize your site like a pro, skyrocketing your rankings and driving organic traffic. We've handpicked these top-performing solutions to streamline your SEO efforts, focusing on: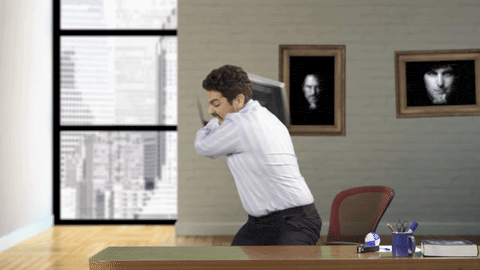 Among these game-changing tools, you'll find Plerdy – an exceptional keyword analysis solution that uncovers your niche's most relevant and high-performing keywords. You'll be ready for any situation with these 18 amazing SEO tools, optimizing your site for maximum visibility and success. So saddle up and delve into top-tier SEO tools that will transform your online visibility in 2023!
Master the SEO Game with Cutting-Edge Tools
Search Engine Optimization (SEO) techniques are the secret to staying ahead in the ever-changing digital market. These sophisticated solutions provide data-driven insights to improve SEO and online visibility.
Discover the Benefits of SEO Tools:
Enhance website visibility: Boost your website's ranking on search engine results pages (SERPs), driving more organic traffic and increasing brand exposure.
Uncover optimization opportunities: Identify areas for improvement on your website, such as keyword usage, meta tags, and content structure.
Monitor competitors: Stay informed about your rivals' SEO strategies, and adapt your approach to outperform them.
Measure performance: Track the effectiveness of your SEO efforts and make data-driven decisions to enhance your campaigns.
Empower Your SEO Strategy with Advanced Tools Equip yourself with state-of-the-art SEO tools and unlock the potential of data-driven optimization. These innovative solutions comprehensively understand your website's performance and user engagement, from keyword research to technical audits.
SEO tools help improve your approach, search rankings, and organic visitors. So don't let your competitors outrank you – embrace the future of digital marketing with advanced SEO tools and boost organic traffic soar to new heights.
Boost Your Site's Rankings with the Best SEO Tools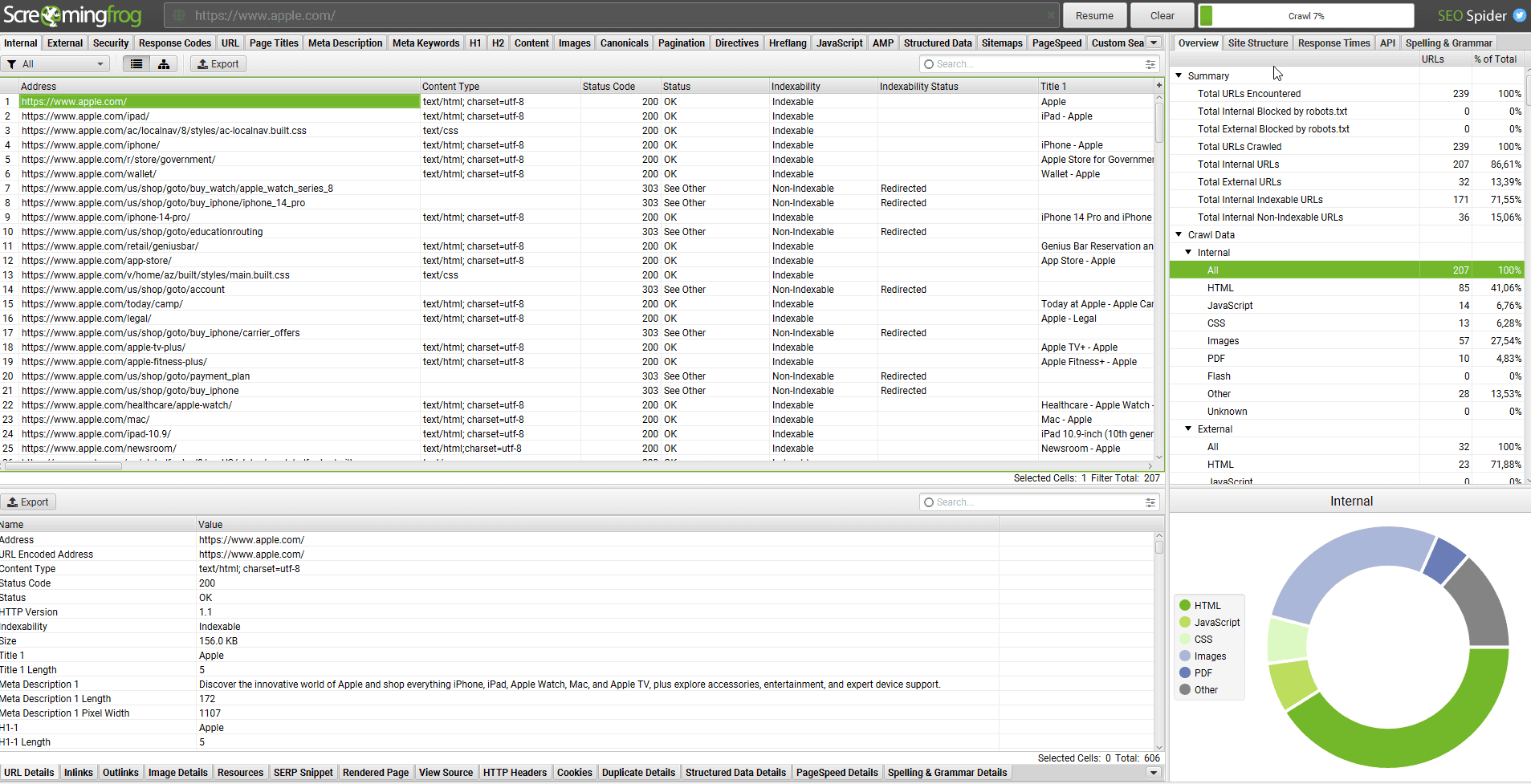 When boosting your site's rankings, utilizing the best SEO tools is key to success. These powerful solutions allow you to gain a competitive edge, enhancing your online visibility and driving organic traffic. So equip yourself with cutting-edge tools and watch your search engine rankings soar.
Five Stellar SEO Tools to Supercharge Your Strategy:
Keyword Research Masterpiece: Uncover high-performing keywords and phrases to optimize your content, driving targeted traffic to your site.
Technical SEO Powerhouse: Conduct in-depth audits to identify and fix technical issues, ensuring your site runs smoothly, and search engines can crawl and index your content efficiently.
Backlink Analysis Champ: Analyze your site's backlink profile and identify opportunities for improvement, securing high-quality inbound links that boost your domain authority.
Competitor Tracking Guru: Monitor competitor performance, uncover their strengths and weaknesses, and adapt your strategy to outrank them in search results.
Performance Metrics Whiz: Measure SEO performance for data-driven campaign optimization.
By integrating these top-tier SEO tools into your digital marketing arsenal, you can uncover opportunities for optimization, address technical issues, and outshine competitors. So don't settle for mediocrity – embrace the power of advanced SEO tools and watch your site's rankings reach new heights.

Skyrocket your online presence with Plerdy's SEO Checker Tool, an essential optimization solution designed to boost your website's conversion rates and improve user engagement. With Plerdy, you gain access to a wealth of data-driven insights to stay ahead in the fast-paced world of SEO.
Key Advantages of Plerdy's SEO Checker Tool:
Comprehensive SEO-health analysis
Mobile-first indexing
Time-saving SEO analysis
Reduced risk of losing organic traffic
Plerdy's SEO Checker Tool: A Solution for Businesses of All Sizes Whether you're a beginner or an experienced SEO expert, Plerdy's SEO Checker tool caters to your unique needs. Unleash the full potential of Plerdy by signing up for a 14-day free trial and discover how it can revolutionize your optimization efforts.
Features & Reports Plerdy Offers:
Maximize Your SEO Impact with Plerdy Plerdy's SEO Checker tool integrates seamlessly with Google Search Console, allowing you to optimize your website and improve your search rankings like never before. Don't miss this opportunity to supercharge your SEO strategy with Plerdy. Book a demo today and unlock the true potential of your online presence.

Dive headfirst into Google Search Console (GSC) to enhance your website's performance. As an SEO expert, you must recognize this treasure trove of data, insights, and optimization opportunities. GSC is your go-to search engine optimization tool for boosting your online presence. Here are some key features you can take advantage of:
Performance: Keep tabs on your site's search ranking, clicks, impressions, and average CTR. Find out which pages and keywords are performing best, and optimize accordingly.
Indexing: Monitor the indexing of your pages and fix any errors that may arise. Stay ahead by fixing crawl errors and keeping your site in tip-top shape.
URL Inspection: Get the lowdown on individual URLs, analyze differences between your live site and Google's index, and troubleshoot crawl issues. This powerful feature gives you granular control over your website's performance.
Experience: Gauge your site's load times, page experience, and Core Web Vitals using real user data from the Chrome UX report. This helps you create a more user-friendly website that loads quickly on desktop and mobile devices.
Mobile Usability: Identify and resolve mobile usability issues to ensure a smooth experience for your growing audience.
Google Search Console is an indispensable tool for SEO experts, providing information and functionality to help you stay on top of your game. Take advantage of this essential tool for unlocking your website's full potential.

Introducing BuzzStream, the ultimate search engine optimization tool that will revolutionize how you build links, manage traffic, and gain coverage for your website. As a cutting-edge outreach CRM, it's no wonder thousands of the world's top marketers rely on BuzzStream every day.
BuzzStream is a comprehensive platform tailored for digital PR, link building, and content promotion. Discovering metrics and contact information for prospects streamlines your outreach process and helps you build a database of past promoters for exceptional results.
Key benefits of BuzzStream:
Build qualified lists in half the time
Send better emails at scale
Avoid lost emails and inbox overload
Use data to improve your success
BuzzStream offers a variety of features, including:
Contact info discovery
Open, click, and reply tracking
Email templates
Email scheduling & reminders
Automated follow-ups
Publisher and influencer metrics
Twitter conversation tracking
Chrome extension
Email performance reports
Link monitoring
Prospecting searches
Customers rave about the platform's ability to streamline outreach efforts, build relationships, and obtain more backlinks for their websites. The user-friendly interface and time-saving features make BuzzStream a must-have tool for SEO experts. So, gear up for success and get on board with BuzzStream today!

Introducing Moz Pro, your all-in-one suite for search engine optimization! This versatile tool helps you climb the ranks, drive quality traffic, and achieve measurable results. Here's what you can expect:
Pinpoint the right keywords: Moz Pro's Keyword Explorer simplifies keyword research, so you can focus on driving qualified website traffic.
Track your rankings: With Rank Tracker, you'll get a holistic view of how you rank for your local and national target keywords.
Crawl and audit your site: Moz Pro's Site Crawl uncovers hidden issues and guides you on fixing them, ensuring your site is fully crawled by search engines.
Optimize your pages: On-Page Optimization helps you improve page performance with prioritized recommendations tailored to your target keywords.
Discover link opportunities: Moz Pro's Link Explorer helps you gain confidence in your links with metrics like Page Authority, Domain Authority, and Spam Score.
Moz Pro is powered by industry-leading SEO metrics, giving you the highest quality data to excel in your job. From understanding your visitors to creating custom reports, Moz Pro takes the complexity out of SEO. So why wait? Get started today, and let Moz Pro be your secret weapon in search engine optimization.

Introducing SEOlyzer, a perfect search engine optimization tool every SEO expert needs in their arsenal! This innovative WordPress plugin is designed to boost your local SEO efforts, streamline your marketing initiatives, and give you a competitive edge.
Here's what sets SEOlyzer apart:
Crawl Analysis: SEOlyzer's advanced crawling capabilities (+JS) help identify technical errors on your site, ensuring optimal performance.
Log Analysis: Keep an eye on your site's logs to gain valuable insights into its performance and identify areas for improvement.
Cross-Analysis: Analyze multiple sites simultaneously to compare and contrast your site's performance with your competitors.
GSC Connect: Integration with Google Search Console allows you to monitor your site's search performance and implement data-driven optimizations.
Keyword Tracking: Stay ahead of the competition by tracking your most important keywords and their rankings.
Backlink Analysis: Get a comprehensive overview of your site's backlink profile, including the quality and quantity of incoming links.
Competitor Insights: Gain valuable insights into your competitors' strategies and uncover growth opportunities.
Customizable Plans: Choose from a range of plans tailored to your needs, whether a small business or a large enterprise.
So why wait? Power up your SEO game with SEOlyzer, and organic traffic will skyrocket!

Dive into the world of SEO with AnswerThePublic, a search engine optimization tool that can unlock the secrets of your audience's mind. This powerful tool listens to autocomplete data from search engines like Google, churning out a treasure trove of useful phrases and questions based on your target keyword. As a result, you'll discover an untapped goldmine of content ideas that resonate with your audience.
AnswerThePublic allows you to:
Meet your customers exactly where they are: Create relevant content that drives more traffic, downloads, views, and shares.
Keep your finger firmly on the pulse: Monitor trends and compare search behavior to stay ahead of the curve.
Uncover hidden treasures: Discover unexpected insights and hidden niches that will give your organic search campaigns a winning edge.
Stop wasting time on guesswork: Fill your content calendar fast, and bid farewell to writer's block with endless content ideas based on meaningful keyword searches.
Make informed business decisions: Get front-row seats to real-time Google search data, and use this information to build bold, data-driven strategies.
In summary, AnswerThePublic is a game-changing SEO tool offering many consumer insights, making creating fresh, highly relevant content easier than ever. By leveraging this tool, SEO experts can stay on top of trends, uncover hidden opportunities, and streamline their content production process, leading to better results and happier customers.

Master the art of SEO with Google Keyword Planner, an indispensable search engine optimization tool designed to help you choose the right keywords and elevate your content. As an SEO expert, you can harness the power of this remarkable tool to:
Discover new keywords: Delve into relevant keywords related to your products or services, making your content more visible to your target audience.
Research keywords: Gain insights into keyword search frequency and trends over time, enabling you to prioritize the most profitable keywords for your campaigns.
Get bid estimates: Determine your advertising budget easily, thanks to suggested bid estimates for each keyword the tool provides.
Create winning strategies: Fine-tune your marketing approach by incorporating the most relevant and high-performing keywords into your content.
By leveraging Google Keyword Planner, you can:
Improve your content's relevance and reach, driving more traffic and engagement.
Third, optimize your advertising budget, ensuring maximum ROI for your campaigns.
In a nutshell, Google Keyword Planner is an invaluable asset for any SEO expert, offering unparalleled insights into keyword performance, trends, and opportunities. With this powerful tool, you can create impactful, data-driven content that will propel your brand to new heights.

Introducing Ubersuggest, your secret weapon in the SEO game. This powerful search engine optimization tool allows you to reverse engineer your competitors' strategies, giving you the upper hand in your market. Here's how Ubersuggest can transform your SEO game:
Domain Overview: Gain insights into competitors' SEO, content marketing, and social media strategies to adopt and improve them.
Top SEO Pages: Identify which competitor pages rank for popular organic keyword phrases and are loved by sites like Facebook.
Keyword Suggestions: Get hundreds of keyword ideas, along with volume, competition, and seasonal trends using the SEO analyzer.
Content Ideas: Discover top-performing content pieces for specific keywords and create content people are interested in.
Backlink Data: See the exact content your niche people are linking to and approach those sites to link to you.
Ubersuggest makes it easy to develop a game plan for improving your link profile and understanding which links will impact your rankings most. So say goodbye to wasted time and hello to better SEO with Ubersuggest.

If you're an SEO expert striving for peak website performance, look no further than GTMetrix. This powerful tool uncovers the secrets behind your site's speed and provides many optimization opportunities. With GTMetrix, you can:
Analyze website performance with detailed assessments like Lighthouse metrics and audits, Web Vitals (LCP, TBT, CLS), and various analysis options.
Receive a breakdown of your page performance in a summarized report, including a waterfall chart, video, and report history.
Monitor your website over time, tracking its performance on a schedule.
Get notified when your page is slow, with alerts linked to a full report.
Additionally, GTMetrix offers unique features like:
Testing in multiple countries, browsers, and connection speeds ensure your site is fast for everyone.
Mobile testing on real Android devices or over 30 different simulated device options.
Premium global test locations with GTMetrix PRO.
By leveraging GTMetrix, you'll be in good company with thousands of people and businesses committed to making the web consistently fast.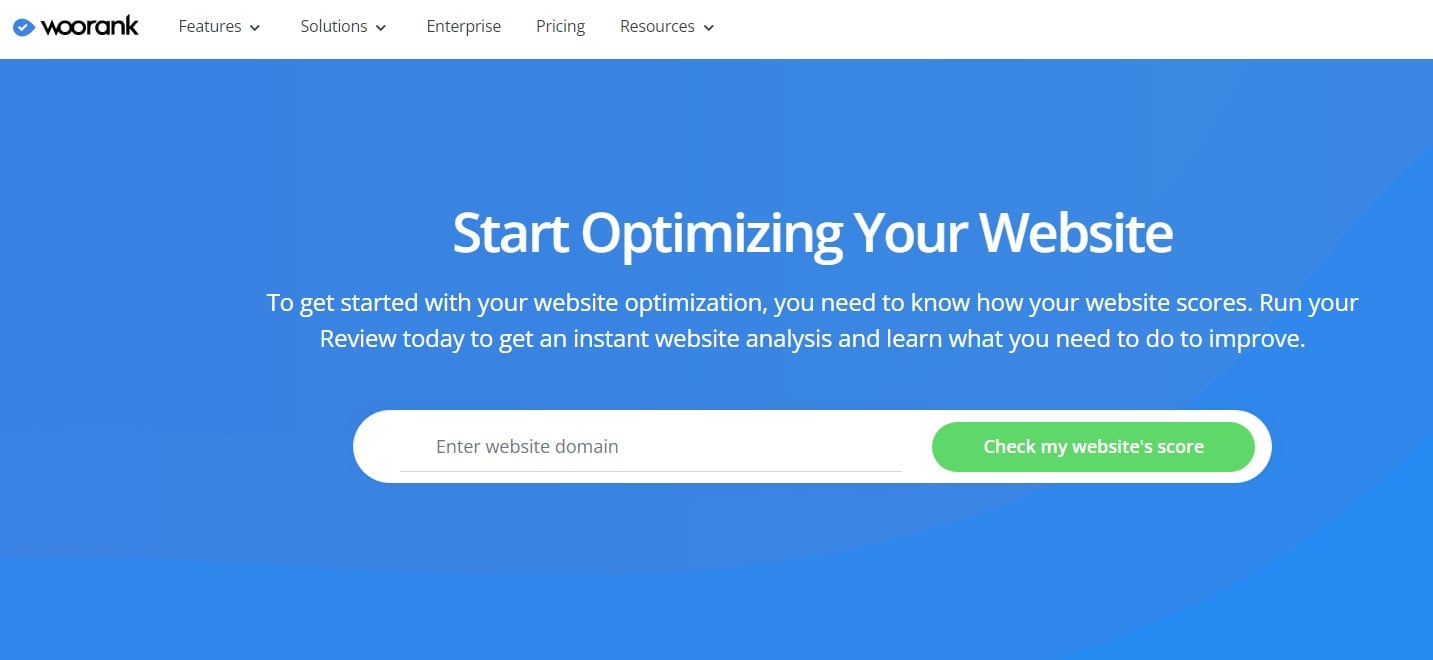 WooRank is the go-to solution for any professional seeking an all-in-one SEO and digital marketing tool that saves time, money, and effort. This powerful tool offers a comprehensive range of features designed to propel your online presence:
Instant Website Analysis: WooRank's lightning-fast review process provides an in-depth report highlighting your site's performance, allowing you to pinpoint areas of improvement.
Actionable SEO Tasks: Receive industry-leading advice on essential SEO tasks that keep you on top of the ever-changing digital marketing landscape.
Core Web Vitals Hub: Stay informed about critical algorithm updates and improve user experience with articles, videos, and more.
On-Page SEO Scaling: Learn how Marketscale, a leading digital transformation company, utilized WooRank's Reviews, Projects, and reporting features to accelerate client growth.
WooRank's cutting-edge features continue beyond there. Benefit from additional functionalities such as:
Keyword Research & Tracking
Technical Website Audits
Instant Website Reviews
White-label Reports
With over 50 million websites analyzed and 250,000 monthly users from 107 countries, WooRank has garnered a sterling reputation. The platform has been featured by prominent companies like HubSpot, Forbes, and Salesforce and has impressive ratings on G2 Crowd, Capterra, and GetApp.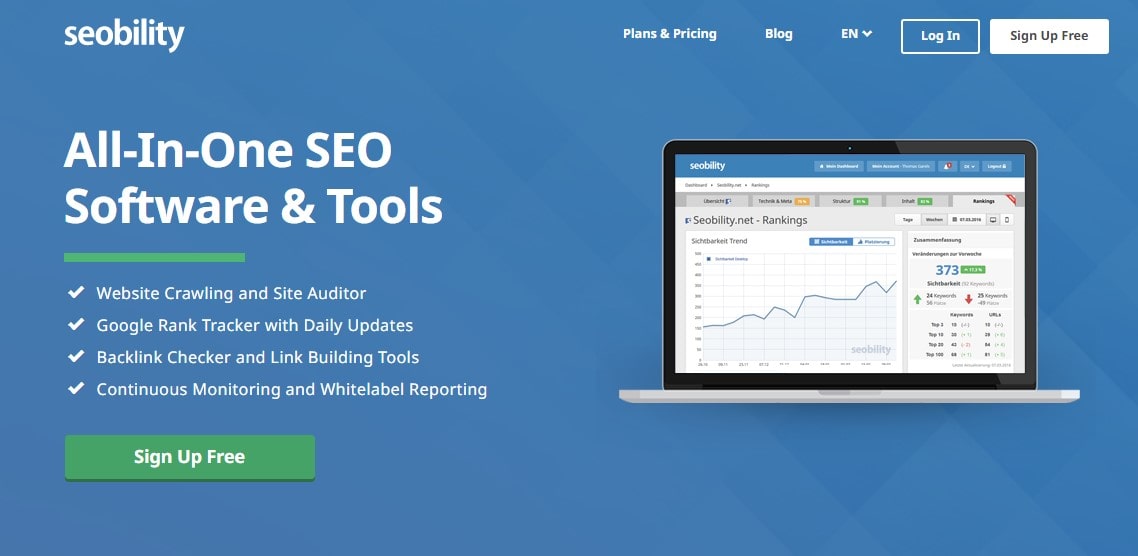 Seobility is your go-to all-in-one SEO software suite to simplify website optimization. Here's a rundown of some powerful features that make Seobility stand out:
Website Crawling and Site Auditor: A comprehensive crawl of your website, identifying errors, on-page optimization issues, and duplicate content.
Google Rank Tracker with Daily Updates: Monitor daily keyword rankings on various search engines at country or city levels on various search engines.
Backlink Checker and Link Building Tools: Spy on your competitors and find ideas for link building while keeping an eye on your backlinks.
Continuous Monitoring and Whitelabel Reporting: Stay informed with email notifications on your website's status and server errors.
Seobility offers the following benefits:
Speedy website optimization: Build better websites quickly, easily, and sustainably.
Complete website analysis: Crawl all linked pages to gather a full picture of your website's health.
Sustainable and continuous review: Regular crawling and analysis to track optimization progress.
Email monitoring service: Receive alerts on critical website errors and server issues.
With Seobility, you get access to the following:
On-Site Audit: A thorough crawler that checks your entire website and follows all internal and external links.
Rank Tracking: Daily keyword rankings on different search engines at various geographical levels.
Backlink Checker: Monitor SEO backlinks, analyze competitors, and find link-building opportunities.
Seobility provides a free SEO software suite for a quick site checkup, including an SEO Checker, Keyword Checker, Ranking Checker, and a TF*IDF Tool. It's the ultimate SEO toolkit, perfect for beginners and professionals alike! Seobility has many happy customers, and it's easy to see why. With its comprehensive tools and features, Seobility makes website optimization effortless.

Do you need help with keyword research? Look no further, KWFinder is here to save the day! This powerful SEO tool is trusted by the pros and loved by everyone, making it an indispensable part of any SEO expert's toolkit.
What makes KWFinder stand out?
First, easily find long-tail keywords with low SEO difficulty, perfect for ranking on search engines.
A user-friendly interface that's intuitive and simple to navigate, even for beginners.
Get exact search volumes and accurate keyword difficulty scores.
Analyze your competitors' keywords and uncover their winning strategies.
Access historical search volume data and identify seasonal trends to optimize your content.
But wait, there's more! KWFinder also offers:
Location-specific keyword research, perfect for local SEO and targeting specific regions.
Over 2.5 billion related keywords, with 20 million added monthly.
Support for more than 52,000 locations worldwide.
KWFinder offers a 10-day free trial to explore all the amazing features without spending a dime. With KWFinder in your corner, you'll crush the competition quickly. Take it!

Introducing Linkody, an SEO expert's dream tool, streamlines link-building campaigns' monitoring and management. Say goodbye to manual tracking and hello to these fabulous features:
Real-time updates on link gains and losses
In-depth analysis of competitors' link-building strategies
Comprehensive link profile metrics
Quick identification and disavowal of harmful links
Centralized management for all links and domains
Not only does Linkody offer a user-friendly dashboard with essential metrics, but it also boasts a powerful link profile analysis for well-informed decisions. And if you're wondering about its credibility, top brands like Etoro, Getresponse, and Sendingblue trust Linkody's prowess.
Benefit from:
Continuous 24/7 link tracking
Valuable link-building opportunities
Quick and easy disavow tool
Access to multiple metrics
Multi-user support
Email notifications
PDF white-label reports
Linkody's rave reviews speak for themselves. SEO Consultant Samuel Hounkpe calls it "the Rolls of backlink monitoring," SEO Agency Owner Pete Duffy claims it's "the best backlink software on the market today." So, why wait? Amp up your SEO game and get ahead of your competitors with Linkody!

Get ready to supercharge your marketing efforts with SpyFu, an all-in-one SEO marketing suite that packs a punch! With SpyFu, you can instantly access various features to dominate the competition and boost your profits. Here's what you can expect:
Historical data: Keep an eye on the past to make informed decisions for the future.
Competitive analysis: Dive deep into your rivals' strategies to stay ahead of the curve.
Backlink outreach: Build a robust backlink profile for enhanced online visibility.
Unlimited keyword & domain projects: Explore limitless growth opportunities.
Custom reporting: Tailor reports to suit your needs and impress your clients.
SpyFu offers a treasure trove of tools and resources for SEO and PPC experts. Here are a few highlights:
SEO Tools: Take the guesswork out of SEO with instant access to backlink strategies, ranking history, and top pages. Stay up-to-date with keyword tracking and custom reports.
PPC Analyzer: Stay on top of your competitors' Google Ads campaigns, keyword history, and ad variations.
Competitive Intel: Gain valuable insights from billions of search results spanning 109 million domains.
Projects & Reports: Organize ideas, increase traffic, and boost revenue from day one.
SpyFu has been recognized as a top product for marketers by G2crowd and received PC Magazine's editors' choice award. Join the satisfied users, including industry leaders and smaller competitors, who trust SpyFu to deliver visibility and insight into top strategies. Give SpyFu a try and experience the difference for yourself.

Looking for a reliable search engine optimization tool? Introducing BrightLocal – the only platform you need to enhance your local SEO game. Trusted by over 10,000 top brands, local businesses, and agencies, it offers an array of features at an unbeatable price. Here's why BrightLocal is your go-to choice:
Comprehensive Local Rank Tracking: Go beyond basic rank reporting with a complete picture of local rankings and uncover the best opportunities to rank higher and grow search traffic.
Fast Local SEO Audits: Audit every inch of local SEO in minutes with automated auditing tools that analyze hundreds of data points, revealing SEO issues and opportunities for improvement.
Effortless Reporting: Slash time spent compiling reports with customizable, white-label reports that showcase the impact of your efforts in style.
Attract More Customers: Generate and manage reviews, monitor and respond to them quickly, and leverage positive reviews as powerful social proof.
Grow Search Visibility: Combine robust citation tracking and local citation-building services to uncover issues, reveal opportunities, and scale your local search visibility.
BrightLocal Features:
Local rank tracking
Local SEO auditing tools
Reputation management tools
Citation building and tracking
Join the ranks of satisfied users like Gary Downey, Founder/Owner of Restaurant Vantage, who says, "I could write a book on what I like about BrightLocal. BrightLocal has directly contributed to the success of our agency.

Introducing the Rich Results Test, a must-have search engine optimization tool for every SEO expert! This fantastic resource enables you to:
Test structured data for special features in Google Search results
Run tests for URLs or code snippets
Choose a user agent (smartphone or desktop)
Validate structured data in JSON-LD, RDFa, and Microdata formats
Why is this test crucial for SEO professionals? The Rich Results Test allows you to:
Identify rich result types, errors, and suggestions for your structured data
Check crawling permissions and page fetch status
Discover the detected structured data on your page
Preview how your rich results might appear in Google Search or Google Assistant
Save test history and share results with others
With the Rich Results Test, you can streamline your optimization efforts, ensuring your content stands out in Google Search results.

Introducing SEOquake, the game-changing search engine optimization tool empowering SEO experts with unmatched insights and analysis. This browser extension has features that make optimizing your online presence a breeze. Here's what you need to know:
On-page SEO audit: Evaluate your website's SEO health swiftly, spotting optimization issues that may hinder your search engine performance.
Link examiner: Delve into the details of internal and external links on any webpage, including URLs, anchor texts, and link types.
Domain and URL comparison: Contrast multiple domains and URLs on the go, assessing various SEO parameters and exporting your findings to an adaptable report.
Real-time keyword analysis: Receive structured reports on all keywords found on a page, visualize data in a keyword cloud, and refine your search with robust filters.
Advantages of SEOquake include:
Fast, user-friendly interface: Perform comprehensive SEO analysis with just one click and one second without any complicated setup.
Real-time SEO audit: Assess your web page's SEO health on the spot, identifying and fixing optimization issues for modern search engines.
Extensive data sources: Benefit from a wide array of reliable data sources and types, such as SEMrush, Alexa, Google rank, and Yahoo index.
Take advantage of the incredible benefits SEOquake has to offer. Boost your search engine performance and outshine the competition today!

As an SEO expert, I can attest that the Screaming Frog SEO Spider is an indispensable tool for technical site audits. With its unrivaled crawling capabilities, it's trusted by countless professionals and agencies around the globe. Here are some reasons why it's a must-have tool in your SEO arsenal:
Efficient Crawling: The Screaming Frog SEO Spider is a powerful and flexible site crawler that can easily handle small and large websites while delivering real-time, insightful data.
Onsite SEO Auditing: This remarkable tool helps identify common SEO issues, from broken links (404s) and server errors to duplicate content and poorly optimized page titles and meta descriptions.
Advanced Features: A paid license unlocks many advanced features, including JavaScript rendering, custom extraction, Google Analytics integration, and more.
Data Extraction: Leverage XPath, CSS Path, or regex to collect vital data from web pages, such as social meta tags, headings, prices, or SKUs.
Robots & Directives Analysis: Review URLs blocked by robots.txt, meta robots, or X-Robots-Tag directives, as well as canonicals and rel="next" and rel="prev" attributes.
XML Sitemap Generation: Quickly create XML Sitemaps and Image XML Sitemaps with full control over URLs to include, last modified, priority, and change frequency.
API Integration: Connect to Google Analytics, Search Console, and PageSpeed Insights APIs to gather user and performance data for all URLs in a crawl.
JavaScript Website Crawling: Render web pages using the integrated Chromium WRS to crawl dynamic, JavaScript-rich websites and frameworks like Angular, React, and Vue.js.
Visualize Site Architecture: Assess internal linking and URL structure with interactive crawl and directory force-directed diagrams and tree graph site visualizations.
In summary, Screaming Frog SEO Spider's extensive features enable SEO experts to make informed decisions and improve their site's search engine performance. This industry-leading website crawler is a game-changer for anyone serious about optimizing their online presence.
Bottom Line
Phew, diving into the SEO world can feel like a thrilling roller coaster ride, right? With so many search engine optimization tools at our fingertips, it's like opening up a treasure trove of possibilities to boost our website's rankings.
SEO analysis tools like Ahrefs and Majestic, to technical wizards like DeepCrawl and Yoast—we're truly spoiled for choice! And let's not forget about the fantastic free options like Buffer and Searchmetrics, which make it easy for anyone to jump on board and start optimizing.
But remember, the key to success lies in picking the right tool for your unique needs. Think of it like finding your perfect pair of sneakers—once you've got the perfect fit, you'll run like the wind!
And hey, if you still need to figure out where to begin, try Plerdy. It's a comprehensive SEO platform that has something for everyone. Whether you're a seasoned SEO pro or just dipping your toes into the water, Plerdy's got you covered. So please give it a whirl and watch your website rankings soar sky-high!
In conclusion, feel free to explore and test out various tools. The perfect SEO sidekick is waiting for you – so start your adventure today and let your website shine bright like a diamond in the search engine results!