Improving a site's ranking in search engines, increasing brand awareness, and increasing online sales – these tasks are solved every day by an eCommerce SEO agency. In addition, advanced technologies and agency specialists' authoring help their clients outperform their competitors.
Frequently asked questions from online store owners who are just starting out or already have conversions and sales:
What are the best examples of ecommerce SEO done well?
How to structure an eCommerce site for SEO?
What are the best affordable ecommerce SEO companies?
How to properly upgrade your old eCommerce website to Shopify without losing SEO value?
Which ecommerce vendors have the best SEO?
How to optimize eCommerce homepage SEO?
How to increase eCommerce conversion?
Where to find an ecommerce SEO expert in south Florida?
How many hours should I estimate for SEO for my eCommerce site?
What do you need to know about SEO when starting an eCommerce business?
Where to find web design plus SEO Miami SEO agency?
In this article, you will find a lot of SEO practices and discover the easiest SEO agency for ecommerce.
Ecommerce SEO Agency Services List
An eCommerce SEO agency's list of services includes search engine optimization for on- and off-page websites. Customized strategies have a significant impact on the success of companies, increasing the return on investment. Each agency strives to adapt basic eCommerce services to the specific goals of its clients.
Website audit and competitor analysis
First, the agency conducts a detailed audit of the customer's website. Various methods are used for this, but they aim to obtain the leading indicators for various metrics. The indicators lend themselves to in-depth analysis, based on which SEO specialists develop different strategies.
A detailed audit of the site contributes to its effective promotion.
Ecommerce SEO strategy
Search engine promotion requires a clear strategy. An SEO agency will develop an eCommerce site's most promising search engine optimization plan. The likelihood that the tactic will fail is virtually nonexistent.
On-page SEO eCommerce site
Websites built upon past trends do not meet SEO's current rules and requirements. An SEO agency will analyze your eCommerce site and fix any errors. The result of SEO optimization helps to speed up website promotion and affects the company's profit.
Off-page SEO eCommerce site
On-page SEO is not always enough to get a website to the top of the SERPs. An SEO agency will help you place quality, authoritative links. To do this, guest blogging or posting links on forums or question/answer sites such as Quora and Reddit. The number one challenge is getting organic backlinks. With this kind of optimization, the chances of a site's success.
This is a list of basic SEO agency services for eCommerce, but there are dozens of others – each company tries to use exclusive promotion methods.
Developing your techniques and personalizing the service brings SEO agencies to the niche leaders. So it is about them – which we will discuss further in our article.
TOP 14 Ecommerce SEO Agency

The Searchbloom agency opened in 2014. The founder and CEO of the company are Cody Jensen. The main direction of the agency's work is eCommerce SEO: clients are offered local SEO, national SEO, international SEO, and PPC management. The cost of agency services starts at $1,000, with no fee for the preliminary consultation. The agency's website also has a set of free digital search engine optimization tools.
A good example of collaboration is their work with ShirtSpace.
After implementing an individually-tailored marketing strategy, their ROI increased by 1839%.
The agency has worked fruitfully with Uqora, Trex Fencing, Jitterbug, DeWils, Suse, Goedeker's, College Data, Chobani and other companies.
Customers note the high quality and effectiveness of their optimizations performed.
You can get acquainted with the company's case by visiting the official website of Searchbloom. The office of this top-rated SEO agency for e-commerce is located in West Jordan, UT, USA.

This digital marketing agency was founded in 2012. Their activity is eCommerce SEO. 1Digital Agency offers expert assistance in web design and innovative and strategic development for eCommerce, SEO, and PPC. Average hourly wages for specialists are $150–199. But you can also buy a range of services. The calculator on the company's website will allow you to calculate the introductory price for a specific project.
Clients of 1Digital Agency note the team's professional attitude to every aspect of cooperation. "Joining forces with agency experts resulted in monthly improvements in site traffic and increased conversions" – a quote from a review by KM Herbals. In addition, the responses mentioned the ability of the 1Digital Agency team to adapt to the most difficult tasks and requirements.
The agency's clients include Hitachi, Bob Ross, Rollie, and Steinway & Sons. Dan Kogan is the company's founder and CEO, headquartered in Hollywood, FL, USA.

SEO Experts Company India (SECI) was established in 2019 by Navneet Singh. Their main area of ​​development is eCommerce. The company offers its clients the opportunity to increase their traffic by implementing effective SEO strategies. In addition, they provide website auditing services, competitor analysis, and top-performing keywords search.
The company's clients note its specialists' highest quality of work. Thanks to the excellent results of collaboration with Vapor Source, LetsShave, and An Indian Affair, the agency has been recognized as one of the best SEO companies in India.
A distinctive feature of SECI is that the company does not work with paid search. Instead, customers are offered a free site audit. Based on the analysis results, the project's final cost is formed (the minimum order size is $1,000, from $25 per hour). SEO Experts Company India is headquartered in Sahibzada Ajit Singh Nagar, India.

This company was founded in 2004. The founder and CEO are Justin Smith. Their specialization is web design and search engine optimization to develop eCommerce. OuterBox offers its clients customized solutions: launching paid search marketing, conversion optimization, and SEO copywriting. The agency makes no distinction in status: they promote both startups and business projects of large corporations.
A decade of experience in the eCommerce SEO niche has made OuterBox one of the top agencies. Companies such as ABB, K2awards, NewAir, AtlasOil, UCFS, and JetDock have turned to their specialists for help. Customers talk about the performance of OuterBox's strategies that have surpassed their wildest predictions. In addition, the company's ability to solve complex problems in simple and understandable ways is noted.
You can find the cost of services by filling out a special form on the website. The minimum invoice for an optimization project starts at $1,000. The agency's office is located in Akron, OH, USA.

The agency was founded in 2014 by internet marketing veteran and best-selling author of "The SEO Visual Blueprint" Kris Jones. Ecommerce is one of LSEO's business segments. In addition to a full range of services based on the client's real needs and budget, the specialists of the digital marketing agency offer management of paid advertising campaigns on Google, Bing, and social networks, branding and remarketing assistance. "We're not targeting everyone on the Internet. We want to attract those who do not know that they need your company" – the message of the LSEO team.
There is a request for the cost of services on the company's website. The minimum price for a web project is $1,000. It is better to decide after a free consultation, based on which you can conclude.
The company's partners are large manufacturers and online stores. Their key clients include Disney, Penn State University, RedFin, and Natera (Evercord). In the reviews, the lightning-fast growth of indicators is noted: an increase in leads and conversions. LSEO's headquarters are in Wilkes-Barre, PA, USA.

According to the agency's founder, Brennen Bliss, PixelCutLabs' aspirations can be reduced to one goal: to become the best in the email marketing niche. This ideology allowed them to enter the top 14 best agencies in the eCommerce niche. In addition, the company offers its clients a seven-step search engine optimization strategy on a website page, providing copywriting services.
PixelCutLabs clients note the high performance of the individual strategies developed by the agency's artisans. For example, SERVPRO increased its organic traffic by 25% within five months. Clients also talk about the high qualifications of all personnel. The agency's portfolio includes Junebug, Thrifty Traveler, Lumin, The Pet Vet, and O'Brien Architects.
After a free consultation, it is easier to identify the problem and order the service by filling out the form on its website. The cost of each specific project is calculated individually. The minimum price is $5,000. PixelCutLabs was founded in 2014 and headquartered in Austin, TX, USA.

Unlike most competitors, Inflow provides a full range of eCommerce-related services. For example, customers can order search engine optimization, launch a paid ad campaign, or do conversion optimization.
Information about the cost of services is confidential. However, an hour of work of their specialists is estimated at $150–199. In addition, the site contains a free consultation proposal and details of the development of an individual package of services.
This e-eCommerce SEO agency works with companies are Veridesk, Gaia, Mountain House, GiftCards, and DollarDays. Customers note synergy performance: a Denver-based creative agency saw a 180% increase in conversions after working with Inflow.
The company was founded in 2007. The CEO is Mike Belasco. Their agency office is in Denver, CO, USA.

Founded in 2015, WebGeoSoln has become one of the best in the eCommerce SEO niche. Thanks to the well-coordinated work of a team of specialists, 95% of the agency's projects have been successful.
WebGeoSoln developments are "sharpened" for eCommerce. Nevertheless, the company offers other services related to this niche. For example, the agency team assists clients with conversion optimization, search engine optimization, and social media marketing. This list of services attracts clients, including Vapor Boss, Mortgage Destination, Healing At Home, Henchkart, and Dzire Transport.
The cost of the project in each case is determined. Clients report the initial price for services as $25–49 per hour. The reviews note the non-standard approach of the specialists to solving problems and the effectiveness of the proposed methods.
The main office is in Sahibzada Ajit Singh Nagar, India, and they have an additional office in Fontana, CA, USA.

One of the oldest among the best – the agency was registered in 1995. A wealth of experience and a team of eCommerce "veterans" have helped this company succeed tremendously in the niche. The site declares $2.4 billion in revenue and 6.3 million leads generated by customers due to the collaboration. There are small organizations and corporations with a long history and big-name among their partners. For example, Verizon contacted WebFX services, Auntie Anne's, 1 & 1, Subway, and Jiffy Lube.
The WebFX site has many articles on the usefulness of its service. The exact cost of the project can be found by applying. Or use the calculator built into the site (consider certain errors in the calculation).
Clients of WebFX note the highest level of communication, the willingness of specialists to answer possible questions, and a serious approach to any problem.
WebFX is headquartered in Harrisburg, PA, USA. You should pay attention to this ecommerce SEO consultancy.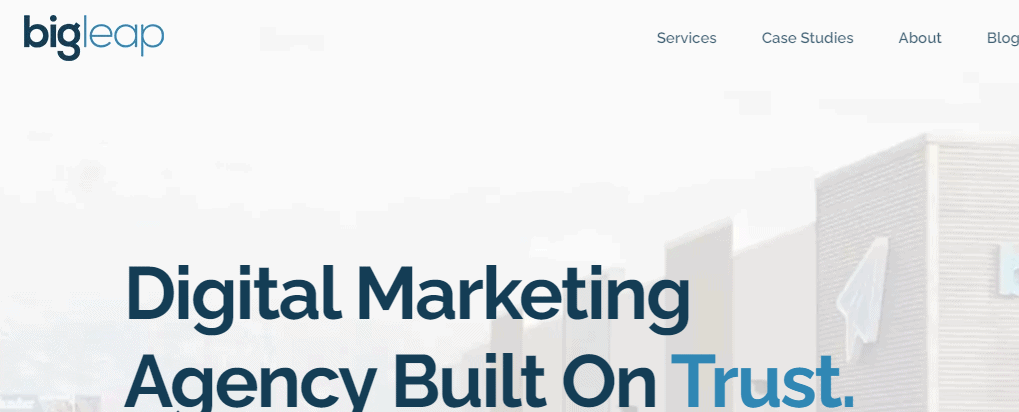 Starting in 2008, the agency reached the top in the eCommerce niche quickly enough. One of the goals of Big Leap is to provide customers with stable organic traffic by all possible methods. The company employs more than 80 experienced professionals who help entrepreneurs achieve their goals daily.
The agency's clients include Avis Budget Car Rental, Pluralsight, Nu Skin, Workfront, and Empire Today. Most note the excellent results of cooperation, especially in terms of content. The organization of specialists and attention to detail is another plus to the agency's reputation.
The company's price list includes most of the available eCommerce services. In matters of pricing, the rule of a personal approach is observed. It is known that an hour of work from a team of professionals is estimated at $100–145. Big Leap is headquartered in Lehi, UT, USA.

Return on investment strategies is the basis of the agency. Since 2004, their high-class specialists have been helping their clients to get stable organic traffic. In addition, they are well aware of the value of proper optimization in eCommerce. This is why Titan Growth is ranked among the world's best email marketing agencies.
Search engine optimization paid media management, and social media management is the services that make Titan Growth in demand. Clients include Mizuno, Blackbaud, Suja/Coke, National Geographic, and Mikimoto Pearls. In addition, the effectiveness of the methods used and the positive results of cooperation are noted – for a year of work with the agency, a pharmaceutical company from San Diego increased page viewability by 1,600%.
The cost of services is calculated on an individual basis. The feedback form is on the site. Experts will contact you personally and form a campaign budget based on your goals and wishes.
The agency's office is located in San Diego, CA, USA. It is rightfully among ecommerce SEO providers.

Straight North is a full-service online marketing agency for B2-B and B2C businesses. The company provides SEO, PPC, and web design services. In addition, PPC, display advertising management, proprietary lead tracking technology, and the agency's targeted marketing campaigns help attract new customers and grow your business.
Practical examples confirm the professionalism of the company's specialists, a convenient reporting system, and the high efficiency of cooperation with Straight North. The cost of services varies depending on the complexity of the project. An online consultant is available on the site who will inform you about the current prices. By entering your website URL in the special field, you can get a free instant SEO audit.
Companies such as Keyence, Dickey's Barbeque, Conduent, Donnelly Financial Solutions, and Clover Network trust Straight North's strategies.
The company is one of the oldest in the niche. Its history began in 1997. In 2008, David Duerr co-founded the agency, significantly expanding the range of services. Straight North is headquartered in Downers Grove, IL, USA.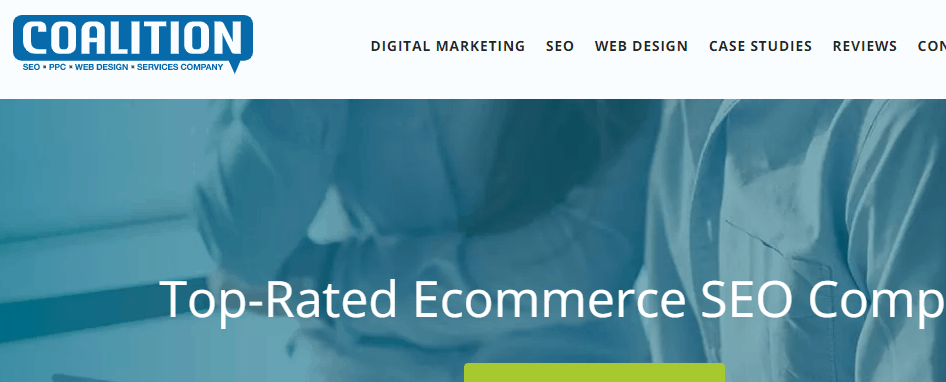 US leader in eCommerce, SEO, and digital marketing. Founded in 2009, the agency has shown excellent results in its chosen niche. Due to the effectiveness and personalization of strategies, the agency is trusted by companies such as PayPal, Natori, Harvard, Whataburger, Pink Lily, Native Union, Ford, Jack Daniels, and others.
In the reviews, clients write about the level of professionalism of the company's employees and the effectiveness of the proposed marketing solutions. With the help of new strategies, client companies achieved previously unheard-of indicators and a noticeable increase in the number of leads on the site.
Coalition Technologies offers almost a complete range of services related to electronic marketing. The cost is $50–99 per hour, but it is better to contact a consultant and discuss your specific project. Coalition Technologies is headquartered in Culver City, CA, USA.

Since 2012, the company has collected many well-deserved awards. Victorious has been recognized as the fastest growing and most successful agency in the United States. The company's organizer, Felix Gray, managed to create an image of an agency for which there are no impossible tasks. Thanks to this, the largest companies and corporations turn to Victorious.
Their main activity is eCommerce. The company employs many specialists with many years of experience in this niche. Victorious can offer in-depth website audits, content optimization services, and data analysis, followed by creating an effective marketing strategy.
Their clients include SoFi, Groupon, Yahoo, Spotify, GE, Salesforce, GoFundMe, and Heap Analytics. Most of the reviews are overwhelmingly positive. The company's impeccable reputation only increases the demand in the eCommerce market. To start cooperation and determine your project's cost, you must fill out the form posted on the website.
The office of one of the most popular and demanded agencies globally is located in San Francisco, CA, USA. Therefore, it is a mistake not to pay attention to this ecommerce SEO firm.
Conclusion
Ecommerce is a multifaceted niche. The slightest changes in it can significantly affect the company's financial success. Therefore, after planning your reorganization, ensure that the agency you hire meets your requirements. Please find out more about its results and the effectiveness of decisions made by its specialists. The positive image of the eCommerce SEO agency and the number of confirmed cases of cooperation with other companies will help you make the right choice. And remember that Plerdy is the top SEO platform for ecommerce you can use to improve your SEO.