If you cannot choose between Semrush and Moz, this article should help you decide. Learn more about their functionality, subscription plans, and advantages.
What is Semrush?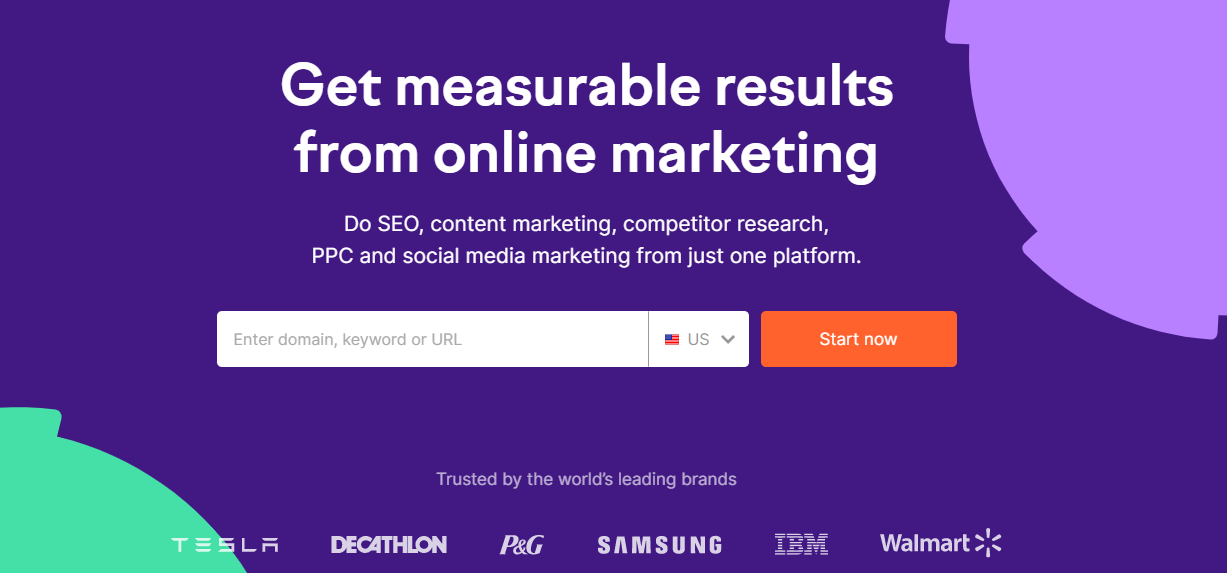 Semrush is an all-in-one platform that helps businesses improve their online visibility through SEO, PPC, keyword analysis, competitive research, content marketing, analytics, and campaign management. It collects search data from Google and Bing engines to generate valuable insights guiding users through website optimization and marketing.
Semrush owner is an American public company headquartered in Boston, Massachusetts. The predecessor of the tool was called Seodigger, then renamed SeoQuake to become Semrush in the end.
In 2016, the software celebrated one million users from over 100 countries. The platform keeps adding new tools to meet its users' expectations.
What is Moz?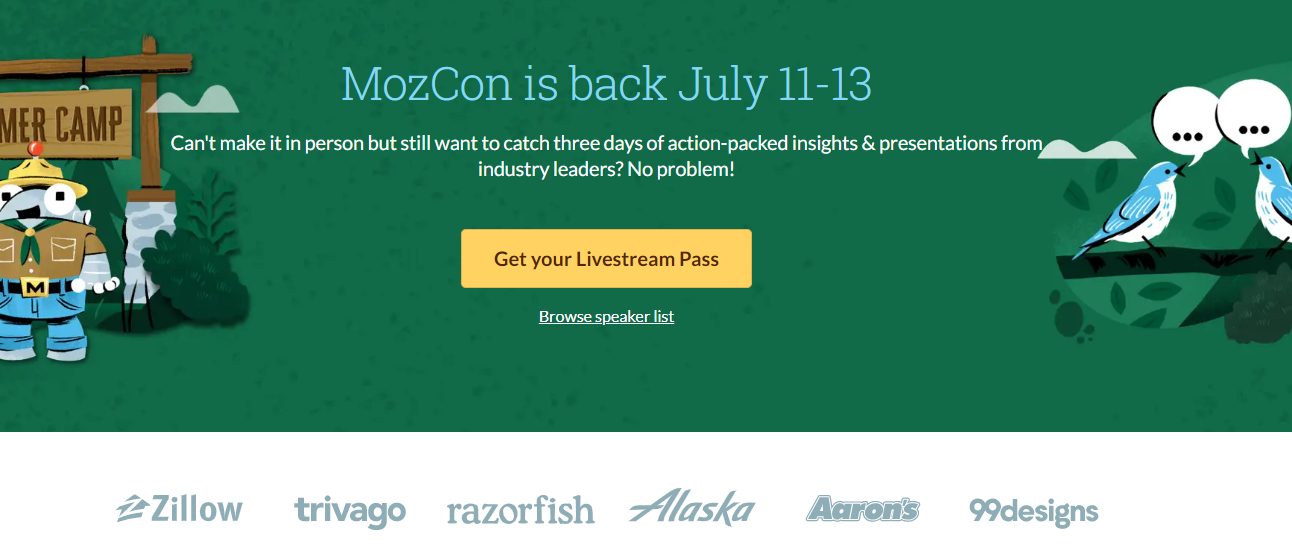 Moz is a search engine optimization and data management platform that helps businesses increase their online ranking. It has rich functionality for tracking keywords, and you can always check how well your website performs compared to competitors. You can also use it to grow traffic to your website and enhance its visibility in search results. The most popular features of Moz include website audits, backlink analysis, keyword search tools, and rank tracking.
Moz has a long history behind its current success. Rand Fishkin and Gillian Muessig started the company in 2004 to provide SEO services. They rebranded what was called SEOmoz to MOZ and began concentrating on developing SEO tools.
Compare Semrush vs. Moz by Key Features
This section contrasts Semrush and Moz based on the characteristics that usually affect the choice of web analytics software. Check them out to get a better idea of what tool you need.
Pricing Semrush & Moz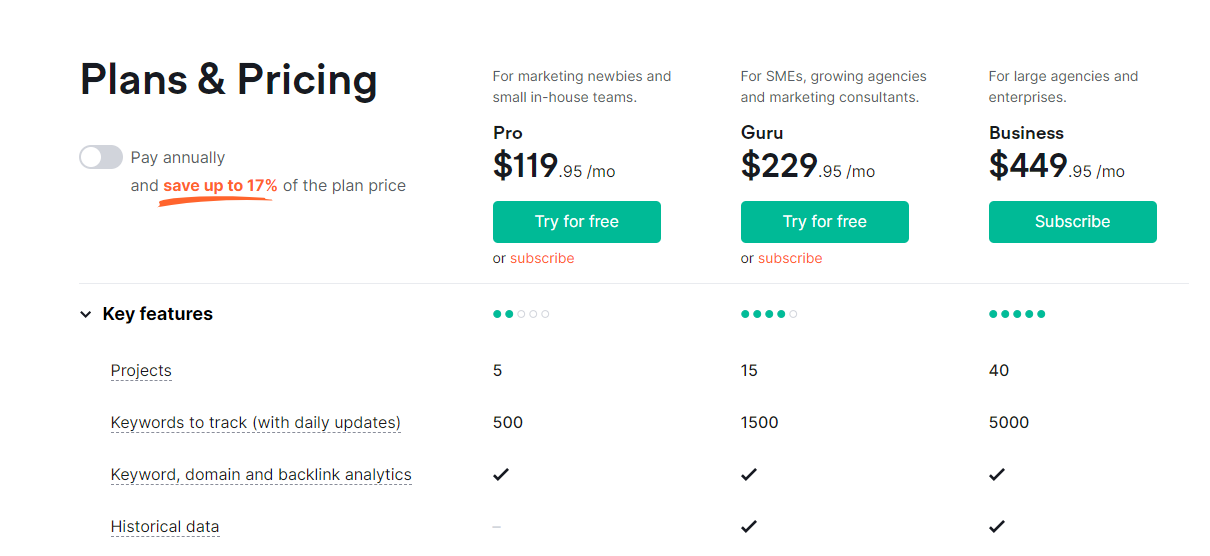 Pricing is critical for most companies adopting new software, especially for small ones with limited budgets. The cost of Semrush and MOZ is comparable, and they both offer a discount if you pay annually. The only difference is that Moz supports more plans.
Semrush
Moz
Plans
Semrush Pro ($119.95/mo)

Semrush Guru ($229.95/mo)

Semrush Business ($449.95/mo)

While Pro is for newbies, Business covers the needs of enterprises.

Moz Standard ($99/mo)

Moz Medium ($179/mo)

Moz Large ($299/mo)

Moz Premium ($599/mo)

The cheapest plan is the best if you want to get started, while the most advanced one is a top choice for large marketing agencies.

Discounts
Save 17% with an annual subscription
20% cheaper if you pay annually
Trial
7 days free
30 days
Additional opportunities
+$45-100/mo to add a user

+$200/mo per user for Semrush Trends

+$150/mo for Agency Growth Kit

+$200/mo for Impact Hero
How to know which subscription plan is right for you? Be sure to analyze your business needs first. We recommend a basic or trial plan with monthly payments if you only start website analysis and optimization. Then, you can switch to another solution without significant losses if something doesn't work as expected.
The Functionality of Semrush & Moz Solutions

Since both tools do website analysis and optimization, many of their features overlap. Still, some specials may convince you to choose one solution over another.
Semrush
Semrush SEO tools and workflow. Uncover keywords, run a technical site audit, and track your SERP positions to achieve better search results for your web pages.
Semrush Advertising reach. Run PPC campaigns and monitor them using a single dashboard. This feature is a convenient way to optimize your advertising spend based on detailed analytics. You can also check your competitor's ad copies and landing pages and analyze Google Shopping ad campaigns.
Semrush Content outline builder. Join this beta tool launched in June 2022 for data-driven blog post ideas. It facilitates the job of content marketers who don't have to run deep research and can work with automatically generated ideas right away.
Semrush Social media marketing. Schedule content publishing on social media, analyze the performance of existing posts and create social ads to spread the word about your services.
Moz
Moz Keyword explorer. Use this tool to analyze keywords, find the right balance between volume and difficulty options, save keywords lists, and track how they perform.
Moz Rank tracking. Track local and national searches to know what is trending and be the first to cover the demand.
Moz Site crawl. Automatically check your website to detect issues that prevent search engines from noticing it and receive instant error alerts.
Moz Link explorer. Measure page authority, domain authority, and spam score to add quality links to your website and make it more reputable.
Customers Review Semrush & Moz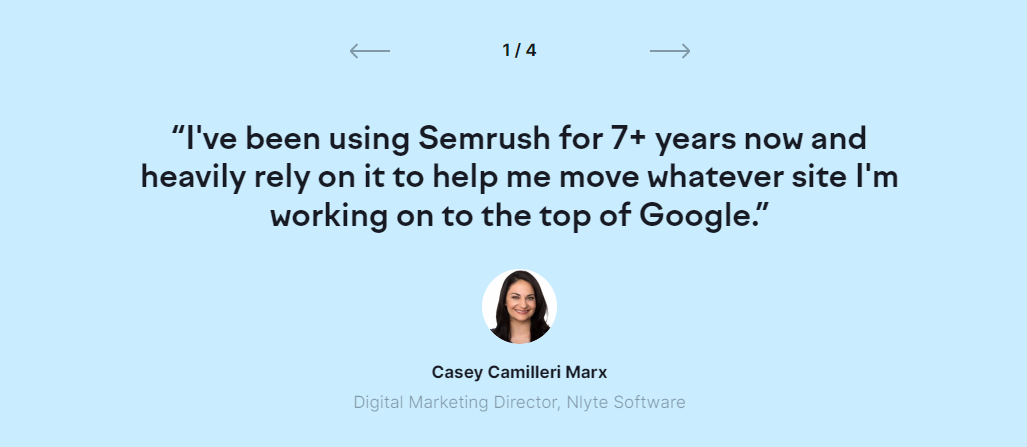 While software providers always praise their solutions, users tell the truth. Therefore, we believe that reading reviews is something every company choosing a tool should do. So here, we've gathered extracts from G2 peer-to-peer review site.
Semrush
"May have a steep learning curve, but you can always use one-to-one training sessions for guidance. Semrush also have tons of Youtube videos." (Todd Victor Y)
"It's a relatively inexpensive option to complete marketing research for a powerhouse. Semrush enabled me to research and optimize a paid ad campaign to make its launch successful." (Karen M)
Moz
"It's the best search engine optimization platform I've used in my SEO career. I find DA (Domain Authority) and PA (Page Authority) particularly handy to measure the relevancy, authoritativeness, trustworthiness, and effectiveness of a website." (Jayant G)
"They should make a smoother navigation, nicer charts, and implement a mobile rank checking feature like SE Ranker." (Ravi C)
Benefits of Semrush
The functionality of Semrush is more extensive than Moz, especially auditing features and keyword research.
Quality visualization features allow even inexperienced marketers to understand what's happening on the analyzed website.
Semrush has a more user-friendly and intuitive interface.
Semrush has many add-ons at an affordable price.
In Semrush, you can spot bad links more easily.
Phone and live chat support are available, while MOZ provides help through email only.
Benefits of Moz
Higher crawl limits make Moz more suitable for large websites with a large volume of visitors.
Has many free SEO tools people can utilize even without registration. It takes seconds to see the result.
Considerably longer trial subscription.
While all Semrush plans support one user (and you need to pay for additional users), Moz offers up to five user seats in premium plans.
Unlimited white labeling for branded reports from the Medium plan and up.
Conclusion about Semrush vs Moz
We hope the above information is enough to give you the general picture of what each tool can do. Then, match these features with your expectations, and SEO and marketing must pick the right option. If doubts don't go away, test two solutions and then decide.