There is high competition between SEO platforms nowadays. Each provides unique functionality and allows users to reach particular digital promotion goals. For instance, while some brands choose the keyword-based strategy, others aim at link-building. Therefore, marketers should choose the best, most suitable instrument to complete the company's web popularization and help rank higher in SERP. And now, let's decide who's the winner of the "Moz vs. Ahrefs" battle and if their particular features are obligatory for efficient promotion nowadays.
What is Moz?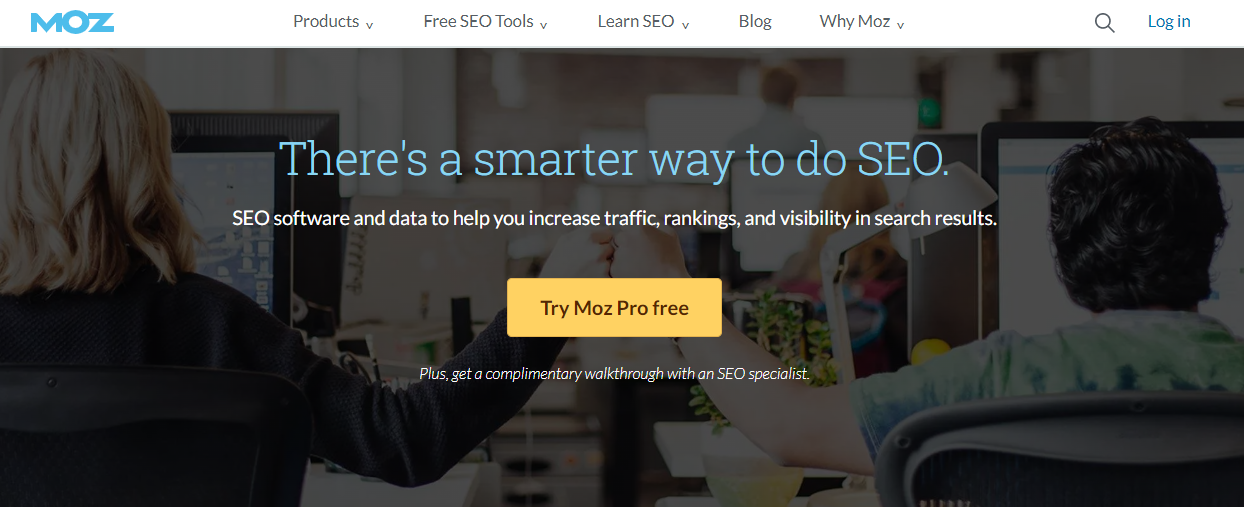 If you are looking for an SEO platform with an enormous educational base and plenty of efficient instruments with multiple functions, Moz is for you. Gillian Muessig and Rand Fishkin are the founders of a company, and they grew it from a small agency, "SEOmoz," which appeared in 2004. The Foundry Group provided the direct investments – that helped Moz expand the customer base by comprehensive inbound marketing and improving the product quality. The rebranding into Moz became the basis of further success. In 2022, over 100,000 businesses optimized their strategies, generated new leads, and improved the conversion rate with the tools. The brand is transparent, accountable, and generous; that's why millions of users choose it for SEO.
What is Ahrefs?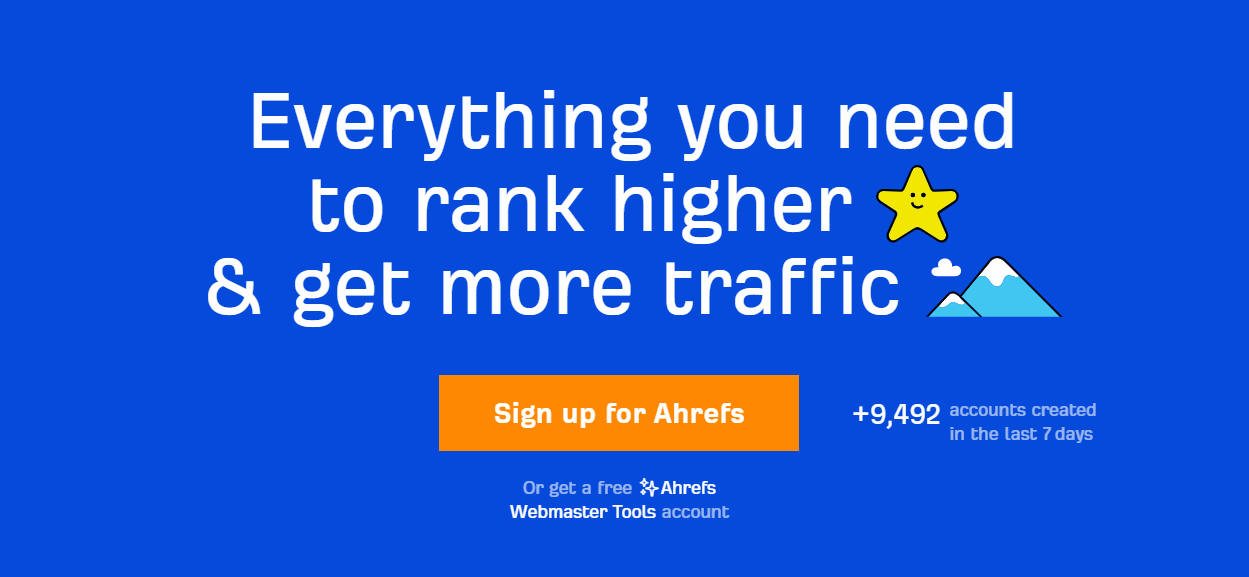 Ahrefs, a company founded by Dmytro Gerasymenko, brought various innovations into what we know as modern SEO. He started a project in 2007 with a wish to understand the primary secrets of search engines and develop highly efficient products for becoming the SERP leaders. The approach "do it – do it right – do it better" helped the company grow into one of the most popular SEO software developers. Its cutting-edge solutions are used by authoritative global organizations such as LinkedIn, Expedia, Uber, eBay, Shopify, etc. Moreover, the users consider Ahrefs an indispensable platform for establishing and improving search engine promotion strategies, confirmed by high average reviews on G2, TrustRadius, and other websites.
Compare Moz vs. Ahrefs
So, it's time to analyze these 2 potent brands considering various aspects, and finally, choose who's the best in the "Moz vs. Ahrefs" competition. The comparison is independent and highlights the crucial features that became the benefits of each SEO platform.
Pricing Moz & Ahrefs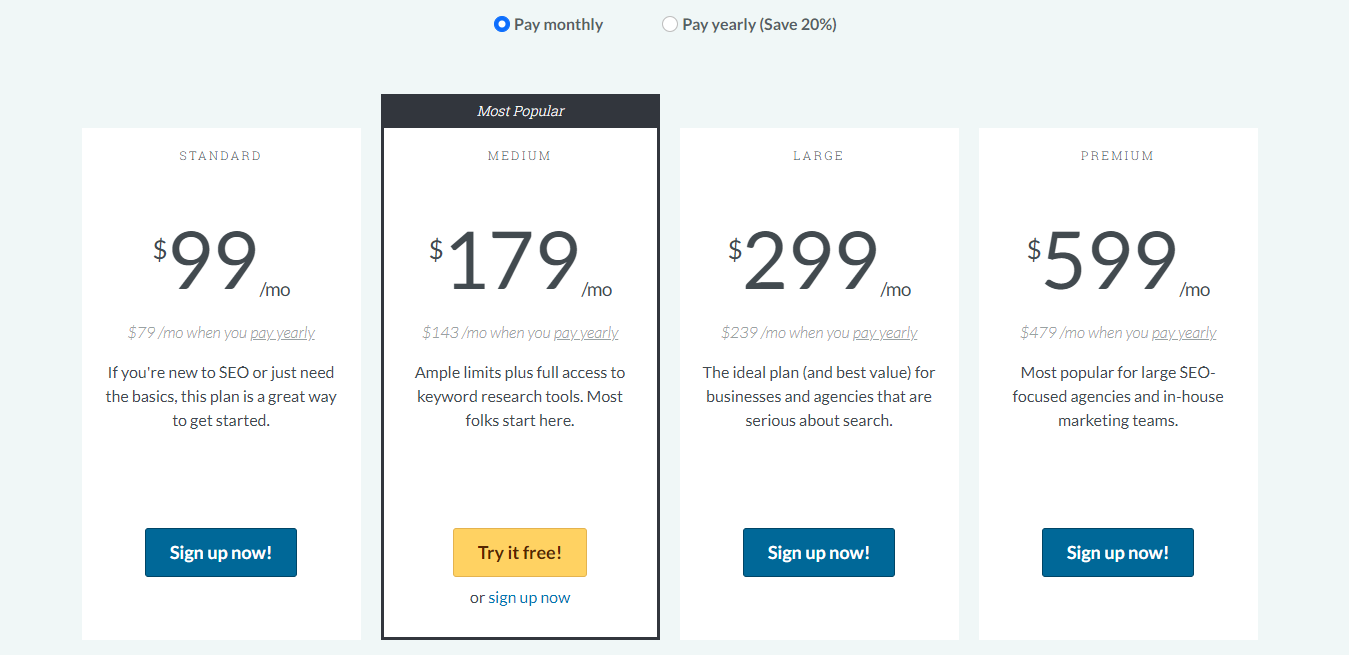 The critical aspect is that both companies' products are expensive but cost-efficient. The platforms provide specific loyalty programs. When purchasing Ahrefs tools for a year, there will be 2 months for free (16.7% cheaper), while paying annually for Moz, the users receive a 20% discount (a free 30-day trial is available).
Ahrefs provides an all-in-one tool, while there are 4+ paid products by Moz, and each has a specific price. So, we'll use the most popular instrument for the "Moz vs. Ahrefs" comparison – Moz Pro. Let's discover what's the monthly fee for paid tariffs (without a discount):
| | |
| --- | --- |
| Moz Pro | Ahrefs |
| Standard – $99 | Lite – $99 |
| Medium – $179 | Standard – $199 |
| Large – $299 | Advanced – $399 |
| Premium – $599 | Enterprise – $999 |
As we see, Moz has lower prices for its most popular tool, but considering its other more expensive instruments, we won't consider it more profitable than Ahrefs.
Solutions of Moz & Ahrefs

So, it's time to analyze the essential aspect – the companies' SEO products. First, we'll briefly describe each solution to understand who's better in the "Ahrefs vs. Moz" confrontation. So, Moz's software includes the following:
Moz Pro helps to understand what users search with Google and other search engines by targeting the necessary keywords for the topic, providing a website audit, establishing a proper link-building strategy, and receiving recommendations for optimization.
Moz Local is the best product for local promotion. It provides listing synchronization through social media and search engines, automated determination of duplicate listings and their deletion, comprehensive reputation management, Google Analytics integration, etc.
STAT is a rank tracking tool that uses local & mobile SERPs to monitor the efficiency of recently implemented SEO strategies.
Mozscape API is one of the most active backlink checking tools that analyze essential metrics like Domain and Page Authority.
Ahrefs provides alternative instruments with similar functions in an all-in-one toolset:
Site Audit provides a comprehensive analysis of SEO parameters that affect the relevance, such as performance, social and HTML tags, localization, etc.
Site Explorer makes detailed competitive research of organic and paid traffic to see what brings customers to similar websites.
Keyword Explorer finds unique phrases to improve the online presence and get more targeted traffic.
Dashboard represents the site performance in the values of various site metrics.
Content Explorer discovers the most relevant and efficient resources with high-quality content and provides broken link research.
Rank Tracker tracks the page's rank positions and provides the data of the top and bottom ads, snippets, shopping results, etc.
As we see, both companies' products are efficient and provide multiple opportunities for SEO; so there is a draw for "Ahrefs vs. Moz."
Customer Review Moz & Ahrefs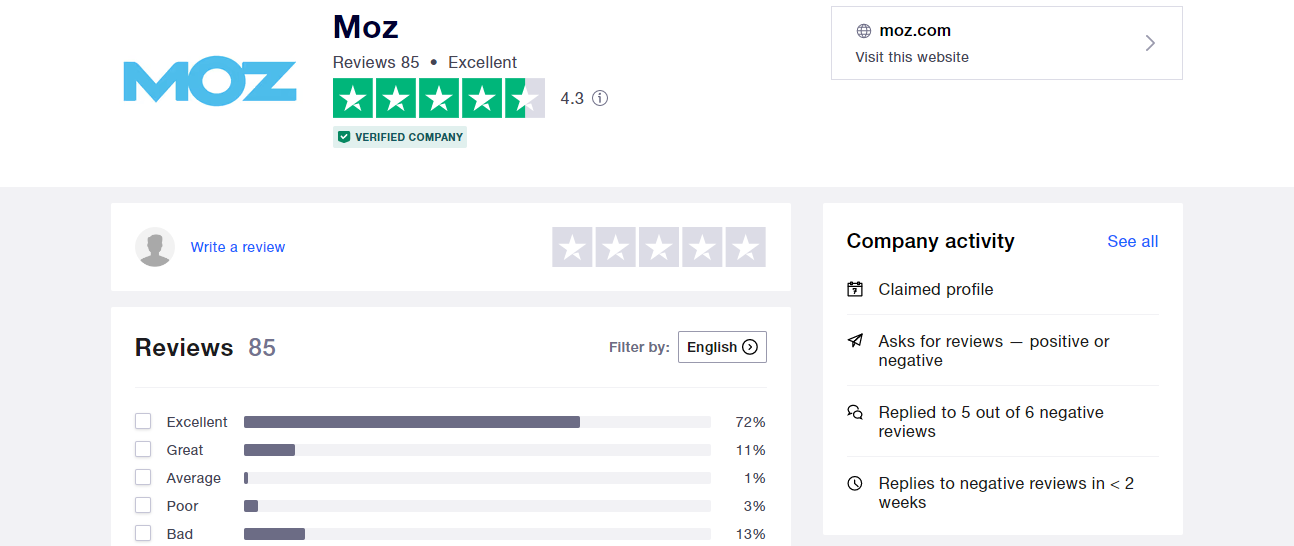 And now, let's analyze the User's evaluation of both companies' solutions:
Reviews
Moz
Ahrefs
"If you want to collect any type of data and connect with a community of professionals, Moz is for you," – Sylvia, Authorized User.
"It's one of the best tools for agencies and webmasters, and its content ideas are great. However, I dislike the price," – Tanu, Social Media Manager at Mid Market.
"The Site Explorer is much weaker than Ahrefs has, and it doesn't suit modern marketing trends," – Eric, User in Computer Software.
"Ahrefs is an efficient instrument, and its filtering for domains and backlinks works excellent," – Kathryn, Employee at Marketing and Advertising Agency.
"Moz Pro has powerful functions of writing better content and driving more traffic, which help websites improve and always be on the top of marketing," – Prerna, SEO Consultant at Mid-Market.
"It suits great for projects of various difficulties and has a great workflow. However, the customer support worked bad and didn't help me to solve the problem," – Brandon, Web Developer at Enterprise.
The requirements of each User make it difficult to accurately decide a winner of "Moz vs. Ahrefs" considering the reviews. So, due to more positive testimonials for both platforms, we'll say that the audience positively perceives both.
Benefits of Moz
The advantages that make users choose Moz as the primary instrument for SEO are the following:
More extensive link database and more detailed link profile analysis.
A durable 30-day trial that helps understand the basics of the tools.
Even the cheapest plan of Moz Pro allows using all the available functions.
Desktop and mobile site visibility tracking is available.
In addition, Moz allows rank tracking without a campaign slot.
So, these benefits make Moz unique among other popular instruments, and that's why high-trusted brands use its tools.
Benefits of Ahrefs
The apparent pros of using Ahrefs products for digital promotion are the following:
Quantitative and qualitative backlink review is available.
Ahrefs researches data for more than 10 search engines, not Google only.
The filtering system for content research is highly-efficient.
The tools for Domain and Page Authority analysis are easier to use.
It's one of the best tools for identifying broken links.
Ahrefs has been one of the most popular tools for SEO, and its indispensable features make it keep high competitiveness through the years.
To Sum Up
Overall, the "Moz vs. Ahrefs" competition helped to provide a deep analysis of the tools' pros and cons and understand their critical features. So, considering each User's specific preferences, we'll regard these 2 tools as the most powerful on the market that helped millions of companies succeed in digital promotion.