🚀 Buckle up, folks! I'm about to reveal the Top 16 Marketing Platforms for 2023 that will skyrocket your marketing strategies. 📈 In this fast-paced digital era, staying ahead with cutting-edge platforms that streamline your tasks and help you achieve your goals is crucial.
Let me give you a sneak peek of what's in store:
Keywords analysis: Platforms like Plerdy offer a goldmine of data to optimize your content and drive traffic.
User experience: Platforms that provide valuable insights into visitor behavior, increasing engagement and conversion rates.
These platforms are game-changers, making your marketing tasks feel like a walk in the park. You'll find yourself juggling multiple campaigns, creating killer content, and crunching numbers like a pro in no time.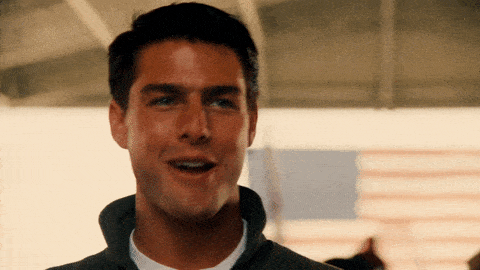 From comprehensive keyword analysis to monitoring user interactions, these platforms are designed to help you stay on top of the game. And I promise you – this isn't just a list of the same old. Instead, I've dug deep to find the hidden gems to give you the edge you need to succeed.
So, dive into the world of Top 16 Marketing Platforms for 2023 and discover platforms that'll make you wonder how you ever lived without them. So, let's get ready to conquer the marketing world, one platform at a time!
A Brief Overview Of The Importance Of Marketing Platforms
In today's rapidly evolving digital landscape, marketing platforms have become instrumental in orchestrating successful campaigns. Harnessing the power of these platforms enables businesses to navigate the complexities of marketing with finesse. By leveraging their data-driven insights, companies can create targeted and compelling content that resonates with audiences.
Key benefits:
Streamlining marketing efforts
Boosting customer engagement
Enhancing brand visibility
Optimizing return on investment (ROI)
Implementing the right marketing platform empowers businesses to create a well-rounded strategy, utilizing multiple channels and touchpoints to engage with prospects and customers. From email marketing to social media management, these platforms serve as a one-stop-shop for marketing teams, consolidating tools and resources into an all-inclusive hub.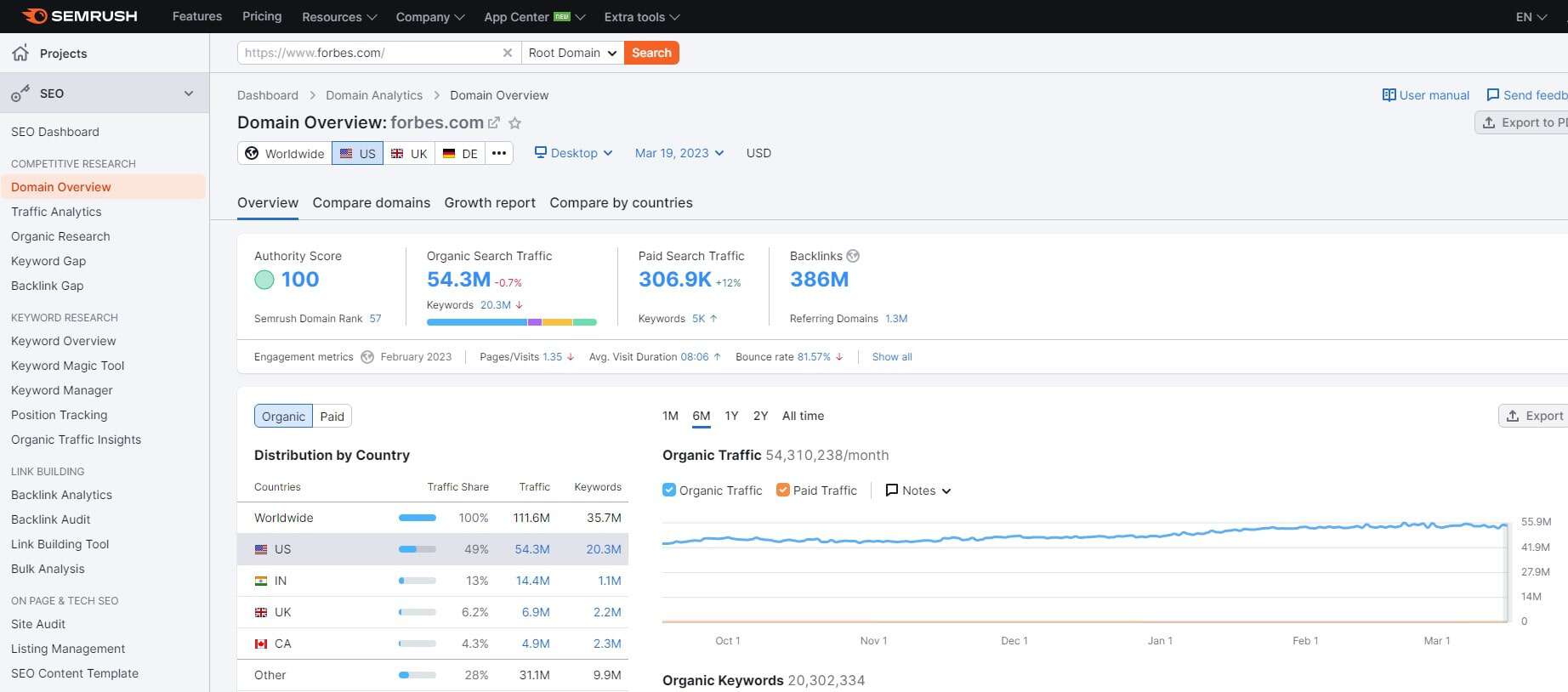 Furthermore, marketing platforms offer invaluable analytics and reporting features, allowing marketers to evaluate campaign performance and make data-informed decisions. By honing in on key performance indicators (KPIs), businesses can continually fine-tune their approach, maximizing impact and driving growth.
In summary, marketing platforms have become indispensable in today's digital realm, providing the essential platforms and data-driven insights needed to craft and execute winning strategies. By investing in the right platform, businesses can amplify their online presence and enjoy a competitive edge in the ever-changing marketplace.
Preview Of The Top 16 Platforms
Harness the power of these cutting-edge platforms to transform your marketing strategy and achieve unparalleled success. Discover the top 16 marketing platforms of 2023, designed to elevate your marketing campaigns with data-driven insights: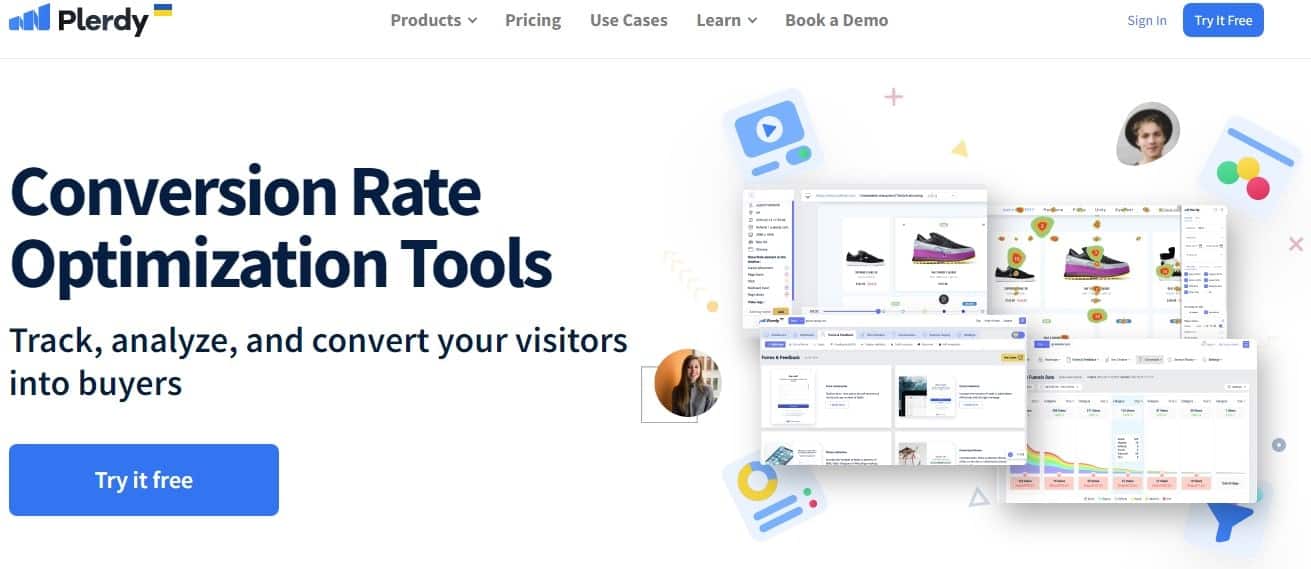 Let me tell you about Plerdy – a fantastic marketing platform I've recently encountered.
So, here's the deal – Plerdy offers a treasure trove of invaluable data, providing insights that can help you stay ahead of the curve. It's like having a crystal ball for your marketing strategies!
One of my favorite features is the heatmaps. You won't believe how much I've learned about user behavior by analyzing where people click and scroll. Let me break it down for you:
Heatmaps: Visual representation of user interactions on your website, like clicks and scrolls.
Sessions replay: Look for anomalies in user behavior on website pages.
You might think, "I've seen this before." But Plerdy is different. It's real-time analytics, and tracking capabilities are second to none. Plus, it's got this nifty pop-up survey tool that's helped me gather priceless feedback from visitors.
The other day, I was working on a client's website, and Plerdy helped me identify areas needing improvement. Then, with some tweaks here and there, we saw a significant uptick in conversion rates (CR).
In a nutshell, Plerdy is the Swiss Army knife of marketing platforms – versatile, powerful, and a marketer's best friend. So take advantage of this opportunity to elevate your marketing game! Give Plerdy a try and watch your business soar to new heights.
HubSpot: The All-In-One Marketing Powerhouse

HubSpot reigns supreme as a comprehensive, all-encompassing marketing platform, boasting an impressive suite of tools designed to propel your marketing strategy to new heights. By consolidating multiple marketing channels and touchpoints, HubSpot empowers businesses to streamline their efforts, optimize ROI, and foster lasting customer relationships.
CRM
Marketing automation
Social media management
Analytics and reporting
Content management
Sales pipeline management
Customer service
From automating routine tasks to crafting personalized customer journeys, HubSpot's marketing automation capabilities save time and enhance efficiency. Harness the power of HubSpot's email marketing tools to create compelling campaigns that resonate with your target audience and drive engagement.
With HubSpot's robust CRM, you can manage customer data and interactions in one central location, fostering collaboration and enabling data-informed decision-making. Leverage the platform's social media management features to stay ahead of the curve, and use analytics and reporting to track your progress and fine-tune your strategies.
HubSpot is a must-have platform for businesses looking to streamline their digital marketing efforts and maximize success. Marketers can unlock their full potential and achieve unparalleled results by harnessing the platform's diverse capabilities.
Salesforce: The Premier Marketing Platform for Business Growth

Salesforce, a trailblazing marketing platform, delivers cutting-edge solutions to supercharge your marketing strategy and drive tangible results. As a powerhouse in customer relationship management, Salesforce boasts various features tailored to streamline your marketing efforts, optimize data analysis, and nurture lasting customer connections.
Key Salesforce offerings include:
CRM
Sales pipeline management
Analytics and reporting
Customer service
Artificial intelligence
Cloud-based infrastructure
App development
Salesforce's marketing automation streamlines tedious tasks and improves customer experiences. Salesforce's powerful CRM helps teams collaborate and make data-driven decisions.
Leverage Salesforce's advanced analytics and reporting tools to track your progress, fine-tune your strategies, and identify growth opportunities. Benefit from the platform's built-in artificial intelligence capabilities, which enable marketers to predict customer behavior and tailor campaigns accordingly.
Marketo: Empowering Marketers with Data-Driven Solutions
Marketo, an industry-leading marketing platform, provides an arsenal of data-driven tools designed to skyrocket your marketing campaigns and deliver game-changing results. By offering an integrated suite of features, Marketo empowers marketers to streamline their efforts, optimize efficiency, and drive unparalleled success.
Marketo's comprehensive feature set includes:
Marketing automation
Lead management
Email marketing
Analytics and reporting
Personalization
Content management
A/B testing
Harness the power of Marketo's marketing automation capabilities to save time, minimize manual labor, and boost campaign effectiveness. For example, with Marketo's lead management tools, you can nurture prospects through the sales funnel, driving conversions and fostering long-term customer relationships.
With Marketo's personalization and social media marketing functionalities, you can engage your audience deeper and drive brand loyalty. Make data-driven decisions with Marketo's A/B testing capabilities, optimizing your campaigns for maximum impact.
In short, Marketo is a must-have marketing platform for businesses looking to elevate their digital efforts and achieve next-level success.
Mailchimp: Unleash the Power of Email Marketing and Beyond

Mailchimp, a titan in the marketing platform realm, equips businesses with an extensive toolkit to turbocharge their digital campaigns and achieve stellar results. Renowned for its robust email marketing capabilities, Mailchimp offers diverse features to elevate your marketing efforts across various channels.
Mailchimp's all-in-one platform boasts:
Email marketing
Marketing automation
CRM
Landing pages
Social media ads
Analytics and reporting
Personalization
Mailchimp's user-friendly interface makes crafting compelling email campaigns a breeze, while its automation tools streamline processes and optimize efficiency. Utilize Mailchimp's CRM to manage customer data, fueling data-driven strategies and fostering lasting connections.
Create eye-catching landing pages and social media ads with Mailchimp's intuitive design platform, driving conversions and bolstering brand awareness. Leverage analytics and reporting capabilities to gain valuable insights, fine-tune your campaigns, and identify growth opportunities.
Unlock the potential of personalization and segmentation, tailoring your messaging to resonate with diverse audiences and maximize engagement. With Mailchimp's comprehensive features, marketers can seamlessly connect with customers on a deeper level and drive meaningful results.
Mailchimp is an indispensable asset for businesses seeking to dominate the marketing landscape and propel their success to new heights.
Hootsuite: Master the Art of Social Media Management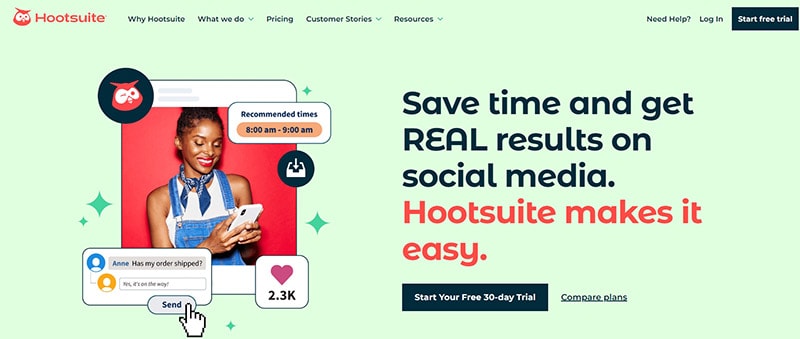 Hootsuite, a powerhouse in social media management, enables businesses to conquer the digital landscape by streamlining workflows, enhancing engagement, and delivering data-driven insights. This versatile platform provides a centralized hub for managing multiple social media accounts, empowering marketers to stay organized, connected, and ahead of the curve.
Hootsuite's feature-rich platform offers:
Unified dashboard
Scheduling and publishing
Monitoring and engagement
Analytics and reporting
Team collaboration
Security and Compliance
Integrations
The unified dashboard consolidates all your social accounts, making it a breeze to monitor, engage, and publish across channels. Schedule and publish content precisely, ensuring your message reaches the right audience at the right time.
Stay in the loop with Hootsuite's monitoring and engagement tools, keeping a finger on the pulse of trending topics and emerging conversations. Collaborate seamlessly with team members, streamlining communication and enhancing productivity.
Hootsuite's analytics and reporting functionalities provide invaluable insights, empowering data-driven decision-making and campaign optimization. Meanwhile, the platform's security and compliance features protect your brand's reputation and safeguard sensitive information.
With Hootsuite in your marketing arsenal, you'll be poised to conquer the social media landscape and drive measurable results.
Buffer: Streamline Your Social Media Marketing Efforts

Buffer, a leading social media marketing platform, offers businesses the digital tools they need to simplify their social media strategy, maximize engagement, and gain valuable insights from data. A user-friendly interface and powerful features make Buffer an indispensable asset for marketers seeking to elevate their social media game.
Buffer's robust platform includes the following:
Content scheduling
Tailored posting
Analytics and insights
Collaboration and approval
Integrations
Mobile app
Buffer's content scheduling feature lets you easily plan and publish posts, ensuring a consistent online presence. In addition, tailored posting empowers businesses to customize messages for each platform, speaking to audiences with laser-focused precision.
With Buffer's analytics and insights, marketers can tap into a goldmine of data, helping them fine-tune their campaigns and boost performance. Collaboration and approval features facilitate seamless teamwork, enhancing efficiency and maintaining brand consistency.
Buffer's integration capabilities allow you to connect your favorite tools, streamlining workflows and optimizing productivity. Plus, the mobile app ensures you can manage your social media campaigns on the go.
Leverage the power of Buffer and transform your social media marketing efforts into a well-oiled machine, driving engagement and fueling business growth.
ActiveCampaign: Revolutionize Your Marketing Strategy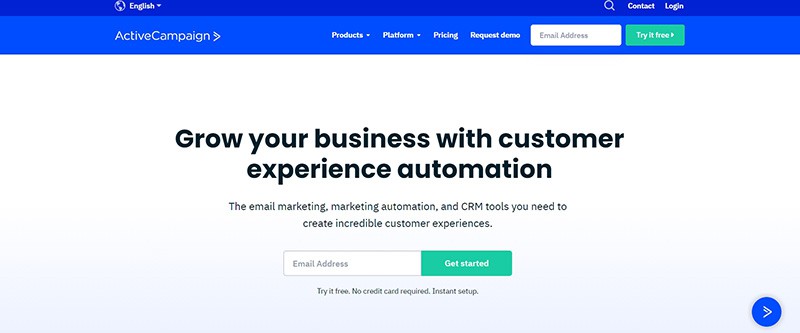 ActiveCampaign, a cutting-edge marketing platform, empowers businesses to elevate their digital marketing initiatives by automating processes and leveraging data-driven insights. Designed for marketers seeking to streamline operations and skyrocket results, ActiveCampaign is a game-changer.
ActiveCampaign's suite of powerful platforms includes:
Email marketing
Marketing automation
CRM & sales automation
Messaging & chat
Machine learning
Integrations
Email marketing with ActiveCampaign is a breeze, allowing you to create eye-catching campaigns that resonate with a website audience. Delve into the world of marketing automation to optimize your outreach efforts, drive engagement, and boost conversions.
Harness the power of CRM and sales automation to build stronger customer relationships and streamline your sales funnel. ActiveCampaign's messaging and chat tools enable real-time communication, bridging the gap between businesses and their audience. ActiveCampaign's integration options allow you to sync your favorite tools, creating a seamless workflow.
Google Analytics 4: Unleash the Power of Data-Driven Marketing

Google Analytics 4, a renowned digital marketing platform, equips businesses with unparalleled insights into their online presence. By harnessing the power of data, marketers can make informed decisions, refine their strategies, and ultimately achieve greater success.
User behavior tracking
Traffic source analysis
Conversion optimization
Real-time reporting
Customizable dashboards
E-commerce tracking
Track user behavior to gain a deep understanding of how visitors interact with your website, pinpointing areas for improvement. Uncover the most effective traffic sources and double down on those channels to maximize your return on investment.
Leverage Google Analytics' conversion optimization tools to identify bottlenecks in your sales funnel and fine-tune your approach. Real-time reporting keeps you in the loop, empowering you to make swift, data-driven decisions.
Create tailor-made dashboards that display the metrics most relevant to your business, ensuring you stay focused on what truly matters. E-commerce tracking enables online retailers to monitor sales performance and identify growth marketing opportunities.
Ahrefs: Master the Art of Marketing with Data-Driven Insights

Ahrefs, a powerful SEO & marketing platform, offers data-driven platforms to boost your online presence and stay ahead of the competition. Dive deep into backlink analysis, keyword research, and content optimization to ensure your website ranks high in search engine results.
Essential features of Ahrefs encompass:
Comprehensive backlink analysis
In-depth keyword research
Site audit
Rank tracking
Content explorer
Unravel the secrets of your competitors' backlink profiles and cherry-pick the best opportunities for your site. Then, leave no stone unturned in your quest for high-impact keywords, diving headfirst into Ahrefs' treasure trove of search data.
Conduct a thorough site audit to iron out technical issues and polish your website perfectly. Keep your finger on the pulse of your search rankings with real-time tracking and fine-tune your strategy as needed. Then, shape your marketing content strategy with these invaluable insights, and watch your website climb the search engine ladder.
Embrace Ahrefs as your digital marketing ally, and conquer the online world with data-driven precision.
SEMrush: Unleash Your Marketing Potential with Cutting-Edge Data

Elevate your online marketing prowess with SEMrush, an all-in-one digital marketing platform that harnesses the power of data to fine-tune your strategy. This comprehensive toolkit offers invaluable insights to propel your brand to the forefront of the digital landscape.
Key components of SEMrush include:
Stay one step ahead of the competition by dissecting their strategies and cherry-picking the most promising tactics. Then, delve into keyword research, uncovering hidden gems that drive traffic and conversions.
SEMrush's traffic analytics provide a bird's-eye view of your website's performance, enabling you to zero in on areas ripe for improvement. Meanwhile, on-page SEO audits highlight technical hiccups that may hold you back.
Supercharge your content marketing efforts with SEMrush's arsenal of tools to help you craft content that strikes a chord with your audience. Stay in the loop with topic research, gap analysis, and editorial planning.
With SEMrush, you'll confidently and precisely navigate the ever-changing marketing landscape, empowered by data-driven insights.
Sprout Social: Elevate Your Social Media Presence with a Robust Marketing Platform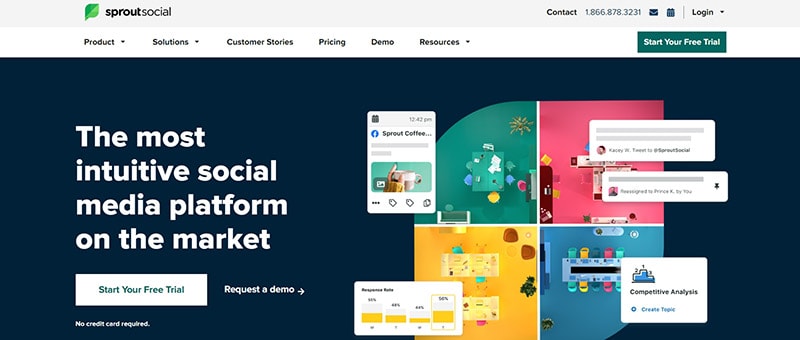 Harness the power of Sprout Social to take your social media game to new heights. This all-encompassing platform streamlines marketing efforts, arming you with the data and tools to forge meaningful connections with your audience.
Key features of Sprout Social include:
Post-scheduling and publishing
Social listening and engagement
Analytics and reporting
Team collaboration tools
CRM integration
Optimize your social media strategy by easily scheduling and publishing posts, ensuring your content hits the mark every time. Then, tap into the pulse of your target audience with social listening – a powerful way to stay in tune with the conversations that matter.
Keep your finger on the pulse with Sprout Social's in-depth analytics, shedding light on the metrics that propel your brand forward. Then, collaborate seamlessly with your team, sharing ideas and insights to refine your approach.
Integrate Sprout Social with your CRM to bridge the gap between social media and sales, creating a cohesive marketing strategy that drives growth. With Sprout Social in your corner, your brand will flourish digitally.
Sendinblue: A Digital Marketing Powerhouse to Fuel Your Business Growth

Catapult your marketing initiatives with Sendinblue, a comprehensive platform that streamlines all aspects of your digital strategy. Leverage the power of data and innovative tools to engage your audience and nurture leads, ultimately driving business success.
The multifaceted capabilities of Sendinblue include:
Email marketing
SMS marketing
Marketing automation
CRM integration
Landing pages and sign-up forms
Transactional emails
Put your best foot forward with eye-catching email campaigns bolstered by SMS marketing to amplify your reach. Sendinblue's marketing automation capabilities enable you to set up trigger-based campaigns, freeing up time for other tasks.
Stay organized and efficient with Sendinblue's CRM integration, seamlessly syncing contacts and streamlining your sales funnel. Create polished landing pages and sign-up forms to capture leads and further engage your audience.
Transactional emails are a breeze with Sendinblue's reliable delivery system, ensuring essential messages reach their destination.
Klaviyo: The Go-To Marketing Platform for Data-Driven Results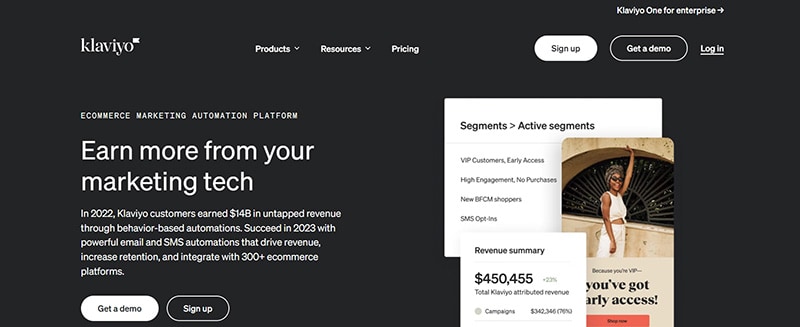 Unlock your business potential with Klaviyo, the cutting-edge digital marketing platform to supercharge your campaigns. Harness the power of data to tailor content, engage with your audience, and turn leads into loyal customers.
Klaviyo's exceptional features include:
Personalized email and SMS marketing
Marketing automation
Segmentation and targeting
A/B testing and analytics
Integrations with popular eCommerce platforms
Customizable templates
Klaviyo's personalized email and SMS marketing let you deliver the right message at the right time. Dive into marketing automation to create sophisticated, data-driven campaigns that save time and boost results. You can hone in on specific customer groups with segmentation and targeting, ensuring your message hits the mark.
Make data-driven decisions using Klaviyo's A/B testing and analytics tools. Easily integrate with eCommerce platforms like Shopify, Magento, and WooCommerce. Customize templates to create stunning content that captures your brand's essence.
Maximize your marketing efforts and achieve remarkable growth with Klaviyo's powerhouse platform.
Canva: Unleash Your Creativity with the Ultimate Design Platform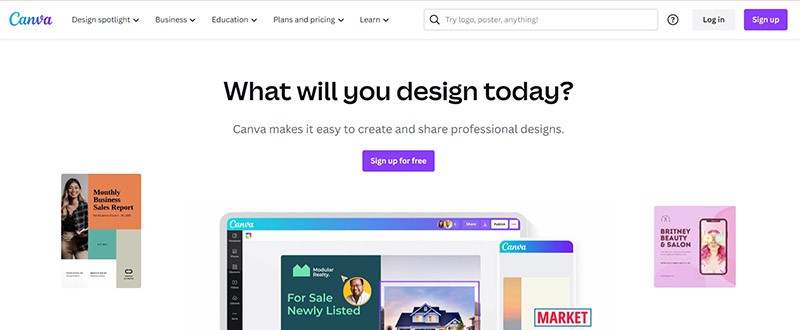 Elevate your marketing game with Canva, an intuitive digital design platform empowering users to create amazing visual content. From social media graphics to eye-catching presentations, Canva's user-friendly interface and vast library of resources make crafting professional designs a breeze.
Canva's remarkable features include:
Thousands of pre-designed templates
A diverse selection of fonts, colors, and images
User-friendly drag-and-drop functionality
Team collaboration and sharing capabilities
High-quality print-on-demand services
Integrations with popular social media platforms
The drag-and-drop functionality streamlines your workflow, allowing even design novices to produce visually stunning content.
Collaborate seamlessly with team members and share your designs directly on social media platforms like Facebook, Instagram, and Twitter. Canva's print-on-demand services ensure top-notch quality for all your printed materials.
Embrace the power of visual storytelling with Canva, your one-stop shop for extraordinary design.
Bottom Line
Well, folks, we've reached the finish line of our "Top 16 Marketing Platforms for 2023" journey! 🏁 As we wrap up, let's take a moment to reflect on the incredible marketing tools we've explored, all designed to make your life easier and your campaigns more effective.
Harnessing the power of data, these platforms have proven invaluable assets for businesses of all shapes and sizes. From small startups to large enterprises, the right platform can be a game-changer, helping you make smarter decisions and effectively allocate resources. No more spending countless hours analyzing data manually or relying on gut feelings – these platforms have got your back! 💪
Throughout this article, we've examined the pros and cons of various marketing platforms, touching upon their unique features and pricing structures. We've seen how they can help you with tasks like tracking influencer campaigns, refining your email marketing, or even managing your social media calendars.
As a final call-to-action, I'd like to encourage you to give Plerdy a try. It's an outstanding platform that can help you optimize your content, gather valuable insights, and ultimately, boost your marketing performance.
So, whether you're in the insurance or mortgage industry, running an e-commerce store, or managing an affiliate program – there's a marketing platform out there tailor-made for your needs. Don't be afraid to explore and find the one that's the perfect fit for your online business. Here's to a prosperous 2023! 🥂