Website heatmap is one of regular tools of an experienced internet marketer, a web designer, a content manager, and an SEO specialist. By means of website heatmap you can make changes causing conversion increase. Each of the mentioned specialists has a list of tasks impossible to complete properly without website heatmap.
One more tool completing data is a scrollmap. It makes it possible to see the depth of pages' readablity.
This article shows a list of the most common tasks that are much easier or just to complete by means of website heatmap and scrollmap:
1. Website redesign
Website redesign requires understanding of users' previous behavior. Any significant changes can lead to drastic conversion decrease without it. And it's difficult to gain the lost positions.
So, web designers should get acquainted with the data about users' behavior before making first sketches. They should pay attention to which elements are clicked the most and the least.
The example of a website statistics of clicks in Plerdy:

Before improving a website and making sketches of a new design, you shuld take into account data regarding clicks on the most visited pages and main pages of every type.
For example, in an online store, they are:
The main page;
Category page;
Product page;
Cart;
Blog's page;
Contact page.
Bear in mind that behavior of desktop and mobile users is significantly different. And the latter are constantly growing in number, so, you need to take it into account when making improvements.
Redesign is always a risky move since you never know for sure how the target audience will accept the new version of the website.
2. Content improvement
The work with texts, images, and videos on a website is very important. Their quality and quantity influences traffic. For online stores, the work with content is the ground for a conversion increase.
So, what's the practical use of the website heatmap to all of this.
It is especially important to combine the website heatmap and a scrollmap to work with content. Each of them helps to see what's hidden from other services.
The example of the scrollmap on the open page of Plerdy's blog: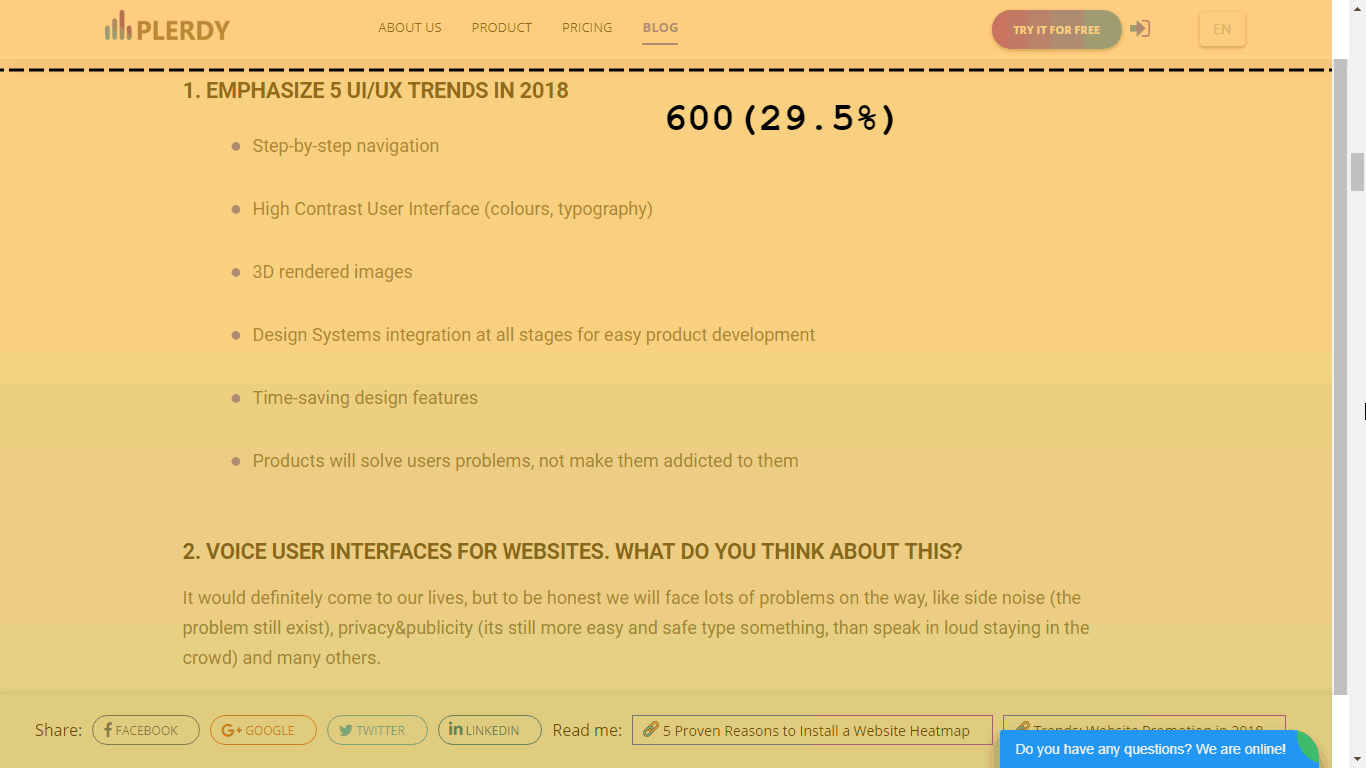 The information collected helps to locate CTA, images, buttons in the spots where they are the most effective.
The scrollmap will allow to understand how efficient long texts are; if readers don't finish them, maybe they they need to be rewritten or shortened.
If the key CTA, that you especially hope for, is located below the material that user don't read till the end, maybe it needs to be relocated t some more visible part of the text or make it as a pop-up banner.
Bear in mind that content quality matters not only for your target audience but for the whole website promotion too.
3. Location of links on a page
You probably already know about internal linking why it's important for a website promotion. To increase visits on a particular page, it needs to be linked to donor-pages. Besides that, you need to take into account the location of links.
If your blog's readers don't go to other articles or product pages, it doesn't necessarily mean they are not interested by the material. It's possible that links are not located in the best spots and they are not noticed or other elements attract more attention.
The example of the website heatmap on the snippet from Plerdy's blog:

Plan internal linking on a website according to desktop and mobile users' actions.
4. Usability audit
A usability audit helps to evaluate design usability objectively. In the process you can see the website from the users' perspective and detect anomalies in users' behavior. In other words, you can understand why they act not the way you predicted.
The website heatmap and the scrollmap are the tools that you cannot evaluate and analyze web design without.
The most often analysts focus on:
The main page (where users go the most often);
Category pages (particularly whether filters work);
Product cards (how clear design is);
The main menu (if it's structured properly);
The header (usually phone numbers, the search field, etc. are located there).
Website owners and internet marketers who do a usability audit for the first time are often surprised by first results of the analysis done by means of website heatmap. In fact, what's common for you in design is not always the same for users. That's why the usability audit is the first step for website's improvement.
If your website is in e-commerce, the usability audit can show you the reasons of low sales. Overall changes usually begin from checking usability.
5. Pop-ups effectiveness evaluation
A lot of modern websites use pop-ups. They tend to attract extra attention. Apart from them, marketers also connect chats to stay in touch with potential clients, and some even install certain apps to evaluate informativeness of pages. Well, there are a lot of ways to make a website interactive.
But it's impossible to say for sure how effective th apps are and if they really influence conversion and sales growth.
One of important features of the Plerdy heatmap is a possibility to see clicks on all pop-ups. Clicks on dynamic elements (menus, pop-ups, banners, chats) are stored on the dashboard and available for evaluation.
So, internet marketers can check on how successful the decisions made are.
6. CTA analysis
What makes a user go through all of purchase steps and finally buy the chosen good? Attention, interest, desire… All of these stages are overcome due person's inner motivation, which is heated by proper calls to action.
The internet marketer's task is to create non-intrusive CTAs that will convince a user that he does the right thing.
After that, by means of the website heatmap the effectiveness of CTA is checked.
7. Bounce rate decrease
A bounce rate is a painful question for a lot of marketers of online stores. So, why does it happen that a user leaves a full cart on the last stage of making a purchase?
There are a lot of convincing reasons: a too complicated registration form, bugs in online store's system, no support… There are a lot of articles about the most widespread reasons.
To detect the real reason of bounces in your online store, you need to view the website heatmap. The data collected will show what it is: technical issues, user's doubts, or maybe too complicated design.
The sooner the problem is detected, the sooner the sales process will be restored.
8. Landing page analysis
A landing page is one of the best ways to sell products or services online. First of all, it is due to the specifics of presenting information which lets see complete characteristics of what is selling. Usually landing pages consist of a few blocks and have a lot of images, videos, and sometimes 3D animation. A users scrolls it till one of the blocks convinces him to click a link. If it doesn't happen, the page just gets closed.
As a result, landing pages have a very high bounce rate (90–100 %). It's very difficult to analyze them without the website heatmap and a scrollmap.
What can the heatmap detect on landing pages?
First of all, by means of custom tags, you can find out which buttons on the page have the highest conversion. Second of all, if the page has different types of content (videos, pictures) or an interactive constituent, the website heatmap will show how interesting it is for different types of the target audience.
Section of custom tags statistics in Plerdy:

A very important tool for an analysis of a landing page is the scrollmap that shows the depth of reading a page. It allows to see the interest to the material suggested: if a half of users leaves the landing page on the first third, it means the interest is weak. Consequently, you need to think whether you apply to the right audience and whether you give comprehensive answers to relevant questiones.
Fixes on the landing page should decrease the bounce rate and increase sales.
9. Online store conversion increase
Apart from traditional tools for analytics and online store promotion, marketers have been using website heatmaps and scrollmaps for several years now. In particular, these tools allow to make impact on conversion.
Conversion is the final action that you want a user to do. Making a purchase is also conversion. There are a lot of methods for its increase, but almost all of them are connected to making a unique offer, usable and understandable design, properly located CTAs, etc. You can see how effective these methods are by means of the scrollmap and the website heatmap.
An internet marketer willing to improve conversion will analyze behavioral factors on online store's pages. In particular, what's clicked and what's read. Relying on this statistics, it's much easier to make further changes on the website.
10. Analysis of unique offers
A lot of online stores make special offers to their customers. Their form and content are obviously different from others which makes them an important method on a highly competitive market.
The website heatmap allows to analyze special offers on a certain website. In particular, it's about clicks on pages containing a detailed description of a special offer. A marketer monitoring how popular categories or product pages with a special offer are can make changes correspondingly to users' behavior.
The more unique the offer is, the higher is the conversion and the sales volume.
11. CMS evaluation
The website heatmap is an irreplaceable tool for CMS evaluation.
All modern websites are built in the way they can be flexible to changes. This is why CMSs are used. There are a lot of CMSs and their number keeps growing. Different studios compete for clients, working on the best solutions for website administration.
But how do you detect how useful the functional set is for a user? Of course, you do a usability audit by means of the website heatmap and the scrollmap.
What's special about all CMSs is they are closed from scanning by external services. Hence, most of developers rely on their own researches of other analogical systems and questionnaires for groups of potential clients.
The website heatmap allows to get results even from the part of service hidden for others. After pasting a script, you get statistics of clicks on all of the elements of the website. As a result, in a while, developers get the full picture about users' behavior and can make changes: relocate elements, change colors and fonts, add hints.
The scrollmap can also be useful if a CMS has pages that you need to know the depth of reading of.
So, the website heatmap and the scrollmap can be useful tools for software developers.
What should website heatmap and scrollmap users keep in mind?
Website heatmap and scrollmap usage techniques are mostly described by specialists analyzing websites on every day basis. But there are a few recommendations worth being reminded since they are especially important in the process of completing the tasks mentioned above.
So:
No matter how difficult a project is, all most important information should be located in the header (the name, navigation, contacts, etc.). That's why a lot of websites keep that part fixed, so that a user always has the access to navigation.
Apart from colors, fonts, images, keep in mind that the most important information can be highlighted by size. People buy what they see. Hence, what attracts attention is more likely to be bought.
Remember about "banner blindness". Since ads are everywhere, people stop noticing them. So the more a banner looks like an ad, the more likely it is to be taken in a wrong way.
A lot of websites juggle with different offers. But it doesn't mean anything for people who know what they are looking for.
Quality images sell better than descriptions. The descriptions are necessary for website promtion and a detailed characteristic of a product.
Before implementing new features on a website, it's better to make sure they're effective by means of A/B testing. It's better to check partial or full changes of page design by means of testing, this way, you can reduce the risk of losing your target audience's attention.
Conclusion
As you can judge by this article, the website heatmap does make it easier to deal with tasks for internet marketers, designers, SEO specialists, developers, and other IT specialists. But the whole range of this tool's usage can be much wider depending on a niche.
For the start, website heatmaps have proven to be useful in marketing analytics: building of statistics and making of users behavior's maps shows specialists much more than can be found in questionnaires and traditional analytical tools. Now, by means of the website heatmap, you can work with carts left, analyze unique offers, analyze CTAs and other marketing methods of work with a target audience.
One more field for website heatmap usage is web design. Redesign should rely on available behavioral patterns. There is too much to pay for a mistake in this case.
The website heatmap has shown good results in SEO too. Usability audits have become much easier with it. To analyze effectiveness of a landing page is impossible without the scrollmap at all since this is the only tool that can show users' reading activity on the whole page length.
At the end of the day, developers can also use the website heatmap, creating SaaS-solutions, CMSs, more complicated online services.
To see what practical use the website heatmap can bring to your project, it's better to register for free trial version.