Mouse click heatmap is a website analytics tool for experienced internet marketers, web designers, content managers, and SEO specialists. They use it to collect information on how visitors navigate a website and what elements they click. The insight into user behavior helps to understand the problems of visitors and immediately eliminate them. This makes mouse movement tracking software essential for conversion rate optimization.
Read on to learn what is a mouse click heatmap and discover 11 ways to use this tool.
What is a Mouse Move Tracking Heatmap?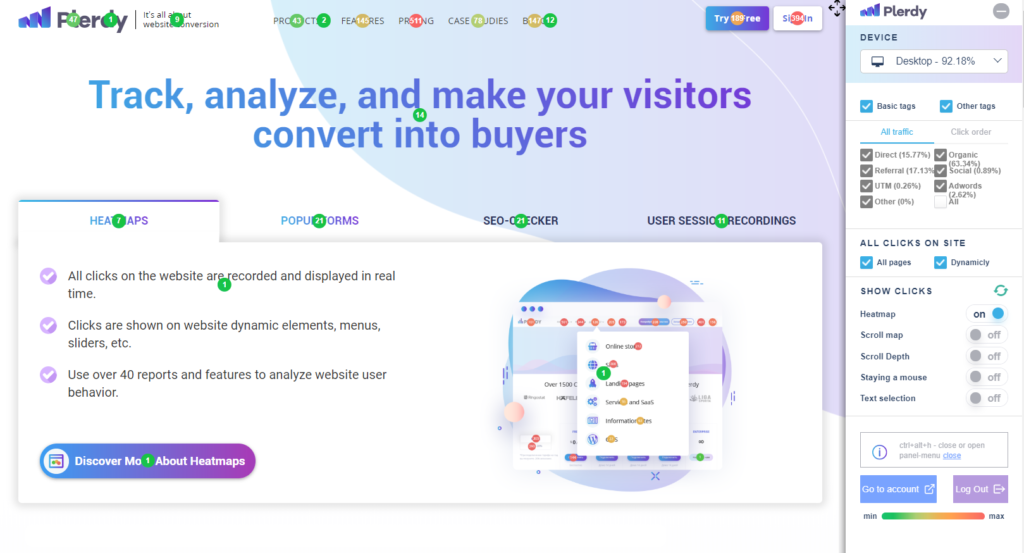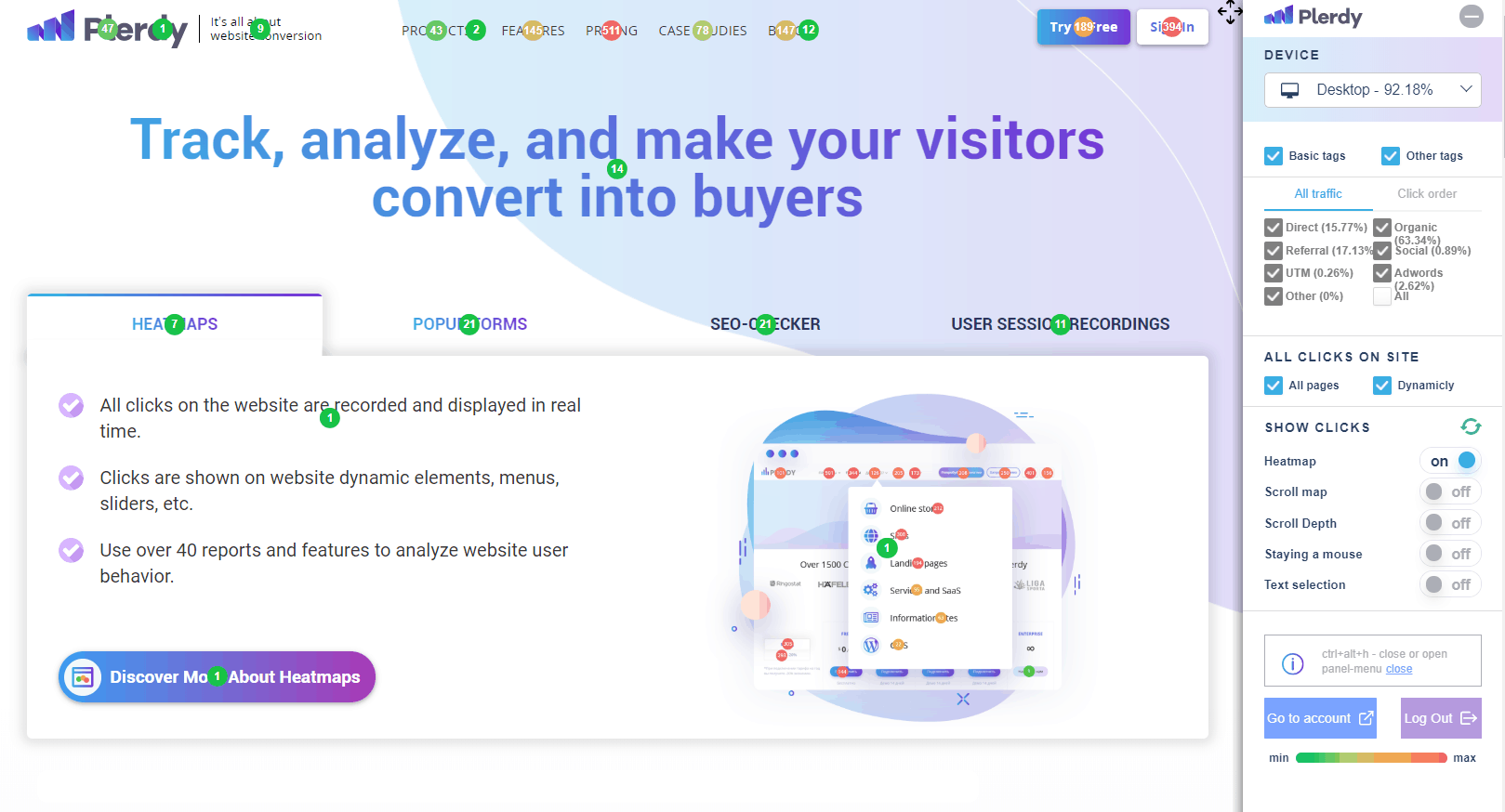 Mouse move tracking heatmap is a specialized tool that records data on user interactions with website pages. This software collects mouse clicks and moves to display them on maps updated in real-time. To visualize the activity, mouse move heatmaps use the color-coding scheme and convert the recorded data into colors. The hotter the color, the more users interact with this website area. Such a visual representation is very convenient to quickly evaluate the activity on your web pages without diving into statistical analysis.
The mouse move tracking software is based on the idea that the movement of the mouse cursor repeats eye movement. You can get into the mind of users and understand how they read the content and react to it. The information on clicks adds additional value to the mouse movement data by showing the exact places website visitors interact with. For example, you may find out that most visitors skip the introduction, ignore links, or don't click specific buttons.
The Importance of Mouse Click Heatmaps
Mouse click heatmap software has multiple applications. It will come in handy to anyone engaged in e-commerce or digital businesses. Since every web resource is unique, its visitors will behave differently based on numerous factors, including their personal needs, interests, website usability, calls-to-action, ease of navigation, etc. You cannot predict the reaction to the chosen website design with 100% accuracy beforehand, but you can use heatmaps to see how your visitors react.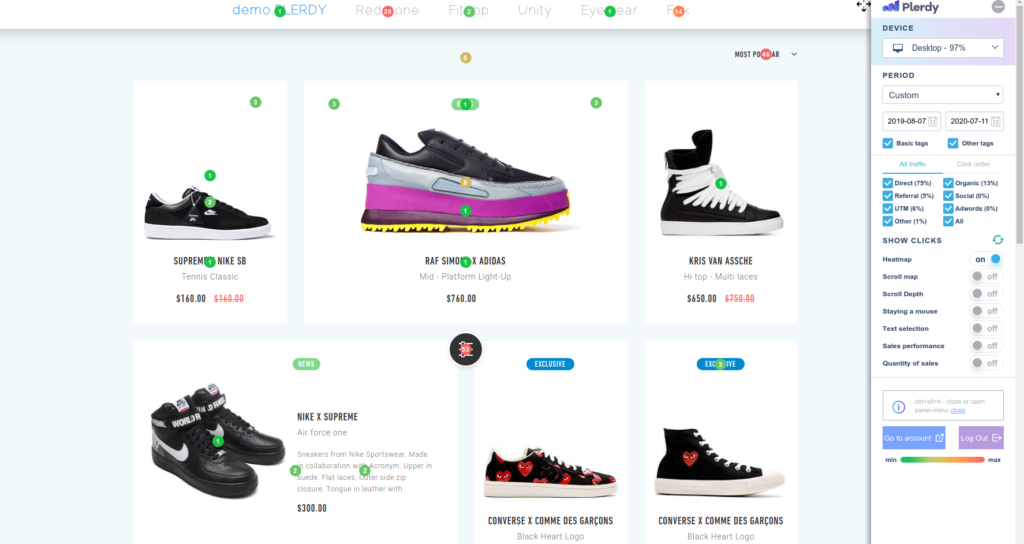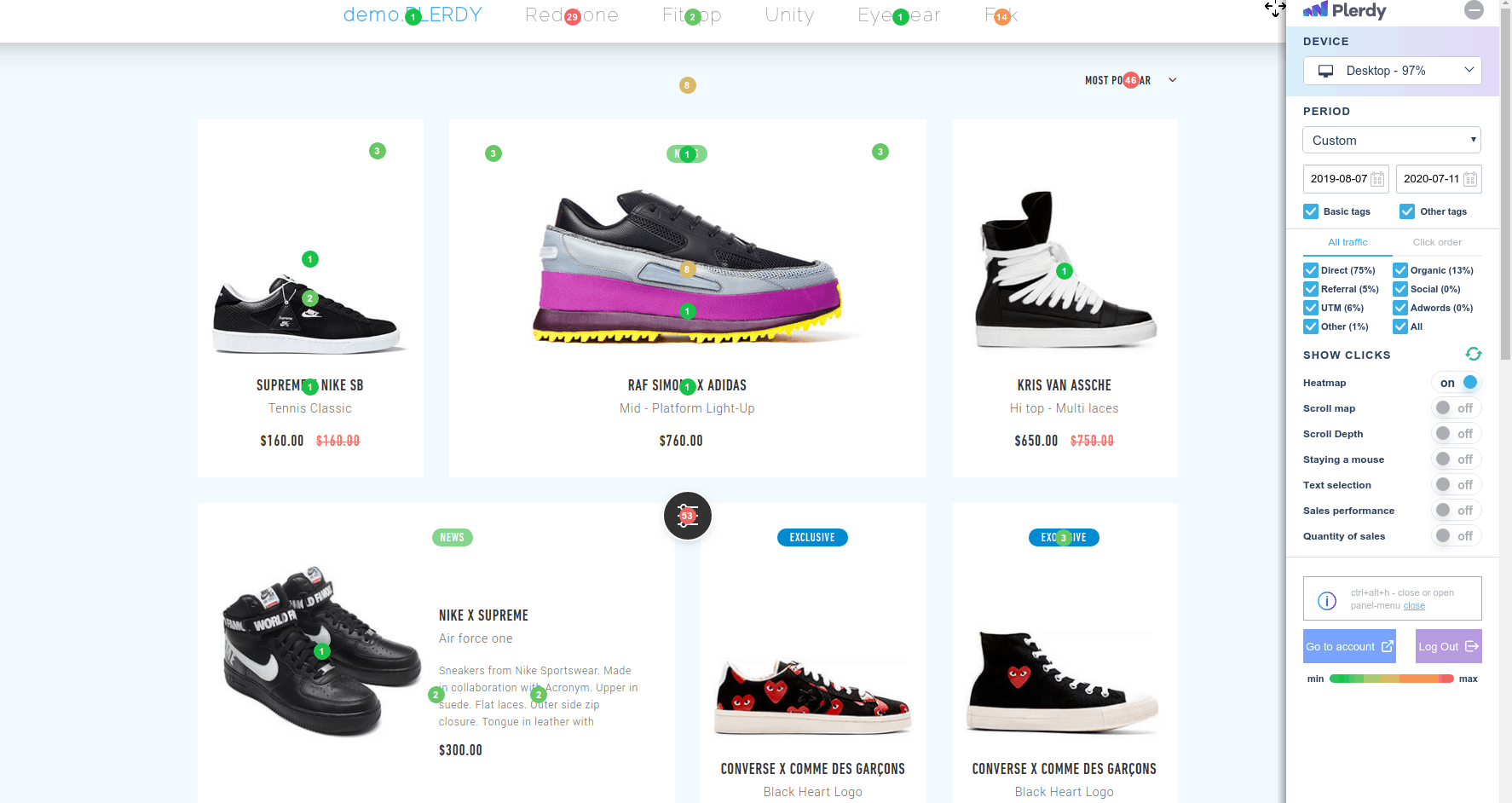 Here are the main categories of specialists that can benefit from mouse click heatmap software:
Web and UI/UX designers. A mouse click heatmap tool helps to test website design and determine which elements to move, change, or eliminate.
Marketers. Online marketers can learn more about website visitors to tailor the offer and provide relevant marketing materials.
SEO specialists. User behavior is one of the factors evaluated by Google bot. With heatmaps, SEO experts can make sure their on-page SEO efforts are working.
Content managers. Mouse move data is helpful to learn how website visitors read the content and what text blocks they focus on.
Long story short, heatmap software is a must-have for any modern website to stay competitive. The market is so oversaturated that only a website with smooth navigation and ultimate user experience can generate decent sales.
Advantages of Plerdy Mouse Click Heatmap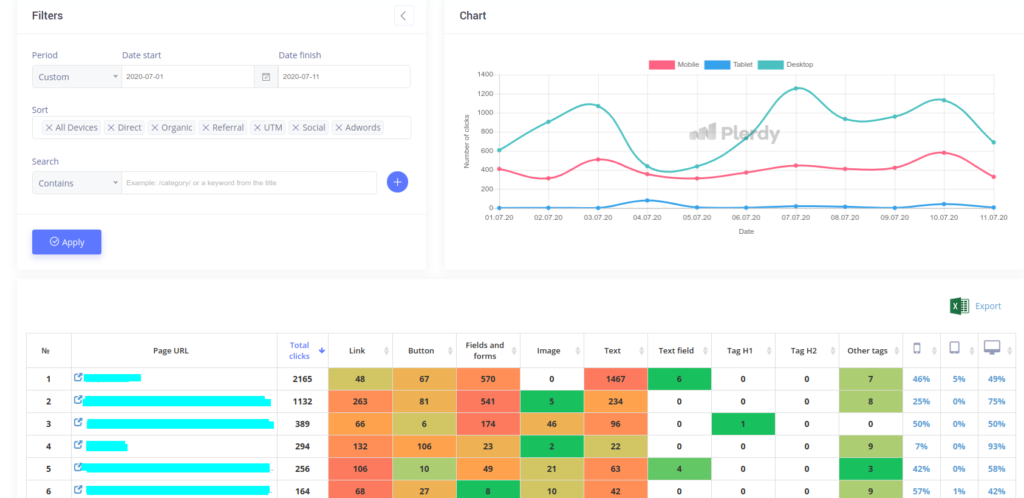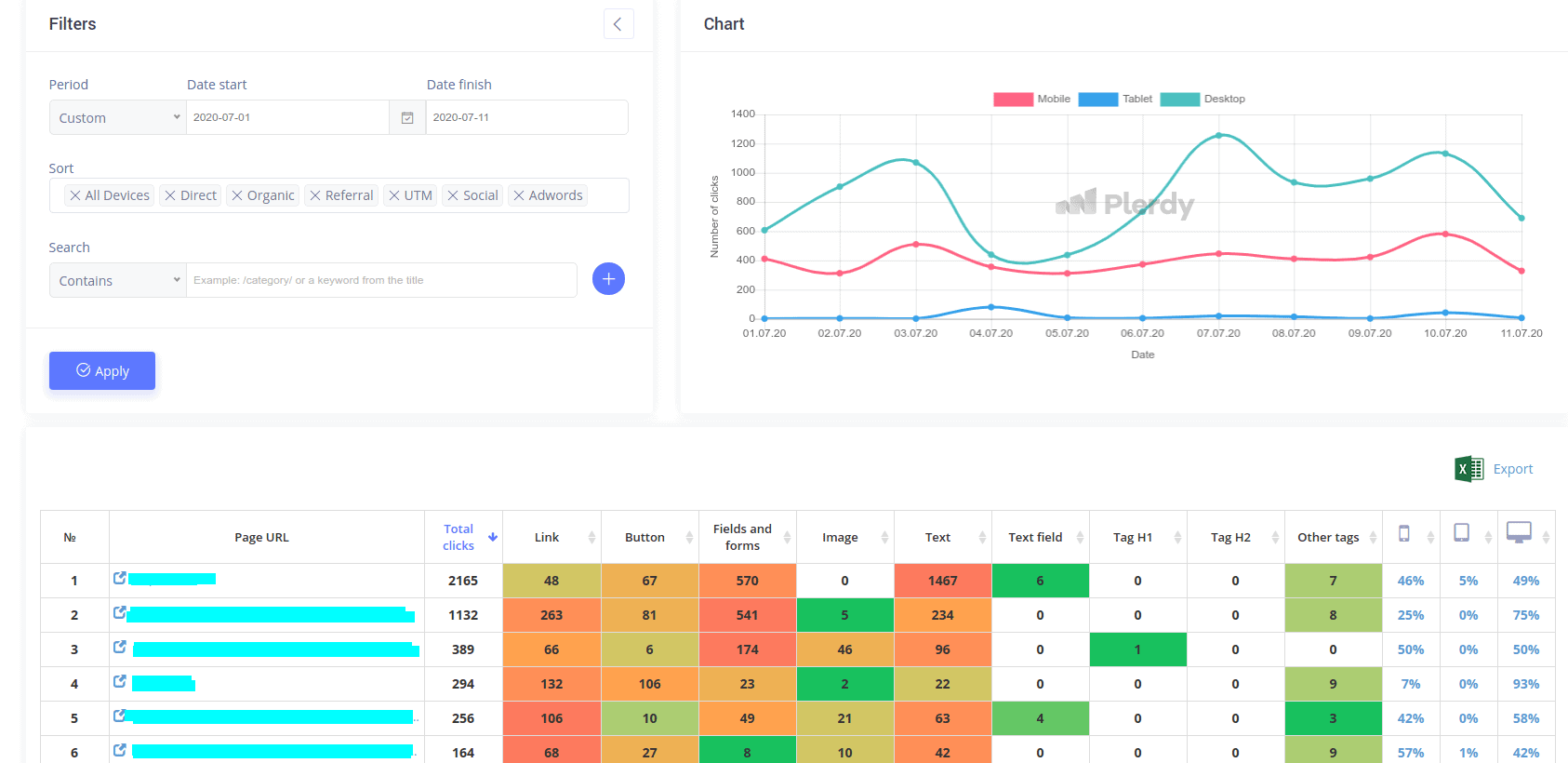 Mouse click heatmap tool is one of the leading features available in Plerdy. It's classic tracking software that records clicks and mouse movement of website visitors. Preldy tool was designed by the team of specialists with considerable experience in website optimization. Therefore, it's simple and perfectly suited for the needs of website owners and marketers. The other benefits of Plerdy tool include:
99% click collection accuracy. Plerdy is based on a custom algorithm that works equally well on desktop and mobile devices. You can rely on the collected data to make critical redesign decisions.
All data is recorded in real-time. The tool instantly transfers data to website maps and dashboards. This saves your time and allows you to proactively fix any user experience issues.
Statistics are displayed on a live website. Unlike many tools that provide screenshots of website pages, Plerdy is live streaming. You can view the latest user behavior data while navigating the analyzed website.
Dynamic elements tracking. Plerdy tool records mouse clicks on pop-ups, sliders, drop-down menus, and other dynamic elements. This gives you the most realistic picture of user activity.
Only important interactions are displayed. Plerdy doesn't record empty mouse clicks and other useless interactions, letting you focus on meaningful statistics.
Visitor segmentation. The tool segments website visitors by device type and traffic source for quality analysis of the target audience.
Personal dashboard with statistics. In addition to heatmaps, Plerdy displays detailed statistics on user interactions in your dashboard.
Aggregated data. Heatmap data isn't personally identifiable, so you don't have to worry about user security or regulatory compliance.
Plerdy offers a free trial mode for all types of subscriptions. It's a significant benefit to those who want to study the functionality of the heatmap software before choosing one of the paid plans.
How to Analyze Your Website with Mouse Heatmap Tool
1. Use a mouse click heatmap to redesign your website
To redesign a website, you need to know how your visitors behave. Without this, any significant change may be counterproductive. You risk losing conversion, which is very hard to regain.
Web designers should get acquainted with the data on user behavior before making the first sketches. It's important to determine which elements are clicked the most and the least to decide whether to keep them or not.
Example of a website click statistics:


Pay attention to the data on interactions with the most visited pages and the main pages of every type. For example, in an online store, these are:
Main page
Category page
Product page
Cart
Blog page
Contact page
Also, note that the behavior of desktop and mobile website visitors significantly differs and the number of mobile users is steadily growing. Don't forget about the needs of mobile visitors in your next website version.
A redesign is usually a risky move since you never know for sure how the target audience will accept the new version of the website.
2. Improve content
The optimization of text, images, and videos is very important. Their quality and quantity influences website traffic. Especially in online stores, where quality content is crucial for conversion increase.
So how to enhance your website content?
First, combine the heatmap tool with a scroll map for more detailed statistics.
The example of the scroll map: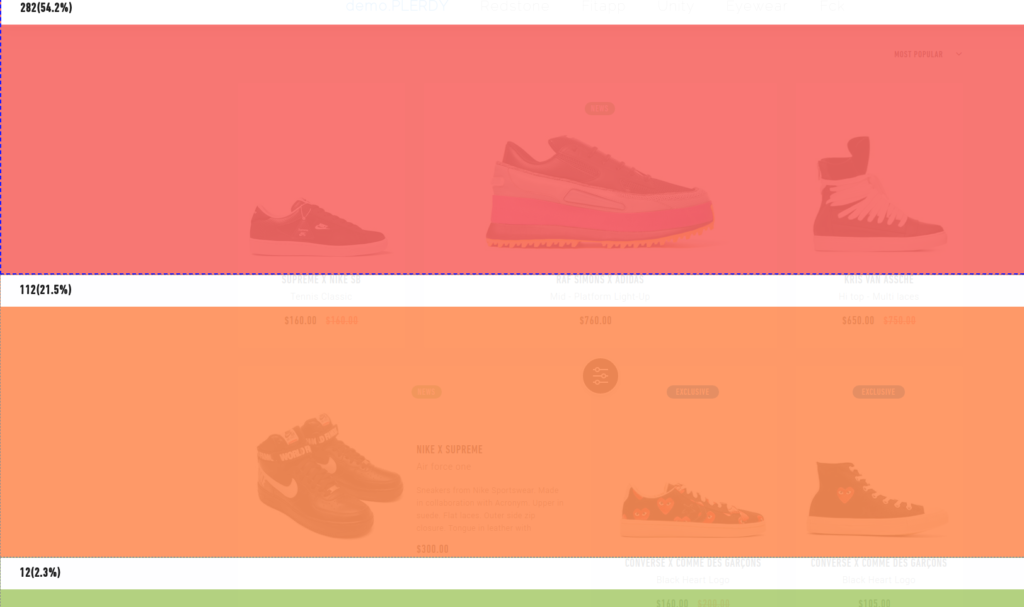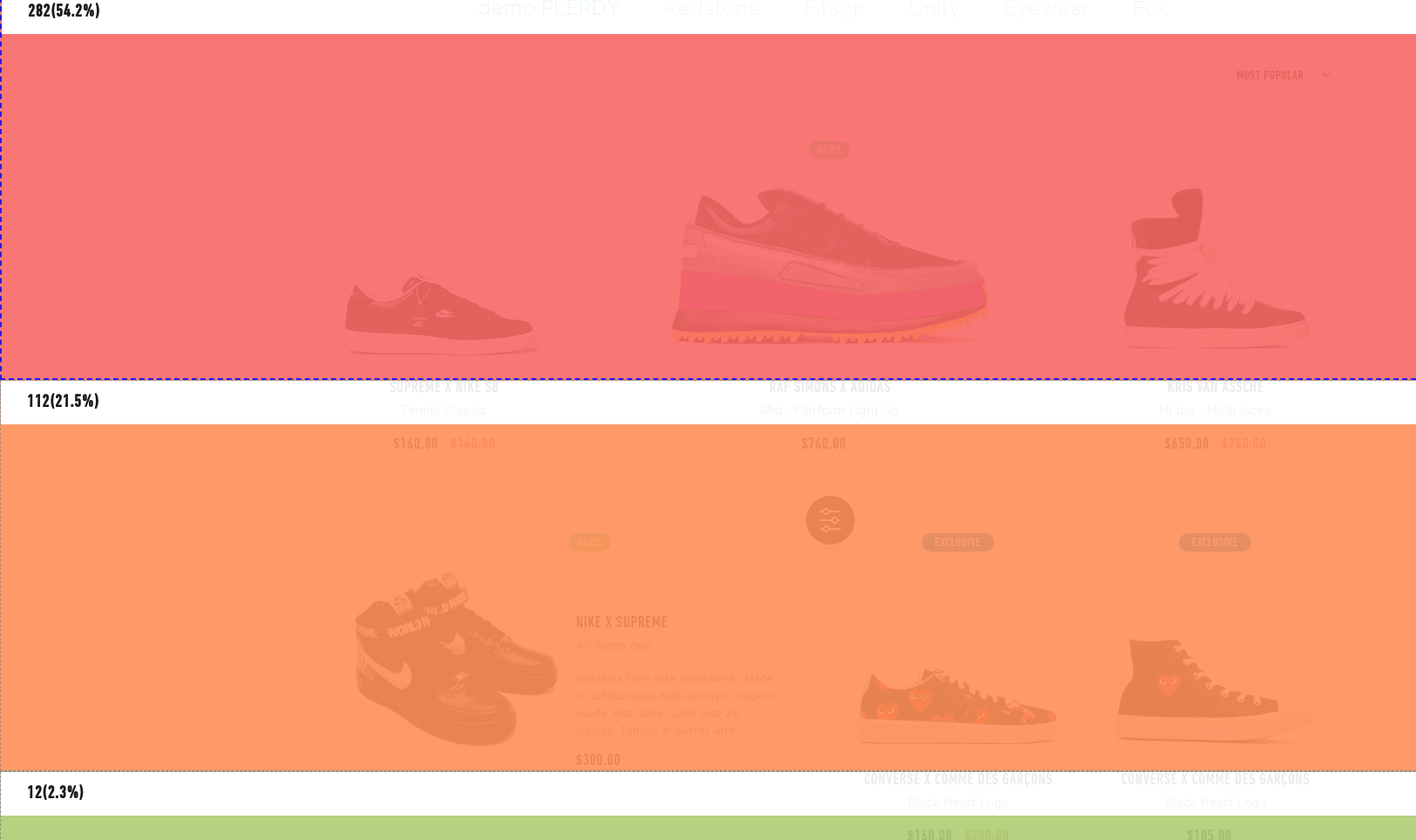 The collected information will help you locate CTAs, images, and buttons in the places where they are the most effective.
Besides, thanks to the scroll data, you will be able to evaluate the efficiency of long texts. If users don't read them till the end, consider rewriting or shortening the content.
If the key CTA is located below the article users don't usually finish, relocate it to a more popular text block or turn it into a pop-up banner.
Bear in mind that content quality matters not only for your target audience. It also strongly impacts the success of website promotion and search results.
3. Improve the location of links with a mouse movement heatmap tool
You probably already know why internal linking is important for website promotion. To get more traffic, pages must be linked with each other. The location of these links is another important factor.
If readers don't navigate to other articles or product pages, this doesn't necessarily mean they are not interested in your content. Maybe, the links are hard to notice or other elements attract more attention.
Example of the mouse movement heatmap of the snippet: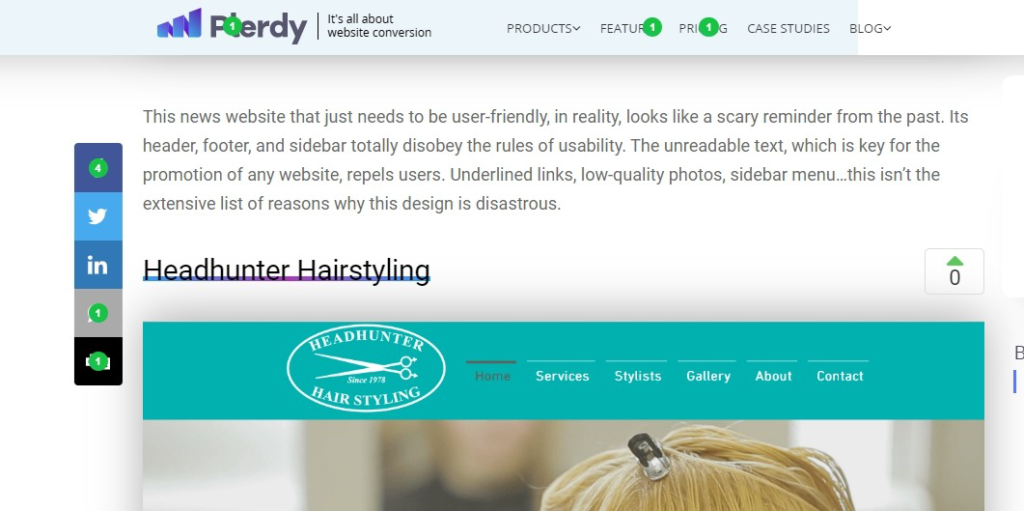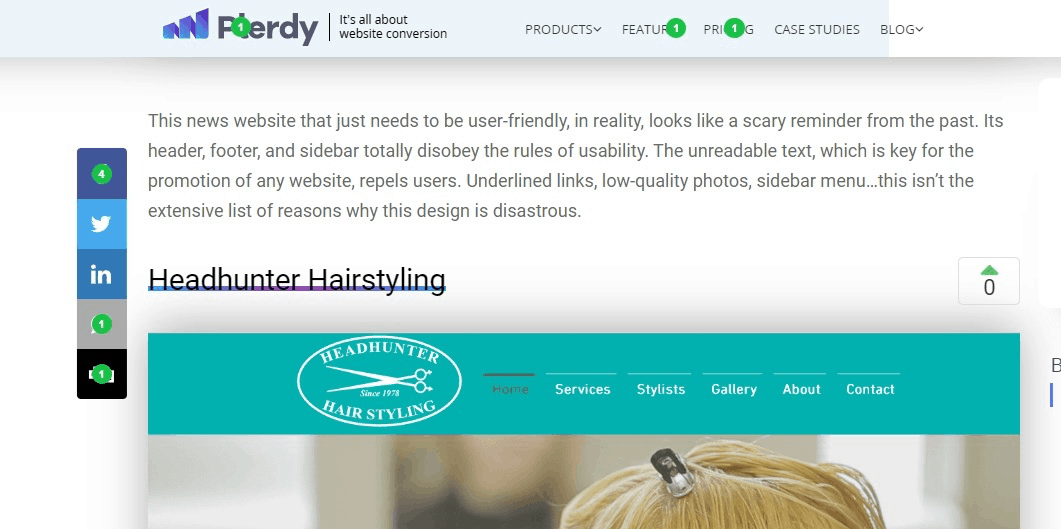 That's why planning internal links on your website, you should take into account behavioral patterns of desktop and mobile users.
4. Run usability audits with a mouse click heatmap tool
Audits help to objectively evaluate design usability. You get a chance to see the website from the users' perspective and detect anomalies in their behavior. This enables you to understand why they don't complete the expected actions. If you run an online store, a usability audit can show you the reasons for low sales.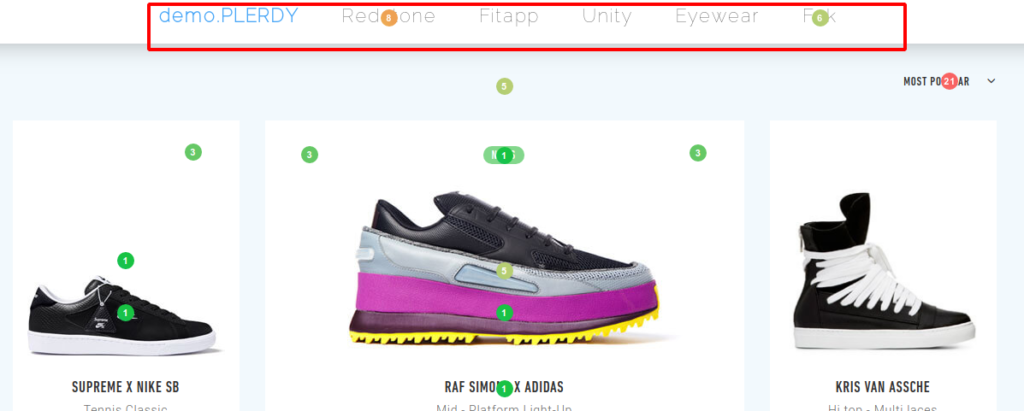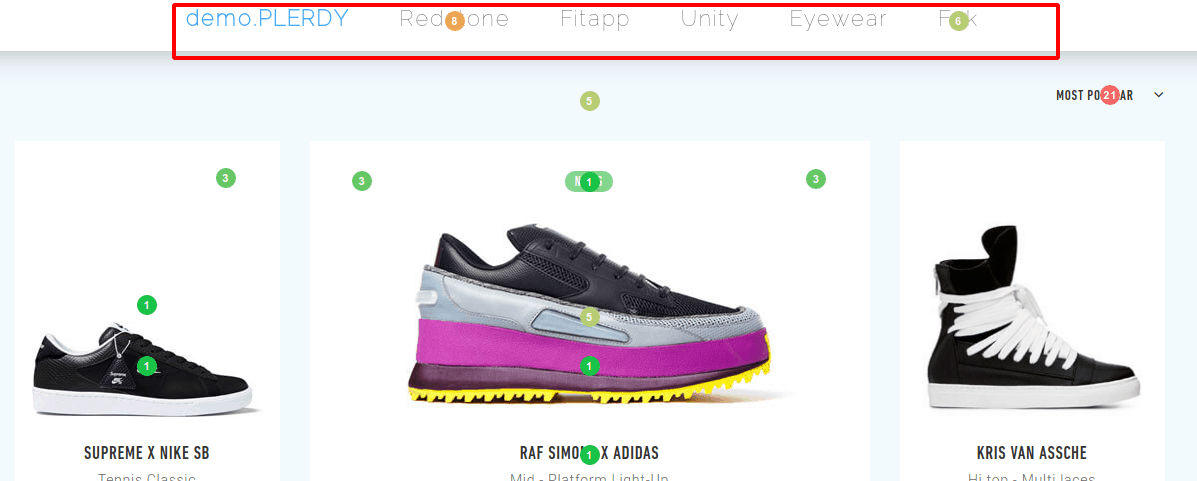 Heatmap and scroll map tools are indispensable for web design analysis and usually used to evaluate:
The main page (what sections are the most popular)
Category pages (use of filters)
Product cards (clarity of design)
The main menu (structure)
The header (contact info, search bar, etc.)
When internet marketers use a heatmap to analyze the website for the first time, they are often surprised. It turns out that website visitors may have a different perception of the design. That's why the usability audit is a mandatory step in website optimization.
5. Evaluate the effectiveness of pop-ups
A lot of modern websites use pop-ups to attract extra attention. Apart from that, marketers connect chatbots for staying in touch with potential clients. Some of them even install apps to evaluate the informativeness of pages. Well, there are a lot of ways to make a website interactive.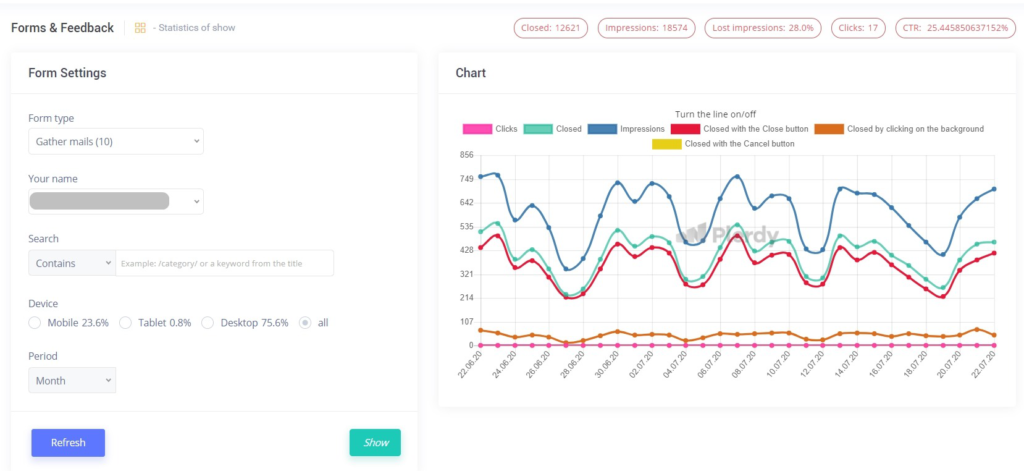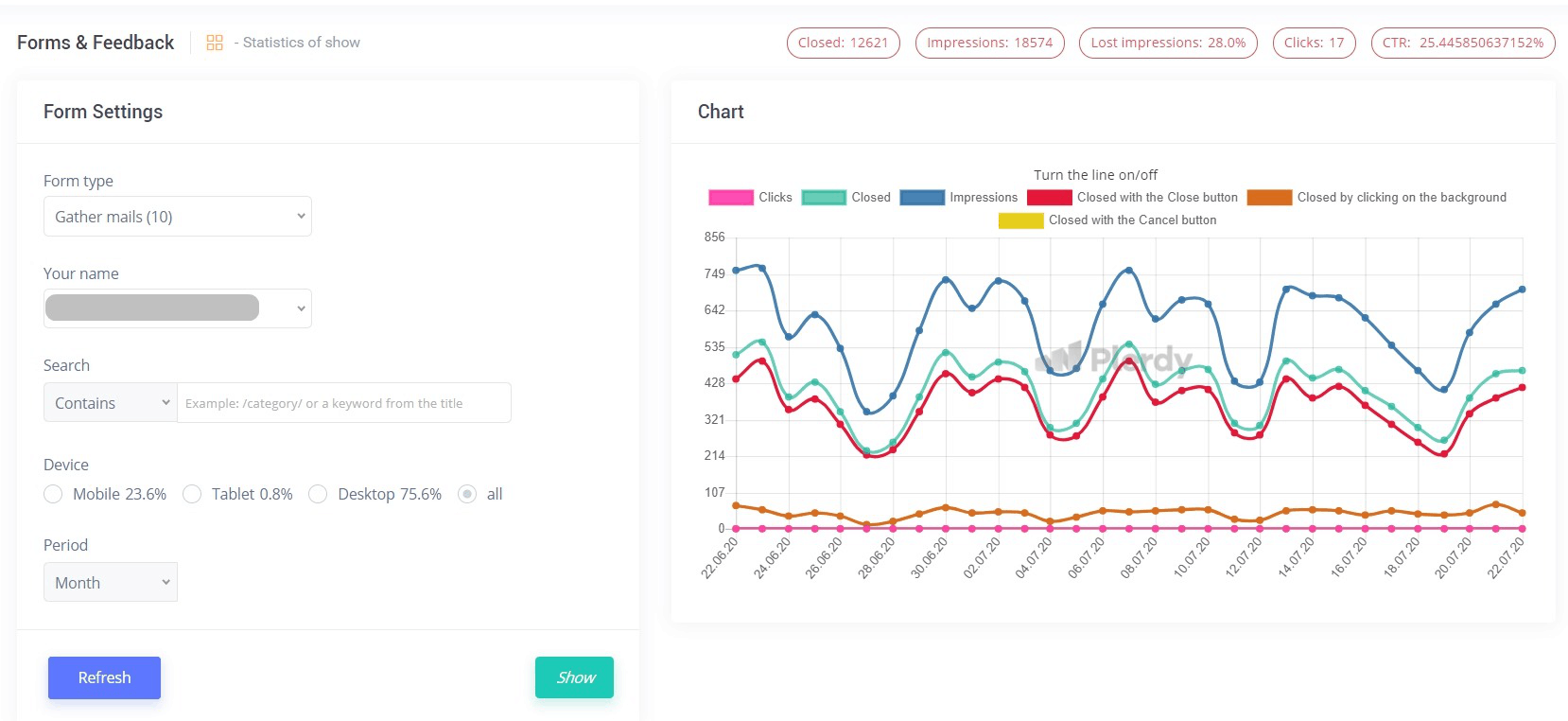 Unfortunately, tracking dynamic elements is challenging for most heatmaps and applications. It's hard to tell for sure whether they influence conversion and sales growth.
But not for Plerdy. This tool records interactions with all pop-ups and dynamic elements (menus, banners, chats). Just go to your dashboard to view them.
6. Conduct a CTA analysis with a mouse movement heatmap
What makes a user go through the purchase funnel and buy the chosen product? Attention, interest, desire…A person motivated with proper calls-to-actions quickly completes all the stages.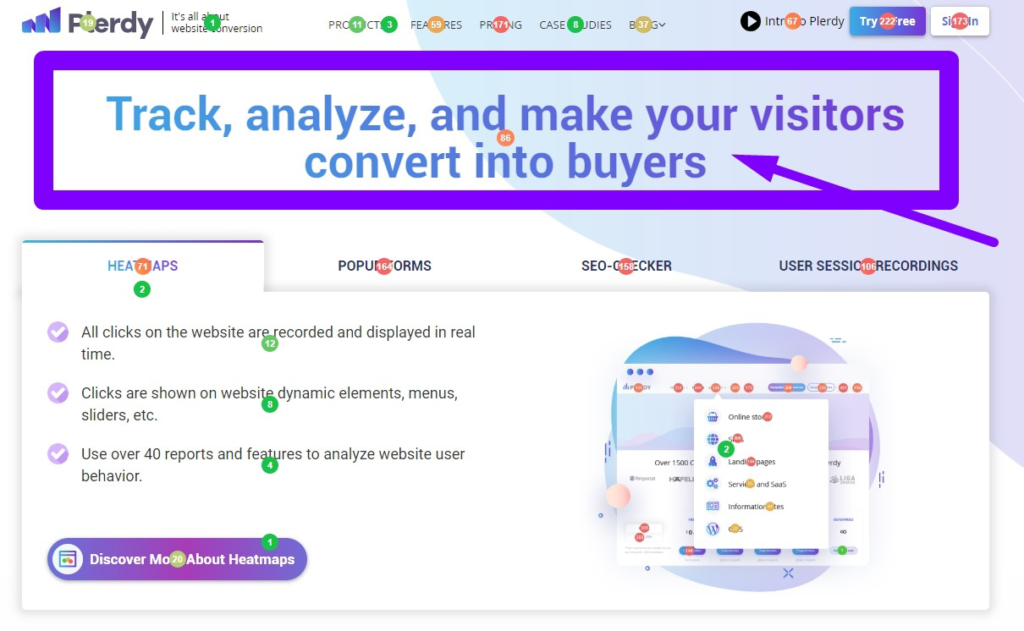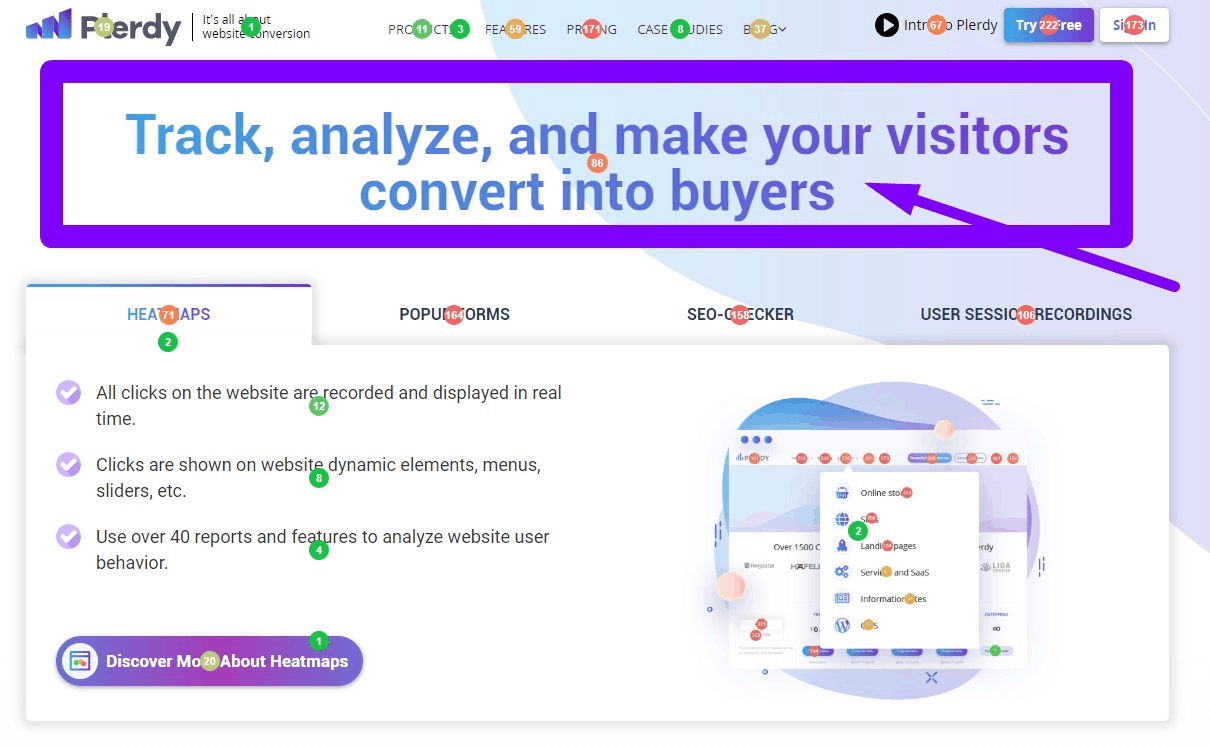 The task of an internet marketer is to create non-intrusive CTAs that will convince users to place an order. How to know whether people react to your CTA? Use a move tracking heatmap to record their navigation path and interactions.
7. Reduce the bounce rate
The bounce rate is a pain point for many e-commerce marketers. Why do users leave a full cart at the last stage of making a purchase?
There are a lot of valid reasons to behave like this: a too complicated registration form, technical bugs, no support…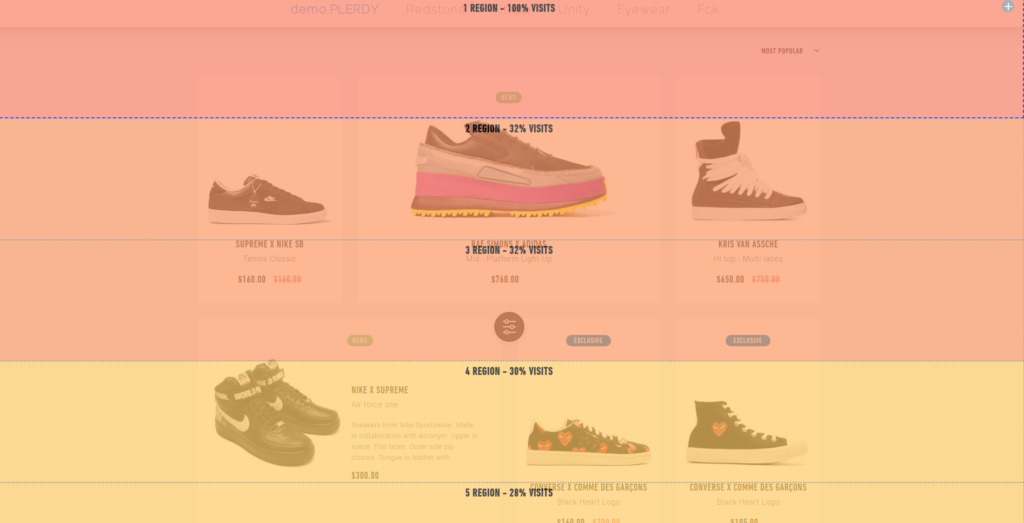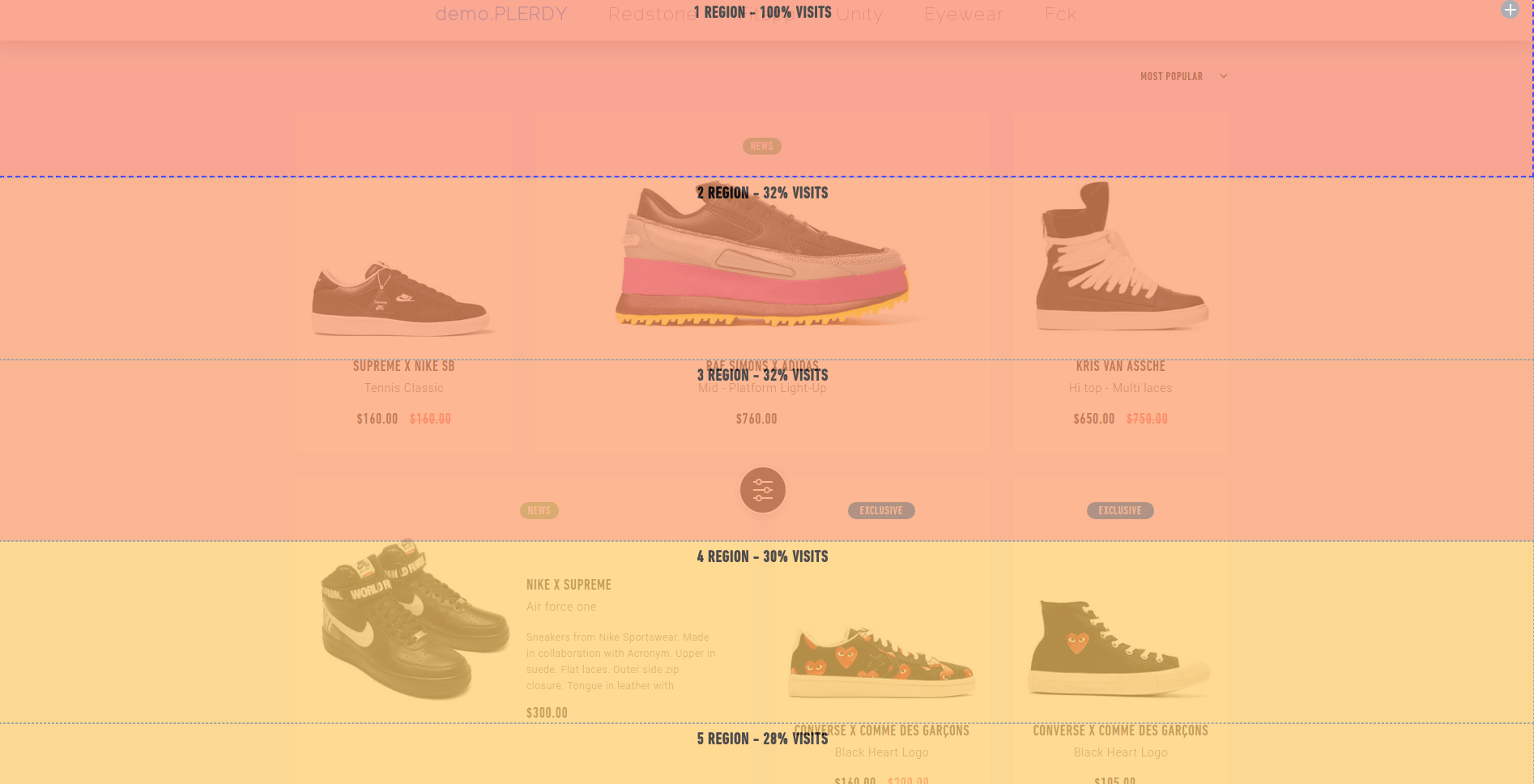 To detect the real reason behind the high bounce rate, use a scrolling depth heatmap. The collected data can clarify why users hesitate and what marketing offer can remarket them.
The sooner you detect the problem the sooner you will increase sales.
8. Analyze landing page with a mouse click heatmap tool
A landing page is one of the best ways to sell products or services online. It contains all the necessary information about the offer. Usually, a landing page consists of a few blocks and has a lot of images, videos, and, sometimes, 3D animations. Users scroll it until they come across a link or block they want to learn more about. If it doesn't happen, they just close the page.
As a result, landing pages have an extremely high bounce rate (90–100 %). It's very difficult to analyze them without a mouse click heatmap and a scroll map.
What can these tools detect on landing pages?
Firstly, with custom tags, you can find out which buttons have the highest conversion. Secondly, if the page has different types of content (videos, pictures) or interactive elements, the website heatmap will show how the target audience reacts to them.
Сustom tags statistics:


The scroll map is another tool important for landing page analysis. By showing the scroll depth, it allows marketers to determine whether users are interested in the content. For example, if half of users leave after reading only 30% of the page, the interest is weak. Hence you need to reconsider your target audience or choose another approach to present the information.
Once you fix the mistakes on the landing page, the bounce rate should also decrease.
9. Increase online store conversion
Apart from traditional tools for analytics and online store promotion, marketers have been using mouse tracking heatmaps and scroll maps for several years now. These tools are helpful to boost conversion.
Conversion is the final action you want your users to do (e.g., place an order, subscribe to the tool, send an application, etc). There are different ways to increase conversion rates, but most of them are about making a unique offer, usable and understandable design, and properly located CTAs.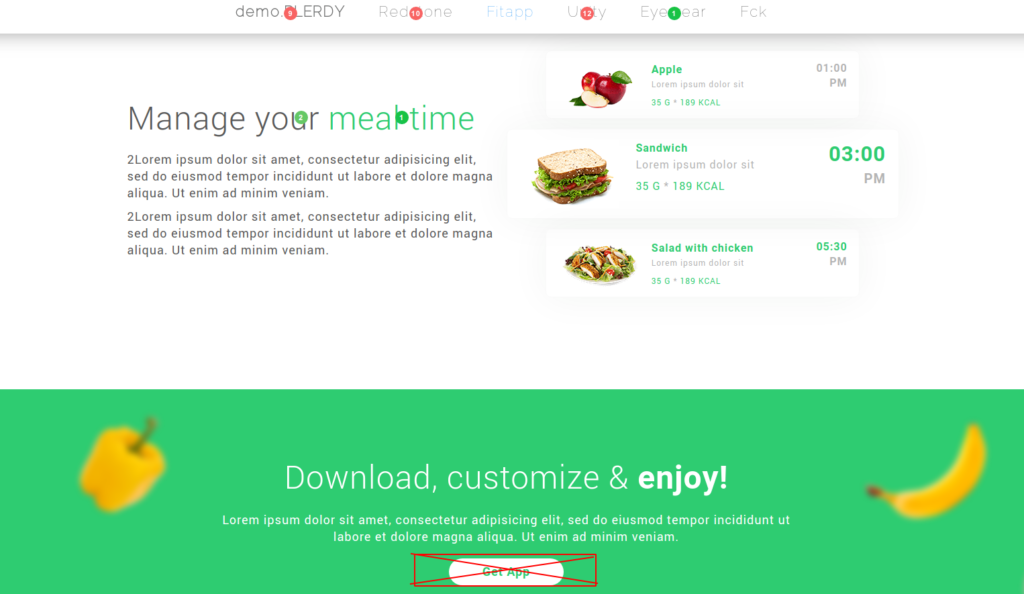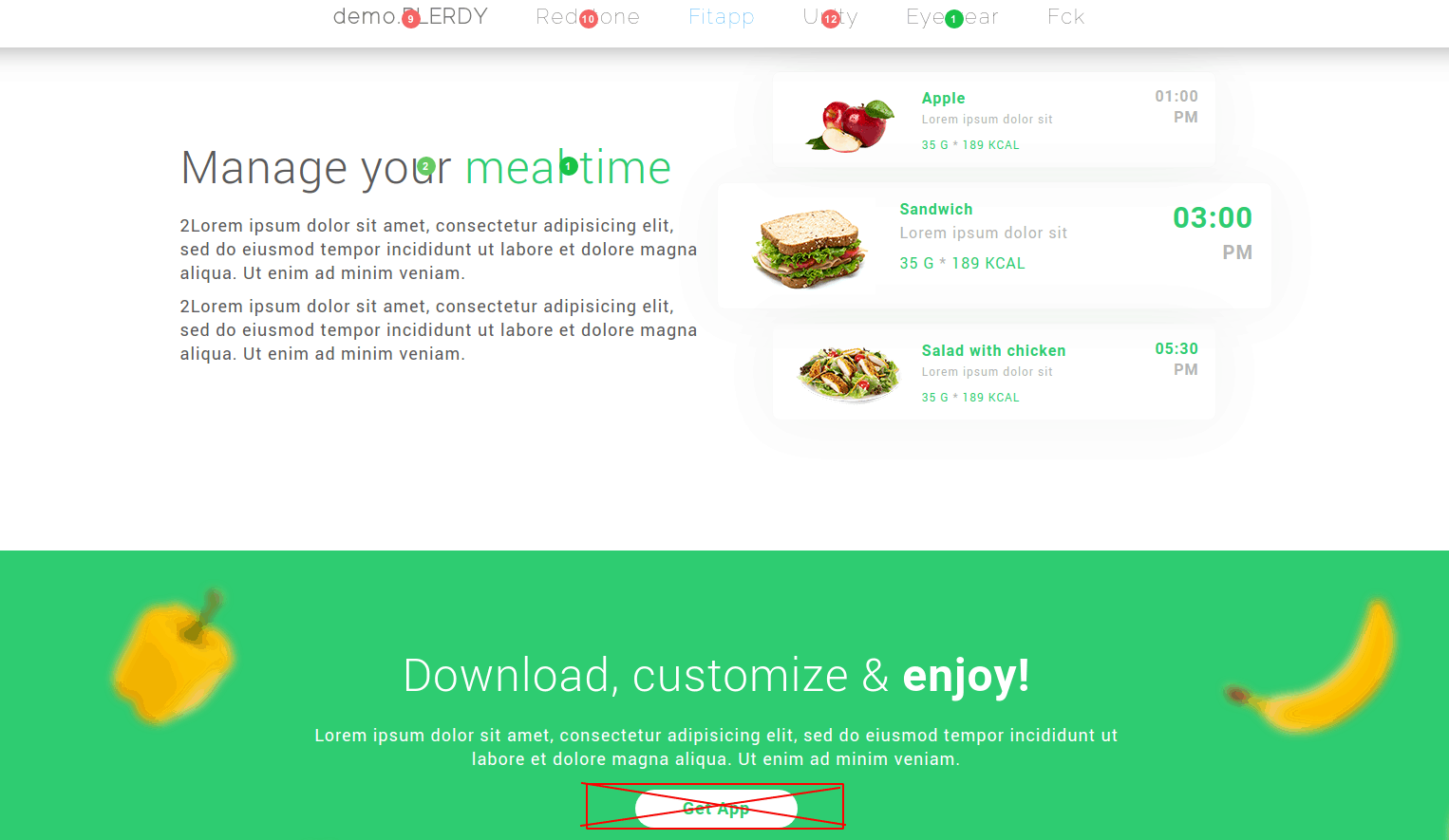 To see if the chosen method yields the expected result, you can use a move tracking heatmap. Analyze the behavioral factors on online store's pages, see what users click and read. Then, it should be much easier to make the right changes on the website.
10. Analyze unique offers with a mouse click heatmap
A lot of online stores make special offers to their customers. They have a unique form and content and help many businesses to withstand the market competition.


A mouse click heatmap allows you to analyze special offers on a specific website. You can view the clicks on the offer and monitor the popularity of the related product or category pages to implement any required changes.
Quality offers always benefit conversion and sales.
11. Evaluate the effectiveness of a CMS tool with a mouse movement heatmap
The move tracking heatmap is an irreplaceable tool for CMS evaluation.
Many modern websites are built with CMS systems for extra flexibility and scalability. Since the popularity of content management systems keeps growing, different studios are working on multiple solutions for website administration.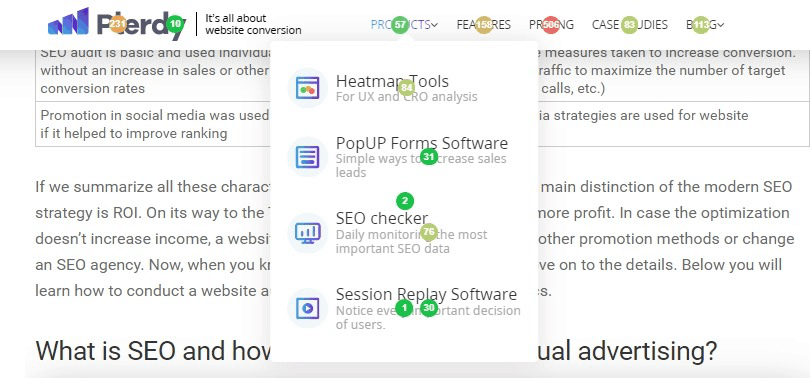 But how to know which design elements supported by a CMS users find convenient?
The problem is that all CMS systems are closed for scanning by external services. You can either collect feedback manually or run a usability audit with mouse move tracking and scroll map tools. The second option is simpler and faster, of course.
The move tracking heatmap allows you to get results even from the hidden part of the web resource. After pasting a script, you collect statistics on all website elements. As a result, in a while, developers will get the full picture of user behavior to make the necessary changes (e.g., relocate elements, change colors and fonts, add tips).
The scroll map can also be useful if you want to learn the scroll depth of CMS-generated pages.
What Should Website Heatmap and Scroll Map Users Keep in Mind?
Website heatmap and scroll map tools are mostly used by experienced specialists that analyze websites on a daily basis. Nevertheless, they will be equally useful to website owners without expertise in usability, SEO, or web design. The format of data is clear and illustrative.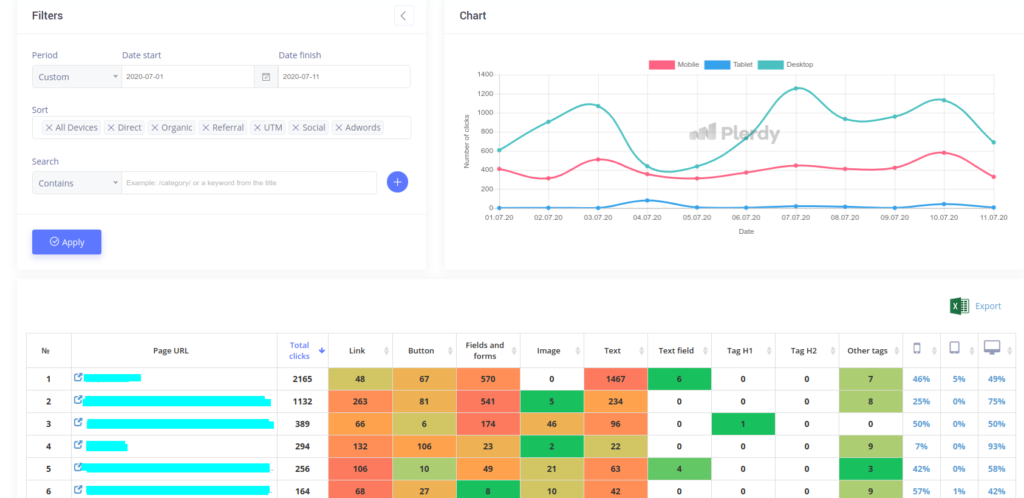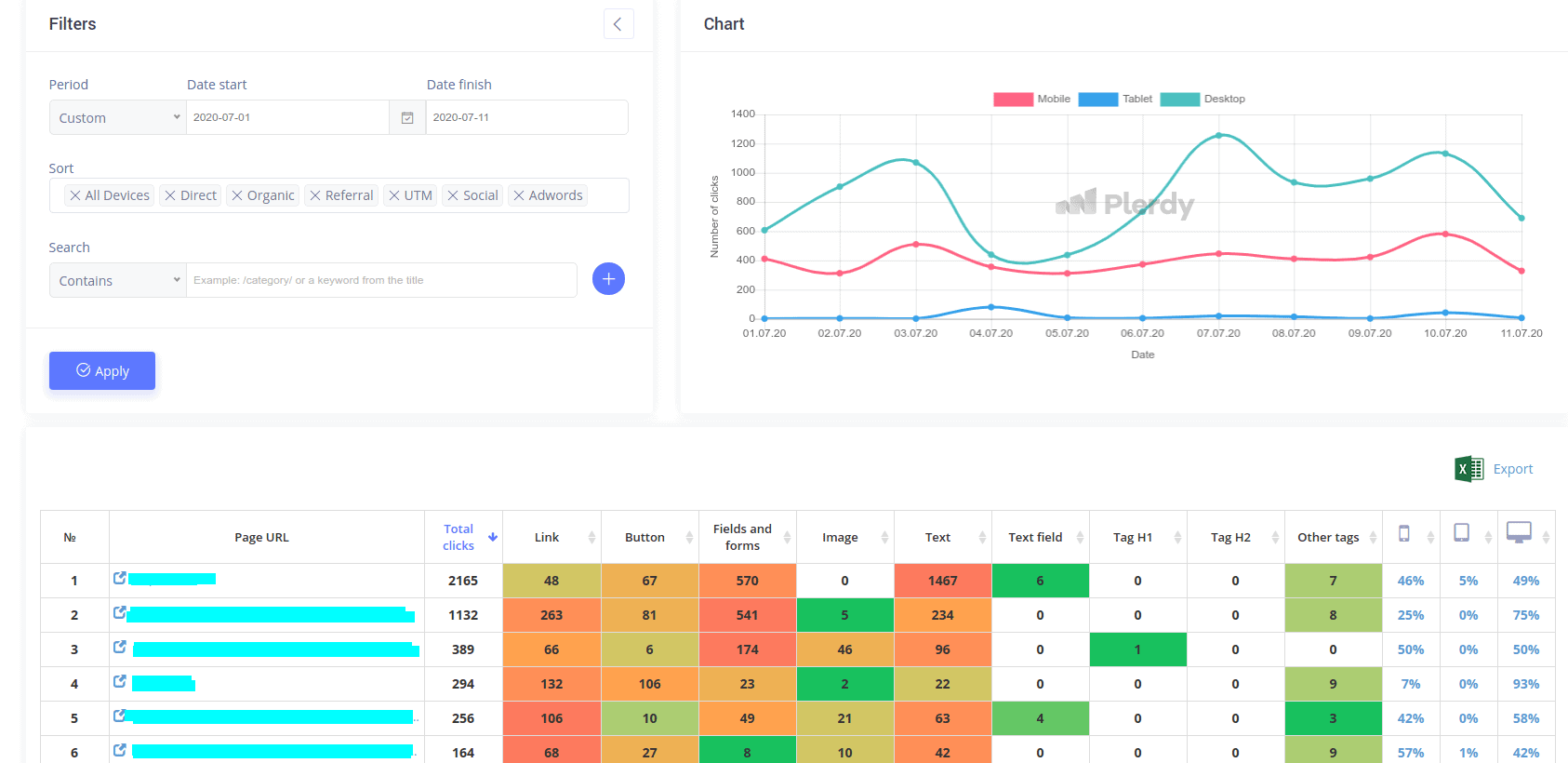 After accessing this information, you will have tons of ideas on what to improve on your website. But before implementing any changes, check the following tips:
Locate the most important information in the header (the name, navigation elements, contacts, etc.). Many websites keep this part fixed to provide users with quick access to the menu or contact info.
Apart from colors, fonts, and images, font size can also highlight information. The elements that attract attention are more likely to be clicked.
Remember about banner blindness. Since ads are everywhere, people stop noticing them. Make sure your banners don't look like online ads.
Many websites bombard visitors with offers. Don't do this. Focus on people who know what they are looking for.
Quality images sell better than words. The descriptions are necessary for website promotion and a detailed characteristic of a product.
Before implementing new features on a website, it's better to make sure they're effective by running A/B tests. This way, you will minimize the risk of losing your target audience.
Conclusion
Mouse click heatmaps have proven to be useful in marketing analytics. Real-time data on user behavior is more valuable than questionnaires or traditional analytics tools. Now, thanks to the mouse click heatmap, you can work with abandoned carts, analyze unique offers or CTAs, and better understand your target audience.
Web design is another field that can benefit from mouse click heatmaps. Web and UI/UX designers integrate them to test redesign solutions and find out what changes are needed.
The mouse click heatmap is also commonly used for SEO optimization and usability audits. Besides, it's the most convenient way to analyze the effectiveness of a landing page or a CRM-based website.
As you see, mouse movement heatmaps simplify the life of internet marketers, designers, SEO specialists, developers, and other IT specialists. Yet there are many more ways to use this tool in other industries.
Want to analyze your web resource with a heatmap? Register now to enjoy a free trial.