Are you 🖊️  a content writer looking for the best tools to make your work easier in 2023? Look no further! In this article, we've compiled a list of the top 14 content writing tools to help you create high-quality content that engages and converts. But it's not just about creating content – we'll also discuss how analyzing SEO content and keywords is crucial for maintaining good search rankings and how poor usability can hurt your chances of gaining conversions. So, whether you're a seasoned content writer or just starting out, read on to discover the best tools 💻📈 for your arsenal. You can quickly check out cool SEO checklists before diving into content writing tools.
What Is Content Writing Tool?
If you're here, you probably spend considerable time doing what I do daily—writing. As a writer, I understand the importance of creating high-quality content that engages my audience. But to achieve that, I also need the right tools.
Luckily, a wide variety of content writing tools are available, both free and paid. Over time, I have tested and tried almost every writing tool, from the amazing to the mediocre to the downright awful. The usefulness of these tools largely depends on two things: what you need and the style that is appropriate for your projects.
There is no one-size-fits-all tool. However, content writing tools are the best bet for achieving the right balance between creativity and SEO requirements in your content. The demand for creative and engaging content is enormous, with 91% of B2B marketers and 86% of B2C marketers using content marketing.
Content writing tools were invented to help you maintain content quality without losing your sanity. These tools can assist you in improving your writing, generating topic ideas, creating branded marketing content, and more. However, with so many content writing tools available, choosing the right one for your project can take time and effort.
Therefore, we have gathered verified information about the best content-writing tools in 2023. With the right planning, research, and outlining of your content, you can address your audience's queries and create content that appeals to them. By planning your editorial calendar around topics people want answers to, you can improve your search rankings and achieve your content marketing goals.
How do Content Writing Tools Help Businesses?
Over the past year, 71% of B2B marketers reported that the importance of content authoring to their businesses has increased. Yet, despite its growing significance, the necessary resources have to materialize. Numerous content marketers have identified common obstacles preventing their organizations from achieving their objectives, including lack of executive-level awareness and support, absence of a content marketing strategy, inadequate budget and staff, limited access to subject matter experts, poor technology, inadequate measurement, and misalignment between marketing and sales. The good news is that content creation tools can assist businesses in overcoming these difficulties.
With the proper content authoring tools, businesses may automate and streamline content quality standards, including keyword research, optimization, spelling and grammar checks, and accessibility. These technologies can also assist content writers in saving time and resources, allowing them to concentrate on crafting audience-resonating, engaging material. In addition, content creation tools can provide useful information about content performance, allowing businesses to tweak their strategy and increase their return on investment. Finally, investing in content creation tools enables businesses to support content marketing with the resources and personnel it merits, driving overall marketing success and enhancing its effect and value.
The Pros and Cons of Using AI Content Writing Tools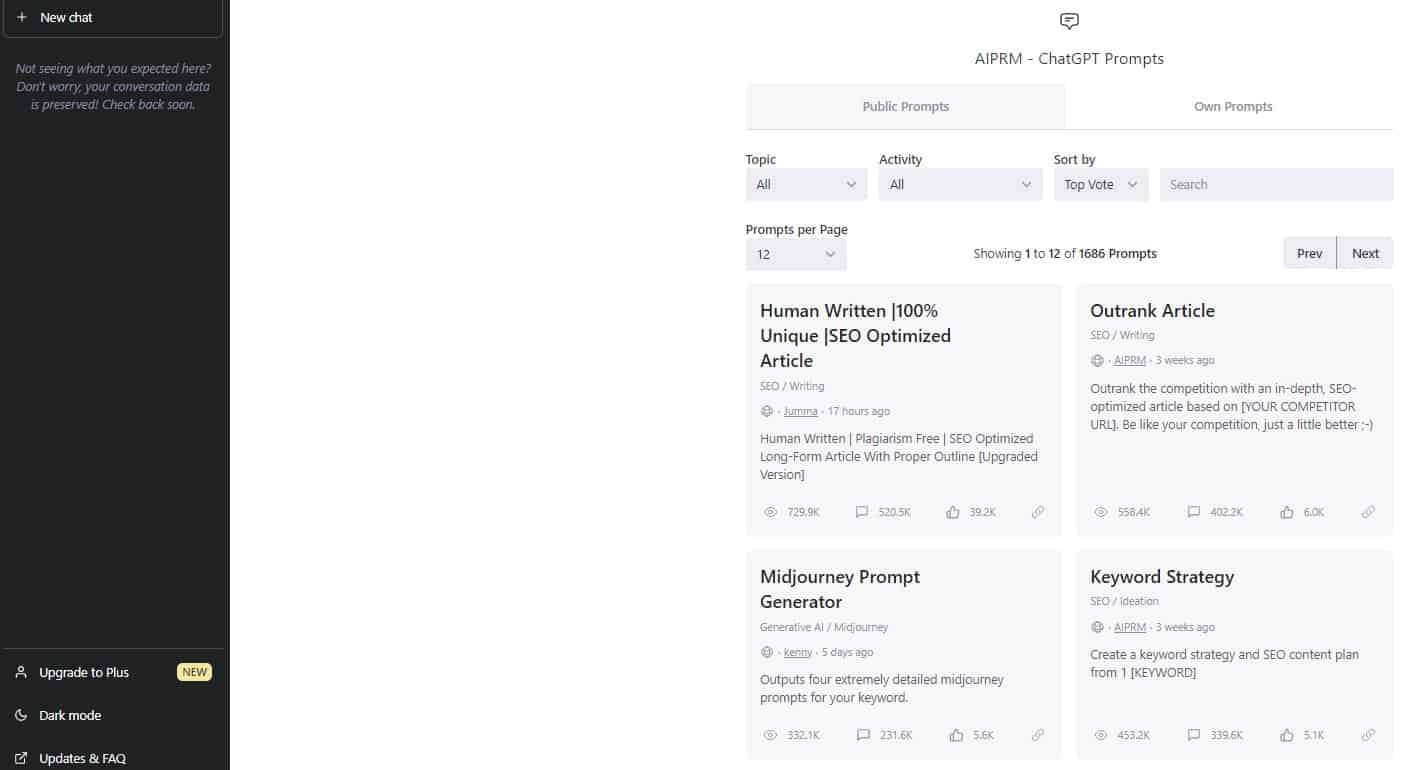 Are you considering using AI content writing tools? While they have many benefits, there are also some downsides to using this technology. Let's explore the pros and cons of AI content writing tools.
Generative Pre-trained Transformer (GPT) technology uses deep learning to produce human-like text once provided with a prompt. ChatGPT, launched by OpenAI in 2022, is a human-like generative AI that human trainers, supervised learning, and reinforcement learning has fine-tuned.
Here are ten pros and cons of using ChatGPT for PR pros:
10 Pros of AI-Assisted Writing:
Quickly produce first drafts of documents
Generate outlines for meetings or documents
Create text summaries of long-form content
Provide potential headlines for content
Suggest topic ideas
Overcome writer's block
Prepare for interviews
Transcribe audio
Explain complicated subjects or processes
Edit for AP Style
10 Cons of AI-Assisted Writing:
It can be repetitive or vague
It may not be up-to-date
Could present made-up 'facts.'
Lack source references
Risk potential plagiarism
Lacks human perspective and critical thinking
Still requires human editing
Lack of personalization or perspective (for brands)
Can be just as biased (or more) than humans
Google may consider it spam or de-rank it
While AI-powered writing tools exist for nearly everything, some developers have created sites like TheresAnAIforThat, a database of AIs available for nearly every task. As a result, AI-generated content is becoming popular. Still, many wonder how to use it and if it truly sounds authentic.
AI is growing rapidly in the tech sector, including the supply chain, food industry, chatbots, and content and image generation. AI-generated content is copied, such as blogs, marketing materials, articles, and product descriptions written by a machine. The AI content creator generates the content after a person inputs information such as keywords, phrases, and topics.
AI-generated content can help speed up the writing process, and businesses are noticing. Here are some pros of AI-generated content:
Efficiency and scalability
Cost-effective
Improves SEO
Overcomes writer's block
But there are also some cons of AI-generated content:
Quality concerns and possible plagiarism
Algorithms devalue content
Lack of creativity and personalization
Human editing is still required
Can't generate new ideas
To use AI-generated content effectively, it's best to use it as a writing assistant rather than relying solely on technology. Here are some ways to use AI tools for assistance with content:
Research
Overcoming writer's block
Proofreading current material
Writing short content
Translating language
Creating templates
AI content writing tools have pros and cons. While they can increase productivity and accelerate the writing process, human editing is still necessary. In addition, they may not be suitable for all types of content. Therefore, weighing the benefits and drawbacks of AI content writing tools before deciding if they fit your business is important.
Google Claims That Content Created by AI Tools Contradicts Guidelines
In a recent Google Search Central SEO office-hours hangout, Google's Search Advocate, John Mueller, confirmed that content created with AI writing tools is considered spam, according to Google's webmaster guidelines. This response was about a question about GPT-3 AI writing tools and has sparked a debate in the SEO community about using such tools.
Regardless of the tool used, machine-generated content is considered automatically generated and against Google's webmaster guidelines. Mueller emphasized that Google's position on automatically generated content has always been clear and that using machine learning tools to generate content is the same as shuffling words around or looking up synonyms.
Although Google's algorithms are not currently able to automatically detect content generated by language models such as GPT-3, if Google's webspam team detects it, they are authorized to take action. However, AI tools are being used by media, universities, and other organizations for research automation and cross-referencing, generating article and paper summaries, fact-checking, crunching data, and even writing full articles.
While the future of AI-generated content is uncertain, it may evolve into a more efficient writing tool for ensuring proper spelling and grammar. Nonetheless, it is still considered automatically generated content and spam. Therefore, as a website owner, it is best to avoid using AI tools for content creation and instead focus on creating high-quality content that follows Google's webmaster guidelines.
List of Best 14 Content Writing Tools
A deep dive into the "Best 14 Content Writing Tools [in 2023]" list can be a game-changer for aspiring wordsmiths looking to up their writing game. With a variety of tools available, from grammar checkers to content analysis, there's something for every writer to streamline their writing process. So avoid being caught with your pen down. Instead, check out the list and unleash your inner Hemingway.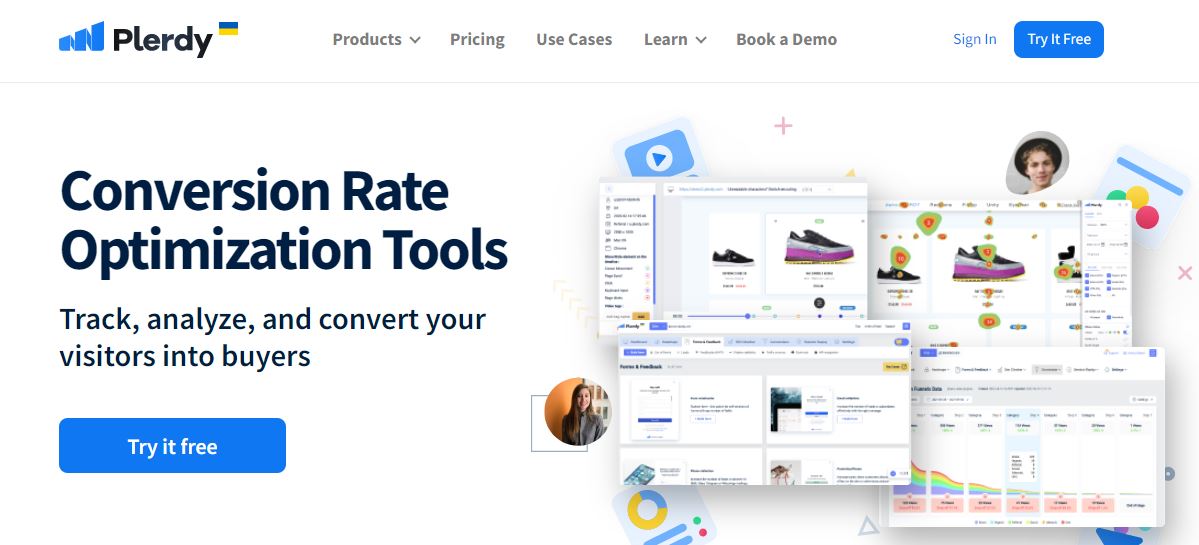 On-page SEO optimization is vital to every web page's success, and the Plerdy tool and SEO data for writing can help you achieve it. The tool automates page-by-page analysis, highlights specific problems and areas for improvement, and instantly shows how to fix SEO issues. You can book a free demo with a marketing manager who will show how Plerdy improves the website content. To make your site profitable, you need to eliminate its weaknesses, conduct deep SEO analysis and find out what to optimize to reach more visitors. On-page SEO focuses on improving every web page's content and SEO metrics, reinforcing user skills and optimizing page ranking by search engines. Metadata descriptions with keywords show algorithms that the analyzed content will meet users' expectations. Automated on-page SEO checkers like Plerdy save time for SEO specialists and marketers, who can integrate it with Google Search Console for more data-driven missing keywords and boost organic traffic. You can use the free Chrome Extension for On-Page SEO Audit by Plerdy to run quick SEO analysis in Chrome. This is a perfect solution for small businesses that need more affordable SEO software.

An AI-powered writing tool called Grammarly makes writing easier. It is a helpful resource for companies, professionals, experts, and anyone wishing to develop their writing abilities. Thanks to Grammarly, they can write with clarity, precision, and no errors. The program functions by making rephrasing, grammatical, and tone suggestions. It is a flexible tool with desktop programs, websites from all over the internet, social media, documents, messages, and emails. Beyond grammar and spelling, Grammarly offers detailed recommendations that guarantee clear communication. Users can also learn to avoid frequent mistakes and gradually improve their writing abilities. The New York Times, Wall Street Journal, USA Today, Tech Crunch, and Forbes have all written about the tool's success. The Grammarly plagiarism checker can find plagiarized material in academic databases from ProQuest and on billions of websites. In Grammarly's free basic version, you can begin by pasting your text or typing it below to check for grammar, spelling, and punctuation issues. It is simple to use, and after adding the text, Grammarly will highlight any errors. To accept a proposal, click on it after hovering over an underline. With Grammarly, everyone can write with confidence and produce outstanding work.

You are searching for an SEO tool to aid your website, professional, industry, or business. However, only look elsewhere except BuzzSumo. This all-inclusive article-writing tool has several features to help you generate outstanding ideas and stay on trend. BuzzSumo's discovery, research, monitoring, Chrome Extension, influencers, and API capabilities make it ideal for developing new ideas, updating old ones, and analyzing data.
One of the most valued features of BuzzSumo is its ability to keep you informed and motivated by allowing you to track how much attention your content receives in the real world. When you have access to an archive of 8 billion articles and can study data from the previous 15 minutes to five years, it is simple to uncover material that performs well in your specialty or among your target audience.
There are two pricing tiers: a basic package for single users and an enterprise plan for folks who need all the bells and whistles. BuzzSumo provides all the necessary tools for locating evergreen and hot subjects, SEO insights, and distribution recommendations. Start your free 30-day trial of BuzzSumo today to experience its capabilities.

Scalenut is an AI-powered writing tool that can power your entire content lifecycle, trusted by 100,000 marketers of the world's leading brands, such as Airtel and PharmEasy. What sets Scalenut apart is that it's a nifty tool that simplifies your SEO content stack, helping to grow your business's organic traffic by 10x.
With Scalenut, you get the entire SEO content lifecycle in one app, planning, researching, creating, optimizing, and generating your content easier. The writing tool is powered by advanced NLP models and AI that reads the latest information. It also has a #1 SEO blog creator, Cruise Mode, and Cluster Booster Integration, all to make your SEO journey smoother.
With Scalenut, you can get the entire keyword plan for your niche and build topical authority with content strategies and keyword clusters. The platform offers multiple blog ideas and AI-powered topic clusters to help you create SEO content that ranks. You can also audit and action SEO content to get real-time feedback on where your content stands with a dynamic SEO score. The dynamic score allows you to improve on the go without any revisions.
The writing platform is ideal for generating marketing copy as well. It provides 40+ AI copywriting templates to help you write persuasive copy that brings conversions. Scalenut's users rave about its simplicity and power, with one user describing it as "the best AI writer currently on the market."
SE Ranking is a comprehensive content marketing and writing tool that can help businesses, experts, and specialists in content creation and copywriting automate the entire content development cycle. This tool is a must-have for all those involved in content creation, including SEO and marketing managers, copywriters and content strategists, website owners and bloggers. With SE Ranking, you can easily find topics with traffic potential, create briefs and check how optimized the written text is for search engines. You can use AI writing technologies to generate descriptions or title tags without delay. The platform also helps evaluate the quality of every written text and optimize it for search.
SE Ranking's content management tools offer everything you need for text creation at all stages. The writing platform provides easy-to-follow steps, process automation, and additional data to streamline the content creation process. SE Ranking's content creation and editing tools also help with competitor and keyword research, on-page optimization, traffic and rankings checks, and SEO reporting. The content editor, content idea finder, and AI writer are just some of the tools that can assist you in creating unique content that meets your business needs.
SE Ranking's content writing and SEO marketing solutions can help you generate 3x more leads than traditional marketing and cost 62% less. With 60% of potential customers preferring to read relevant texts from brands, and 70% of users interested in learning about a company's products through blog posts, SE Ranking's content creation tools can help businesses and experts make the most of their content.

Content writing for SEO has become essential in the digital world, but it can be time-consuming and daunting. With Frase, you can quickly research, write, and optimize high-quality content, making it a powerful tool trusted by over 30,000 marketing, SEO, and content teams. Frase is easy to use, offering a full workflow from keyword research to final drafts.
Content Brief
Frase allows writing content briefs in minutes instead of hours, reducing the time it takes to research your target search query. The tool saves you hours of search engine results page research by centralizing well-researched content in one place. Also, Frase lets you make and store short, custom templates that make your work easier.
Content Writing
Frase helps writers generate high-converting, SEO-optimized content by providing automated outlines, blog introductions, product descriptions, FAQs, and more. With its AI templates, you can autocomplete your sentences and even write entire paragraphs, improving the quality of your writing with automatic passage paraphrasing and rewriting.
Content Optimization
Frase has an intuitive writing and text editor that uses a topic model to score your content against your competitors. You can use its list of related topics and the recommended number of mentions for each to help you write expert-level content that Google will love.
Content Analytics
Frase's dashboard automatically identifies and categorizes your best content opportunities, allowing you to identify pages that are starting to slip in rankings and may need to be refreshed. You can also use Frase to cluster your keywords and inform your content strategy process.
Who is Frase Built For?
Frase suits SEOs, writing content for marketers and marketing agencies who want to create high-quality, optimized SEO content that attracts and converts organic traffic. With plans starting at $14.99/month, you can write and optimize four articles monthly or generate 4,000 AI words per month. Get started with a 5-day trial for only $1 and cancel anytime.
Frase makes content writing easier, faster, and more effective, and it has earned hundreds of positive reviews, including an average rating of 4.8/5 on Capterra. But, in the words of Brendan Hufford, "Frase feels like you're using content marketing cheat codes."

Surfer SEO is an excellent writing solution for individuals who want to create high-ranking SEO material easily. Authors can concentrate on producing excellent material that reads well and ranks highly by using Surfer SEO's Content Editor, which gives them access to a wealth of pertinent keywords and real-time optimization measures. Surfer is a go-to writing tool for authors everywhere who want to write with assurance and accuracy.
The integrated Outline Builder in Surfer SEO makes creating briefs with attention-grabbing headlines simple. With the help of the outline builder, you can organize your content into a thorough outline with distinctive potential headings and questions that can quickly produce an extensive list of pertinent keywords. Given that it covers most languages spoken worldwide, the tool's extensive capabilities enable you to optimize text in any language.
You may examine your articles for plagiarism with Surfer SEO to ensure their integrity and prevent penalties. The writing tool's Content Editor assists you in optimizing your content for up to 20 core keywords and even finds topic clusters around which you can create content editors. Every Content Editor can create a shareable link that can be used an infinite number of times, making it simple for your team to examine and update the completed work. For monthly and yearly memberships, Surfer SEO accepts credit and debit cards; bank transfers are only accepted for yearly subscriptions.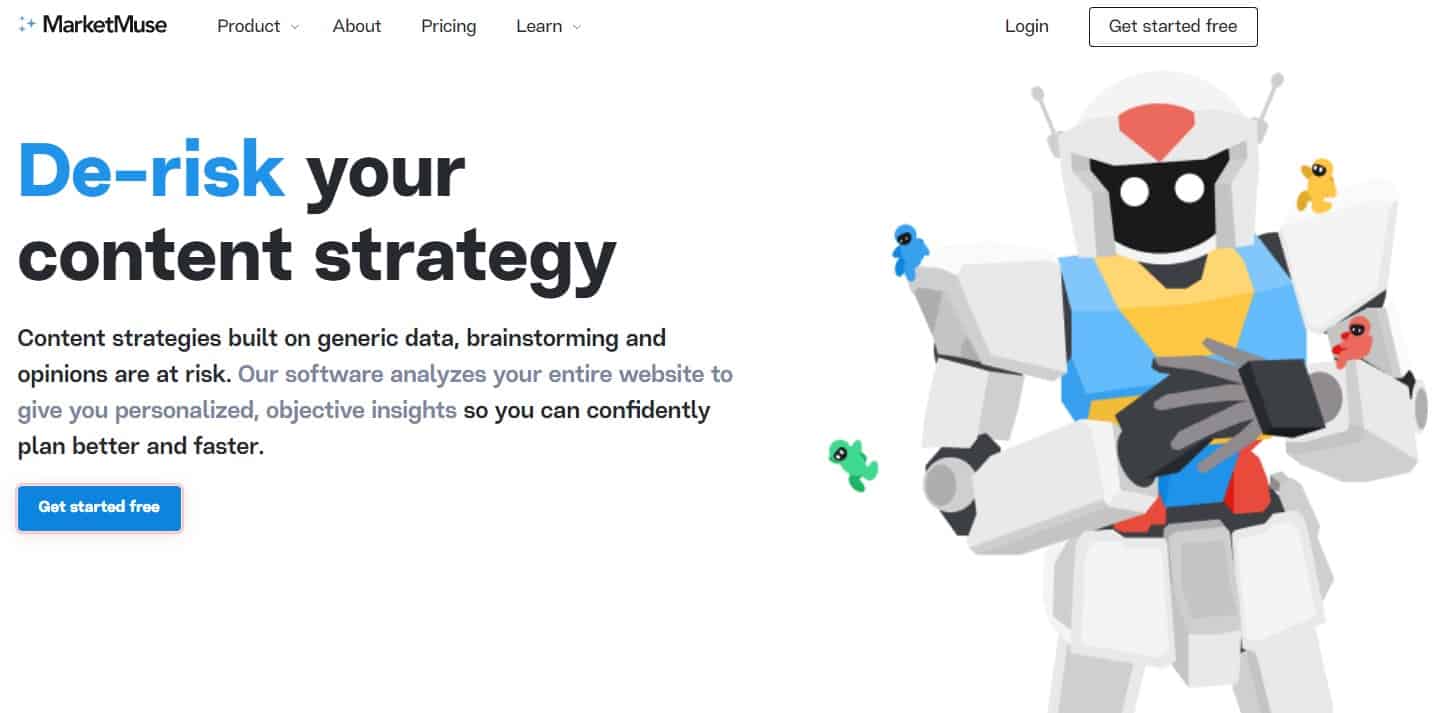 MarketMuse is a content writing tool that helps businesses, experts, and specialists to optimize their website content and rank higher on search engine results pages (SERP). By examining competitors' content, MarketMuse reveals content strengths and gaps and advises how to structure content to stand out. MarketMuse's Content Clusters enable businesses to gain maximum exposure and personal insights on topics to pursue and their value. This tool leverages existing content and guides the buyer journey by helping businesses analyze their competitors and top SERPs to address gaps and must-haves. MarketMuse's Content Briefs outline views provide structure, related topics, questions to answer, and linking suggestions, making the first draft a search-optimized draft. Keyword research becomes easier with MarketMuse's cluster-first approach, which simplifies and removes the subjectivity from keyword research. With MarketMuse, businesses can build a high-impact content plan in minutes, eliminate the guesswork, prioritize the right content, and turn content into an investment.

Are you searching for a reliable and efficient tool to improve your SEO writing skills? Then, the Semrush SEO Writing Assistant is the tool for you. With this tool, you can create effective content that clicks with your customers. This content marketing platform gives you access to topic research to discover content topics trending in your industry. Also, you can run a content gap analysis, reveal topics your competitors rank for, and generate ideas for your content. The SEO Content Template enables you to create effective content briefs and get tips on optimal content length, keywords, and more – based on your top 10 organic rivals. You can also outrank your local rivals and get targeted recommendations to outrank your competitors in your area – up to the city level. The SEO Writing Assistant helps you optimize your copy for engagement and SEO, create better content, and outrank your competitors.
Additionally, it makes your copy more SEO-friendly, improves readability and engagement, and maintains a consistent tone of voice. You can also check your copy for plagiarism, get quick tips on which related keywords to include, and how to optimize your images, tags, and links. With the Semrush SEO Writing Assistant tool, you can create customized content sets, group them by specific metrics you want to track, and export audit results to a .xlsx file. So, leverage real-time data and insights based on the top-ranking rivals for your keywords, and get quick detailed tips on improving each content piece.

AnswerThePublic is an SEO writing tool that is helpful for any business, specialist, or expert looking to understand their clients better. The tool works by listening to autocomplete data from search engines, like Google, and producing every relevant phrase and question people ask about your keyword. This is a goldmine of consumer insight that you can use to create fresh and ultra-useful content, products, and services. You can keep your finger on the pulse and get updates when people talk about your keyword in new ways. You can monitor trends, compare search behavior over time, uncover hidden treasures, streamline content production, and make solid business decisions. 20,000+ companies use this tool, and many claims that it has increased the search potential of their client's websites and content through organic search. With AnswerThePublic, you can take your insight to the next level with a stack of features only available to Pro subscribers, which include unlimited daily searches, search listening alerts, and more.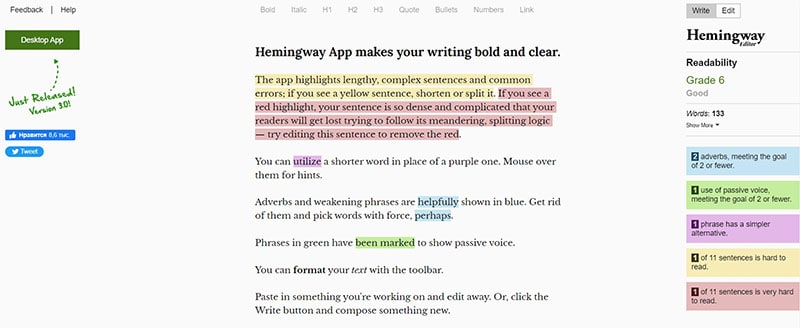 The Hemingway App is a writing tool that assists users in producing strong, concise writing. The software points up long, complicated sentences and typical mistakes and offers suggestions for how to fix them. It aids users in locating and eliminating adverbs, passive voice, and boring, difficult words. The program can directly publish to Medium and WordPress blogs and formats content with the click of a button. Hemingway evaluates the readability of a work using the Automated Readability Index to determine its "grade level." The objective is to guarantee that the tenth grade is the lowest level of education required to comprehend the material. Writers can use the Hemingway Editor anywhere because it can be used offline.

If you are a webmaster or content owner, it's essential to ensure the originality of your content. Duplicate content could negatively impact your site's search engine visibility and, worse, it could violate copyright laws. Copyscape offers professional solutions that provide advanced plagiarism detection, are more robust than the free service, and help track copies of content online. Copyscape Premium is their most powerful solution, providing unlimited scans for copies of your web pages. In addition, you can check offline content by copying and pasting the text or uploading a file, check up to 10,000 pages with Batch Search, and build a private index of your content to avoid duplication. Another solution is Copysentry, which monitors your site against content theft by emailing you when new copies appear. Copysentry offers two affordable services: Weekly protection and Premium daily protection. With these solutions, you can protect your intellectual property, preserve your unique online identity, and make your site more visible to search engines.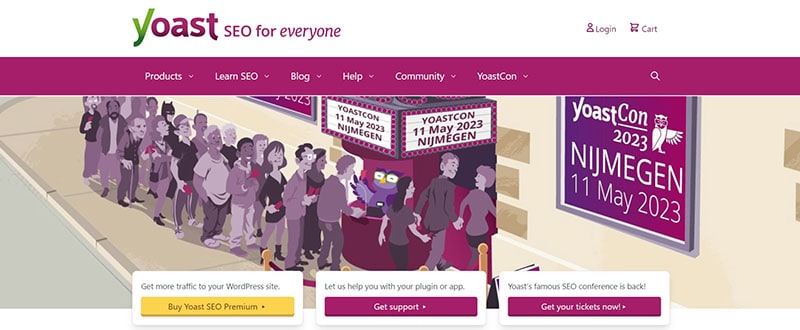 Look no further than the Yoast SEO writing a plugin, the number one WordPress SEO tool with over 13 million happy users. The plugin helps your site meet the highest technical SEO standards and provides tools to optimize your content for SEO and readability. Yoast SEO Premium also allows you to create SEO-friendly content with related keyphrases and synonyms recognized in several languages. Additionally, Yoast SEO offers workouts that guide you through important routine SEO tasks and help you identify optimization writing opportunities. The tool also provides suggestions for internal linking, manages redirects, adds structured data, and helps optimize Google and social previews. With over 10+ years of experience, Yoast SEO is one of the most popular SEO tools in the world, with over 12 million active users.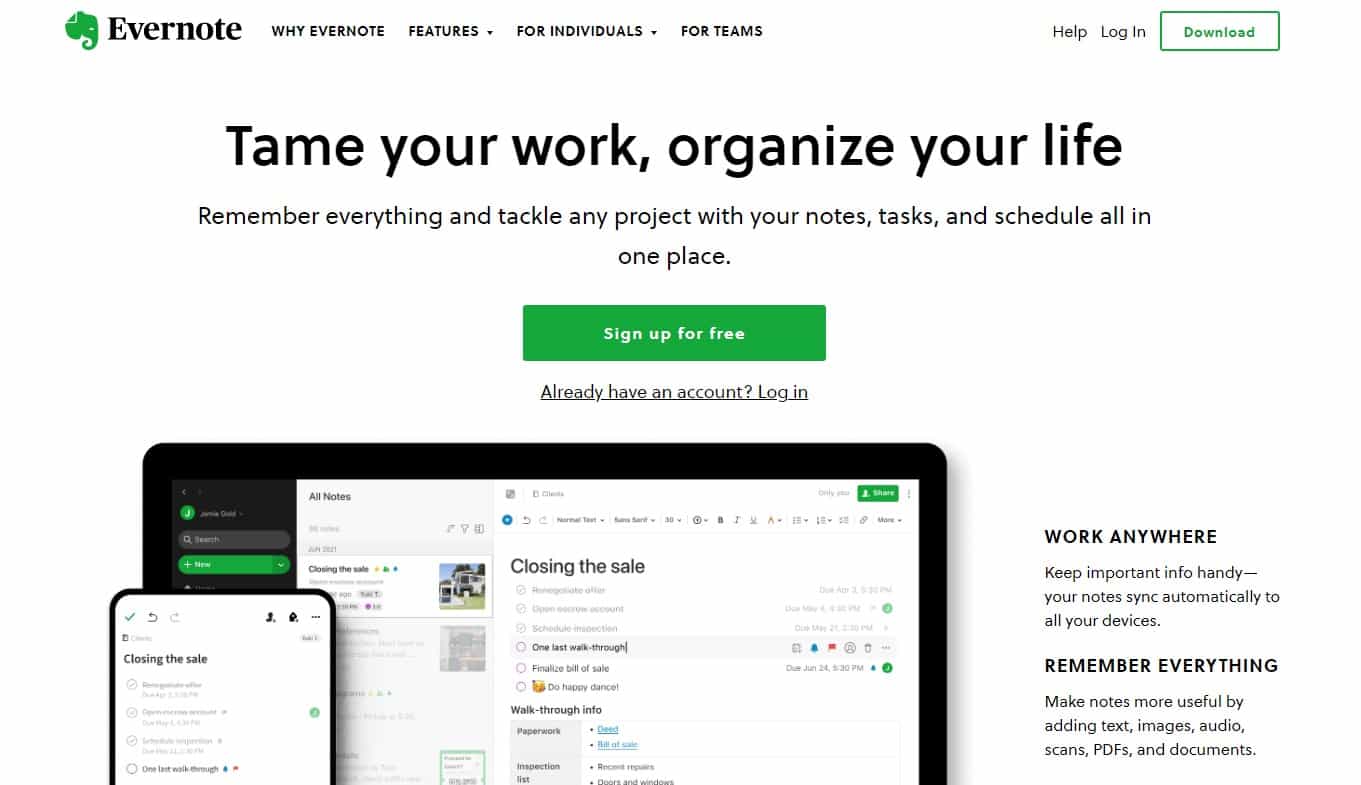 Evernote is a comprehensive content writing tool for SEO that helps businesses, specialists, experts and websites to optimize their content for better search rankings. With this app, you can tame your work, organize your life, and remember everything by keeping your notes, tasks, and schedule in one place. Evernote is a perfect tool for creative individuals and entrepreneurs to easily capture and arrange their ideas. This app allows you to create and assign tasks inside your notes, scan important documents and keep them handy on all your devices, clip web pages and mark them up with arrows, highlights, and text to make them more useful. Moreover, Evernote can connect your Google Calendar, make your schedule work for you and get things done more easily. Choose the right plan to get started with Evernote and increase your productivity.
Bottom Line
Creating compelling content is essential to grab consumers' interest and convert them into buyers. With the right content writing tools and the implementation of smart SEO strategies, you can greatly improve your website's landing pages and organic traffic. The Plerdy SEO checker is a great example of a tool that can help you in your efforts to optimize your website. Collaboration with agencies and organizations is also key when drafting original content. Additionally, it's important to remember that consumers count on the trust and credibility of a website's design and overall soft skills. By implementing all these elements and keeping up with the latest algorithm updates, you can increase your website's conversion rates and make a strong case in e-commerce.