Welcome to our comprehensive guide featuring the top 20 CRO analyzer tools of 2023! With this power-packed lineup, you'll be on your way to the following:
In the ever-evolving digital landscape, staying ahead of the competition is key. Our expertly curated list of the best CRO analyzer tools will help you achieve just that – no stone left unturned.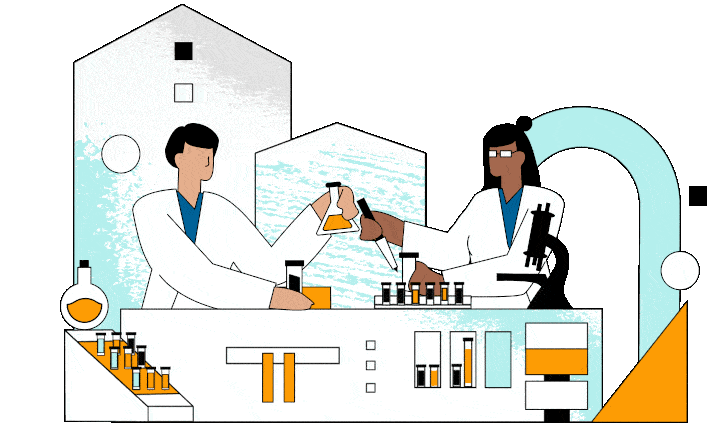 ? Don't miss out on Plerdy, a game-changing CRO analyzer tool and its Plerdy – the secret sauce for online stores seeking to optimize their conversion rates. Plerdy's is a must-have for e-commerce businesses of any size. It seamlessly integrates with your store, empowering you with data-driven insights to optimize the customer journey and drive sales. So make the smart choice and leverage Plerdy to fuel your store's growth!
Stay tuned and get ready to unlock the full potential of your website with our expert selection of the 20 top CRO analyzer tools in 2023.
Discover CRO Analyzer Tools: Boost Your Conversions

Unlock the potential of CRO Analyzer Tools – the ultimate weapon to skyrocket your conversion rates. These powerful optimization instruments are designed to:
Pinpoint weak spots in your funnel
Deliver actionable insights for improvement
Track conversion rate progress
With a cutting-edge CRO analyzer tool, you can dive deep into user behavior and identify what's holding you back. The data-driven approach empowers you to optimize your website and campaigns for maximum impact.
Key features of top-notch CRO analyzer tools:
Comprehensive dashboard: one-stop destination for all your CRO needs
User-friendly interface: easily navigate and implement optimization strategies
Advanced tracking: monitor your conversion rate optimization efforts in real-time
A/B testing: experiment with different designs, copies, and strategies to find the winning formula
Integrations: seamless compatibility with your existing marketing stack
It's time to transform your online presence with these amazing CRO analyzer tools. Hone in on your audience's desires, streamline the user experience, and watch your conversion rates soar!
Types of CRO Analyzer Tools? Unleash the Power of Optimization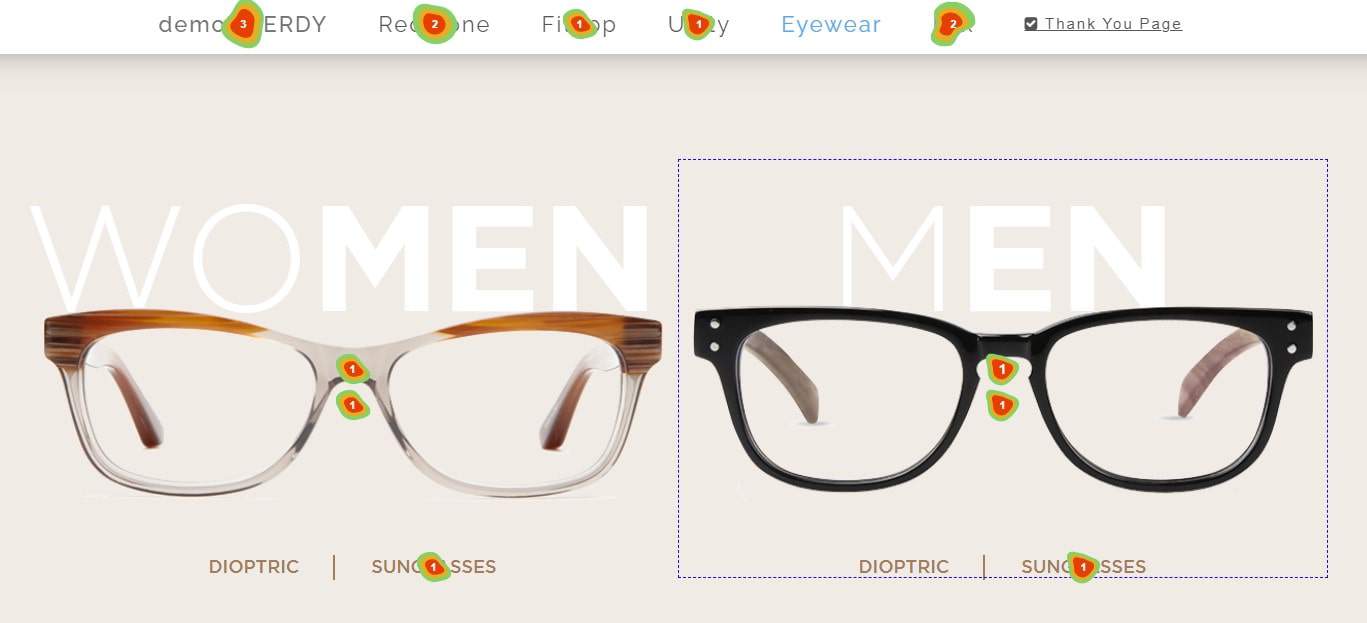 Elevate your conversion game with various CRO analyzer tools to optimize your online store and website to boost results. Each type of tool boasts unique features to boost your CRO efforts:
Top CRO analyzer tools for unrivaled performance:
Heatmap Tools: Visualize user behavior by uncovering hotspots and dead zones. Make data-driven decisions to enhance user experience.
A/B Testing Tools: Experiment, learn, and iterate. Pit multiple variations against each other to determine the champion.
Session Replay Tools: Watch your visitors in action – identify hurdles, friction points, and areas ripe for improvement.
Form Analytics Tools: Analyze user interaction with your forms, pinpoint drop-off points, and optimize for maximum conversions.
Survey & Feedback Tools: Collect valuable user feedback to understand their preferences and improve their experience.
Multivariate Testing Tools: Test multiple elements simultaneously to optimize complex layouts and find the best combination.
Behavioral Analytics Tools: Gain insights into user behavior patterns and preferences to drive effective CRO strategies.
Personalization Tools: Tailor your website content and design to specific user segments for a more personalized experience.
Website Speed Optimization Tools: Improve your website's loading speed, enhancing user experience and boosting conversions.
Funnels Analysis Tools: Identify drop-off points in your conversion funnels and optimize them to improve user flow.
User Testing Platforms: Obtain direct feedback from real users on the usability and design of your website or app.
Chatbot & Live Chat Tools: Engage users in real-time, answer their queries, and guide them toward conversions.
Take charge of your conversion rate optimization journey with these powerful CRO analyzer tools. Harness the data, make informed decisions, and watch your conversions soar. Embrace the power of CRO and unlock your website's full potential!
Dive into our curated selection of the 20 best CRO analyzer tools designed to revamp your online presence and increase conversion rates. As a CRO expert, I've handpicked these top-notch tools to catapult your optimization efforts and make every click count. So embrace the future of digital marketing and unleash the power of data-driven decisions with these cutting-edge CRO solutions.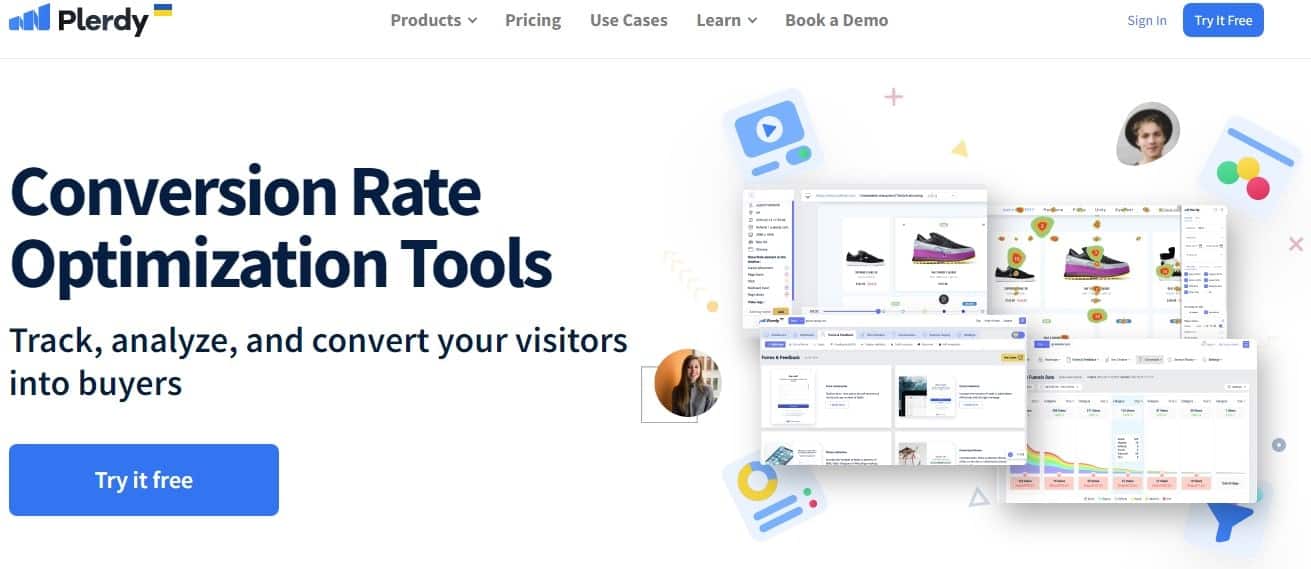 Plerdy is a powerful conversion rate optimization (CRO) tool that can help CRO experts track, analyze, and convert visitors into buyers. With Plerdy's Heatmap, users can easily monitor clicks on their website in real-time, making it possible to pinpoint areas that require improvement. Its SEO Checker function also continuously collects important SEO tags from websites. The tool's Session Replay feature allows users to understand how visitors behave on their website, while Event Tracking quickly synchronizes all events with Google Analytics 4. With Plerdy's PopUp forms, users can easily customize versatile popup forms, while its Sales Performance function assigns purchase information to each item on the site page. Plerdy's Conversion Funnel helps users to identify the pages where website visitors drop off and what pages they ignore. Finally, the Net Promoter Score feature allows store owners to collect valuable feedback from their visitors. By providing all these powerful features, Plerdy has become a must-have tool for improving CRO for online stores.

You need to be on top of your CRO game, and Google Analytics is an essential tool to help you optimize your conversion rate. Google Analytics provides a complete understanding of your customer journey across devices and platforms, allowing you to unlock customer-centric measurement. With machine learning, you can get smarter insights to improve ROI and anticipate future customer actions. Plus, you can connect your insights to results and optimize marketing performance with integrations across Google's advertising and publisher tools. Google Analytics allows you to quickly analyze your data and collaborate with an easy-to-use interface and shareable reports, making your data work for you. The free Google Analytics 4 CRO analyzer is enough for small and medium-sized businesses and includes conversion reporting, advanced segmentation, customer reporting, and real-time visualization. The paid plan, Google Analytics 360 (GA 360), provides advanced analytics such as attribution modeling, integration, and data-driven capabilities. For example, Lider increased its conversion rate 18X with Google Analytics, while McDonald's Hong Kong used Google Analytics 4 to increase in-app orders by 550%. So get started today, and dive into the details for a reliable measurement foundation with built-in automation, intuitive and flexible reporting, cross-platform attribution, and much more.

VWO is a powerful and comprehensive analyzer tool for conversion rate optimization (CRO) that thousands of brands across the globe use to run A/B tests on their websites, apps, and products. It is designed to help online stores improve their conversions by analyzing and measuring the impact of experiments on purchases and other important metrics. With the VWO CRO analyzer tool, you can test anything and measure its impact everywhere, track leading and lagging indicators for your experiments, and keep an eye on guardrail metrics to stop bad experiments early on. VWO CRO analyzer allows non-technical and technical users to design and launch new experiments quickly, set up sophisticated experiments easily, and go beyond good-ol' A/B testing without requiring a statistics degree. You can test multiple combinations of changes via multivariate experiments, automatically drive more traffic to the best-performing variation via a multi-arm bandit algorithm, and run multiple simultaneous experiments without worrying about conflicts. CRO analyzer tool also helps you efficiently manage your experiments pipeline, comprehend the impact of your experiments, and do a fine-grained analysis of your test results to determine how different user segments responded to your variants.

Google Optimize is a game-changer for optimizing the conversion rate of online stores. Your website is your store, and with Google Optimize, you can create personalized experiences and run website tests for free. Optimize is natively integrated with Google Analytics, so you can quickly understand how your website can be improved. The CRO analyzer tool lets you easily run A/B, multivariate, and redirect tests on your website's content to learn what works best for your visitors. It includes a visual editor to change the design, HTML and JavaScript code editors for progressive changes, and statistical reporting to help you analyze results. With Google Optimize, you can tailor a compelling experience to suit each type of audience, drive better results from your screen in minutes, and create custom landing pages for your Google Ads to convert more visitors into customers. Optimize natively integrates with other Google solutions, saving you valuable time while increasing efficiencies across your team. Overall, Google Optimize is the best free tool for online store marketers who want to optimize their conversion rate.

Mixpanel's CRO analyzer tool can help. With powerful, self-serve product analytics, Mixpanel allows you to gain insights into user behavior and engagement to convert, engage, and retain more users. With powerful reports to answer any question, you can go beneath the surface to learn which features are popular, who your power users are, and the behaviors tied to long-term retention. Mixpanel's CRO analyzer tool interactive reports and simple workflows allow you to build funnels, see top user flows, create cohorts, and more with just a few clicks. You don't need to invest hours writing SQL or waiting for someone to do it. Additionally, the Mixpanel CRO analyzer offers a variety of tools for segmentation, engagement, and retention analysis, making it a comprehensive tool for tracking user behavior and analyzing data. As a result, Mixpanel is trusted by over 7,000 paying customers, including Uber, Yelp, BuzzFeed, and Expedia.

Amplitude is a digital analytics platform trusted by leading brands like Dropbox, PayPal, and Adidas. Amplitude is a perfect CRO analyzer tool that provides online stores with data they can trust and insights they need to take action and drive growth. With Amplitude, CRO experts can experiment, gather data, and analyze audiences to prove what people want and why. Amplitude also allows e-commerce CRO experts to plan, launch, and roll out A/B tests with the only solution fully integrated with in-depth product analytics, enabling seamless identity resolution and targeting. One platform, countless questions answered. With Amplitude, e-commerce experts can build powerful audience segments backed by first-party data that they can use to personalize their products. Online store owners can connect their entire data ecosystem across applications, servers, tools, and warehouses. Pricing details for Amplitude include three package levels: Starter (Free, 0-10 million monthly events), Business ($995/month, 0-100 million monthly events), and Enterprise (pricing available on request, 0-10 billion+ monthly events).

Hotjar is the ultimate CRO analyzer tool that gives you visual insights to uncover the reasons behind your low conversion rate. Hotjar uses heatmaps to show how visitors interact with your website, how far they scroll, what buttons they click, and what content they ignore. With the Hotjar CRO analyzer tool, you can collect live feedback and bring customers into the discussion, making it easier to identify high-impact changes that matter. The tool helps you prioritize changes your visitors care about, backed by real recordings and direct feedback. Over 1 million websites trust Hotjar in 180+ countries, and it's GDPR- & CCPA-ready, ensuring end-user privacy is at the heart of everything they do. The CRO analyzer tool also offers seamless integrations with Google Analytics, Slack, Zapier, and other popular platforms. So don't guess what people want anymore; hear from them directly with Hotjar and make the changes that matter. Start for free with email or Google and upgrade anytime.

Qualaroo is a customer and user feedback software that can help optimize an online store's conversion rate (CRO). Qualaroo can provide actionable user feedback that is 10x more valuable than an email survey by surveying visitors on the website. With Qualaroo, store owners can ask the right question at the right time, using AI-powered analytics and report to gain insights into UX, product functionality, and website design. Qualaroo Nudges™ make it easy to survey specific users in context while they are interacting with the brand, based on who they are, how much they pay, visit history, and more. With professionally designed questions and templates or custom ones, Qualaroo offers delightful templates with branding, logos, and colors. Advanced targeting options allow for capturing user insights quickly and painlessly at every stage of the design process. The asynchronous code does not slow down the site, so that you can survey without developer assistance. By providing instant feedback insights and advanced reporting, Qualaroo's AI-powered CRO analytics & reports give store owners unparalleled user feedback insights. The sentiment analysis feature, powered by IBM Watson, is fast and comprehensive, providing organized data, mood metrics, keywords, and word cloud features. With Qualaroo, you can merge qualitative insights with quantitative data, ask about A/B tests, get updates on Slack, and much more, thanks to its integration with other tools.

Balsamiq is a top-notch CRO analyzer tool for any website. Balsamiq Wireframes is a low-fidelity wireframing software that allows anyone, including business owners, product managers, business analysts, developers, agencies, and UX professionals, to design great web apps. It's the fastest and most focused wireframing tool in the industry, which makes work fun. Balsamiq's cloud plans and pricing are affordable, ranging from $9 per month for up to 2 projects to $199 per month for bigger teams with more than 20 projects, all including unlimited wireframes and unlimited users. With the Balsamiq CRO tool, you can quickly create a mockup or wireframe of your desktop, mobile, or web app, even providing links between the mockups to simulate a user's workflow. Balsamiq solves the problem of time-consuming and costly wireframing and prototyping, allowing e-commerce stores to quickly create neat, clean, and classy wireframes and prototypes. Try Balsamiq with its free trial, and see how it can optimize your e-commerce store's conversion rate.

Typeform is an excellent conversion rate optimization (CRO) analyzer tool that allows you to create interactive forms, surveys, and quizzes that people enjoy answering. Its user-friendly interface, built-in photo and video libraries, and custom layouts and themes make your brand stand out. Plus, Typeform's conditional logic feature lets you ask the right follow-up questions and skip the rest, creating a more conversational and engaging experience for your audience. By using Typeform, you'll get more thoughtful responses and higher completion rates, which can help increase your conversion rates. Typeform also offers integrations with various data analysis tools, allowing you to generate shareable reports and gain insights into your data. With Typeform's Free plan allows you to create a simple form in minutes without coding. So, get started today and make everyone happy!
With a CRO analyzer tool with over ten years of experience and over 5000 optimized sites, Convert offers a lean, powerful platform enabling you to A/B test to enterprise standards. The software provides advanced targeting options, unlimited projects, tests, and developer options that allow you to test almost anything you can think of. And if you need help, the Convert CRO analyzer tool has you covered with expert support, ensuring you don't have to wait endless hours for assistance.
One of the best things about Convert is that it is one of the fastest A/B testing tools on the market, as evidenced by ConversionXL studies. This ensures you can get accurate results without dealing with issues like blinking that can damage your reputation. Plus, with its first-party cookie tracking and privacy-compliant operations, you can trust your results and test data.
Convert Experiences can help you improve your site's user experience and, in turn, your conversion rate. With plans starting from $199 per month, there's a plan to suit everyone, and with a 15-day free trial, you can test the platform out for yourself without commitment.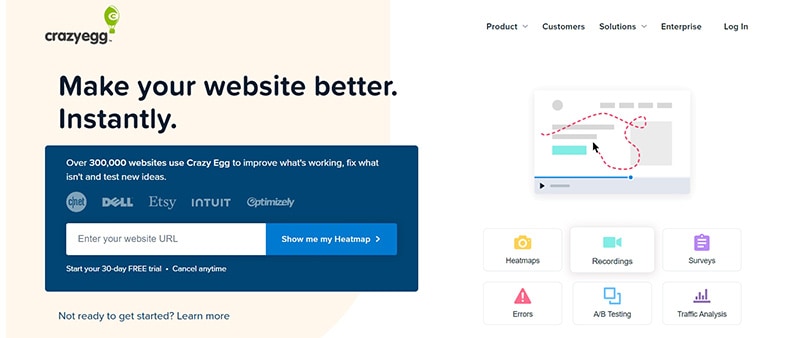 CrazyEgg's conversion rate optimization (CRO) analyzer tool can help you reach your website goals faster if you want to increase sales and subscriptions or get more pageviews. CrazyEgg's heatmaps, scroll maps and click reports provide a nifty tool to see how visitors interact on your website. CrazyEgg's heatmapping tools offer an extra layer of insights into your Google Analytics data, allowing you to drill down to how your email and ad campaign visitors behave on-site. This CRO tool can help you ensure your CTAs are being seen, place content in order of importance to your customers, and track what's happening behind pop-up forms or login screens. With CrazyEgg's CRO analyzer tool website recordings feature, you can identify areas of customer frustration, see how people interact with your product or checkout pages in real-time and dive into particular audience segments like new, mobile, or most active visitors. You can also filter by source, like Google, and compare the performance of referring traffic, campaigns, and landing pages against each other. CrazyEgg integrates with popular marketing tools like Shopify, Wix, WordPress, and AWeber. Small businesses, e-commerce/retail, digital agencies, and education companies have been flocking to CrazyEgg since 2005 to improve their website's performance.

Optimizely is a nice CRO analyzer tool that helps e-commerce websites create content that wows, run experiments at scale, and power their commerce business. With Optimizely Experimentation, users can test and optimize every customer touchpoint and uncover insights to refine every interaction continuously. The tool's Web Experimentation feature allows users to run many A/B tests, get reliable results with the stats engine, personalize content, and use AI predictive audiences. Meanwhile, Feature Experimentation enables users to validate new features and deploy high-quality releases safely and quickly. Optimizely CRO analyzer also has a Content Marketing Platform that allows users to plan campaigns, create content, and collaborate seamlessly across teams. Lastly, Configured and Customized Commerce tools help launch, scale, and manage online stores. With all these features and enhancements, users can make every digital experience the best for their customers, resulting in better conversion rates and optimized performance.

Online store owners can target customers, ask for feedback, watch their interactions, learn about their preferences, and share their insights using UserTesting, a sophisticated conversion rate improvement tool. With UserTesting, you can gain real human insight delivered in real-time, helping you make smarter business decisions and envision your participants and their pain points as you work. UserTesting offers three pricing editions, Essentials, Advanced, and Ultimate, each with various features and capabilities that meet your budget and needs. For example, with the Essentials edition, you can get started collecting customer feedback, while the Advanced edition provides advanced capabilities for teams to build human insights into more decisions. Finally, the Ultimate edition offers enterprises the most comprehensive targeting, analysis, and security capabilities. UserTesting CRO analyzer tool has already powered over 2,500 of the world's top brands, making it a reliable and trusted solution for conversion rate optimization.

Mouseflow can help you with its powerful CRO analyzer tool. With Mouseflow's user behavior analytics, you can clearly understand what's happening at every touchpoint of your users' journey. This tool is a game-changer, providing certainty instead of guesswork, so you can confidently optimize your website. Mouseflow's heatmaps, session replay, and funnels allow you to watch real user journeys and identify pain points and opportunities that might go unnoticed. Mouseflow is GDPR and CCPA-compliant, with US and EU data centers and enterprise-grade security to safeguard your users' privacy. With over 30 integrations and the ability to customize your whitelisting and exclusion, Mouseflow empowers cross-functional collaboration between marketing, analytics, product, and design. Mouseflow has been trusted by over 210,000 digital experience frontrunners worldwide, including Vodafone, Philips, Etihad, and Verizon. Choose from flexible plans or get a custom solution with enterprise-grade support and security to take your CRO to the next level.

Unbounce is an AI-powered landing page builder and CRO analyzer tool that enables e-commerce websites to create beautiful, high-performing marketing campaigns in just a few minutes. Unbounce's landing pages have already helped businesses turn billions of visitors into leads, sales, and signups, thanks to its combination of data analytics and AI. With the Unbounce CRO tool, e-commerce CRO experts can create custom landing pages twice as fast as old-school builders, using the easy-to-use builders for any skill level, plus personalized recommendations to optimize every step. The tool also allows online stores to improve their results by clicking a button by routing visitors to the best landing page for people like them, resulting in an average of 30% more sales and signups. Unbounce also helps stores get customers from every channel, including search, social, email, and more. Finally, the Unbounce CRO analyzer tool offers a free 14-day trial to help stores build landing pages, popups, and sticky bars and a free AI-powered writing tool to help write copy for marketing campaigns.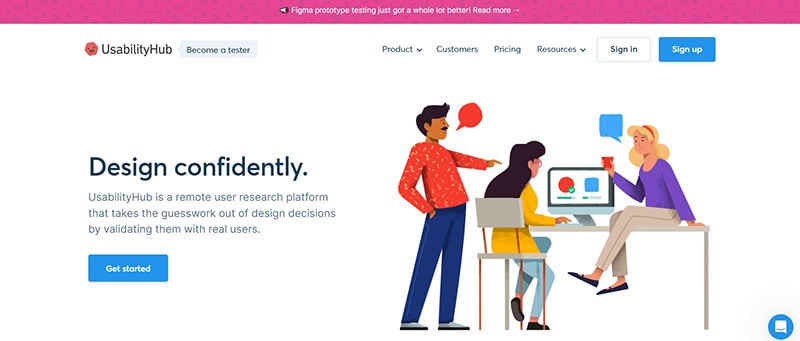 UsabilityHub is a valuable CRO analyzer tool that helps websites optimize their conversion rate by effortlessly validating design decisions. It is a remote user research platform that provides a user research Swiss Army knife for design professionals, marketers, and product managers. The tool allows you to test interfaces, interaction flows, iconography, and more, to create intuitive and delightful user experiences. With UsabilityHub, you can fine-tune your landing pages, messaging, and creativity, helping you optimize conversion rates on marketing campaigns and product launches. UsabilityHub's platform is priced to suit CRO teams of all sizes, starting from $1 per response. The integrated panel allows you to quickly and affordably recruit research participants that precisely match your target audience. UsabilityHub has been well-received by some of the world's best companies, including Amazon, Google, and Asana. By providing quick and valuable feedback from real users, UsabilityHub helps online stores make better design decisions and ultimately increase their conversion rate.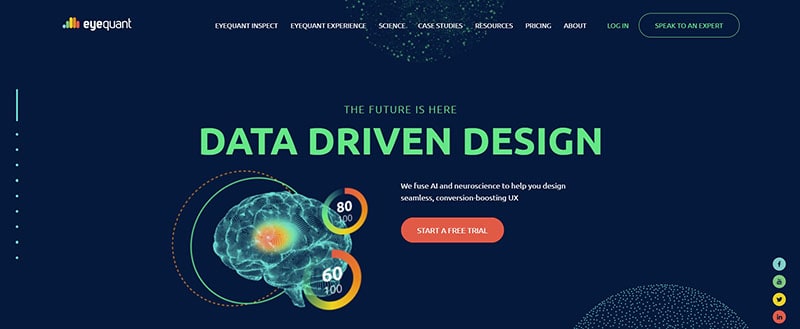 As a CRO analyzer tool, EyeQuant uses patented technology that combines artificial intelligence, neural network modeling, and advanced neuroscientific research to help UX, marketing, and product teams make smarter design decisions. With EyeQuant, you can simulate how users will react to your design work and get instant insight into how users will engage with any design on any device before you go live. By using this game-changing technology, you can optimize conversion for websites, apps, email campaigns, display ads, print, and more. Groupon increased sign-ups by 52% using EyeQuant to improve their landing pages' value proposition and call-to-action buttons. EyeQuant CRO analyzer tool offers a range of plans for entry-level, professional, and enterprise users so that you can find the right plan for you. Take the first step towards data-driven design and start a free trial today.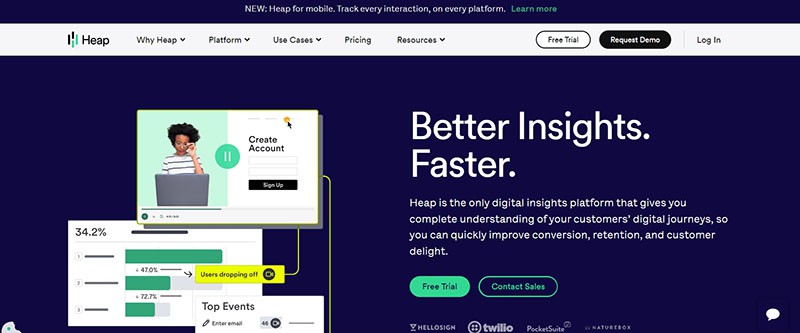 Heap is the only digital insights CRO platform that completely understands your visitors' digital journeys, which helps you to improve conversion, retention, and customer satisfaction. With Heap, e-commerce CRO specialists can automatically capture and analyze complete data without requiring engineering effort. Heap offers data science capabilities that alert you to key moments of friction and opportunity in your digital experience—even on user behaviors you haven't followed. Heap provides a complete dataset that is governed and organized for maximum usage, allowing you to uncover the hidden gems that lead to the biggest business results. With integrated session replay, you can fully understand why users do what they do and instantly see what needs to be fixed. Heap offers a new paradigm for data-driven decision-making, bridging the gap between quantitative and qualitative tools. Additionally, Heap's integrations across the stack enable you to deliver the right information to customers at the right moment in their journey. Overall, the Heap CRO tool offers unparalleled insights that help businesses make data-driven decisions and achieve greater success.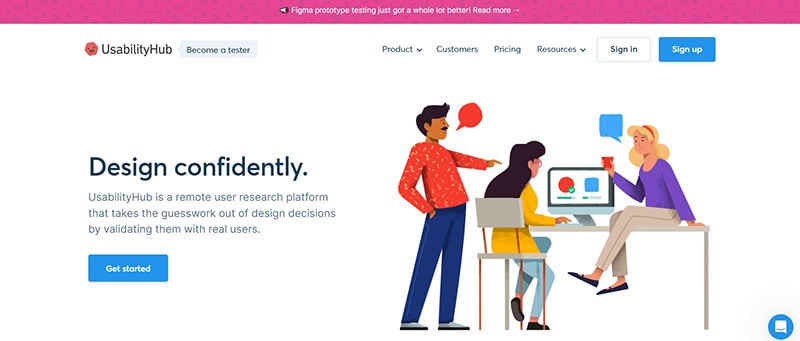 UsabilityHub for online stores and websites looking to improve their conversion rates. UsabilityHub is a CRO analyzer that helps you optimize your designs by measuring users' first impressions and recall. The tool offers a five-second test to determine whether your web pages effectively communicate their intended message. Participants are given five seconds to view a design and answer simple questions. This helps you determine users' first impressions of your page, including the purpose of the page, the main elements recalled, the intended audience, and whether the design/brand appears trustworthy.
UsabilityHub CRO analyzer can assess your page's first impressions. The platform is affordable for businesses of all sizes. You can also sign up for a free account to initiate product research in your business. UsabilityHub is user-friendly and works on all device types, ensuring reliable results. UsabilityHub is a quick and easy way to incorporate user feedback and improve conversion rates.
Conclusions: Embrace the Power of CRO in 2023
In a world of ever-growing competition, it's time to put your online presence in overdrive and stand out. Our handpicked list of the 20 best CRO analyzer tools in 2023 offers a treasure trove of options, from UI improvements to dynamic A/B testing, to elevate your conversion rates and boost your bottom line.
These tools cater to a wide range of needs, from basic hypothesis testing to advanced customizable analytics. So no matter your industry, there's a CRO tool that will help you tackle your specific challenges, optimize your website, and stay ahead of competitors.
Make sure to take advantage of Plerdy, a game-changer in the CRO world. Give Plerdy a try and explore its powerful features, like heatmaps, pop-ups, and event tracking, to enhance your website's performance.
To sum up, we know the digital landscape can be tough to navigate, but with this goldmine of top-notch CRO analyzer tools, you'll have the upper hand. So, let's make 2023 the year of soaring conversions and lasting success! ?