A top-notch Pay Per Click (PPC) agency is priceless in the constantly changing world of digital marketing. To help you find the perfect fit for your business, we've compiled a list of the 13 best PPC agencies in 2023. These trailblazers excel in the following:
Developing tailor-made ad strategies
Boosting online visibility
Driving targeted traffic
Maximizing return on investment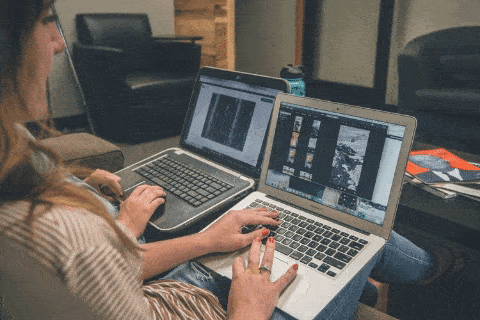 Plerdy, a powerful tool for optimizing online stores and PPC traffic, plays a crucial role in the success of these agencies. Using Plerdy's features, they can fine-tune campaigns and better understand user behavior, ensuring a seamless experience for your potential customers.
Without further ado, let's dive into the cream of the crop – the agencies that will skyrocket your digital advertising success and propel your business to new heights in 2023.
What is a Pay Per Click Agency?
A Pay Per Click Agency specializes in strategically implementing PPC advertising campaigns to enhance online visibility and drive PPC-targeted traffic to a business's website. Utilizing their expertise, an agency can:
Craft keyword-focused ad copy
Manage bidding strategies
Optimize ad placements
Analyze PPC campaign performance
These skills ensure a high return on investment and a seamless user experience for potential customers. Partnering with a competent PPC agency is a surefire way to set your business apart from the competition and amplify your online presence through well-executed Google Ads campaigns. With such a partnership, you'll hit the ground running and watch your online success soar.
Top Advantages of Engaging a PPC Company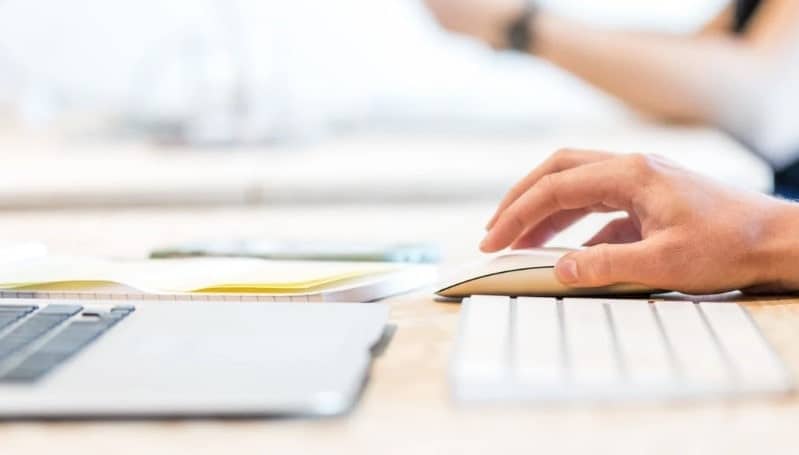 Harnessing the power of a PPC company can revolutionize your digital marketing efforts, delivering outstanding results and elevating your brand. Choosing to collaborate with a pay-per-click agency comes with numerous benefits:
Expertise: A professional PPC agency boasts extensive experience crafting, managing, and optimizing ad campaigns, ensuring maximum efficiency.
Time Savings: Focus on running your business while the agency handles the intricate details of your pay-per-click campaigns.
Cost-Effectiveness: Benefit from the agency's advanced strategies, minimizing unnecessary expenses while maximizing your return on investment.
Innovative Tools: Access cutting-edge tools and technologies that enhance ad performance and deliver valuable insights.
Continuous Improvement: Agencies strive for excellence, consistently analyzing and refining campaigns to achieve optimal results.
By entrusting a PPC agency with your advertising endeavors, you'll tap into a wellspring of knowledge and skill. This partnership paves the way for greater online visibility, increased PPC traffic, and higher conversion rates, driving your business to new heights of success.
A Roadmap to Picking the Ideal PPC Agency
Selecting the perfect PPC agency is crucial for success in the digital advertising realm. Follow these guidelines to find a reliable and skilled pay-per-click agency:
Certifications: Seek agencies with Google Ads certification, indicating their expertise in managing ad campaigns on Google's platform.
Experience: Choose a PPC agency with an extensive portfolio and proven track record in your industry.
Transparency: Opt for PPC agencies that provide clear communication and regular reports on your campaigns' performance.
Adaptability: Ensure the PPC agency stays current with industry trends and adapts strategies to maintain top-notch results.
Client Testimonials: Positive feedback from satisfied clients is a testament to the agency's capabilities.
For example, a Google Ads Partner can offer an added layer of credibility, showcasing the agency's commitment to staying updated with Google's best practices and maintaining a high-performance standard.
Considering these factors, you can confidently select a pay-per-click agency that meets your business needs. Furthermore, a strong partnership with a reliable PPC agency will unlock your advertising potential and pave the way for increased online visibility, website PPC traffic, and conversions. So, sift through the options and make an informed decision to secure the best possible outcome for your digital marketing endeavors.

Once upon a time, a powerful PPC agency called Straight North existed in digital marketing. This full-service PPC agency's mission was to lead businesses in the right direction and make every click count. They offered their clients a blend of SEO, PPC, and web design services, catering to various industries.
Key Features of Straight North:
Full-service internet marketing company
Cutting-edge targeted solutions
Professional PPC management, display advertising, and email marketing
Experts in local online marketing
Proprietary lead tracking technology
E-commerce PPC traffic and revenue generation
Straight North's prowess was known far and wide, from Forbes to NBC News. They built websites that drove leads, increasing client traffic and sales. One such success story is BluePay, a payment processing company that saw a 1,105% increase in SEO traffic and a 354% increase in validated SEO sales leads.
Straight North's stellar reputation
The proven track record since 1997
Over 100 full-time experts on staff
Offices in Chicago, Charlotte, Baltimore, and Washington D.C.
High level of transparency and communication
Straight North's clients couldn't stop singing their praises. Rustam U., a CEO in real estate, appreciated the consistent communication and professional team. Another client in construction praised their project managers for being customer-oriented and focused on performance.
Embark on a journey with Straight North and steer your business in the right direction. Their results-driven approach and rich history of excellence make them the perfect choice for your B2B SaaS marketing needs.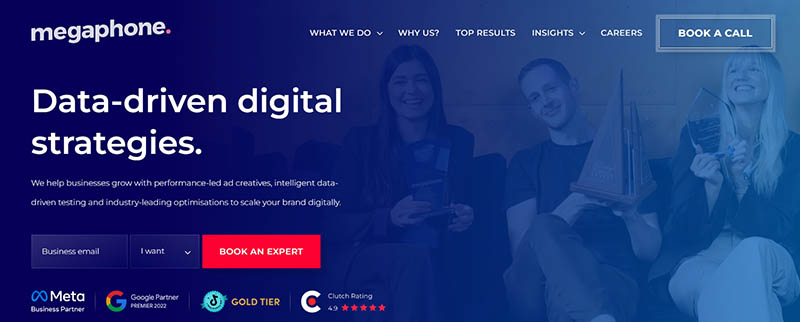 Once upon a time, businesses struggled to grow online, lost in the vast digital landscape. Then came Megaphone Marketing, an innovative Pay-Per-Click (PPC) agency with a knack for data-driven strategies and performance-led ad creatives. They knew the secret recipe for PPC success, helping brands flourish with their expert services.
Megaphone Marketing's Magic Touch:
Trusted by big names like Puma, Goalrilla, and Make-A-Wish
Top 3% Google Premier Partner
Over 50 awards, including Most Innovative Company
150+ digital marketing experts on their team
Megaphone Marketing's services include social media marketing, PPC Google Ads, TikTok advertising, lead generation, search marketing, email marketing, and content creation. They proudly celebrate 10 years in business, consistently delivering remarkable client results.
When partnering with Megaphone Marketing, you can expect the following:
Authenticity and transparency
Efficiency and excellence
Proactivity and innovation
Passionate collaboration and enjoyable experiences
With Megaphone Marketing's help, clients have experienced significant growth, and rave reviews prove their dedication to outstanding results. Businesses all over have found success through Megaphone Marketing's data-driven approach, and with their help, you can too. So, let your brand be the next PPC success story with Megaphone Marketing at your side!

WebSpero Solutions is a leading B2B SaaS marketing agency delivering stellar results for businesses like Tiny Hearts Education in Australia. Their expertise in PPC marketing led to the following:
A 140.91% increase in sales in just a month
A 100.97% rise in purchase value within a month
A 55.63% boost in ROAS in one month
Explore their case studies to learn more.
Comprehensive PPC Marketing Services to Skyrocket Your Growth
WebSpero Solutions offers a variety of PPC marketing services to amplify your leads and revenue:
Google & Bing Ads: Cut through the competition and rank higher with tailored paid search advertising strategies.
Display Ads: Let the adept PPC specialists at WebSpero handle your banner ads, rich media, interstitial ads, and video ads for better reach, impressions, CTRs, and conversions.
Programmatic Ads: Benefit from greater targeting, increased reach, and lower costs with state-of-the-art tools that automate your advertising.
Shopping Ads: Showcase your products to active searchers and boost your ROI with powerful conversion strategies.
Facebook, Instagram & Snapchat Ads: Scale your ROI with a holistic approach that includes social media ads.
LinkedIn, Pinterest & Twitter Ads: Establish your brand as an industry thought leader with ads that engage audiences.
YouTube & Video Ads: Harness the power of video ads to engage viewers without draining your budget.
WebSpero Solutions is a PPC agency with a mission for growth and good. Their core values include integrity, courage, and empathy, contributing to their success. They have received over 600 reviews and have been recognized with various awards.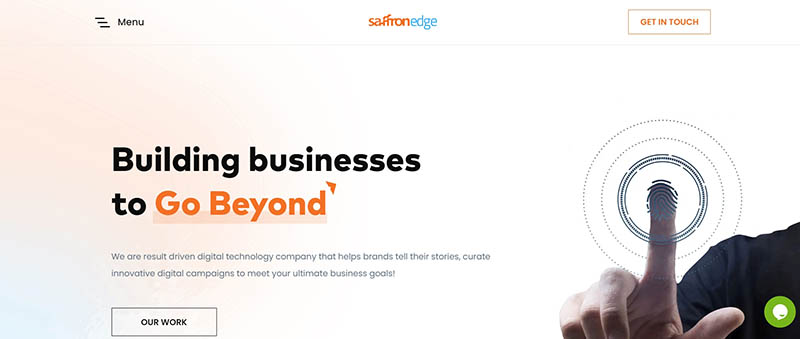 Looking for a result-driven digital technology company to skyrocket your B2B SaaS marketing? Look no further than Saffron Edge, a leading PPC agency based in New Jersey that specializes in crafting innovative digital campaigns to meet your ultimate business goals. They're a force to be reckoned with an impressive track record.
What Sets Saffron Edge Apart?
Top-notch Services: They offer a comprehensive range of digital marketing solutions, including marketplace optimization, funnel marketing, PPC, CRM enhancement, and CRO optimization.
Satisfied Clients: Over 99% customer satisfaction rate, with over 1500 clients, including start-ups, entrepreneurs, SMBs, corporations, and Fortune 500 companies.
Expertise: Over 14 years of experience in the industry and a team of 150+ diverse specialists who deliver nothing less than excellence.
Their client portfolio boasts impressive results, such as:
SATYAJIT, a co-founder/director who achieved a 7.3x earned ROI and $130k earned by marketing after partnering with Saffron Edge.
A textile company that trusted Saffron Edge to design and develop their website from scratch, resulting in a visually appealing site that met their expectations.
With Saffron Edge's end-to-end digital solutions, your business can:
Drive sustainable PPC traffic and customer conversion.
Optimize spend and ad inventory on marketplaces.
Personalize brand experiences through AI.
Build brand communities.
Equip retailers with headless commerce.
Take advantage of the opportunity to partner with Saffron Edge, the premier PPC agency that can take your B2B SaaS marketing to the next level!

Let us introduce you to Searchbloom PPC agency, an award-winning agency specializing in crafting ROI-driven strategies and leveraging proven methodologies. Here's why they should be your go-to choice for PPC management:
Trusted and transparent: Searchbloom promises only to take on clients they know can generate an ROI.
Impressive clientele: They've worked with notable names, like Aging in the Home Remodelers, and received rave reviews from marketing directors like Sean Harcum.
Media recognition: Their results have been featured in publications like Forbes, USA Today, and Entrepreneur.
No lengthy contracts: Enjoy the freedom of working with dedicated analysts, customized strategies, and a flexible partnership.
Their services cover e-commerce SEO and PPC management.

Elevate your digital marketing game with Radd Interactive, a top-tier Pay-Per-Click (PPC) agency based in San Diego. Stay ahead of the pack with their professional services, tailored to deliver outstanding results:
SEO: Experience metadata optimization, content customization, and curated internal links that foster organic growth, thanks to Radd's dedicated team.
Paid Media: Explore pay-per-click advertising across platforms with Radd's expert ad management, campaign monitoring, and data reporting services.
RaddBOT: Benefit from Radd's proprietary technology that analyzes your site's content, code, meta-data, links, and more, providing valuable SEO insights for improvement.
Radd Interactive's proven expertise in digital marketing services is evident in its case studies, showcasing its work with small and medium-sized companies. With partner credentials that demonstrate their experience across various platforms, Radd Interactive helps businesses grow online.
Clients rave about Radd Interactive's creativity, professionalism, and dedication to delivering exceptional results. With impressive numbers like a 15.61% increase in new users and a 28% increase in admissions for one high school client, Radd Interactive consistently exceeds expectations.

Loud Mouth Media is a PPC agency multi-award-winning performance marketing agency with four offices in Belfast, Dublin, London, and Glasgow. As a Google Premier Partner, Loud Mouth Media ranks as a top-3% agency in the UK. Specializing in digital strategy, search, SEO, display, video, social advertising, e-commerce, performance creative, conversion rate optimization, GA4 migration, and training, the agency strives to boost its clients' ROI. The agency focuses on performance and executes tailored strategies with great attention to detail, using data combined with critical thinking and problem-solving. The team has grown to over 30 experts and won numerous accolades, including Best Small Integrated Agency at the 2021 UK Search Awards and Small Paid Media Agency of the Year, 2022 (UK Paid Media Awards).

Welcome to Widoczni PPC agency, Poland's leading digital marketing center, providing exceptional SEO and PPC services that drive sales. We specialize in SEO, which is the most effective online marketing service. Our services, combined with conversion rate optimization and PPC campaigns (Ads, Facebook, Instagram), enable us to provide the most effective service that builds your sales. With years of experience and practical knowledge, we have developed the best SEO methods and standards that generate results. Our portfolio boasts satisfied clients from various sectors and sizes, including Volkswagen, Saint Gobain, and more. Join our growing list of happy customers and choose PPC for effective digital marketing.

Discover Savage Global Marketing, the go-to B2B SaaS marketing and PPC agency that brings you results through the power of digital. They fuel brands with advertising, websites, and videos to generate explosive returns.
Key PPC Services:
Google Ads
Facebook Ads
Video Production
They've worked with renowned clients like Taco Bell, Willis Custom Yachts, TRYP, and BBB. Check out their amazing case studies on their website!
Real Client Testimonials:
Glass Rezz LLC: Their willingness to see the client thrive and be impactful in their space is impressive.
The Routree App: Happy with the hands-on process and service and their video production project results.
Don't wait any longer. Reach out to Savage Global Marketing and watch your business soar! You'll thank them later.

Meet Farsiight, the PPC agency specializing in performance marketing and creativity for online businesses, including E-commerce and SaaS companies. With over 51 positive reviews on Clutch, Farsiight is your go-to agency for growth.
Key features of Farsiight:
Awarded, trusted, and proven to deliver results
A dedicated team with in-house experience at high growth, marketplace, and SaaS companies
Communication is so good, it feels like they're in the same room
Case studies that showcase Farsiight's excellence:
Power Diary: Achieved a 200% decrease in CPA for a Global SaaS Company. Farsiight's strategy significantly reduced CPA, increased free trials, and scaled ad spending, resulting in record-breaking months for Power Diary.
Squid Socks: Scaled a children's sock brand to over seven figures in revenue. Farsiight rapidly set up and optimized key sales acquisition channels like Facebook Ads & Google Ads to capitalize on the exposure from Shark Tank™.
Founded by brothers Josh and Ben Somerville, Farsiight is a diverse cross-continental team dedicated to producing remarkable business growth for its clients. Their relentless pursuit of growth and zero tolerance for complacency set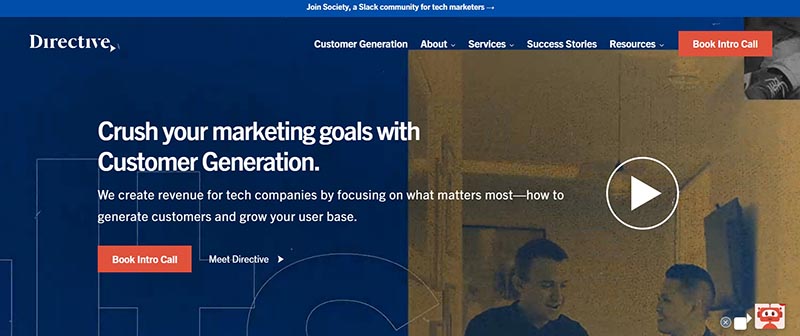 Directive the top-notch Pay Per Click (PPC) agency that focuses on what matters most: generating customers and growing your user base.
Experience Directive's Expertise:
Paid Media: Engage your audience with targeted campaigns, including Paid Search, Paid Social, and Account-Based Marketing.
Strategy: Receive a full-suite strategy tailored for customer generation, with persona development and financial modeling.
Revenue Ops: Optimize every aspect of your marketing, from analytics to lead management and technology transformation.
Design: Craft visually stunning and personalized designs for every channel, from image and social ads to sales decks and data visualization.
Video: Create engaging brand videos, product explainer videos, and video ads that captivate your audience.
Notable Clients and Success Stories:
Arctic Wolf: 109% increase in closed/won revenue QoQ.
Swoogo: Customer Generation refreshes generated $594k in revenue.
Directive has proven successful in helping leading tech companies generate revenue and grow their customer base. Mike Greeves, Head of Digital at Sumo Logic, said, "Directive provides a true team-based approach, meaning they cover multiple marketing disciplines and get economies of scale benefits associated with leading campaigns for over 200 companies."

Power Digital PPC agency offers full-funnel and digital marketing services to skyrocket your business success. They have an impressive track record, with clients growing their revenue by an average of 71% YoY within six months of working together. That's 2.4x faster than standard market rates!
Top-Notch Services
Full-funnel digital marketing
Cutting-edge technology with their proprietary platform, nova
Seamless integration as an extension of your team
Impressive Client Portfolio
Power Digital has worked with well-known brands, helping them achieve outstanding results. Join the ranks of clients like:
Frozen Cocktail Company: Tremendous increase in PPC traffic and email subscribers
Caleres Europe: Footwear company experiencing great success with Power Digital's SEO, PPC, and SMM services
What Sets Power Digital Apart?
Driven by ROI, not egos
Overdelivering as their benchmark
96%+ client retention rate
Full omnichannel support under one roof
Take advantage of the opportunity to work with a PPC agency like no other. Get in touch with Power Digital today and see your brand soar!

Urtasker – offers unmatched marketing solutions and PPC services to boost your online presence. They have a proven track record of delivering impressive results, and here's why you should choose them:
Comprehensive Services: Urtasker specializes in various areas, such as Amazon marketing services, PPC management, brand management, listing optimization, Walmart services, Shopify development, and digital marketing.
Stellar Client Testimonials: With satisfied clients like Ken Wilson and Karma Organic, Urtasker has significantly impacted over 1,000 small business owners.
Impressive Growth: Since its inception in 2015, the company has expanded from a small team to a global workforce of 200+ e-commerce marketing experts.
Global Reach: Headquartered in Long Island, New York, Urtasker serves clients worldwide.
Some of their outstanding PPC services include:
Sponsored Brands Ads
Sponsored Display Ads
Sponsored Products Ads
Choose Urtasker PPC agency for a customer-centric approach, a dedicated team of experts, and tailored solutions to maximize your profits and business potential.
Conclusions: Partner with the Best PPC Agency and Watch Your Business Flourish ?
As we've explored the 13 best Pay Per Click (PPC) agencies in 2023, it's clear that the right partnership can elevate your online presence, drive targeted traffic, and bolster conversion rates. Each agency brings a unique flair to the table, and finding the perfect fit is vital for your business's growth and prosperity.
Keep in mind that employing tools like Plerdy can be a game-changer for agencies and businesses alike. By leveraging Plerdy's capabilities, you'll ensure a smooth user experience and optimize your PPC campaigns for maximum impact.
Don't wait on the sidelines – dive headfirst into the world of PPC and team up with a top-tier agency that aligns with your goals. Your online success is just a click away! ?️
Ready to experience the benefits of Plerdy firsthand? Give it a try today and turbocharge your digital marketing efforts! ?