?Get ready to skyrocket your Shopify store's success with our handpicked selection of the Best 13 Product Review Apps for Shopify! ? Our mission? To help you find the perfect app to gather valuable customer feedback and boost your store's credibility and conversion rates. We've sifted through countless options to bring you the crème de la crème of review apps tailored to diverse business needs.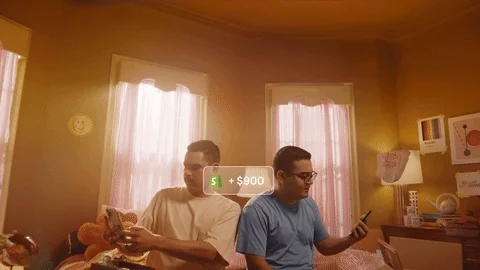 In this lineup, we're excited to feature the Plerdy Shopify App — a versatile, multi-faceted tool that offers heatmap tracking, session replays, SEO analysis, and more. Plerdy helps you understand user behavior, optimize your website design, and uncover crucial insights to increase sales. Stay tuned as we delve into each app's unique features and benefits, equipping you with the knowledge to make an informed decision and elevate your e-commerce game! ?
Why Shopify Product Review Apps Are Crucial for Success ?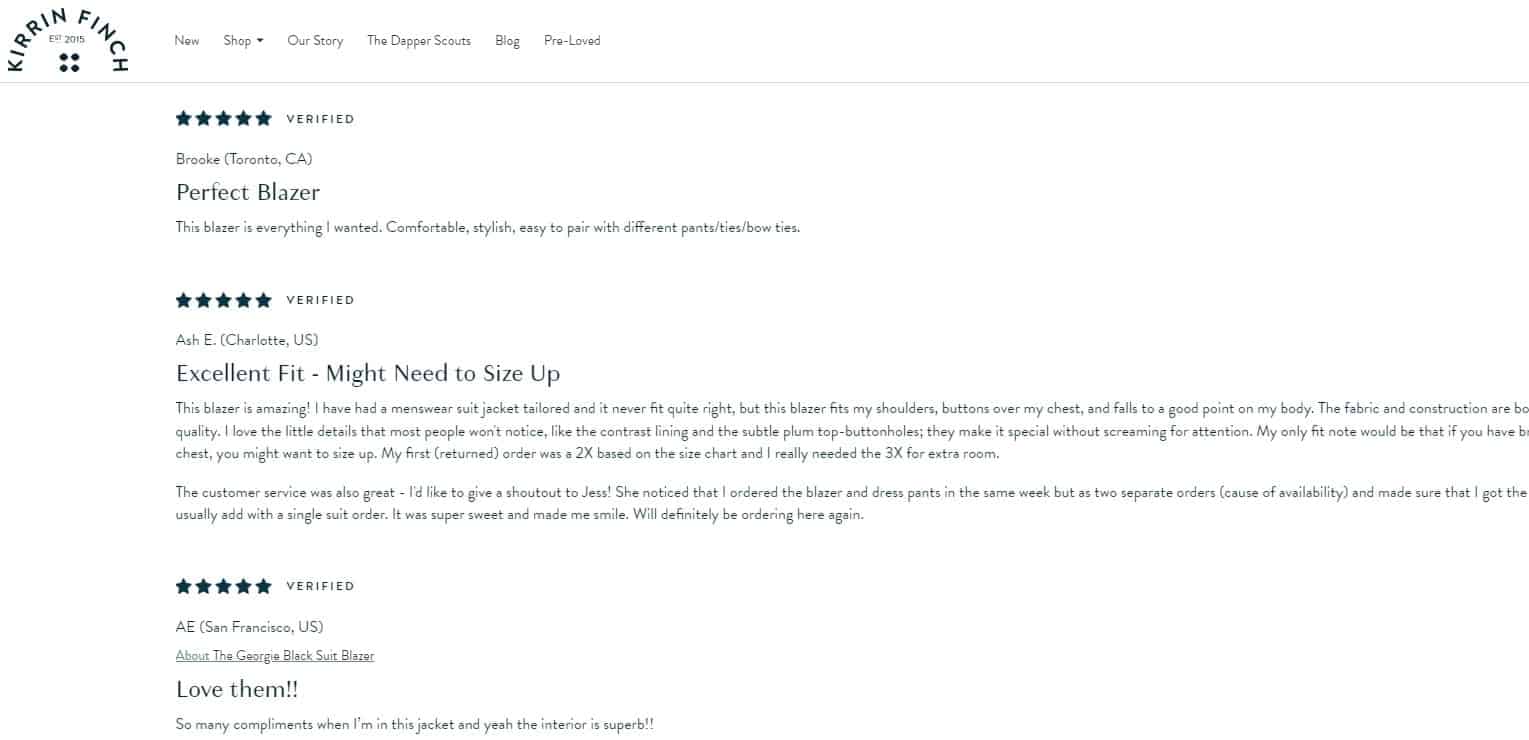 Shopify product review apps play a pivotal role in boosting online businesses. Here's why they are indispensable:
Customer Trust Builder: Authentic reviews paint a genuine picture of your products, instilling confidence in potential buyers.
Higher Conversion Rates: Positive reviews charm in nudging customers to hit the 'buy' button.
Informed Decisions: Detailed pros and cons help shoppers make smart choices, leading to increased satisfaction and fewer returns.
Social Proof: Showcasing user experiences lends credibility to your brand, making it a force to reckon with.
Harnessing the power of Shopify product review apps can skyrocket your e-commerce venture. You'll foster trust, increase conversions, and provide invaluable social proof by featuring authentic customer feedback. Integrating a top-notch review app into your Shopify store is a no-brainer in a fiercely competitive online marketplace. So don't miss this golden opportunity to fuel your business growth and watch your brand soar to new heights!
How to get product reviews on Shopify?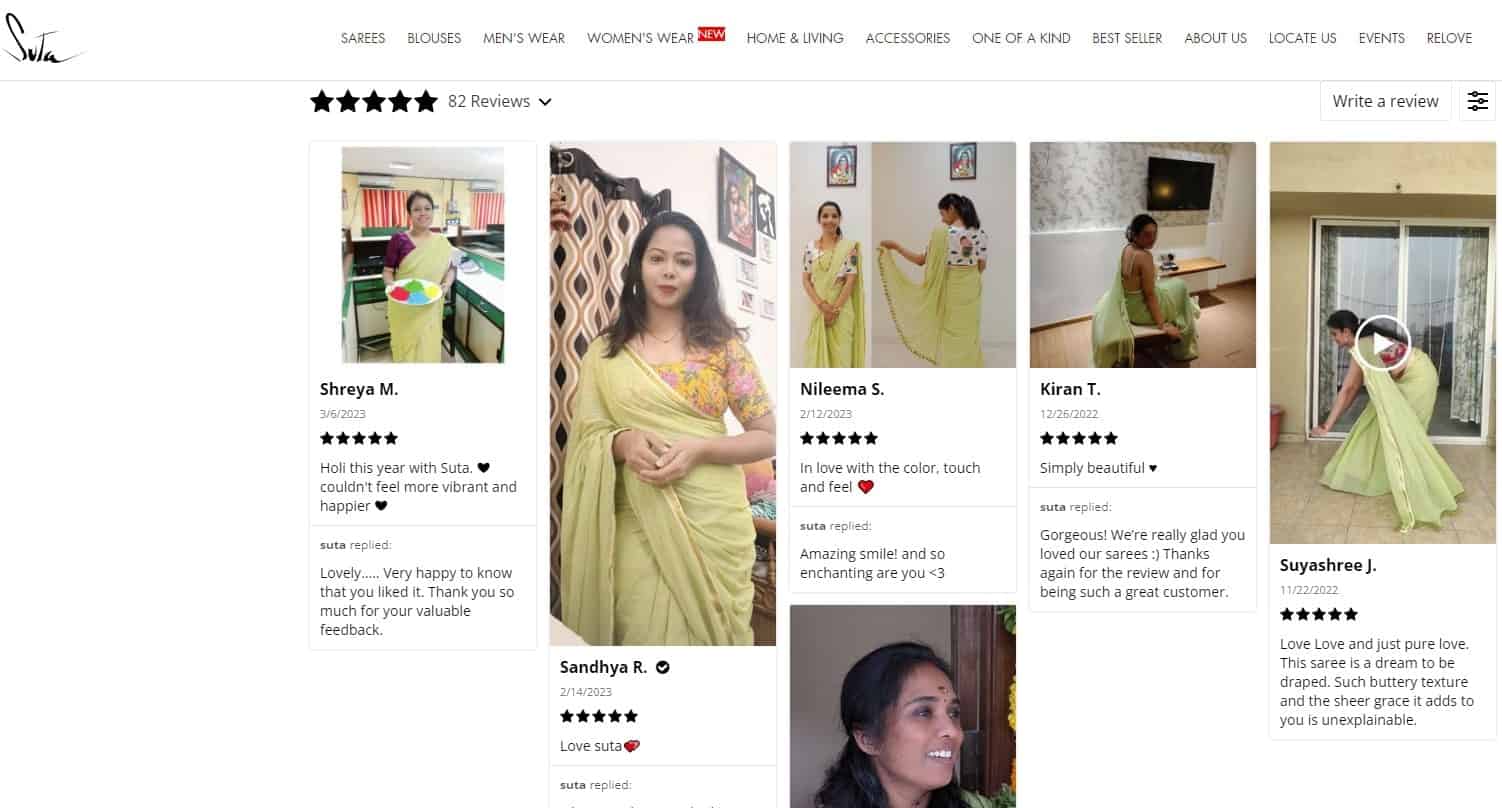 Unlocking the Power of Product Reviews on Shopify ?
Obtaining product reviews on your Shopify store can propel your business to new heights. Here's a step-by-step guide to garnering authentic customer feedback:
Install a Top-tier Review App: First and foremost, integrate a reputable Shopify product review app into your online store. Some popular choices include Judge.me, Kudobuzz, and Vitals.
Incentivize Customer Feedback: Encourage customers to leave reviews by offering incentives, such as discounts or loyalty points.
Leverage Email Campaigns: Send post-purchase follow-up emails, politely requesting customers to share their experiences and insights.
Engage on Social Media: Utilize your brand's social media presence to solicit customer reviews. Share positive feedback to showcase your products' worth.
Offer Superior Customer Support: Go the extra mile in providing outstanding customer service. Happy customers are more likely to share their positive experiences.
Implementing these strategies will help you collect a treasure trove of valuable product reviews on your Shopify store. You'll build trust, increase conversions, and create a loyal customer base by showcasing genuine customer feedback. Never underestimate the importance of product reviews – they can be your ticket to e-commerce success!

Boost your e-commerce game with the Plerdy Shopify App – an all-in-one powerhouse that combines heatmap, session replay, SEO, popup survey, and eCommerce tracking. Plerdy's sophisticated analytics tool helps you dive deep into user behavior, unveiling the reasons behind unconverted visitors. With its heatmaps, you can track clicks, cursor moves, and scroll depth, while session recordings (session replay) let you view each visitor's actions on your store.
No more blind optimization—Plerdy is your ultimate guide to improving your store's design, buttons, banners, and marketing campaigns. Its popup feature allows you to survey customers, collect emails, and boost sales with exit intent strategies. Plerdy's SEO capabilities enable a daily analysis of titles, descriptions, keywords, and Google Search Console integration, while eCommerce tracking uncovers the link between user behavior and sales.
With a 4.8-star rating, Plerdy Shopify App offers a 14-day free trial and flexible pricing plans to suit your needs. Discover the perfect analytics tool for your e-commerce business and unlock your store's full potential today.
List of the Best 13 Product Review Apps for Shopify
Exploring this curated list of Shopify product review apps is like unearthing hidden gems for your e-commerce store. These cutting-edge apps are the secret to enhancing customer trust and amplifying sales. So buckle up and prepare to embark on a journey to discover the ultimate tools for showcasing product reviews on your Shopify store.

Loox is the best Shopify review app to increase customer engagement. A rapidly expanding review app called Loox allows companies to gather visual reviews and recommendations, involve their clients, and boost sales. Over 100,000 merchants in 180 countries use Loox, which has worked with several popular brands, including Move, Volant, BlendJet, and more. With Loox, you can use the right tools to encourage recommendations while letting your customers tell your story through visual reviews. Since they boost the likelihood of purchase by 68%, visual reviews are even more valuable. More than 25% of the over 31 million reviews on Loox include images or videos. Loox has many ways to keep in touch with your best customers, such as personalized emails, custom forms, and automatic reminders. Lox reviews and referrals are among the best marketing tools for boosting customer loyalty, enhancing brand recognition, and luring new clients. Loox is the way to go to increase your company's success.

If you're running a Shopify store, you know that getting customer reviews is essential. But how do you collect and display those reviews in a way that builds trust and boosts sales? Enter Judge.me, the best Shopify review app on the market.
One of the best things about Judge.me is that it's fully customizable and available in 37 languages. You can schedule automatic emails to get reviews with photos and videos after order fulfillment or delivery or import them from other apps. With Judge.me, you can improve your conversion rate by showing reviews and UGC on your storefront widgets, sharing them on social media, and adding stars on Google for SEO. Setup is easy and tailored to your store: customize widget texts, colors, and themes, or ask our 24/7 support team for basic design tweaks.
Some of the features that make Judge.me stand out include unlimited email review requests with photos and video, display of star ratings, store and product reviews, trust badges, reviews carousel, sharing reviews on Facebook, Instagram, Twitter, rich snippets and Google Shopping, synchronization and grouping of product reviews across different products and stores, and engaging reviewers with Q&A, coupons, and email marketing integrations.
Pricing is reasonable, with a free forever plan for unlimited product review requests and an Awesome plan for $15/month that includes site reviews, all reviews page, Q&A, custom forms, coupons, product groups, cross-shop syndication, Google shopping, and no branding. With over 222,247 stores using Judge.me to generate customer reviews, it's clear that Judge.me is the best way to grow your online store and boost sales.

As an authority on Shopify, I heartily endorse LAI Product as the top Shopify review app. Gathering, showcasing, and amplifying reviews from platforms like AliExpress, Amazon, DSers, CJ, and CSV files, aid online businesses in increasing trust and revenue. The fully customizable widgets from LAI Product offer a seamless customer experience that complements the design of your store, increasing customer confidence. The tool will assist you in leveraging the power of product reviews to increase customer engagement, satisfaction, and conversion rates thanks to its powerful features like PIN, HIDE, and GROUP reviews.
Product reviews from multiple platforms, including Ali Express, Amazon, CJ, DSers, and CSV files, can be easily imported using LAI Product. It also supports the display of video and photo reviews on your homepage, collections, products, and popups. The tool automatically sends email campaigns to gather genuine reviews and encourage customers to purchase more.
The 7-day free trial offered by LAI Product is free to use and offers a larger import quota than other apps. Additionally, it has a homepage, a showcase review section, and several premade layouts and themes. The three additional pricing tiers for the tool are Essential, Growth, and Expert. Depending on your plan, the cost ranges from $4.95/month to $19.95/per month. Each plan has higher import quotas, advanced features, and exclusive customization options. Recurring and usage-based fees are billed every 30 days in USD. All charges are listed in USD. The best Shopify review app is LAI Product, which I heartily endorse.

Fera Shopify review app offers a full solution to help you manage and expand customer reviews, images, and videos on your website, and it's a great option. With Fera, you may enhance reviews without reducing your aesthetic appeal. You can import client evaluations from various sites, such as Google, Facebook, and Etsy, to display them on your website. Also, you can submit review requests to get feedback from future customers or evaluations from previous clients. Fera provides a 14-day free trial and four different payment options based on your needs and the size of your business.
Moreover, Fera enables you to compile consumer reviews in text, image, and video formats and display them in Google search and Google Shopping results. Use this function to establish credibility with future customers. In addition to setting up triggers for automatic review requests, you can offer customers discounts, reward points, and cash-back incentives.
Several businesses worldwide highly suggest Fera, which has thousands of reviews. The app has an excellent layout, a wonderful method for controlling reviews, and excellent customer service. Also, the Fera setup is simple, especially for new Shopify e-commerce businesses.

The best Shopify review app for companies looking to cultivate a following of devoted clients is Yotpo. The platform provides interconnected solutions, including subscriptions, loyalty and referral programs, SMS marketing, reviews, and visual user-generated content. The top SMS marketing app on Shopify, SMSBump by Yotpo, promotes sales and fosters direct customer relationships. The reviews feature boosts conversion by displaying real customer reviews. By offering incentives, the loyalty and referrals feature converts customers into brand evangelists. Subscriptions increase recurring revenue by providing convenience at the touch of a button. The visual UGC feature aids in establishing an emotional bond with real-world images and videos. With Yotpo's products, businesses can access a connected data layer and provide seamless customer experiences immediately. Some cutting-edge brands Yotpo supports are Parks Project, Revolution, Chubbies, Princess Polly, Brooklinen, Ministry of Supply, and UNTUCKit. Yotpo has assisted these brands in growing their customer base, boosting sales, and increasing revenue.

I suggest Rivyo, one of the best review apps, to develop solid social proof and customer trust. With Rivyo, you can import Amazon and AliExpress reviews in bulk and display product reviews, testimonials, and rating popup widgets. Then highlight your product reviews on Google Shopping with Rivyo to increase organic traffic. Thanks to the app's insightful analytics.
With Rivyo, you can display customer reviews and endorsements to increase brand credibility. From Amazon and AliExpress, you can bulky import reviews back to your store. To increase customer loyalty, display the store average and rating popup widget on the homepage. To strengthen brand identity, highlight each product review anywhere in your store.
With a 7-day free trial, Rivyo offers four pricing tiers: Indie, Starter, Business, and Enterprise. The free Indie plan offers unlimited reviews, 50 review emails each month, and the ability to import 500 reviews via CSV. The Starter plan costs $9 monthly, including unlimited photo reviews, unlimited Q&A, 500 monthly review emails, 1,000 CSV imports, and 500 reviews from Amazon and AliExpress. For $14 per month, the Business plan includes 1,000 monthly review emails, 2,000 CSV imports of reviews, imports of 2,000 reviews, Google Shopping, and discount codes. All Business features are included in the $19/month Enterprise plan, along with unlimited monthly review emails and imports.
Rivyo has a rating of 4.9, with over 1,900 reviews. Rivyo offers excellent customer support and customer service. They will assist you in setting up your store with the app code and reviews. They offer live chat and email support.

Stamped Shopify app is an effective tool that enables you to collect and display high-converting reviews, ratings, images, and Q&A. You can increase your revenue by using the tool to get high-converting product reviews, NPS, photo and video reviews, Instagram shoppable galleries, community Q&A, check-out reviews, and more. Furthermore, Stamped Reviews is completely customizable to match your brand with on-site display widgets. You can moderate and comment on reviews to maintain a positive relationship with your clients.
The app has four different pricing tiers. The Lite package is free and allows you to collect 50 orders per month. The Business package, which costs $99, allows you to collect 1500 orders monthly and includes free $99 SMS Credits, Video Reviews, Q&A, A.I. Sentiment Analysis, and Google Shopping Reviews. All fees are indicated in US dollars. One of the Shopify platform's top-rated apps, Stamped offers a variety of features, including a Shopify integration and visually striking product reviews to increase sales. Furthermore, importing reviews from sites like PowerReviews, Yotpo, and Judge is simple.me, Loox, and Ali Reviews.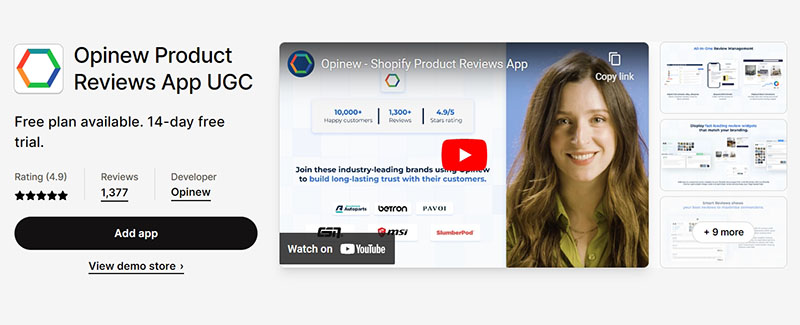 Opinew is a fantastic Shopify review app that is a complete review management solution that aids companies in gaining customer trust and increasing conversion rates. Opinew allows its users to gather reviews from previous and ongoing orders through review emails, SMS, and printed QR codes. Users of Opinew can also quickly and in bulk import reviews from AliExpress, eBay, and Amazon. With reviews that are rich in user-generated content (UGC), such as photos and videos, the app helps increase conversions. It includes review widgets that are fully responsive and simple to customize to match the user's theme, making them look great on any device the visitor uses. Opinew offers eight highly customizable widgets that let companies control how reviews and Q&A are managed and displayed online. As well as having four pricing tiers—Free, Starter ($19/month), Growth ($89/month), and Advanced ($199/month)—Opinew also has a 14-day free trial.
Additionally, Google Shopping, Klaviyo, Gorgias, Smile, and LoyaltyLion reviews can be integrated into the app. Opinew is a quick-loading review app that doesn't burden the app store. Businesses can use Opinew to boost conversions by 40% and reduce returns by 20%.

As an online retailer, you must ensure that your products are presented in the best possible way. Utilizing customer reviews is one of the most effective ways to achieve this. You can accomplish that with the aid of AliReviews by OneCommerce. AliReviews is a complete solution that enables you to gather, present, and manage influential reviews. No matter the size of your store, AliReviews can assist you in gathering and utilizing customer reviews. More product and image reviews can be obtained through social media, email, SMS, the AliExpress review importer, and Amazon.
AliReviews shows relevant reviews based on customer behavior, such as items in the cart or recently viewed products, to reduce cart abandonment and increase conversions. With eye-catching widgets, you can perform at your most attractive on any page, and it's simple to gather reviews and customer photos via email/SMS, QR code & incentives. You can obtain online reviews directly from DSers, Amazon, Ali Orders, and AliExpress importers. AliReviews also provides various pricing options, from a 7-day free trial with unrestricted use to premium plans with customer success managers. AliReviews can make your brand stand out thanks to its gorgeous widget designs and creative ways to display your reviews.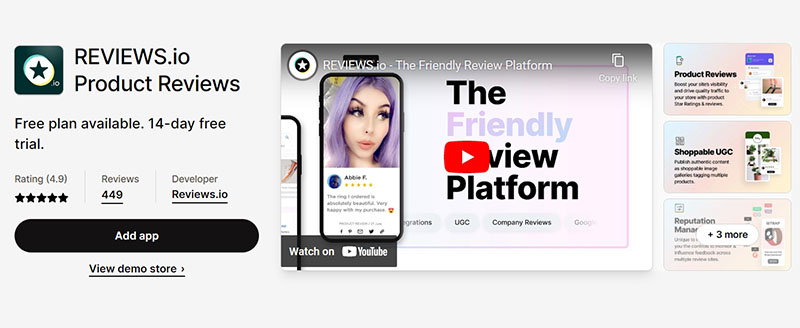 The preferred app for Shopify store owners to gather authentic reviews from satisfied clients is REVIEWS.io. The likelihood of turning visitors into paying customers increases four times when these verified reviews are displayed next to Google Ads and Google Shopping listings, with an average basket value of 28% higher. This app can be tailored to fit your brand, supports stores in multiple languages, and integrates with your current tech stack, making it simple to import your UGC and reviews from the past in a matter of minutes.
The app's pricing plans are reasonable; the free plan offers a 14-day trial, and the Launch plan costs $45 per month and includes Google Seller Ratings, Google Rich Snippets, Social Proof Content, A/B Invite Testing, NPS, Live Chat, and more, is available after that. The $89/month Launch Plus plan, which includes Google PLAs, Advanced Widgets, Customizable Collector Pages, A.I. Sentiment Analysis, and Walmart Syndication, is suitable for larger companies for 500 monthly orders.
To improve customer feedback, REVIEWS.io also provides product review widgets created to gather and display customer and product attributes like images and video content. The widgets editor allows for customizing the colors and fonts to match your Shopify theme. Klaviyo, LoyaltyLion, Gorgias, and other components of a robust tech stack for any Shopify store are all seamlessly integrated with REVIEWS.io.
Leaving a different provider? If you want to keep your current content, including Shopify native reviews, you can easily import it into REVIEWS.io. The automation tool for collecting reviews from REVIEWS.io, Flow, makes it simple to segment audiences to create a personalized customer journey, increase conversion on review requests, and gather more user-generated content (UGC). So it makes sense that 8,200+ fast-growing brands trust REVIEWS.io.

Okendo is a top customer marketing solution to help businesses enhance their customer connections. You can improve customer advocacy, get insights into consumer preferences and habits, and offer better-tailored customer experiences using Okendo. The tool's many features can help you achieve these objectives. The platform, for instance, offers a rewards engine to promote the gathering of reviews, user-generated content, and data sharing. It also has best-in-class interfaces with Klaviyo, Gorgias, Attentive, LoyaltyLion, and other services. Okendo also offers 24/7 customer support from a team of dedicated consumer marketing specialists to ensure you make the most of the technology. One of Okendo's most intriguing features is the variety of attractive, quick onsite reviews and user-generated content display widgets. You may effortlessly display potent reviews and visual user-generated content at key stages in the purchasing process (UGC). Okendo also offers micro-surveys for NPS, attribution insights and preference data. You can enhance customer interactions with commerce with Okendo's actionable insights about customer preferences, habits, and experiences. The best package for your company's needs can be chosen from the available pricing options.

Dive into the world of e-commerce with HulkApps, a suite of top-notch Shopify apps designed by experts to boost your online business. Trusted by the world's most successful brands, these apps cater to various aspects of your store, from marketing to functionality enhancement. Experience the convenience of easy-to-use apps like the Form Builder App for data collection, or skyrocket your mobile commerce with the Mobile App Builder. Watch your average order value soar with the Volume Discounts App and enhance your user experience using the Product Options App. With a vast array of offerings, HulkApps has your back in the competitive e-commerce landscape. Join millions of businesses that have seen their growth fueled by HulkApps, boasting impressive stats like billions of page views, monthly requests, and daily visits. Say goodbye to limitations and hello to endless possibilities with HulkApps, your one-stop solution for e-commerce success.

As an online business owner, you must recognize the importance of positive customer reviews in boosting your online presence. Reputon is a one-stop shop for your online reputation, and it can help consolidate, improve and display feedback from 3rd party review platforms on your Shopify store! Reputon is a Shopify review app that can help you drastically improve your online reputation with awesome reviews. With this app, you can keep customers constantly engaged in reviewing your services, find weak spots in your service or products and fix them fast! One of the best features of Reputon is that it allows you to display awesome reviews from Google, Facebook, Etsy, Amazon, and AliExpress on your website as social proof. Reputon also offers an affiliate program and other apps like Shopify Spy and has a privacy policy and FAQs. With automatic emails, review links, review requests, and negative feedback avoidance, Reputon can help you get more reviews on 3rd party review platforms and websites. Pricing plans include beginner, light, standard, and advanced, with varying monthly emails and features.
Bottom Line
In a nutshell, our comprehensive guide on the top 13 Shopify product review apps is the ultimate resource to elevate your e-commerce game ?. These apps, handpicked for their outstanding features, will help you build trust and showcase the pros and cons of your products. Then, with the avg price and other relevant info at your fingertips, you can make informed decisions on the best app to integrate into your store.
Among the contenders, you'll find well-known apps like Judge.me, Kudobuzz, Vitals, and hidden gems like Monimo and TrustMary. Each app brings its flair, offering unique elements and interfaces to engage consumers. No matter your choice, you're in for a win ?.
Plerdy, your trusted partner in e-commerce, has yet to turn any stone in this thorough comparison. So, whether you're just starting out or looking to up your game with automated functions, you'll find the perfect fit for your Shopify store. Now's the time to explore these beautiful apps and select the one that suits your needs.
Don't sit on the fence – dive into our detailed analysis and learn how to build a better customer shopping experience. Give Plerdy a try and see the difference it can make in your online store's success. Ready, set, grow! ?