Are you looking to turn your WordPress website into an eCommerce powerhouse? If so, you're in the right place! We've scoured the internet to find the 19 best WordPress eCommerce plugins on the market. From shopping carts and payment processing solutions to inventory management systems, these WordPress plugins will take your website to the next level ?. Ready to get started? Let's dive right in and explore some of our top picks for WordPress eCommerce plugins!
How to Choose WordPress eCommerce Plugins
eCommerce plugins for WordPress are multifunctional extensions that provide additional opportunities for eCommerce website optimization and establish integration with other platforms. Developers usually choose specific ones depending on the company's specificity and consider the following aspects:
The eCommerce niche – Determines the type of services the platform will provide and select the WordPress plugin with the required functions.
Supported CMS version – Some extensions are compatible only with the latest WordPress version, so check it for updates.
Influence the speed of the eCommerce website – WordPress plugins usually decrease the loading time of web pages, and it's necessary to understand if their influence is not significant.
Plugin reviews – Study the users' feedback on working with extensions and analyze all objective pros and cons.
Plugin price – If the development budget has strict limitations, it's obligatory to choose WordPress plugins at an affordable cost.
Several installations – If users value the tool, it'll be confirmed by many downloads.
Reliability – The website's security is essential, so the WordPress plugin must ensure its eCommerce website is protected from hacks and has proper data storage (check it for an SSL certificate).
Plugin support – Customer services are obligatory to solve performance inconveniences instantly.
Welcome to the world of Plerdy (WP plugin), where reports are plentiful and data is abundant. With over 100 different types of reports available, you can easily analyze your eCommerce website's performance and use that data to make meaningful improvements. That means if you have an online shop on WordPress, you can benefit from Plerdy's powerful analytic tools. Whether it's tracking traffic sources or monitoring user actions, Plerdy has a report for every need—and they're all available at an affordable price! Plus, they offer a range of free options too, so even the most budget-conscious entrepreneurs won't miss out on their essential analytics. So don't wait any longer; get your hands on the reports that will revolutionize your eCommerce business today!
What Do You Need to Run a WordPress eCommerce Website?
If you are an entrepreneur looking to start your own online business, WordPress is an ideal platform for creating an eCommerce website. This powerful content management system allows you to easily create a sleek and professional website that caters to all of your customers' needs. But what do you need in order to run a successful WordPress eCommerce website?
The first essential component is hosting. In order to store the content and other information on your eCommerce website, such as product listings, payment options, and shipping details, you will need some type of web hosting service that supports WordPress. There are many different companies that provide this service so make sure to compare them carefully before deciding on one.
In addition to hosting services, another important aspect of running a successful eCommerce website is having the right WordPress plugins installed. For example, Plerdy could be a great plugin for user behavior analysis and eCommerce tracking.
4 Top WordPress eCommerce Plugins
Each listed tool was used for building many world-famous e-commerce websites such as Root Science, Porter & York, IKEA, and others. The WordPress plugins below are indispensable for creating modern platforms and significantly improve the platforms' structure and functionality.
Blair Williams founded a famous WordPress eCommerce plugin and established a company in Cedar City, Utah. The WordPress plugin integrates with other tools such as Elementor, Stripe, Zapier, and PayPal, proving its crucial role in building eCommerce websites. The primary plugin allows for several distinct possibilities, such as:
Automated mailing to inform customers
Membership gifting
Various payment gateways
The price for different service packages are between $179-$399 per year. Chris Lema, Membership Academy, Isitwp, Bluehost, and others used the plugin for getting efficient functions.

It's an open-source solution created by Mark Forrester, Magnus Jepson, and Adi Pienaar in San Francisco, California. Nowadays, it has 5+ million installations and more than 3,000 positive reviews. The platform includes various extensions with custom themes and functions for eCommerce websites, such as:
Merchandising
Store page enhancements
Fulfillment and dropshipping
Upsells and cross-sells
There are free and paid extensions (up to $299); the most popular are Bookings, Subscriptions, AutomateWoo, Min/Max Quantities, and others.

Pippin Williamson founded a famous eCommerce plugin for WordPress and a company with a headquarters in Hutchinson, Kansas. The plugin provides over 100 extra functions for the marketing platform and integrates with AffiliateWP, AWeber, Slack, and Dropbox. The most widely used features are:
Payment flexibility
Complete customer management
Unlimited file downloads
Secure data protection
Discount codes
Authoritative companies such as Spybot, WPforms, ProBlogger, and others trust the EDD and consider it an efficient solution. The price list includes several offers from $99.50 to $499.50 per year.

Brent Bellm, Eddie Machaalani, and Mitchell Harper founded this company in Austin, Texas. The WordPress eCommerce plugin is efficient for expanding businesses globally and locally. The agency has 2,800 technology partners in more than 150 countries. The crucial product features are:
Custom themes with built-in HTML, CSS, and JavaScript
Page visual editor
Digital wallets
Technical account management
Such organizations as Ben & Jerry's, Skullcandy, Black Diamond, Bliss, and Burrow use the plugin of BigCommerce. The pricing for the plugin depends on the platform's size and required functionality.
15 Additional WordPress eCommerce Plugins
Here, you can find other essential tools for improving online sales eCommerce websites and endowing them with particular functions. Each WordPress plugin is unique and can be used at different website development stages.

Syed Balkhi is the indispensable leader of the company in West Palm Beach, Florida. The founder started with free development platforms – OptinMonster and WPBeginner. Nowadays, MonsterInsights is a powerful eCommerce plugin for WordPress, perfectly integrated with Google AdSense, WooCommerce, Contact Form 7, etc. Its functions include:
Form conversion tracking
EU compliance (GDPR)
Search console report
Behavior and custom dimensions report
Webgains, DesignToFade, Parts Warehouse, Gale, Yanko Design, and other brands successfully use the WordPress plugin. The annual rates for several feature sets are $99.50-$399.50.

The free eCommerce WordPress plugin was developed by Ademti Software, a British company specializing in creating marketplaces with an office in Carlisle. The unique characteristics of the tool are:
Gathering the clients' data during the order
Sending cart recovery emails
Tracking cases of people stopping purchases after adding products to the cart
Generating discount codes
The agency established partnerships with HelpDigital, Siroop, and Pay With Ether to help customers implement essential functions.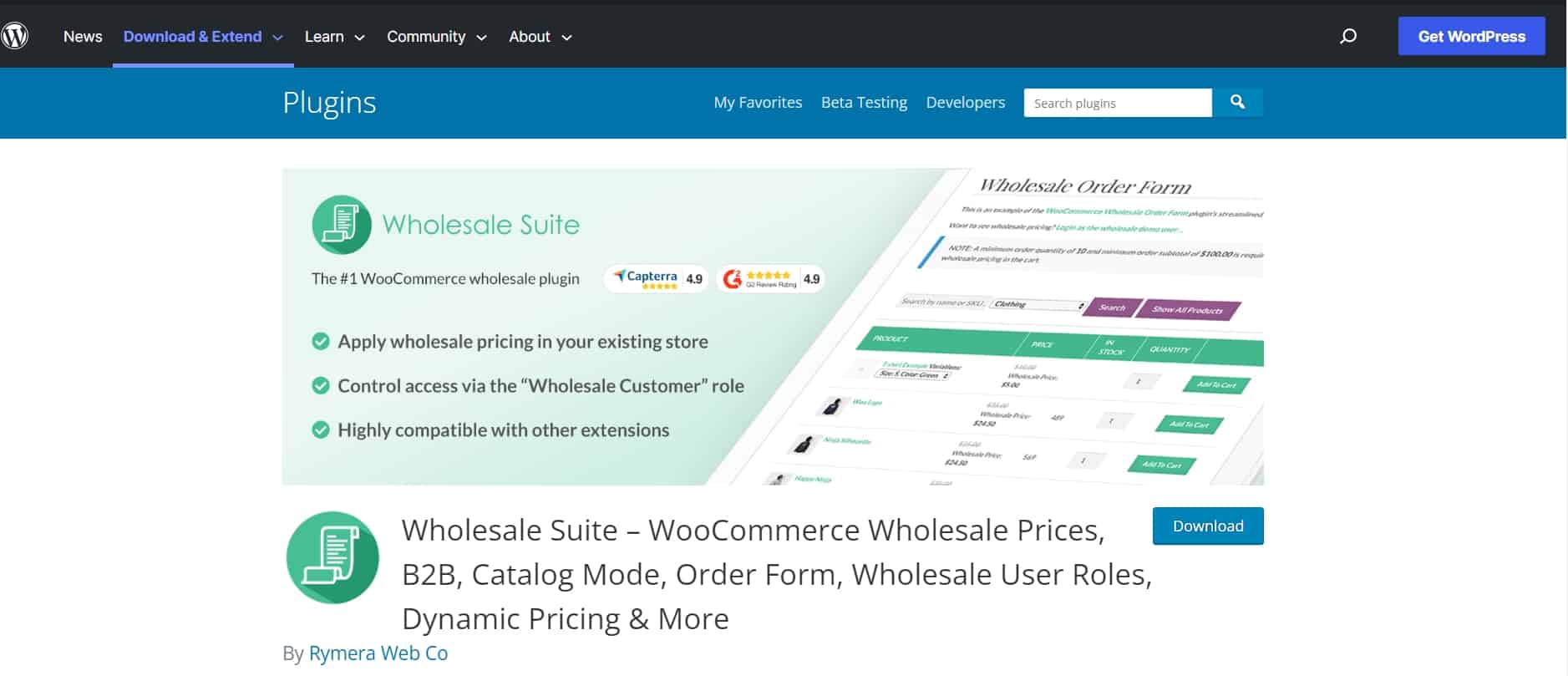 Josh Kohlbach, an Australian entrepreneur, founded the WordPress plugin that beautifully integrates with WooCommerce, Metorik, Advanced Coupons, Aelia Currency Switcher, etc. Its fantastic ordering experience, recruiting, and setting price opportunities are why millions of websites worldwide use it. The following functions become possible with the plugin:
Shipping & payments
Specific ordering form
Product visibility
The top WordPress eCommerce plugin is featured on Forbes, WP Mayor, Business.com, etc. Additionally, there are two bundles for purchase – Growth ($148.50) and Business ($298.50).

Jared Atchison and Syed Balkhi are the founders of a famous plugin. It provides multiple custom online forms for eCommerce website development and doesn't require proficient programming knowledge. More than 5 million customers installed it to acquire the unique form templates for:
Registration
Surveys
Payments
Contacts
Its Drag & Drop Form Builder, PayPal, Stripe Addons, and mobile-friendly structure are why global organizations download the tool. However, the price for four different plugin packages is different – from $39.50 to $299.50.

A WordPress plugin for eCommerce is a must-have if implementing social media promotion founded by Dustin W. Stout. Its functionality is based on placing buttons for sharing in one of the following networks:
Facebook
Twitter
Pinterest
LinkedIn
WhatsApp
Hacker news
It allows the button to be placed under or above the content. The WordPress plugin's implementation increases the number of eCommerce website visits, potentially improving the conversion rate and sales.

It's one more WordPress plugin founded by Syed Balkhi that increases the website's conversions to 15%. The plugin is installed easily and provides crucial functions that quickly bring visible results:
Action messages
Analytics and conversion notifications
Popular visitor activity
The eCommerce plugin for WordPress perfectly works on popular platforms such as PrestaShop, Drupal, Magento, Weebly, Blogger, and others. Its cost is from $5 to $39 per month.

Ben Chestnut is a founder of an efficient plugin with an excellent WooCommerce integration installed 700,000+ times. It gives the developers the following possibilities:
Sync to the audience with purchase data
Set up marketing automation
Track and segment customers considering the purchase history
Install a pop-up form converting visitors to subscribers
It's a free WordPress plugin downloaded by world-famous firms that improved their online performance with its help.

It's the latest payment solution that allows expanding the activities by connection to 370m+ active PayPal accounts. The installers offer the possibility to:
Sell in multiple markets using all possible currencies
Introduce country-specific payment methods
This free WordPress eCommerce plugin was installed 400,000+ times, proving its efficiency and relevance.

It was built by TemplateInvaders to provide efficient features to more than 100,000 users:
Adding the wishlist button to product pages and catalogs
Shortcode and predefined icons for the button
Redirection to a wishlist page
LifeQuality, Marand Gold, and other authoritative companies prefer using the tool to improve the user experience and satisfy the clients' needs.
Damian Gora, a Polish marketer and full-stack developer, created a top WordPress eCommerce plugin with the particular instant suggestions:
Pre-built search results display.
Search by title, long and short description.
Grouping SERP results.
Ordine Design, Crocodile Baby Store, AC Distributors, and NN Hair & Beauty are those who permanently use the free WordPress plugin.

This official extension was founded by an American shipping company created by Larry Hillblom, Robert Lynn, and Adrian Dalsey. It allows the customers:
Deliver orders by Warenpost International
Multiple shipping options (visual check of age-available with API)
Bulk label creation
The tool provides retail activities worldwide with a unique and well-elaborated shipping system.

The best eCommerce plugin for WordPress was created by Polish developers Maciej Swoboda and Krzysiek Dyszczyk, founders of WP Desk. It provides the following features for special field templates:
Labels and placeholders
Showing or hiding fields
Required or optional fields
Custom CSS class
There are free (Phone, Checkbox, URL, Headline, HTML) and paid (Select, Date, Time) fields for WooCommerce checkout.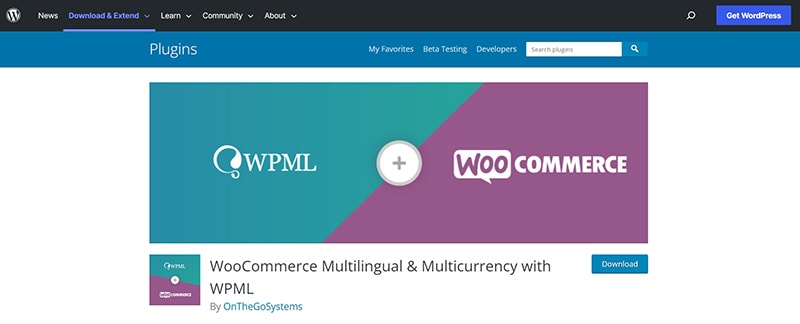 It was created by Amir Helzer, CEO of an OnTheGoSystems IT consulting company in Hong Kong. The WordPress plugin's functionality is the following:
Translating products, reviews, URLs, and endpoints with Google Translate, Microsoft, and DeepL
Using the same language during the user's purchase
Sending messages to admins and clients considering the language of their country
The automatic translation management makes the free eCommerce WordPress plugin one of the most efficient for the CMS.

The company that created the plugin uphold values such as commitment to customers, ownership, and constant improvement that engage clients worldwide. The core features of the plugin are:
Product input fields
PDF invoicing and packing slips
Button and price labels
The plugin is trusted by 100,000+ eCommerce websites and has over 400 5-star reviews on WordPress.

One of the best WordPress eCommerce plugins was founded by Louis Reingold, CEO of Soflyy. The plugin has the following features:
In-depth support for variable products
Import external/affiliate products
Execution of custom PHP functions
Import XML to WooCommerce
A large number of installations and more than 200 positive reviews confirm the high efficiency of the tool.
To Sum Up
The 19 best WordPress eCommerce plugins offer a wide range of features to create the perfect online store. There is something for everyone, from free plugins to more feature-rich commercial ones. Depending on your needs, you can choose the right plugin that meets all your requirements. With these plugins, you can easily create an effective eCommerce website and reach a larger audience. These WordPress plugins also support global payments and offer customer profiles and order-tracking features.