Unlock the full potential of your WordPress website with the help of Google Analytics. ? Gain valuable data insights into your website's goals and identify areas for improvement with the top 12 Google Analytics plugins for WordPress. ? From tracking visitor behavior to generating reports, these plugins make it easier for you to achieve your website's goals and objectives. Whether you're a beginner or an experienced user, these plugins offer a range of features to enhance your website's analysis capabilities. So, gear up to elevate your website's performance with the best GA plugins for WordPress! ?
Google Analytics: A Must-Have Tool for Your WordPress Website
Google Analytics UA and Google Analytics 4 is a free online application that provides valuable insights into your website traffic and audience behavior. Installing a Google Analytics plugin on your WordPress all page of website is a simple process that can profoundly impact your online business's success. Here are 6 reasons why you should consider adding Google Analytics to your WordPress site:
Real-time Metrics – Google Analytics tracks a wide range of metrics in real-time, allowing you to see what's happening on your site at any moment.
Pageviews – The number of times your web pages are viewed gives you a clear picture of what content is popular on your site.
Session Duration – Track the amount of time a visitor stays on your site to determine the engagement level of your content.
Bounce Rate or [GA4] Engagement rate – Knowing the bounce rate of specific pages can help you develop strategies to keep visitors on your site.
Pages Per Session – The number of pages per visitor session can give insight into how well your site navigation works.
Social Overview – Track the number of visitors acquired from social media campaigns and sharing of your WordPress posts on sites like Facebook, Linkedin and Twitter.
Benchmarking and Adwords Campaigns – Compare your site's performance to industry averages and track your Google Ads campaigns' effectiveness by linking your Ads account to your website profile in Google Analytics.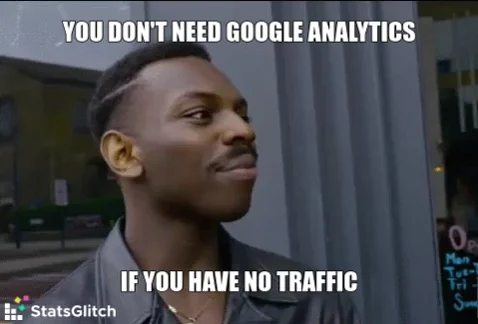 Adding Google Analytics to WordPress website is a simple yet powerful way to gain valuable data about your audience's behavior and improve your online business's success (events, goals, or eCommerce tracking). Whether you're an experienced webmaster or just starting out, Google Analytics is a must-have tool that should not be overlooked. You can also try the WordPress plugin Plerdy, which automatically adds a tracking code for eCommerce tracking.
List of Top 12 Google Analytics Plugins for WordPress
Here, you can find the list of the best Google Analytics plugins for WordPress and learn the primary qualities that confirm their practicality. Each online instrument is unique and may help create different web products.
Introduction to MonsterInsights – The Google Analytics Plugin for WordPress

MonsterInsights is the most popular Google Analytics plugin for WordPress, with over 3 million active installs. It is an easy-to-use and powerful plugin that allows you to track your website's channel traffic, giving you the insights you need to confidently grow your business. MonsterInsights is trusted by top companies like Microsoft, Bloomberg, FedEx, Yelp, Subway, and many more small businesses.
Pricing Options
MonsterInsights Lite (Free)
MonsterInsights Pro ($199.50 per year)
Reviews
Pros: Easy to set up, customizable reports, real-time stats, and improved website performance
Cons: Limited features in the free version, some users have experienced compatibility issues with certain themes
Effortless Google Analytics Setup
Setting up Google Analytics can be a complex and time-consuming process, but with MonsterInsights, you can enable all advanced Google Analytics features with just a few clicks. The plugin takes care of all Google Analytics updates, including the latest GA4, so you don't have to worry about staying up to date.
Google Analytics Dashboard + Real-Time Stats
MonsterInsights provides a built-in Google Analytics dashboard for your WordPress site, allowing you to view all useful information about your visitors right inside your WordPress dashboard. This eliminates the need to navigate away from your site to access your analytics data and provides real-time stats to help you make informed decisions to grow your business.
MonsterInsights makes it easy to setup Google Analytics in WordPress, providing a simple solution for tracking your website's traffic. With the built-in dashboard and real-time stats, you can confidently make informed decisions to boost your business.
Google Analytics Plugin for WordPress: ExactMetrics

ExactMetrics is a powerful Google Analytics dashboard for WordPress that allows website owners to setup all the tracking features without having to write code or hire a developer. ExactMetrics is a well-liked option for companies looking to enhance their internet presence. More than a million satisfied people utilize it.
Pricing
ExactMetrics is available in both a free and premium version. The free version provides a comprehensive set of features. In contrast, the premium version, ExactMetrics Pro, includes advanced features such as events tracking, ecommerce tracking, custom dimensions tracking, form conversion tracking, affiliate link tracking, and more. ExactMetrics Pro can be purchased for $99.50 per year.
Reviews
One business owner called ExactMetrics "absolutely, positively, one of the top plugins to install on your WP site." They said that "there is no better way to quickly gauge traffic for spikes, surges, and consistency." Another user was unhappy with the setup process and felt it needed to be simplified.
It is the best plugin to install on your WP site – Daniel Monaghan, Founder of Experienced.
Their Clients
ExactMetrics has been adopted by big-name companies such as Microsoft, Quickbooks, Pizza Hut, Delta, Pepsi, and Coldwell Bankers, among others. These companies appreciate the ease of setup and the comprehensive tracking features that ExactMetrics provides.
For those wishing to watch their Google Analytics data in WordPress, ExactMetrics is a fantastic option overall. With the option for a free version and comprehensive tracking features, ExactMetrics is accessible to businesses of all sizes.
Overview: Analytify – Google Analytics Dashboard for WordPress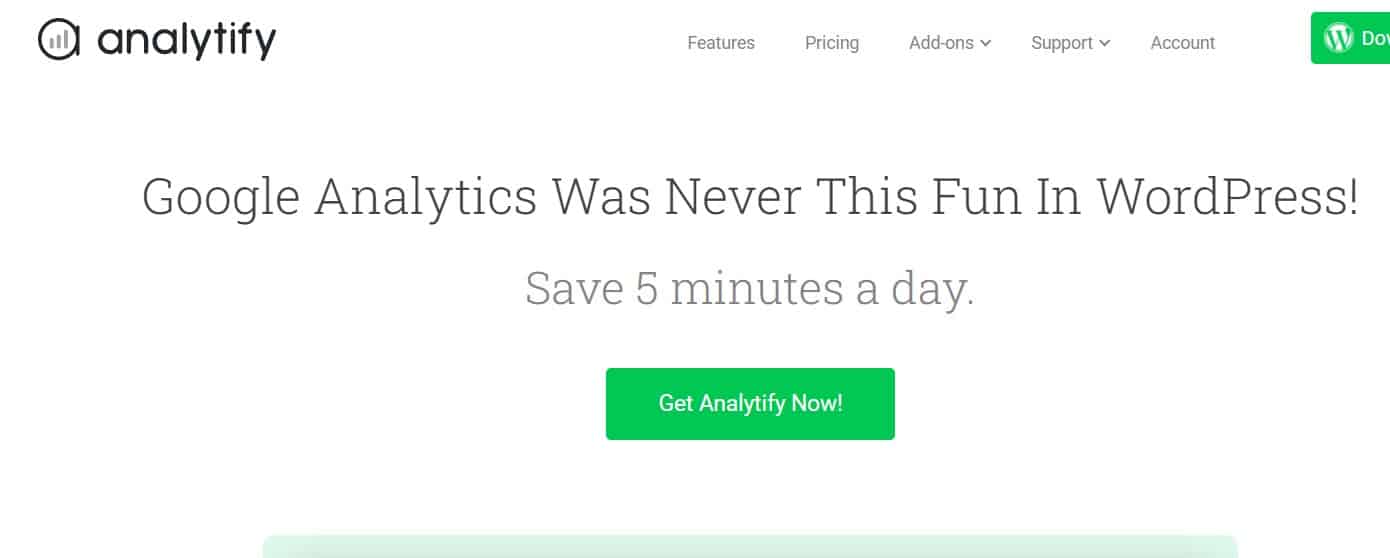 Do you want to log into multiple platforms to track your website analytics? Then, look no further than Analytify, the Google Analytics Dashboard Plugin for WordPress. This plugin is designed to make it easy for everyone using WordPress to keep track of their website analytics. With a simple integration process and a user-friendly interface, Analytify presents Google Analytics data in a beautiful and actionable way.
Pricing:
Free Version: Visitors, Page views, New vs. Returning Visitors, Top Pages, Geographic data, and more
Pro Version: starting from $39/year with advanced features including Real-Time Stats, Campaign Stats, ShortCodes, Front-end Stats and more reports in the backend and front-end, better ecommerce tracking, and campaign management. Bundle prices with Add-ons are also available.
Reviews:
A like: The Pro version is easy to install and provides a wealth of advanced features that make tracking website analytics a breeze.
A dislike: Some users have reported difficulty setting up the integration with Google Analytics, although the company provides a video guide to assist.
The integrations with Google Analytics perform excellently – Devin Walker.
Analytify is one of the few WordPress analytics plugins that is a Google Analytics Technology Partner, meaning it is carefully tested and vetted for top-notch support. With its user-friendly interface and powerful features, it's no wonder Analytify is trusted by numerous clients across various industries. So, whether you are just starting out with tracking your website analytics or looking for a more robust solution, Analytify has covered you.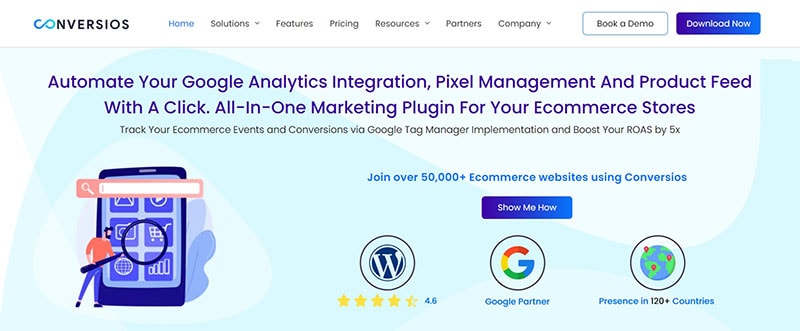 Conversios.io's Google Analytics Plugin offers a comprehensive solution for tracking e-commerce events and conversions on platforms like Google Analytics 4, Google Ads, Facebook Pixel, Snapchat, Pinterest, Tiktok, and more. With the help of Google Tag Manager, this plugin helps you build engaged audiences, track ROAS performance, and automate your product feed to Google Merchant Center for high-performing Google Shopping campaigns.
The plugin boasts an interesting amalgamation of analytics, pixel integrations, product feeds, and an insights dashboard. It offers a range of features, including one-click Google Analytics e-commerce tracking automation and a Google Analytics reporting dashboard inside your WordPress admin panel. Additionally, the plugin supports Google Ads Remarketing and Conversion Tracking, Meta Pixel integration for Facebook and Instagram, and even Facebook Conversion API integration for further e-commerce optimization.
Price
A single-site license costs $79 per year, while a five-site license costs $129 per year. For those needing more advanced features, the Pro version is available for $149/year for a single-site license and $199/year for a 5-site license.
Review
The plugin has received nice reviews from its clients, with one saying, "This plugin has made it so easy for us to track all of our e-commerce events in Google Analytics. The integration with Google Tag Manager (GTM) and Google Analytics is seamless, and the reporting dashboard inside WordPress is a game-changer." On the other hand, one downside mentioned by a user is the lack of support for non-WooCommerce shops.
Conversios.io's Google Analytics Plugin is trusted by thousands of happy customers, including big names like Levi's, Nestle, and Philips. With its all-in-one approach to e-commerce marketing, this plugin is the ultimate solution for your WooCommerce store's needs.
GA Google Analytics: The Ultimate Google Analytics Plugin for WordPress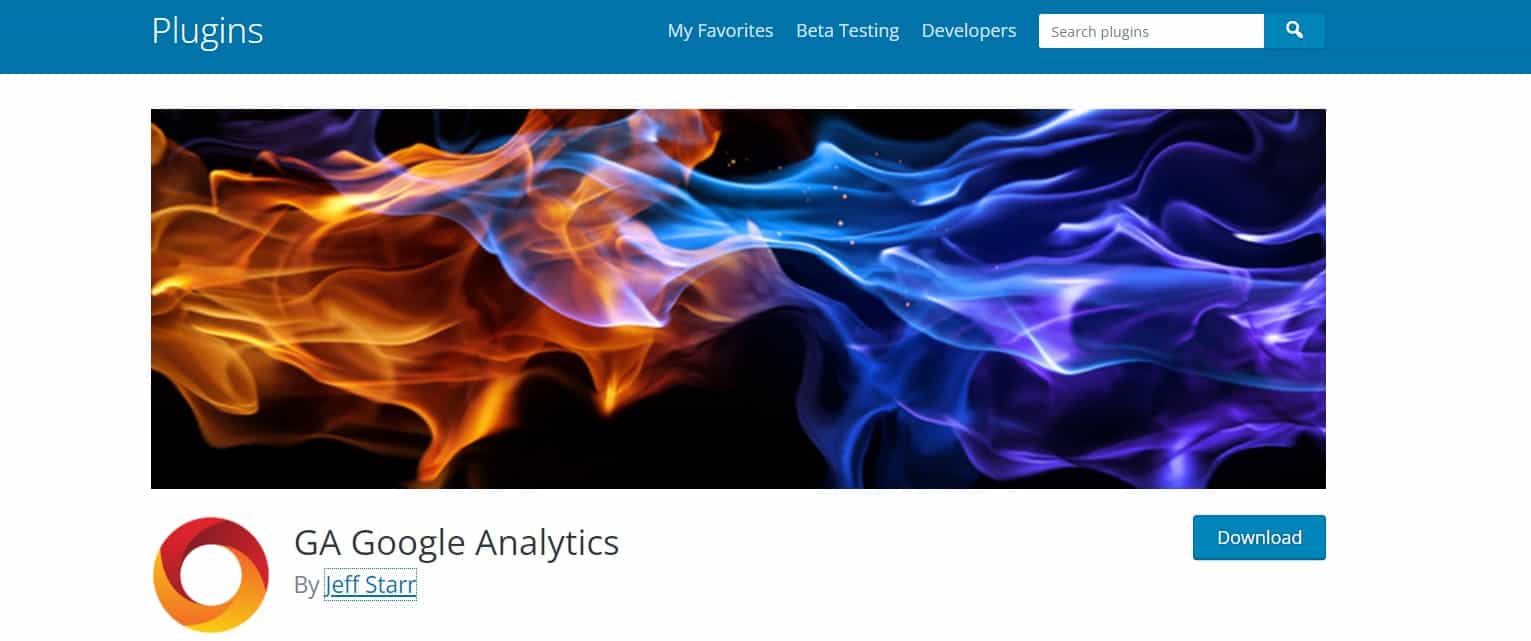 GA Google Analytics is a comprehensive and highly customizable Google Analytics plugin for WordPress that helps you track and analyze the performance of your website. Developed by Jeff Starr, a 15-year WordPress developer, the plugin enables you to easily connect GA to your WordPress website.
Features
Supports Universal Analytics / analytics.js and Global Site Tag / gtag.js
Supports Google Analytics 4
Blazing fast performance
Easy to use and customizable
Regularly updated and future-proof
Includes tracking code in header or footer
Option to disable tracking of admin-level users
Works with or without Gutenberg Block Editor
Pricing
GA Google Analytics is free, with the option to upgrade to the Pro version for more advanced features and priority support. The Pro version is for $29/per year.
Reviews
Users of GA Google Analytics have praised its ease of use, fast performance, and regular updates. One reviewer commented, "This plugin is a game-changer for tracking Google Analytics on my site. It's lightweight, fast, and provides a ton of customization options." However, some users have reported difficulties setting up tracking for certain features.
Support and Development
Jeff Starr developed and maintained GA Google Analytics with love for the WordPress community. To show support, you can donate or purchase one of his books. Additionally, the plugin includes inline help and documentation for a seamless user experience.
GA Google Analytics is a great choice for those looking to track and analyze their website's performance with Google Analytics. With its easy setup, fast performance, and comprehensive features, you can get the most out of your Google Analytics account.
Site Kit by Google – Analytics, Search Console, AdSense, Speed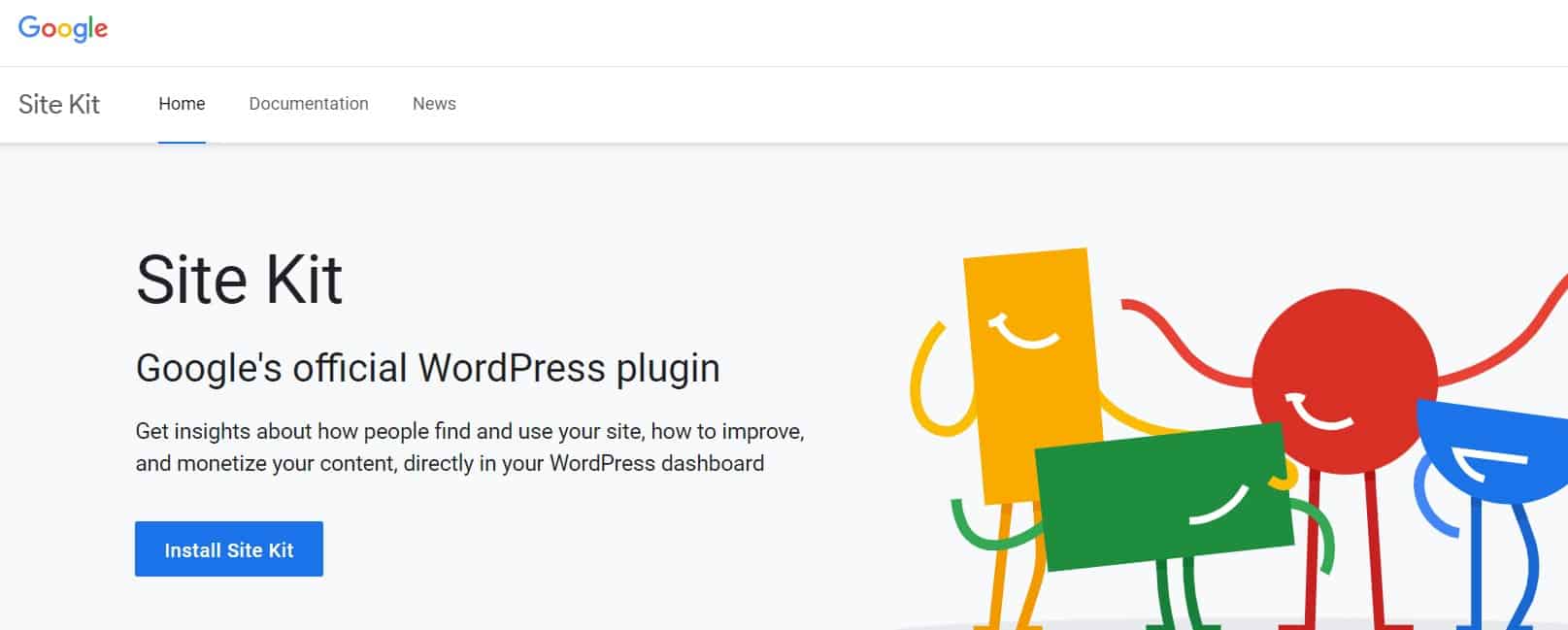 Site Kit is the official WordPress plugin from Google that provides site owners with insightful data about how users interact with their sites. This one-stop solution integrates critical Google tools into the WordPress dashboard for easy management and access. With Site Kit, you can manage multiple Google products and track key metrics without editing your site's source code.
Bringing the Best of Google Tools to WordPress
Site Kit makes using Google products more convenient and user-friendly by offering the following benefits:
Accessible stats directly on the WP dashboard
Insights from multiple Google tools, all in one place
Quick setup for multiple Google tools
Metrics for your entire site and individual posts
Manageable, granular permissions across WordPress and Google products
This is the best way to connect GA – James Osborne.
Supported Google Tools
Site Kit provides essential insights from various Google products, including:
Search Console: track your site's visibility and performance on Google Search
Analytics: monitor user navigation and track goals for user engagement
AdSense: keep track of your site's earnings
PageSpeed Insights: evaluate your site's performance and receive optimization tips
Tag Manager: set up and manage tags with ease
Optimize: run A/B tests to improve user experience
Is Site Kit Free?
Yes, Site Kit is free to use and offers a wide range of features for site owners.
Contributors & Developers
Site Kit is open-source software, and Google has contributed to its development along with other contributors.
Site Kit by Google offers a comprehensive solution for site owners to manage and access essential data from multiple Google products directly on the WordPress dashboard. Site Kit is a useful tool for digital marketers that want to improve their website because it is easy to use and fits together well.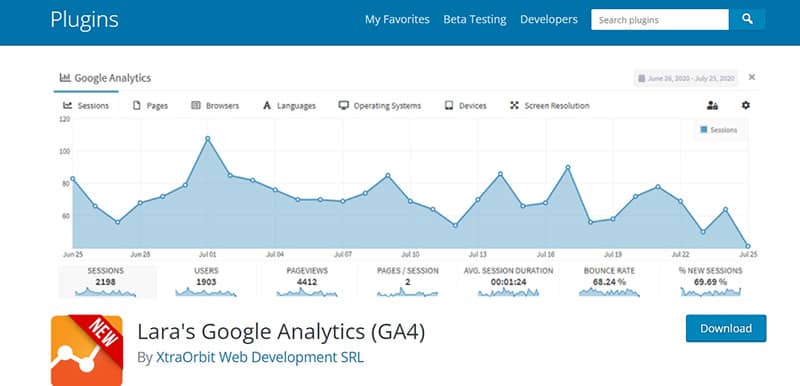 Looking for a reliable way to integrate Google Analytics into your WordPress website? Look no further than Lara's Google Analytics (GA4) plugin. Developed by XtraOrbit Web Development SRL, this plugin is available in your preferred language, including Russian.
With its easy setup and full-width admin widget, Lara's GA4 offers an abundance of features to help you monitor and improve your website's performance. You'll have quick access to important Google Analytics metrics like active users, sessions, and bounce rate and valuable visitor data like device types, languages, and operating systems.
Suppose you're looking for even more features. In that case, the premium version of Lara's GA4 offers a range of benefits, including 12 months of free updates and support, multi-site capabilities, and enhanced eCommerce graphs for WooCommerce. With this premium version, you'll also have access to real-time site visitors, traffic sources, and operating system versions, among other valuable metrics.
Overall, Lara's GA4 has received mostly positive reviews from its users, with one reviewer praising its "stellar coding with up-to-task always working features." However, some users have experienced issues with certain properties not appearing in the plugin or losing authorization after updates.
Whether you're a small business owner or a seasoned web developer, Lara's Google Analytics (GA4) plugin is a powerful tool to help you better understand your website's performance and drive growth.
Introduction to Analytics Cat – GA Made Easy

Fatcat Apps has developed an innovative solution to integrate Google Analytics with WordPress sites – Analytics Cat – Google Analytics. The plugin is designed to provide a lean, fast, and simple way of adding Google Analytics/ Universal Google Analytics code to a WordPress site. The plugin makes it effortless for users to add Google Analytics to their website within just a few minutes without compromising on website speed.
Pricing
Analytics Cat – Google Analytics is a free plugin.
Reviews
One of the users liked the simple yet effective approach of Analytics Cat – Google Analytics, which made adding Google Analytics to the website effortless.
On the other hand, one of the users disliked the lack of advanced features compared to other Google Analytics plugins available in the market.
The products and customer services of Fatcat Apps are so stellar that I went ahead and bought everything – Norianne Browder.
Their Clients
Analytics Cat – Google Analytics has been used by multiple small and large businesses to add GA to their WordPress sites and track website performance.
Features of Analytics Cat – Google Analytics
The plugin allows users to easily add the Google Analytics (Universal Analytics) tracking code to their WordPress site. It provides the option to hide the tracking code from logged-in users so the data remains unaltered. Additionally, it supports Universal Analytics and is easy to translate.
Analytics Cat – Google Analytics is a perfect choice for marketers looking for a reliable, simple, and fast Google Analytics plugin for their WordPress site. The plugin's dedication to Google Analytics and its compatibility with Universal Analytics make it an ideal solution for tracking website performance.
Share This Google Analytics Dashboard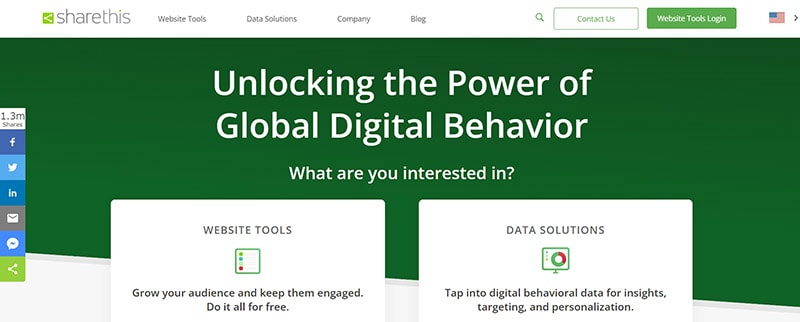 A powerful plugin that seamlessly integrates with your WordPress dashboard, the ShareThis Dashboard for Google Analytics offers you real-time measurements and insights to help you better comprehend and improve the operation of your website. This plugin makes tracking and evaluating visitor interaction simple and obtaining comprehensive information on page views, visitors, pages per session, and bounce rate.
Pricing
There are no hidden costs, monthly charges, or upgrade fees associated with this plugin.
Reviews
Users of the ShareThis Dashboard for Google Analytics have given it high marks for being user-friendly, mobile-optimized, and including a GDPR Compliance Tool for EU compliance. However, some users have complained that using and comprehending some of the more sophisticated capabilities is challenging.
Features
Compatible with Google Analytics 4 and Universal Analytics (GA4)
Current statistics and visitor trends
Information about the top pages and sources of traffic
Data about the gender of the device and your dashboard
The choice to turn off monitoring for any role (e.g., Admins, Editors)
Mobile-optimized for simple access while traveling
Sign up for a free Google Analytics account now
Support
Please email ShareThis at sup[email protected] if you have any questions or need assistance.
You acknowledge and accept the Privacy Policy and Terms of Service by downloading and installing the ShareThis Dashboard for Google Analytics. ShareThis also provides a wide range of additional resources and features, such as share, follow, and reaction buttons, to assist you in expanding your website.
BeeHive Analytics – A Comprehensive Google Analytics Dashboard for WordPress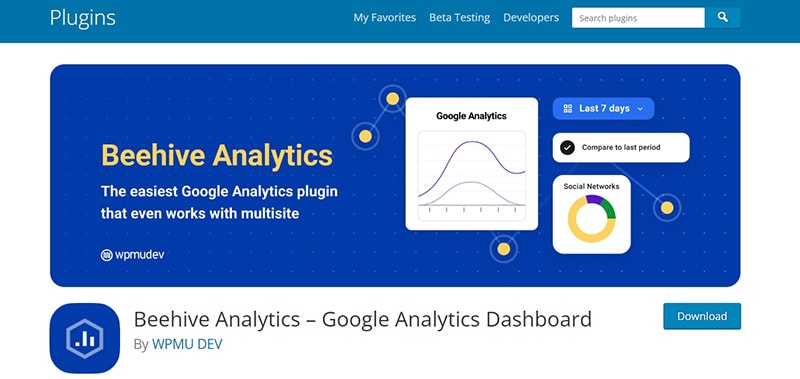 Do you want to avoid juggling multiple tools to track your website's performance? Look no further than BeeHive Analytics, a premium Google Analytics dashboard for WordPress. Developed by WPMU DEV, BeeHive offers a convenient solution for website owners to view and analyze visitor data in one place.
Affordable Pricing Options
BeeHive offers several pricing options to fit the needs of any business:
Free: Enjoy basic analytics features for free
Pro: Access to advanced analytics and integration with GTM for $7.50/month
Business: Advanced features and custom capabilities for $24.00/month
Positive User Reviews
Many users praise BeeHive for its user-friendly interface and reliable performance. Some users also appreciate the added security measures, such as IP anonymization, to protect user privacy. However, some visitors have reported issues with slow load times and limited customizability.
A Decade of Analytics Expertise
BeeHive has been providing top-notch analytics solutions for over a decade. It has consistently ranked among the top 10 WPMU DEV premium plugins for downloads and active installs. With its easy setup, Google Tag Manager integration, and customizable reports, BeeHive is a smart choice for data-driven decision-making for bloggers, small businesses, e-commerce sites, and enterprise networks.
BeeHive Analytics will make your WordPress experience better and give you valuable information about how your website is doing right now.

As a website owner, it's important to know exactly how people use your site. That's where the Simple Universal Google Analytics plugin comes in. This plugin, made by naa986, makes it easy to turn on universal tracking for your WordPress site. All you need to do is enter your tracking ID in the plugin settings.
Universal Analytics: An Upgrade to Google Analytics
Universal Analytics is the new and improved operating standard for Google Analytics. It provides a better data collection and organization system, helping you understand how users interact with your content.
Features of Simple Universal Google Analytics
Easy activation of universal tracking with just your tracking ID
Connect multiple user devices
More accurate user count
Access to cross-device reports
Custom dimensions and metrics to collect data specific to your business
Automatically detect popular search engines and attribute organic search traffic
Control session and campaign timeouts
Exclude referral traffic from certain domains
Reviews of Simple Universal Google Analytics
The Simple Universal Google Analytics plugin has received positive user reviews, with many praising its lightweight and straightforward nature. Some users have even referred to it as "genius" and "easy as pie." However, there have been a few negative reviews, with some users reporting that the plugin stopped working after the 5.5 updates and hasn't been updated in over six months.
Overall, the Simple Universal Google Analytics plugin is an excellent tool for website owners looking to gain insights into their site's performance. Whether you're a seasoned pro or just getting started, this plugin is a must-have for your WordPress website.
To Sum Up
Incorporating Google Analytics into your WordPress website is a breeze with the right plugins. There's a plugin for everyone from the default options to advanced customization. With just a few clicks, you can check your website's performance, display important metrics on your dashboard, and even hook into filters and methods to make changes. Our recommended plugins not only provide the necessary tracking parameters but also offer translation support and comply with GDPR requirements. If you want to step up your game, consider downloading a plugin with added features like auto-tracking, minimum user engagement, and even the ability to uninstall easily. For a visual guide, be sure to check out the numerous Youtube tutorials. In the end, we give a big thank you to all the plugin developers for making it easy for us to replace the default tracking method with a much better one.