Have you ever put yourself in your customers' shoes? 👞🧐 To generate more sales, you need to ensure your buyers get the maximum satisfaction from dealing with your business. Therefore, you must be well aware of your customer experience, its strengths and weaknesses. The customer experience (CX) is the sum of all customer interactions with a company. From the time they first hear about the product or service to when they make a purchase and even after becoming a customer –  customer experience encompasses every interaction 😎
Customer experience platforms help companies manage those interactions and create better customer experiences. For example, a customer experience platform tracks all customer interactions, regardless of where they happen – on social media, the company website, phone, etc. It then compiles that data into reports showing how customers interact with the company and what areas need improvement.
Today, many customer experience platforms are available on the market, each with its unique features. With these powerful tools at hand, businesses can ensure they provide their customers with excellent service.
How a Customer Experience (CX) Platform Helps Your Business
Delivering a great customer experience is essential for businesses today, especially for eCommerce niches. Still, knowing where to start or how to track and improve your website pages can be difficult.
A customer experience platform can help you easily track and improve your customer experience. With platform features like surveys, feedback forms, and analytics, you can see how customers interact with elements on the website pages, depending on the traffic channels (Referral, Direct, Paid, Organic search).
With a custom experience platform, organizations can also monitor customer engagement over time and track metrics, such as customer loyalty levels. Additionally, companies can generate reliable customer feedback ratings, allowing them to promptly identify any issues or areas that require improvement. All in all, customer experience platforms provide intelligent support systems and access to invaluable information. Thus, businesses can save valuable resources in providing exemplary customer experiences.
How to Choose a Customer Experience Platform?
When it comes to choosing the right platform for your customer experience management needs, there are some key factors to consider. First, you should develop a clear understanding of what it is that your customers need and how you can best satisfy these needs. Not all platforms provide the same features or cater to the same requirements. Second, check reviews on g2.com or capterra.com of all the best customer experience platforms out there and compare.
Third, consider both cost and scalability when selecting a platform. It's important to find one that will be able to keep up with your growing business. Finally, evaluate software integration options to ensure you can seamlessly integrate existing tools with the new platform. Also, take some time to watch tutorials or intro videos made available by the platform. This is a great way to visualize and learn more about various features and benefits that match up with what you're looking for. Tutorials will give you a behind-the-scenes look so you know exactly what capabilities are available.
List of Top 12 Customer Experience Platforms
This list of the top 12 customer experience platforms provides a comprehensive overview of the wide range of possibilities available to companies when it comes to selecting a customer experience strategy. The platforms offer various features and capabilities that enable businesses to design, manage and track the success of their customer experience initiatives. From customer feedback surveys and multi-channel support systems to advanced analytics and automated communication tools, these platforms are invaluable for optimizing customer engagement.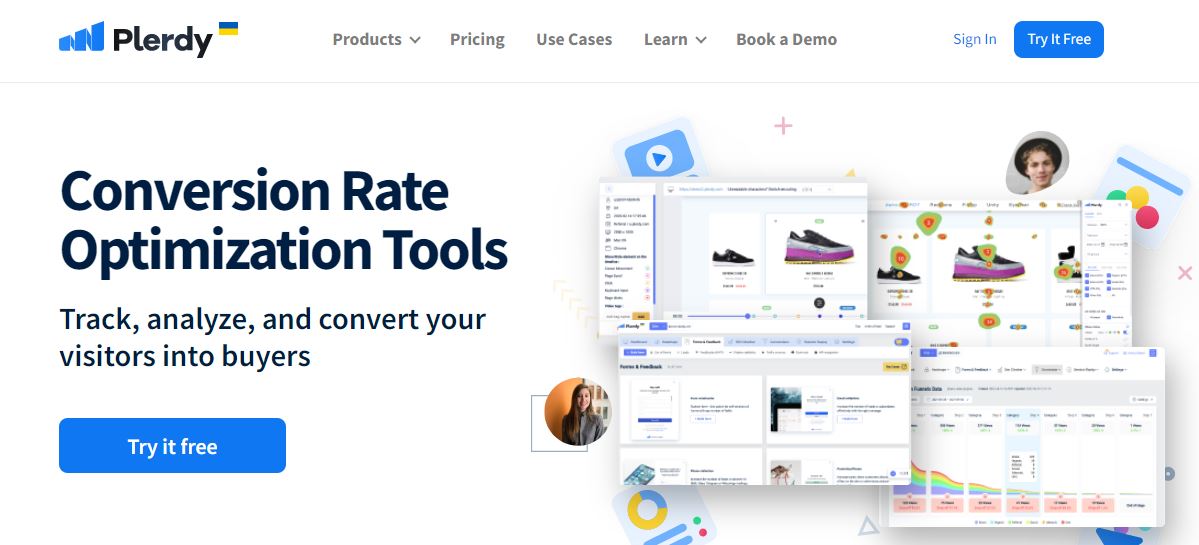 Plerdy is a customer experience (CX) platform that helps businesses understand and improve the customer journey. It enables this by tracking all user interactions with a website and providing real-time feedback.
Businesses can then use that data to make changes to their website quickly and efficiently, leading to improved conversions and customer satisfaction.
Additionally, Plerdy offers popup forms, event tracking, and conversion funnel analysis, among other features, to help businesses get the most out of the customer experiences on their website.
Among the companies using this customer experience platform, you'll find:
Softserve
Huggies
Honda
Subaru
Kredo Bank
Reviews of Plerdy taken from G2
What do you like best?

What I like the best is the simple tool it is. First of all, the integration is as easy as copying and pasting a small snippet in the head of my site. Once this is done, you are ready to go and enjoy an excellent experience knowing your users.

What do you dislike?

I use Brave Browser as my daily browser, and I've found that Plerdy doesn't work with it. As a solution, I had to install Google Chrome just to use Plerdy. I have no issues with this, but it would be great if it worked with any browser in the market.

Hernan G., Scrum Master

Satmetrix helps your team leverage text and speech analytics to improve customer experiences across channels. For example, with sentiment analysis, you can bring context to conversations and discover patterns in customer feedback for more personalized service.
The platform combines direct, indirect, and operational data to help you identify gaps in service and empower your team to improve agent performance. By leveraging customer feedback, you can eliminate friction and ensure everyone's expectations are met.
Among the companies using this customer experience platform, you'll find:
Exchange bank
Bobst
Pepco
Pulse Secure
Bluegrass Cellular
Reviews of Satmetrix taken from G2
What do you like best?

Satmetrix is the industry leader when it comes to NPS; they invented it. The platform allows us to integrate with Salesforce and automate our customer touchpoints. This then feedback into dashboards and alerts, which go to the right department so we can close the loop.

What do you dislike?

The only problem I have is that we don't have a UK-based account manager anymore. This isn't any slight on our current account manager; I just had a very good relationship with my last account manager before he was relocated during the Nice/Satmetix merger.

Carl L., Customer Insights Manager

IBM Tealeaf is a Customer Experience Management (CEM) platform that captures the website interactions of your customers, giving visibility into their online experience. With the help of this platform, businesses can optimize their website for better customer experiences. It provides various modules. For instance, cxImpact helps to convert data into searchable and replayable customer sessions. As a result, they will help you resolve the hidden struggles of the customer journey.
cxView, another module of IBM Tealeaf, provides a proactive warning system to alert businesses about the signs that indicate potential problems in customer service and website performance. This helps businesses to take proactive measures before the issue escalates.
Overall, IBM Tealeaf customer experience platform helps businesses to realize their true customer experience and optimize their website for better performance. It provides detailed insights into customer behavior, enabling them to take necessary steps to improve customers' experiences.

Clarabridge is the ultimate customer experience platform for collecting, understanding, and taking action on all forms of experience data. The customer experience software features powerful natural language processing (NLP) capabilities that help to accurately identify customer feedback, automate the creation of customer profiles, and track trends in customer sentiment over time.
Among the companies using this customer experience platform, you'll find:
SAMSUNG
Ferrari
Coca-Cola
Mastercard
Pinterest
Reviews of Clarabridge taken from G2:
What do you like best?

Measurement tools are pretty good for reporting. Being able to tag mentions for reporting and see what is trending. I do like the fact that the user's email field was added so that we can easily search the same location to look up an account.

I do like the fact about chat, and we are able to write and talk about problems. They are not always solved right away, but they always respond.

What do you dislike?

Instability with other agents. It seems like when we have four+ agents, it gets squishy, and we are always having to refresh or restart to see each other. A more streamlined UI in each mention so that we understand one mention at a time. I would like to see automation that allows our users to input their basic information so that it does not have to be requested.

Anthony B., Customer Care Agent

Medallia is a customer experience management (CEM) platform that provides businesses with actionable insights into customer behavior. It collects and analyzes data from multiple sources, such as websites, social media, call center recordings, surveys, and feedback forms. The customer experience platform features an analytics engine to provide real-time customer sentiment analysis and enable organizations to quickly identify opportunities for improvement. Medallia integrates with other leading CEM software solutions to offer advanced features that no standalone product can deliver. By leveraging the power of Medallia, businesses can create truly personalized experiences that foster loyalty and trust.
Among the companies using this customer experience platform, you'll find:
Seven Eleven
Sephora
Samsung
Mercedes-Benz
Four Seasons
Reviews of Medallia taken from G2
What do you like best?

Medallia is a great resource for gauging how your service is being received by your clientele. I have found the program to be useful in a wide assortment of scenarios, and we have found that it works well with Salesforce, which was a major concern.

What do you dislike?

One issue that we ran into, and I am hoping they have since fixed, is that they were reusing ID numbers when dealing with surveys. Since our import into Salesforce relied on that field to be unique, discovering that they no longer were made for some trouble with finding a viable solution.

David J., Salesforce Admin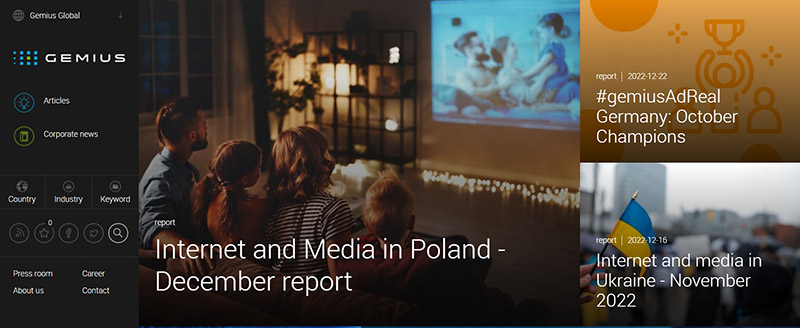 Gemius is a research and technology company that provides data and advanced tools for digital and traditional marketing activities. By leveraging its comprehensive solutions, companies can gain valuable insights into their customers' behavior and preferences to offer personalized services. Its web analytics, online campaign management, and ad serving enable marketers, advertising agencies, publishers, and eCommerce businesses to better understand their target audiences and optimize their campaigns for maximum return on investment (ROI). The Gemius customer experience platform also helps build customer loyalty, satisfaction, and retention by providing powerful analytic tools that help businesses make informed decisions quickly.
Reviews OF Gemius taken from G2
What do you like best?

Gemius provides the data any company needs for deciding its audience. It provides the consultation needed by any individual for growing their business. It makes sure that the data is correct and provides all the details at a minimal cost.

What do you dislike?

One problem with Gemius is that it doesn't have the data for all kinds of fields. It has huge and distinct data in some fields, whereas in others, it lacks that diversity.

EKANSH., Research Intern

Hubspot is a full-fledged customer relationship management (CRM) platform that helps businesses stay organized and connected with their customers. It features a suite of marketing, sales, service, and operations tools that provide a comprehensive view of the customer journey from initial contact to after-sales support. In addition, businesses can leverage Hubspot's powerful analytics capabilities to get insights into customer behavior, allowing them to understand customer needs and preferences better.
The platform also provides automated workflows that help streamline business processes, such as lead generation, customer onboarding, sales follow-up, and a content management system (CMS). Besides, Hubspot's AI-powered chatbot enables businesses to provide personalized and efficient customer service 24/7.
Among the companies using this customer experience platform, you'll find:
SoundCloud
Trello
Door Dash
Event Brite
Reddit
Reviews of Hubspot taken from G2
What do you like best?

My organization was able to use Hubspot to design new sales funnels, increase communication, and determine the best approach to communicate with our clients. It provides us with a wealth of information, not only about potential clients but also about our own internal procedures. Hubspot's most useful features are its lead management and ticketing system.

What do you dislike?

The number of contacts we have determines how many emails we can send. If we deliver a lot of them per month, we'll need to double our contact list only to send additional marketing campaigns.

Sanchit K., Director of Customer Success and Operations

OpenText is a leading enterprise information management (EIM) platform that helps businesses to streamline their processes and gain valuable insights into their customer and other stakeholders' experiences. It provides a comprehensive suite of tools for content management, business process automation, analytics, security, and AI-driven solutions.
OpenText also offers an enterprise-grade security framework that helps organizations protect their data and systems from malware, ransomware, and phishing attacks. Ultimately, the OpenText customer experience platform helps businesses become more agile and efficient.
Among the companies using this customer experience platform, you'll find:
Method
Hyatt
Coca Cola
L'Oréal
Heineken
Reviews of OpenText taken from G2
What do you like best?

This tool helps us to improve the level of productivity by providing a seamless experience. Also impressed with the Power Of AI use in OpenText and getting top-notch securities data protection.

What do you dislike?

Sometimes when we are trying to capture the stored content in the same folder am unable to perform it, which is irritating for us.

Ajay M., Assistant Manager

Contentsquare's unique features include web & app analysis, journey analysis, heat mapping, and troubleshooting. The web and app analysis via this customer experience platform allows businesses to track customer behaviors across devices, analyze their performance and engagement, and better understand their customers' usage patterns. Contentsquare's journey analysis helps businesses identify the most important pages on their websites and quickly take action to improve them. Additionally, its heat mapping feature provides an in-depth look into how users navigate their websites and pinpoint where they are getting stuck.
Furthermore, its AI-powered analysis offers a comprehensive understanding of customer needs and preferences, allowing businesses to create more effective marketing campaigns.
Among the companies using this customer experience platform, you'll find:
Walmart
Rakuten
Dell
Ring Central
GoPro
Reviews of Contentsquare taken from G2
What do you like best?

I use the zoning analysis tool the most. I love the compare feature in it. I also love being able to export the data to excel to aggregate the information over time.

What do you dislike?

The tool is so complex that even the Contentsquare employees don't understand all it has to offer. It's a steep learning curve, for sure. Needs a lot of hand on time with the rep for the layman to understand how to benefit from the tool. Hard to get stakeholders buy in since they don't have the time to fully understand it.

Mackenzie E., eCommerce Go To Market Manager

The customer experience platform features powerful tools for Growth, Reviews, Website Chat, Text Marketing, and Communication. With Growth, businesses can reach new customers and keep them engaged. Reviews help businesses to improve their reputation with feedback from customers. The Website Chat feature captures website leads quickly and easily. Text Marketing allows businesses to create campaigns that deliver messages directly to customers' phones. And finally, the Communication tool brings all their customer channels and conversations into one place.
Among the companies using this customer experience platform, you'll find:
Genesis Dental
LA Furniture
Mattress Firm
Power Ford
Lux Bond & Green
Reviews of Podium taken from G2
What do you like best?

Splendid integration into our jewelry software of the edge. Keeps all conversations with customers very organized and keeps google reviews ever coming non-stop! The payment solution is a great way to fulfill online orders through text pay, and it's all integrated into an amicable app that is very easy to use with reminders when people have been left unanswered!

What do you dislike?

The only downside of the podium app is the price, it did take us some time to accept their monthly cost, but once we did, we have not regretted our decision. We are delighted that they are constantly innovating and providing more features to make their app worthy of the higher costs.

LIRIA b., Manager

Zendesk is the world's leading customer service software designed for businesses of all sizes. Zendesk enables businesses to provide support through ticketing systems, messaging and live chat, help centers, voice tools, community forums, reporting and analytics, and much more.
In addition, Zendesk provides unparalleled security for businesses, enabling them to keep their data secure and private. With the Zendesk customer experience platform's features and tools, businesses can optimize their customer service operations and provide superior customer service.
Among the companies using this customer experience platform, you'll find:
Siemens
Stanley Black and Decker
John Lewis Partnership
Reverb.com
Polaris
REviews of Zendesk taken from G2
What do you like best?

We use Zendesk for more than a year now, and we are very satisfied. We have a Zendesk Suite Professional plan, which has exactly what we need to integrate Zendesk with other services we use or create ourselves and to be able to extend our business to almost full automation when it comes to technical parts.

What do you dislike?

We like almost every aspect of Zendesk Suite. The only thing we discuss at times is the price, as we pay per agent, and at times we do not even utilize all the seats. It would be good to have some admin seats that are not used for chat/support and that are not paid for, it will be easier for us to automate even more.

Damir B., Director of Operations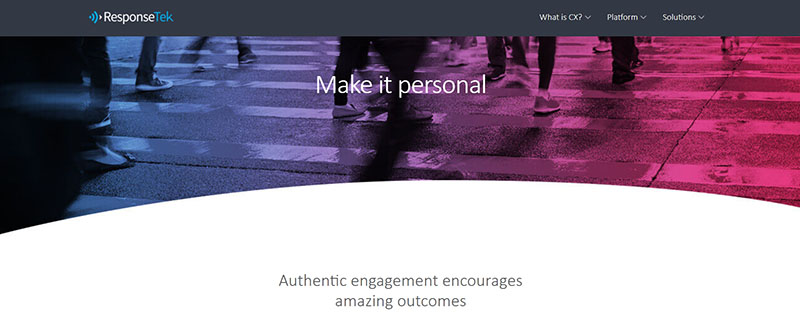 ResponseTek is an advanced customer feedback management platform designed to help businesses understand how customers truly feel about their products and services. The platform provides an easy-to-use survey system, reporting, and insights to help businesses better understand customer sentiment, identify opportunities for improvement and make more informed decisions. In addition, it offers a range of features, including survey automation, multi-channel surveys, real-time data analysis and insights, customer segmentation, targeted messages and promotions, automated follow-ups, and more.
ResponseTek's automated messages and promotions allow businesses to tailor their marketing campaigns based on customer feedback, historic purchase behaviors, and customer segmentation. With its powerful tools, businesses can optimize customer engagement and drive growth.
Reviews of ResponseTek taken from G2
What do you like best?

sound quality is very good even on weak internet connection
easy installation
cheap cost
small disk usage
low resource consumption

What do you dislike?

Compatibility with Solaris/Unix/ aix operating systems.

Ahmed H., Africa Loyalty, and Mobile Financial Services Manager (shell & Engen brands)
All in all, I've enlightened you about the top customer experience platforms and why marketers appreciate them. Now is your turn to choose the one that best fits your business needs.
Conclusion
Deciding on which customer experience platform to choose for your company can seem daunting with all the available options. But hopefully, this list of 12 great platforms can help narrow your choices. Remember to consider your budget, needs, and preferences when making your decision.
By choosing a good customer experience platform for your business, you can be sure that you're staying ahead of the curve and giving your customers the care they deserve. Do you have a favorite customer experience platform that is not on this list? Let me know in the comments!