Marketing has changed dramatically from an outbound marketing strategy to an inbound strategy. Digital technology is the new point of contact with customers. Today, digital marketing refers to a set of practices for promoting a website and a business, attracting leads, and retaining customers. It provides businesses with a significant advantage in developing trustworthy relationships and learning about consumer demands. Every business needs marketing to build brand awareness, attract more leads and ? increase sales. But what is your target audience? What do they respond to best? A digital marketing agency can provide answers to these questions.
What Does a Digital Marketing Agency Do?
A digital marketing agency is like a magician. Still, instead of pulling rabbits out of hats, they pull customers out of the digital abyss. These wizards of the online world specialize in promoting products and services through various digital channels. They use tactics such as search engine optimization (SEO), pay-per-click (PPC) advertising, social media marketing, and email marketing.
For example, let's say a new restaurant opens in town. The restaurant owner hires a digital marketing agency to help bring in customers. The agency starts by optimizing the restaurant's website for search engines, so when people search for "new restaurants in town," the restaurant's website appears at the top of the search results. Next, the agency sets up a PPC campaign, so when people search for "new restaurants in town," an ad for the restaurant appears at the top of the search results. The agency also creates social media accounts for the restaurant and posts mouth-watering pictures of the food and events to entice people to visit the restaurant. Lastly, the agency creates an email campaign to inform customers about new menu items, special events, and discounts.
Here's a list of what a digital marketing agency can do:
Search engine optimization (SEO)
Pay-per-click (PPC) advertising (Facebook, TikTok, Instagram, Linkedin, Twitter)
Social media marketing
Email marketing
Content marketing for blog
Influencer marketing
Affiliate marketing
Analytics and data analysis (Plerdy and Google Analytics)
UX and usability analysis
Website UI/UX design and development
Video and animation production
and more
In short, a digital marketing agency helps businesses navigate the ever-changing digital landscape and reach their target audience where they are spending most of their time – online.
Goals and Objectives of the Digital Marketing Agency
Digital marketing agencies are extremely important to businesses because they can close many important business objectives. So, digital marketing agencies:
Expand your reach. Any business needs to expand its customer base to scale and grow constantly. Digital marketing agencies allow you to reach customers locally, nationally, and internationally, reach new markets, and attract more people potentially interested in your product.
Stimulate sales. Digital marketing is primarily about driving online sales and conversions, so a digital marketing agency is essential if you want to sell online. However, digital marketing can also drive sales offline as well. Not only through in-store/restaurant promotions but also through special advertising opportunities. For example, Google My Local Business displays calls-to-action and routes, as well as offline stores on a map and products in a local catalog. Call-tracking is also important because it allows you to track actual calls from customers who came from your website.
Increase revenue. Online marketing can include paid and (conditionally) free strategies. For example, agencies can combine SMM to work on branding and Google Ads to increase sales. A carefully thought-out strategy that considers the sales funnel and the customer journey will allow you to predict and calculate the cost of attracting a customer.
Reduce costs. Traditional marketing is usually more expensive than digital. Therefore, digital marketing reduces your costs and still achieves impressive results.
Increase brand reputation. Whether you have a new or long-established company, it's important to build brand awareness constantly. Digital marketing agencies can introduce your brand to new audiences and help build a positive reputation with loyal customers.
Regardless of the size of your business, digital marketing is the backbone of modern business promotion. From PPC advertising to social media, digital marketing strategies allow you to communicate with your customers online and stay competitive. This is why many businesses pay digital marketing agencies to reach business goals.
Best 20 Digital Marketing Agencies
What do digital marketing companies do? What are the most popular digital marketing companies?
Below you can find agencies that will drive sales at your business. They were chosen based on their experience, portfolio, range of services, and reviews. These digital marketing teams consist of greatly creative experts.

KlientBoost is one of the largest marketing players in the digital marketing market. The marketing company specializes in advanced digital marketing. In addition, it develops and implements comprehensive strategies to attract customers. Lavender, Excedr, Signpost, Mitio, and NPR are its clients. The services are great.
Jeff Luery, marketing director at Wrapmate:

This digital marketing agency has achieved our goal. In addition, KlientBoost has shown greater results than other agencies.

Disruptive Advertising helps companies take their business to the next level by developing and implementing a dynamic digital marketing strategy that will help drive the right traffic from Google and Facebook, identify what resonates with your audience, and design the perfect website experience. No more "likes" or meaningless landing pages. You need results! No smoke… no mirrors. They'll provide you with the expertise you need at a much higher cost-effectiveness than trying to scale your own team. Their technology and team of marketing strategists will help your business grow. Thousands of companies use Disruptive Advertising to build and execute their digital marketing strategies. Its clients were Death Wish Coffee, Three Bird Nest, Adobe, MyHealthTeams, and MalpracticeBrokers.
Tom Amenta, director of marketing at Security Services Firm:

We are very grateful to this marketing agency because it helped us to see a 67% increase in leads.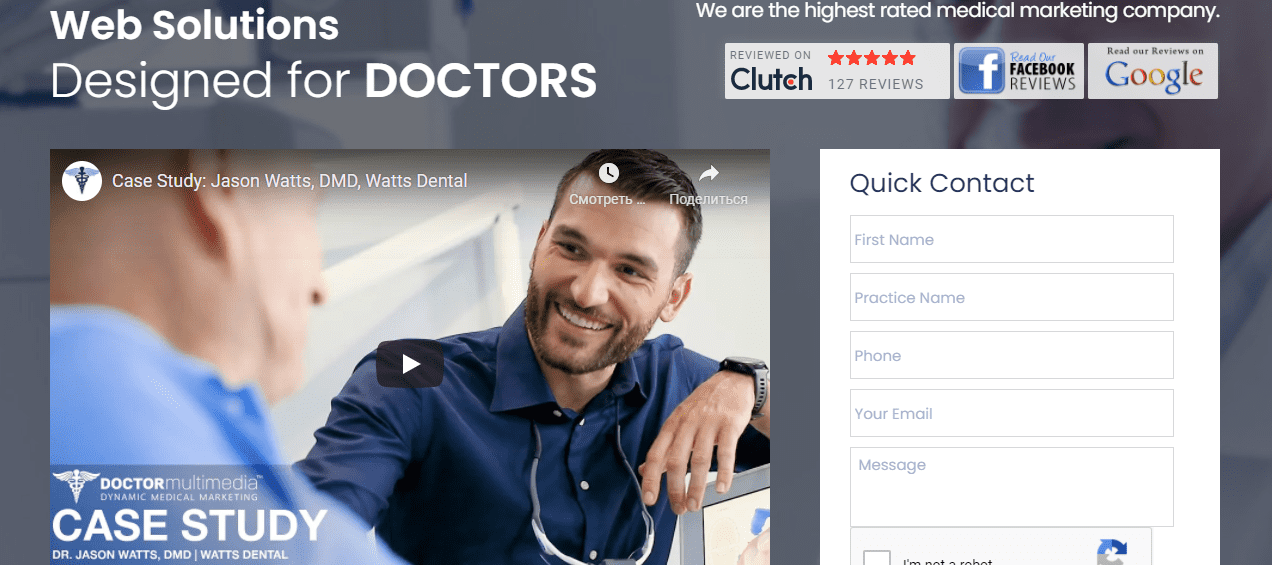 Doctor Multimedia is a full-service agency that is your one-stop solution for marketing your medical practice. We have graphic designers, WordPress developers, social media wizards, content creators, SEO wizards, IT problem solvers, marketing gurus, and all kinds of ninjas ready to tackle any challenge your medical practice may face online. We will help your practice grow and succeed in digital marketing. Its clients that utilize services offered include American Vet Hospital, Corvallis Cat Care, RambleWood Animal Hospital, Ardente Vet Nutrition, and My South West Vet.
Lisa Vizzacco, owner at Family Chiropractic:

I am satisfied with the services of this agency because it excelled at listening to our needs and offered cost-effective services.

Jives Media is a marketing agency comprised of award-winning web designers, hackers, and brand strategists with MBAs. In 2012, we combined our unique superpowers to form one lethal digital marketing team. We help organizations from early-stage startups to Fortune 500 corporations achieve their marketing goals, serving a wide range of industries, including technology, doctor's offices, law firms, government organizations, hospitals, pharmaceuticals, retail, restaurants, and hair salons. We provide our clients with A to Z marketing solutions, including web design, hosting, search engine marketing (PPC and SEO), and social media management. This marketing agency also automates email marketing and optimizes Google Maps. JXT, Choosewell, Airtasker, Nexty, and Ribs & Burgers were satisfied with the services of this agency. The services are really great, so take a look.
Kim Michaelides, designer & director at Spencer & Rutherford:

We are very grateful to this agency because it helped to increase our revenue by 50%.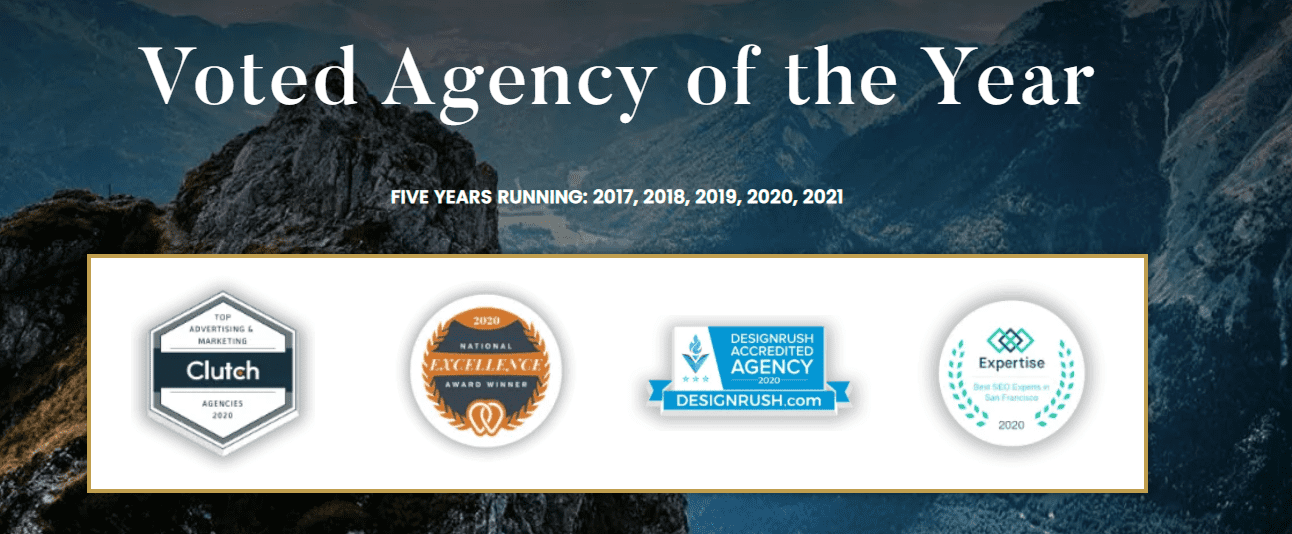 Jives Media marketing agency provides professional advertising and SEO services. There are also lots of other services. You can also order website design, video marketing, and 1V1 marketing consulting. In its portfolio, you can find Poshmark, Oracle, Thumbtack, AMHI, and APTNJ.
Eduardo Maal, president at PCMango:

Our sales increased by almost four times even despite the COVID-19 pandemic. As a result, we rate Jives Media`s services as 10 out of 10. Their services are incredible, and we are fully satisfied.

Ignite Visibility is a leading online marketing agency with a mission to provide the highest level of client service in the industry. By establishing mutually beneficial, long-term client relationships, Ignite creates customized solutions tailored to each client's specialized business goals. Ignite Visibility offers earned media (SEO, social media, digital PR, email marketing, CRO, analytics, content creation and promotion), paid media (paid search, social media advertising, native, programmatic, Amazon advertising), as well as website development and design services. Named the 8th fastest growing company by the San Diego Business Journal in 2015 with a 336% growth rate in three years, Ignite is on track to be named Inc. Magazines in 2016 with a growth rate of 722% in four years. This agency handled digital marketing for EOS Fitness, Sharp, Tony Robbins, 5-hour energy, and TKWW.
Bennett Schneider, operations director at Doozycards:

We are glad that we have chosen Ignite Visibility. This team of professionals has greatly increased ROI! Moreover, they have given the website a fresh new look. We are greatly satisfied.

Oyova digital marketing agency works in interactive communications, web advertising, branding, and web design. In addition, this digital marketing agency deals with web development, mobile applications, and interfaces. The digital marketing agency also has great experience in inbound marketing and ADA compliance. The clients of the digital marketing agency are Neurolens, Gun Gallery, The Tom Coughlin Jay Fund, The Andriotis Law Firm, and Red Leaf.
Todd McDowell, president at Alpha Omega Training and Compliance:

We thank Oyova for a high-quality website redesign that increased engagement, traffic, and leads from potential customers. This is one of the strongest teams we have ever worked.

One of the strongest digital marketing agencies that provide lead generation & research, email deliverability services, and influencer marketing on LinkedIn. Among the clients of Belkins are Maark, Lion Energy, Born & Bred, ITG Software, and FrontCore. Belkins also offers Folderly, an AI-based platform that helps increase email deliverability and open rate. It is a leading digital marketing agency in the field.
Christian Storandt, CEO at TSB Studios:

Belkins team helped us to acquire two new clients. As a result, our company witnessed a quick return on investment.

Digital agency LYFE Marketing has unique experience in digital marketing. The digital marketing agency offers analytics, website development, SEO optimization, advertising, SMM, and video animation. Clients of this digital agency are Easy Diya, DSLR Camera, Taliah Waajid, Truebroc, and Cedarcraft. It is one of the top content marketing agencies.
Nicole Ware Spencer, owner & operator at Asili Wellness:

We are pleased with LYFE Marketing's services. Their services are stellar. The team provided us with great ideas and recommendations that aligned with our goals.

This digital marketing agency offers only high-quality services. This digital marketing agency works with social media, blogs, and emails and optimizes search engines. The agency can even design a website or a logo for you. Among the clients of the digital marketing agency you can find JCA, Metromile, Convirza, Bitcentral, and Liongard.
Michelle Kirkwood, marketing manager at FlexxCool:

Bop Design developed a robust and high-yielding website. This agency exemplified unparalleled technical expertise, and we are fully satisfied.

WebFX is a full-service digital marketing company that drives revenue growth for companies through tech-enabled digital services. There are more than 500 digital experts and approximately 1,000 reviews. Customers of the digital marketing company include Stanley, Verizon, Sysco, and more: an impressive range of services attracts many world-famous companies. William Craig is the founder.
Brittany Busso, Senior Marketing Manager, FUJIFILM Healthcare:

The marketing company has delivered a modern, functional website more aligned with the client's corporate branding. They've also shared digital marketing best practices and implemented successful PPC and SEO campaigns.

Power Digital is a technology-driven marketing company with a talented team of marketing consultants, creatives, analysts and technologists. They drive revenue growth and brand awareness for the world's leading and emerging brands. Marketing is no longer about a single offer or what your brand represents visually. Instead, it's an extensive journey with countless touchpoints. Consumers make purchases based on their values and gravitate toward brands they trust. They want to be part of a tribe. Stories. Moreover, the path to purchase should be fast, seamless, and personalized. They take the guesswork out of getting the most out of your investment, so you get what you really care about: growth that's managed from planning to execution. The well-known customers that enjoy using the services of the company include P&G, Beyond Meat, Daily Harvest, Freshly, etc. Grayson Lafrenz is the founder.
Tim Trzepacz, Director of Commercial Operations, Victrola:

The results have been incredible.

SmartSites was founded by brothers Alex and Michael Melen, who have been fascinated by everything digital since they were young. Through innovative vision and hard work, SmartSites quickly became one of the fastest-growing companies in America. Their relentless focus on customer service has led us to more than 100 5-star reviews since our founding in 2011. When Dun & Bradstreet asked: "How satisfied are you with our service?" they scored a phenomenal 97%. They make their clients happy by delivering results that exceed their expectations. Headquartered in Paramus, New Jersey, they serve numerous clients worldwide.
Brandon Browne, Mind and Body health center:

I very much enjoy working with SmartSites!

Thrive is a full-service digital marketing agency. We have provided a wide range of services to clients from all industries since 2005. Their digital marketing services include consulting and managing a variety of online marketing tactics, including SEO), PPC advertising, Amazon store optimization (Shopify and Magento), copywriting, CRO, UX and more. They also offer expert web design and development services for e-commerce and B2B companies. Don't just work with any digital marketing agency. Work with a company you can trust. You can have a website, but it will only do your business well if search engines find it. To make sure that customers find your site online, they can take your online presence to the next level – website design, copywriting, keywords, social media presence, and more.
Matt Bowman is the current president and founder.

Whitney Wells Lewis, Practice Manager – PARC Urology: These guys are incredible.

According to the official website, this digital marketing firm is founded on trust. The company provides SEO marketing, content marketing, conversion rate optimization, reputation management, and other services. Nomatic, Avis, Purple, and Spoonful of Comfort are among the clients who have benefited from the company's services. Bryan Phelps is the company's founder.
Marketing Coordinator, medical company:

Thanks to Big Leap's efforts, the client has seen significant growth in their business; the metrics look strong and are continuously improving.

Search Berg is a top SEO company that will help you get more traffic, calls, and sales. The services include blog posts, guest posts, press releases, videos, and social media posts. Some other SEO services are competitor analysis, backlink analysis, and more. Aaron Tylor is the CEO. The clients include Forbes, Search Engine Watch, and Inkbot Design.
John Staufenberg, IT manager:

Search Berg's work was well received. The new site receives compliments from members. The team was fast-paced and communicative throughout the entire engagement.

Pyxl is an award-winning digital agency founded in 2008. It delivers high-quality digital product development and digital marketing services to B2B and B2C industry leaders looking to transform and optimize their businesses through well-executed digital strategies and digital experiences. Pyxl has been a HubSpot Platinum Partner and a Certified Agency Partner for the past 11+ years.
Scott Farace, Chief Marketing Officer, RazorSync:

It is superior to any other organization I worked with.

Avalaunch Media is a full-service organization located in Utah, trusted by SalesForce, CocaCola, Robert Half, Mountain America, IDG, GoPro, etc. The services offered include paid advertising, SEO, diverse creative services, web and conversion, social media and PR, marketing automation. The company has been operating for more than 15 years. The founder is David Mink.
Shane Roxburgh, Roxburgh and Associates:

Avalaunch Media has been a great partner to work with.

The services offered by this organization include landing page creation, Instagram or Facebook ads, email marketing, and so on. If your task is really special, these professionals will definitely cope with it. The company is trusted by Karoll, Hacker Pradise, GO Global Travel. The team consists of media buyers, copywriters, designers, and managers. Velizar Milanov is the founder.
Borislav Hrostov, head of inance, Hacker Paradyse:

Over time, DigitInk succeeded in increasing site traffic and growing sales.

Pioneers in business rely on Beacon Digital to establish a robust marketing foundation for exponential growth. As the go-to agency for industry disruptors in fields such as fintech, cybersecurity, health technology, education technology, and B2B SaaS, Beacon Digital leverages decades of expertise working with premier global brands across various sectors to generate quantifiable outcomes through comprehensive digital strategies, website design and development, multimedia content creation, marketing automation, CRM optimization and imaginative branding. They are not just a marketing agency. They are an extension of your internal team, with a decentralized workforce spanning across the United States and occasionally at their picturesque New York City headquarters in the Hudson Valley. The founder is Whitney Mitchell. The clients include BioCatch, Avertium, and Flashpoint.
Jordan Kendall, GM Advisory, Security Compass:

The team provided highly customized strategies that met all of our clients' needs.
Conclusion about Digital Marketing Agencies
Creating a complete and lasting digital plan requires a unique set of skills. To achieve tangible success, working with a leading digital marketing agency specializing in your industry is important. Like any business, the ultimate goal is to increase profits. Only experienced experts with a proven track record can help you achieve this. So it's not just about having a digital strategy. It's about having a strategy that works for your business and brings you more customers and success. A specialized digital marketing agency can be your partner on this journey, helping you navigate the ever-changing digital landscape and maximize your online presence to reach and engage your target audience, driving CR and your business growth.