Having entered the Internet at least once in our life, we – whether we like it or not – immediately share all possible information about ourselves. Five minutes of surfing provides digital marketing analytics tools with data for a complete portrait of us that a psychoanalyst could hardly have done over the years we spent on his couch.
The enemies of progress call it espionage and trade in personal data. However, we know that digital marketing and analytics are the paths to common wellness. As a result of working 24/7 data analytics in digital marketing, the buyer gets exactly the product he wants, although, perhaps, he does not yet know about this desire. The seller, in turn, using digital marketing analytics for market research, has the opportunity to direct his proposals to where there is the highest demand for them.
The key concept for modern digital marketing analytics is personalization, as the above clarifies. This means that absolutely everything related to product promotion should be focused not only on broad target groups but also on specific buyers, with their tastes, interests, and preferences. Here are just a few figures and facts.
91% of organizations worldwide use content approaches in digital marketing analytics.
In 2019, the market capitalization of digital marketing analytics was $121.5 billion. This is 22% higher than in 2018. Rapid growth continues in 2021.
Today in the world, there are more than eight thousand different solutions in digital marketing analytics.
The most sought-after skill set in the digital marketing analytics industry is building a long-term strategy for promoting products and services.
Experts consider practical articles to be the most popular format of the content in digital marketing analytics.
62% of US Internet users are willing to disclose their email addresses to receive personalized offers.
The average monthly income from personalized digital marketing analytics in the US is $6,791 per eCommerce site.
About 33 percent of eCommerce entrepreneurs in the US and UK spend more than half of their budget for personalizing in digital marketing analytics.
6 Digital Marketing Analytics Metrics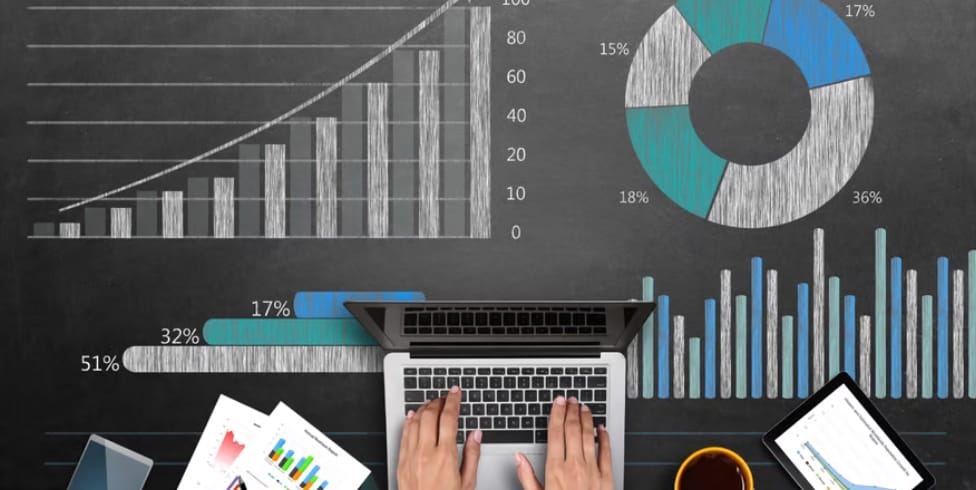 There are a vast number of metrics in digital marketing analytics. We will focus on just a few of the most important of them.
Traffic
None of the metrics makes sense to be considered out of context. Knowing in isolation that 5,000 people responded to a famous influencer's post ordered according to digital marketing analytics strategy is unlikely to help you. However, if you use data analytics in digital marketing techniques and get additional statistics, this information can help skyrocket website conversions. So what to focus on when getting traffic data for digital marketing analytics.
Organic reach. How many people came to website from a Google search page.
Paid coverage. How many people have paid ads brought to website?
Referral links. How many users came to you by clicking on a link on another site.
Social. How many visitors have social networks added to website?
Conversions
You need to do more than understand how many people have made purchases on site. You need to find out how they came to the target action. Understand with digital marketing analytics what, in a broader context, influenced his final decision — reading blogs, getting emails from the marketing department, social media discussions. This knowledge allows you to control buyers even further away from a website.
Engagement
One of the most important forms of digital marketing analytics is social networking. Don't let the number of views on a post or the number of likes below obscure the real purpose. Conversion is not driven by indulgent approval on the run but by the deep engagement of prospective buyers with the topics you offer. Comments, reposting, quoting — that's what generates genuine interest, which translates into loyalty to website. Turn the readers of posts into evangelists. To do this, you may need to think about a reward system for most dedicated fans. Well, it's worth it — proven by the global experience of experts in digital marketing analytics.
CTR (Click-Through-Rate)
An indicator of the correctness of digital marketing analytics strategy is the number of clicks on banners and pop-ups (spoiler alert: clicks on crosses to close them do not count). A click is a deliberate action, a response to a call. If this chain tears apart, it's time to find out where its weak link is. Maybe you misidentified the target audience? What about text? Is it not easy to read enough? Or is it not written at all about what customers are interested in?
Site Load Speed
Do you know how many people leave resource forever if it is loaded for more than three seconds? Forty percent! Collect data for digital marketing analytics in this direction using analytics tools for digital marketing from Google. Specifically, Google PageSpeed ​​Insights.
Customer lifetime value
The success of any company is determined not only by the number of new customers attracted but by how many old ones you manage to retain. This digital marketing analytics metric defines precisely how much one customer can bring you in the time that they remain faithful to the store.
Digital Marketing Analytics Course
Although digital marketing analytics tools provide a wealth of material for strategic planning and tactical measures to optimize sites, it is not easy for a person to understand this amount of data without preparation. However, this problem is solved by numerous courses where they teach how to interpret data analytics in digital marketing and apply the obtained results in practice.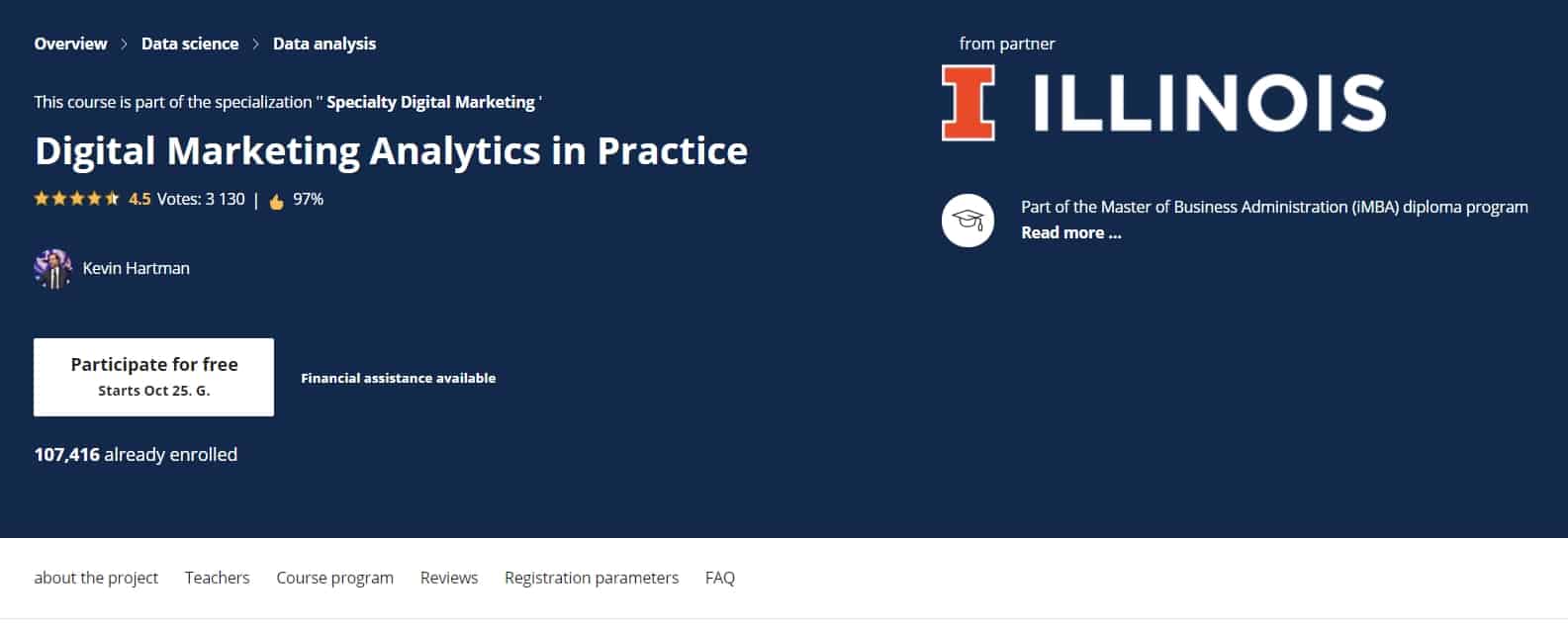 Coursera is an online school with an excellent reputation, operating since 2012. This international structure is led by a team of experts led by Jeff Maggioncalda.
In practical courses on digital marketing analytics, Coursera teaches:
Ways of planning, collecting, processing, and applying data.
The most effective digital marketing analytics tools and their practical use.
Users note with gratitude that highly qualified teachers present complex material in the most accessible form. According to reviews, each block can be completed within one day, which means the shortest time between the beginning of training and the transition to practical work.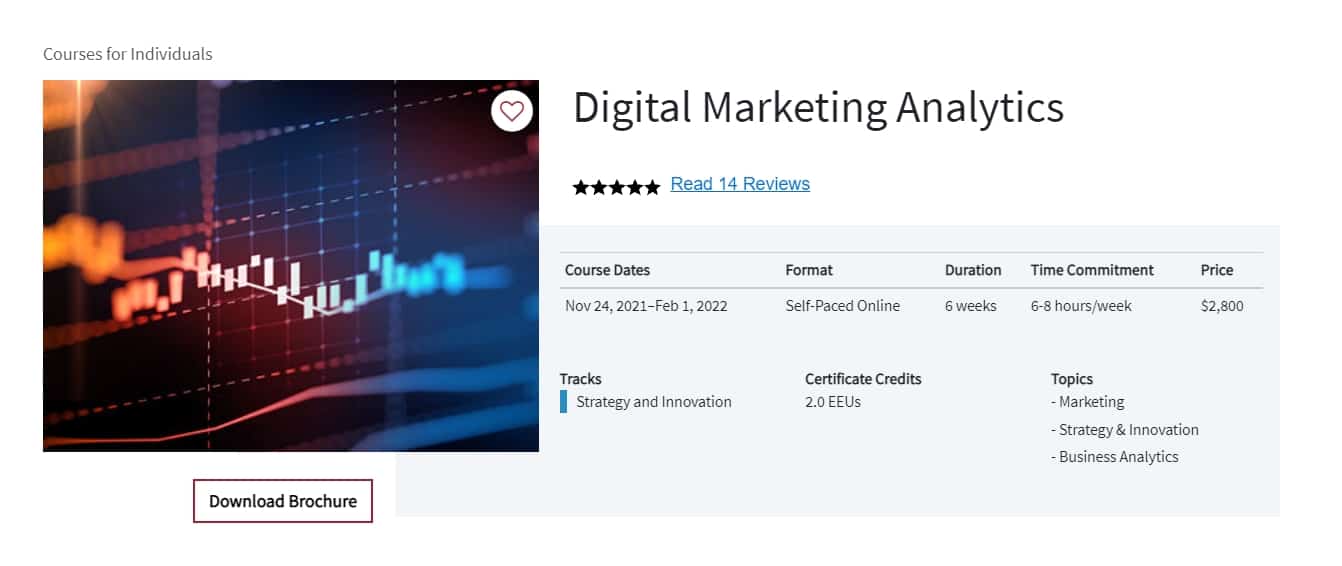 Courses are delivered by the MIT Sloan School of Management, run by Carly Fiorina.
Courses train experts in ensuring optimal return on investment (ROI), making strategic decisions based on digital marketing analytics.
Students thank the teachers for teaching the skills of extracting the most significant data from large arrays of analytical information.

Courses from EDX, led by Professor Anant Agarwal.
Digital marketing analytics professionals
Michael Trusov and Liye Ma, both professors at the University of Maryland, promise that in 4 weeks, with a load of 3-5 hours a week, they will teach how to integrate artificial intelligence into digital marketing analytics. Students will acquire Big Data skills and become certified analytics in digital marketing and analytics.
Graduates praise faculty for delivering challenging material in a way that is accessible to those with no prior experience in the field. They note that employers highly value the diplomas and certificates of these courses.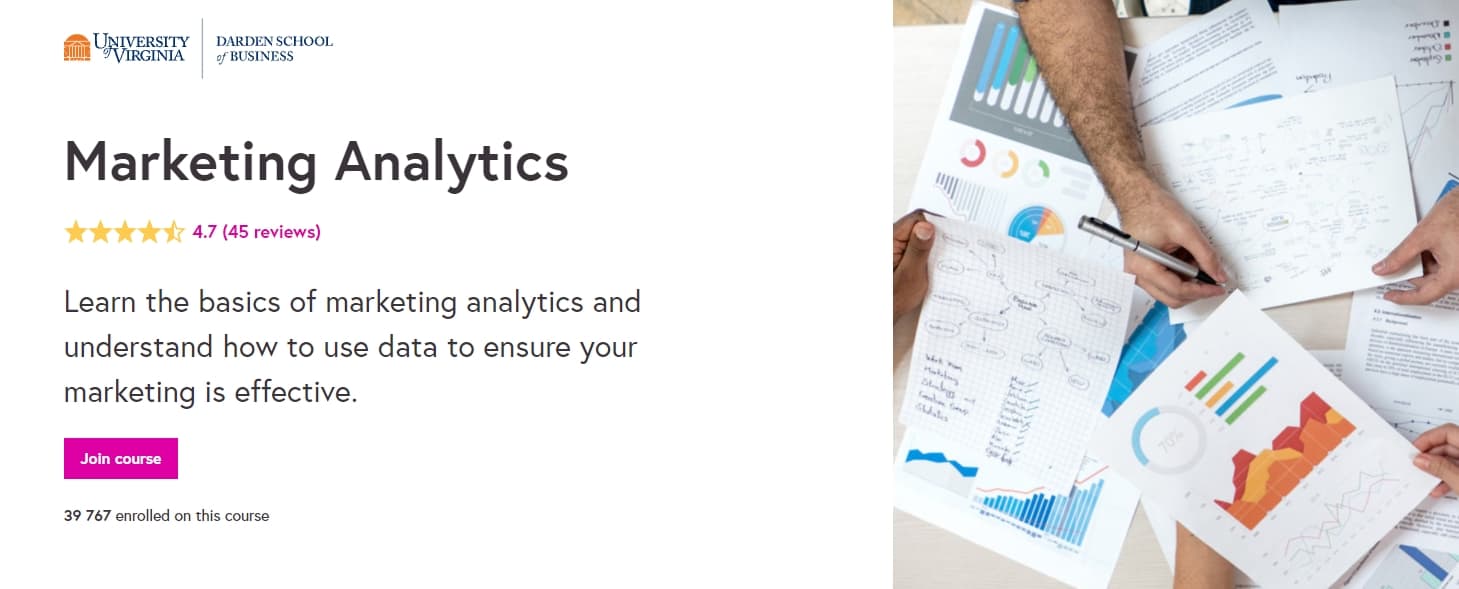 Courses from the University of Virginia's Darden School of Business. The course developer and the headteacher is Professor Rajkumar Venkatesan.
Students will be taught the customer lifetime value calculation and what elements this metric consists of.
Explain how regression affects digital marketing analytics and show you how to interpret its results.
Students emphasize that thanks to the teachers' talent, they have gone all the way from basic knowledge to the skills of practicing specialists in five weeks.

Udacity, which offers this course, is led by former Stanford professors Sebastian Thrun and Peter Norvig.
Udacity operates in over 190 countries and has around 200,000 students.
As part of the training, digital marketing analytics Udacity promises to make students specialists in Google Analytics, Excel, Data Studio, and Tableau within three months.
Graduates note in their reviews the practical orientation of the classes and emphasize that teachers' methods help overcome procrastination.

The director of the company Udemy, which runs these courses, is Gregg Coccari.
Educators promise to teach you how to build a marketing strategy and ask the right questions to get relevant digital marketing analytics data. Upon completing the course, students will create a dynamic dashboard to summarize data analytics in digital marketing.
Students note that the material is voluminous and complex, but thanks to the talented teachers, they managed to master it well.

Courses at MIT Sloan School of Management, supervised by Professor Sinan Aral.
The program of these 6-week courses offers the same set of digital marketing analytics knowledge and skills as the rest. However, the Massachusetts Institute of Technology certificate is the main feature here, which will impress the employer.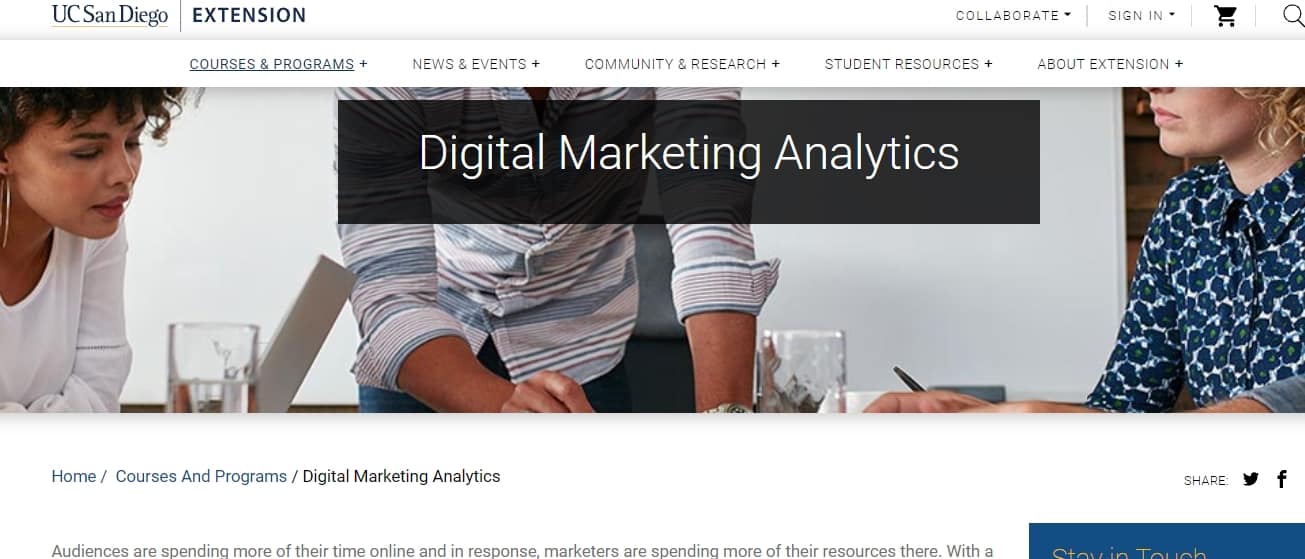 UC San Diego Extension offers many different programs. David Salcido is leading this two-month digital marketing analytics course.
The course is built around learning Google Analytics and the many digital marketing opportunities that this software solution provides.
Students are satisfied with their studies and write that, thanks to the knowledge gained. They can now use Google Analytics and other digital marketing and analytics tools since the course gives a general idea of ​​their work.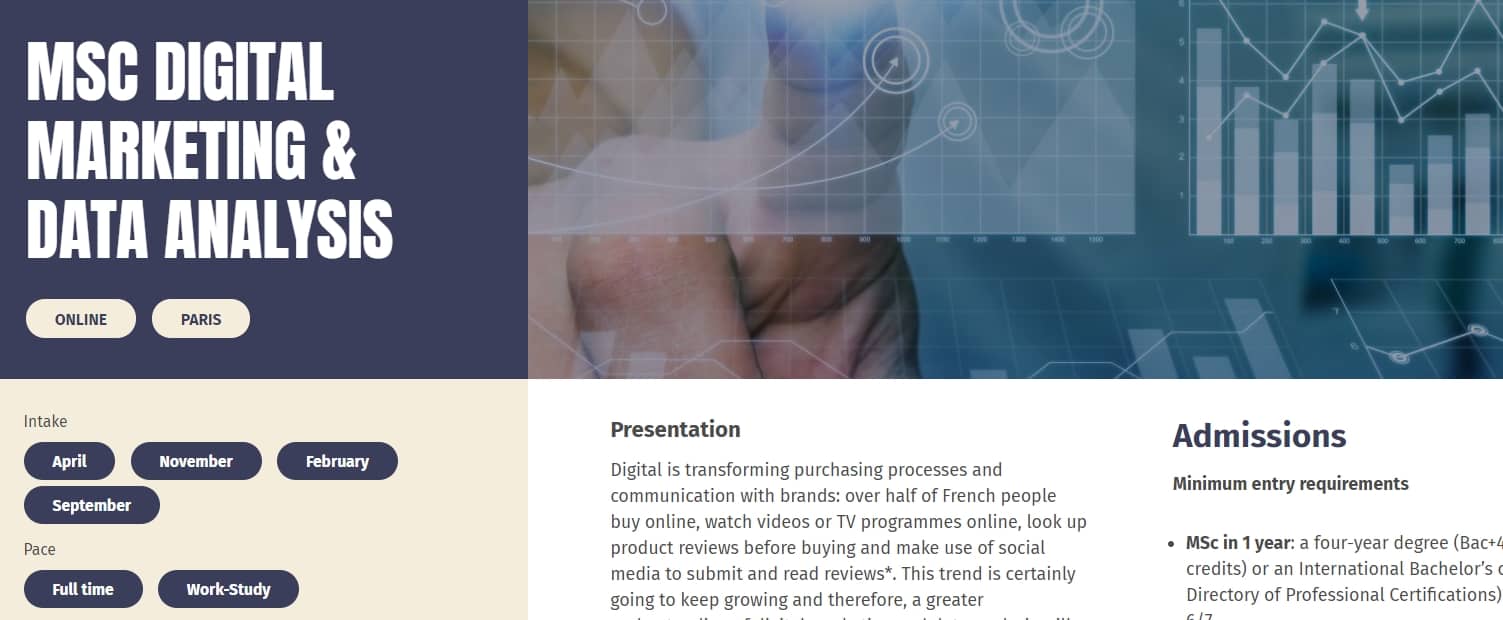 These courses, organized by IPAG and DataScientest (CEO Guilherme Dutra), are very different from those above. It offers the whole university degree program in digital marketing analytics with a master's degree.
Students especially emphasize the thoroughness of the training and the weight of this document on education for HR managers.
In the bottom line
Digital marketing analytics is an integral part of website promotion and high conversion rates today. It doesn't matter whether you choose courses to master this knowledge and skills on your own or hire a team of specialists – it's up to you. The main thing is to clearly understand: without digital analytics marketing, a business has practically no chance of surviving in the face of fierce and high-tech competition.