WordPress is one of the popular CMS (content management systems) in the world. It is expected that in 2021 about 39.6% of existing websites will be working on WordPress. This CMS is attractive for users due to its easiness; you do not need any programming skills to find good templates and themes. Due to this, a young business that enters a network can create a website with good design and usability at a low cost and find the first customers.
Types of templates and websites suitable for using these plugins
All WordPress templates can be divided into 2 categories:
Both types of themes are thoroughly analyzed before adding to wordpress.com and wordpress.org. Fee-based themes have more extended functionality. There are many templates, thousands of them.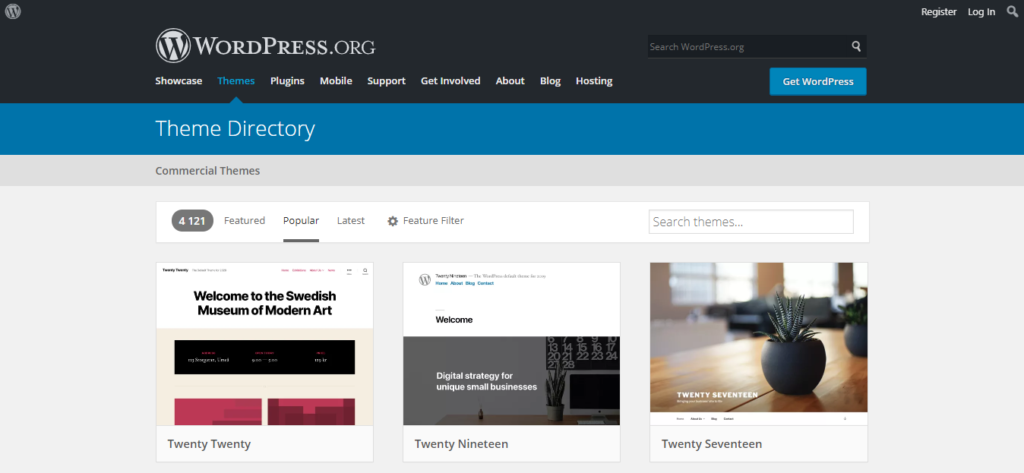 Also, themes can be classified by:
type of layout – in form of a grid (1-4 columns) with wide units and different menu arrangement;
functionality – a user-defined background, color set, user-defined logo, widgets in the lower part of the page, menu settings;
target audience – developers, choose the templates depending on their needs. E.g., an online store theme is different than the one for the blog.
In general, there are no limitations to WordPress templates for websites. They can be used to quickly create a blog, an online store, or a portfolio. Even the White House website has been designed on WordPress.
What is the difference between fee-based and free templates
The obvious difference is the price, but there are also other differences. Let us start with free themes – their main advantage is that they are free and are thoroughly tested before adding them to the WordPress database. But there are some drawbacks also:
their functionality and flexibility is worse than fee-based ones have;
they are not unique. Tens of websites use popular templates, so it is hard to distinguish on their background;
support is not guaranteed. The developers answer the users' questions on a forum, but there is no customized approach.
As for fee-based templates, they have more flexible settings and support. They are updated regularly, the competition in this segment is rather high, so developers try to cater to their customers as much as possible.
The drawbacks of fee-based themes:
possible incompatibility with some WordPress plugins;
excessive functionality can throw a wobbly at the buyer. If s/he is inexperienced, the websites slow down due to wrong template settings.
As for the choice, it depends on your experience, website requirements, and budget. For checking out WordPress you can use free themes.
How to install a WordPress template from an official container
For installation:
find the "Appearance" menu on the control panel;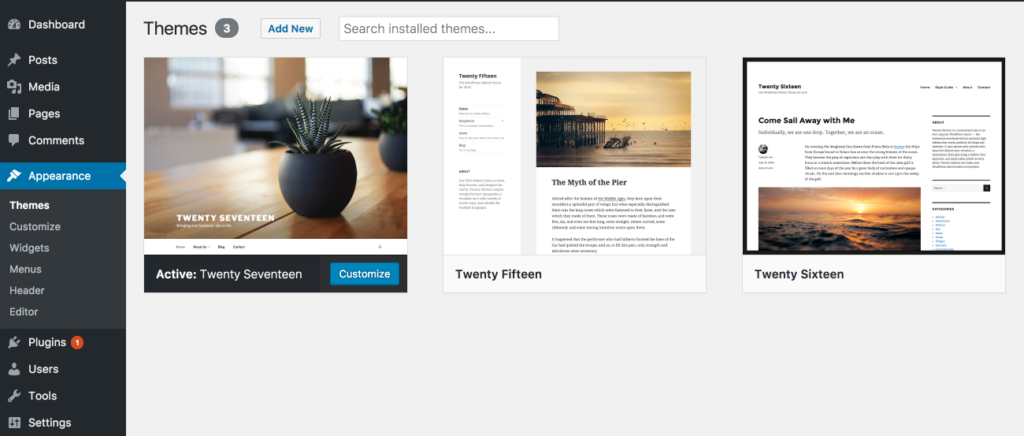 select "Themes";
click "Add New";
after selecting the suitable theme press "Install" and don't forget to enable the theme after installing.
If you have downloaded the template in an archive from an unofficial website, make the installation manually:
the beginning is the same as in the first case;
find the "Upload Theme" button in the theme section;
choose the archive downloaded before;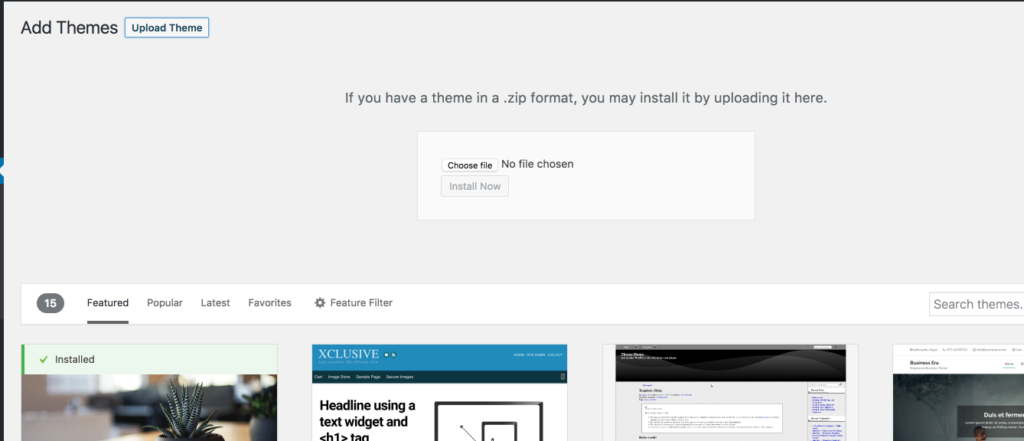 the installation is completed, just click the "Activate" button. If there is a preview, you can check out how does the website looks like with the new theme before its activation.
The template can be also installed with an FTP client. This is made as follows:
connect to the hosting account via an FTP client;
the folder from the downloaded archive with the template is stored in the wp-content-themes path;
open the "Themes" section and enable the installed theme.
You can use any above-listed method.
26 best WordPress templates
All templated listed below are free. They can be loaded on the official WordPress website.
Twenty Twenty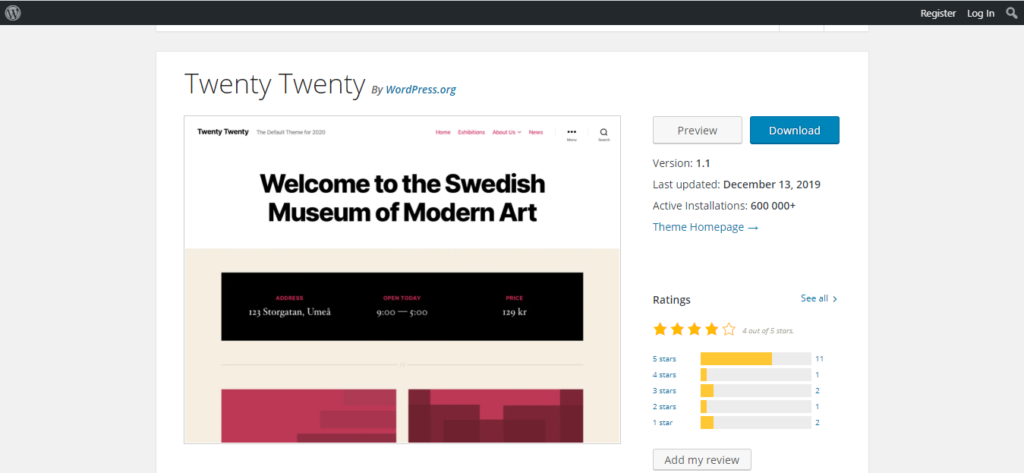 Twenty Twenty is a template for blogs, but it can be used for creating company websites. The element contrast is provided automatically when the color set is selected; the colors of separate elements are corrected automatically. The material is given in one column in the middle.
Twenty Nineteen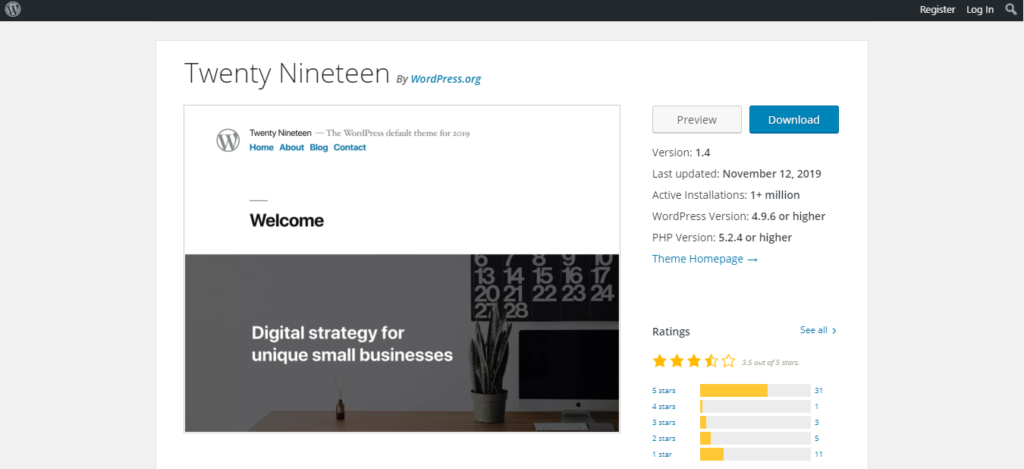 Twenty Nineteen is a theme created for 2019. Every unit is configured, the material is placed in 1 column. It is suitable both for blogs, business, and non-commercial online resources.
Twenty seventeen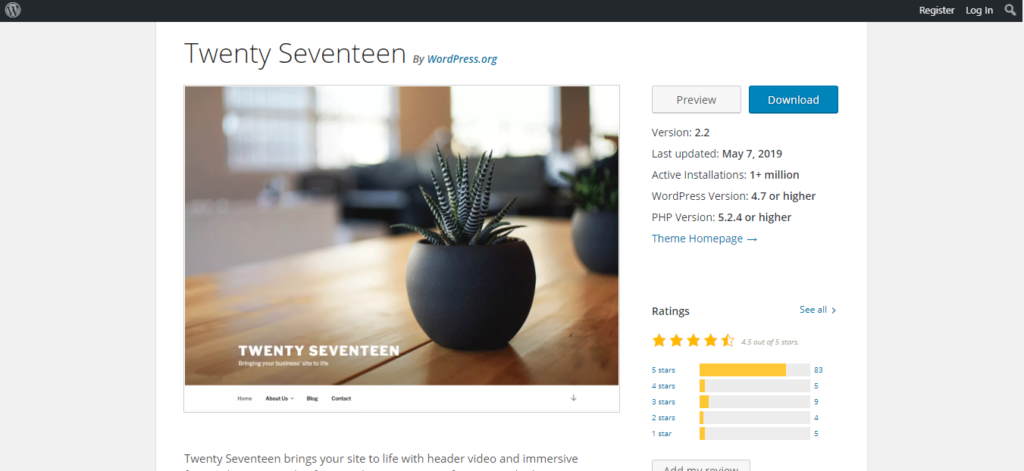 Twenty Seventeen themes are intended for business websites. Videos can be placed in the upper part of the page. It contains some tabs, has elaborate navigation and the widgets are located properly. The information is given in 2 columns.
Astra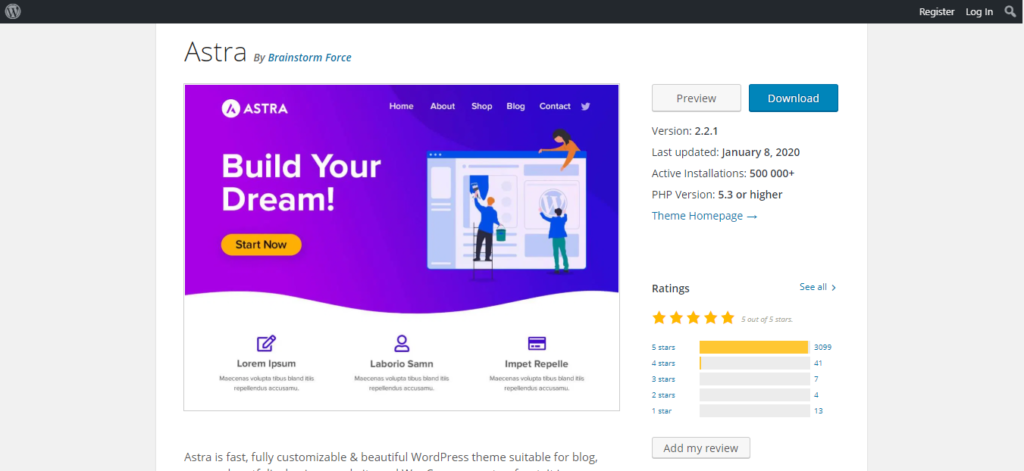 Astra has been developed for creating blogs, portfolios, business websites and WooCommerce landing pages. The theme was created considering SEO; also, Astra is compatible with popular page designers. There is a possibility to extend the functionality of the free Astra by purchasing premium extensions.
OceanWP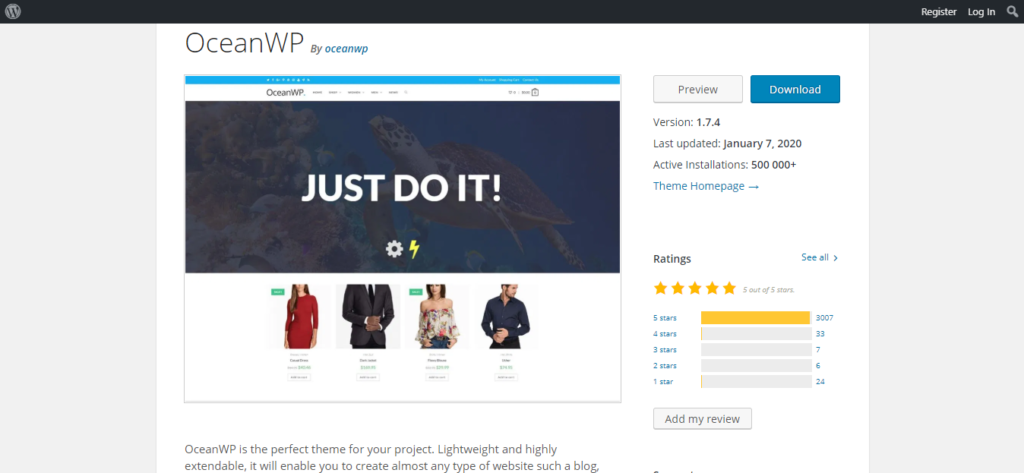 The OceanWP theme is universal and does not have strict requirements towards application. It is suitable both for blogs, portfolios, and online stores. OceanWP is adapted for working with the most popular page designers. Also, SEO requirements were considered when creating it. You can extend the OceanWP functionality if you have programming skills as the developers added the code extension feature.
Twenty Sixteen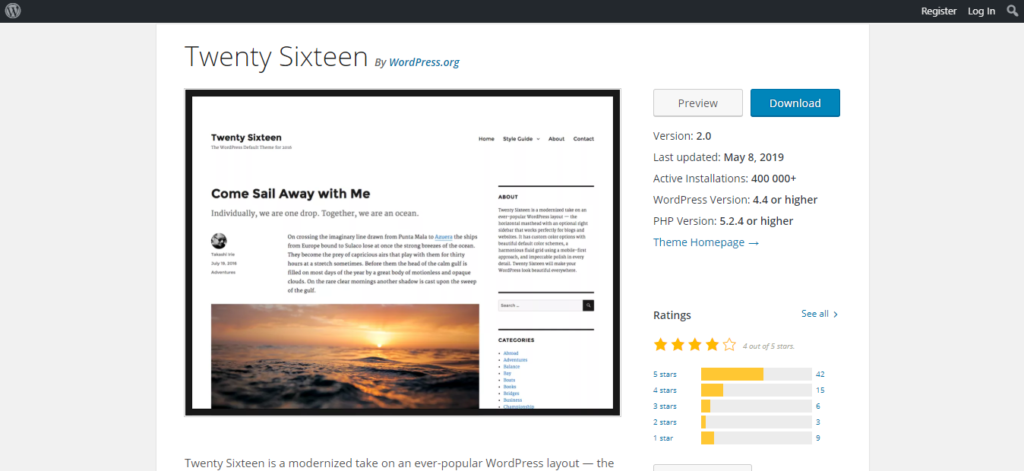 Twenty Sixteen template is intended for blogs and non-commercial online resources. The content is divided into 2 columns, first of all, the configurable menu is placed into the right. Developers have added the feature of configuring the color set, such a page can be also adapted for mobile devices of any type.
Neve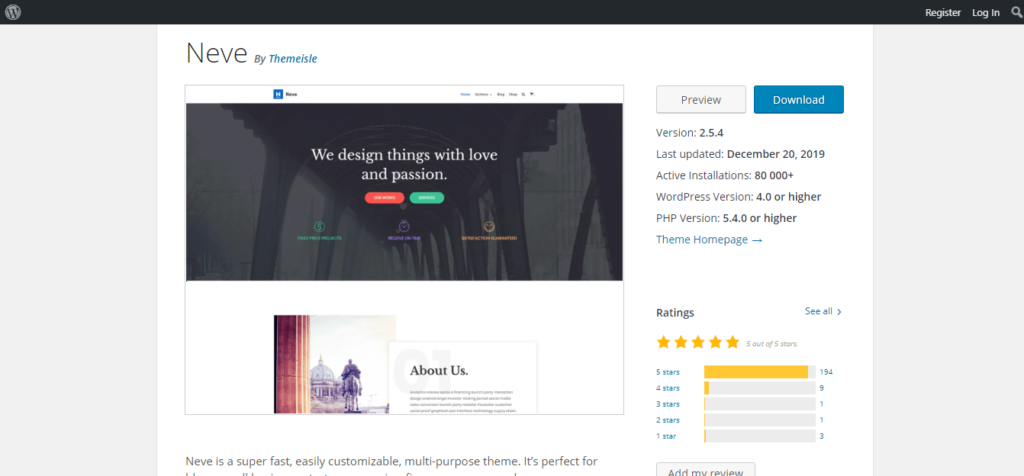 Neve is a theme with unlimited applications. It can be used for creating blogs, portfolios, company websites, and a full-scale online store. Neve has been created considering SEO requirements, it has a high loading speed and can be easily adapted for all types of devices with different CRT size. The developer guarantees smooth work with popular page designers (such as Gutenberg, Elementor, Beavy Builder, etc).
Twenty Fifteen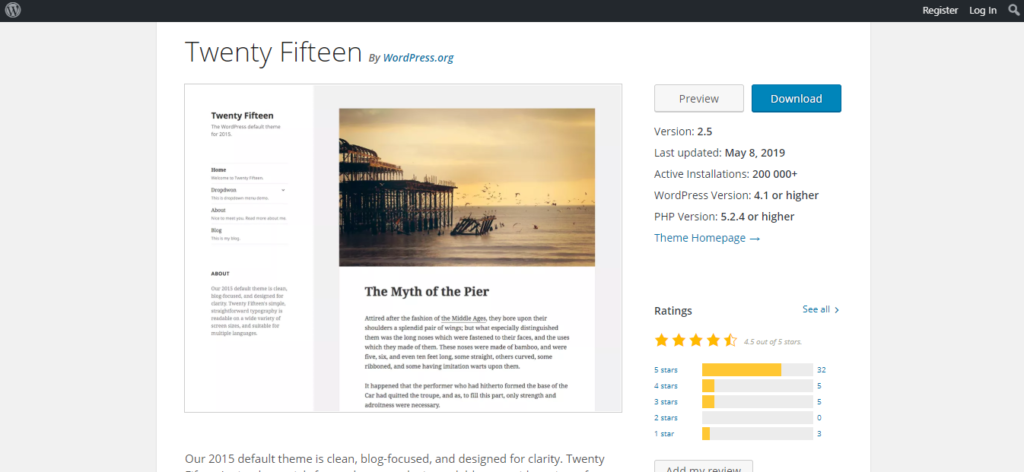 The Twenty Fifteen theme was designed in 2015. It is recommended to use it for blogs. Special attention was paid to fonts. They have been matched rather well, are readable on any device. The background, headers, and color set can be customized. The information is divided into 2 columns. The menu is located in the left part.
Hestia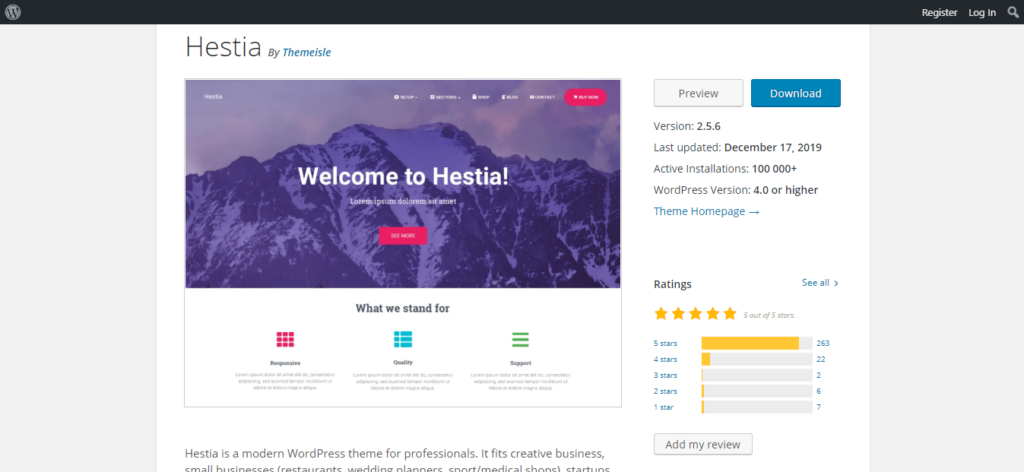 Hestia is another universal solution. It is suitable for portfolios, blogs, art studios, and small businesses. It is a one-pager, widgets are located in the lower half, 2 columns and wide units. Hestia is SEO-optimized and suitable with Travel Map, Elementor, Photo Gallery, and Flat Parallax Slider plugins.
Lyrical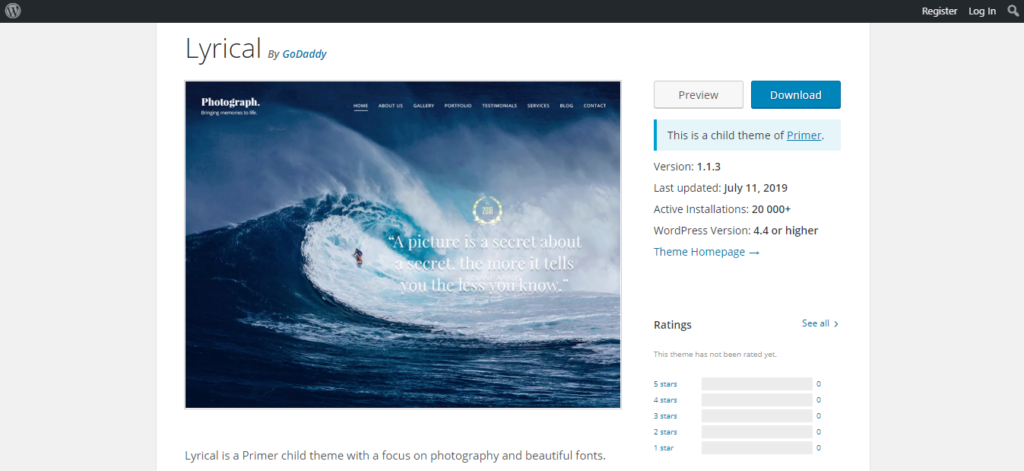 Lyrical is a very simple theme, there is a focus on the visual component. There are some configurable menu items, and the fonts are well-matched. The template has a configurable color set.
Velux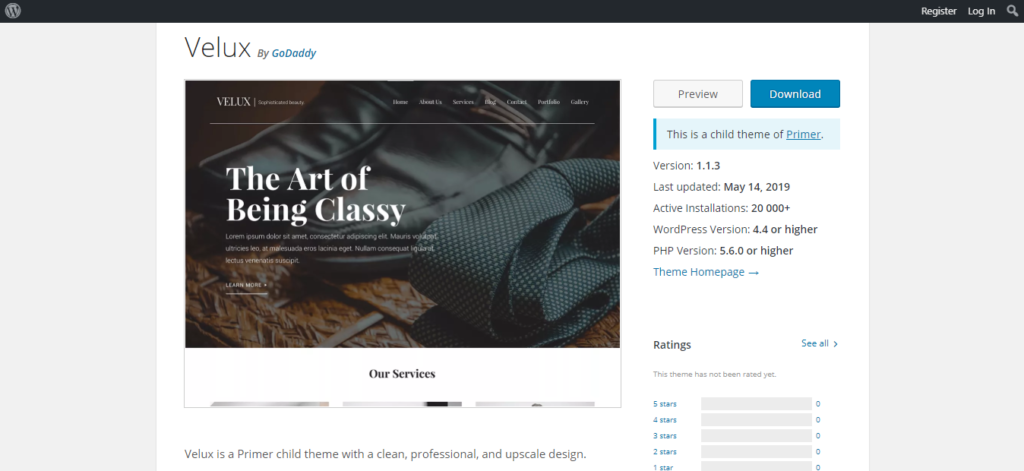 Velux is a great template example with a clear design. It is oriented toward blogs, non-commercial websites, and small businesses. So as in the case with the previous theme, you can configure the color set, headers, choose your images and configure the menu.
Storefront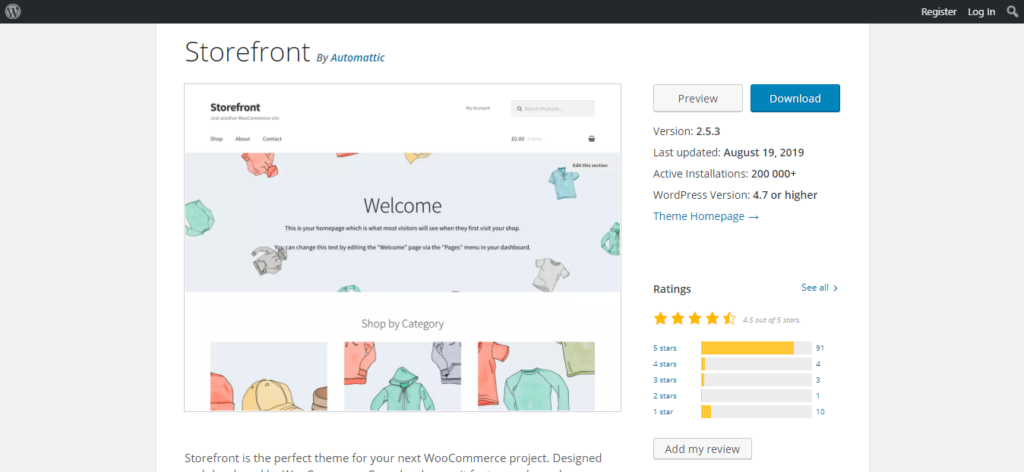 Storefront has been created by создавалась разработчиками ядра WooCommerce kernel developers, so it is perfectly suitable for business websites. It has pretty well set up features such as different widget arrangements, several page layouts out of the box, color, header, image, menu settings. The code can be easily extended, and if needed, Storefront functionality can be extended individually.
Sydney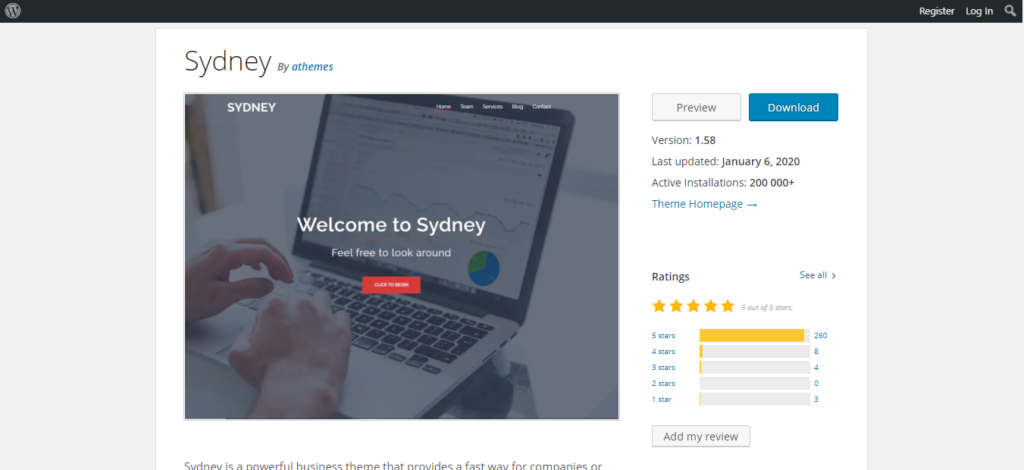 Sydney is a WordPress template for business and freelancers. Sydney has plenty of settings, the required color set can be configured, a required font and a logo can be uploaded (important for business). Also, this template has convenient navigation.
Zakra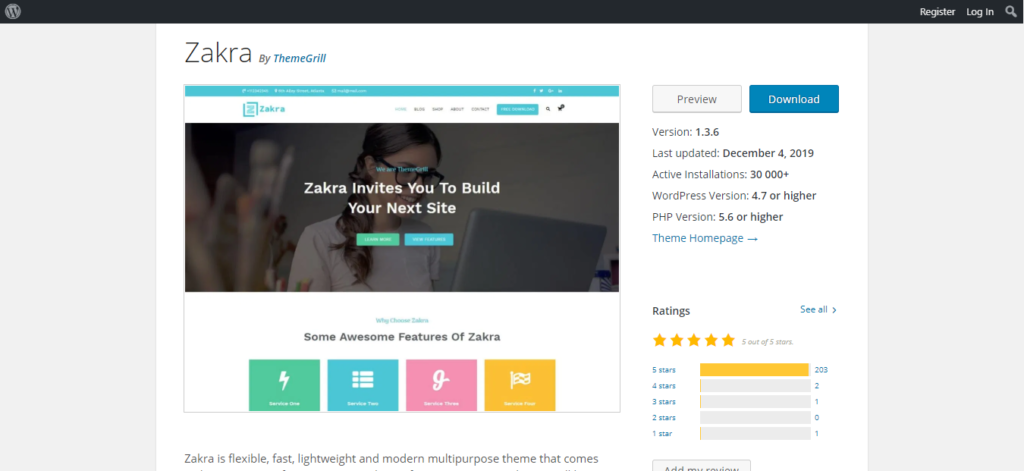 The free Zakra theme is suitable for creating blogs, portfolios, online stores, niche projects. Besides the templates, developers offer 10 free examples that can be used as a baseline when developing a design. The theme was SEO-optimized, is compatible with page designers and WordPress plugins.
Twenty Fourteen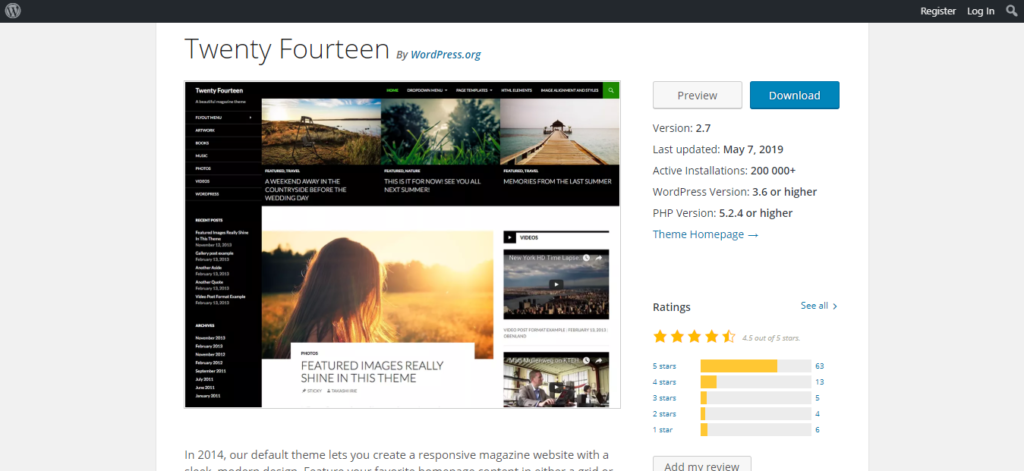 Twenty Fourteen theme has been developed in 2014 but is still popular. Using this template, a website with an online magazine design can be created. It is suitable for non-commercial informational online resources. Widgets, menu, colors, ways of presenting information can be configured (number of columns).
Varuna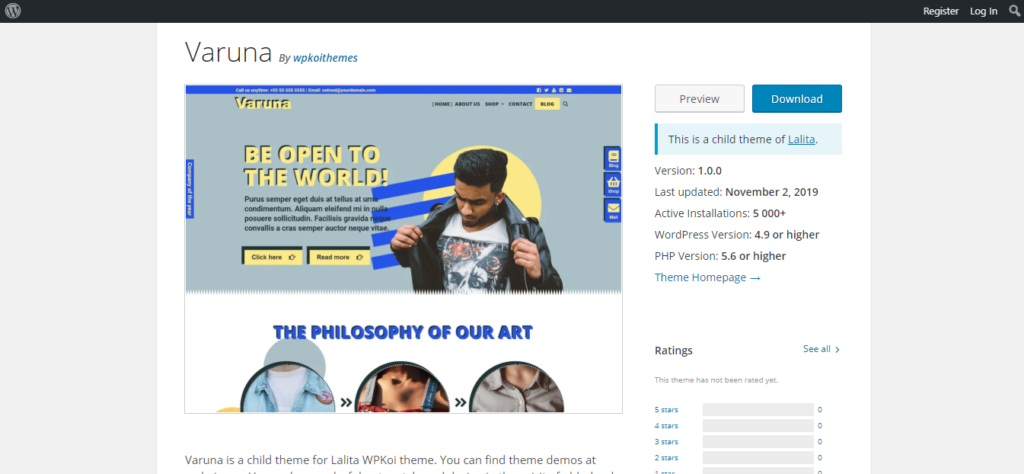 The Varuna template is designed in the retro style. Bright colors are used, and the design resembles old websites from the mid-2000s. Varuna can be applied for non-commercial e-commerce projects, online stores. The main thing is that the specific design should be relevant. The background and header style can be configured. There are several navigation types. The basis Varuna version is free, but there is a premium variant involving the fee-based Varuna plugin.
Highlight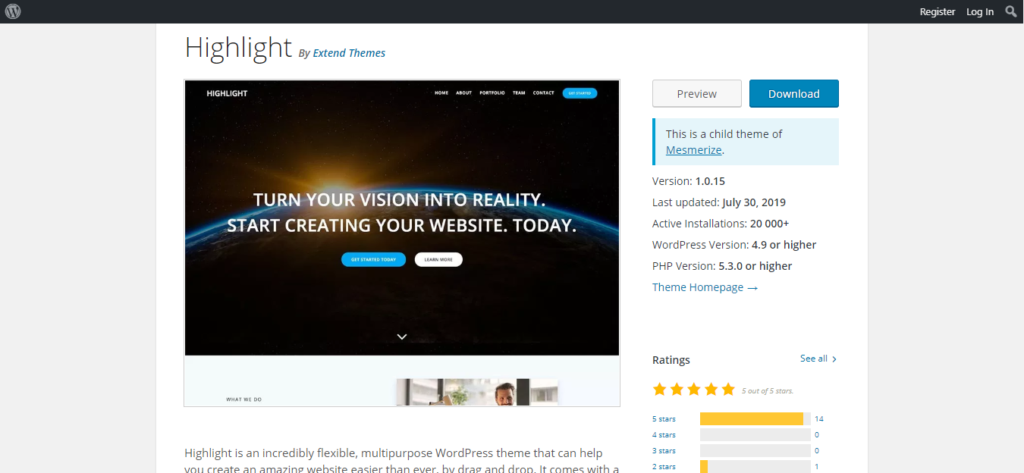 Highlight is perfectly suitable for restaurant, entertainment, art studio website. If compared with other themes, it is very flexible and simple. "Drag & drop" settings are available. You can drag the unit to the right place and leave it there. You can also set up automatic video reproduction on a background, image slideshow, or use beautiful gradients. For making the process easier the theme designer offers 5 ready homepage layouts and 30 templates for other pages.
Ashe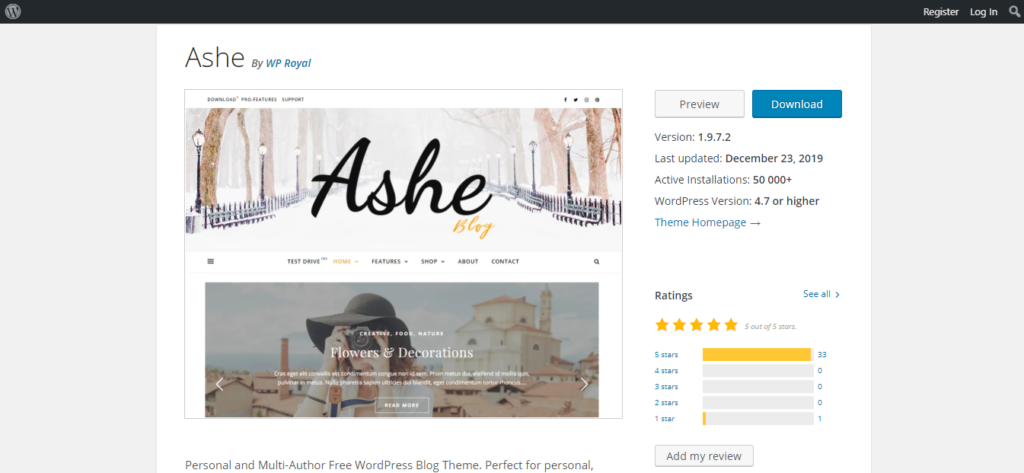 Ashe is a free theme for all types of blogs, e-commerce and niche projects (cooking, photographer's portfolio, traveling, lifestyles). It does not slow down the load speed, supports Instagram widget, and is compatible with page designers. This theme considers the SEO requirements of search algorithms.
Twenty Eleven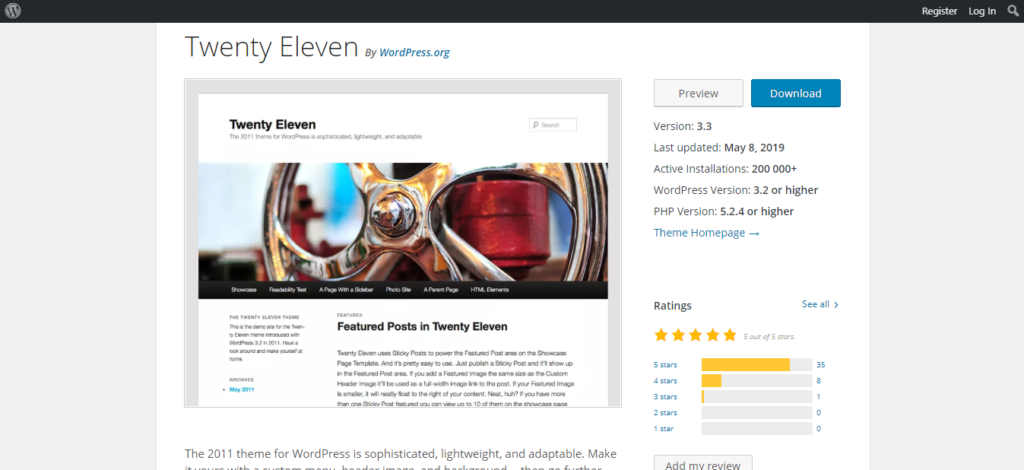 Twenty Eleven is intended for bloggers and non-commercial informational websites. The designers offer three layout variants, a separate widget showing the most important bits of your materials (key points, quotations), 6 record designs. Also, the design color set so as material print and publication styles can be changed.
Customify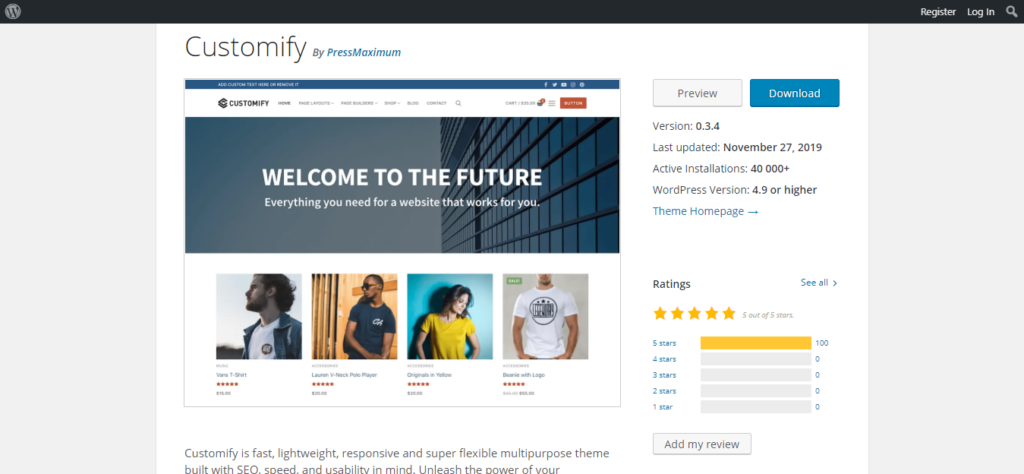 Customify speaks volumes as the developers tried to make this WordPress template as flexible as possible. It can be used to make any website – from a niche (e.g., for a church or a university hub) to an e-commerce resource. WYSIWYG Header & Footer page designer was developed especially for Customify. It is compatible with most WordPress plugins and popular page designers.
Popularis Hub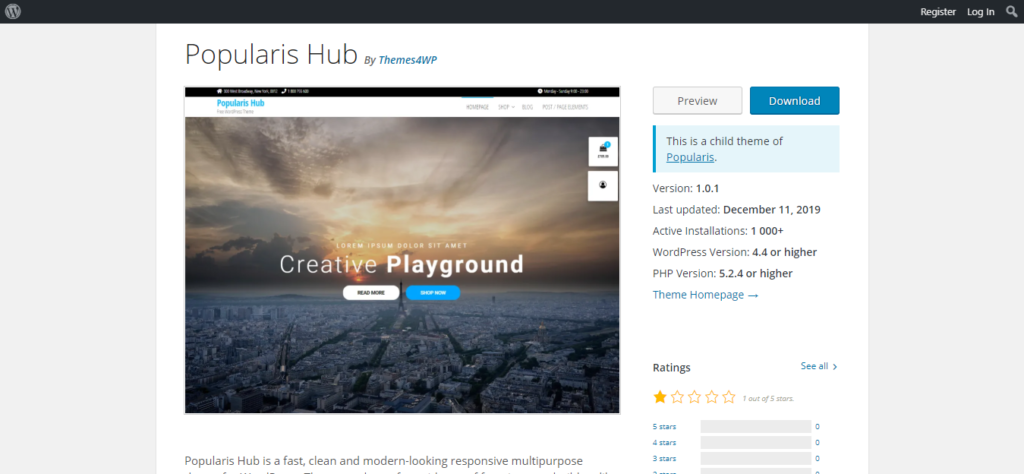 Popularis Hub is a fast free WordPress theme. it has a configurable background, logo, menu, and color design. Initially, Popularis Hub was developed considering SEO. The template is suitable not only for blogs or non-commercial projects but also for e-commerce.
Total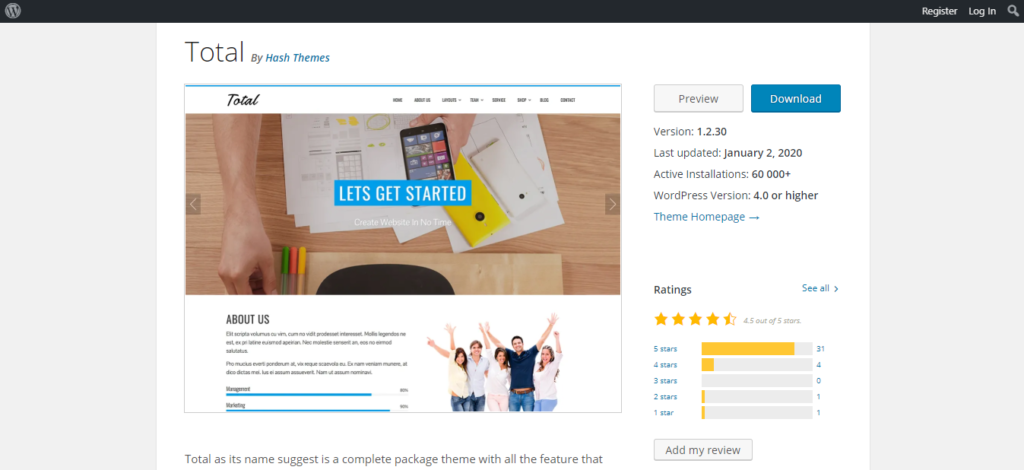 Total is a WordPress theme that allows creating a full-scale website in a few clicks. There is no strict specialization. It is suitable both for e-commerce and non-commercial online resources. The template provides "About us," "Portfolio," "Team," "Store," "Blog" sections. You can import the developers' demo and see how is the Total theme used for setting up. It is compatible with page designers and main plugins (both free and premium ones).
Twenty Ten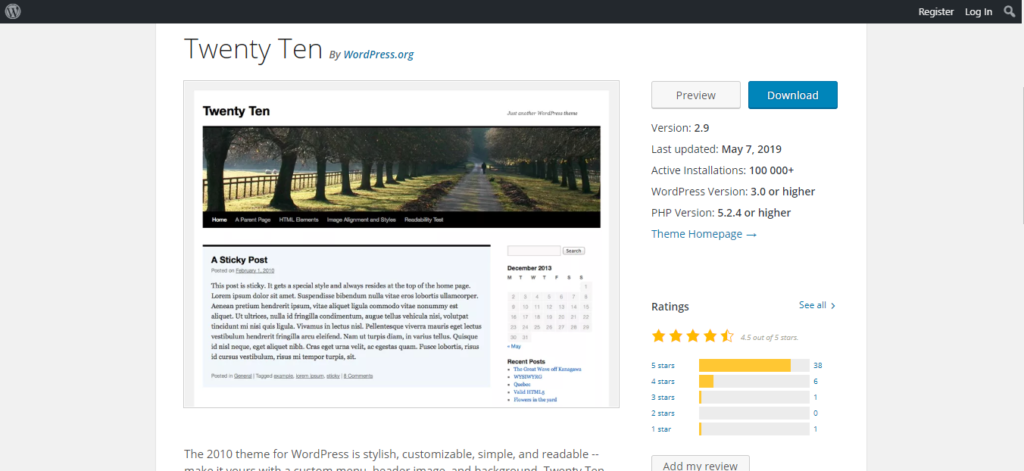 Twenty Ten is suitable for designing blogs, is very readable, and has simple settings. Widgets can be displayed either in the lower half or on the side of the page if there is a template with a disabled side panel. The color set, background, menu, and widgets can be configured. There are separate styles for the gallery and notes.
Twenty Thirteen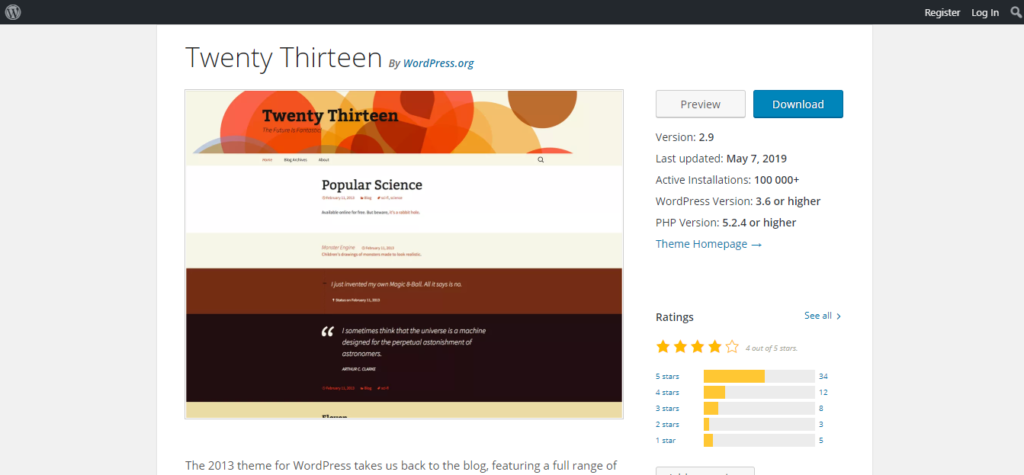 Twenty Thirteen is a theme for WordPress that is completely free. It is intended for creating blogs. If compared to others, it has a bright color set. The combination of contrast colors is very attractive for the reader. It has good typography and header images.
FreeNews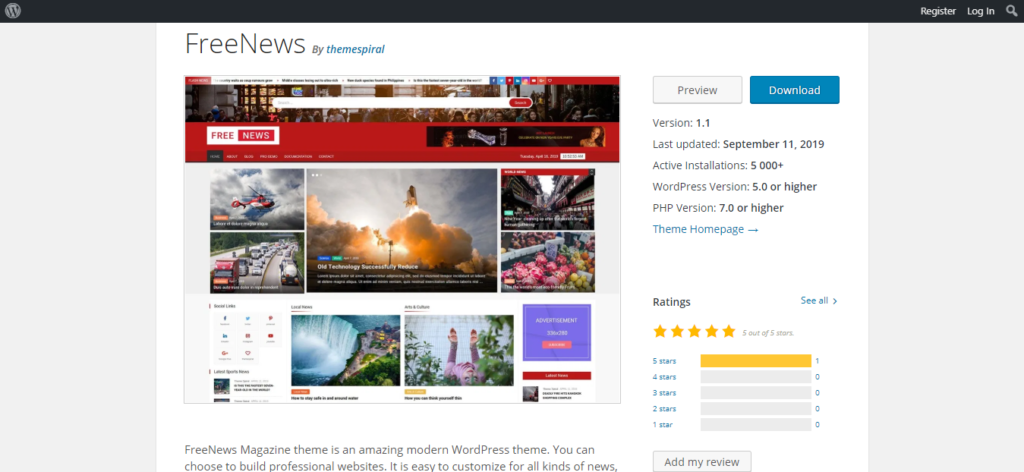 FreeNews is a theme for creating a blog, informational website (magazine, newspaper, or other outlets), online resources devoted to different reviews. The block position, color, used images, menu, widget arrangement can be configured. Smooth work is guaranteed for all browsers and mobile devices.
Building Construction Architecture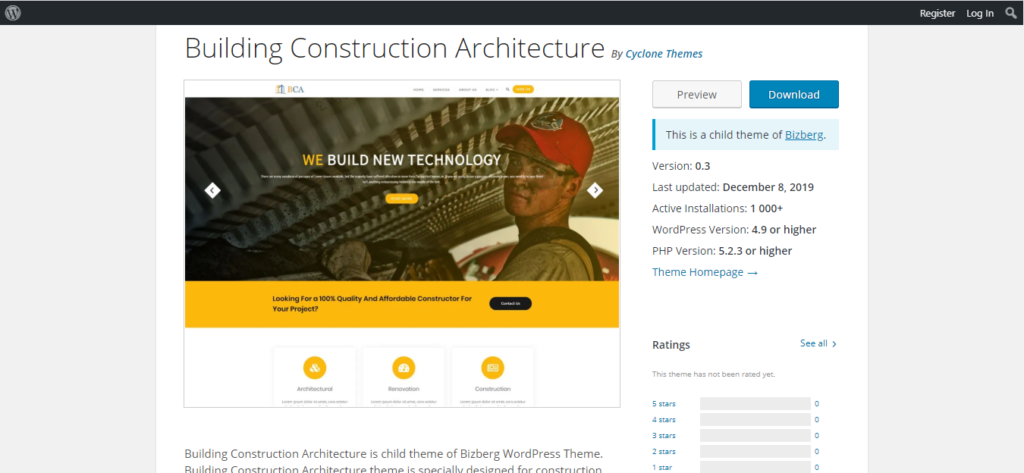 The Building Construction Architecture theme is used for creating company resources in the sphere of construction and architecture. But this free template is also suitable for creating educational resources, furniture companies, and other organizations operating in building and architecture. The theme is based on the Bootstrap framework. It is SEO-optimized and compatible with popular page designers. The settings are also very flexible.
Conclusion
Free WordPress templates are a real catch for small companies. The budget does not always allow spending much on developing a resource, and without proper design and good usability, it isn't easy to find the first customers in the network. Free themes allow solving this problem as you don't need to search for a freelancer, but set up the main sections yourself and minimize the costs for entering the network.
The fact that the themes are free does not affect their efficiency or convenience. So if you are still starting an online business or wish to develop an online resource, please pay attention to them.