Heuristic Evaluation is used to determine the quality and usability of the site's user interface. It is necessary to identify errors and shortcomings that affect the client's experience when using the website. Most often, heuristic evaluation affects the location of sections and menus, principles of the color layout, and the user's intuitive perception of the site.
If a person is uncomfortable interacting with the site, they will stop using it, then the owner of the Internet project will not receive a profit. Therefore, heuristic assessment is introduced at the beginning of the development stages and is the basis for further process adjustments.
Usability Evaluation is a popular query in different countries. The leaders, according to Google statistics, oddly enough, were Singapore (100), Malaysia (82), and Pakistan (78). The list also includes the United States (24) and Canada (27). Among European countries, Sweden (41), Great Britain (30) and Ireland (60) stand out. The concept embodied by this term has decreased in use since its peak in 2006, but it is still found in queries today.
Due to this perseverance in search queries, heuristic evaluation has begun to receive increased attention from the development area. Now, using heuristic evaluation tools is not enough to create a website – the customer interface must be convenient and stable over time. Next, we'll show you how heuristic evaluation is performed using Plerdy tools to improve usability and create an attractive, user-friendly website.
Tools for Heuristic Evaluation from Plerdy
Plerdy has developed a whole set of tools that can improve a site's performance and increase the activity of potential customers. The heuristic evaluation carried out with their help saves the team time, as demonstrated in the following results:
SEO – saves around 30 hours per month.
Marketers and analysts save up to 10 hours of working time.
The tools allow you to increase the site's conversion, reduce the cost of attracting customers, and increase the average user check. Let's take a quick look at each of them.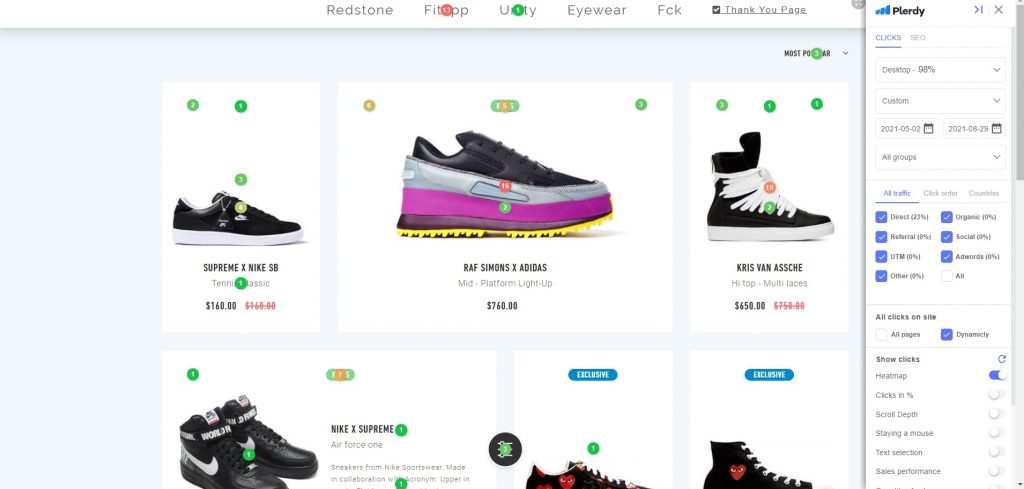 This online tool monitors and analyzes user behavior on the site. Algorithms mark popular sections and allow you to find a problem point where micro and macro conversions suffer.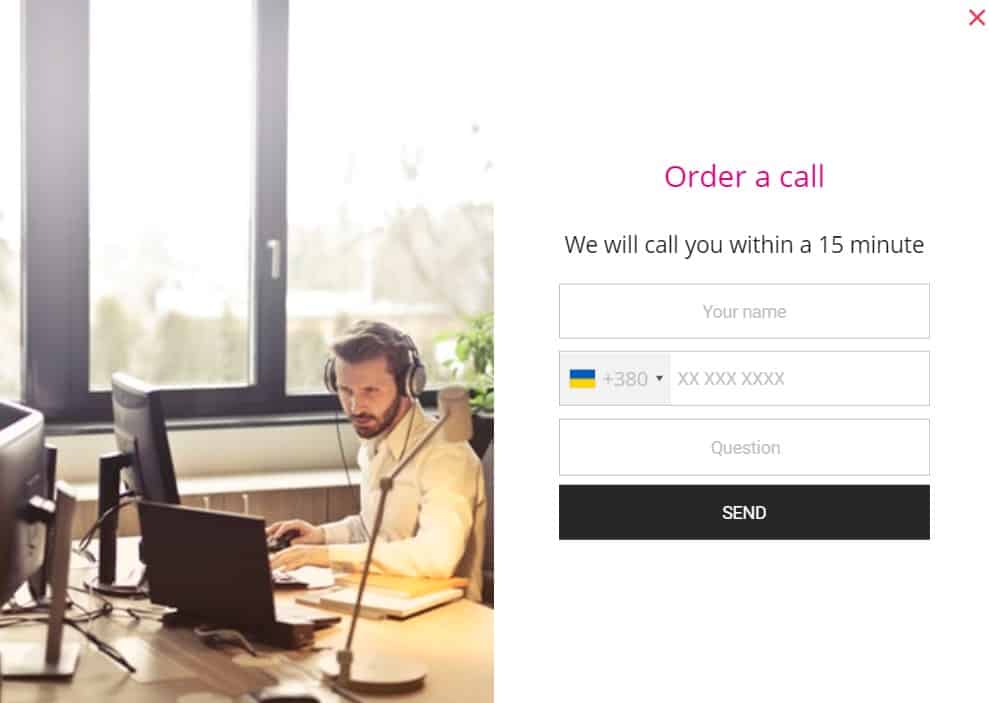 This solution allows you to customize the display of intelligent pop-ups without the help of programmers and designers. Leads are generated and retained more efficiently.

This tool checks websites in auto-crawling mode, detecting SEO issues that are important to search engines. Some of the functionality is free, so the heuristic evaluation does not require investment.

A handy tool for replicating client behavior on a web page. It records what is happening on the screen, allowing you to see the website interface and its convenience through the user's eyes.

Another tool for monitoring user interaction with website elements. This heuristic evaluation allows you to track clicks on buttons, forms, video activation, and more.

This tool generates reports on sales and shows revenue broken down by periods. Using the sales module, you can understand what on the website has the biggest impact on success.


This tool creates a step-by-step sales funnel that shows on which pages the user leaves the funnel and goes to competitors. The information obtained can be easily visualized in the format of a sales funnel so that the heuristic evaluation is effective.
10 Tips for Conducting Heuristic Evaluation
The heuristic evaluation requires attention to the smallest detail in order for the analysis to be as reliable and realistic as possible.
We offer ten tips to help you succeed.
Display System Status

Poorly conceived websites do not inform users about what is happening. If a customer needs to know whether or not a certain feature worked after activation, or at what stage he is at in his procedure, he might waste time checking for information or trying to guess. Often, this will end with an unfinished order. A heuristic evaluation reveals this problem.
Think of Google Drive. When downloading (or uploading) information, the user sees the process occurring in real time: the file's name, the file's number in the queue, and the percentage bar that shows progress. The user has the opportunity to control and track the procedure.
It is important to ensure that the processes are as clear as possible. Another example to consider is online shopping. When you add an item to your cart, an audio or visual effect might be helpful to let you know that the process has taken place. This might look like a banner that reads, "Product added," above the shopping cart icon. It might sound like a chime or some other sound that acts as an indicator. These cues would provide the user with the assurance that the desired process has taken place.
Match the System to Real Life
The client needs to understand the website or application to work well with it. If you call the section "Men's Clothing" on the clothing website, it will be logical and understandable. But changing the name to "For the masculine sex" is not straightforward and would confuse the user.
In addition to clear and concise headings, attention should also be paid to graphics. The interface should use familiar elements from the real world. If an exit button is usually depicted as a door, changing it to a bird or a tree will hinder ease of use and understanding.
Pay attention to how the development leaders implement this. For example, when viewed, photos evoke the feeling of flipping through an album. When choosing a movie, it is like walking between the shelves of a video store. This increases user-friendliness.
User Control & Freedom
Clients do not like to be restricted in any way or have their freedom of decision taken away. Both in real life and on your website, there should be a choice of actions. For example, if the user has made an erroneous order, he should have the option to cancel or correct it without talking to support.
If a file was accidentally deleted or the option is disabled, the client should be given a chance to retrieve everything. By doing this, you protect him from possible negative experiences. Make everything clear and understandable.
Another common problem is a clear sequence of registration stages of an application or order; the user should be given the independence of choice. If he wants to start the order with the delivery address and not the full name, this should be ensured.
Standards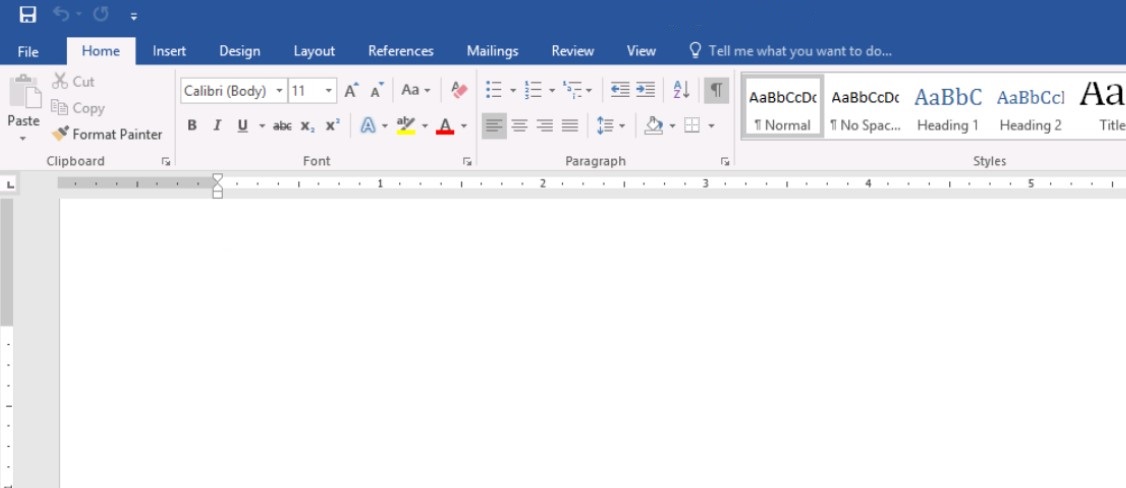 In this modern age, it is common knowledge that blue underlined text denotes an active hyperlink, that a company's logo is located at the top of a webpage, and that clicking on the magnifying glass icon opens the search bar. This is what a consistent approach to interface design does; people become accustomed to certain cues or procedures, making the overall usability experience a positive one.
In addition to visual standards, there must be internal consistency. This manifests itself in a set of available menus. For example, in Microsoft's Office Suite, the user always has similar formatting menus, section tabs, and option icons. This makes it easier to navigate the site and allows you to use all the functions without prior training.
Make sure to keep your target audience in mind. Just because an IT specialist understands everything, that does not mean that the person who is not an IT specialist will.
Error Prevention
After the introduction of new functionality, the developer needs to check the Q&A site to identify bugs. If there are any, the developer receives a report and fixes them. Any mistakes are the fault of the developer who did not properly think over the service, and released a web product of questionable quality to the public.
Make sure that users can correct their mistakes – such risks cannot be ruled out. For example, if a user accidentally deleted a file or specified an incorrect word, he should be able to recover the information or edit it. In addition, beginners make mistakes because they are unfamiliar with the interface and functions; the creator must set the task's context and provide information about its correct execution. With that in mind, even the top companies (like Apple and Google) have bugs. The most important thing is to solve the problems promptly.
User's Memory
This tip has a lot to do with standards and involves using familiar objects, actions, and parameters. For example, the reader understands that to copy, one must select the text and select an option from the context menu. If you change the course of action, the risk of confusion increases dramatically.
In addition, it is necessary to improve the memorization of details through context. For example, online stores often show recently viewed products; this encourages a potential customer to buy. It is also important to pay attention to instant messengers that open chats from the point where the user left off before exiting; this is a good example of maintaining memory.
Efficiency Of Use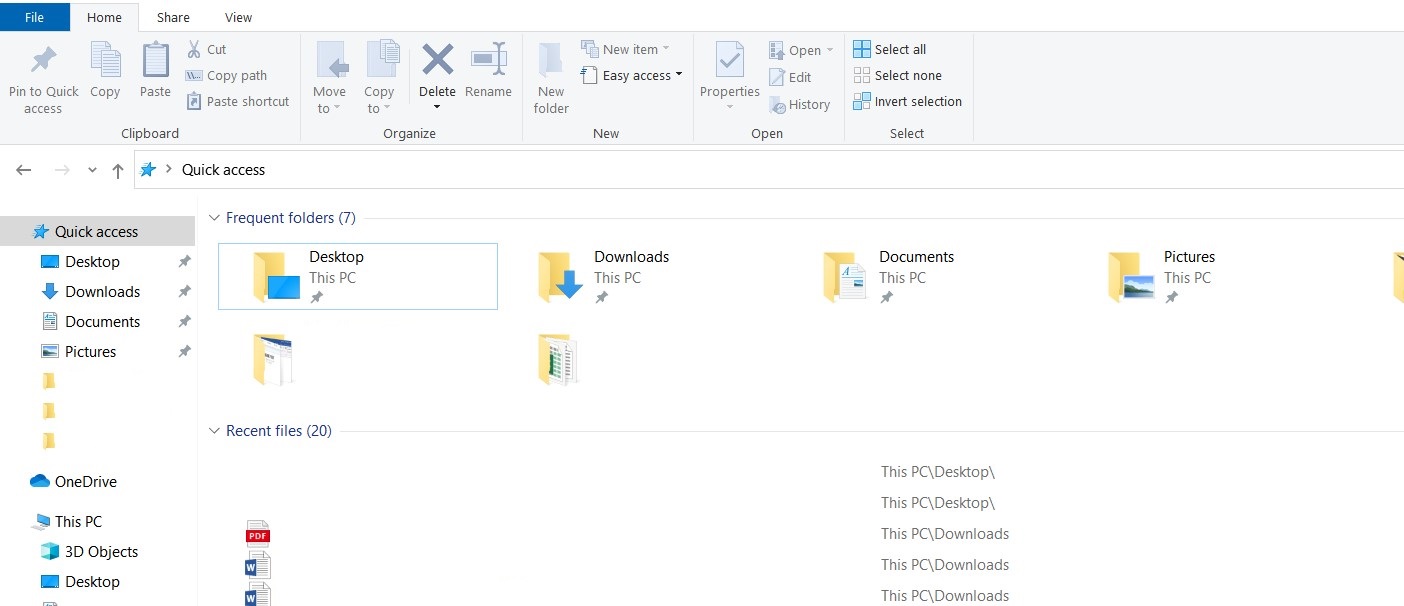 This principle is to enable users to speed up their work; the point is to make it flexible and efficient. In Adobe programs, some browsers, and office applications, there are quick commands that speed up routine actions. For example, you can cut, copy, and undo actions faster. Still, such teams require regular training.
In addition, efficiency is improved if the user has easy access to service options. This is how banking applications work – transfers to the card and frequently used details are displayed on the main work screen. In this case, the operation -which previously took a minute- is performed in mere seconds.
Design
Ensure that the guest receives a convenient and productive interface complemented by clear information. Conduct research on the expectations and desires of potential customers – build a visible portal for their needs.
If development capabilities allow, provide users with a choice of several "skins." They will have different menu formats and information layouts, in which everyone will find the most understandable data display style.
In addition, consider a color scheme that matches the preferences of users. Choose a thematic range that does not overload a person's consciousness – professional designers will help with this. To make the right choice, you need to monitor and analyze user behavior on website pages every month. This data -which provides a heuristic evaluation- will allow you to build hypotheses about what needs to be changed in the design.
Helping Users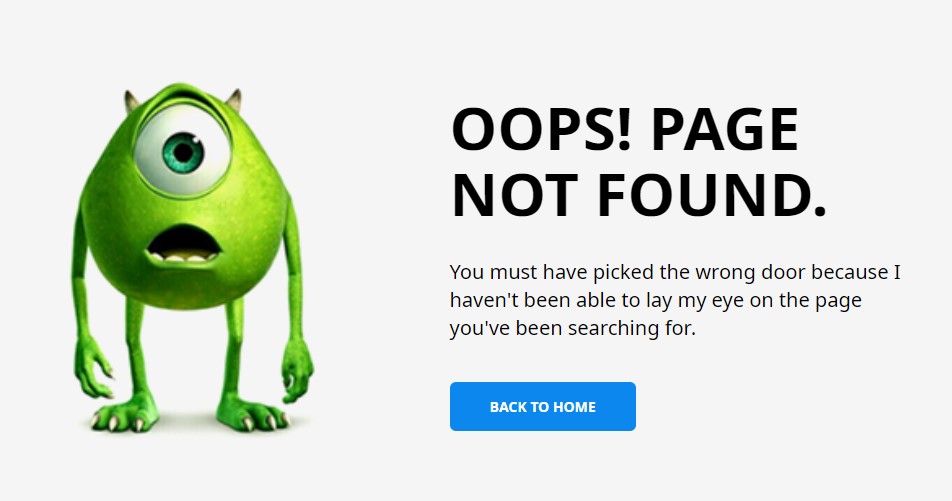 Provide users with error prevention support. Organize a clear notification system that will provide an understanding of precisely what wrong steps the user took. Also, provide instructions with clear explanations of the processes. After all, users always try to solve problems independently.
If a visitor risks opening an inaccessible page, offer him alternative links to study additional information. Provide undo and redo buttons in the text boxes. Add explanations if specific information is required. This usually helps clients and speeds up data entry, reducing the risk of misconduct.
Help and Documentation
To improve usability, adding instructions and contextual cues to your site is a proactive step. This provides the user with explanations before they even encounter a problem. If difficulties have already arisen, you need to insert FAQ blocks and online support into the service to help solve difficult situations.
When you propose a new interface format that is not widely used, train the user to work with it. Try to explain what the benefits of your approach are. Provide in advance in your guide all the moments that cause difficulties.
Use mailing lists to notify users of new features. So you will not encounter misunderstandings of users and ensure productive use of the service.
How important is heuristic evaluation?
Heuristic evaluation is critical to providing users with a convenient and efficient workspace. It involves testing the site before its official release. Much money will be spent on customer reviews and gaining experience – preliminary analysis is much cheaper.
As a result, you get a high-quality digital project that the audience will favorably receive. If the site is convenient, then the speed of client operations will increase. This, in turn, affects memorability, work environment flexibility, and learning ability. Let's put this idea more precisely – UX becomes much better when the entire system is of high quality from the outset.
Use as many heuristic parameters as possible, focusing on preliminary audience analysis. Plan in advance the budget for the work to be carried out and the needs of the users. Consider a list of tools to use that will provide orderly and effective information about the user interface.
Ensure that the heuristic evaluation is not vague and contains specific information for a productive comparison of results. Build an infographic outlining the main issues that can be fixed before the site is officially released. This approach will significantly improve the quality of your work and provide you with high customer engagement rates.
Conclusion
Heuristic evaluation allows you to analyze the user interface to determine its advantages and disadvantages. This way, you avoid mistakes and flaws related to user experience, design elements, application of functions, and many other aspects.
Take our advice: Draw conclusions and give your customers a positive experience with your website or online store. Developer statistics show that websites designed using heuristic evaluation are both better performing and better perceived by customers.