In the bustling intersection of law and online visibility, law firms grapple with standing out in a saturated market. For a lawyer to clinch digital success, cherry-picking an exceptional SEO company becomes paramount. 🚀
Factors for Remarkable Law Firm SEO:
Precision-targeted keywords fitting a lawyer's specialty, say personal injury or intellectual property.
Consistent and compelling content mapping a firm's strengths.
Tailored backlink strategies amplifying a law firm's authority.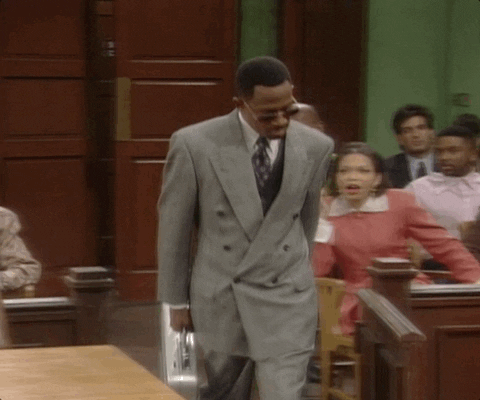 Dive into our handpicked list of stellar SEO companies, seasoned in catapulting law firm marketing efforts. Your legal expertise, combined with their SEO acumen, crafts a digital alliance that breaks the mold. And for those aiming to ace their SEO & UX game, consider harnessing the power of Plerdy – it's a dynamo in the optimization space. 🌟
Let's embark on this digital journey, shall we? 🛤️
Why Law Firms Need Specialized SEO
In the digital landscape, every law firm aims to stand out, but not every marketing strategy can hit the bullseye for lawyers. This is where specialized SEO kicks in—tailoring tactics that resonate with the unique demands and ethics of the legal profession. Consider this: medical professionals and retail businesses don't speak the same language, either on their websites or to their clientele. The same principle applies to law firms; a cookie-cutter approach simply won't cut it.
Key Reasons for Specialization:
Ethical Boundaries: Legal codes govern how a lawyer can advertise, making it essential to navigate these restrictions skillfully.
High-Stakes Keywords: Words like "DUI lawyer" or "personal injury attorney" are not just phrases; they're lifelines people clutch at in desperate times.
Niche Expertise: Family law, criminal defense, and intellectual property all require distinct messaging and keyword targeting.
To effectively elevate your firm's online visibility, think beyond generic SEO. Industry-specific SEO methods not only boost rankings but also improve client trust and engagement. Instead of going broad, dive deep into your specialization. Whether it's maritime law or estate planning, the right SEO plan brings your expertise to the forefront, pulling in qualified leads who need exactly what you offer.
Tailoring SEO to a law firm isn't a simple tweak; it's an entire re-engineering of strategies, from backlink generation to keyword-rich content tailored to legal vernacular. Specialized SEO is not an option; it's a necessity for any law firm serious about digital marketing success.
Criteria for Evaluating Law Firm SEO Companies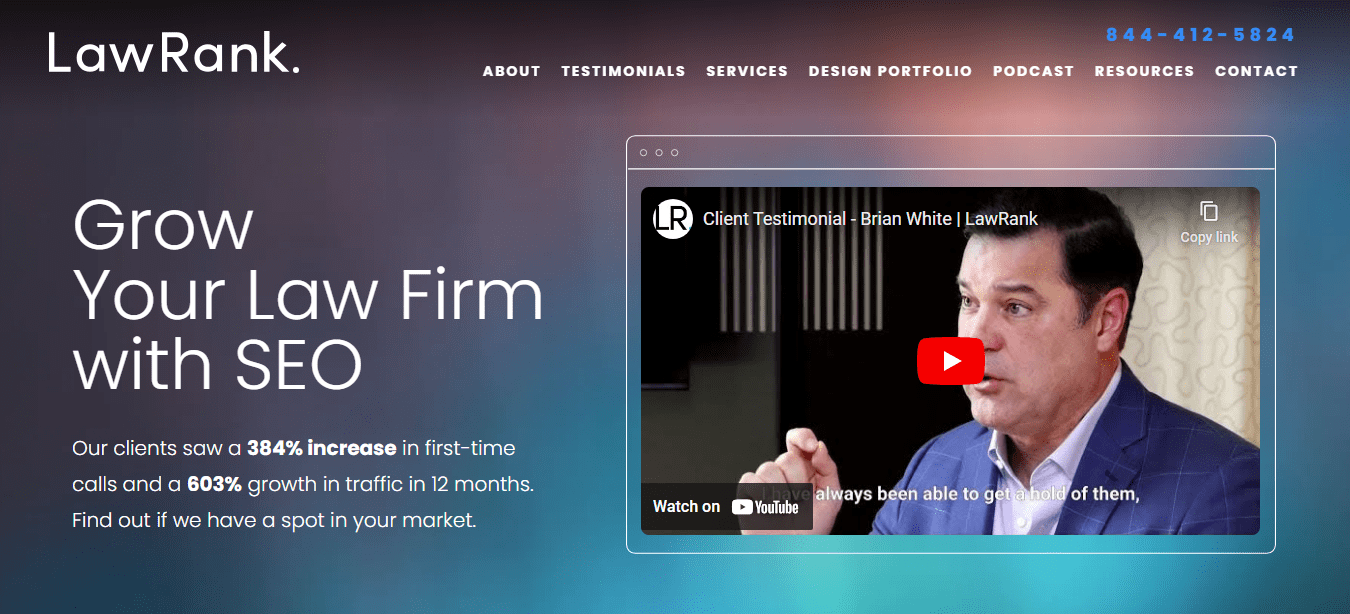 In the bustling ecosystem of digital marketing, not every SEO company can adeptly handle the unique challenges of law firm optimization. Law firms, unlike e-commerce or entertainment websites, must abide by stringent ethical codes and meet potential clients at their most urgent moments. So, when vetting an SEO company, you're not just shopping around; you're selecting a partner to amplify your online voice.
Essential Evaluation Metrics:
Domain Expertise: Does the company excel in legal jargon, court proceedings, and the finer nuances of law? For instance, a firm specializing in SEO for tech startups would likely fumble when it comes to understanding probate law or criminal defense.
Case Studies: Have they propelled other law firms to Page 1 of Google results? The ability to show real-life success stories provides solid ground to stand on.
SEO Techniques: From targeted backlinks to site structure, what arsenal does the company deploy to climb the search engine ranks?
Client Feedback: High ratings and testimonials underscore the firm's competence and commitment to exceeding expectations.
Don't settle for generalized solutions. Your aim should be to secure a company that knows how to talk the talk, but also walk the walk—in courtrooms, in client consultations, and in search engine algorithms. In-depth strategies encompass a wide array of tactics—from dissecting web analytics to churning out engaging, keyword-rich content tailored for legal professionals. It's not merely about rankings but also about fostering meaningful client relationships. Deciding on a law firm SEO company is a high-stakes move that can either set the stage for robust growth or serve as a digital dead-end. Choose wisely.
List of Best 15 Law Firm SEO Companies
Navigating the intricate landscape of law firm SEO can be a labyrinthine endeavor. That's why we've curated an unparalleled list of top-notch SEO companies that know how to make law firms shine online. With expertise spanning diverse legal niches, these digital wizards have the chops to fine-tune your SEO strategies, ensuring your firm becomes the go-to name for legal counsel in your community.

Victorious is not your run-of-the-mill SEO agency; it's a powerhouse that goes above and beyond to elevate your online visibility. With an unwavering focus on actionable results, our specialized solutions have garnered award-winning acclaim. Our expertise doesn't just exist in a vacuum; it translates into palpable benefits for our clients. Just consider the remarkable 780% ROI and a colossal increase in organic traffic and keyword rankings we've achieved for our partners.
Why Choose Victorious for Legal SEO:
Tailor-Made Strategies: No two law firms are alike. Victorious takes the time to understand the intricacies of your practice and crafts a custom SEO roadmap to success.
Data-Driven Decisions: Our in-depth analytics and rigorous process eliminate guesswork, targeting six key areas to funnel organic traffic directly into your client acquisition pipeline.
Award-Winning Excellence: As Search Engine Land's Agency of the Year, our accolades aren't just for show; they are a testament to our capability.
With growing online competition, legal practices are now in a mad scramble to secure the top spots on Google. Victorious brings unmatched expertise specifically tailored for law firms. We focus on commercially viable keywords, refine your service pages using over 200 optimization factors, and engage in laser-focused link building to push your rankings.
Victorious, a law firm SEO company, uses keyword research, on-page optimization, off-page methods, and content production to get you seen, heard, respected, and most importantly, chosen by prospective clients. With Victorious, you don't just climb search rankings; you ascend to unparalleled legal prominence.

Saffron Edge, based in New Jersey, specializes in delivering exceptional digital marketing solutions for diverse industries, from agriculture to law. What sets this agency apart is its comprehensive approach, right from marketplace optimization and CRM enhancement to CRO optimization. With over 14 years of expertise, Saffron Edge has already carved out a name for itself, boasting a 99% customer satisfaction rate and serving over 1500 clients globally, including Fortune 500 companies.
For legal practitioners, Saffron Edge offers tailor-made digital marketing strategies that adhere to industry regulations while driving measurable results. With services like:
Phase-by-phase funnel marketing for qualified lead acquisition
Data-driven targeted PPC campaigns for immediate visibility
Holistic Local SEO strategies to dominate local search results
Specialized content marketing, focusing on industry-relevant, compelling narratives
Law firm SEO company Saffron Edge's multi-channel approach ensures that your law firm doesn't just survive but thrives in the digital landscape. Co-founder Satyajit credits Saffron Edge with uncovering the "true potential" of his business, reflecting an impressive ROI of 7.3x and earned marketing revenue of $130K. With accolades like 'Top Legal Marketing Company in Brick,' the firm has proven its competence in driving real and rewarding outcomes.
For direct-to-consumer brands, Saffron Edge excels in breaking through market noise by implementing data-driven eCommerce strategies, emphasizing customer connection and sales growth. In essence, whether you're an ambitious startup or a well-established law firm, Saffron Edge offers end-to-end digital solutions, guided by data analytics and strategic market research, to maximize your enterprise value.

In an industry like law where credibility and expertise are paramount, marketing needs a specialized touch. That's where Comrade Digital Marketing Agency shines. For over 15 years, our Chicago-based full-service agency has powered legal firms through tailored web development, SEO, and PPC strategies that substantially lift revenue. Our guarantee on services isn't just talk—we've consistently manifested average increases of 2.5x in SEO traffic and a 120% uptick in PPC revenue for our clients.
How We Transform Legal Marketing:
Customized Web Design: Our roots in web design enable us to craft sites that not only look impressive but also turn visitors into clients.
Strategic SEO: With 94% of organic search traffic channeled through Google, our SEO tactics are laser-focused on enhancing your Google rankings. Our strategies have, till date, funneled over $50M in revenue for our clients.
High-ROI PPC: We stretch every dollar to its limits. On average, our clients reap $10 for every $1 spent on Google Ads, outpacing industry norms.
In the legal niche, we've engineered success stories for firms like Barr & Young Attorneys, amplifying client inquiries by 650% and diminishing cost-per-lead by 26%. Our team doesn't just handle digital marketing; we become your in-house experts without the HR headaches. Transparency and results drive us, not empty promises.
Rely on Comrade to catalyze your legal firm's growth trajectory. With our dedicated teams of SEO gurus, copywriters, web designers, and more, your investment is designed to pay off. Make the smart choice—partner with Comrade Digital Marketing Agency, where your success isn't just hoped for, it's engineered.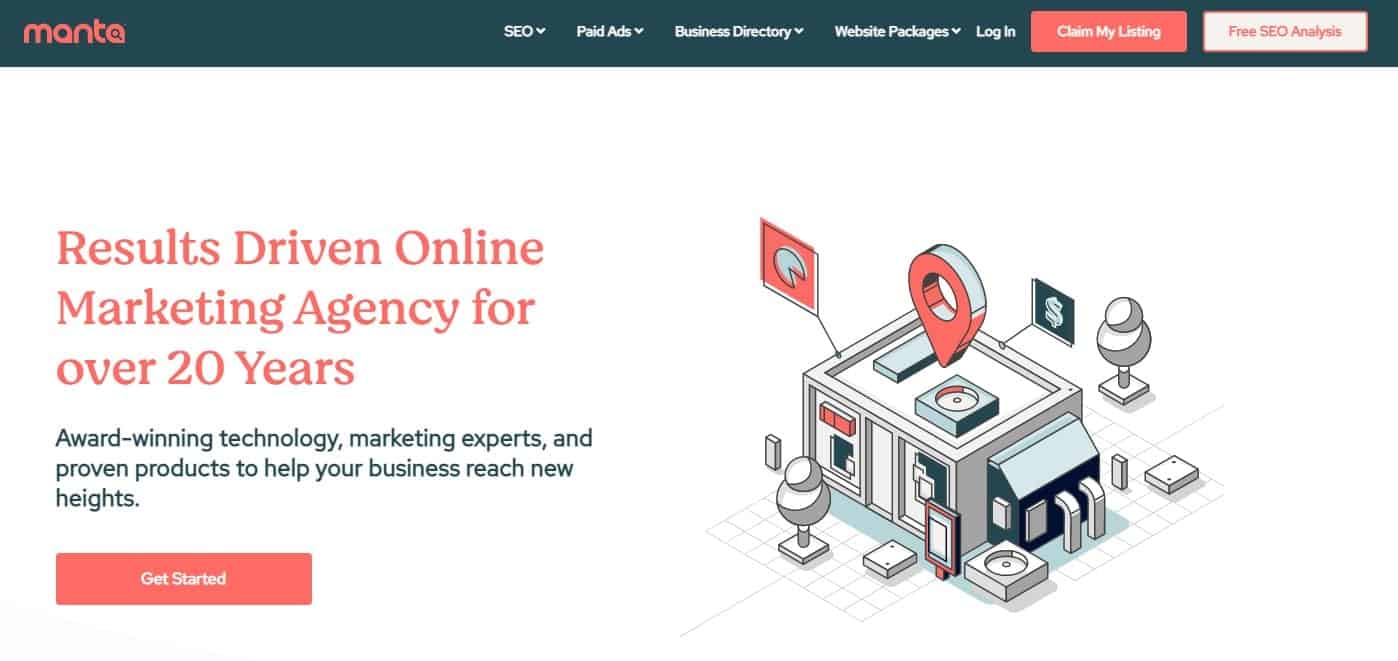 Positioned at the crossroads of technology and expertise, Manta emerges as a powerhouse in online marketing, laser-focused on small business success. With an enviable track record stretching over two decades, Manta specializes in propelling businesses into the digital spotlight. Specifically, in the law firm sector, our technology acts like a magnifying glass—zeroing in on the potential clientele for lawyers through local SEO strategies.
Key Features:
Award-Winning Technology: A robust platform purpose-built for the nuanced needs of small businesses, from mom-and-pop stores to bustling law firms.
Transparent Tracking & Reporting: Real-time insights with a proprietary reporting dashboard, enabling you to keep tabs on your digital footprint.
Tailored Campaigns: Led by marketing experts, each client campaign is fine-tuned to echo the unique voice of your law firm, enhancing your market positioning.
Why is this crucial for law firms? Take an example: You specialize in employment law in Chicago. Our targeted Local SEO not only propels your firm's name to the top Google rankings but also ensures that you show up in local searches—when someone in Chicago types "employment lawyer near me," there you are.
Through meticulous keyword research, we home in on terms like "Chicago employment lawyer," feeding these into our SEO engine, and subsequently pushing your law firm to the digital forefront. Our holistic approach also encompasses online business listings, enhancing your local presence. No wonder 83% of our clients rank in Google's top 10 within six months. With over 1000+ active customers, law firm SEO company Manta does not just promise results—we deliver.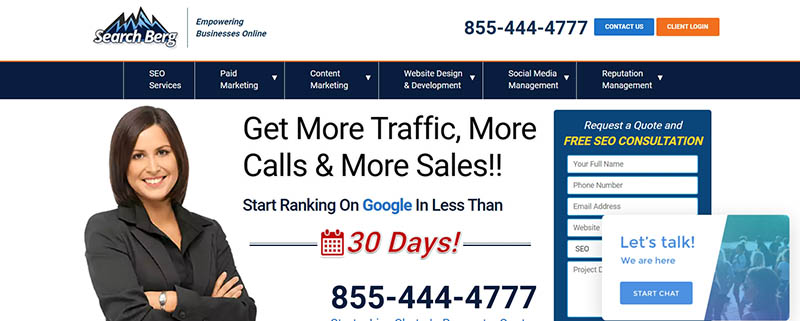 In a saturated legal landscape, setting your law firm apart demands more than traditional marketing strategies. That's where Search Berg excels. Specializing in dynamic SEO services for lawyers, this award-winning agency turbocharges your online authority and visibility. Backed by impressive accolades—Customer Choice Award from Sitejabber and Top Small Business SEO Company by Clutch, among others—Search Berg delivers a potent blend of on-page and off-page SEO services that consistently yield reliable results.
Here's what you get when you partner with law firm SEO company Search Berg:
SEO Audits: Comprehensive analysis, covering design, content, and link profile.
Content Marketing: Articles, blogs, and press releases that aren't just filler—they're fuel for your Google rankings.
Video & Infographics: Professionally crafted visual elements that push for higher conversions.
Local SEO: Business profile listings that anchor your firm in local search results.
Their white-hat approach builds on authoritative link-building services and extensive keyword research focusing on "conversion keywords" that bring leads, not just clicks. With over 40,000 projects completed and more than 150,000 content pieces published, the numbers speak to Search Berg's expansive reach and expertise. But it's not just about quantity; it's about quality. From SEO audits to intricate content marketing for specialized niches like real estate law or criminal defense, they tailor each strategy to your firm's unique needs.
What sets them further apart is their focus on results—and their guarantee of them. With a 100% money-back guarantee, you're not just another case file; you're a partner in a joint mission to elevate your law firm's online standing, visibility, and client engagement. So, for an SEO strategy that passes the bar every time, Search Berg is the definitive choice.

In a digital landscape teeming with options, Funnel Boost Media stands out as an award-winning digital marketing agency that specializes in propelling law firms into the limelight. Since its inception in 2012 in San Antonio, TX, the agency has been a stalwart advocate of white-hat SEO practices, transparent pricing, and results-driven PPC campaigns.
Why choose law firm SEO company Funnel Boost Media? Consider the following:
Unwavering Commitment to SEO & PPC: Upholding 100% Google best practices to elevate your firm's search engine rank.
Expertise Across Niches: Be it criminal defense, divorce, or immigration law, the agency has a robust portfolio to back its claims.
Transparent Pricing: No hidden costs, just honest work that brings measurable leads.
With a diverse clientele featuring names like Lehmlaw and JV Law, Funnel Boost Media tailors digital marketing strategies that not only boost web traffic but also convert visitors into lifelong clients. They take the traditional marketing funnel and finesse it for the digital age, ensuring organic growth and high conversion rates. The key focus areas include web design that aligns with your firm's ethos, sophisticated PPC campaigns for targeted reach, and white-hat SEO practices to sustain long-term growth. Partnering with them means you're investing in robust, scalable online strategies that deliver. With Funnel Boost Media, elevate your law firm's digital narrative and set the stage for sustainable growth.

In the competitive landscape of legal services, Rankings.io stakes its reputation on delivering exceptional SEO and marketing exclusively for law firms. With an impressive 94% retention rate, this agency doesn't merely talk the talk—they walk the walk. Forget empty promises; here, you get tangible proof of success. By focusing solely on lawyers, they zero in on the subtleties that distinguish various legal niches—be it personal injury, criminal defense, or family law—and craft bespoke strategies accordingly.
What sets Rankings.io apart?
Responsiveness: Swift, round-the-clock, and complimentary customer service.
Accountability: Transparency in every move, letting you know what's done, why, and what comes next.
Measurable Results: Concrete growth metrics, from rankings to traffic and client cases.
Case in point: clients have experienced a 400% YoY increase, a 72% spike in search engine traffic, and a 300% rise in cases per month. Noteworthy attorneys like Gabriel Levin and Andrew Finkelstein vouch for the agency's unflinching commitment to delivering results rather than excuses.
Law firm SEO company Rankings.io doesn't just dip its toes into multiple industries. This agency dives deep into legal SEO, offering end-to-end services that cover everything from content creation, link building, and on-site optimization to local SEO. The meticulously crafted Attorney Rankings System is engineered to conquer ultra-competitive locales. Picture this: your firm securing top spots for keywords like "Car Accident Lawyer" or "Divorce Lawyer Near Me," while also gaining traction from esteemed publications.
To put the cherry on top, Rankings.io frees you from restrictive platforms that many legacy companies employ to tether you to their services. They move you to a WordPress site you own outright—empowering your law firm to take full control of its online destiny.

At W3 Affinity, we don't just optimize your search engine ranking—we revolutionize the way you do business online. We've been heralded as Virginia's premier SEO company for four consecutive years, and our mission says it all: Creating a Competitive Advantage for Those Who Deserve to Compete.
How do we deliver? Let's break down the numbers:
2.9x Increase in SEO Traffic
180% Increase in Conversions
Over $5 Million in Ad Budgets Managed
A striking 96% Client Retention Rate
Nestled at the intersection of law, marketing, and SEO, we specialize in turning law firms into industry leaders. Take, for instance, a boutique bankruptcy law firm that came to us with a low domain authority and dismal keyword rankings. We dug deep, rolled up our sleeves, and set about sculpting an SEO strategy that catapulted them to the top of Google's search rankings for competitive keywords like "Chapter 11 Lawyer Virginia."
But we don't stop at SEO. Our Google Advertising expertise allows you to maximize ROI while being frugal with your budget. We implement performance-driven search engine strategies, backed by robust data and crystal-clear ROI metrics. Your business doesn't just grow—it flourishes, all while achieving online visibility and conversion you never thought possible.
Law firm SEO company W3 Affinity is not merely an SEO company; we're the extension of your business, driving you toward unparalleled online success. Seize your opportunity to schedule a discovery call today.

Rocket Clicks stands tall, mastering the digital frontier by boosting business growth through dynamic marketing solutions. In the sphere of law – where every client, case, and click counts – Rocket Clicks crafts strategies tailored to make law firms shine.
Dive into our offerings:
PPC: Using pay-per-click strategies, we target prime ad spaces, leveraging remarketing, display, and social media ads. Our approach? We hone in on customer behavior, optimizing your ads for the right eyes while safeguarding your budget.
SEO: In the bustling boulevard of organic search results, our SEO strategies pave the golden path. By forging trust with both search engines and potential clients, we transform your website into an unstoppable sales powerhouse that's always on duty.
For law firms eager to scale, Rocket Clicks offers bespoke solutions. From multi-location law firm SEO to tailored local PPC campaigns, our strategies are precisely chiseled to fit your needs. When a personal injury law firm sought to amplify their online echo, they turned to us – and we didn't disappoint. Our multi-pronged approach encompassed website migration, paid advertising refinement, local SEO enhancements, and rigorous testing to assure impeccable site speed and conversion rates post-migration.
But, it's not just about stellar results – it's about the journey. Law firm SEO company Since 2008, Rocket Clicks has been a trailblazer in digital marketing, boasting an unmatched client-to-team member ratio and a blazing 4-hour response time. Engage with us and feel the Rocket Clicks difference!

Unleash the full potential of your law firm with Flying V Group—your ultimate partner in the realm of digital marketing. Geared towards a growth-centric approach, this isn't just another agency; it's a partnership that has already won the trust of over 350 businesses. Whether you're a small law firm or at the Fortune 500 level, Flying V Group offers bespoke strategies tailored to skyrocket your revenue, not just vanity metrics.
What Sets Flying V Apart
Revenue-Centric Approach: With a laser focus on ROI, the team ensures your investment pays off big time—delivering not just leads but conversions that fill your coffers.
Expert Consultation: Founded by competitive athletes, the firm brings the same relentless drive to your marketing campaigns.
Unmatched SEO Strategy: With a track record of completing over 1,000 SEO audits, they promise an average ranking improvement of 48%.
For instance, Hines Hampton LLP, a law firm specializing in construction defect litigation, not only got their website revamped but also leveraged Flying V's unparalleled SEO and PPC capabilities. The results? They drove traffic and leads like never before.
So, if you aim to dominate the digital landscape, Law firm SEO company Flying V Group has the expertise and tools to make it happen. From web design featuring conversion layouts to comprehensive marketing plans that include PPC, social media, and state-of-the-art content creation, they've got you covered. Just like a flock of birds forming a "V" to fly efficiently, Flying V Group combines different elements of digital marketing to help your law firm reach its destination—success.

Revitalize your law firm's marketing strategy with LawRank, the premier agency specializing in law firm SEO. Dive into tangible results—our clients have experienced a staggering 384% uptick in first-time calls and an impressive 603% surge in traffic within just one year. Our meticulously crafted campaigns deliver top-tier SEO, PPC, web design, and a suite of expertise that's garnered us accolades from Clutch, Inc 5000, and a slew of five-star client reviews.
Law firm SEO company LawRank achieves outstanding results across various legal niches:
Personal Injury: One client saw 1,132% more first-time calls and doubled web traffic. Top rankings for keywords like 'Houston Personal Injury Lawyer.'
Family Law: A custom package for a San Diego-based firm led to first-page Google rankings for 'San Diego Divorce Lawyer.'
Workers' Compensation: Specialized local SEO strategies yielded higher case sign-ups for an Atlanta-based firm.
Our services break down into critical pillars:
High-Quality Content: Created by attorneys and JDs to ensure accuracy and drive organic traffic.
Strategic Link Building: Includes media mentions, legal directories, and targeted outreach to elevate your Google ranking.
Local SEO: Comprehensive management of your Google My Business profile as part of all SEO packages.
Why settle for generic solutions? With LawRank, each project is unique—we custom-build your legal marketing package. Tired of communication breakdowns and lack of transparency? We offer a refreshing change, keeping clients well-informed and satisfied. Don't settle; invest wisely in LawRank and elevate your law firm to its optimal potential.

Digital marketing can be difficult for law firms with complex cases and client relationships. Neon Ambition bridges this gap by strategically wielding marketing tools to bolster your law firm's digital visibility. Unlike generic agencies, our specialized focus on the legal sector enables us to tailor solutions that are highly effective in this competitive space.
Key Areas Where We Shine:
Sales-Qualified Lead Generation: Combining PPC with sharp storytelling, we engage your audience at multiple funnel stages, ensuring a flow of high-quality leads ready for legal services.
Website Conversion: We architect your website to not just attract but convert. A/B testing helps us optimize landing pages for messages that resonate with your potential clients.
Specialized SEO Tactics: With our Director of SEO's background in managing SEO for the biggest personal injury law firm, our tactics are far from ordinary. We leverage industry-specific keyword research and content strategies to help your firm dominate search rankings.
Why Choose Law firm SEO company Neon Ambition:
We're backed by over $750M in ad spend management experience.
Our custom reporting uses APIs for precise data, coupled with actionable insights to boost your ROI.
Case studies validate our results-driven approach, as with FVF Law, where we increased monthly organic traffic by 993%.
Neon Ambition goes beyond mere marketing; we are strategic partners in your journey to legal dominance. Amplify your digital voice without diluting your legal prowess. Choose Neon Ambition; let's catalyze your firm's digital ambitions into tangible success.

OnTheMap offers a high-octane blend of SEO and digital marketing solutions explicitly tailored for law firms and attorneys. Recognized for award-winning service, the firm boasts impressive figures: more than 2M leads generated, over $40M in revenue for clients, and a staggering 800% average traffic increase.
Their portfolio gleams with sterling case studies. Consider Stroleny Law, P.A., where they rocketed organic website visitors from a modest 216 per month to an astonishing 8,590—a 3,877% increase. Their expertise didn't stop there; they also drove the ranking keywords from 760 to 4,062 per month—a 434% increase. Another client, Filter King, saw sales inflate from $1,000 to $23,000 per month—a 2,200% jump.
Key services OnTheMap excels in:
SEO Content Writing: Curated and researched to cater to law-specific keywords.
Web Design: Conversion-optimized designs that help law firms make a compelling digital impression.
PPC & Marketing: Utilizing data-driven campaigns to maximize ROI.
Clients laud OnTheMap for its ROI-focused approach, avoiding the superficial vanity metrics that many others rely on. Law firms like The Pendergrass Law Firm have gone from zero online visibility to receiving more than 90 calls a month. RKB Law, LLC, and Jesse Minc Personal Injury Law echo similar sentiments, noting significant traffic increases and valuable conversions.
With over a decade in business, 50+ expert team members, and more than 300 satisfied clients nationwide, Law firm SEO company OnTheMap is your go-to agency for law firm digital marketing, helping your practice cut through the noise and tap into a goldmine of qualified leads and sustainable growth.

Dive into Sixth Media's ocean of expertise—an award-winning Utah-based digital marketing agency with a singular focus on #HumanHappiness. At the core of our operations is a genuine commitment to fostering long-term partnerships. Why? Because we believe in a win-win approach where both parties directly engage with our savvy team members to unlock substantial value.
Key Pillars of Sixth Media:
Holistic and Customized Strategies
Long-term, Trusting Partnerships
30-Day Money-Back Guarantee
Zero Cancellation Fees
No Binding Contracts
From local firm SEO for lawyers to comprehensive web development projects, we have cultivated unparalleled trust. Our partners like Nikki A. underscore the quintessential Sixth Media experience—a professional yet caring ecosystem that empowers your vision. For law firms aiming to ramp up their digital footprint, we specialize in optimizing websites so you stand out in a crowded marketplace. Our meticulous hands-on analysis roots out issues, paving the way for a tailor-made SEO campaign.
Our above-board methodologies adhere to white hat SEO principles, minimizing risks while maximizing enduring results. Transparency isn't just a buzzword for us; it's our modus operandi. We offer crystal-clear reporting to keep you in the loop about how our tireless efforts amplify your business's online reach.
In the end, Law firm SEO company Sixth Media isn't just about metrics or rankings. We're in the business of making people, families, and businesses happier—and digital marketing is our chosen vessel.

Search Geek Solutions takes the complex tapestry of digital marketing, particularly in the realm of SEO, and effortlessly unravels it to offer bespoke solutions. Situated in Northern New Jersey, the agency treats SEO as an exact science, fusing digital strategy, innovative design, and performance metrics into a cohesive whole. Specifically for law firms, Search Geek Solutions excels in delivering keyword-rich content, backlink strategies, and localized SEO that propel lawyer websites to the top echelons of search results.
Key services offered:
Cutting-edge Law Firm SEO: Driven by actionable insights and tailored strategies, they boost visibility for legal websites.
Performance-Driven Design: Beyond aesthetics, their designs forge meaningful connections with target audiences.
ROI Checkpoints: Customized metrics and checkpoints consistently evaluate the efficacy of the digital strategy.
In terms of niches, Search Geek Solutions shows unparalleled versatility:
WordPress SEO services navigate the idiosyncrasies of this CMS, making your law firm site both user-friendly and search engine compliant.
Dental SEO services cater to dental practices, enhancing their online footprint.
Real Estate SEO Services hone in on property listings, making them stand out in the crowded marketplace.
Law firm SEO company Search Geek Solutions doesn't merely keep your business in the race; it sets the pace for your industry. In a digital age where visibility translates to viability, this SEO powerhouse ensures your brand not only thrives, but also leaves an indelible impact.
Conclusion
As we wrap up our exploration into the "Best Law Firm SEO Companies", it's evident that the synchrony between SEO and the legal sector isn't just a fleeting trend – it's a cornerstone for modern law firms aspiring to thrive in a digital age. 🌐 Firms like LawRank, Postali, and Thrive have set the benchmark, showcasing the nuances of law-centric SEO, from localized keyword strategies to robust linkbuilding practices. By now, you've gotten more than just the basics; you've been privy to insights that few have access to. In this sea of competitors, armed with information, your firm is poised to produce results that matter. 🚀 And if you're aiming for that extra edge, remember to dive deep into Plerdy's SEO & UX analysis tool – it could be the game-changing asset in your digital toolkit. Let's not just keep up with the constant flux of the digital landscape – let's define it. Onwards and upwards! 🌟