Over the past five years, statistics have shown a consistently high interest in advanced online marketing tools. Online marketing reporting tools are top-rated in countries looking to keep up with the world's leaders and need the means to close their e-commerce gap quickly. There are:
Vietnam,
Laos,
Ghana,
Kenya.
By the way, these same states are leading in other ratings, one way or another, related to the use of online marketing tools.
Online Marketing Tools with Plerdy
One of the best online marketing tools is the Plerdy platform.
Feedback from those who have increased the conversion of their landing pages and sites, thanks Plerdy speaks about the effectiveness of this approach
In particular, Mohammed Faizan Ahmed S., Marketing Strategy Coach For Professional Organizers, notes that the Plerdy platform combines the best online marketing tools in a user-friendly interface and has absolutely everything you need to optimize any site dramatically.
Abdul Sattar G., Sr. Web Designer/Front End Developer, emphasizes that Plerdy is merely a "must buy" solution among all his online marketing tools. He claims that his own experience proves: that Plerdy has an optimal set of the best online marketing tools that guarantee a website's conversion by optimizing it for more than 80 parameters.

Studying the route of a site's visitor and identifying the most popular elements and "dead zones" allows you to analyze the UX interface's advantages and lacks in great detail.
A comprehensive analysis of the Ukrainian-Polish "Kredobank." was provided with the help of Plerdy's online marketing tools. A thorough audit was carried out of every element of the Kredobank website.
The online marketing tools from the Plerdy platform allowed for unloading the main page of unnecessary information, optimizing site search tools, and transferring essential information to the most convenient places for the visitor.
Re-analysis using a heatmap, one of the unique online marketing tools in Plerdy's arsenal, showed that visitors positively assessed the changes.

The online marketing tools used by the Plerdy platform, particularly software for recording visitor sessions, show precisely how the visitor interacts with various website elements. This information, in turn, allows us to conclude the reasons for leaving the visitor before he performs the target action.

The next efficient approach from Plerdy's online marketing tools set. Its use allows:
Find out at which stage of the conversion funnel most customers drop off
Analyze the number of unique page views at every stage of the funnel
Analyze funnels by device type and traffic channel
Customize the look of the funnel (horizontal/vertical)
Adjusting your website to the results of this comprehensive study allows you to fine-tune the critical elements that affect conversion.

This innovative solution in the set of online marketing tools from Plerdy analyzes a visitor's behavior on the site and his interaction with each element. Meanwhile, other online marketing reporting tools can fix the total movements on a website.
A user can configure Event and Goal Tracking for a specific action on the website, for a particular time, or for a particular element. This approach provides, firstly, saving time in further data analysis. Secondly, it allows you to focus on those factors that affect the conversion instead of guessing about the entire site at once. In addition, Event and Goal Tracking can interact with other online marketing tools, transferring the received data to Google Analytics.

Using online marketing tools from Plerdy, you can find out, down to a single element, what exactly affects sales effectiveness on your website. This approach allows you to collect the most accurate data when analyzing the UX interface and, thus, save time for prioritization. In addition, the online marketing tools included in the Plerdy platform provide more accurate data than Google Analytics and present it much easier to interpret.

This part of the online marketing tools included in the Plerdy platform combines unique information content, customization flexibility, and ease of use.
Here's what experts who have used Popup Forms Software to improve their site conversions have to say about their experience with this element of Plerdy's online marketing tools.
Jurgen P., Director of Strategic Initiatives and Marketing Communications (TIME), advises everyone to use Plerdy's online marketing tools to learn the nuances of website visitors' behavior. He believes that The popup/forms builder is a unique tool and unmatched among other platforms' online marketing reporting tools.
William L., Director of a Small-Business, is convinced that with the help of the Plerdy platform with its online marketing tools, he can always significantly increase the conversion rate, even on a very successful website.
With Popup Forms Software, the user can
Interact directly with cart abandoners.
Using fine-tuned filters for events to offer discounts to the visitor, keeping him from leaving the site.
Run online user polls to increase feedback.
Set up highly targeted forms for Google Ads remarketing.
Collect visitors' contact information for further interaction with them using other online marketing tools.

Analyzing a website for SEO errors is not a one-off procedure but involves daily use. There is also such a solution among the online marketing tools of the Plerdy platform.
The use of this tool guarantees your site such impressive results:
0% server load
Mobile-First Index
Automatic SEO analysis of over 1 million pages
Reduced risk of traffic loss
Less time on website audit (saves up to 30 hours/month)
Data export to Google Spreadsheets.
Since the Plerdy platform, as mentioned initially, provides a comprehensive approach to website optimization, analyzing it for more than 80 parameters using its online marketing tools, an SEO relevance check is no exception.
Plerdy's tools for online SEO and marketing provide the following operations:
Automatically audit keywords on website pages and check Title, Description, H1, Noindex, and other characteristics every day
Integrate Google Search Console API to analyze added and missing keywords
View the history of Title, Description, H1, and keywords changes
Automatically detect missing keywords in Title, Description, and H1.
A prime example of the effectiveness of such a comprehensive website SEO analysis using Plerdy's online marketing tools is Template Monster website optimization.
After deeply analyzing the site and disassembling the results obtained by device type and errors found, Plerdy's online marketing tools identified the following critical points:
2,498 pages with significant SEO errors;
1 605 pages to which require attention;
16 404 pages with no errors at all.
After working through this data, all errors were eliminated, and the site is now constantly leading in Google search results.
Type of Online Marketing Tools
As already mentioned, Internet marketing combines the techniques and methods widely known offline, promoting goods and services with tools applicable only online.
As "old-fashioned" methods, we may consider MLM and networking marketing prospecting online tools. Similarly, online marketing tools are characterized by website SEO, SMM, Search Engine Marketing (SEM), targeted and contextual advertising, etc.
It is impossible to list all the methods used in modern online marketing tools, but it is worth dwelling in more detail, at least on some of them.
Social media online marketing tools
This area of ​​online marketing implies forming a positive image of a product or service among users of social networks. For more influence, leaders of opinions are involved — famous bloggers, etc. Social media also allows you to receive prompt feedback. In addition, the personal information that users share on social networks makes you free to target specific advertising accurately.
Email online marketing tools
Although email is gradually losing its position in the popularity rating, giving the palm to various messengers, direct email is still considered a very effective element of online marketing tools. However, sending advertisements to instant messengers is gaining momentum step by step, turning into a cross between email newsletters and SMM.
SEO online tools
The brightest example of using SEO online tools can be considered the above example of optimizing a Template Monster website using the Plerdy platform.
Conversion optimization tools
Website conversion is measured as a percentage. A simple formula to calculate it: the number of people who performed the targeted action you provided is divided by the total number of visitors to the landing page or site and multiplied by 100.
Despite the apparent simplicity, this indicator is one of the most important in Internet marketing. All online marketing tools focus on getting the highest possible conversion rate.
Lead enrichment tools
This part of online marketing tools is also a synthesis of email newsletter software, online marketing tools, and social media platforms. These tools generate personalized emails, messenger messages, and social media posts with carefully crafted, engaging headlines. However, the purpose of using these online marketing tools is still the same: expanding the top of the conversion funnel to lead the buyer to the checkout point, ultimately.
Graphic creation tools
You know from your own experience of posting on social networks: that no matter how good they are, texts do not work without an attention-grabbing picture. However, many online tools exist for creating memorable images for people with no artistic skills. These services save entrepreneurs from hiring a design team to move text on a banner.
Best 10 Online Marketing Tools
Due to the high demand for Internet marketing to increase conversion, many online marketing tools exist. Choosing the best of them, we were guided by how rich the arsenal of functions one software solution has, whether the platform has any unique features, the degree of user-friendliness of the interface, and the convenience of reports for further interpretation.

Online marketing tools from Google are used by 68288 companies worldwide. Including:
Uber.
Airbnb.
Google.
Spotify.
Udemy.
Slack.
Robinhood.
Stripe.
This tool analyzes the visitors' behavior by a bunch of different parameters. Google Analytics sorts all data into informative tables. This solution also integrates with programs from other vendors.
In reviews of their experience with Google Analytics, users note this tool's high efficiency and versatility. However, they complain about the complexity of the interface and the need for special training to interpret the results.

Ahrefs is an international company headquartered in Singapore. The only data this company considers necessary to announce about itself on the official page is that its CEO is named Dmitry, and he developed his first search engine at the age of 15. The services of this online marketing tools platform are used by Facebook, Netflix, Uber, Adobe, and LinkedIn.
To analyze and optimize websites, Ahrefs offers the following tools:
Site Audit
Site Explorer
Keywords Explorer
Content Explorer
Rank Tracker.
Users note that Ahrefs' online marketing tools combine everything you need to analyze and optimize a website.
Among the criticisms are complaining about the high cost of the paid version and the annoying need to confirm that you are not a robot regularly.

Mailchimp was founded in 2001 in Atlanta. Its founders and directors are Ben Chestnut and Dan Kurziu. Mailchimp's online marketing tools include the TED platform, New Belgium, and Vimeo service.
Mailchimp provides free access to these online marketing tools:
email marketing
automating
social media management
CRM
surveys
websites constructor
free domains.
Users especially emphasize the excellent work of the email marketing tool from the Mailchimp platform. According to them, this online marketing tool generates unique personalized content. Among the disadvantages of the platform, users note the need to contact a specialist to fine-tune Mailchimp tools.

HubSpot Marketing Hub has been around since 2005. It is led by Brian Halligan and Dharmesh Shah, the company's founders. Online marketing tools from this platform allow you to optimize websites in the following areas:
The most famous users of the company's services are VMWare, Trello, Survey Monkey, WWF, Suzuki.
HubSpot's online marketing tools users praise the convenience of the landing page templates, the dedicated tutorial, and reliable feedback. However, they are unhappy with the overall integration of individual tools in the platform.

The company was founded and led by Pratham Mittal and Randy Rayess. The most famous users of their online marketing tools are such significant companies as Adobe, Nike, Florida Capital Bank, StateFarm, Marketo,
The platform offers the following list of solutions for website optimization and promotion:
Calculators,
Quizzes,
Assessments.
Recommendations,
Polls,
Chatbots,
Giveaways,
Forms and Surveys.
Among the strengths of Outgrow's online marketing tools, users note the variety of Quizzes, creating additional attractiveness for sites and helping retain visitors. Users also like the depth of form customization. On the other hand, outgrow's online marketing tools users generally agree that the platform has broad functionality but weak technical support and an excessively high price.

ActiveCampaign is an international company with offices in Chicago, Sydney, and Dublin. The founder and Head of ActiveCampaign are Jason VandeBoom.
The Online Visibility Academy uses ActiveCampaign's online marketing tools, Happy Families, McKinsey & Company, Gartner, and Bain & Company.
ActiveCampaign promotes websites in two ways. One includes automated personalized mailings and various methods of interacting with users on marketplaces. ActiveCampaign's online marketing tools are tightly integrated with services such as Shopify, Salesforce, WordPress, and others.
The second direction — "Omni-Channel Marketing," includes developing landing pages and promoting social networks.
ActiveCampaign services' users extensively praise their user-friendly interface. Also, they write with gratitude about the responsive technical support. The only complaint concerns some complexity in the interpretation of analytics.

Cision Communications Cloud's CEO Abel Clark has led the company since 2020. The company originated from the merger of several media corporations and first appeared under this name in 2007. In addition to online marketing, Cision is involved in PR, social projects, and the environment.
The division of Cision Communications Cloud provides online marketing tools focused on website promotion using the arsenal of modern PR technologies.
Users especially emphasize the high level of professional journalists involved in website promotion. At the same time, they write about the limited monitoring tools from Cision and the need to use online marketing tools from other developers.

Ryan Holmes founded the company in 2008. Hootsuite's online marketing tools focus on creating engaging posts and promoting social media websites and landing pages.
Hootsuite services are used by Marketo, General Electric, SXSW, Melia Hotel International.
Users appreciate the free access to two social networks and the excellent templates and tools for creating memorable posts. In addition, they love online marketing tools for scheduling publications on social media platforms. However, they note that the user interface could be more user-friendly and the paid plan more affordable.
Canva is an international company launched in 2013 and focused on a wide range of graphic design services. The company works with American Airlines, LPL Financial, Ingram, Skyscanner, EATON.
The main feature is a vast, constantly updated library of graphic templates for publications on all social networks. A lot of them are free.
Users appreciate the quality of Canva's templates and emphasize that the mobile version of the service works just as well as the desktop one. Some complaint about the cost of branded online marketing tools in the paid version, but at the same time, stress that these tools are more expensive for other services.

Keap is a cloud-based sales and marketing platform that offers customer relationship management (CRM), marketing automation, and e-commerce features in one suite. It is one of the best online marketing tools.
The platform keeps all customer interaction history in one place, so you never have to request the same information twice. An indicative list of customer information includes contact information, phone number, email address, social networks, birthday, and correspondence history. Here are the services this company offers:
Email marketing.
Text marketing.
Automation and more.
Clate Mask is the CEO and Co-Founder of Keap.

BuzzSumo is a fairly simple service for finding and analyzing trending topics and keywords in a specific niche. It is one of the tools for online marketing that will be extremely useful for content marketers and SEO specialists who want to optimize and update their content strategy.
Thanks to the automatic notifications function, you don't even need to constantly monitor the network: the system itself will send a report on the latest trends in a particular industry. In addition, it allows you to quickly search for authors and influencers, which will appeal to outreach professionals. So, we couldn't but include it in our list of online marketing tools.
The company is headquartered in the UK. There are two founders: Henley Wing and James Blackwell.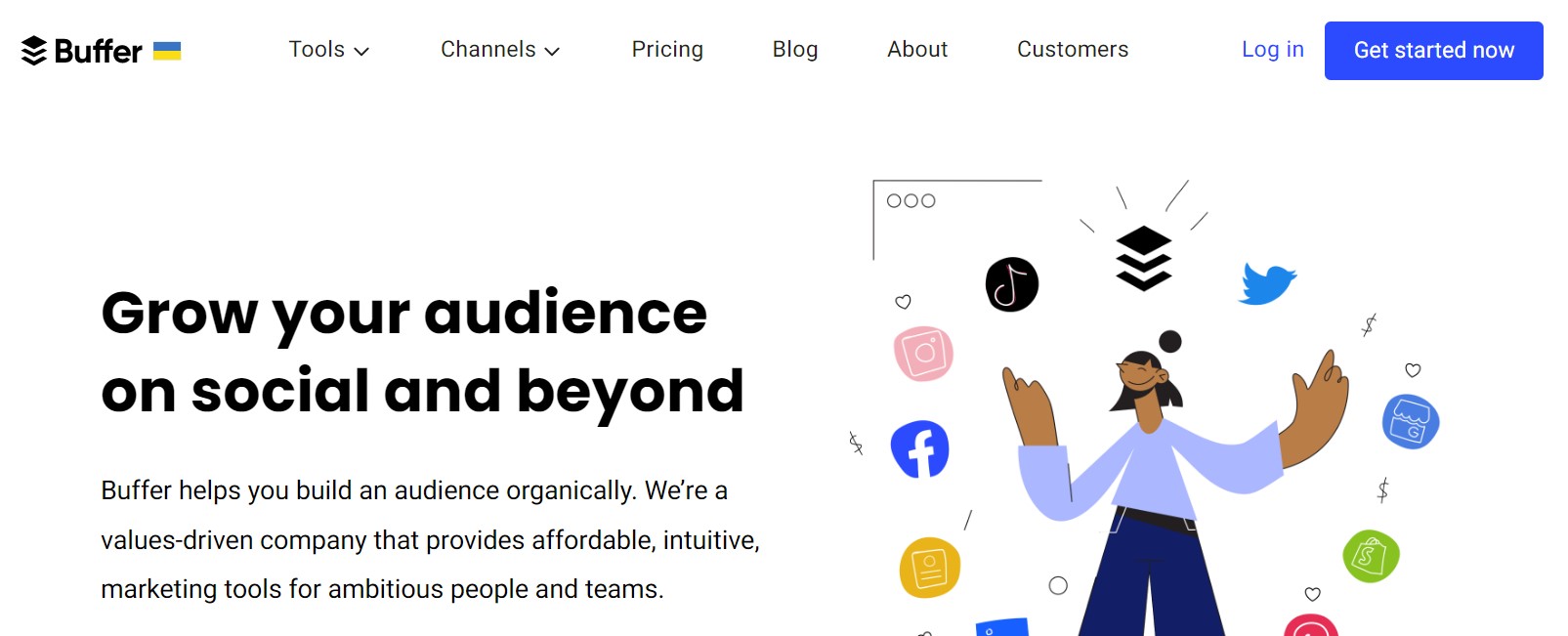 Buffer, the "timer for social media posts," is primarily aimed at companies with its prices, although the manageable functionality for professional social media marketing departments should hardly be sufficient. Although Buffer offers some usable analysis options,co-acquisition monitoring and topic streaming are impossible. In this respect, marketing professionals will certainly opt for other social media management tools or book additional analysis tools. Here are the services this tool offers:
Publishing.
Analytics.
Start page.
The company is headquartered in San Francisco, US. The founder is Joel Gascoigne.

CoSchedule is an online project management service. It is one of the best online marketing tools. The service is more suitable for the work of advertising and marketing departments, as it allows you to engage in media planning, maintain a marketing calendar, and coordinate projects. CoSchedule combines several tools for managing projects from start to finish.
The service combines four tools for organizing the marketing department's activities – organizing time, content, work, and managing archives. It includes online marketing tools and techniques that will be helpful for your business. Here are the CoSchedule features:
Management of marketing projects.
Create a publishing calendar.
Tools for planning and creating content.
Create a task list.
Content management.
Integration with cloud services.
The founder is Garrett Moon. The organization is headquartered in North Dakota, United States.
Conclusion
Modern online marketing tools offer unlimited opportunities to promote your websites. Without using them, you shouldn't hope for high conversions, no matter how good your site's design and content are. A complete solution will undoubtedly guarantee a faster and more convincing result. The exact choice is yours. Moreover, many well-known services provide an opportunity to try their online marketing tools for free.