Determining what a good email is and what one could look for in a great campaign is not something that has a straightforward answer. This question can have as many answers as are industries. And with email marketing being as fruitful as it is: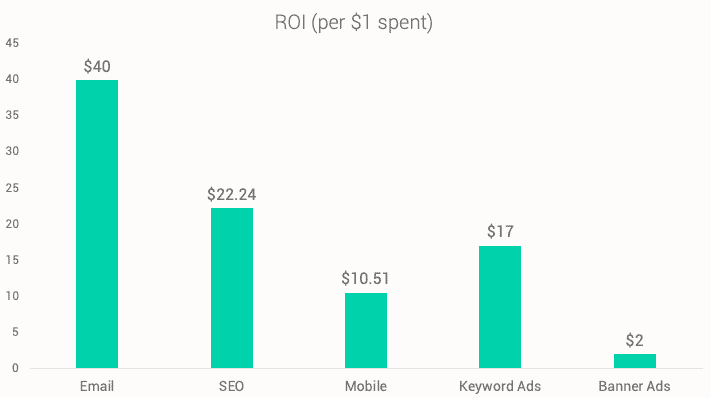 It's no secret that email marketing is something all marketers invest in to increase website conversion, boost their authority and remain top of mind when it comes to their target audience's preferences.
In Email Templates, Less Is More
The above statement is no secret. However, with such a plethora of flashing colors and bold typography, marketers sometimes forget how inviting, and effective a more straightforward email template format could be.
Not to mention that, as a brand, you'll be sending various email campaigns, and flashy templates can be counterintuitive, as customers can grow out of them pretty easily. Of course, this has to do with your clientele and the way you present your brand before anything, so make sure to analyze your data before making any decision.
So, you need flashy and bold to attract people, but you need simplicity and a straightforward email template design to keep people interested. The best way to achieve this is to research email template building tools that will help you build the perfect template. You could either build this template from scratch or provide you with an email template gallery to give you some much-needed inspiration. Especially if you're not really into design.
Picking a versatile tool to support both bold and subtle moves will give you room to adapt and evolve. Not to mention how easy it will be to create emails that will show across all clients and devices.
After all, according to the KISS principle:

So, creating something too complicated could make your email template seem like it's trying too hard. Simple is better when you need your subscribers' focus on your message and not just your email template design.
Personalization
Email templates that are not personalized have less of a chance of boosting your conversion and ROI rates. Just take a look: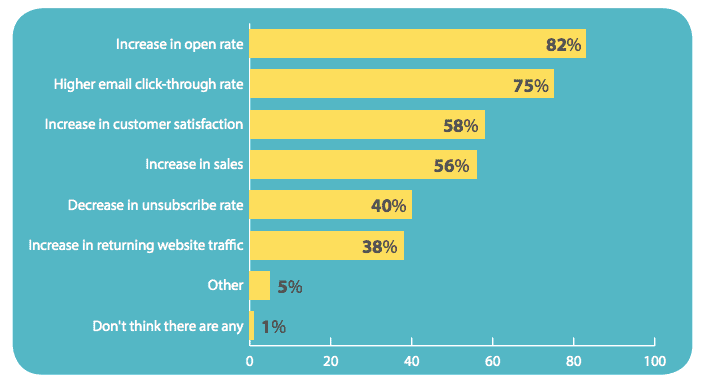 You wouldn't want to miss out on a 75% increase of your CTR, would you? However, creating a personalized email goes way beyond "Hey, [First Name]" nowadays. You'll have to study your audience and create segments that will help you create a tailor-made, hyper-relevant message that will resonate with the recipient.
Here is where you need to be smart and invest in an email marketing platform that will allow you to segment and personalize on an almost one-on-one basis through the power of AI and machine learning. These elements can distinguish between the smallest of patterns and allow hyper-personalization.
Content, Context and Being Dynamic
Of course, hyper-personalization is fantastic, but it needs to be used correctly to bring back the results promised. This is where content that means something to the recipient and changes accordingly comes into play.
So, we're talking about content that is contextually appropriate and can change dynamically. These three elements have become super popular, especially now that online sales are paramount to a brand's sales strategy and taking the sheer volume of emails sent out every single day into account.
Contextually appropriate content – or contextual email marketing – is a new technique that allows emails to provide a level of engagement that is personal and makes sense to the recipient. Here's what I mean: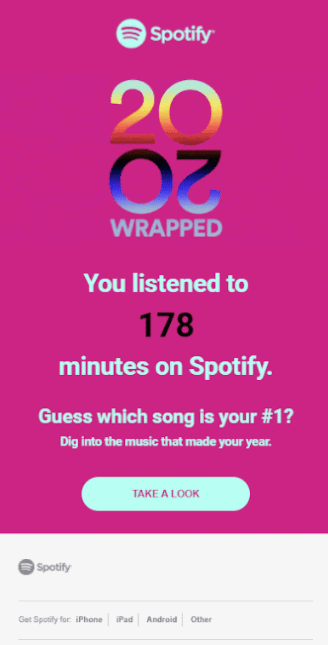 If you don't use Spotify, you have no idea how genius this email was and the "Wrapped" action. There were in-app quizzes and a personalized experience that could both roast and make the recipient say "Aw" simultaneously – at least this happened to me.
So, sending out personalized mass emails would never work in that day and age if you're going for a larger-scale email marketing campaign. The objective is to produce content that seems to have been created by a dedicated agent for the specific person receiving the email. This keeps people excited, engaged, and happy.
Creating Accessible Emails
In a world where more than 2.2 billion people have some form of visual impairment, while millions of others are faced with auditory or other forms of challenges, your emails need to be accessible to everyone. So the chances are that a good chunk of your subscribers will need to receive accessible emails.
Here are some things you can do to make sure your email marketing campaign and your email templates as a whole serve your purpose by collaborating with your audience:
Use contrast that won't be difficult to read. According to the research of ARVO (The Association for Research in Vision and Ophthalmology), "There is an ongoing reduction in the age-standardized prevalence of blindness […] yet the growth and aging [sic] of the world's population is causing a substantial increase in a number of people affected." This statement serves as proof that a good part of your audience will be affected. Contrasting colors are important.
The same goes for your font's size. Don't be too large, and always use enough whitespace to give the eyes some much-needed rest.
Grab attention with your copy and with colors. That way, color-blind people taking action through your email will know if they're doing something wrong. Apply the same principle to your CTA. It should stand out both because of the colors used and because of your copy.
Of course, none of the above come with a manual. The best way to make sure you're heading in the right direction would be to always A/B test and ask users what they want through online surveys, social media posts, and polls.
Subject Lines and Preheaders
The email template you're going to use doesn't have a subject line in the subject – that's why it's mentioned so far in the message – but it's a vital element that will allow you to open more emails. And a higher number of email openings gives a higher chance of a high CTR, and so on.
A great email subject line can be personalized, engaging, super-relevant with the prospect's needs and what your offer is, but it can also be dull, uninspired, and spammy.
To make sure you avoid that, you can use various AI tools, like Moosend's Refine, the free subject line tester that allows users to see how their subject line would fair against the industry standard and provides suggestions that will boost performance.
The Takeaway
Designing the perfect email marketing template that will engage and entice your subscribers is not too simple, but it's not too difficult either.
It would help if you had imagination, perfect segmentation, and personalization options, and cater to individual needs by creating accessible emails or using dynamic and contextual content that will "speak" directly to them.
Author Bio:
Téa Liarokapi is a Senior Content Writer for Moosend, an email marketing and marketing automation platform, and an obsessive writer in general. In her free time, she tries to find new ways to stuff more books in her bookcase and content ideas – and cats – to play with.