Product management certification is a way to start your PM career or gain new expertise. These courses teach how to manage product development teams. Participants can learn to set the product vision and strategy, deliver the value to customers, plan product launch timelines, and more. The participants get product management certification upon mastering the core skills and course completion. It's proof of their abilities.
Would you like to learn more about product management certification? This article details the work of product managers and lists top certification programs to join.
Product Manager vs. Project Manager: What Is the Difference?
Before proceeding to the business management certifications list, let us first differentiate between product management and project management.
Even though project and product managers are often confused, they are not the same. Therefore, before taking any product manager training, you need to know what you are about to engage in. Product managers take charge of the project throughout its entire lifecycle, whereas project managers are solely responsible for completion.
Product managers set the vision of the future product, define KPIs, research consumer needs and communicate them to the product team, run market analyses to understand how to grow the product, and monitor competitors. They continuously interact with multiple teams, including engineering, design, and marketing specialists.
Project managers determine the scope, timeline, and budget, communicate with stakeholders, distribute tasks, create and maintain product development processes, and watch deadlines.
A product manager is a strategist, while a project manager does practical tasks.
What You Should Know Before Taking Product Management Certification Program
To become a product manager, you need specific soft and practical skills. So be ready to work on them and go through several time-consuming steps.
Learn product management fundamentals, study a specific business industry, and develop your pet projects and portfolio. Also, you should watch advanced product management: vision, strategy & metrics via all available sources.
As to the personal qualities of a certified product manager, nurture your emotional intelligence and relationship management. This job involves a lot of communication and stress you need to cope with.
Benefits of the Product Management Certification
Although getting product management certification is hard, it's worth it. After completing product management certification courses, you will enjoy the following advantages:
Enter a professional community of product managers
Get the best jobs thanks to the experience and the product management degree obtained
Have a document that validates your expertise and helps to get hired
Learn the product management foundations or more advanced skills depending on the course
Training from the best product managers
Higher chances of getting promoted if you already work in the PM-related position
Best Product Management Certifications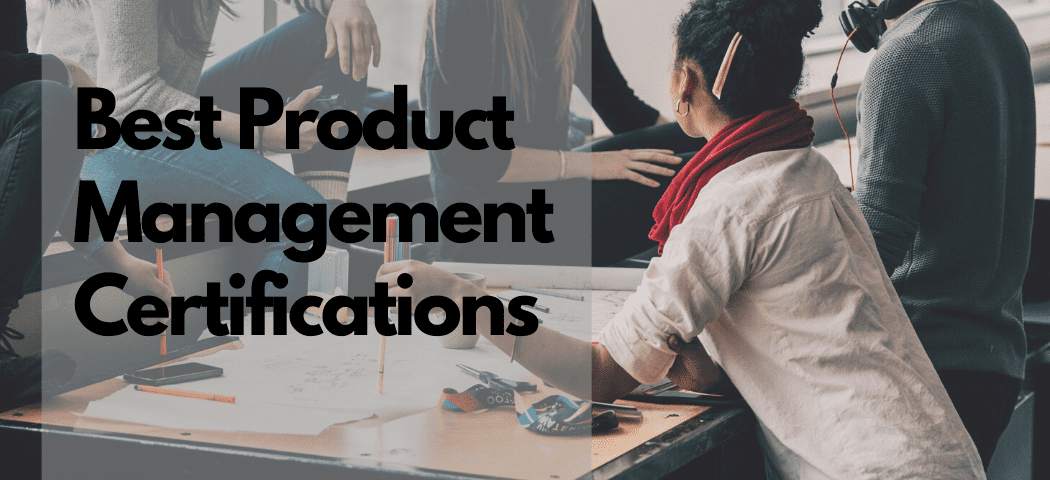 This section lists the best online product management certification programs. Of course, they feature a different product school cost and offer unique product management workshops. In addition, you may come across a leadership certification free to obtain online or prefer an advanced paid product management Bootcamp. This is up to you. Take any of them to master your PM skills.
AIPMM offers several product management certification courses with narrower expertise. For example, you can choose from product management programs for marketing, agile development, product ownership, digital products, innovations, and brand management. It's a self-practiced certification with an exam that costs around $500 for non-members.
"Flexible hours, career services, and affordable rates are the main cons (Indeed.com user)."
Product managers HQ also grants multiple certifications for PMs. The general PM, technical PM, and product owner certifications are the most popular. The members of this community work at Facebook, Twitter, Google, Spotify, and other tech market leaders. Hence, you can expect high-quality mentorship. The enrollment fee is $350.
"It's definitely the best course on product management fundamentals. I'm landing a PM job now (Kevin C)."
Here you can select between product manager, leader, and executive certificates. This way, Product School helps anyone, be it a beginner or someone who aims for the C-Suite. Their instructors are PMs from Amazon, Uber, Netflix, Slack, and LinkedIn.
"The instructors are super experienced. The structured problem-solving techniques I learned allowed me to get multiple job offers (Chien Yu)."
It's a 5-day in-person program with a six-week online component that includes readings, video lectures, exercises, live discussions, and games. Dr. Sara Beckman has led this course since 2006 and regularly updated it to meet the emerging market needs. You will get a certification from a world-class university and business school.
"The value of the program is worth it. My insight and understanding will pay off in my daily office activities (PM, ConnectWise)."
Udemy offers over 10,000 PM courses with a 30-day money-back guarantee. They are not as advanced as the programs developed by universities and professional associations. Nevertheless, you can gain core product management skills and get an online certification. Udemy is a unique opportunity to learn something new for free or a moderate fee.
"This course gives a good overview of the PM/PO role, and the video quality is excellent (John K.)."
Top 5 Free Product Management Certifications
Learners who are not ready to pay can tap into the best free programs. They give a better understanding of a product management career and responsibilities.
This course by the University of Alberta is available at Coursera. Kenny Wong, Associate Professor in the Computing Science Department, explains how product management can help design better software. During their product management classes, students also learn to apply Agile software development principles to streamline their projects. 24% of course participants claim to start a new career after completing the program.
"The course was interesting, useful, and interactive. I will apply the gained knowledge in my everyday software management work (NK)."
Here is another free online PM course from the University of Virginia that gives high-quality production manager certifications. Suitable for beginners, it instructs how to successfully manage products, organize PM routines with modern approaches, explore new product ideas, and amplify existing products. The instructor Alex Covan is the author of 19 courses uniting over 350,000 learners worldwide. It will take you approximately 11 hours to complete this course.
"The course is interesting but has too much content and not enough depth, making it quite general (Riccardo M)."
From this introductory course, you can understand how to navigate the responsibilities of a product manager. It also teaches how to manage innovative product teams, deal with marketing challenges, and build customer persona. The estimated time is four weeks (2-3 hours weekly). The lecturer James Green is a Managing Director at the Maryland Technology Enterprise Institute.
"I like the clear structure and organization of this course. Moreover, the instructor seems to be a great pro (Messias Uaissone)."
It's a complete guide to becoming a product manager by LinkedIn. With Cole Mercer and Evan Kimbrell, you dive into product development, user needs, competitive and market analysis, customer development, PM metrics, and other critical fields of knowledge. In addition, this LinkedIn course provides a product management certification.
"It includes lots of content so that you will find something worth your time (Matt LeMaire)."
Luis Rodriguez Baptista, a professor at IE Business School, shares his experience in brand- and product-building. This course focuses on brand architecture, engagement, and management. It also offers some insight into product management. Students need around 4 hours to complete it and get a shareable certificate.
"It helps to learn how to manage a brand and its products. In addition, you will enjoy free insights on product management techniques and approaches (MT)."
Conclusion
Now, you know more about what product managers do and how to get a product management qualification. So it should be easier to become one. We recommend taking one of the professional courses to start and facilitate the learning process. In addition, there are paid options with university product management certifications and free online programs.