Would you like to get to users' minds? Fortunately, it's forbidden by law 😄. Still, you can learn a lot about them with product analytics software.
Product analytics allows you to supervise how users interact with web and mobile products. It has two major tasks: data collection and interpretation. And it's impossible without specialized product analytics tools.
First, a product analyst collects different metrics (which buttons users press, how often they use the product, which product features are popular, etc.). These measurements show what's happening with the product but don't explain why. Of course, without special product analytics tools, it is impossible to do this.
Then, the analyst pulls insights from the numbers that explain user behavior. Again, product analytics tools contribute to this. The product analytics tools turn raw data into a meaningful summary that allows the product team to optimize the product.
Want to update your product in the future? Or forecast the impact of user behavior in advance?
McKinsey's research shows that intelligent data and product analytics tools help companies achieve large-scale growth. Respondents from market-leading companies said their product analytics tools initiatives brought them at least 20% profit over three years.
How to Choose the Right Product Analytics Software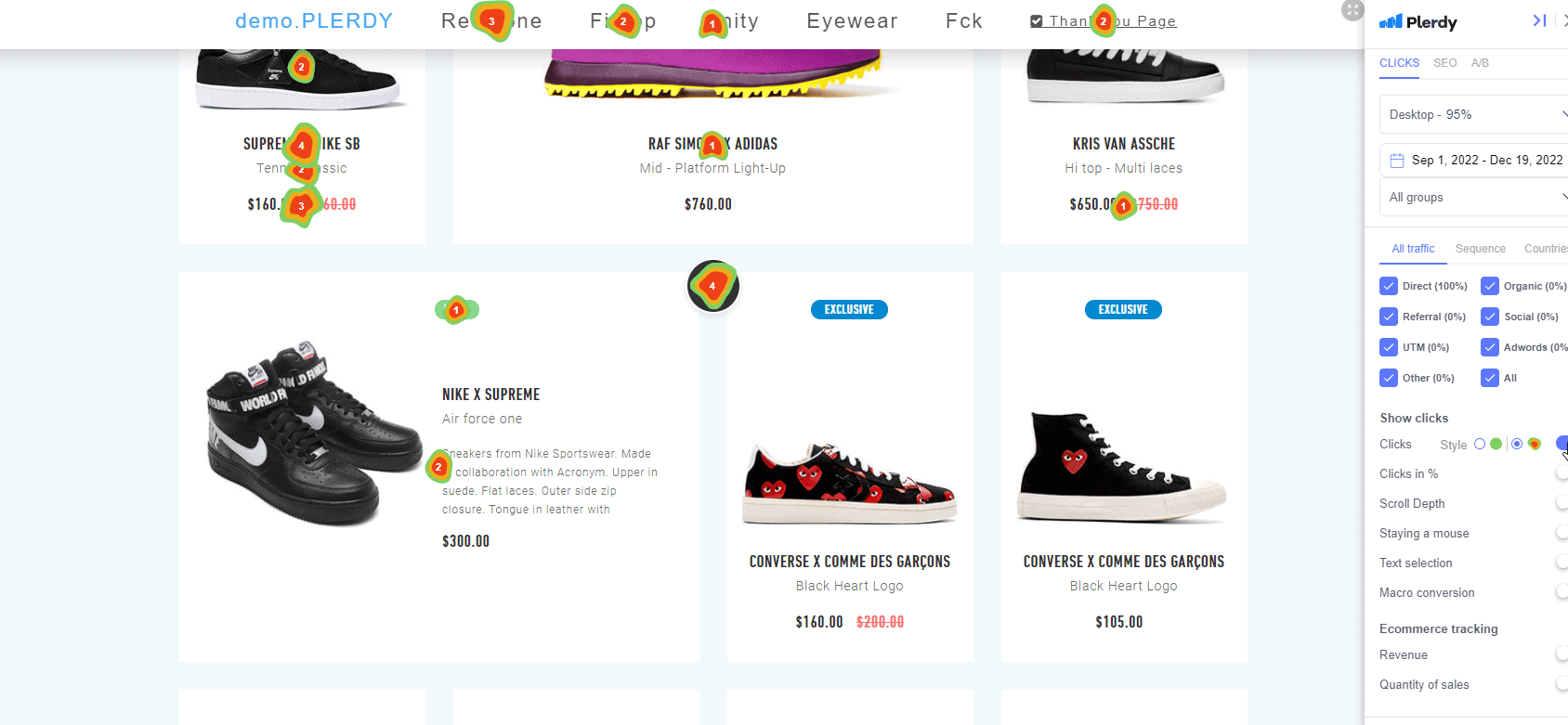 When it comes to choosing the right product analytics software, the first thing you need to do is determine your KPIs. What do you want to achieve with this software? Are you looking for customer insights, product performance metrics, or user behavior patterns (heatmap or video sissions)? Once you have a clear idea of what you're trying to accomplish, you can start narrowing down your options.
The next step is to consider the features of the different product analytics software products on the market. You should read product pages or check reviews on websites like G2 to research the functionality and match it with 💡 your needs.
Are you looking for something that can track customer engagement, or are you more interested in a tool that can help you measure product performance (like Google PageSpeed Insights)? Do you need something that can integrate with other software products (via an API or webhook), or do you want something easy to use? These questions will help you find the right product analytics software for your needs.
Once you know the features and functions you need, you can start comparing different products. There are many articles with detailed comparisons, — like this Hotjar vs. Google Analytics overview, for example.
Look for products that offer at least 14-day free trial to get a feel for the product before you commit to a purchase. Ideally, the tool must offer a demo with a customer success manager to guide you through the use cases.
You should also read reviews from other users to get a sense of how the product performs in real-world scenarios.
Finally, make sure you consider the cost of the product. You may be tempted to go with the cheapest option, but remember that you get what you pay for. A higher-priced product may offer more features and better performance. In the long run, it may be worth the investment. Besides, some products have a 20% discount for a long-term subscription or even up to 30-40% for agencies.
Common Mistakes to Avoid When Using Product Analytics Software
When using product analytics software, it's important to keep a few things in mind. Here are some common mistakes to avoid when using product analytics software for website page or online store analysis.
Refrain from making assumptions about your customers. It's easy to assume that all customers behave similarly, but they don't. Users from different channels, like direct, SEO, or Google Ads, may respond differently to the same message. Make sure you take the time to collect and analyze this data to understand your customers better.
Don't focus on one metric only. Product analytics software can provide you with a wealth of data, but it's important to look at the big picture. Don't focus too much on one metric (CR, Bounce Rate, Session time and etc.) — look at the data from multiple angles to get a better understanding of your website and customers.
Keep everything simple. Product analytics software can be a powerful tool, but it's important to keep it simple. Don't use the software for more than it's intended for, and prefer convenient tools. By the way, Plerdy is the second Easiest To Use in the Heatmap Tools software category, according to G2.
Remember to take action and test changes. Once you gather and analyze the data, it's important to take action. Use the data to make the changes and adjustments necessary to improve your website and customer experience. Note that you should keep using the tool to analyze the website again after some time. So don't delete the script to keep collecting data.
By avoiding these mistakes, you will gather comprehensive user behavior data for implementing UX changes. Such best practices will also save you time since the analysis will provide reliable data.
How Plerdy Tools Help Products Analytics

Plerdy is one of the best conversion rate optimization platforms for website and product analytics. It combines multiple tools for user behavior analysis.
Dmitry Chervonyi, Head of Marketing at MyDutyFree LLC:

Plerdy is a useful product analytics service with a nice interface. In part, Plerdy resembles Google Analytics, surpassing the latter in giving you the ability to customize your search manually. I would say that Plerdy manages to collect the most plausible statistics possible, even though Adblockers and other apps block about 5% of events. It is the best option for startups!
Olga Zabalkanskaya, CMO at Newoldstamp.com:

Plerdy is a very simple tool with huge possibilities for product analytics. What do I like the most? Frankly, the low price and the cool features. I used the free version of Plerdy for 2 months and for this time I have increased the conversion rate by 3 times. Plerdy is a very useful tool for any business and I will use Plerdy in the future.
Best 7 Product Analytics Tools
While creating this rating, we relied on user reviews and functionality. All these product analytics tools are time-tested. Read more about the pros and cons of each product analytics tool below.

Amplitude Analytics is an improved version of Mixpanel in terms of analytics capabilities (event segmentation, retention, user profiles, flexible segmentation, cohort generation, dashboards, real-time data, and more). Walmart, Ford, Atlassian, Burger King, and NerdWallet use this product analytics tool.
The time-savings even with the free product analytics version are impressive. Amplitude stitches together timelines of events seamlessly and allows you to generate funnel data based on tracked events or user properties without coding.
You may have to read through docs or watch a few videos to figure out how to build a dashboard.

This tool automatically tracks UTM tags. If you use tagged links, Mixpanel will automatically save them as first-touch properties and record the user's actions on the site. This is useful for understanding where your customers come from and recording their behavior. ZipRecruiter, Rakuten Viber, Lemonade, Sweetgreen, Expedia, and thousands of other companies choose Mixpanel for product analytics.
The product UI is super intuitive. I can pull the insights necessary to inform my decisions even with tons of information. The best part is the ability to share insights.
It automatically tracks events and properties like device info, session length,  app version, app updates, and geolocation data.

Keen.io is a fully managed event streaming platform with custom analytics and embedded visualizations. Use flexible Data Viz packages that help prototype production-ready dashboards. More than 100 000 companies worldwide use keen.io to deploy custom analytics and embedded visualizations. Among them are Pixlee, Spotify, Hewlett Packard Enterprise, Pitney Bowes, Polycom.
For us, it's the best product analytics option for data aggregation. Its SDKs are available in multiple languages and can stream unlimited events capturing all engagement data we could dream of.
Easy to stream, visualize, and analyze data using properly documented APIs. Used it both for internal and for end user projects.

InnerTrends is a tool that helps make actionable growth decisions. Map your entire customer journey and the impact of your core success metrics. This tool provides acquisition, user onboarding, retention, and revenue reports. YOXO, MONOCLOTH, Santander, Lemonade, MadeiraMadeira already use the InnerTrends product analytics tool.
I've tried many similar tools, but it's always been difficult to turn data into insights. Innertrends implementation team helps determine the look of the customer journey and guides you through configuration.
The best tool we've used for obtaining actionable data from analytics.

AppLearn tracks users' interactions with smart page elements and where they come from. AppLearn finds and fixes avoidable costs, wasted time, and frustration. It is one of the best product analytics tools popular with Capita, Electrolux, UniCredit, Veolia, and Kantar.
AppLearn was used for our expenses module. It enhanced the finance system's UX providing the information users need to raise an expense on the system.
We've been using it with our HCM cloud solution to guide line managers, employees, and HR on using our system in the best way.

Sherlock is a useful product analytics tool that translates product data into simple metrics. This makes your work with CRM systems more efficient. With Sherlock, your product, sales, and CS teams will agree on solutions more quickly. TrueClicks, HANDS HQ, Thinktilt, ProdPad, XapiApps, and FleetSu specialists have already rethought their entire sales approach with Sherlock.
Best thing is it's an open-source solution for hunting social channels for usernames. It supports Mac, Linux, Windows OS and works only with Python 3.6 and higher.
There is a delay showing data. The info is not in real-time, and this could create bias.

Totango can identify potential customers and separate them from disinterested users. It will help you ensure the right approach to potential customers to convert them into clients. Zoom, Monster, TrustPilot, DynaTrace, Lucid already trust Totango.
A leading customer success software in the market. It has rich functionality compared to competitors. Most importantly, Totango is cheap.
Totango displays all the necessary information and shows your client account's health in real-time.
Conclusion about Product Analytics Software Tools
Product Analysts are the bridge between businesses and data. They work hand-in-hand with a product manager and help a product team make the right decisions. And only with special product analytics tools can they work effectively.
To become a leader, you must create a long-term data strategy based on professional product analytics tools. Plerdy is one of these must-have product analytics tools.