SEO platforms emerged over 20 years ago. Rather young marketers' fellows, aren't they? ?? But they are growing rapidly!
An SEO platform combines multiple tools for holistic analysis, task management, and optimization in Internet marketing. It addresses several issues and challenges, including measuring a brand's presence on Google organic listings. The SEO platform integrates seamlessly with major data providers like Google Search Console and Analytics, Adobe Analytics, Coremetrics and Web trends, and content coordination systems like Adobe Experience Manager. As a result, many people are looking for answers to the following questions:
What kind of platform is used for SEO?
What should be included in every SEO platform?
What is a data-driven SEO platform?
What is the best video ranking platform for SEO in Miami 2020?
What is the best SEO platform for enterprises?
What is the best SEO platform for digital teams?
What is the best SEO platform for retail?
With the help of an SEO platform, you will study the development processes of your website, competitors, audience and their interests. In the end, you will see what needs to be changed to improve the productivity and success of your business.
What are the Goals of SEO Platforms?
Each company defines for itself the main goals that need to be achieved. Depending on the business direction and the funnel stages, you can understand which goals are right for you and what is relevant in a specific period. The top 6 goals look like these:
Organic traffic growth. Determine the percentage of the desired increase in visitors, considering your current position, competitiveness, and audience size. On average, 5-10% is a worthy goal.
Raising relevant traffic for sales growth.
Improving page loading speed. Sometimes this process can involve a complete restructuring of the content.
Optimizing web pages that reduce traffic. Create balance in the quality of landing pages, blog posts, and top-level pages.
Decrease in bounce rate.
Increase the length of time on the page. This goal is closely related to the previous one.
You can work on multiple goals at once.
SEO Platform Capabilities
The capabilities of SEO platforms are as follows:
Collection and provision of all analysis results in one program.
Unlimited monitoring and analysis of the website. It assesses a website's performance, architecture, technical components, content, and security.
Providing solutions based on analysis. With the help of artificial intelligence, the SEO platform highlights solutions to difficulties.
Open access to data. For this, the SEO platform must be integrated with the API.
Access to analytical data based on research results. In other words, the SEO platform provides relevant information to tailor your content.
While most of the capabilities of an SEO platform are the same, the application methods may differ.
Why is Using an SEO Platform Important?
To develop a successful SEO strategy, you must thoroughly analyze the data and optimize the steps and the changing trends. While doing this, you need to remember the basic principles – technical SEO, page SEO, content, link writing, and keyword scanning. Accordingly, the amount of work and data for analysis increases with the website's growth. It is simply impossible to do this manually to a high standard. Therefore, SEO platforms come to the rescue, combining all the necessary tools.
SEO Platform from Plerdy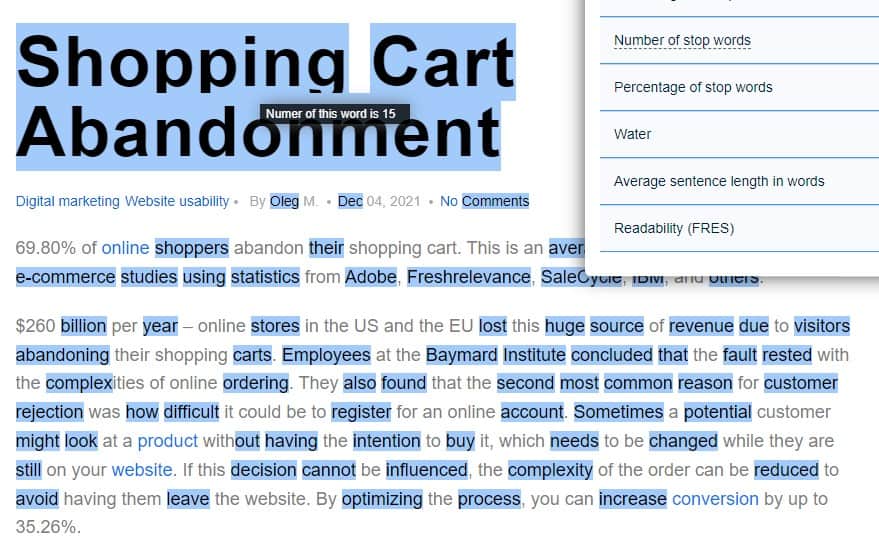 The SEO Checker tool is one of the most important components of an SEO platform. It solves the main task of digital marketers – it keeps track of all the transformations that have taken place in the work of an SEO website. There can be thousands of such changes, and keeping track of them on your own is unrealistic. Moreover, the tool is automated as much as possible. The list of its capabilities includes the following functions:
Integration with Google Search Console API.
History of changes for Title, Description, H1, and keywords.
Automatic detection of missing keywords in the Title, Description, and H1.
Automatic statistics of a website's health and HTML code.
Data collection creates no load on the server because the tool collects information in a targeted and automatic way. Moreover, the obtained data enables the timely elimination of shortcomings, thanks to which the SEO indicators will not fall.
SEO Checker by Plerdy greatly helped us increase our blog content rankings. There was no point in changing the articles, so we optimized only SEO metrics. Our achievements after SEO improvements:
Increase in impressions across the web pages from 33% to 66%
395 new keywords appeared on the web pages
518 keywords enhanced their positions on the web pages
You can read more about this case study in our overview.
What do G2 users say about the SEO Checker? Andréas H writes that a holistic SEO analysis can be done using the tool and the entire platform. And Edward T noticed the lack of load on the server and excellent speed since the tool does not degrade the website's performance.
Best 14 SEO Platforms
I have compiled a ranking of the best corporate SEO platforms for effective in-depth analysis and reporting. Some of them offer professional SEO, tracking thousands of keywords.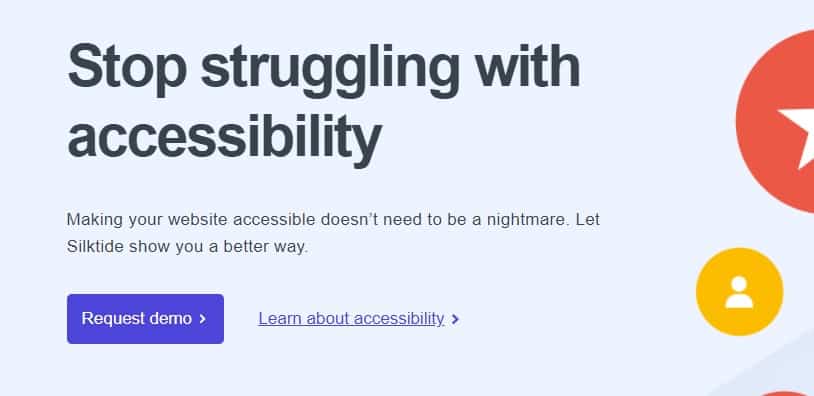 A web analytics company founded in 2001. Performs analysis to WCAG 2.1, ADA, and Section 508 standards. The SEO platform provides product management and collaboration tools for marketers, content creators, designers, and developers. It is a great SEO data provider. The platform is used by eBay, Santander, Bayer, Cambridge City Council, and RNIB.
The user under the nickname James C mentions the best data structuring – divided into categories and groups corresponding to the company's departments. Marta M says the platform is straightforward to use.

The company focuses on search engine optimization and has released a series of tools and guides for learning SEO. The list of platform features includes reviewing and selecting popular keywords, rating tracking, and custom reports. The company's clients include Zillow, Trivago, Razorfish, Alaska, and 99designs.
Jake P left a review that he especially liked how all the data is grouped by importance and placed in the panel. And Michael D notes the best keyword research and the ability to crawl up to 500,000 pages.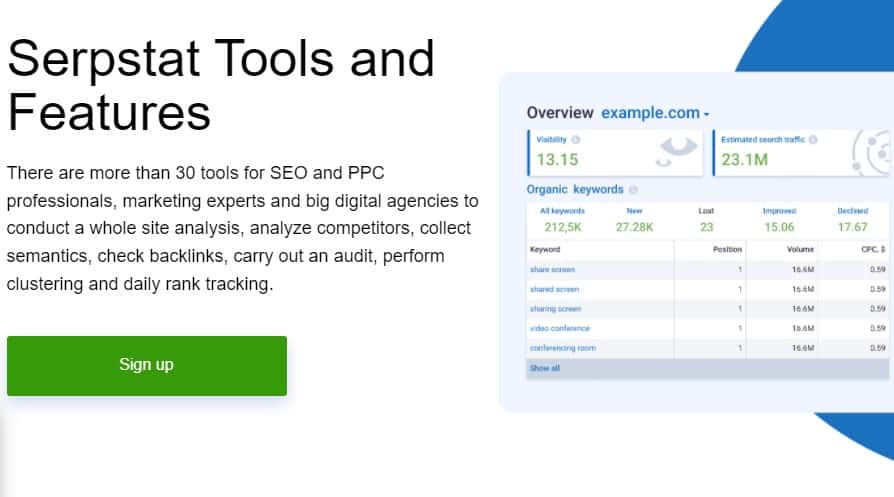 The company is part of the Netpeak Group. The platform offers over 30 tools for analyzing your website and competitors' websites, clustering, auditing, team management, generating checklists and reports, reviewing the number of requests, etc. Their clients include L'oreal, Lenovo, Samsung, Uber, and Yves Rocher.
Joseph K particularly rated the tracker for backlinks and keywords in a platform review. Valerie F shares that she regularly uses the tool to analyze keywords of popular competitors.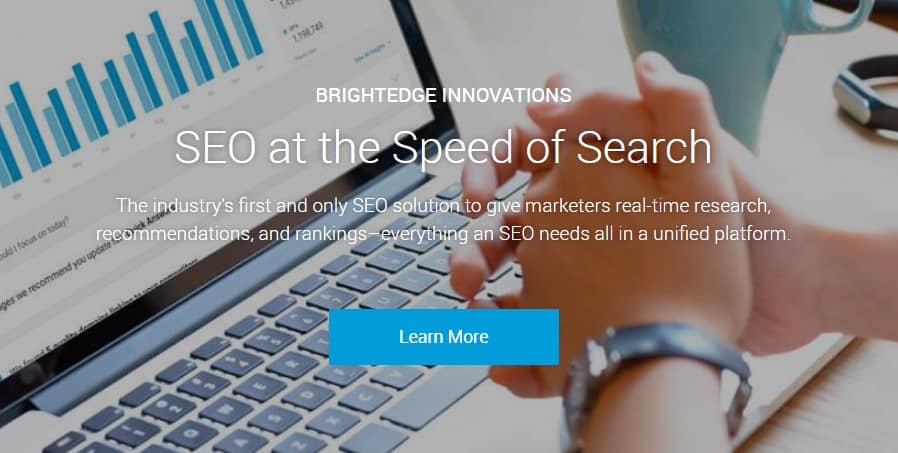 The company was founded in 2007, and now its offices are located worldwide – in Foster City, Seattle, Cleveland, Chicago, New York, London, Sydney, and Tokyo. The platform options are based on artificial intelligence and machine learning. It performs the best real-time analysis and predicts possible solutions based on the scan. It is a great SEO platform vendor. The client list includes well-known companies such as Marriott, Audi, Tommy Hilfiger, Adobe, and Microsoft.
Cheryl N writes about the best convenience of customizable dashboards and the willingness of the team to help newbies master the program. Dan R also highlights the value of the Data Cube keyword search tool.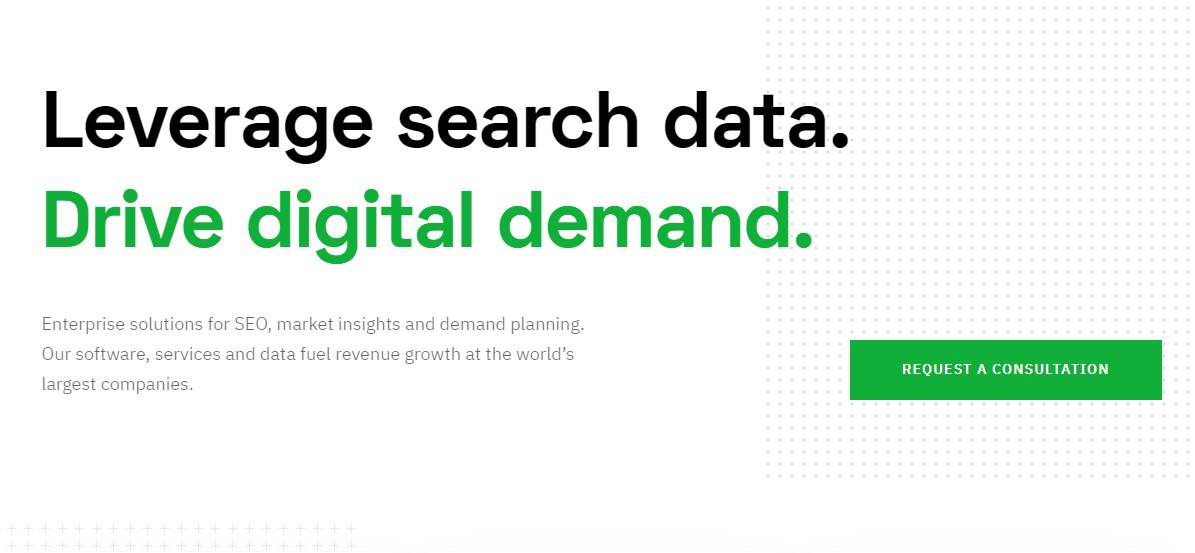 It is the best global SEO platform. The SEO platform researches the market, develops content plans, conducts competitive analysis, and provides personalized statistics about specific market segments. Zendesk, Siemens, and NFL use the company's services.
Speaking about the platform, Bartosz G writes that the Content Experience tool simplifies the work of an SEO specialist and a copywriter – it helps to create high-quality and effective content. Additionally, Loren M commended the work of the best customer support team.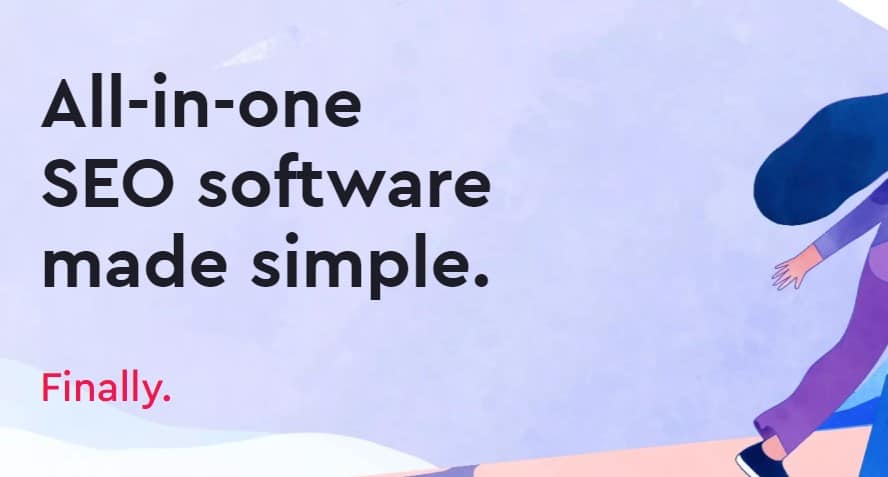 It is a simple SEO platform that suits any business. The company creates software that even beginner SEO specialists can use. In addition, the platform offers SEO tools for managing social media. The company's clients include Zapier, Trustpilot, Hunter, Wargaming.net, and Bed Bath & Beyond.
Kee Hong N was delighted with the power and convenience of making monthly plans based on the number of keywords being tracked. Nicole V summed up that this software performed the best of all the SEO platforms she has used.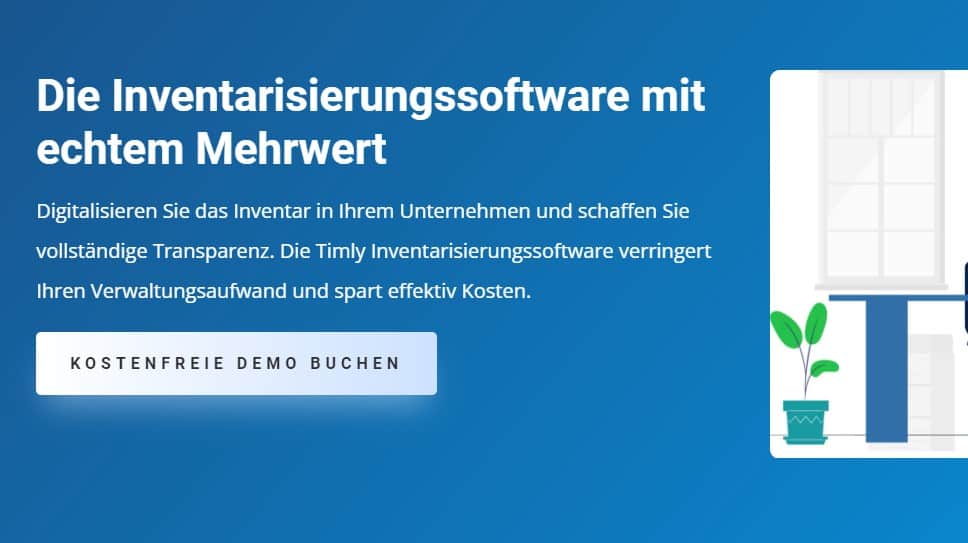 The Swiss company Timely was founded in 2020. It offers clients SEO tools and software for managing devices, files, and data. The SEO platform includes four website analysis and optimization tools: Rank Tracker, WebSite Auditor, SEO SpyGlass, and LinkAssistant. Its clients include Sodastream, Fibona, and Singen Standwerke. Pay attention to this SEO platform cloud.
Scott A commended the fast pace of problem identification and the detailed information provided. Daniel W, who manages multiple sites, commended the convenience of collecting and analyzing data from multiple projects at once.

Some SEO tools immediately define a person as an experienced specialist. Any website promotion is impossible without two tasks – selecting the best keywords and building its link profile. Both of these tasks are perfectly performed by Ahrefs. Ahrefs positions itself as the best tool in SEO promotion, which aims to solve the following tasks:
Analysis of the organic output of competitors
Analysis of keywords
Backlinks analysis
Content analysis
Position analysis
LinkedIn, Shopify, eBay, FaceBook, and Expedia use this SEO platform.
Harshit Kumar recommends the Ahrefs tool to every SEO Freshers. He says the best thing about this tool is "Keyword Explorer."

Surfer SEO is a tool for SEO specialists, marketers, and content managers that helps to optimize text content on the website: blog articles, landing page texts, etc. It analyzes the page's content according to search engine ranking factors and gives the best recommendations for its improvement. This SEO platform includes the following modules:
Search results analyzer
Content editor
Keyword phrase analysis
LENOVO, Jasper, FedEx, Opera, and Intuit use Surfer for successful SEO promotion.
Matt Byrom says Surfer is the best because it gamifies the SEO process. This makes it easy to tweak and refine content according to SEO using the best 'Editor' tool.
BrightLocal is one of the best comprehensive local rank-tracking SEO tools. With it, you can see the complete picture of local SEO rankings and uncover the best opportunities to rank higher and grow search traffic. Features of BrightLocal:
Track Local Rankings (Local Rank Tracker, Local Search Grid)
Audit Local SEO (Citation Tracker, Local Search Audit, Google Business Profile Audit)
Reputation Management (Get Reviews, Monitor Reviews, Showcase Reviews)
This SEO platform is trusted by over 10,000 top brands, local businesses, and agencies, together with IKEA, Hilton, SterlingSky, iProspect, and Valvoline.
Kim Stewart says she enjoys using this one of the best SEO platforms but would like to see a preview of the Reviews Widget.

Rank Tracker is one of the best-paid SEO programs for comprehensive work with keywords. It has tools for selecting keywords (search in different sources), compiling a semantic core, and tracking the positions of websites on the keywords of interest. It also provides the ability to analyze search engine snippets and generate reports and has various SEO tools for automation. Marketers of Adidas, Red Bull, Novi, Apple, PeronalWine, and others use Rank Tracker for SEO.
Michael Andersen, the best freelancer, uses RankTracker for a few clients and a personal website. According to him, it is the best tool for analyzing the SEO process over time.

WriteZen allows the best SEO experts to fill content workflow with the best topics that satisfy Google's E-A-T. This SEO tool offers topic discovery, keyword exploration, content creation, AI assistance, and a plagiarism checker. Over 10 000 people use this SEO platform. WriteZen allows SEO experts to:
Uncover the best content ideas
Build contextual support
Target competitive headlines
Utilize user search intents
SurgeLinks, Pam, Threesevenzero, Invite Japan, Nanyang Polytechnic, and other companies use WriteZen for SEO promotion.
Safayet Raiyan says Writerzen is a game-changer for all content creators. But he doesn't like slow keyword display and unreactive user interface.

SpyFu is one of the best SEO platforms for selecting the best keywords for website optimization based on the semantic core of competitor websites. The analysis uses historical data from organic and commercial searches on Google for the last 10 years. The tool best suits SEO managers and web developers because it can compile a website's semantics. The analysis with SpyFu will be useful for companies entering the U.S. and U.K. markets. Twilio, SalesForce, Amazon, Adobe, Microsoft, and other companies take advantage of this best SEO tool.
Law Smith says SpyFu is the best competitive PPC/Paid Media/Google Ads intelligence platform.

SiteGuru is an online SEO platform that tells you exactly what changes you need to improve rankings and increase traffic. It audits your website for SEO and creates a report based on the results. This report highlights any SEO deficiencies on your website and creates a list of practical tasks that you need to do to address those issues, improve your website rankings and get more traffic.
Optimus Online, Key West Video Inc., and others use this SEO tool.
JJ Halans considers SiteGuru the best SEO tool to have in your toolbox.
So, we have discussed 15 of the best SEO platforms for newbies and experienced SEO players. I hope this list is valuable for you.
Conclusion about Best SEO Platforms
Now you know the most popular managed SEO platforms. SEO platforms can simplify the work and analysis process and significantly improve the quality and speed of achieving business goals. The sooner you start using all of the available analytics tools, the sooner you will see the fruits of your labor. And remember about the SEO technology platform Plerdy – your opportunity to improve website conversion rate.