Website usability tests help businesses better understand user behavior and use the information to improve conversions. The tests also help you understand which page the user is leaving the website.
It is recommended to test the site's usability before launching it on the Internet (that is, before opening permission to index the site in the robots.txt file) and throughout its entire life cycle. It is especially important before launching an advertising campaign in Google Ads – otherwise, there is a risk of getting a very low conversion rate.
With tests, you can ensure that users find your website convenient and easy to use so they will not go to competitors. According to a study conducted by Acquia, 76% of customers leave websites if they have an unsuccessful UX.
Top 14 Usability Test Methods
14 methods are great for testing website usability. Let's consider each of them in more detail.
Video Recording

With Plerdy's Session Replay tool, you can record sessions and observe the behavior of your website visitors. Using this method, you will see:
Their actions on the page.
Cursor movements.
Scrolling depth.
Mouse clicks.
So-called "hate clicks," users clicking many times on the same element.
Custom actions, such as when a user clicks on the add items to cart button or other events.
This method works for both mobile and desktop versions of the website. By analyzing behavioral factors, you can push customers to perform the desired targeted actions – and as a result, increase conversion.
Heatmaps

Heatmap is a set of online tools for tracking and analyzing user behavior on a website. With this method, you can record the sequence of mouseovers and clicks, scrolling, text selection, and other actions on a web page.
You can see working examples of using heat maps on this web page containing case studies.
NPS
Net Promoter Score is a testing method in which customers are asked questions like: "How likely is it that you would recommend our organization to a friend or colleague?"
After receiving the respondents' answers, they are divided into three groups: supporters, neutrals, and critics. Then, using the formula "supporters minus critics," the NPS level is calculated, measured from 1 to 10.
Survey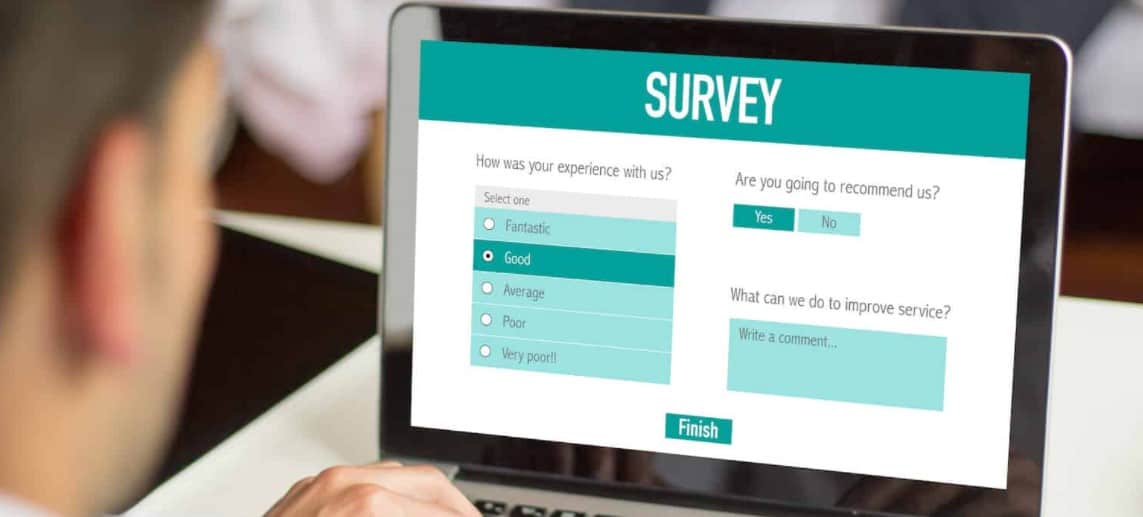 A website user survey is a good tool if you need to get opinions on a specific issue such as content quality, structure and navigation, visual design, functionality, etc.
As a rule, the survey is conducted in an online format, with the possibility of choosing the appropriate answer options.
Unmoderated Usability Testing
The method of unmoderated usability testing involves conducting tests that do not require moderators or other persons who will familiarize respondents with the questions. It can be carried out, for example, in the form of an online survey.
In terms of time, it usually takes 20-30 minutes and includes testing 5-10 respondents. This method allows you to get more responses from more respondents than the moderated view, but it is not suitable for testing sites.
Moderated Usability Testing
Moderated usability testing involves the participation of specialists who will acquaint clients with the testing and its goals, issue tasks, and ask clarifying questions. This format requires financial costs but provides more detailed results.
, Unlike a focus group, only one respondent participates at a time in the usability testing (rarely two or three). Users can either come to the lab in person or participate in usability testing at home, under the supervision of a UX analyst.
Typically, moderated usability testing is used to study user behavior in detail, while unmoderated usability testing is used to get answers to a specific question.
Guerilla Testing

Using this method, random test participants are selected in a public place where the target audience "dwells." For example, if you're testing a mobile app for coffee shops, you might want to go to a coffee shop. That way you can get a large number of results in a short time.
You can use this type of testing for specific tasks when you need to get an opinion on a specific issue in usability. The average time is 10-15 minutes, including a survey of 6-12 participants.
Lab Usability Testing
This involves gathering participants in usability testing labs and giving them tasks to perform on smartphones or computers. In addition to the respondents, a moderator participates in the test, asks questions, and studies their behavior.
Lab testing allows you to get feedback on a product in the early stages of development. The average testing time for one user is 20-30 minutes, and the number of participants is 8-12 people.
Card Sorting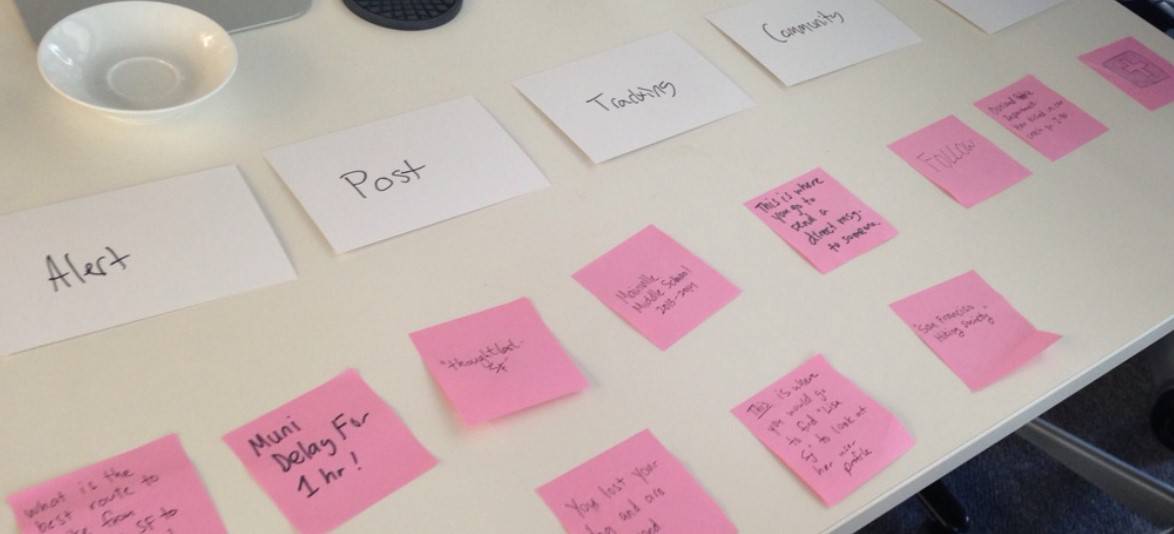 This test involves asking participants how they think the website navigation and layout should look. This way, you can find out if users' expectations are in line with the website layout that you are designing.
On average, such testing takes 20-30 minutes for 15 participants.
Tree Testing
Tree-based usability testing is similar to the card variant— respondents are asked to sort the cards into specific sets of categories. This method is often used to determine the usability of a navigation system.
The average test time is 15-20 minutes and up to 50 people participate.
A/B Testing
A/B testing involves comparing two pages of a website that already have traffic. This way, you can determine which changes (for example, different versions of buttons or banners) give the best conversion. You can detect existing problems on a website, learn about user behavior, and reduce bounce rates through testing.
The average testing time is 6-7 days, and the number of participants is not limited: it can be anywhere from 50 to 500 users. Keep in mind that it is better to equally divide the audience of users from the same traffic channel.
5-second Test
It evaluates whether a website can convey the desired message to the target audience in 5 seconds. We talked about the importance of the test in more detail in this video. The main feature is that the same 5 seconds are given for the answer. Such testing can be done using focus groups or video-based sessions. If the user quickly leaves the site or does not notice the target element, you can form a hypothesis:
The first screen of the site page does not convey the necessary information. Maybe the h1 heading is wrong, or the user does not see the important elements.
The advertising campaign was launched incorrectly. If it's Google Ads, check your keywords and other settings.
The company determines the type of questions to be asked. The method includes a survey of 20-50 respondents.
Phone Interview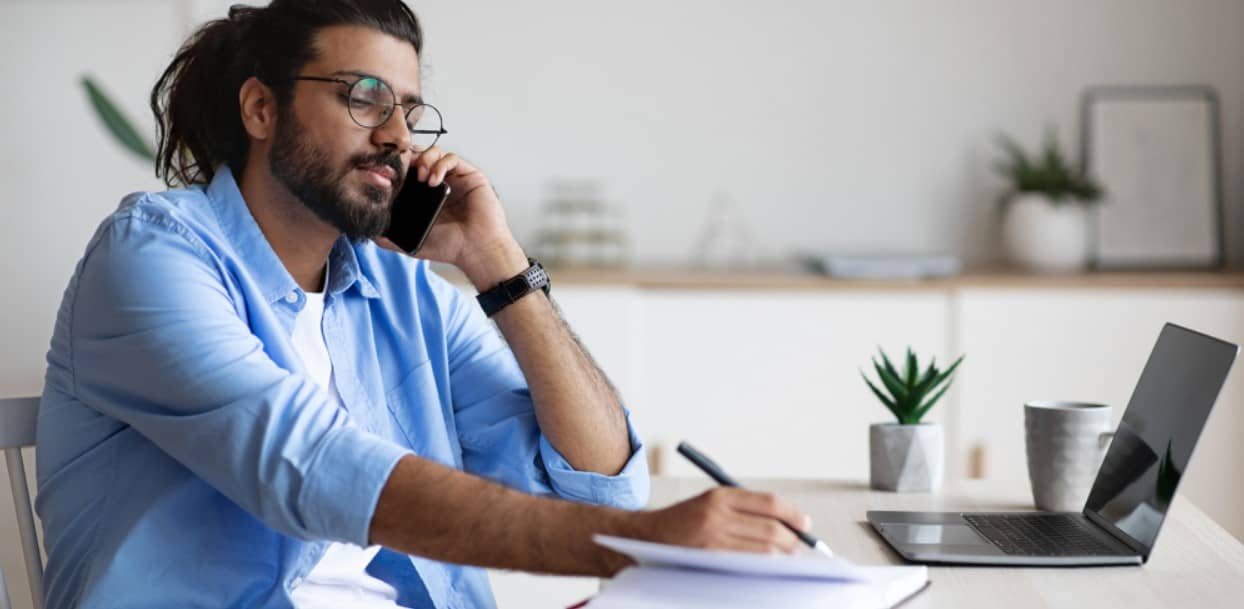 A subtype of moderated usability testing, a moderator provides instructions to users. A user behavior report is collected automatically as they answer questions.
It is used to get answers from respondents from different places – for example, different states or countries.
The survey requires 10-15 respondents and one trained moderator.
Eye Tracking
This helps determine how members interact with the web design of the site and which part of it gets the most attention. With this usability testing method, users are tested with an eye tracker.
Information is also collected regarding how often the respondent clicks and where the cursor points.
The average time is 20-30 minutes and includes testing at least 40 participants.
As a result
In this article, we have described the most commonly used usability assessment methods. What options do you think are viable for you? Share your ideas in the comments!