Dive right into the pulsating heart of Atlanta's digital frontier – where SEO and marketing seamlessly intertwine. 🌐 With a surge in online visibility needs, Atlanta has seen an unprecedented boom in top-tier SEO companies. Here's what sets the cream of the crop apart in the Atlanta SEO landscape:
Cutting-edge strategies tailored for niche markets.
Deep understanding of local dynamics and demographics.
Mastery over diverse digital platforms.
If you're yearning to elevate your brand in Atlanta, it's crucial to align with an SEO firm that boasts robust marketing prowess. 🔍 These agencies don't just push your digital presence – they amplify your narrative, ensuring your message resonates with your Atlanta audience. Before you dive in, be sure to check out Plerdy tool for SEO & UX. It's the ultimate tool designed to optimize and enhance user experience, driving results that truly matter. 📈 Partner with an Atlanta SEO marketer today and let your brand narrative shine in the bustling digital landscape.
Why Local SEO Matters for Atlanta-Based Businesses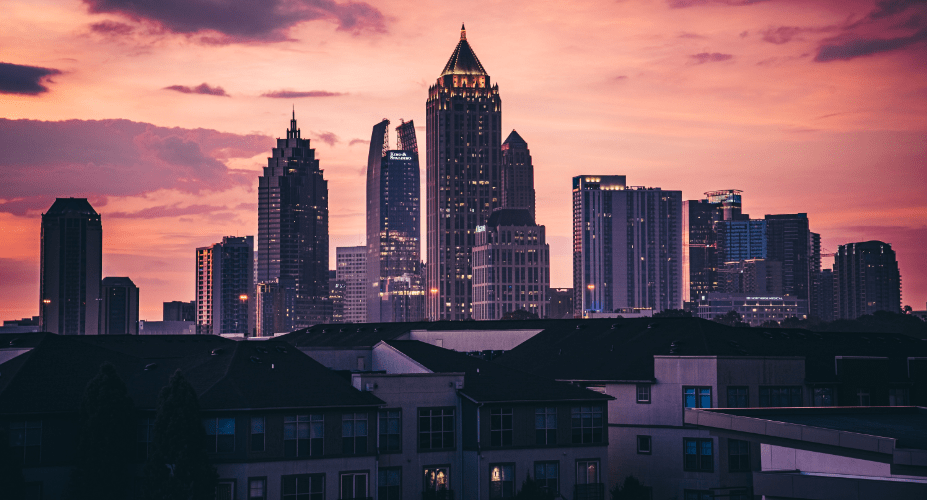 In the bustling hub of Atlanta, businesses thrive on visibility. Tapping into local SEO strategies doesn't just put them on the map—it positions them front and center in the eyes of their target audience. Digital marketing experts often pinpoint local SEO as a cornerstone for success, especially in bustling urban areas like Atlanta. Here's why:
Localization: Atlanta natives resonate with businesses that understand their unique community nuances. Tailored SEO strategies make a brand more relatable.
Competitive Advantage: Atlanta's market is crowded. Effective SEO cuts through the noise, ensuring that a company stands out among its peers.
Consumer Trust: When locals search for services and products, they're likely to trust businesses that rank higher due to strong SEO practices.
Understanding and meeting Atlanta's diverse community's demands and interests requires more than just adding SEO to a marketing plan. It's about connecting businesses with their audience in meaningful ways. For instance, a bakery in Midtown can leverage SEO to highlight its fresh pastries to early morning commuters, or a tech startup in Buckhead might use it to reach investors in the area.
For businesses rooted in Atlanta, mastering local SEO isn't just beneficial—it's essential. Prioritizing it within a marketing plan guarantees improved visibility, brand trust, and sustained growth in this vibrant metropolis.
List of Top 10 SEO Companies in Atlanta
Navigating the bustling digital streets of Atlanta can feel like sifting through a haystack, but we've whittled down the list to the crème de la crème of SEO firms for 2023. With these titans in the Atlanta marketing arena, you're not just getting a run-of-the-mill strategy; you're securing a partnership with the maestros of search engine optimization. It's high time to tip your hat to the giants setting the gold standard in Atlanta's SEO scene.🎩🚀🔥

In the bustling digital cityscape of Atlanta, where businesses clamor for visibility, there's one tool that's turning heads – UPQODE. Here's a peek into how UPQODE is transforming Atlanta's SEO and marketing scene:
Atlanta Centric: UPQODE's prowess is deeply rooted in understanding Atlanta's unique business ecosystem. It's not just about SEO; it's about Atlanta SEO, ensuring local businesses can stand out in local searches.
Mastering Marketing: In the world of marketing, especially in a hub like Atlanta, one needs a holistic approach. UPQODE brings to the table a comprehensive suite of marketing strategies tailor-made for Atlanta's diverse business needs.
Harnessing SEO: While Atlanta's skyline is dotted with towering skyscrapers, UPQODE ensures your business scales the dizzying heights of search engine results. Leveraging cutting-edge SEO techniques, they ensure that your business isn't just visible, but prominent.
For instance, imagine an Atlanta-based restaurant trying to make its mark. While their tacos might be talk-of-the-town, without the right SEO and marketing push, they could be lost in the digital maze. Enter UPQODE – ensuring that when someone in Atlanta craves tacos, they know exactly where to go.
Key Offerings of UPQODE:
Integrated Marketing Solutions: Beyond just SEO, they delve deep into content strategies, social media engagement, and more – all fine-tuned for the Atlanta market.
SEO Expertise: Whether it's on-page, off-page, or technical SEO, UPQODE's got you covered, making sure your Atlanta business shines.
Web Design Brilliance: In the digital age, first impressions matter. UPQODE ensures your website isn't just functional but is also a visual treat, resonating with Atlanta's vibrant ethos.
In a nutshell, UPQODE isn't just another tool; it's Atlanta's digital compass. Whether you're a startup or an established brand, if you're looking to navigate the challenging terrains of SEO and marketing in Atlanta, UPQODE is your go-to destination.

If you've been combing through Atlanta's bustling digital scene, you've likely come across Thrive Internet Marketing Agency. With the digital space becoming increasingly competitive, especially in a city as vibrant as Atlanta, your business needs a tried-and-true strategy that seamlessly blends SEO and marketing.
Why is Thrive Internet Marketing Agency the talk of Atlanta?
Innovative Tools: Thrive Internet Marketing Agency tool is a state-of-the-art software, exclusively designed to elevate your SEO game. It crunches data, analyzes trends, and produces actionable insights, ensuring that Atlanta businesses stay ahead in their marketing strategies.
Client-Centric Approach: Every Atlanta-based business is unique. Thrive understands this, crafting individualized marketing and SEO plans that resonate with specific target audiences.
Track Record: The streets of Atlanta are buzzing with success stories. From startups to established enterprises, many have experienced significant growth, all thanks to Thrive's impeccable SEO and marketing strategies.
Atlanta's SEO and marketing agency Thrive Internet Marketing Agency is unique. It's a force, constantly pushing the boundaries and setting new benchmarks. For example, consider a local Atlanta cafe. With Thrive's expertise, this cafe doesn't just attract foot traffic but also becomes a sensation on online platforms. Their SEO strategies ensure that if someone in Atlanta searches for a cozy coffee spot, this cafe pops up immediately. Similarly, their marketing efforts tell a compelling story, drawing patrons in, both online and offline.
In a nutshell, for businesses in Atlanta seeking unmatched SEO prowess and marketing brilliance, Thrive Internet Marketing Agency is the undisputed choice.

Dive into the digital age with Joseph Studios, your trusted partner in SEO, Atlanta-based marketing, and PR. Combining cutting-edge AI-driven insights with our signature Deep Insight® methodology, we craft campaigns that resonate with your ideal buyers, cultivating brand fanatics and lifetime customers.
Why Entrepreneurs, Established Brands, and Enterprises Choose Joseph Studios:
Entrepreneurs Getting Started: We foster growth for budding entrepreneurs, ensuring they make their mark online and attract their first loyal customers.
Established Businesses: For profitable brands with an eye on expansion, we amplify marketing efforts, paving the way for even grander success.
Enterprise Businesses: Dominating the market with revenues surpassing 10 million dollars annually? Our advanced campaigns supercharge your brand's prominence.
Harnessing the full spectrum of SEO and Atlanta-focused marketing, Joseph Studios offers:
Social Media: Engage your ideal customers online.
SEO: Boost organic search results, making your brand easily discoverable.
Email Marketing: Tailored email campaigns and automation to guide customers through their journey.
Content Marketing: Precision-targeted content that captivates your desired audience.
Strategy: Mature your marketing approach, empowering leaders and executing innovative projects.
Public Relations: Forge influential connections via trusted media channels.
Experience the Joseph Studios Method for Growth:
Discuss: Establishing a deep understanding of your vision and objectives.
Plan: Crafting strategies that set you distinctively apart in a bustling market.
Produce: Entrust our marketing maestros to enhance your digital appeal authentically.
Succeed: Track your brand's meteoric rise, refining strategies for unparalleled growth.
Positioned at the intersection of SEO, Atlanta-centric insights, and transformative marketing, Joseph Studios empowers brands to thrive in the digital domain. Join hands with us and experience the future of intelligent brand growth.
Atlanta has become a booming hub for businesses, and SiteCare is the premier tool these companies need. With the dynamic changes in online marketing, there's a rush to stay on top. Here's why SiteCare, blended with Atlanta prowess, redefines SEO and marketing:
Localized SEO: Atlanta businesses can harness SiteCare's robust capabilities, ensuring they stand out in local searches, driving foot traffic, and fostering community relationships.
Custom Marketing Campaigns: SiteCare creates Atlanta-specific advertising for its diverse business community.
Performance Analytics: Dive deep into marketing metrics. See how Atlanta customers interact with your brand, and tweak your strategy for maximum impact.
Let's talk examples. An Atlanta bakery recently leveraged SiteCare's services. Within months, their online visibility skyrocketed. Their website traffic? Up by 150%. The catch? Precise local SEO targeting and a marketing campaign that spoke directly to Atlanta's dessert lovers.
Remember, it's not just about rankings. It's about meaningful connections. SiteCare understands the Atlanta pulse, blending SEO expertise with marketing finesse to create digital magic.
Features of SiteCare:
Intuitive Dashboard: Monitor your SEO progress and marketing campaigns in one place.
Atlanta-centric Content Strategy: Tailored blog posts, articles, and digital content that resonates with Atlanta residents.
Backlink Building: Strengthen your website's authority with high-quality links from reputable Atlanta businesses.
SiteCare isn't just another tool. It's your Atlanta business's digital partner, navigating the vast seas of SEO and marketing, ensuring you don't just stay afloat but sail with confidence and style.

Dive into the digital landscape with AdToro – a leading name in the world of SEO and marketing based in Atlanta. As businesses maneuver the vast world of online visibility, it's paramount to have a trusted partner in your corner. That's where AdToro shines.
Key Offerings by AdToro:
Atlanta-rooted Expertise: Deep knowledge of the local market nuances, making your SEO strategy truly localized.
Comprehensive Marketing Solutions: Not just SEO – AdToro provides an end-to-end digital marketing solution for a cohesive online presence.
Performance Metrics: Transparency is our cornerstone. Get real-time updates on how your SEO and marketing strategies are performing.
Imagine this – an Atlanta bakery was struggling to appear in local search results. They teamed up with AdToro, and in no time, the bakery saw a surge in organic traffic, leading to a significant uptick in store visits. That's the power of specialized SEO and marketing solutions tailored for Atlanta businesses.
AdToro doesn't just stop at SEO. The agency ensures that businesses get a holistic marketing approach, integrating SEO with other digital strategies. Atlanta has a diverse and dynamic market, and AdToro taps into this vibrancy, ensuring brands resonate with their target audience.
In the ever-evolving landscape of digital marketing, AdToro stands as a beacon for businesses in Atlanta. By harmoniously blending SEO and marketing strategies, this agency ensures that your brand doesn't just survive but thrives. With AdToro, your digital footprint is in expert hands. Experience the difference today!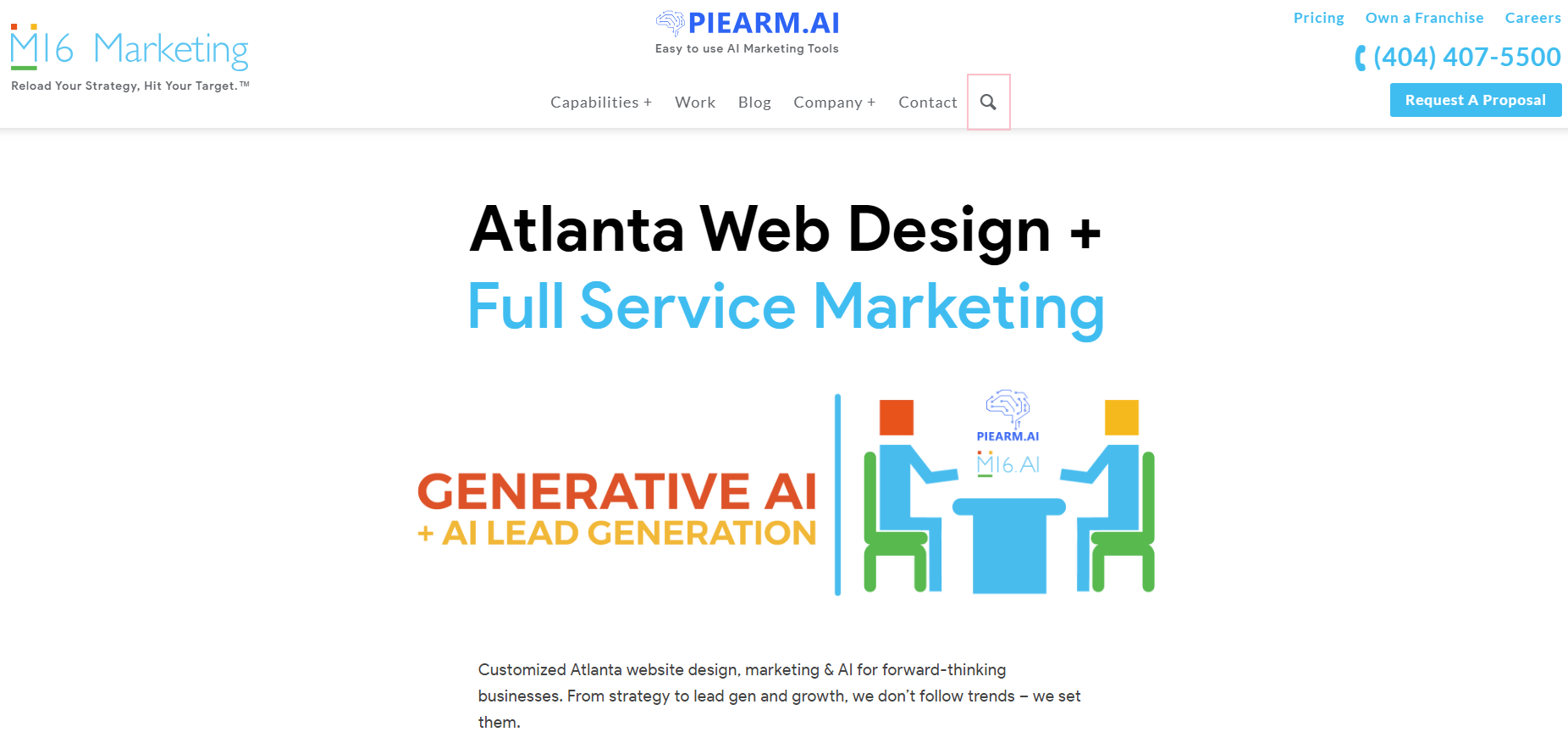 In the bustling digital scene of Atlanta, M16 Marketing stands out as a leader, bridging the gap between effective SEO practices and innovative marketing solutions. Here's why businesses choose M16 Marketing:
Atlanta-rooted Expertise: With its deep roots in Atlanta, the team understands the local market, ensuring strategies are tailored to reach the city's dynamic audience.
SEO Excellence: Leveraging the latest SEO strategies, M16 Marketing boosts online visibility, driving organic traffic and enhancing brand presence.
Comprehensive Marketing Approach: Beyond just SEO, M16 Marketing crafts holistic marketing strategies that resonate with target audiences and drive tangible results.
Here's an example to illustrate their niche expertise:
Imagine an Atlanta-based café trying to stand out in the crowded coffee scene. M16 Marketing revamped their website, optimized their online content with SEO best practices, and launched a localized marketing campaign. In no time, the café saw an uptick in website visits, higher footfall, and increased brand loyalty.
Key Features of M16 Marketing's Offerings:
Tailored SEO solutions that ensure businesses rank high on search results.
Marketing campaigns that truly resonate with the desired audience.
Innovative tools like M16.AI to gauge marketing effectiveness and drive growth.
When businesses in Atlanta aim to elevate their online presence, they turn to M16 Marketing. The team doesn't just follow trends – they set them, ensuring clients always stay a step ahead in the digital landscape. So, for any business aiming to make a mark in Atlanta through SEO and marketing, M16 Marketing is the ultimate partner to turn to.

In the bustling heart of Atlanta, the digital landscape thrives with innovative marketing strategies, and at the forefront stands Brain Bytes Creative. As an established leader in SEO and marketing, this Atlanta-based agency carves out a distinct niche for brands yearning for amplified visibility in the digital realm.
Consider this:
Atlanta's Digital Evolution: With the rapid growth of e-commerce and online services in Atlanta, standing out becomes imperative. That's where Brain Bytes Creative shines, offering tailored SEO strategies for businesses, ensuring they rank prominently on search engines.
Marketing Brilliance: Not just limited to SEO, the Atlanta scene demands a comprehensive marketing approach. Brain Bytes Creative excels in delivering holistic marketing campaigns that resonate with the target audience, driving tangible results.
Tools to Triumph: Brain Bytes Creative isn't just about strategies; it's about the tools they employ. Their advanced suite ensures that every marketing endeavor is backed by data, analysis, and expert insights.
But why should Atlanta businesses choose Brain Bytes Creative for their SEO and marketing needs?
Expertise in Local SEO: Being Atlanta-based, they have an in-depth understanding of the local market, ensuring businesses reach their desired audience with precision.
Dynamic Marketing Solutions: From engaging content to innovative ad campaigns, their marketing solutions are designed to captivate and convert.
Dedicated Support: Brain Bytes Creative's team is ever-responsive, ensuring clients are always in the loop, making collaborations smooth and productive.
In a nutshell, for brands seeking to stamp their authority in the Atlanta digital space, Brain Bytes Creative provides the ideal SEO and marketing partnership. Their track record in delivering success is unparalleled, making them the go-to choice for businesses aiming for the pinnacle of online success.

In the bustling city of Atlanta, TheCommerceShop emerges as an eCommerce beacon. This company not only specializes in expertly navigating the intricate landscape of digital marketing but also stands as a powerhouse in website development. Consider their impressive portfolio:
Proud partners with giants like Google, Magento, BigCommerce, Shopify, and WooCommerce.
Over 500+ eCommerce stores under their belt, driving an estimated $1 Billion+ in revenue.
A striking 10X ROI that showcases their unparalleled expertise.
What makes TheCommerceShop unique in Atlanta's SEO and marketing:
Meticulous SEO Mastery: Their tailored approach ensures your website scales search engine ranks, emphasizing technical SEO, on-page optimization, and even local Atlanta-centric SEO.
Website Excellence: Beyond SEO, TheCommerceShop crafts user-friendly websites, enhancing both user engagement and conversion rates.
Digital Marketing Maestros: Whether you're an Atlanta startup or a global brand, their marketing strategies catapult online businesses to staggering heights.
Clients like Sharwin Williams and Lands End have experienced TheCommerceShop's transformative touch, witnessing astronomical growth rates like 3X checkouts and 140% user engagement boosts. Behind these numbers lies a team of dedicated professionals, committed to driving digital success tailored to each client's unique needs.
Choose TheCommerceShop for a seamless blend of Atlanta's SEO, marketing, and website expertise, and let your eCommerce story be one of unparalleled success.

In the bustling center of Atlanta, businesses demand top-tier digital strategies to thrive in today's competitive market. Enter Online Optimism – a beacon of digital excellence that's reshaping the landscape of SEO and marketing. With a tailored approach, this tool dives deep into the intricacies of digital marketing to deliver unparalleled results.
Here's what sets Online Optimism apart in the realm of Atlanta SEO marketing:
Unwavering Focus: Targeting the Atlanta market, they understand the local nuances and craft strategies that resonate with the audience.
SEO Mastery: Their expertise ensures your business ranks prominently, making the most of every search query.
Marketing Brilliance: Beyond just SEO, their marketing strategies encompass a broader digital spectrum, guaranteeing comprehensive growth.
Atlanta's businesses have seen firsthand the transformative power of Online Optimism. Take, for instance, a local boutique that struggled with online visibility. Within months of leveraging Online Optimism, their traffic surged, and the store became a go-to destination for fashion enthusiasts in Atlanta, all thanks to a robust SEO and marketing strategy.
The digital age demands more than just a passive presence. It calls for active engagement, strategic positioning, and continuous evolution. By choosing Online Optimism, Atlanta businesses are not just adapting to the digital revolution – they're leading it. Harness the full potential of Atlanta SEO marketing with Online Optimism, and steer your business towards unparalleled success.

Elevate your digital presence with Black Bear Design, Atlanta's leading SEO and marketing agency. As organizations attempt to have a strong online presence, they need an agency that understands digital.
Black Bear Design's Expertise:
SEO Mastery: As Atlanta's SEO gurus, we understand the nuances of search engine optimization. Forget about stuffing your site with random keywords. We dive deep, ensuring your content resonates both with human readers and search algorithms.
Dynamic Marketing Strategies: In the bustling Atlanta market, your marketing strategy needs to be both nimble and impactful. Our team crafts campaigns that not only resonate with your audience but also push boundaries, ensuring you're always ahead.
Comprehensive Web Design: A website should be more than just attractive—it should be functional. Our Atlanta-based team combines aesthetics with functionality, creating sites that captivate and convert.
For instance, let's take a local business in Atlanta. Initially, they struggled to even appear on the fifth page of search results. But after employing Black Bear Design's tailored SEO and marketing strategies, they not only landed on the first page but secured a top-three position. This transformation led to a 60% boost in their organic traffic and doubled their conversion rate.
Moreover, with Black Bear Design's toolset, clients gain insights into their growth trajectory, ensuring they're not in the dark about their digital progress.
Why Choose Black Bear Design:
Expertise in Atlanta's competitive SEO landscape.
Tailored marketing strategies that resonate.
Commitment to innovation and results.
Let Black Bear Design guide your brand through Atlanta's digital forest to success. Elevate your digital strategy today with Black Bear Design.
Conclusion
Drawing the curtain on our deep dive into the dynamic landscape of Atlanta SEO, one thing stands out – the marketing mettle of these firms is nothing short of impressive. In the hustle and bustle of Georgia's capital, they've crafted strategies, optimized pages, and scaled businesses, cementing their place as the leaders in this arena. They've worked tirelessly, providing tailored solutions – from pay-per-click campaigns to branding initiatives.
Now, here's the scoop:
Atlanta's SEO prowess is undeniable with these ten trailblazers, setting benchmarks and paving the way for others.
Georgia-based businesses are now armed with an arsenal of SEO specialists, ready to tackle the online challenges they face.
The marketing strategies these firms deploy are both innovative and result-driven, ensuring Atlanta remains a hub for digital excellence.
If you're mulling over the idea of enhancing your online presence, it's about time to jump on the bandwagon. And hey, if you're keen to further boost your SEO & UX game – give Plerdy tools a spin. You'll find its features – from heatmaps to user's behavior analysis – to be a breath of fresh air. So, pull up your socks, click through these profiles, and embark on a journey to stellar online success! 🚀📈🎯