Our curated list of the Top 15 SEO Companies in Ukraine presents a diverse range of industry-leading experts who excel at driving organic traffic and maximizing online exposure. ?
These SEO powerhouses have cutting-edge strategies and a deep understanding of the ever-evolving digital landscape. Their primary goal is to optimize your website's performance by implementing result-oriented techniques that align with your business objectives. These companies have covered you, from comprehensive keyword research and on-page optimization to linking building and technical audits. ?
The Top 15 SEO Companies in Ukraine can make that happen. Their teams of seasoned SEO specialists have proven track records in various niches, whether you're in e-commerce or healthcare. They possess the expertise to tailor their strategies to your needs. ?
So, why settle for mediocre search rankings when you can unlock your website's full potential? Check out our list of the Best 15 SEO Companies in Ukraine and take your online presence to new heights. Take advantage of the opportunity to leverage their services and outshine your competitors in the digital realm. ?
? Plerdy UX & SEO Analysis: Looking for an extra edge in improving your website's performance? Consider leveraging the powerful capabilities of Plerdy's UX and SEO analysis tools. Plerdy offers comprehensive insights into user behavior, conversion rates, and search engine optimization. By identifying and rectifying UX issues, optimizing your website's speed, and refining your SEO strategies, Plerdy can help you achieve outstanding results. Please give your website the competitive advantage it deserves with Plerdy's intuitive and data-driven analysis.
Advantages of Hiring Ukrainian SEO Companies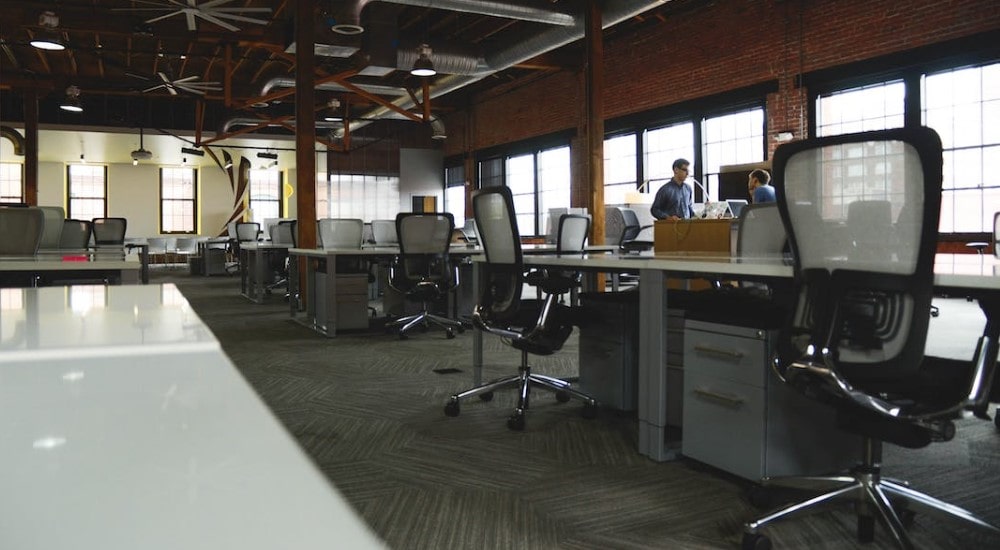 Hiring Ukrainian SEO companies brings numerous advantages in the dynamic digital marketing landscape. Providing high-quality optimization, these agencies hold a competitive edge internationally.
Let's dissect some compelling reasons:
By opting for Ukrainian SEO services, your company can enjoy cost-effective optimization, unparalleled expertise, and innovative strategies. This decision will substantially improve your website's visibility, driving increased traffic and, ultimately, higher conversions.
Things to Consider When Hiring an SEO Company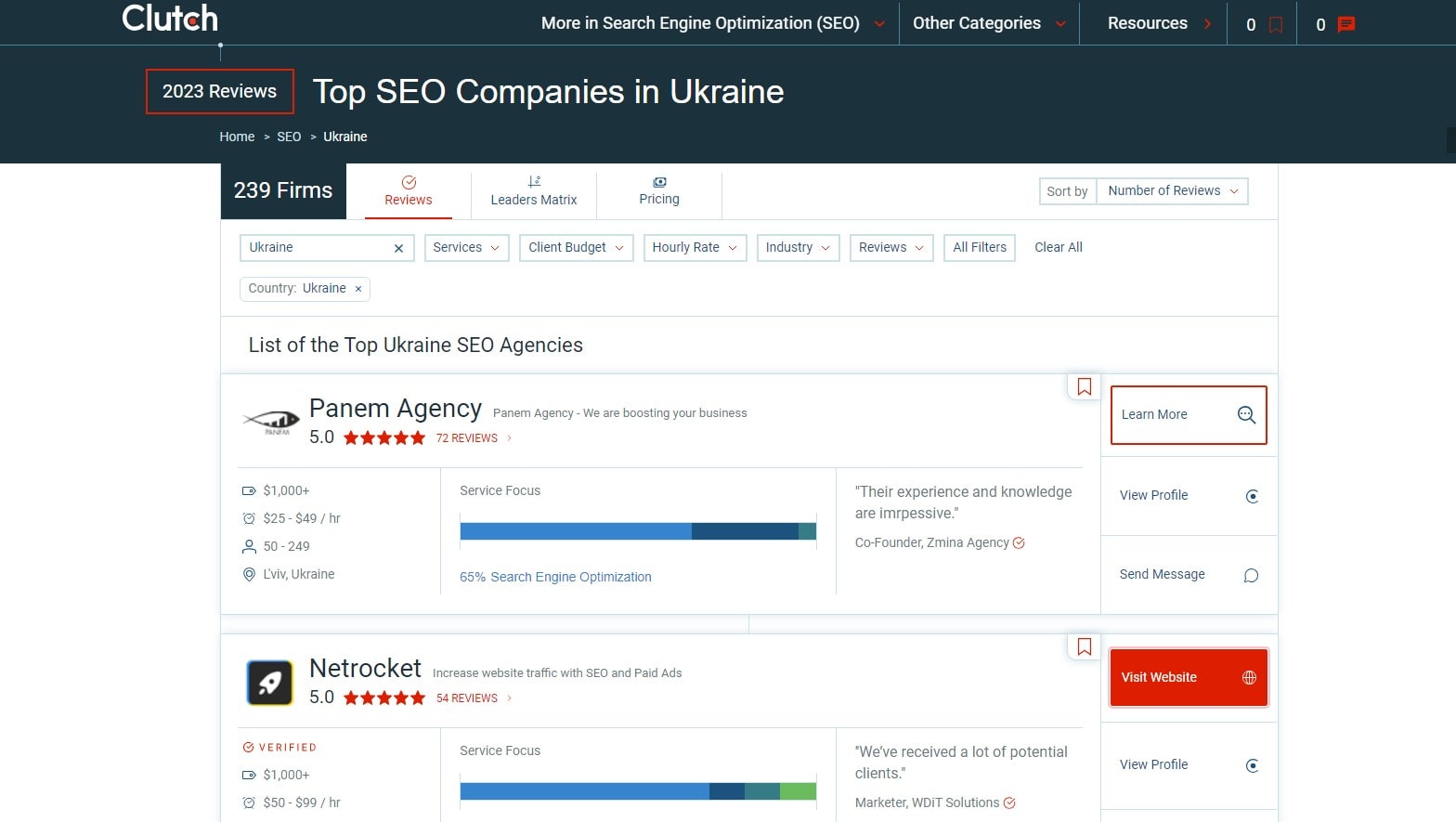 Navigating the digital marketing landscape demands prudence, especially when hiring an SEO company. Choosing wisely can set your company's website on the path to stellar online visibility.
Here's a roadmap to guide your decision:
Assess Their SEO Knowledge: Find a company demonstrating a robust understanding of SEO's nuances. For instance, Ukrainian SEO firms are often well-versed in advanced optimization techniques, keeping pace with evolving trends to offer top-notch services.
Cost-Effectiveness: Pricing matters. Ukrainian companies typically deliver high-grade SEO services at budget-friendly rates. Ensure the prospective firm offers a great balance between quality and cost, promising the best return on your investment.
Review Past Work: A company's previous endeavors provide a sneak peek into its capabilities. Scrutinize their portfolio, noting how they've bolstered clients' digital presence.
Communication: Your chosen company should maintain transparent, regular communication, providing updates on your website's performance and optimization efforts.
Customization: Every company is unique, so a one-size-fits-all approach needs to be revised. You should look for SEO companies that offer customized methods that align with the goals of your business.
Armed with these pointers, you can single out an SEO company that meets your needs and delivers robust optimization for your online platform. This paves the way for improved visibility, increased web traffic, and business growth in the grand scheme.
List Of The Best 15 SEO Companies in Ukraine
Exploring the "Top 15 SEO Companies in Ukraine" provides a clear lens to view the cream of the crop in the optimization industry. With each agency bringing unique strategies, it's akin to having an all-star team driving your company's SEO success. As you traverse this list, you'll discover a trove of innovative powerhouses, each delivering sterling SEO services and setting new benchmarks in the Ukrainian digital landscape.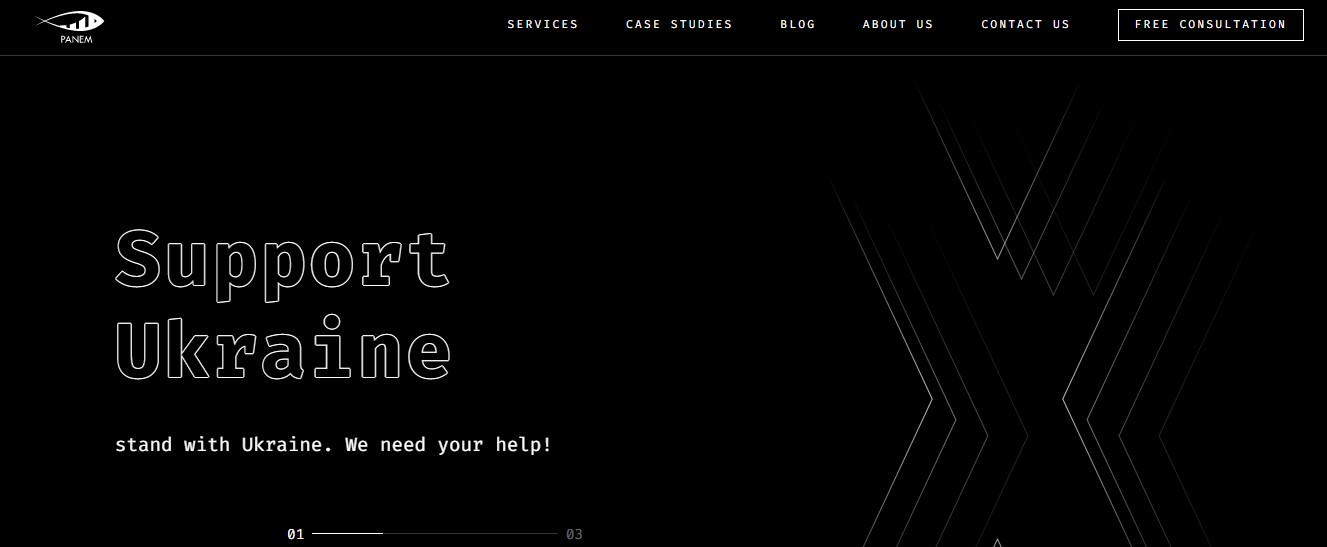 Panem Agency, a leading SEO company based in Ukraine, stands out in the optimization world through its impressive case studies. This agency excels in delivering top-notch results, with one of its highlights being a comprehensive eCommerce SEO project.
Panem catered to an online store offering a staggering 30 million auto parts in this venture. Located in Spain and operating in English and Spanish, the store aimed to maximize indexed product pages and boost organic traffic. Panem took on the challenge of optimizing product pages, which users often searched by numbers instead of names or categories.
The agency mapped out its strategy in three stages:
Technical site audit, niche analysis, and semantic core collection for product categories.
Implementation of technical recommendations, meta tag optimization, and on-page optimization for categories and product pages.
Execution of internal linking recommendations and a link-building strategy.
This meticulous approach led to creating separate pages for products with the same numbers but varying in condition and quality.
The outcome? A whopping 3.4 million indexed pages in under a year, with a significant majority being product pages. This achievement propelled the store to an average position of 12 in search queries, driving monthly organic traffic of 10,000. The project is a testament to Panem's expertise, demonstrating how a focused strategy can turn a new site into a competitive player in a crowded niche.
Panem Agency's commitment to quality SEO optimization and technical finesse continues to enhance its reputation as a game-changer​.

Netpeak, a premier SEO company based in Ukraine, offers a full suite of digital marketing services, including SEO, PPC, Email marketing, SMM, ASO, and SERM. Their innovative "SEO 2.0" service is designed to build trust with search engines, improving a website's ranking and making it easily discoverable for potential customers.
One of their case studies exemplifies Netpeak's multi-pronged approach to SEO. The client, facing stiff competition and declining organic traffic, turned to Netpeak for assistance. The company undertook a comprehensive audit of the client's site, identifying key areas of improvement. The strategy revolved around enhancing the website's structure and improving the content's quality, aiming to increase organic traffic and conversions​.
Netpeak's success is measured in improved rankings and tangible business results. Their strategy led to a significant increase in organic traffic, improved click-through rates, and a significant boost to the bottom line​.
Netpeak's services are not confined to Ukraine, as their operations extend to London, Wilmington, Kyiv, Sofia, and Almaty, underscoring their global reach​.
Netpeak's technological skills, strategic thinking, and results-driven approach make them a top SEO company for businesses.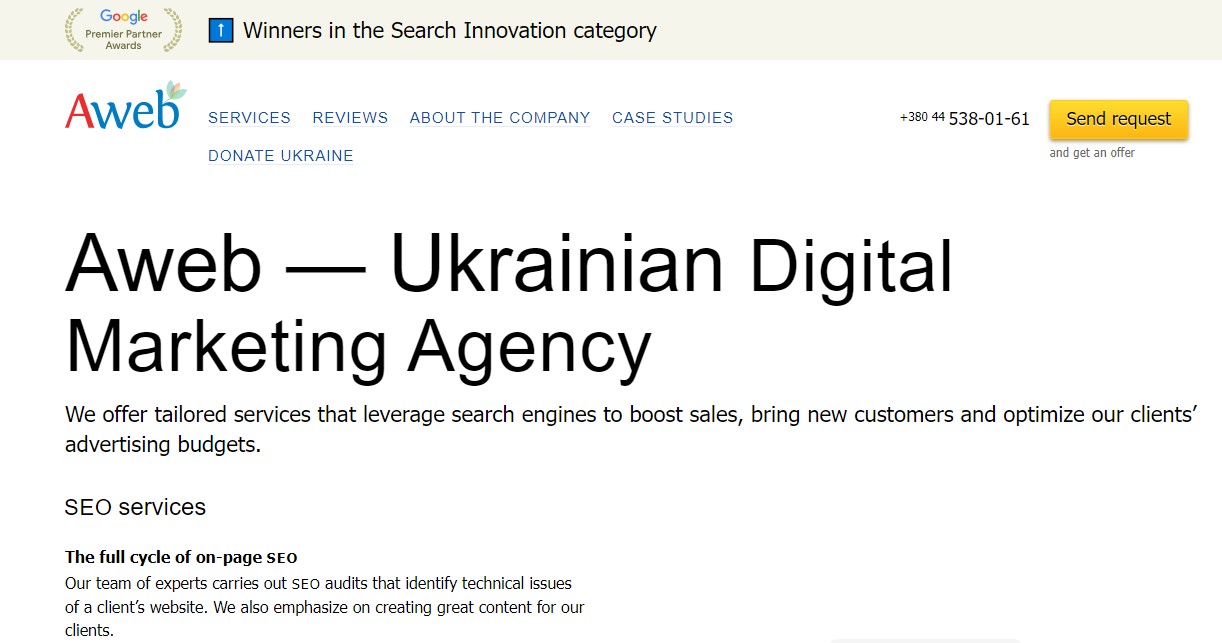 Aweb, an SEO company based in Ukraine, is a pioneer in digital optimization. Harnessing the power of cutting-edge SEO strategies, Aweb has delivered compelling results for its clients, making it a go-to choice for businesses seeking a competitive edge online.
Take, for instance, one of their recent case studies. An e-commerce platform enlisted Aweb to enhance its online visibility and drive more traffic to its product pages. Rising to the challenge, the team at Aweb mapped out a comprehensive SEO strategy that included:
An in-depth technical and niche analysis
On-page optimization efforts
A robust link-building strategy
The outcome? A significant surge in the client's organic traffic and an impressive backlink increase. In the realm of SEO, this success story is a testament to Aweb's commitment to delivering on its promises.
Furthermore, Aweb continues evolving its optimization services, ensuring its clients stay ahead of the digital curve. So, if you're looking to boost your online presence, Aweb's blend of expertise and innovation makes it a standout choice in the bustling SEO world.

Netrocket is an SEO company based in Ukraine, making strides in search engine optimization. Their savvy approach merges cutting-edge technology with deep industry knowledge, providing an unparalleled service to businesses eager to boost their online presence.
Netrocket's expertise is broad, spanning from technical SEO to GMB optimization. They are adept at tailoring their services to specific business types and content management systems, with a particular forte in WordPress and Shopify SEO.
One notable case study illustrating their capabilities involved a SaaS startup. Netrocket employed an integrated strategy that encompassed:
Detailed technical SEO audit
Comprehensive site optimization
Strategic link-building initiatives
Consistent monitoring and adjustment
This tactical approach significantly boosted the client's search engine rankings, driving relevant traffic to their website.
With offices in Tel Aviv, Berlin, London, Warsaw, Kyiv, Zaporizhzhia, and Dnipro, Netrocket seamlessly bridges geographical divides to deliver results-driven SEO services. Their commitment to staying ahead of SEO trends and continually refining their techniques ensures clients receive an optimization service that's always on the cutting edge.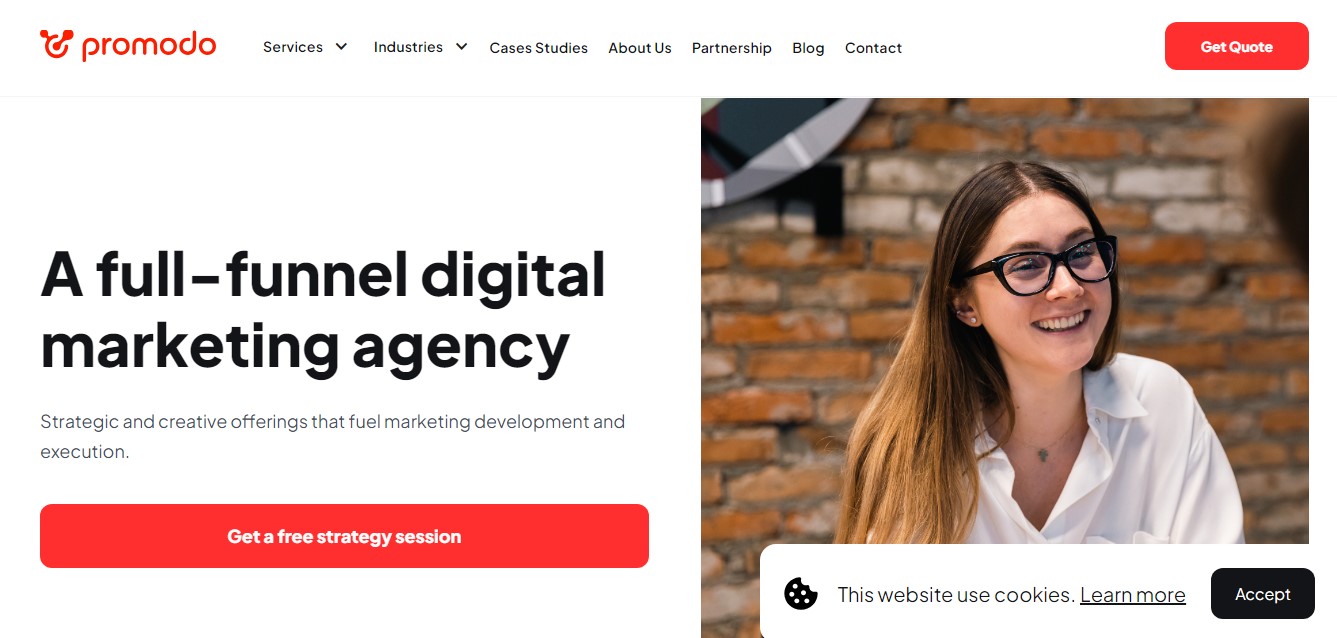 Promodo, an SEO company headquartered in Ukraine, exemplifies dedication to optimization. Renowned for their prowess in propelling businesses to the forefront of search engine results, they've consistently demonstrated the potential of systematic SEO strategies. Their expertise spans a spectrum of industries, seamlessly merging with unique business models and market demands.
A case study of their work reveals an intricate yet effective approach to SEO:
They kick-started their process by comprehensively analyzing the client's online presence.
A custom strategy was then mapped out, enhancing the client's visibility and boosting organic traffic.
They undertook meticulous on-page optimization, tweaking meta tags and strengthening the website's content for optimal keyword usage.
An internal linking strategy was developed to solidify the site structure further.
Concurrently, they built a robust backlink profile, augmenting the website's authority in the eyes of search engines.
In less than a year, Promodo's expert execution led to a staggering 3.4 million indexed pages, transforming the client's online footprint. Their organic traffic soared, further affirming the effectiveness of Promodo's approach. With each optimization task, they pushed boundaries, setting new standards in the SEO industry. This dynamic Ukrainian company's success underscores the power of strategic SEO – an invaluable tool in the digital age.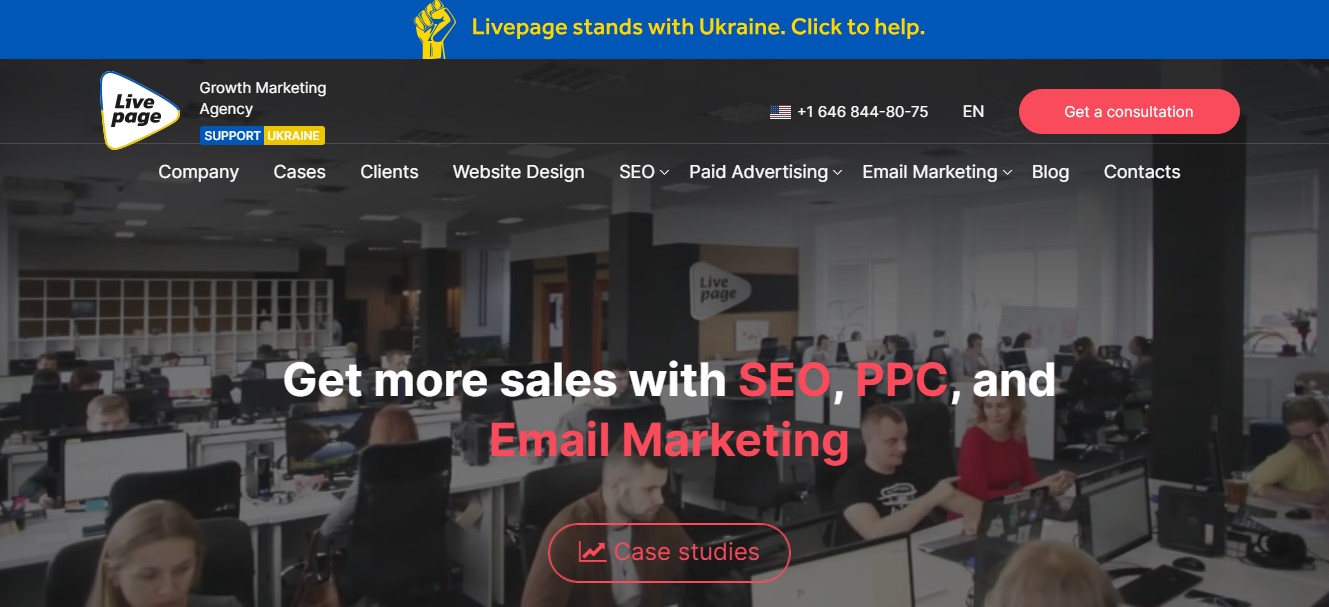 Harnessing the power of SEO, Livepage — a trailblazing company rooted in Ukraine — is revolutionizing the digital landscape. This illustrious firm utilizes a blend of artistry and analytical insight to deliver superior optimization solutions, driving organic traffic and elevating online visibility for businesses worldwide.
Livepage's expertise encompasses:
Comprehensive site audits
In-depth keyword research
On-page and off-page SEO
Content creation and optimization
Their approach exemplifies a masterful blend of technical proficiency and creativity. Uncovering and rectifying structural website issues, they lay the foundation for robust SEO strategies. Their team excels at deciphering the language of your target audience — identifying and integrating high-performing keywords that align with user intent.
A compelling example of their proficiency is a case study involving an e-commerce business. Livepage expertly navigated the complexities of this project — an expansive inventory and the need for multilingual optimization. They meticulously overhauled the website's structure, significantly enhancing its usability and search engine friendliness.
In the realm of SEO, Livepage is a beacon of innovation and efficiency. Their commitment to pushing the boundaries of optimization has cemented their reputation as a leading light in the industry — an SEO company in Ukraine that consistently delivers exceptional results.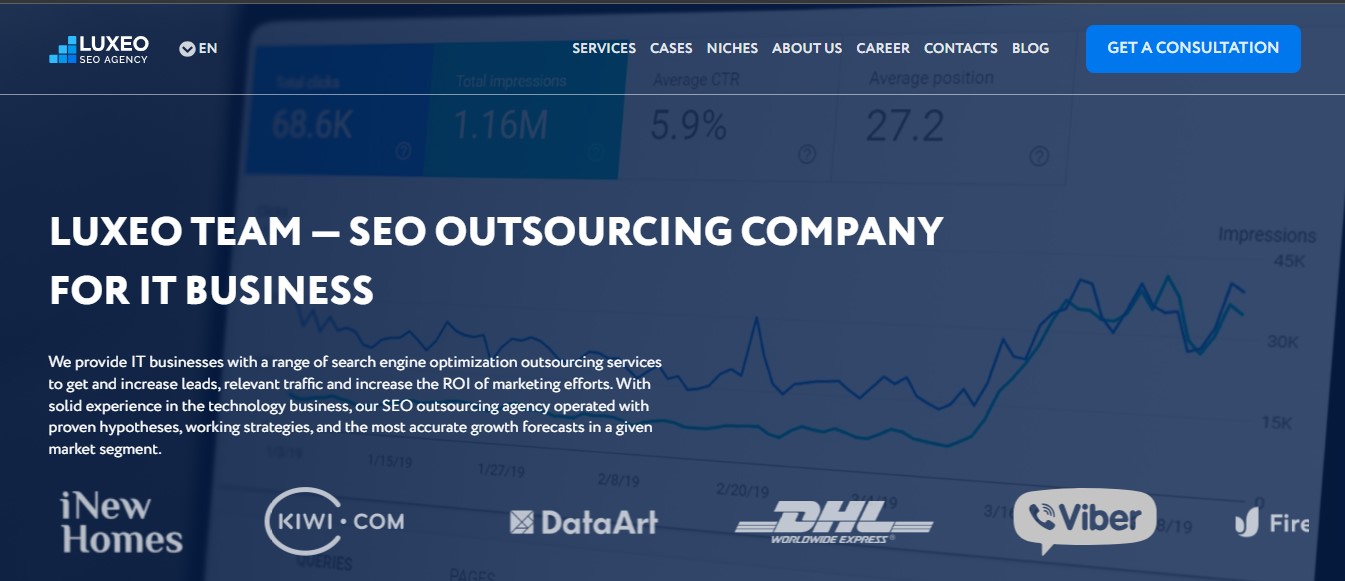 LUXEO.TEAM – an innovative player in the dynamic field of SEO based in Ukraine, propels businesses to online success through strategic optimization. This company thrives on challenges, tackling everything from algorithm adjustments to user behavior shifts.
Their case studies exhibit their expertise in action. For instance, a fashion e-commerce platform needed help to rank on search engines. LUXEO.TEAM stepped in, applied their expertise, and the results were remarkable. The key strategies involved:
In-depth keyword research.
On-page SEO optimizations.
High-quality link-building campaigns.
The fashion platform's organic traffic and search engine rankings increased within months. The transformation wasn't just in numbers; the business saw a sharp increase in customer conversions and sales.
LUXEO.TEAM's approach is more than one-size-fits-all. They understand that every business and website has unique needs and challenges. They tailor their strategies to align with these unique requirements, ensuring optimum results.
In an online landscape where visibility equates to success, LUXEO.TEAM is the guiding light. They are not just an SEO company but partners in growth, helping businesses navigate the complex world of search engine optimization and come out on top. With LUXEO.TEAM, SEO isn't just a service – it's the key to unlocking online potential.
UAMASTER, a leading SEO company in Ukraine, delivers exemplary services in search engine optimization, ensuring businesses stand out in the online marketplace. Backed by an extensive track record of over 17 years, UAMASTER has implemented over 7,000 projects across 65 countries, building an impressive portfolio of more than 850 clients, ranging from local startups to Fortune 500 brands.
A shining example of their work is a comprehensive SEO case study demonstrating their ability to boost online visibility. Their strategies are tailored to each client's specific needs, addressing key elements of SEO, such as technical optimization, on-page SEO, and quality backlink generation. Leveraging their expertise has helped numerous businesses significantly enhance their online presence and achieve sustainable growth.
Here are the hallmarks of UAMASTER's approach:
Bespoke SEO Strategies: Customizing optimization plans to align with business objectives.
Experience: Leveraging 17 years of industry experience to drive results.
Global Reach: Successfully executing projects in 65 countries.
Client Portfolio: Serving a diverse client base from local businesses to multinational corporations.
With its headquarters in the heart of Kyiv, UAMASTER's team of seasoned professionals remain dedicated to achieving the highest level of customer satisfaction, making them a top choice for businesses seeking to harness the power of SEO.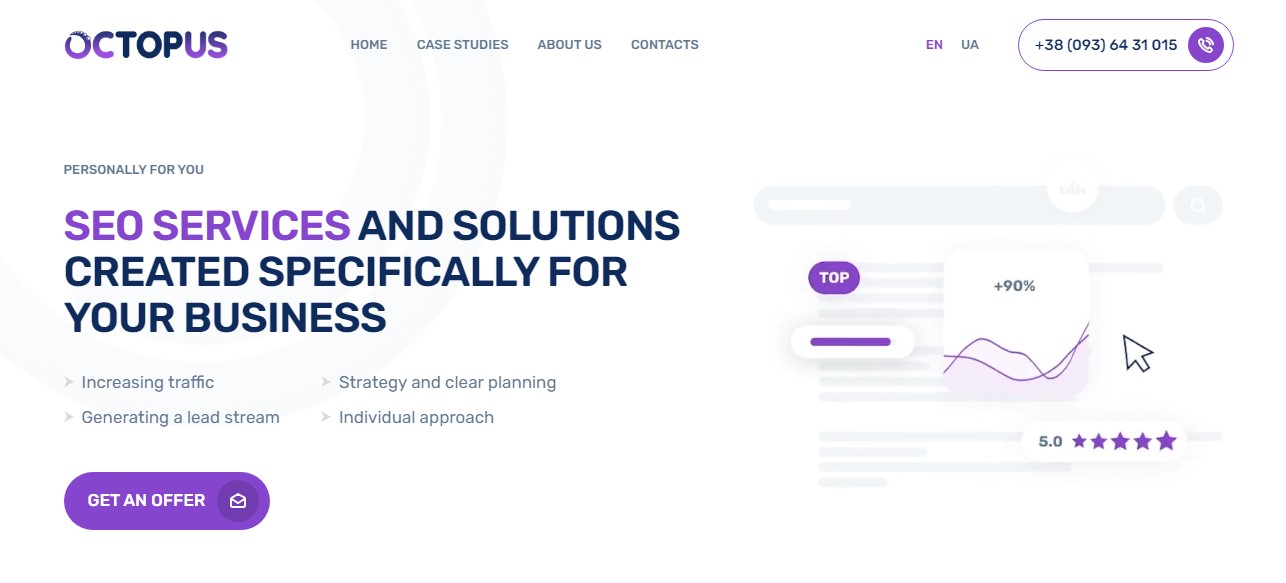 Octopus Agency – a renowned SEO company rooted in Ukraine, exemplifies an innovative optimization approach. This dynamic agency believes in acting rather than reacting, employing unique strategies that set them apart.
Consider this:
They zoom in on a client's unique needs, mapping out a personalized SEO journey.
Pioneering optimization techniques are their forte – they aren't afraid to branch out and experiment.
Their dive-in headfirst attitude makes them a trailblazer in the SEO arena.
One compelling instance of their prowess is a case study involving a struggling e-commerce store. The store was buried deep in the search results, virtually invisible to potential customers. Octopus Agency stepped in and, within months, pulled off a stunning transformation. They skyrocketed the store's online visibility by beefing up the site's technical SEO and drilling into granular keyword research. Traffic increased exponentially, and so did the sales.
In the labyrinth of SEO, Octopus Agency acts as a guiding light, offering effective solutions and driving companies over the hump of digital obscurity. With Octopus at the helm, you're not merely surviving in the digital space but thriving.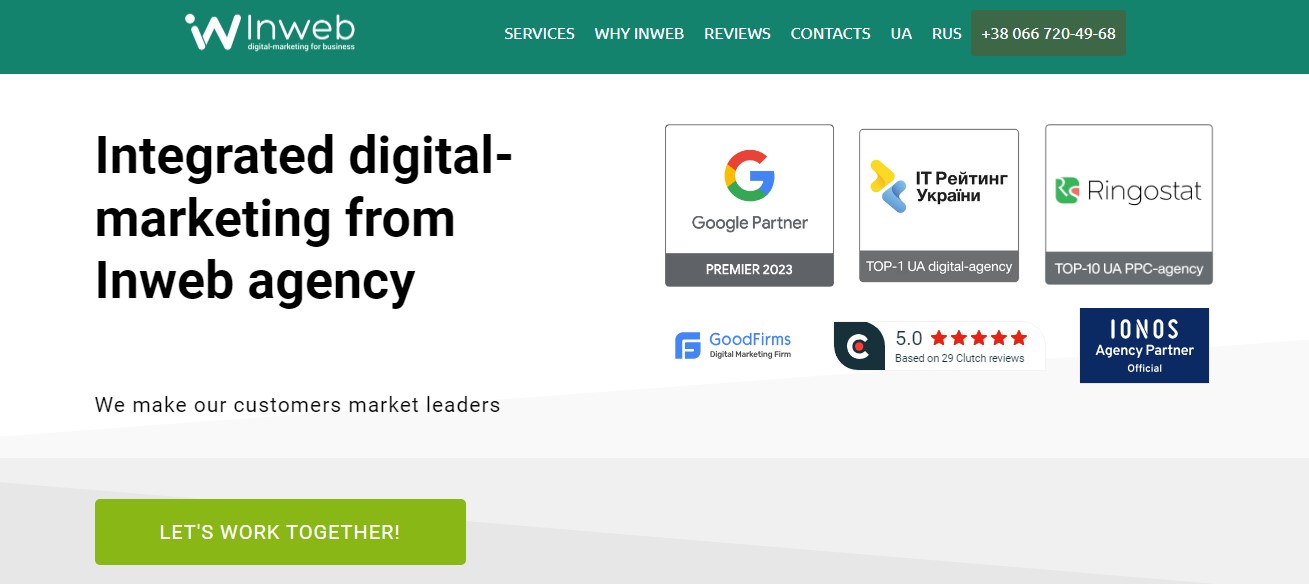 In the heart of Ukraine, Inweb – an SEO company – embodies the essence of successful optimization. Their strategies are designed precisely, and they roll up their sleeves to deliver top-notch SEO solutions.
Here's what sets Inweb apart:
They dive into a thorough analysis of a client's digital footprint.
By beefing up on-page and off-page SEO, they surge website visibility.
They stay ahead of the curve, employing the latest optimization techniques.
A compelling showcase of their expertise is the transformation of a local Ukrainian restaurant. Struggling with low online visibility, the restaurant partnered with Inweb. By revamping the website's SEO and drilling down into targeted keyword research, Inweb propelled the restaurant's online presence. Online reservations skyrocketed, and so did the revenue.
Inweb does not only experiment with SEO; they have mastered it, ensuring that its customers are not merely a blip on the digital radar but rather a beacon. Inweb's optimization strategies cut through the noise of the digital marketplace, providing a path for businesses to shine. With Inweb, your digital presence is not only assured – it's amplified.
SeoProfy – a Ukraine-based SEO company – is a powerhouse in the optimization landscape. They roll out high-impact strategies, encouraging businesses to excel in the digital space.
Check out their unique selling points:
They dig deep into the unique needs of a business, crafting tailored SEO plans.
They scale up the online presence by optimizing both on-page and off-page factors.
They keep pace with the latest trends, ensuring their clients stay relevant.
A shining example of SeoProfy's proficiency is its work with a struggling fashion brand. The brand was experiencing a slump in online sales due to poor search engine visibility. SeoProfy stepped in and turned the tide. As a result, the brand's online visibility took off, driving an influx of traffic and a surge in sales.
SeoProfy doesn't just dip its toes into SEO; they dive headfirst. With SeoProfy in your corner, your online success isn't a chance—it's a certainty.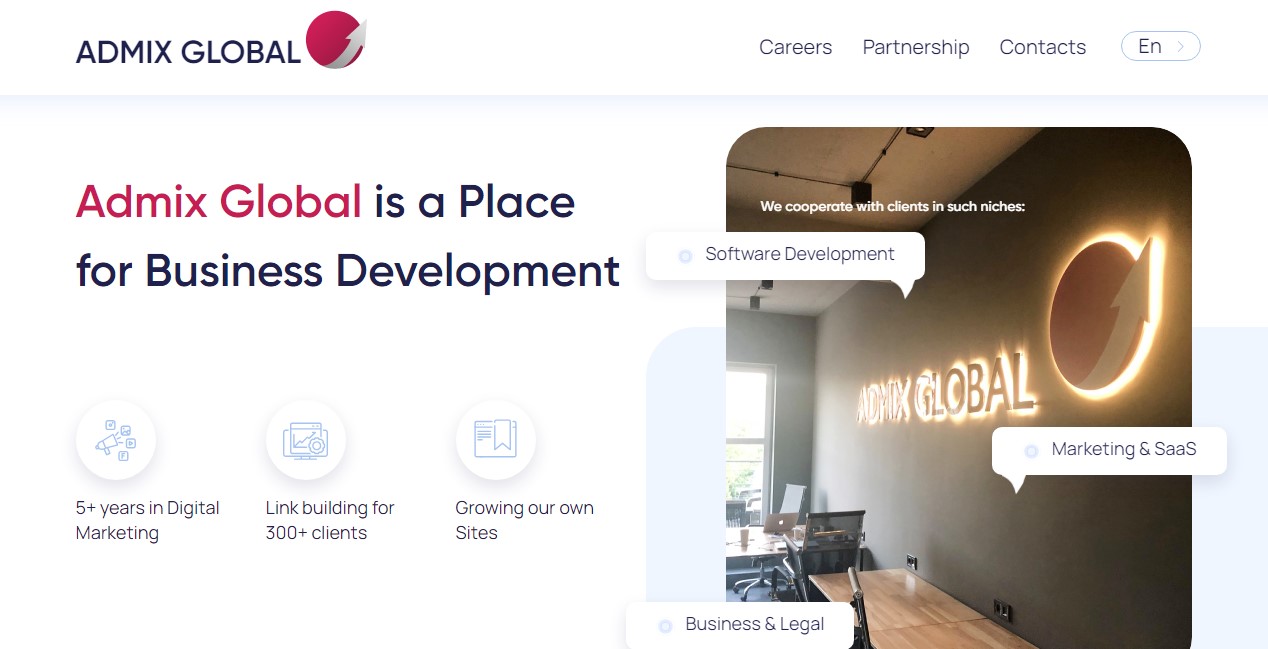 Admix Global, a prominent SEO company in Ukraine, is a trailblazer in optimization. They pave the way for businesses to rise above the digital noise, stepping up to deliver high-performing SEO solutions.
Here's why Admix Global stands out:
They drill down to understand a client's unique digital landscape.
Ramping up both on-page and off-page SEO ignites a surge in website visibility.
They lockstep with evolving trends, ensuring their clients remain at the forefront.
Their work with a local Ukrainian artisan store is a testament to their expertise. The store, struggling with online visibility, partnered with Admix Global. By revving up the website's technical SEO and zeroing in on a robust keyword strategy, Admix Global propelled the store to new heights in the digital space. Online traffic shot up, leading to a substantial increase in sales.
Their innovative strategies cut through the digital clutter, ensuring that businesses don't just survive but thrive.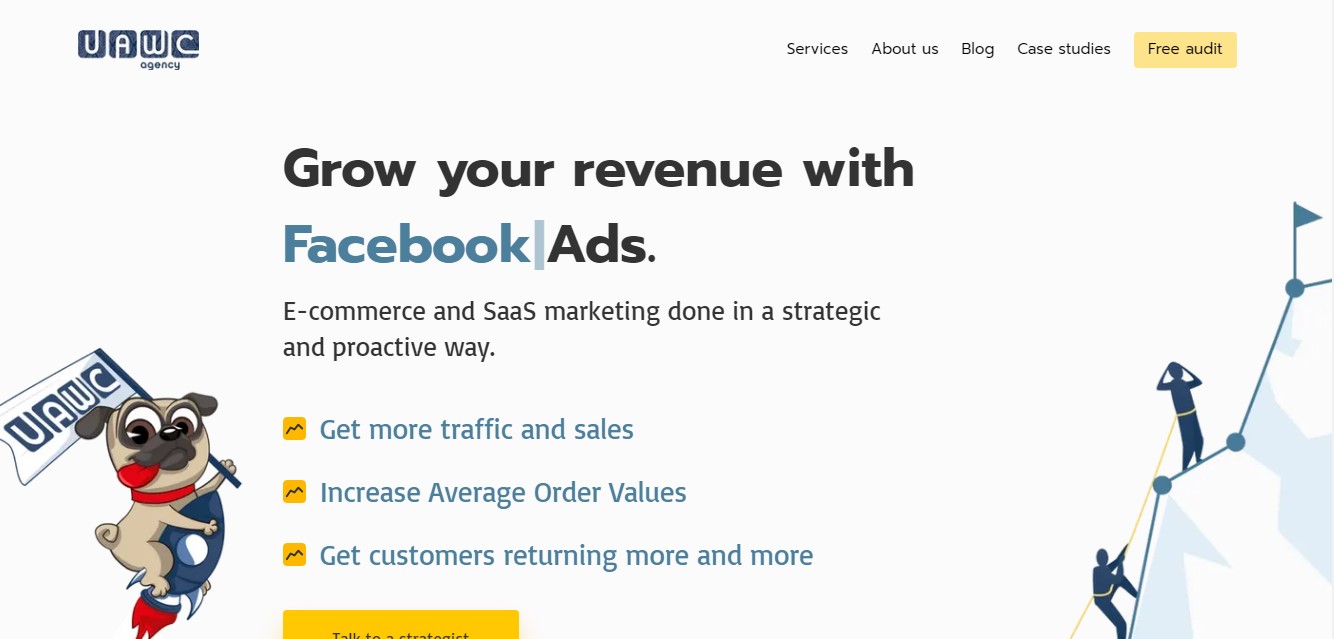 UAWC Agency, a search engine optimization (SEO) company headquartered in Ukraine, raises the bar regarding optimization. With their roll-up-the-sleeves approach, they're fueling businesses to break through the digital clutter.
Here's what makes UAWC Agency exceptional:
They hone in on a client's digital needs, devising a unique SEO roadmap.
They ratchet up on-page and off-page SEO, sparking a substantial increase in website visibility.
They keep up with the most recent developments in the industry, ensuring that their customers can maintain a competitive advantage.
Their collaboration with a Ukrainian tech startup is a shining illustration of their prowess. Despite having an innovative product, the startup needed help in the sea of online competition. UAWC Agency stepped up and turned the tables. They rallied the startup's online visibility by optimizing the website's technical SEO and honing a targeted keyword strategy. Web traffic skyrocketed, resulting in a significant boost in user engagement and sales.
UAWC Agency does not dabble in search engine optimization (SEO), rather, they go headfirst into it. They cut through the digital noise, ensuring businesses stand tall in the crowded online marketplace. With UAWC Agency, your digital footprint isn't just secure – it's robust.

Site24 is a dynamic Ukrainian SEO company optimizing websites for maximum visibility and conversions. They aim to rank your website in the top 10 Google search results, consistently increasing organic traffic and boosting sales.
Site24's comprehensive SEO services include:
Content Optimization: They conduct meticulous keyword research, develop website structure, write meta tags, and create optimized content​.
Technical SEO: Site24 conducts technical audits, verifies website indexation, and ensures secure migrations to HTTPS or new domains.
Linkbuilding: They analyze link mass, develop link-building strategies, and monitor links.
SEO Consulting: They perform market analysis, SEO strategy development, remove search engine filters, and provide expert consultation.
Reputation Management: Site24 optimizes Google My Business maps, removes negative articles from top search results, and builds a positive reputation.
Conversion Rate Optimization: They conduct marketing audits, analyze website analytics, create landing pages, and improve website sales performance​.
Communication is transparent and results-focused at Site24, with comprehensive reports, clear terms of reference, and dedicated Ukrainian and English​services. They offer flexible plans tailored to different types of websites, including a comprehensive plan for online stores, encompassing competitor analysis, website structure development, and usability audits.
The company operates based on KPIs that target monthly growth in website rankings for relevant keywords, increased website visibility on Google, consistent organic traffic, and increased sales with reduced customer acquisition costs. They follow a thorough promotion process, including detailed reporting, and promise a steady monthly increase in SEO traffic, clients, and sales. Site24 is the SEO company that stands for precision, dedication, and proven results in search optimization.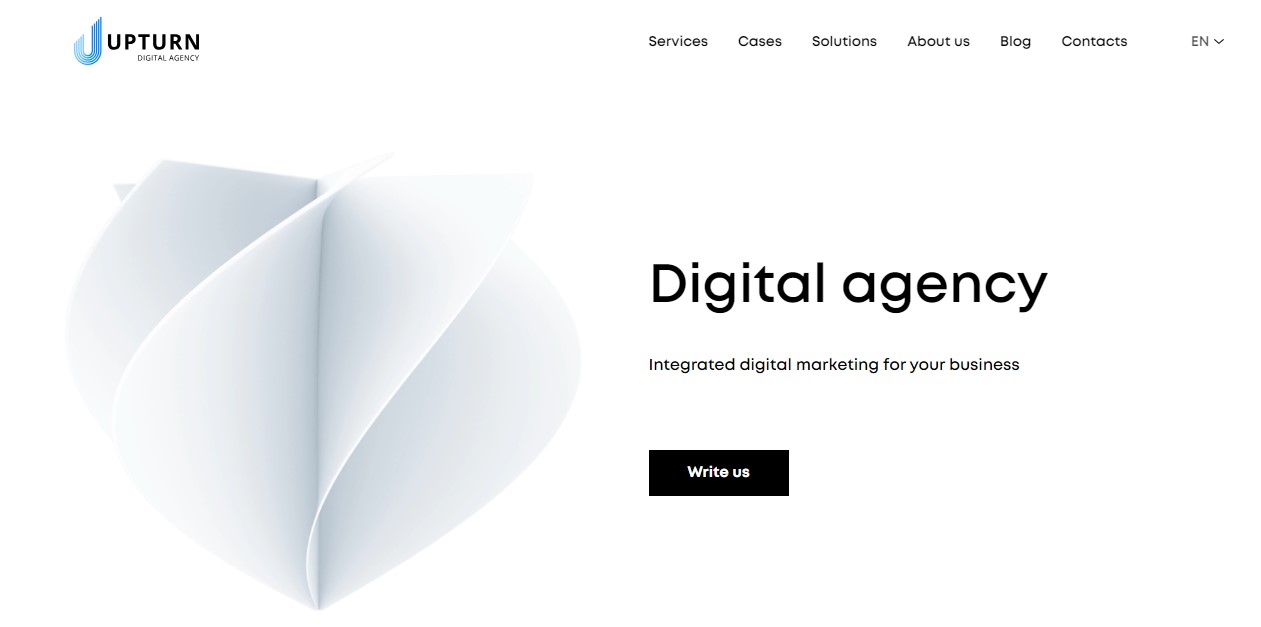 Established in Ukraine, Upturn Digital Agency is renowned in search engine optimization (SEO). Committed to transforming your digital performance, this company deftly merges SEO strategies with a deep understanding of your business needs, ensuring a significant upturn in your online visibility and revenue.
Here's a snapshot of what sets Upturn Digital Agency apart:
Realistic SEO predictions, ensuring no false promises
Transparent communication and detailed reports, keeping you in the loop
Services offered in English, and Ukrainian, catering to a global clientele
Dedication to results, with their success intertwined with yours
One of their most significant successes is a detailed SEO case study in which they obtained extraordinary results. Upturn Digital Agency was responsible for this case study. After thoroughly analyzing the client's website and objectives, they created a robust SEO strategy. They consistently monitored and optimized the website's rankings, visibility, and organic traffic, culminating in an impressive increase in sales. Their meticulous approach and advanced SEO techniques significantly improved the client's online presence.
Upturn Digital Agency is your partner for optimization strategies that deliver measurable results. With their profound expertise, expect your business to experience a genuine digital upturn.
Bottom Line
It's been a journey – we've traversed the vast landscape of SEO companies in Ukraine, interacting with the best in the industry, gathering related data and focusing on their features and services. Let's recap: these companies specialize in optimizing your online presence, making your company highly visible in a crowded digital arena.
One thing that stands out is the emphasis on clients' needs – these companies leave no stone unturned to drive results. They concentrate on working per pay-click advertising, social media interactions, statistical analysis, and more to boost your business's online presence. Their tools are as varied as their strategies – from heatmaps to tracking software, they've got it all.
For instance, Plerdy is trusted by many business owners, thanks to their smart tools that allow for real-time interaction with visitors. They help collect valuable user behavior data and aid in understanding user preferences.
Visit these companies, interact with their highly responsive employees, and feel their passion for SEO. Check their Clutch, GoodFirms, and Sortlist ratings, read client reviews, and make a well-informed decision.
Finally, don't forget about Plerdy – with its various SEO tools, it's the perfect solution for any company's needs. And now, it's your move. Visit Plerdy, learn more about their services and see how they can help you. You won't regret it!